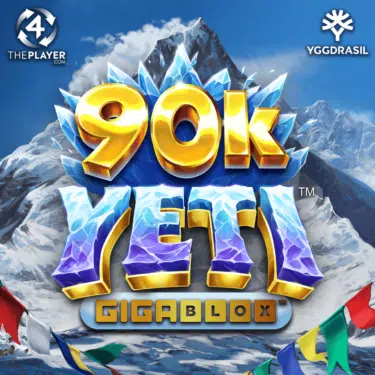 90k Yeti Gigablox
Game Provider: 4ThePlayer
Release Date: Available Now
90k Yeti Gigablox
Game Studio 4ThePlayer
Release date Available Now
RTP 95.50%
RTP Feature Buy 95.50%
Paylines Up To 46,656
Volatility Extreme
Min Bet 0.10
Max Bet 10
Max. Win 90,000x
Rating 9/10
Brr! It's cold out there, and what better way to warm up than by cuddling up next to a… Yeti? Okay, a Yeti might not be the friendliest creature available in the Himalayas, but he is the focal point of our review today, which should make this upcoming release fairly obvious. So far, in a sector that has taken us to the plains of Africa and the green fields of Ireland all too often, only one provider has introduced us to a Yeti – 4ThePlayer, appropriately named after their dedication and drive to produce games with players in mind. With a longing to release games that have something a little bit different about them, 4ThePlayer introduced us to this creature in late 2019 with 9k Yeti, the first slot release from the team, which featured a Snowstorm bonus round that bustled up some fire into players. This year, 4ThePlayer are teaming up with Yggdrasil Gaming to bring the Yeti back to our screens alongside the popular Gigablox mechanic, in 90k Yeti Gigablox. With up to 46,656 ways to win and 95.50% RTP, let's take a look at how this extremely volatile release is capable of producing wins up to 90,000x bet in size.
Visually, things are similar to the original release, with some clear graphic upgrades and reel shape changes to allow for the Gigablox mechanic. As before, the action takes place on Everest, with the Yeti standing to the left of the screen, looking buff as ever – he clearly made good use of his lockdown time. Audios are subtle, with icy sound effects, meaning there's nothing to distract us, but what is there compliments the theme well.
There's no Big Reel Portrait Mode™ available in this release as we have adopted the Gigablox mechanic, but 4ThePlayer's SLOT STATS™ are available. After 100 spins, the average best win provided is:
All Players: 56x bet
1 in 10 Players: 210x bet
1 in 100 Players: 588x bet
1 in 1000 Players: 1,882x bet
90k Yeti Gigablox Base Features
Landing wins on 90k Yeti won't be quite as difficult as climbing 8,849 meters towards the sky – instead, sit back, relax and try to match at least 3 symbols on consecutive reels, beginning a the leftmost reel. With up to 46,656 ways to win, it doesn't matter where on the reel each symbol lands, as wins pay all ways. Symbols available begin at the lower end of the pay table, with 10s, Js, Qs, Ks and As, paying between 0.1 and 0.2x bet for 3 of a kind matches, increasing to values between 0.4 and 0.8x bet for 6 of a kind wins. In the mid-range, ropes, pick-axes and tents reward players with values between 0.3 and 0.5x bet for 3 of a kind, and values between 1 and 1.2x bet for 6 of a kind. At the premium end, 3 mountaineers pay between 0.6 and 0.7x bet for 3 of a kind, increasing to values between 1.5 and 2x bet for 6 of a kind. Finally, it's Yeti time, with our legendary furry friend paying as few as 2 ways – at a rate of 0.5x bet. Land 6 of a kind Yeti symbols and you'll be rewarded with wins of 4.8x bet. As far as special symbols go, Wild mountains can appear on any reel, and substitute for all symbols except Scatters, represented by snowy footprints.
Keeping things moving forward in the base game are a host of features, beginning with the Gigablox themselves. Gigablox appear as larger than usual symbols, beginning at 2×2 and increasing as high as 6×6. Once landed, Gigablox symbols will break down into the same symbol, but smaller to pay wins. At least one Gigablox reel will appear on every spin.
The rest of the base features rely solely on the Yeti to bring them to life – he is the star of the show, after all. First up, and recognisable from the original, is the Snowstorm feature. Ways to win, although 46,656 at the maximum level, will not always be fully unlocked in the base game. Instead, Snow Blox will hide symbols, decreasing win ways. In Snowstorm, the Yeti will shuffle the reels into a new order, creating a win. This feature will occur randomly, and a win is guaranteed when it does.
Next up is the Yeti Reveal feature, wherein the Yeti will destroy Snow Blox to reveal winning symbols. This feature can only occur during the base game, and is again random – with a win guaranteed.
Finally we have the Giga Summon Feature. When this happens, the Yeti will summon a large Gigablox reel, which will contain symbols 4×4 in size or larger. This can happen on any reel, will occur randomly and will guarantee a win.
90k Yeti Gigablox Bonus
Landing 5 or more Scatters will trigger Free Spins, with 1 spin awarded for each triggering Scatter in view. If Scatters land on a Gigablox reel, they will break down into smaller symbols and be counted individually.
During free spins, all Snow Blox are removed from the reels, for a total of 46,656 ways to win. Alongside this, at least 1 Snowstorm or Giga Summon feature will occur during free spins, and any Scatters that land during free spins will award +1 spins each.
And that's more or less it – apart from the upgraded tweaks, free spins continue to work the same way as the base game. Just enjoy yourself, and hope for a bucket load of Yetis on your screen.
Players in appropriate regions can speed up the process of waiting for a bonus with a host of Feature Buy options available:
5 Free Spins: 60x bet
10 Free Spins: 120x bet
20 Free Spins: 240x bet
Giga Summon Spin – Spin in a 4×4, 5×5 or 6×6 Gigablox reel: 150x bet
First Impression
90k Yeti feels like a great follow on to the original, and a great collaboration between these two teams. Although they have worked together countless times in the past with Yggdrasil hosting 4ThePlayer's releases, 90k Yeti is the first of it's kind. The Gigablox mechanic goes a long way towards complimenting the features available, like Snowstorm and Yeti Reveal, as well as a unique mechanic like this just suiting the style of 4ThePlayer generally – slightly different than the norm, but in a great way.
Free Spins feel like a huge upgrade upon the base game with the maximum 46,656 ways available throughout, and this is further enhanced by at least 1 Yeti Reveal or Giga Summon feature guaranteed. The maximum win of 90,000x bet – 10 times the potential of its predecessor and the biggest win of any Gigablox game so far – is available within every feature and every bonus round, so with stakes going as low at 0.10c, a player could theoretically opt to purchase 5 spins for a cost of €6, and could win €9,000 – exciting no matter what way you spin it.
Audiovisuals are about as strong as the Yeti himself, and do a great job of tying the whole thing in together, particularly with bright northern lights flashing across the screen when a big win does occur. As with the standard the team have set, 4ThePlayer have included their SLOT STATS™, making sure players know exactly what to expect, particularly with volatility levels now at the extreme. RTP has taken a slight dip to 95.50%, but this is a fixed value.
Whether you like the snow or not, 90k Yeti is still one to try, and one of the best releases to come from 4ThePlayer so far.
*The screenshots taken of games reviewed on this site are taken from Demo Play, as reviews are often written before games are released for real play.