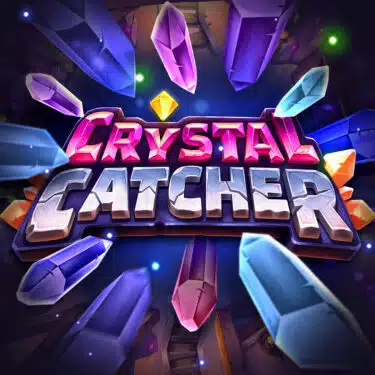 Crystal Catcher
Game Provider: Push Gaming
Release Date: Available Now
Crystal Catcher
Game Studio Push Gaming
Release date Available Now
RTP 94.30% - 96.30%
RTP Feature Buy 96.56%
Paylines Cluster Pays
Volatility Medium
Min Bet 0.10
Max Bet 120
Max. Win 10,000x
Rating 8.6/10
If you're one of those players who has a favourite game but finds themselves wishing it wasn't quite so volatile, we're here with good news, as Push Gaming are following on from their recent success in Giga Jar to return to one of their 2021 releases and reinvent it with a lower volatility maths model – Fire Hopper. Here's the thing, Fire Hopper has been regarded by quite a few players as one of the highest volatility releases  – not just from the team at Push Gaming, but in general. We don't have a centralised database to compare each provider though, so all we know is that a release from two providers can both be labelled '5/5 high', with no real way to know what each provider considers high for them. I digress, because my desire for some way to compare volatility across studios isn't really important here – Crystal Catcher is the centre of our attention today. We know this release comes in at medium volatility, but it also comes with RTP options up to 96.30% (96.56% feature buy), and win potential up to 10,000x bet – a mere 20% of Fire Hopper, but that's usually the way this goes.
With a slick background design, Crystal Catcher puts all of the focus on the crystals themselves, and follows the same trend that Fire Hopper did (the more open the lotus was, the higher the payout) with crystals increasing in value as they increase in size, making it quite simple to know what you're looking for. Other than that things are quite plain – there's some wooden beams and lamps but the focus really does sit on the grid, and the Wild Beetle Symbol when it appears. It's all tied together with a surprisingly foreboding soundtrack, which kind of makes me think we're in a mine – makes sense, although if the music wasn't there I don't think my mind would go straight to it.
Crystal Catcher Base Features
Taking place on a 7×7 grid, wins are formed on Crystal Catcher by matching clusters of at least 5 or more symbols, touching horizontally or vertically. Symbols pay for clusters of 5, 6, 7, 8, 9, 10, 11-12, 13-15, and 16+, and are crystals in a variety of colours. Although they aren't really separated obviously into non premiums and premiums, lower paying symbols are purple, blue, and green crystals – each awarding wins between 0.20 and 12.50x bet for clusters of 5 up to clusters of 16+. High paying symbols are pink, orange, and red crystals, awarding wins between 0.50 and 2x bet for clusters of 5, increasing to values between 25 and 100x bet for clusters of 16+. There are a few other symbols to look out for, but we'll cover those next.
So the first thing to take note of in Crystal Catcher is the Ante Bet. By betting an additional 20%, the chance of landing a Wild Gold Beetle Symbol and triggering Free Spins is higher. We aren't told how much higher this chance is, but we do know this option increases RTP by 0.10% regardless of the setting – on the 96.30% RTP setting, using the Ante Bet will increase this to 96.40%.
Next up is the cascade mechanic. On every spin, all symbols involved in a win will be removed from the grid, with all remaining symbols dropping to the bottommost available position on their respective column on the grid. New symbols will then drop in from above to fill the remaining gaps. Cascades continue until no new wins are formed.
Now the exciting bit – the Wild Beetle Symbol. If you're familiar with Fire Hopper this section won't be of much use to you since this is the re-used mechanic, but if you aren't familiar we'll explain it in full. Wild Beetle Symbols can land in any position on the grid, and substitute for all symbols except the Crystal Symbol and Bonus Crystal Symbol.
Wild Beetle Symbols work hand in hand with Crystal Symbols to build up the excitement. Crystal Symbols can land in any position on the grid, and hold no value themselves. However, if they land on the grid and a Wild Beetle Symbol is also on the grid, the Crystal Catcher Feature is triggered. The Wild Beetle Symbol will fly to collect any Crystal Symbol in view, leaving behind a Wild Gold Beetle Symbol with a multiplier that has increased by +1. During the base game the Wild Beetle multiplier begins at x1 on each spin.
These multipliers are then applied to any winning combinations their Wild Symbols are part of. If more than one multiplier is to be applied, they will be applied consecutively.
The last thing to discuss are Instant Prize Symbols. Like a lot of Push Gaming releases on the market, including Big Bamboo, Crystal Catcher can award prize values through Instant Prize Symbols. These symbols can hold values of 1x, 2x, 3x, 5x, 10x, 20x, 30x, 50x, 100x, 200x, 300x, or 500x bet. Instant Prize Symbol Values are only collected by Wild Beetle Symbols. The Wild Beetle Symbol will fly to collect them in the same way it collects Crystal Symbols, except instead of leaving behind a Wild Gold Beetle Symbol, it will collect the Instant Prize Symbol value. If the Wild Beetle Symbol has a multiplier, it will be applied to the Instant Prize Symbol value.
Crystal Catcher Bonus
Landing a Bonus Crystal Symbol in view with a Wild Beetle Symbol will see the Wild Beetle collect the Bonus Crystal, triggering 7 Free Spins. Everything continues as normal in Free Spins, except the Wild Beetle Symbol retains its multiplier value between spins.
Players in appropriate regions can take advantage of two Bonus Buy options:
Bonus – 75x bet (96.50% RTP)
Super Bonus (increased odds of Crystal Symbols, Instant Prize Symbols, and the 3 highest paying symbols) – 275x bet (96.56% RTP)
The above RTP values are based on the overall game setting of 96.30%.
The maximum win available in Crystal Catcher is 10,000x bet. If the sum of a single game round exceeds this, the game round will end and 10,000x bet will be awarded.
First Impression
There isn't a great deal to say on Crystal Catcher that hasn't already been said on Fire Hopper – Wild Beetles make up the bulk of the excitement in the base game, flying to catch Crystals to leave behind multiplying Wilds, and collecting and multiplying Instant Prizes. Of course the aim of the game is to collect multiple Crystals close to each other since multipliers are applied consecutively, but with Instant Prizes on offer up to 500x bet, even one good multiplier can produce huge wins through this feature.
Free Spins are more of the same but enhanced, with Wild Beetles retaining their multiplier throughout. For those in regions with access to bonus buys, a Super Bonus is available for a cost of 275x bet – 200x more than the regular Bonus. When the right combinations occur through any bonus, wins are possible up to 10,000x bet – we think. The game sheet and information claims 10,000x bet, but the in-game menu claims 5,000x bet. Under normal circumstances I would follow the in-game menu, but 10,000x bet seems more on the nose with what you'd expect from Push Gaming. All this to say, we aren't certain of this maximum win, but we can check back and update when that becomes available.
Finally, maths is rated as medium for volatility, and RTP options are available up to 96.30% (96.56% feature buy), so as always it's worth checking this. If you liked Fire Hopper and wanted a lower volatility option that is much of the same, Crystal Catcher was made for you – literally.
*The screenshots taken of games reviewed on this site are taken from Demo Play, as reviews are often written before games are released for real play.