It's good news for fans of Jammin' Jars, as Push Gaming are back with another release in their cult series. After releasing the original in 2018, players immediately fell in love with the jumping Wild Jars that made this release what it was. Three years later Push Gaming took on a big challenge in releasing Jammin' Jars 2, but that started off a journey that has progressed at great speed. In 2022, we were treated to Retro Tapes, and now after recent success with releases like Space Stacks, Generous Jack, and Mystery Mission – To The Moon, we're back again with Giga Jar. With RTP options up to 96.48%, this medium volatility release can produce wins up to 10,000x bet.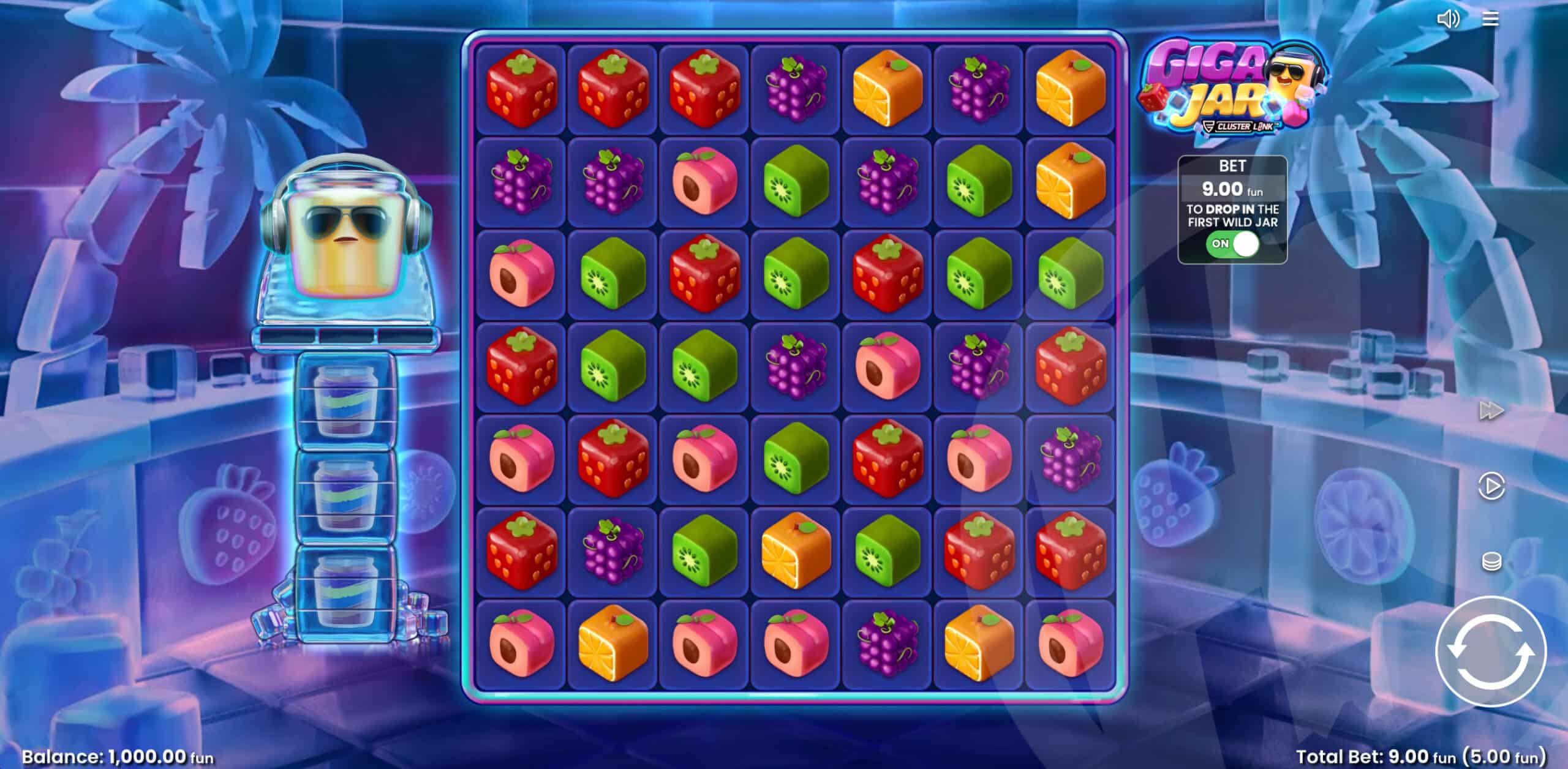 Visually, things are closer to Jammin' Jars 2 than any other release across this series, with the recognisable Giga Jar DJ on the podium to the left of the grid. We're back in what is presumably the nightclub setting of the aforementioned, although rather than a vibrant setting, everything has frozen over – with even the fruits themselves turned into ice-cubed shapes. Palm Trees made from ice, blocks of literal ice, and a pale blue hue over everything tell you that this is one cold place to be – or maybe the idea is that it's a cool place to be, get it? An upbeat soundtrack finishes things off, tying everything together nicely.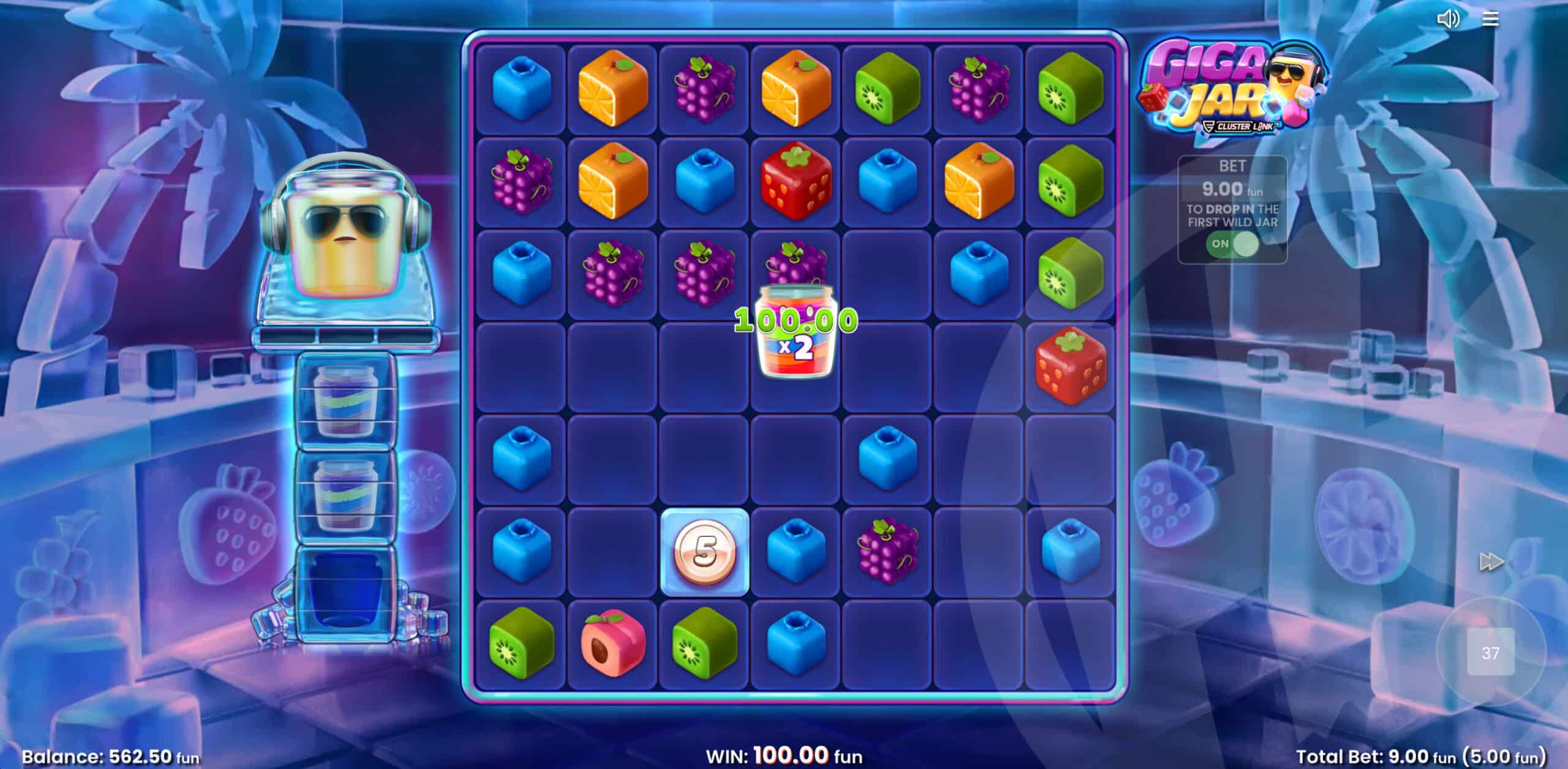 Giga Jar Base Features
Taking place on a 7×7 grid, wins are formed on Giga Jar by matching clusters of 5 or more matching symbols, touching horizontally or vertically. Symbols pay for 5, 6, 7, 8, 9, 10, 11, 12, 13, 14, 15, and 16+, and begin with non premiums – with blueberries, grapes, and kiwis. Land clusters of 5 of these symbols to see wins between 0.10 and 0.20x bet, increasing to values between 10 and 20x bet for clusters of 16+. At the premium end, we have lychees, oranges, and strawberries, awarding wins between 0.40 and 1x bet for clusters of 5, increasing to values between 200 and 500x bet for clusters of 16+.
Players can also land Instant Prize Symbols in Giga Jar. These can land in any position on the grid, and will display a number that is indicative of a bet multiplier – for example '100' is equal to 100x bet. Instant Prize Symbol values are only awarded, however, when a minimum of 5 have joined in one cluster, touching horizontally or vertically. Possible Instant Prize Symbol values are – 1x, 2x, 5x, 10x, 25x, 50x, 100x, 250x, 500x, and 1,000x. It is possible to multiply Instant Prize Symbol values by Wild Jar Symbol multipliers – we'll explain those soon.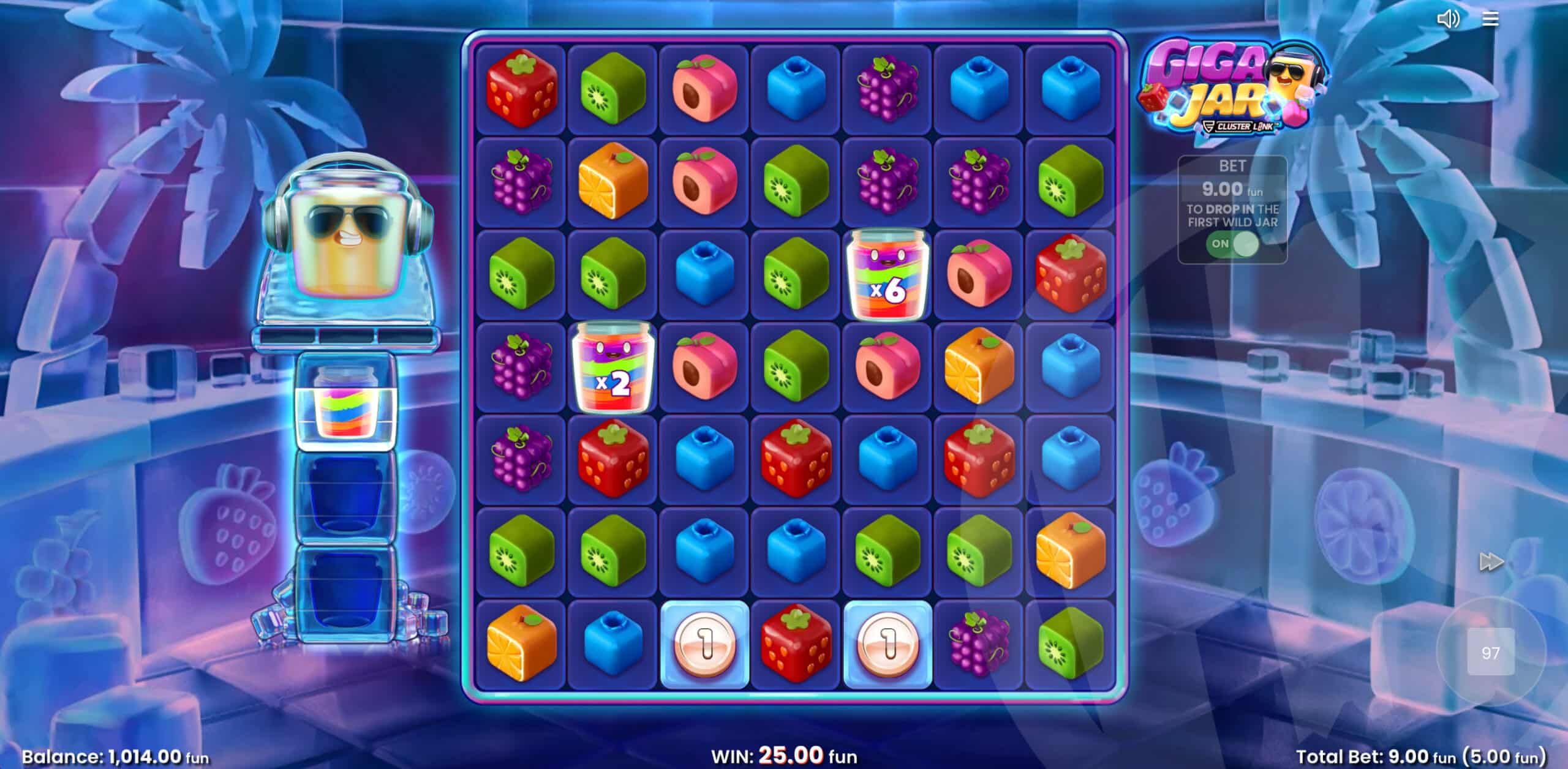 Alright, so the first feature to cover in Giga Jar is Cascades. On every spin, all symbols involved in a win will be removed from the grid. All remaining symbols will then drop to the bottommost available position on their respective reels, with new symbols dropping in from above to fill any remaining gaps. Cascades continue until no new wins are formed.
Next up is the Ante Bet. By betting an additional 80%, players can start each spin with a guarantee of the first Wild Jar Symbol. In the 96.48% Giga Jar setting, RTP dips slightly to 96.47% when using Ante Bet.
The Wild Jar Symbol is a Wild Symbol that substitutes for all other symbols when forming wins. To trigger Wild Jar Symbols, players must pay attention to the meter at the left of the grid. For every 3 consecutive winning cascades that occur, one Wild Jar Symbol will be added to the grid – up to a maximum of 3 Wild Jar Symbols. Wild Jar Symbols will be added to the grid in a random position, and after contributing to a winning cascade, they will move to a random adjacent position before the next cascade.
Every Wild Jar Symbol has a multiplier applied to it. All Wild Jar Symbols begin at x1, with the multiplier increasing by +x1 each time the Wild Jar Symbols is used in any number of cluster wins in one single cascade. When contributing to future wins, the Wild Jar Symbols multiplier will be applied to any cluster wins it is part of. If more than one Wild Jar Symbols is used in a cluster win, the win will be multiplied by the first jar multiplier, then the second, and then the third, if possible.
Finishing off the base game is the Snowball Feature and Ice Breaker Feature, both of which can be triggered randomly on any spin:
Snowball Feature – Between 1 and 2 Giant Symbols will be randomly added to the grid. Giant Symbols can be 2×2, 3×3, or 4×4 in size. Added symbols will either be a regular paying symbol or an Instant Prize Symbol. After landing, they will break down to reveal multiple 1×1 versions of the relevant symbol.
Ice Breaker Feature – Between 1 and 3 regular paying symbols will be randomly removed from the grid. Instant Prize Symbols or Wild Jar Symbols cannot be removed through this feature.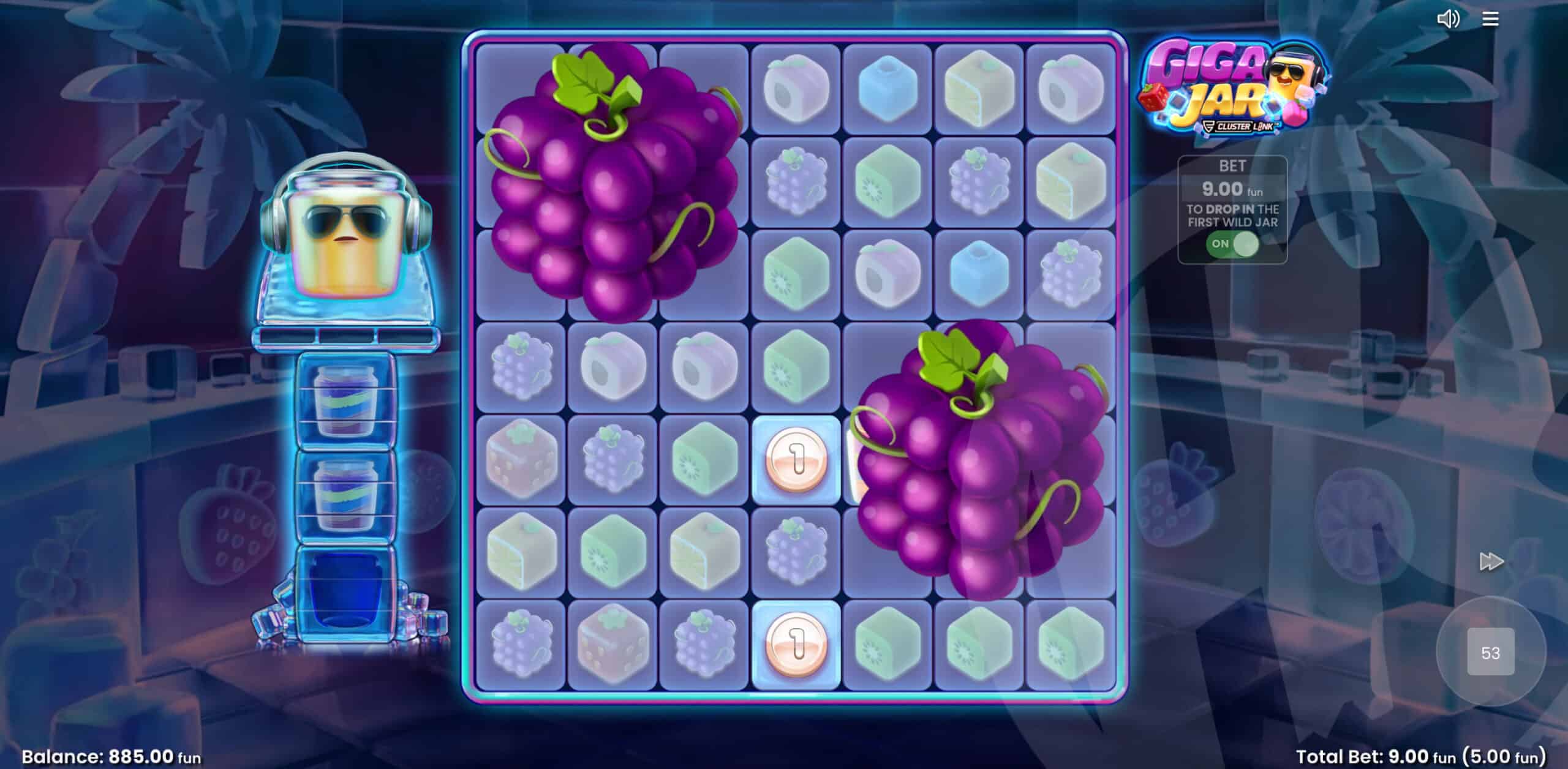 Giga Jar Bonus
When all 3 Wild Jar Symbols are on the grid, the Giga Jar activation meter is activated. After 3 consecutive winning cascades, the meter will be filled and the Giga Jar feature is triggered. Players can check the activation meter progress by looking at the three bars underneath the Giga Jar on the podium.
Once the Giga Jar feature is triggered, the Giga Jar will be added to the grid in a random position, sticking in position for the duration of the feature.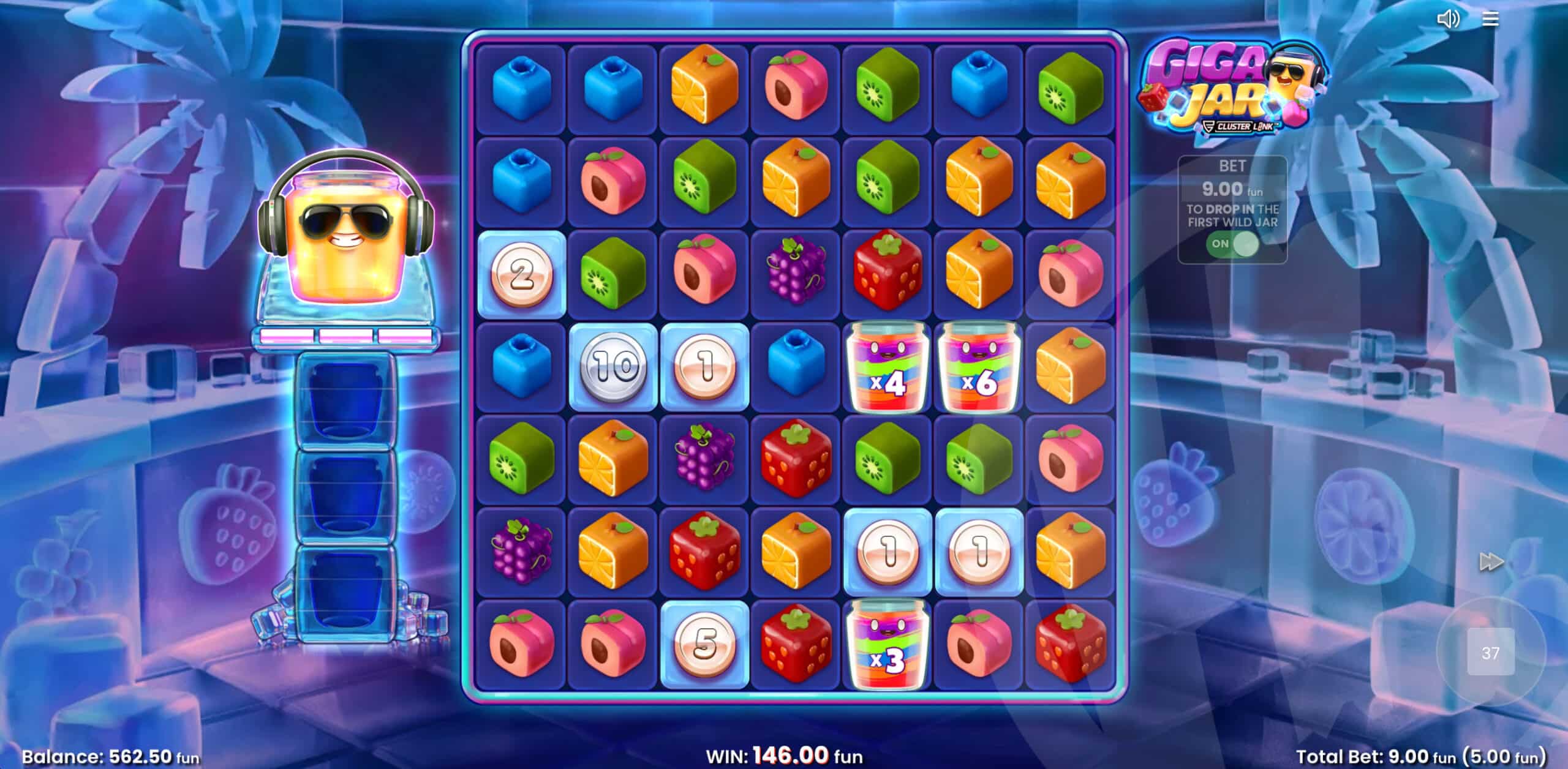 The Giga Jar is a 2×2 Wild Symbol, acting as 4 individual Wild Symbols. It will substitute for all other symbols on the grid when forming wins. Similarly to Wild Jar Symbols, the Giga Jar has a multiplier applied to it, which begins at x1.
Once the Giga Jar lands in position, a progression meter will appear to the left of the grid. This meter will denote the multiplier the Giga Jar has applied to it. The Giga Jar and progression meter will remain active for 3 cascades. After 3 cascades, the Giga Jar becomes inactive. Players must land 3 consecutive winning clusters to reactivate the Giga Jar and progression meter. Upon reactivation, the meter will progress one step, increasing the Giga Jar multiplier. Possible multiplier values of the Giga Jar are x1, x5, x10, x15, x20, or x50.
There are no set number of spins in the Giga Jar feature. It is complete when no more cluster wins occur.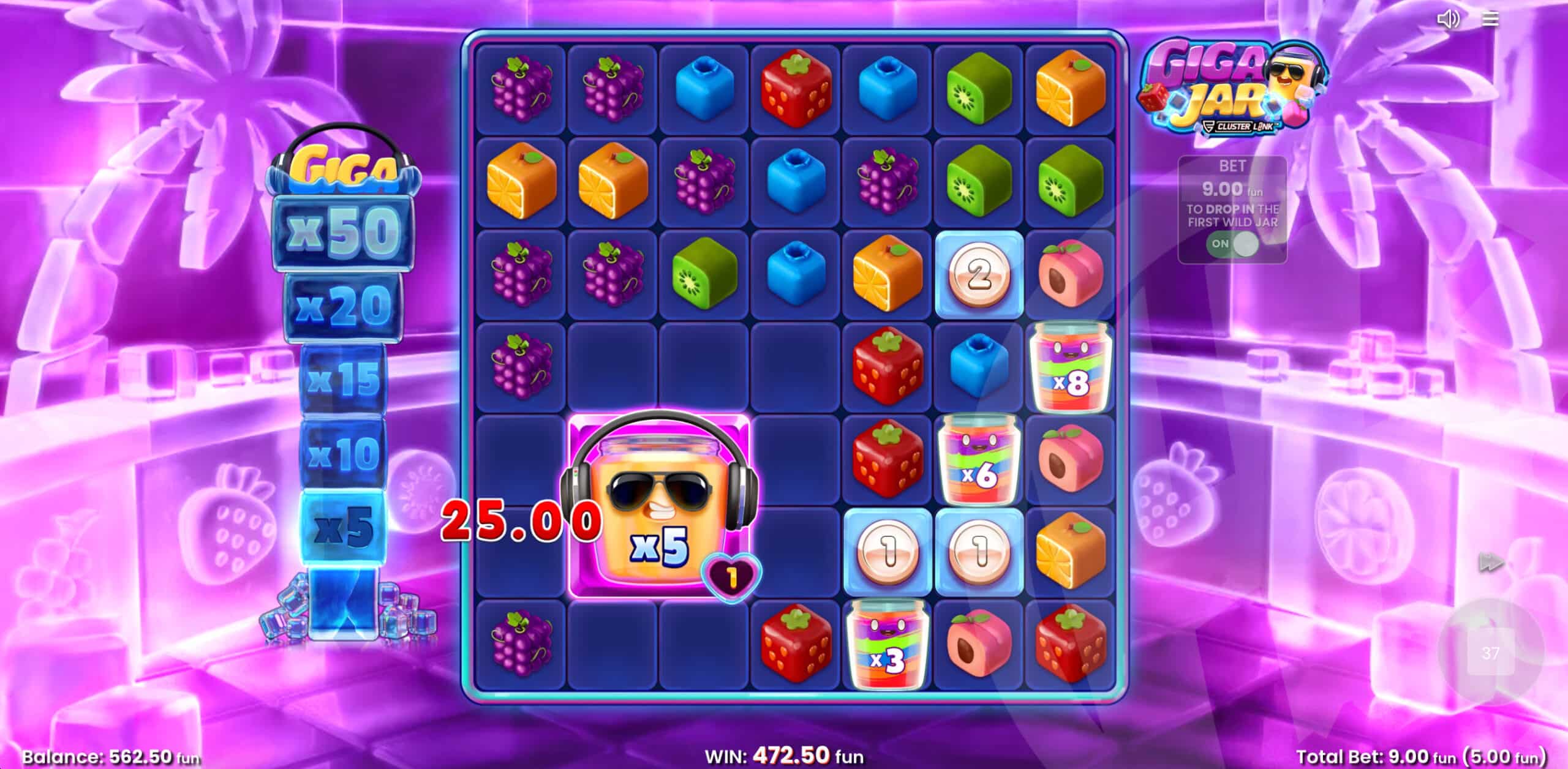 There is no Bonus Buy available in Giga Jar.
The maximum win available in Giga Jar is 10,000x bet. If the sum of a single game round exceeds this, the game round will end and 10,000x bet will be awarded.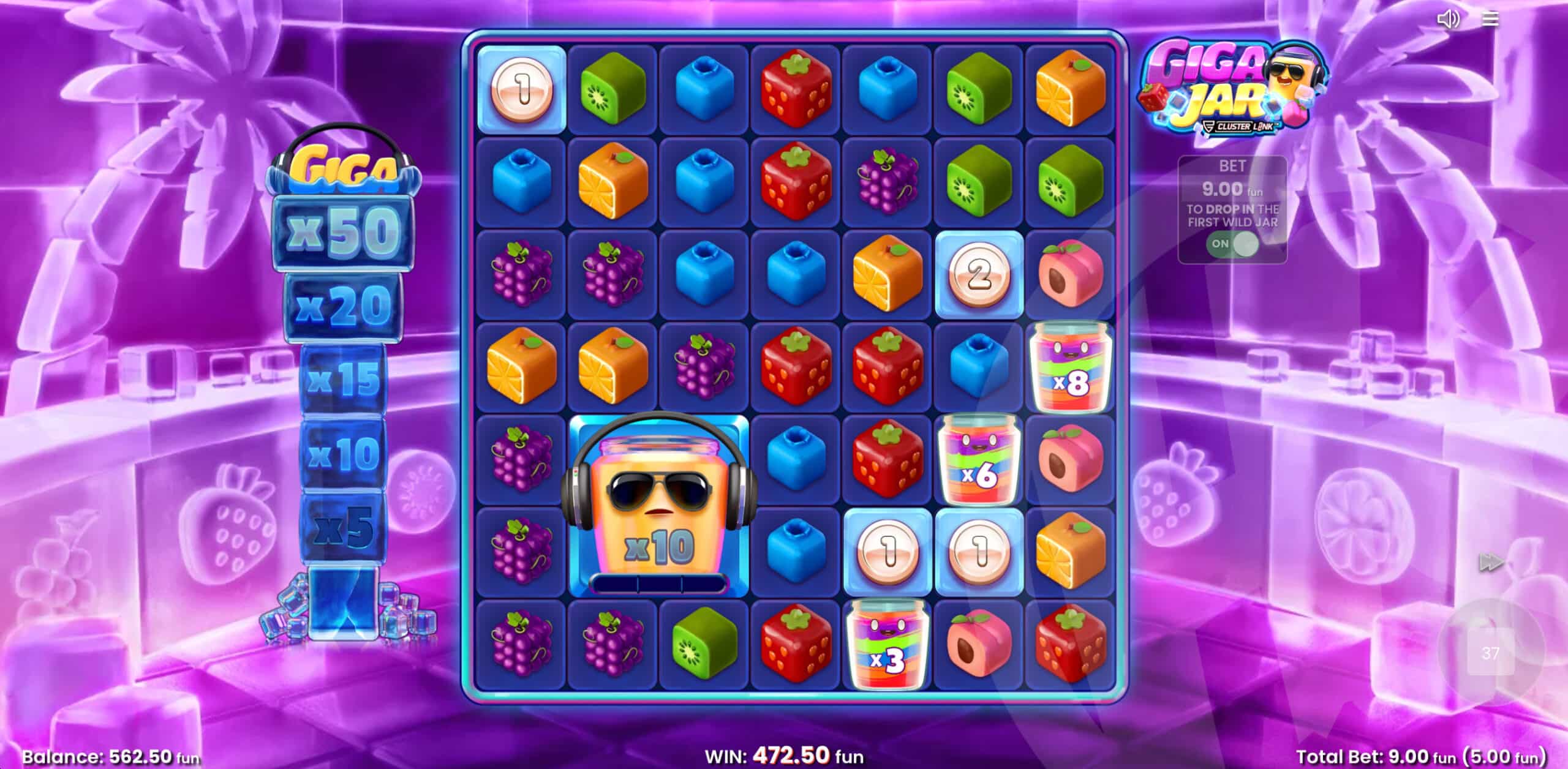 First Impression
That felt like a lot to cover, but simultaneously it felt fluid. There's nothing complicated about Giga Jar – in fact, it mostly brings back features that we know and love from this series so far. We have Wild Jar Symbols that move to adjacent positions and build multipliers, a Giga Jar that acts as a Wild Symbol with multiplier values up to x50, Instant Prize Symbols up to 1,000x bet, the Snowball Feature, and the Ice Breaker Feature. Whether you're a fan of the original, Jammin' Jars 2, or Retro Tapes, there's something here for you.
Base Game play is certainly exciting with the host of features available, but is made more exciting by the potential to guarantee the first Wild Jar Symbol is added to the grid through paying an additional 80% Ante Bet. The Giga Jar feature is where things get more exciting though, which is a win for the team. Jammin' Jars was all about the bonus, but in the releases we've had since many players have felt the bonus isn't the most exciting aspect. Giga Jar turns this back around with a Wild Giga Jar continually reactivating up to multipliers of x50, and 3 Wild Jar Symbols in play on the grid simultaneously. When the right combinations land, wins are possible up to 10,000x bet.
Finally, maths is rated as medium volatility, and RTP options are available up to 96.48%, so as always it's worth checking this. Giga Jar seems to have taken the best from every release in this series so far and crammed it into one new release – something that will surely please die hard and casual fans alike.
*The screenshots taken of games reviewed on this site are taken from Demo Play, as reviews are often written before games are released for real play.