It's been nearly 3 years since ELK Studios released Cygnus, a unique title with rolling symbols and increasing multipliers. Following on from their success this year with the likes of Nitropolis 3, it seems the team couldn't wait to go back to Egypt, as they're making a return this month for the Cygnus sequel – aptly and simply named Cygnus 2. With up to 262,144 ways to win, this highly volatile release comes with an RTP of 95.0%, and is capable of producing wins up to 50,000x bet – 5 times as much as its predecessor. Let's take a closer look…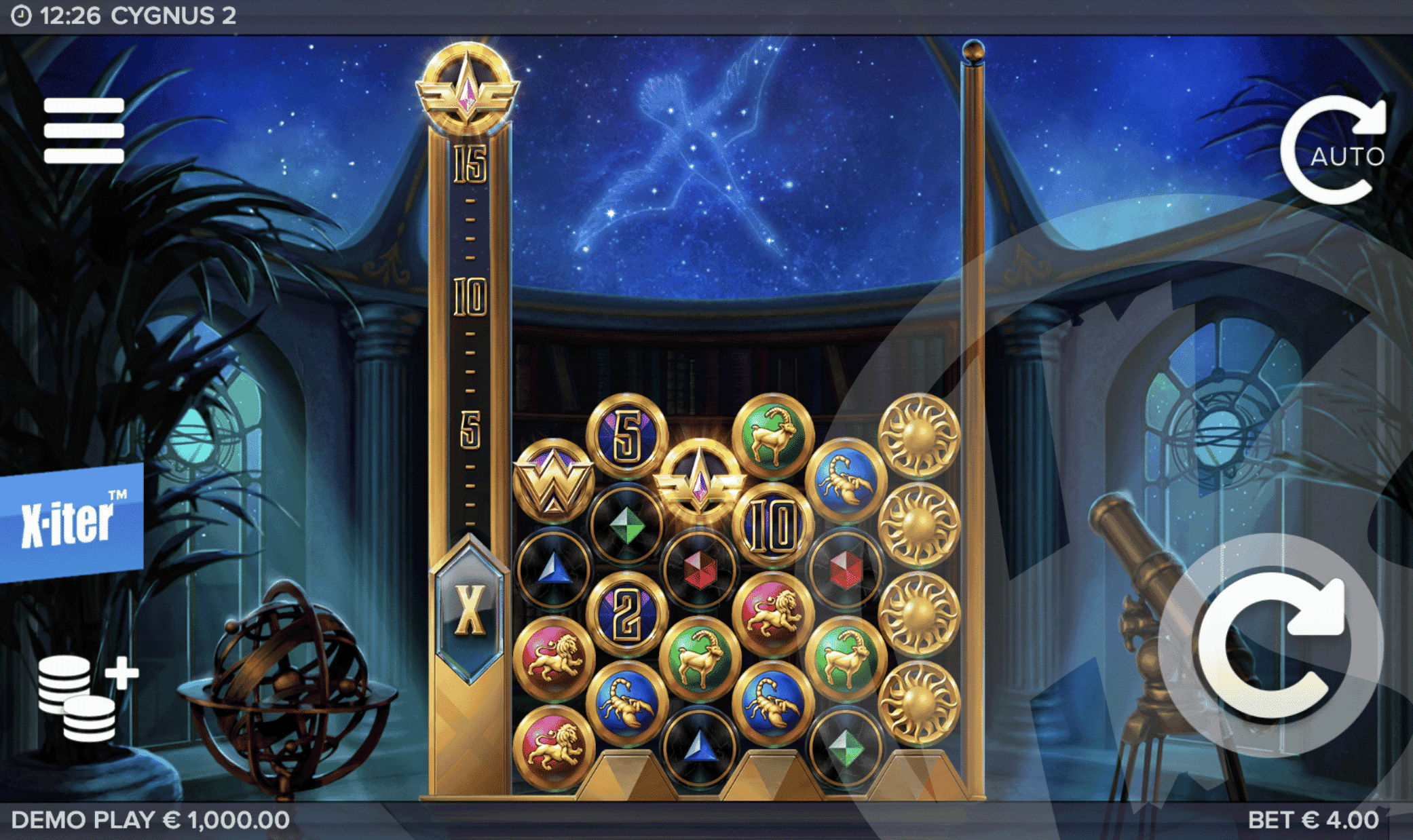 Visually, Cygnus 2 is very similar to its predecessor, although things are looking much slicker this time around, with a more expensive feel. It's like we've finally been invited inside the pyramid to engage in the luxurious lifestyle. ELK have always been good at not overdoing their graphics, and this is no different – there's just enough to set the scene, especially with the constellation matching that of Cygnus, but not so much we become distracted. Audios are quite dramatic given the setting, but really come into their own during Free Drops, where they set the tone perfectly.
Cygnus 2 Base Features
Taking place across 6 reels, wins are formed by matching at least 3 symbols on adjacent reels, beginning with the leftmost reel. All reels start with 4 symbols on them, making 4,096 ways to win. Available symbols begin with non-premiums, with blue triangles, green diamonds and and red hexagons, paying between 0.05 and 0.2x bet for wins between 3 and 6 of a kind. Premiums begin with blue scorpions and green rams, awarding 0.1 and 0.2x bet respectively for 3 of a kind, increasing to 0.4 and 0.8x bet respectively for 6 of a kind. Next up is red lions, paying between 0.3 and 1.2x bet for wins between 3 and 6 of a kind. After Lions, it's golden Suns, awarding 2.5, 5, 10 and 15x bet for 3, 4, 5 and 6 of a kind wins. Finally, there are Wild symbols which substitute for all symbols except Bonus symbols and Multipliers, but we'll cover these below.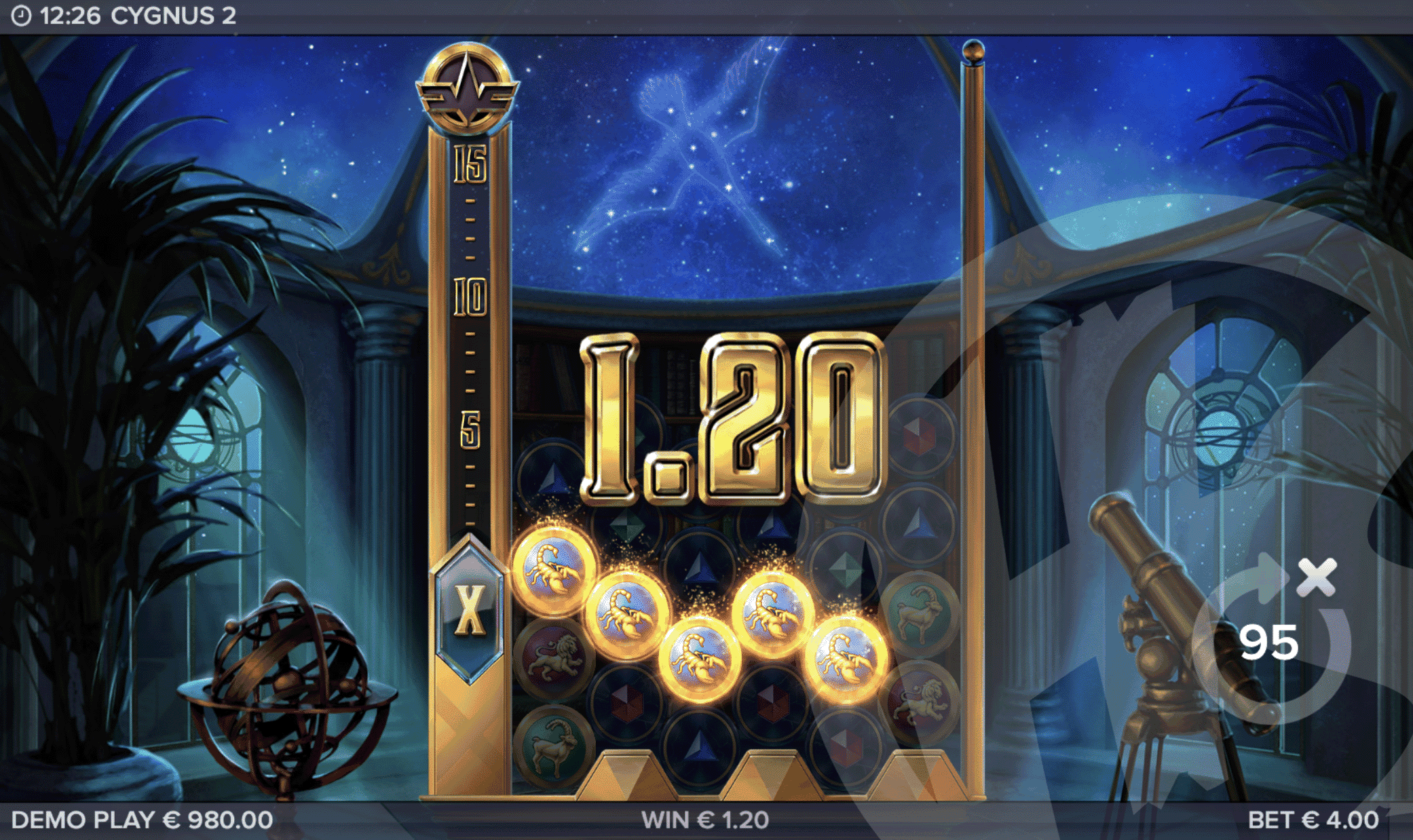 First up in Cygnus 2 is the Avalanche – a staple of ELK Studios. Every symbol involved in a win is removed from the reels, allowing remaining symbols to shift and form more wins, and new symbols to fall into place from above. When symbols are removed, the remaining symbols will roll left or right to fill the gaps – but this doesn't happen randomly. With reel design you can anticipate where symbols will go through logic, and where they would literally roll, which makes it easy to know what you need for wins. In addition to this, one extra symbol is placed at the top of each reel after an Avalanche, increasing the ways to win. All reels can contain a maximum of 8 symbols – forming 262,144 ways to win.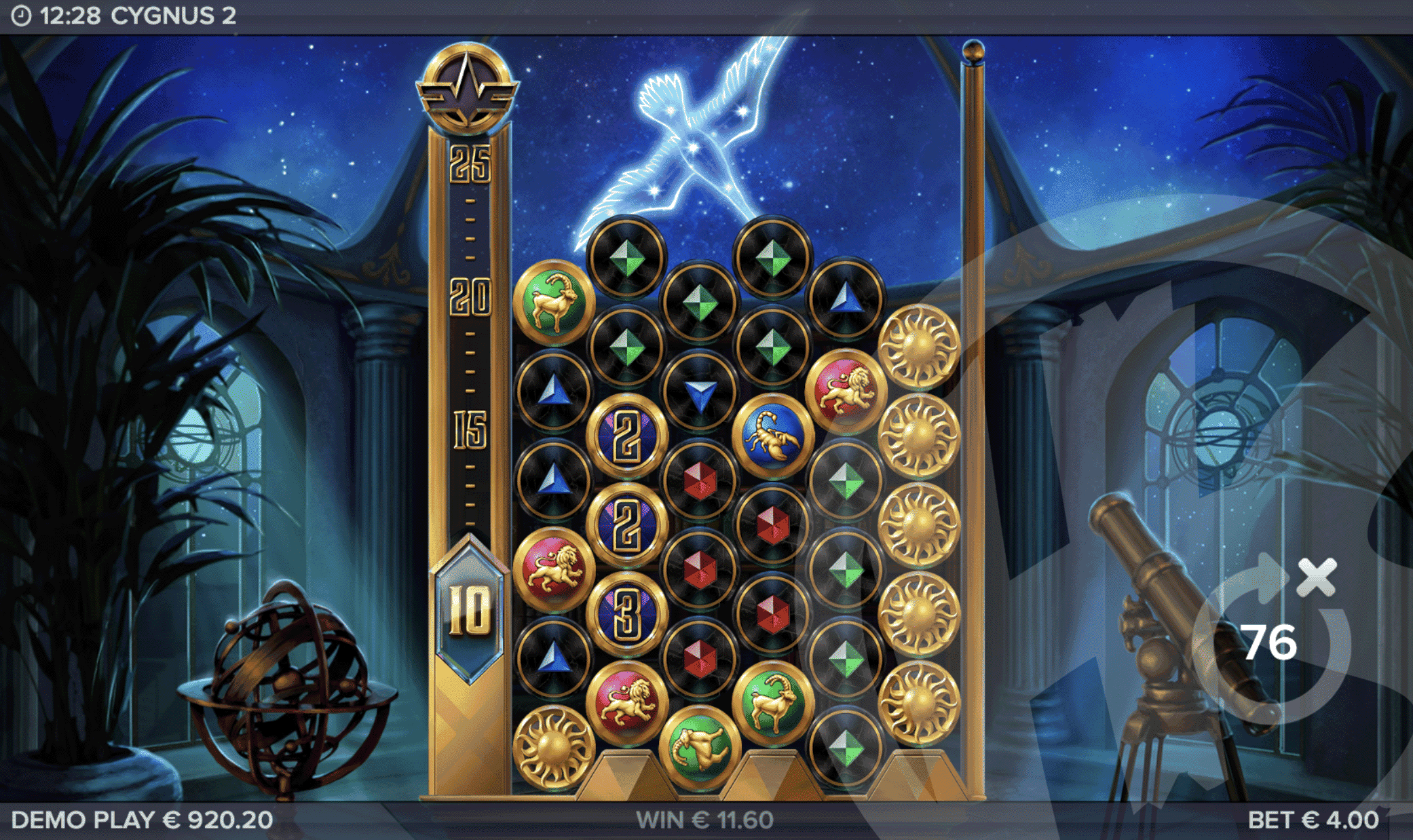 It's possible to land Multiplier symbols on the reels, and when these have moved to the leftmost reel (through Avalanches) they will increase the win multiplier. The win multiplier is visible to the left of the reels at all times. Multiplier symbols can have values of 2, 3, 5, or 10, and they will increase the multiplier by this amount. If a multiplier symbol gets stuck at the bottom of reels 2, 3, 4, 5 or 6, it will move to the top of the reel directly to the left, after the Avalanche.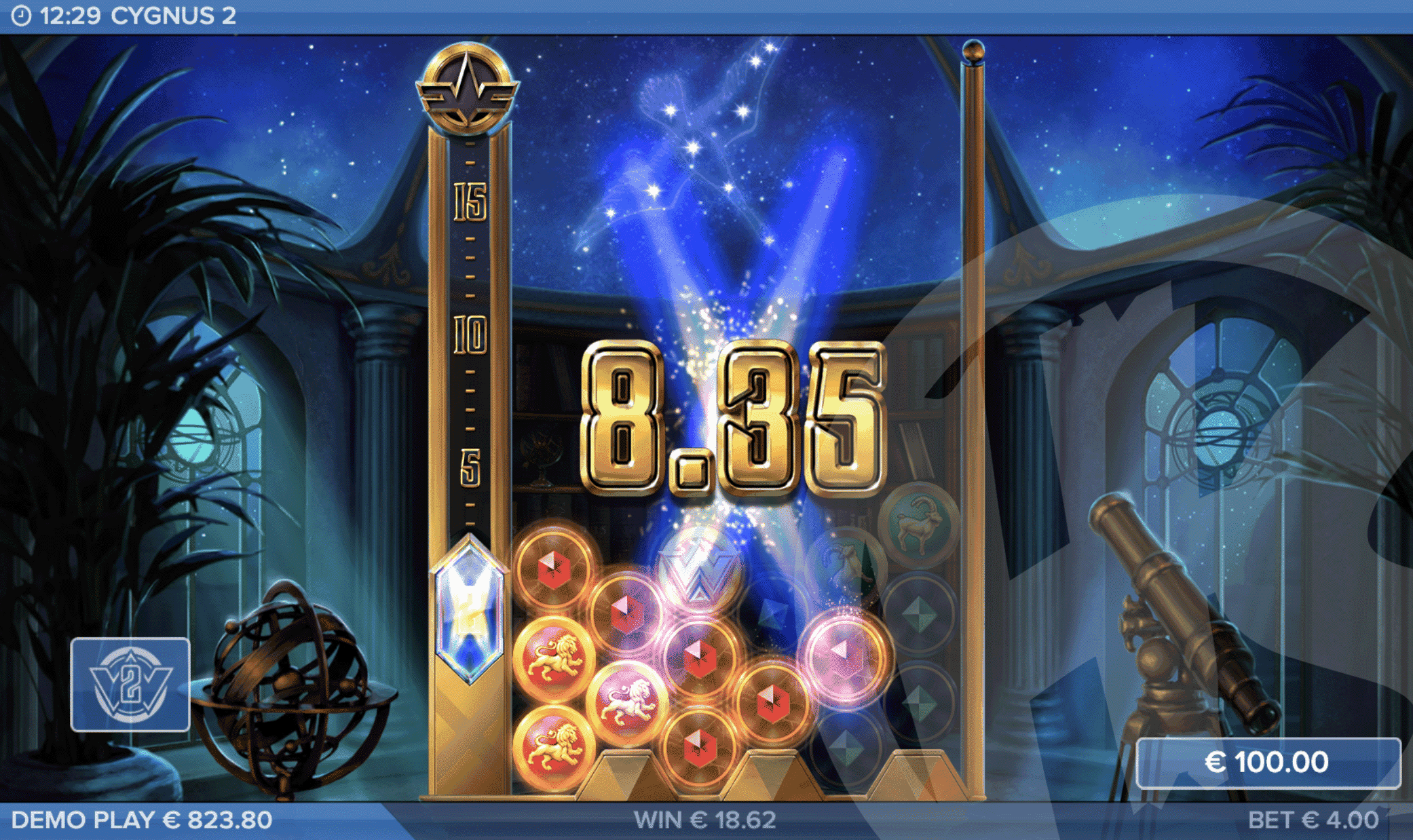 Cygnus 2 Bonus
Much like increasing the win multiplier, Free Drops are triggered by moving a Bonus symbol to the leftmost reel. Any multiplier active at this point will carry into the bonus round. During Free Drops, the win multiplier is persistent, and does not reset between drops. If a Bonus symbol once again is moved to the leftmost reel, an additional +3 drops are awarded. Bonus symbols and Multiplier symbols will be moved to the top of the reel to the left if they get stuck at the bottom of reels 2-6 during Free Drops.
There is a Super Bonus available in Cygnus 2, which works the same as the regular bonus with one noticeable distinction – Multiplier symbols are also Wild.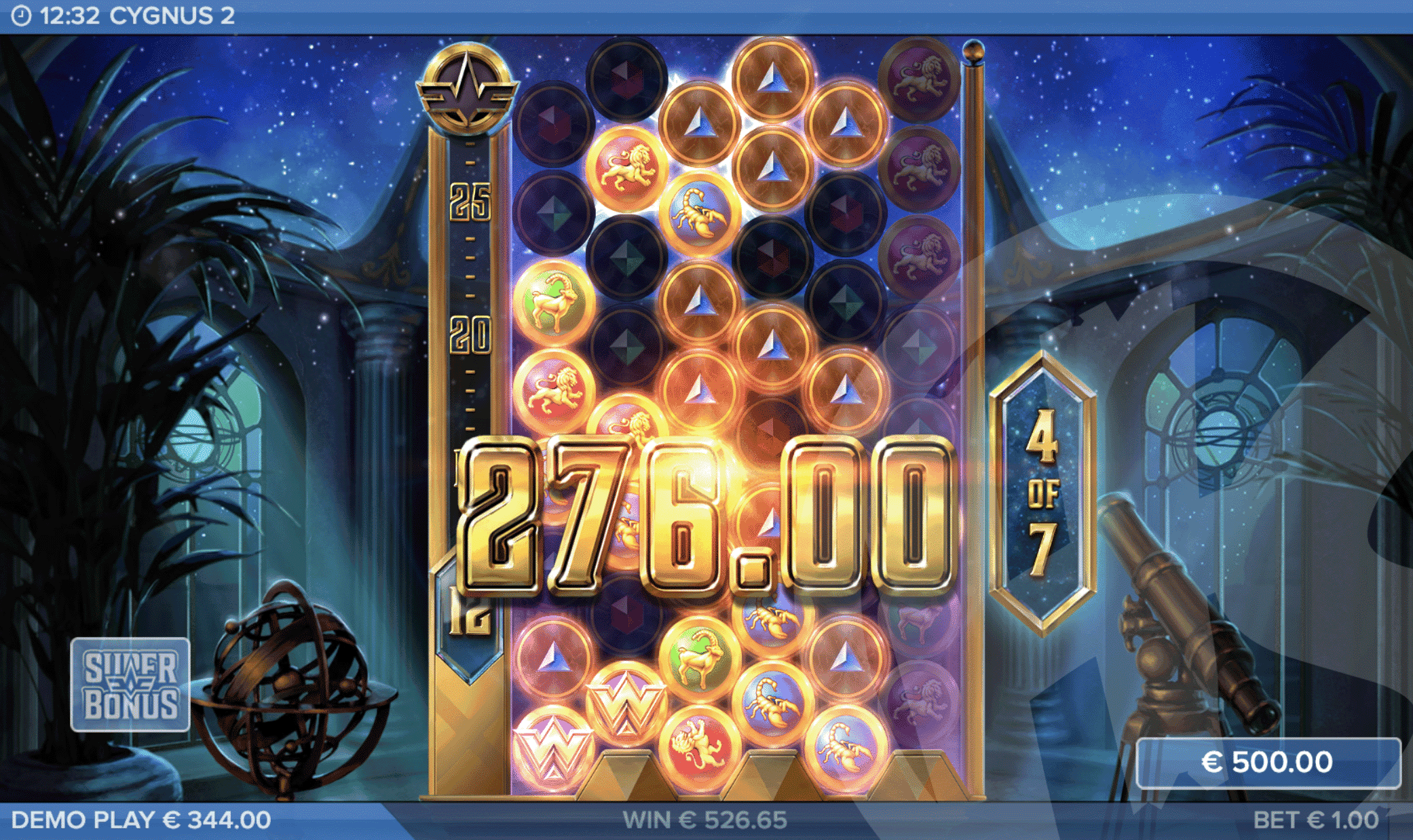 Players in appropriate regions can make use of the X-iter™ options that we have come to know and love from ELK releases. In Cygnus 2, options are as follows:
2x bet – Double the chance to trigger Free Drops.
10x bet – One drop with a guaranteed Multiplier increase.
25x bet – Multiplier symbols are Wild.
100x bet – Buy Bonus.
500x bet – Buy Super Bonus.
The maximum available win is 50,000x bet. If the total win in a single game round exceeds 50,000x bet, the game round will end and 50,000x bet will be awarded.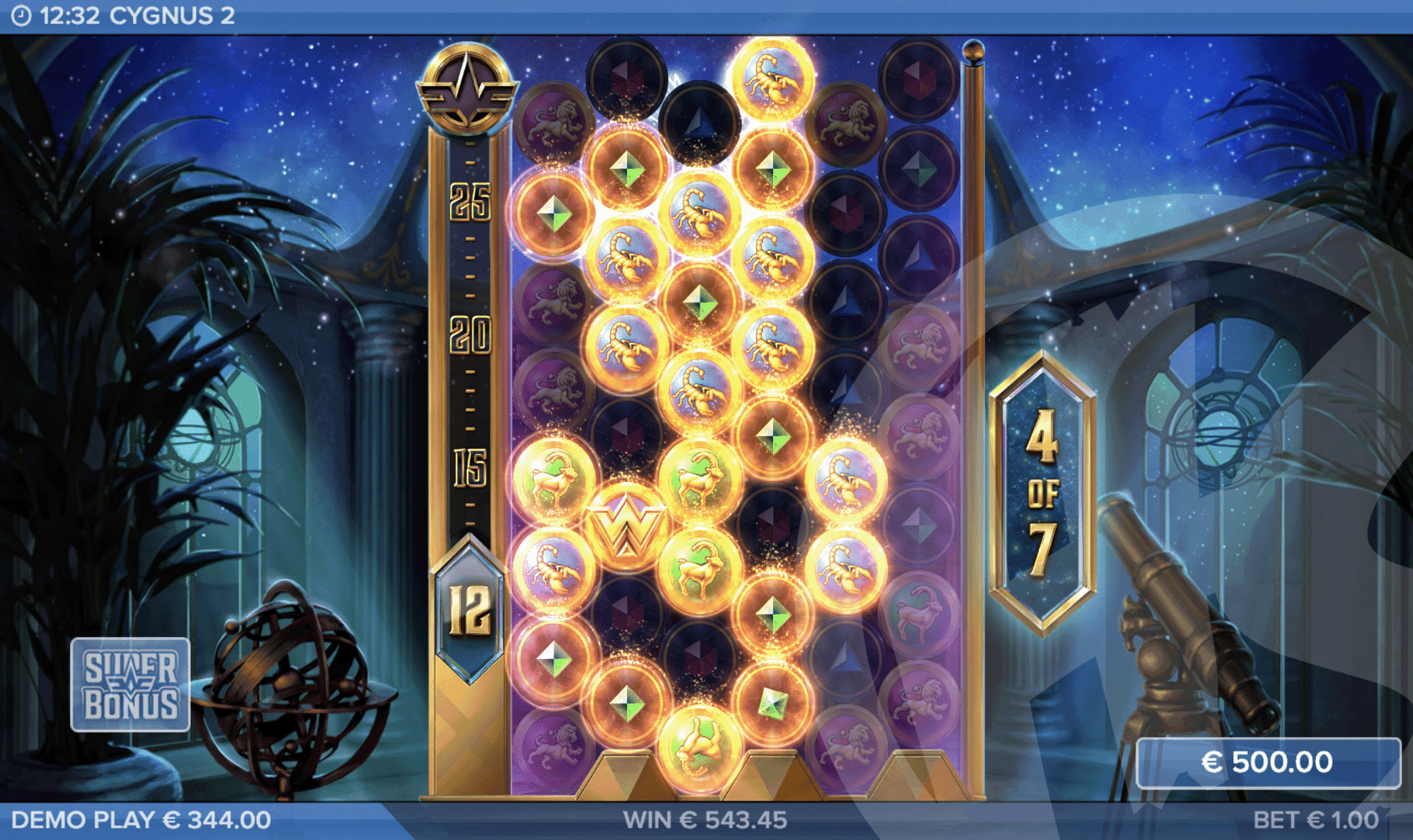 First Impression
Cygnus 2 is a release worthy of being considered a sequel. It's not often that sequels hit the nail on the end, with many turning out to be flops, having shoes that were just too big to fill. Cygnus 2 doesn't miss in this respect, with wins available up to 50,000x bet – huge in any regard, but particularly appealing for fans of the original, which maxed out at 5,000x bet.
Multiplier symbols add a nice touch to a base game that could be otherwise tedious, as Free Drops aren't rolling (pun intended) around every 50 spins. However, it is possible to see results within the base, as multipliers have the potential to climb pretty high. When Free Drops do come around, things remain highly volatile, but the rewards are definitely there for those lucky enough to experience them.
Often we find ourselves wondering what makes a Super Bonus super exactly, but with Cygnus 2 it's obvious – Multiplier symbols now acting as Wilds makes a huge difference to how the bonus round plays, and makes it significantly easier to see multipliers shift to the left to see that increase. It's all about getting the drops in the right place in this release, combined with increasing multipliers to see things really kick off.
Simple, yet powerful. That's how we would describe Cygnus 2. If you're a fan of the original, the higher potential will reel you in without breaking a sweat. If you weren't convinced by Cygnus, there may not be enough of a difference to change your mind, but it's worth a try.
*The screenshots taken of games reviewed on this site are taken from Demo Play, as reviews are often written before games are released for real play.