Buckle up, and if you're prone to motion sickness – maybe sit this one out. Big Time Gaming are bringing us back to their Megaclusters mechanic, coupled with the graphics of one of their most illustrious releases, Opal Fruits. The result? Diamond Fruits Megaclusters. Considered somewhat of a 'sequel' to Opal Fruits, Diamond Fruits is one of those releases where it takes a while to wrap your head around what's happening, but it won't be long before you're watching big wins fly past – literally. An inventive side-step from the team, this highly volatile release is capable of producing wins up to 6,650x bet, with a fixed RTP of 96.23%.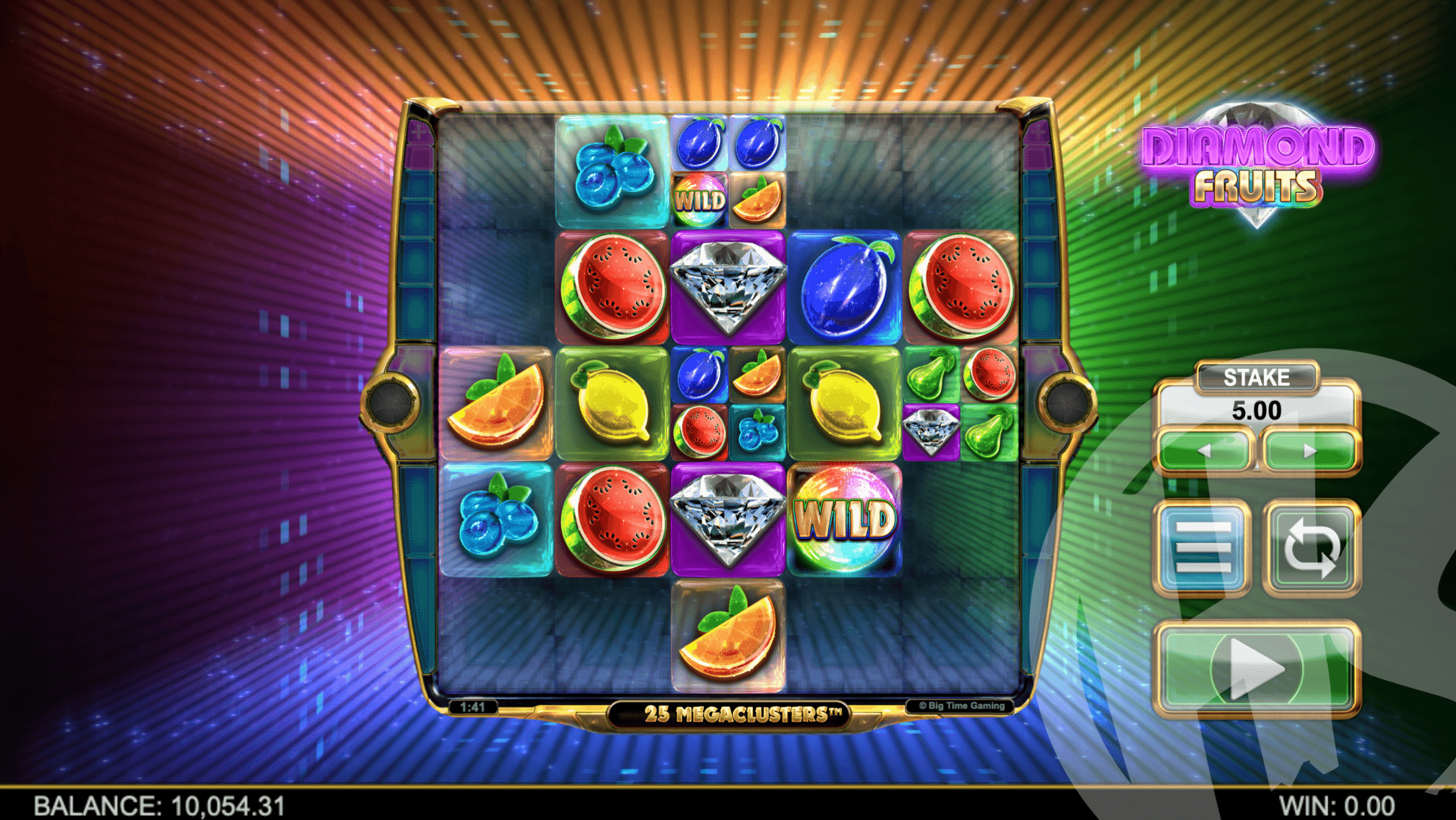 It might be surprising to see such a low (but not really) win cap from a Big Time Gaming release, and as such we might feel more inclined to label this on the medium end of the ever enticing volatility scale, but the team do promise a highly volatile experience. It is worth noting that Pragmatic releases, some of the most volatile on the market, are usually capped at the 5,000x mark. With that covered, it's time to move on to the graphics – and there's plenty to say.
The team seem set to return to their once revered position of industry design innovators with Diamond Fruits – where there are no spinning reels in sight. Instead, players will see symbols fly past and head towards the centre of the screen, putting this top of my list if we're ever treated to a virtual reality slotting experience. The whole thing has a bit of an 80s disco feel to it, with upbeat dance tunes pounding along in the background and symbols moving in every direction with Fourway Reactions. To add to the entire experience, the overall scene is filled with multicoloured disco lights, zooming past almost at warp speed. The end result is a flashy, retro atmosphere, bursting to life with oversized symbols and oversized wins.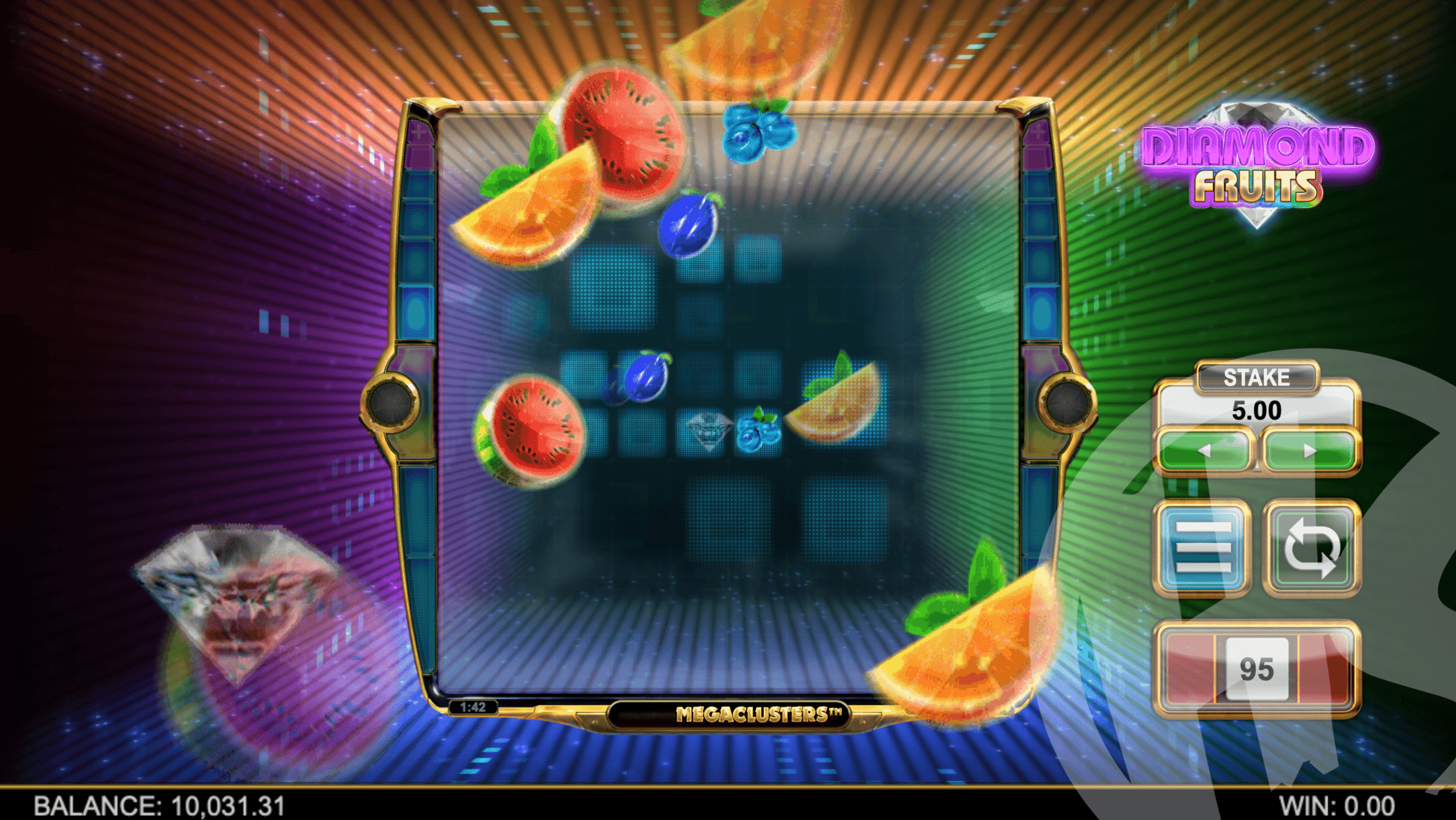 Diamond Fruits Megaclusters Base Features
This is the part where I'd normally say something like 'taking place across 5 reels', but things aren't that simple in Diamond Fruits. Basically, gameplay begins on a 5×5 grid, and each position on the board can contain either 1 large symbol, or 4 smaller symbols. To further this head spinning experience, some of the positions can be empty, but you are guaranteed to fill at least 7 positions on each spin, so you can begin with 7-25 large symbols, or 28-100 smaller symbols. Trust me, it gets easier once you're playing yourself.
To form wins, players need to match clusters of symbols, with at least 5 matching symbols touching horizontally or vertically. Like with all Megaclusters releases, remember that a larger symbol is considered just 1 symbol – this isn't like Gigablox where large symbols break down and count for multiple smaller ones. Symbols available are the Opal Fruits lineup we expect, beginning with blueberries, lemons and oranges, rewarding players with wins between 0.1 and 0.15x bet for clusters of 5, increasing to values between 10 and 20x bet for clusters of 25+. At the premium end, green pears, blue plums, and red watermelons reward players with values between 0.15 and 0.25x bet for clusters of 5, increasing to 50x bet wins for clusters of 25+. The highest paying symbol available is the purple diamond, awarding players with 0.4x bet wins for clusters of 5, also increasing to 50x bet for clusters of 25+. Finally, multicoloured wilds can land on any position, substituting for all symbols.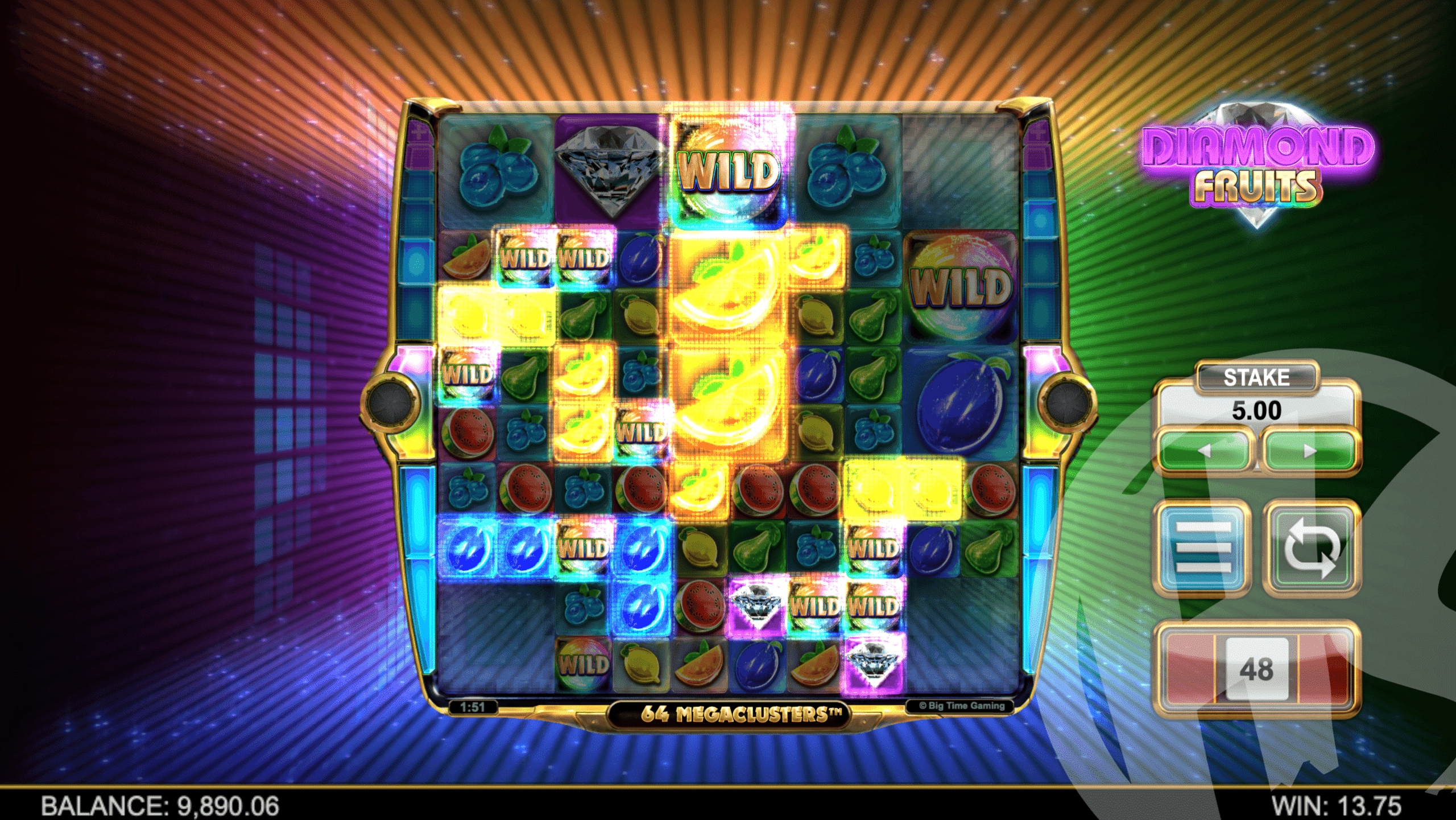 A few different features are available to keep things moving forward in the base game, beginning with Fourway Reactions. On every spin, any symbols involved in a win are removed from the grid, allowing new symbols to take their place to continue to form clusters. If the symbol that is removed is a larger symbol, it will break down and be replaced by 4 smaller symbols. When smaller symbols are removed from the grid, a direction is randomly chosen for symbols to move in from – left, right, up, or down. I'll save you the few hundred spins it took me to notice, and let you know that the position on the reels will briefly flash an arrow up to show the direction symbols will be moving, so you can begin to anticipate wins once you wrap your head around things. When a larger symbol breaks down, the smaller symbols will always come flying in, being completely new symbols on the board.
Next up is Wild Cannon, which occurs after 3 reactions in the base game – not 3 winning clusters, but 3 consecutive reactions. When Wild Cannon is triggered, between 5 and 15 wilds are added to the grid in random positions.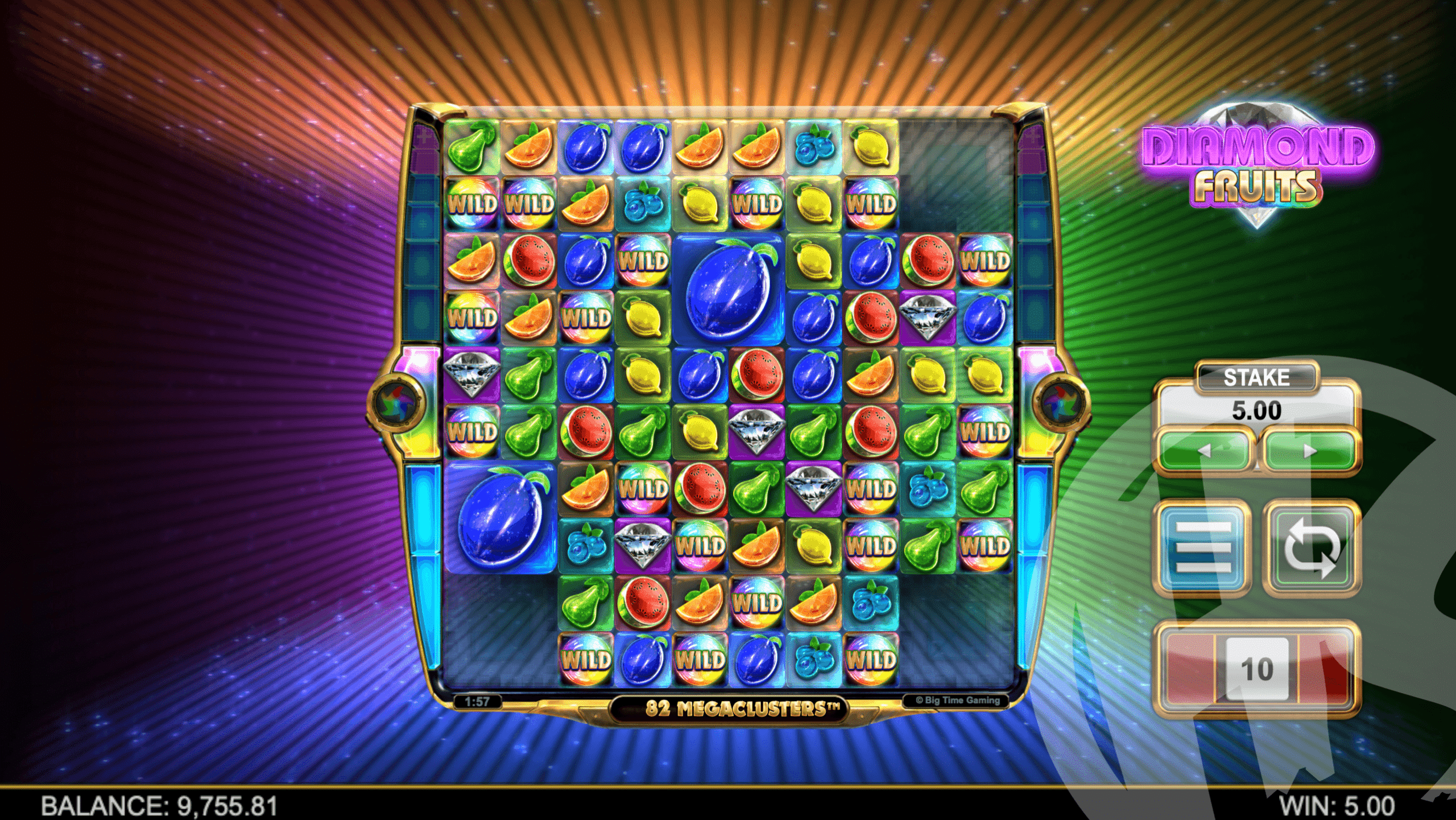 Diamond Fruits Megaclusters Bonus
Triggering free spins is easy, in theory – land 7 consecutive reactions in the base game and you'll be awarded 8 free spins, with an additional +1 free spins for every reaction beyond the seventh. If you prefer to keep count of your reactions, you can do so by tracking the lights along the side of the reels – every reaction will build the lights upwards by one level on both sides.
Once free spins begin, an unlimited win multiplier is activated. This multiplier begins at x1 and increases by +1 for every reaction. Unlike Opal Fruits, a retrigger is not awarded once the multiplier reaches x10 – instead, after 7 consecutive reactions in one free spin an additional +3 free spins are awarded, plus an additional +1 free spin for every reaction beyond the seventh.
Wild Cannon remains active during free spins, triggering after 3 consecutive reactions within 1 free spin, adding between 5 and 15 wilds onto the grid in random positions.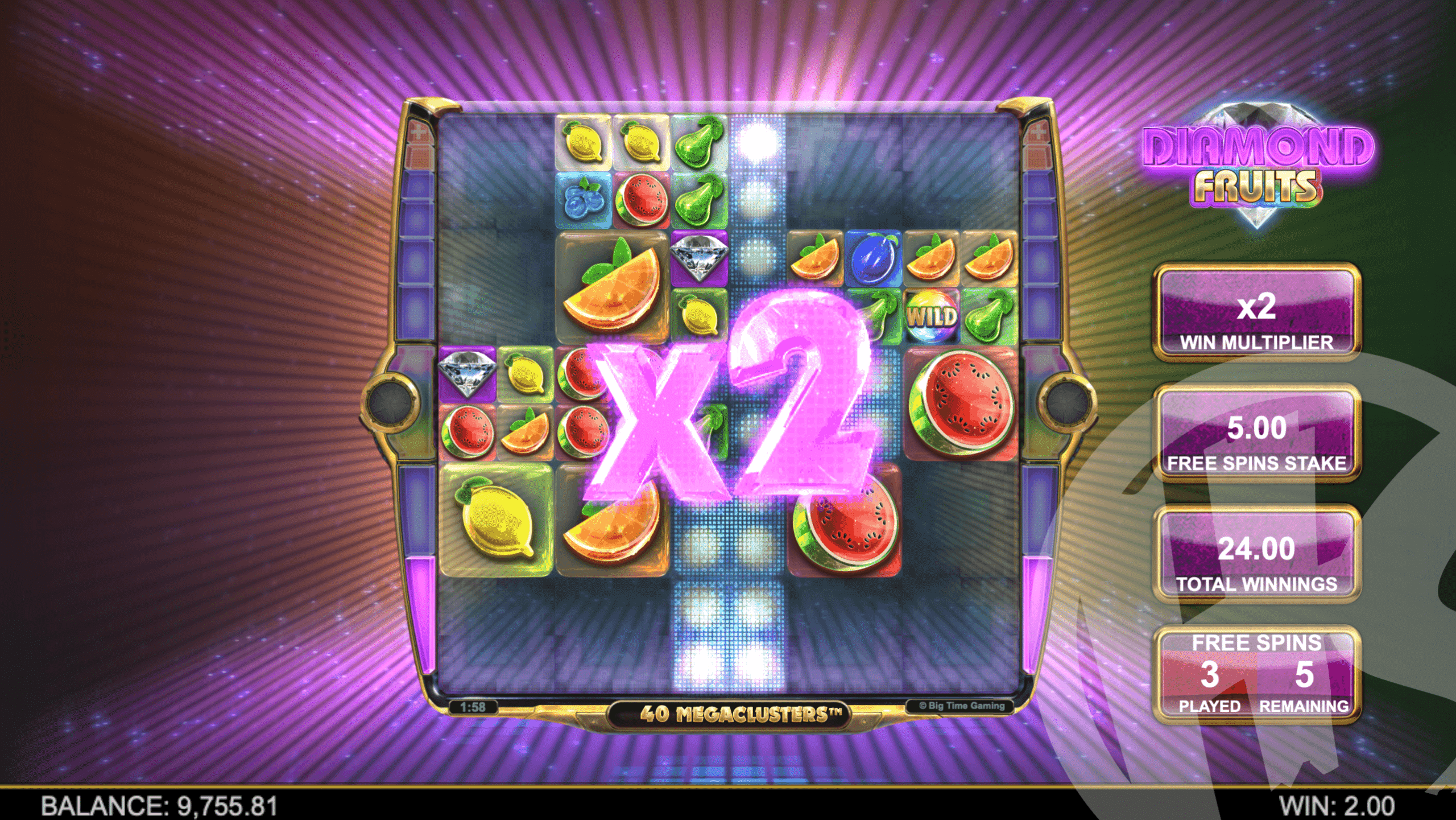 First Impression
Diamond Fruits Megaclusters is a nice continuation of the Opal Fruits story – with Opal Fruits so well loved by players, it would seem difficult to move forward. Rather than offering us more or less the same game with a small tweak, the team decided to take a step sideways and offer us something different, but still packed with excitement and design innovation. When it comes to audiovisuals, the whole thing comes together to form an experience we haven't seen before, setting the scene for the kind of release its so easy to become mesmerised by.
Features are interesting and fit the theme well, although it can take a decent amount of spins to completely wrap your head around what you're looking at. If you're not worried about comprehension, you can sit back and relax and just watch free spins arrive, but if you want to follow things closely you will need to knuckle down and focus, at least for the first while. Wild Cannon is a nice feature, and in our experience on demo is both common, and frequently adds wilds at the higher level – closer to 15 than 5.
Moving into free spins, and things are more or less exactly the same with one addition, an unlimited win multiplier – one feature that manages to change the entire experience and turn fairly low symbol values into something we can really get excited about. Once the multiplier has been built up, landing the Wild Cannon feature has the potential to unload huge wins, with the potential for wins up to 6,650x bet in free spins. RTP is a fixed 96.23% and volatility is high, although with a considerably smaller win cap than the likes of Wild Flower, we expect this to be more of an 8/10 volatility than a 10/10.
It's nice to see the team producing something unexpected, with this maximum win being one of the most unanticipated aspects – which will completely change the experience for players. Only time will tell if players prefer this smaller win cap that hangs closer to our grasp, but for now we're prepared to say this is a great addition to the Big Time Gaming catalogue – both surprising and unique.
*The screenshots taken of games reviewed on this site are taken from Demo Play, as reviews are often written before games are released for real play.