If you didn't know, the Hideous Slots community voted in December 2022 to award Push Gaming's Big Bamboo our slot of the year in a landslide victory – more than 400 votes ahead of the second place winner, with more than 1,100 votes in total. It's great news for these voters today and wider Big Bamboo fans around the world as we review the next release from Push Gaming – Dino P.D. Set to release a month after Giga Jar, Dino P.D. revisits not only some of the most popular Big Bamboo features, but also those from the team's 2021 release, Dinopolis. With RTP options up to 96.38%, this medium to highly volatile release comes with win potential up to 10,000x bet.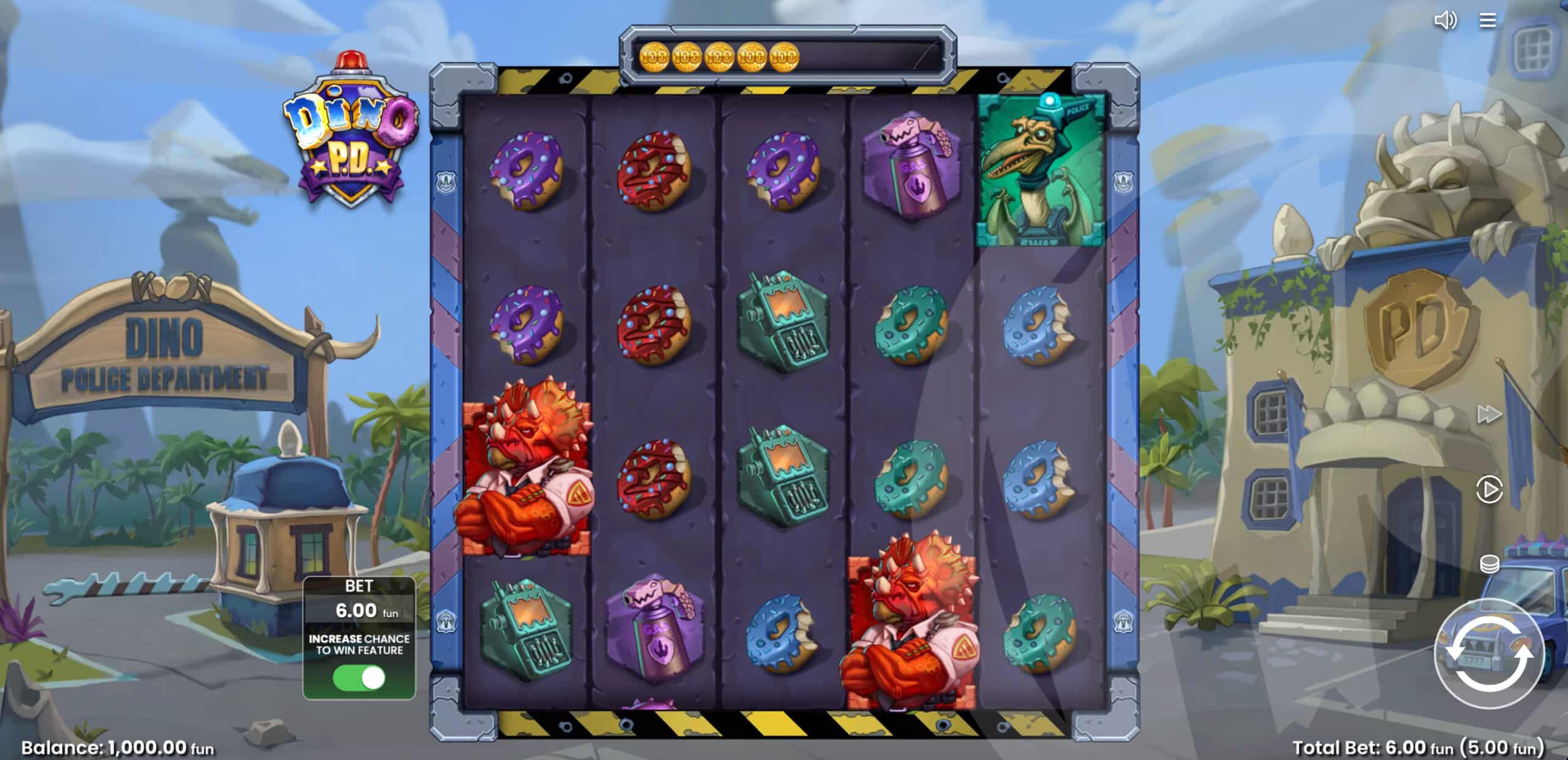 It's all about the dinosaurs in Dino P.D. as we arrive to a city with bone architecture and dinosaur monuments in the distance. The whole thing kind of has a Bedrock feeling to it, like you're looking at a new and improved image of The Flintstones' stomping ground. We're inside the Dino Police Department on a sunny day in this release, with everything you'd normally see like palm trees, police cars, statues, and barriers all made more interesting with the team's unique design skills. Everything is finished off with a smooth soundtrack to tie it all together, and some nice effects like flashing red and blue lights and police sirens when wins occur.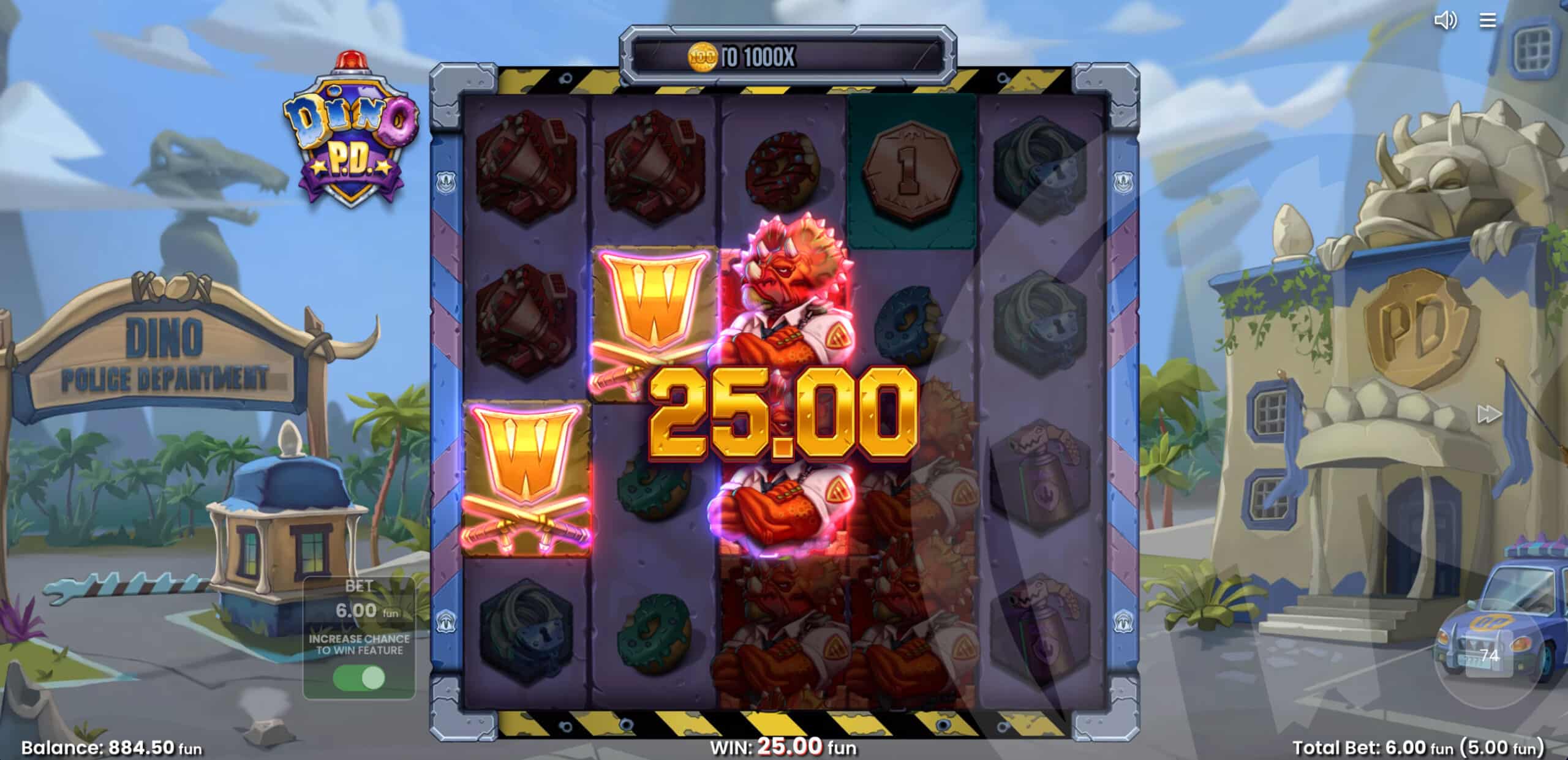 Dino P.D. Base Features
Taking place across 5 reels, wins are formed on Dino P.D. by matching at least 2 or 3 symbols on adjacent reels, beginning with the leftmost reel, across 1 of 20 fixed win lines. Symbols available begin with non premiums in the form of donuts – a staple when you're taking on a cop theme. Donuts are blue, green, purple, and red in colour, and award wins between 0.20 and 3x bet for matches between 3 and 5 of a kind. In the mid range we have handcuffs, radios, gas canisters, and mega phones, again blue, green, purple, and red in colour. Land 3 of a kind of any of these symbols to see wins between 0.40 and 0.50x bet, increasing to values between 7.50 and 10x bet for 5 of a kind matches. Next, our premiums award wins between 2 and 5 of a kind, and consist of three dinosaurs – green pterodactyls, purple tyrannosaurus rexes, and red triceratops. Land 2 of a kind of any premium to see wins between 0.40 and 0.50x bet, increasing to values between 30 and 50x bet for 5 of a kind wins. Finally, Wild Symbols substitute for all symbols except Scatter Symbols, Gamble Scatter Symbols, or Dino Coins. Land 2, 3, 4, or 5 of a kind Wild Symbols to see wins of 0.50, 5, 25, or 250x bet respectively.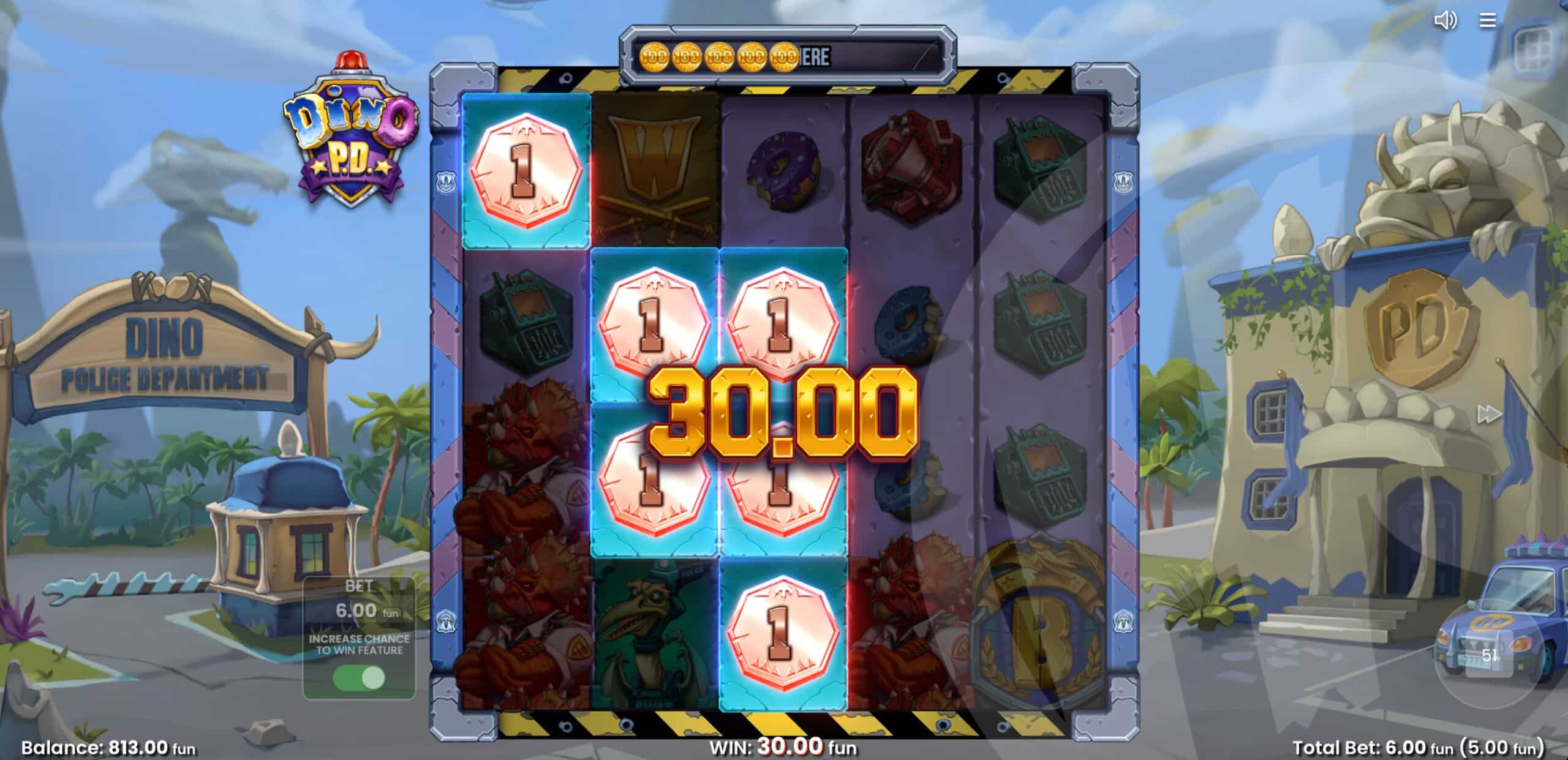 Things are kept fairly simple in the base game of Dino P.D. but the first thing to cover is the Ante Bet. By betting an additional 20%, players have a higher chance of triggering the Free Spins Feature.
Aside from this, all of the action comes from Dino Coins. Dino Coins are instant prize symbols – something the team at Push Gaming are famous for. It is possible to land a Dino Coin in any reel position, and when they do land they will have a value attached that is a bet multiplier. When at least 5 Dino Coins land in view, their values are awarded.
Possible Dino Coin values are – 1x, 2x, 5x, 10x, 25x, 50x, 100x, 250x, 500x, or 1000x bet.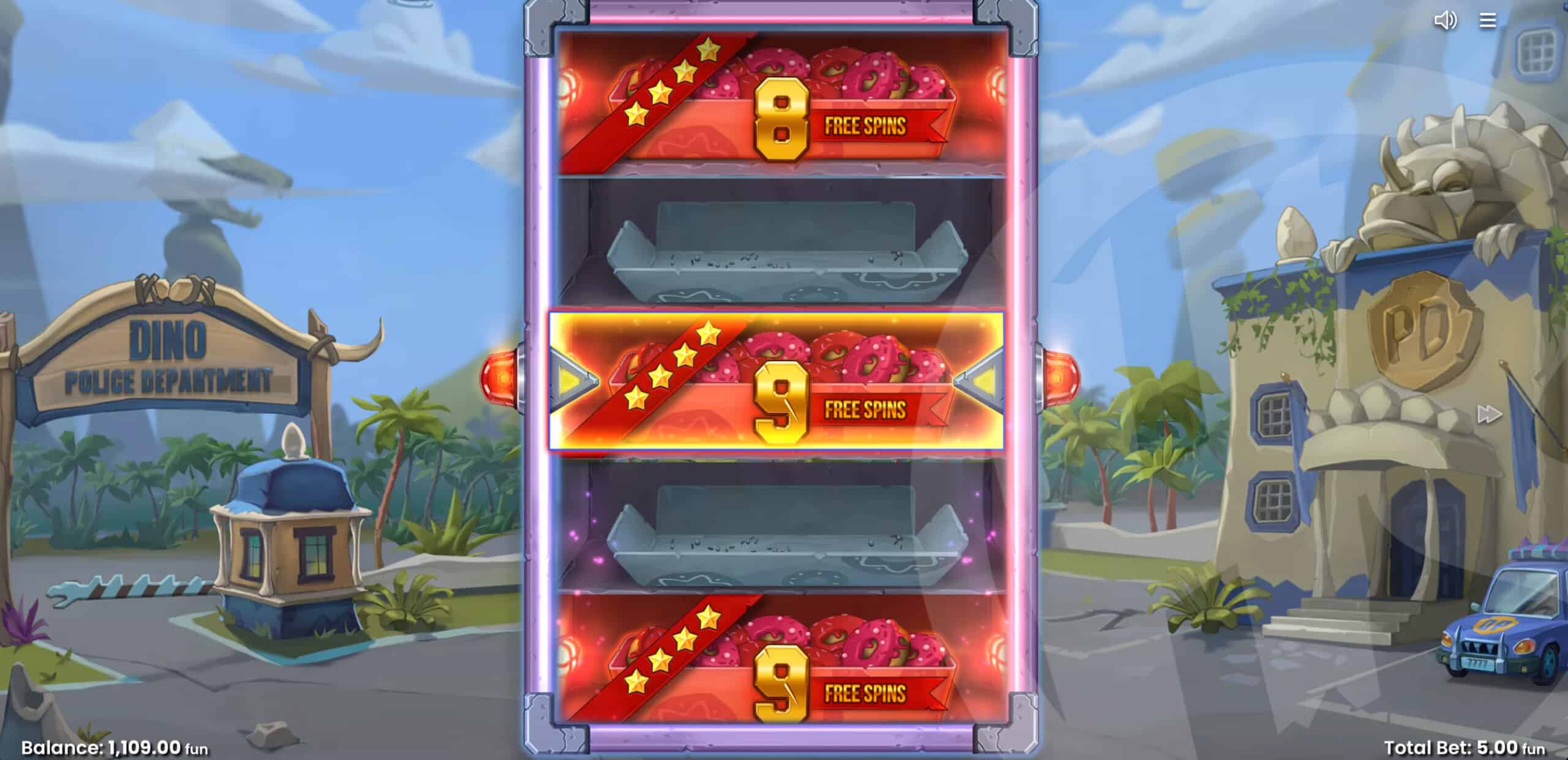 Dino P.D. Bonus
Land 2 Scatter Symbols on reels 1 and 3 and a Gamble Scatter Symbol on reel 5 to trigger the Free Spins Feature. Upon landing, the Gamble Scatter Symbol will cycle through different prizes, awarding the one it stops on. It is possible to be awarded the following prizes:
Bronze Free Spins with 0 star
Bronze Free Spins with 1 star
Silver Free Spins with 2 stars
Silver Free Spins with 3 stars
Gold Free Spins with 4 stars
Bronze, Silver, and Gold will all award between 8 and 10 Free Spins. The number of stars will denote the number of low paying symbols which have been converted to Dino Coins, and therefore the active Dino Coin multiplier (more on these below).
After being awarded their prize, players have an opportunity to use the Gamble Feature to attempt to win a higher prize. The Gamble Wheel will have segments with higher prizes and also segments with no prize. When gambling, any prize higher than the current prize can appear on the wheel. After successfully winning a higher prize, players can gamble again – until they reach a Gold Free Spins mode. If the gamble finishes on a segment with no prize, no Free Spins are awarded.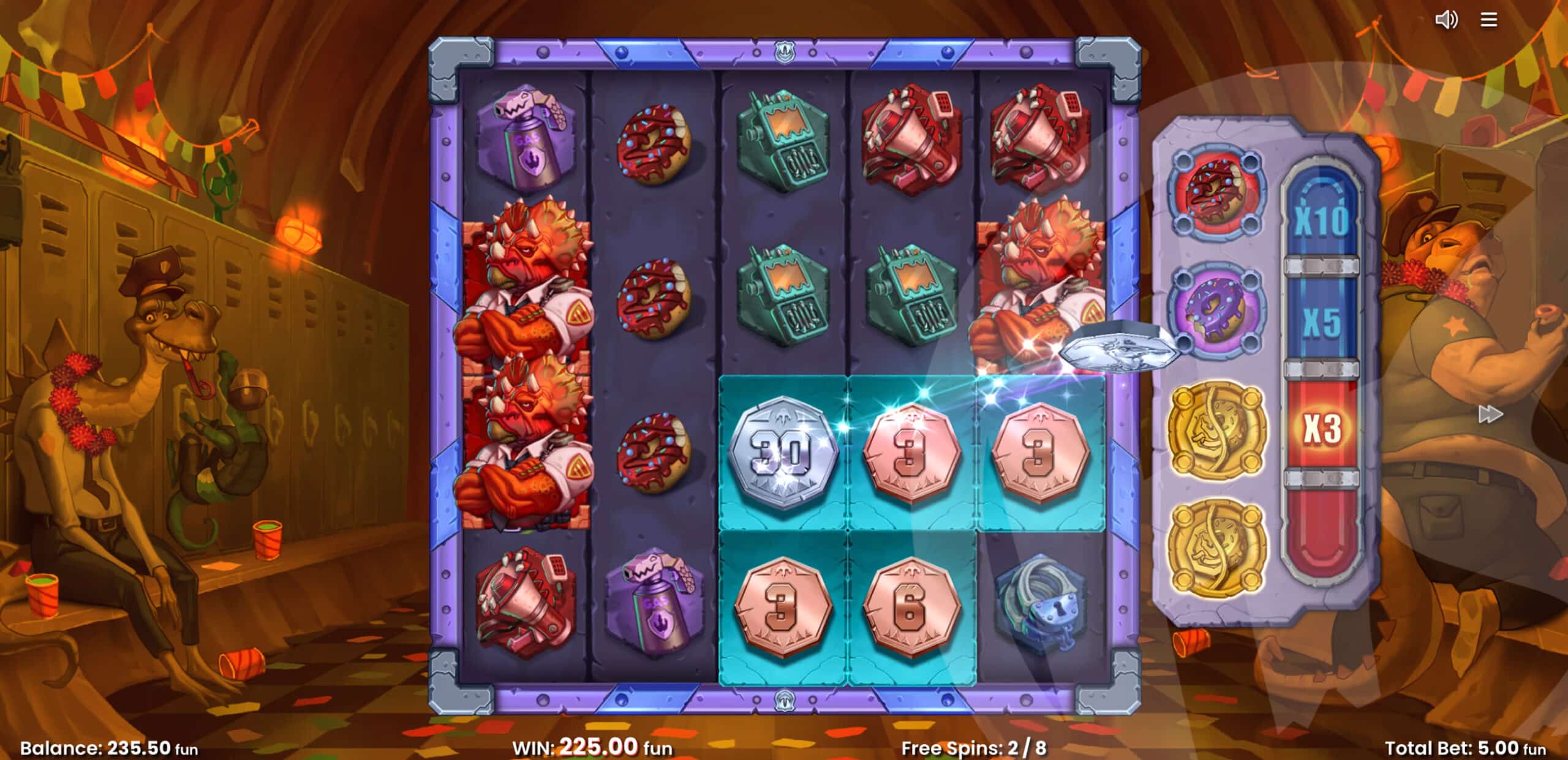 During the Free Spins Features, Dino Coins continue to land on the reels, capable on landing in any position. Their possible values do not change from the base game – 1x, 2x, 5x, 10x, 25x, 50x, 100x, 250x, 500x, or 1000x bet.
However, it will now be possible that some Dino Coins will land as Dino Collector Symbols. These will look the same as Dino Coins but will have lights around the edge of the symbol. Dino Collector Symbols function in the same way as Dino Coins for win evaluations, but are also added to the meter beside the reels. Each time 4 Dino Collector Symbols have been collected, another low paying symbol is converted to Dino Coins. Additional Free Spins will also be awarded, with a multiplier activated:
1 low paying symbol converted – x2 multiplier
2 low paying symbols converted – x3 multiplier
3 low paying symbols converted – x5 multiplier
4 low paying symbols converted – x10 multiplier
The multiplier is only applied to Dino Coin values – not regular winning combinations. After reaching the stage of 4 low paying symbols being converted to Dino Coins, it is no longer possible to land Dino Collector Symbols.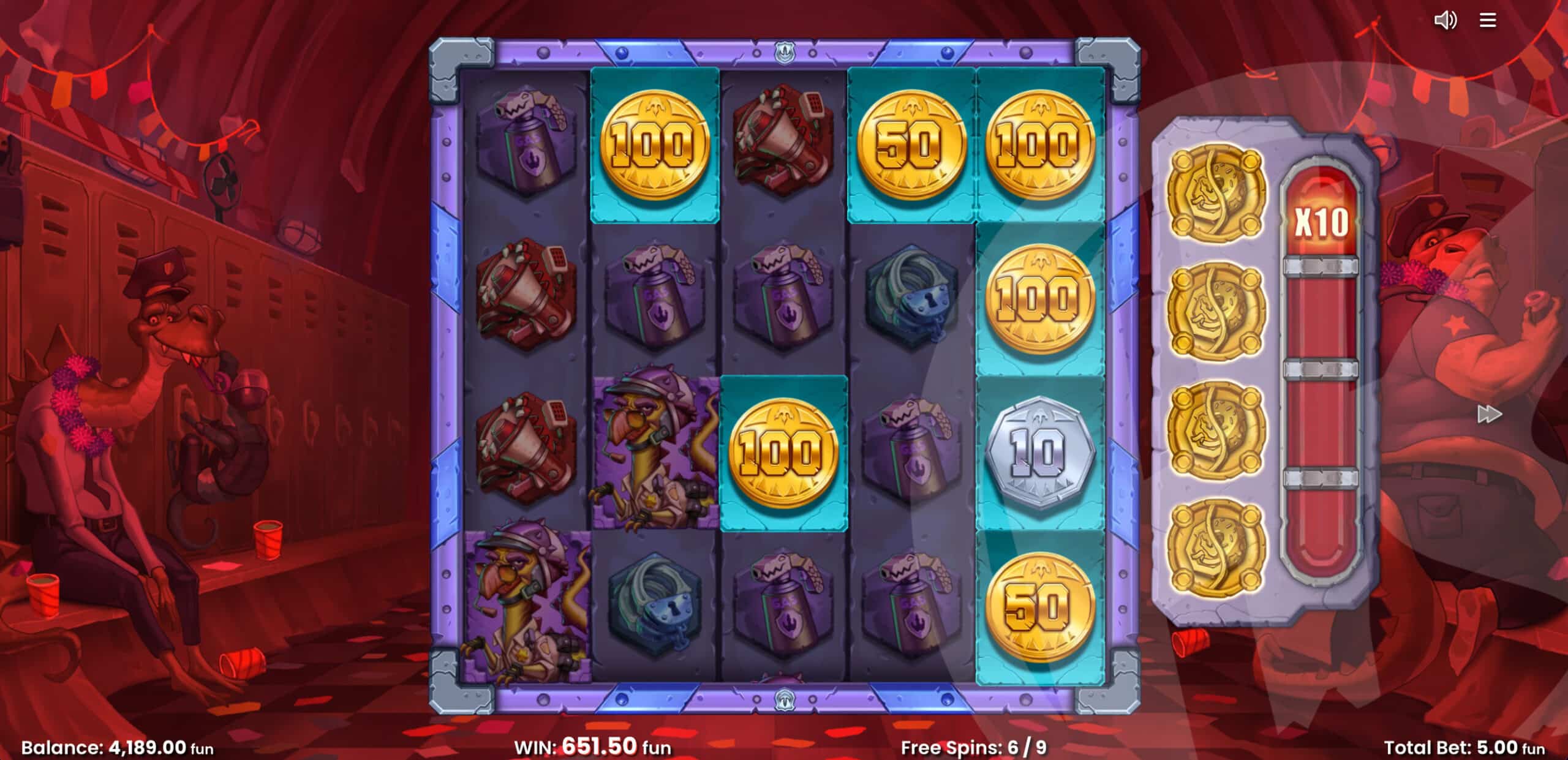 Players in appropriate regions can skip straight to the action with the following Bonus Buy options:
Bronze Free Spins with 0 or 1 stars – 70x bet (96.26% RTP)
Silver Free Spins with 2 or 3 stars – 140x bet (96.38% RTP)
Gold Free Spins with 4 stars – 450x bet (96.24% RTP)
Mystery Free Spins (any prize can land) – 100x bet (96.30% RTP)
The above RTPs are based on the overall game setting of 96.38% RTP.
The maximum win available in Dino P.D. is 10,000x base bet. If the sum of a single game round exceeds this, the game round will end and 10,000x bet will be awarded.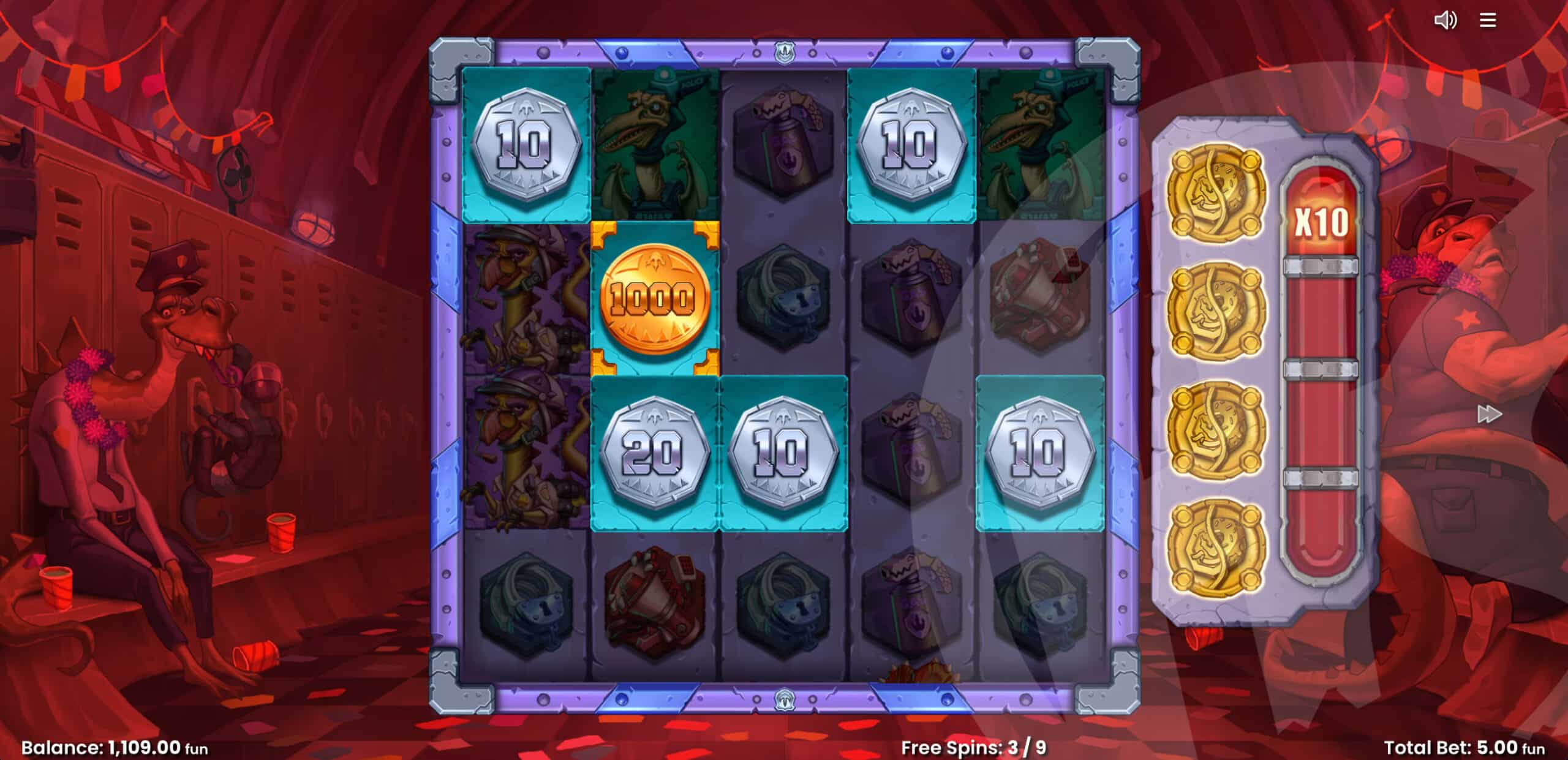 First Impression
If you're new to the world of online slots that might have seemed like a lot of information to digest, but everything is actually quite simple in Dino P.D. Dino Coins land on the reels to award prizes up to 1,000x bet, provided at least 5 are in view. Aside from that, the base game gets by on the idea of the Ante Bet increasing bonus chances, and the stellar audiovisuals provided from a team that always nail it.
Free Spins are where the majority of the action is though, and they begin with a difficult decision – do you risk it all for a chance of a higher prize? Full disclosure, we lost 8 gambles in a row trying to get to the top when testing this release, so that would have sucked pretty bad if it had been real money. Depending on how high you gamble, or how big a prize you naturally land, more low paying symbols are converted to Dino Coins, along with multipliers up to x10 increasing these very same prizes. Combine the highest multiplier with the biggest coin and you can see the maximum win for this release land in one symbol position – 10,000x bet.
RTP options are available up to 96.38%, so as always it's worth checking this, although at the time of writing this review statistics for other settings were not available – but we'll check back and update the information when this becomes available. Finally, maths is rated medium to highly volatile, so nothing too extreme, but certainly not a walk in the park in our experience – although you'll notice above we did see a 100x coin transformed to 1,000x thanks to the multiplier.
Dino P.D. serves as an interesting hybrid between Big Bamboo and Dinopolis. Sure, it's more Bamboo in features and Dino in looks, but either way it proves to be a successful combination.
*The screenshots taken of games reviewed on this site are taken from Demo Play, as reviews are often written before games are released for real play.