In summer 2021, Yggdrasil Gaming introduced us to their latest mechanic idea – DoubleMax, brought to us through the popular release Raptor DoubleMax. Aptly titled, the DoubleMax mechanic doubles win multipliers – to the point where players started to see multipliers in excess of x4000. Now, Yggdrasil partner Reflex Gaming are turning their hand to this mechanic with Dublin Up DoubleMax – a highly volatile release that comes with a fixed RTP of 95.50%, and win potential up to 20,024x bet.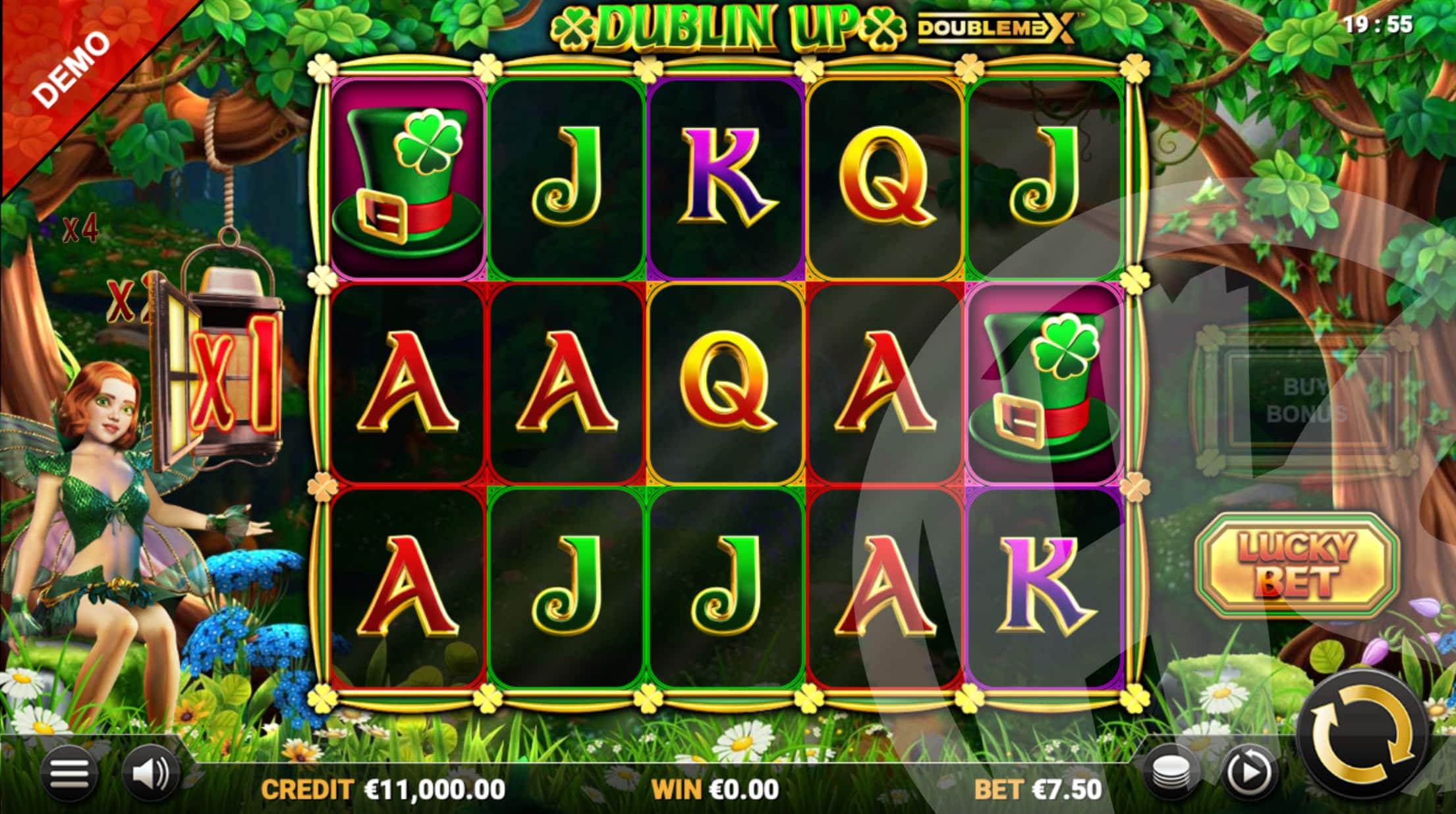 Visually, Dublin Up DoubleMax is Irish (obviously), but there's a strong ethereal vibe running throughout. We appear to be in a forest, with a fairy to the left of the reels responsible for increasing win multipliers – displayed in lanterns. It's all quite nice, with delicate music tying everything together. Not nearly as striking as Raptor, but still a perfectly fine representation of life in an Irish Woodland.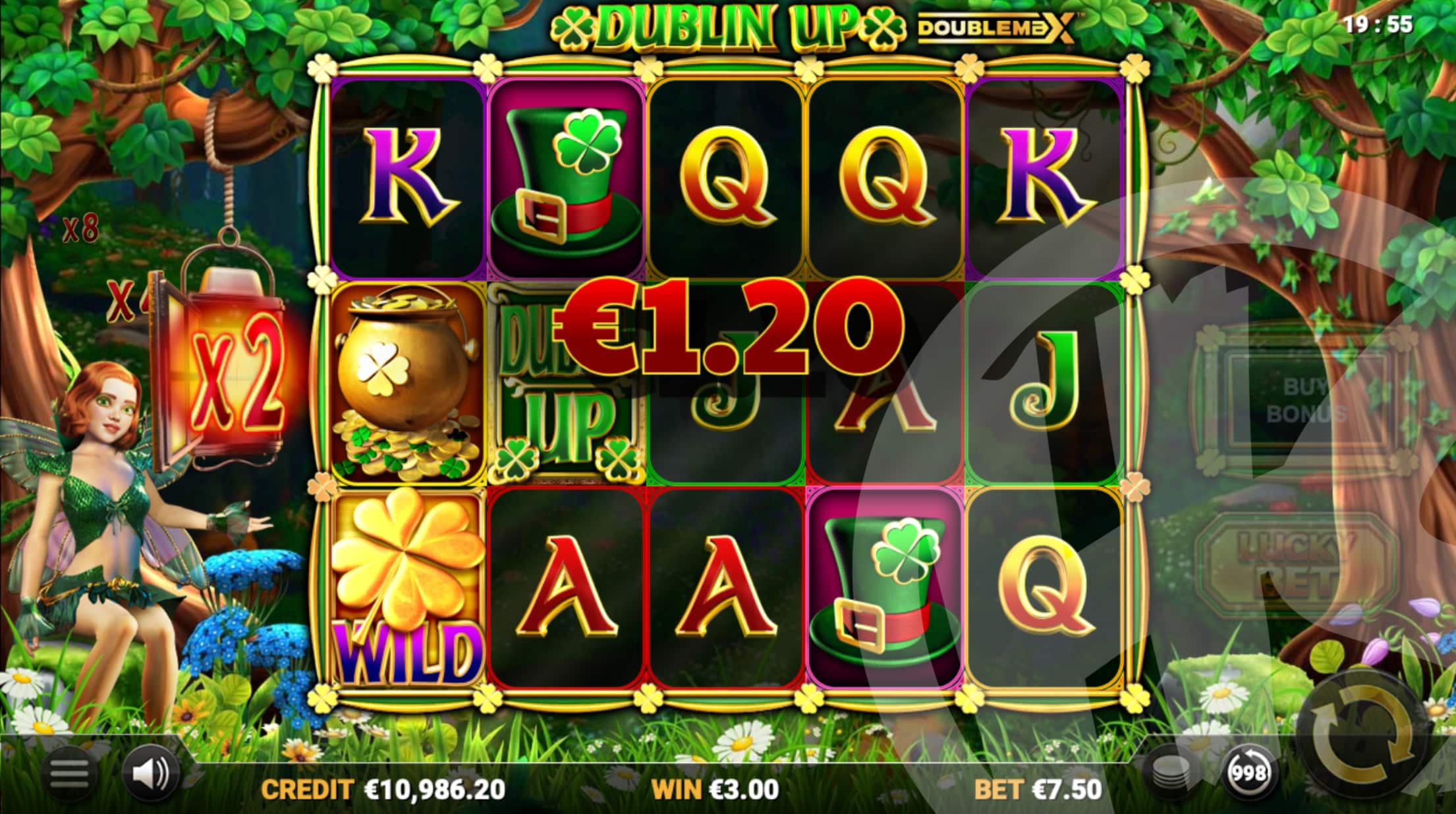 Dublin Up DoubleMax Base Features
Taking place across 5 reels, wins are formed on Dublin Up by matching at least 3 symbols on adjacent reels, beginning with the leftmost reel, across 1 of 25 fixed win lines. Symbols available begin with non premiums, with Js, Qs, Ks, and As, awarding wins between 0.10 and 0.20x bet for 3 of a kind, increasing to values between 1 and 1.20x bet for 5 of a kind. At the premium end we have horseshoes, leprechaun's hats, pots of gold, and the Celtic styled Dublin Up logo. Land 3 of a kind of any premium to see wins between 0.30 and 0.80x bet, increasing to values between 2 and 5x bet for 5 of a kind. Finally, four leaf clover Wild symbols are available, substituting for all symbols except Bonus symbols.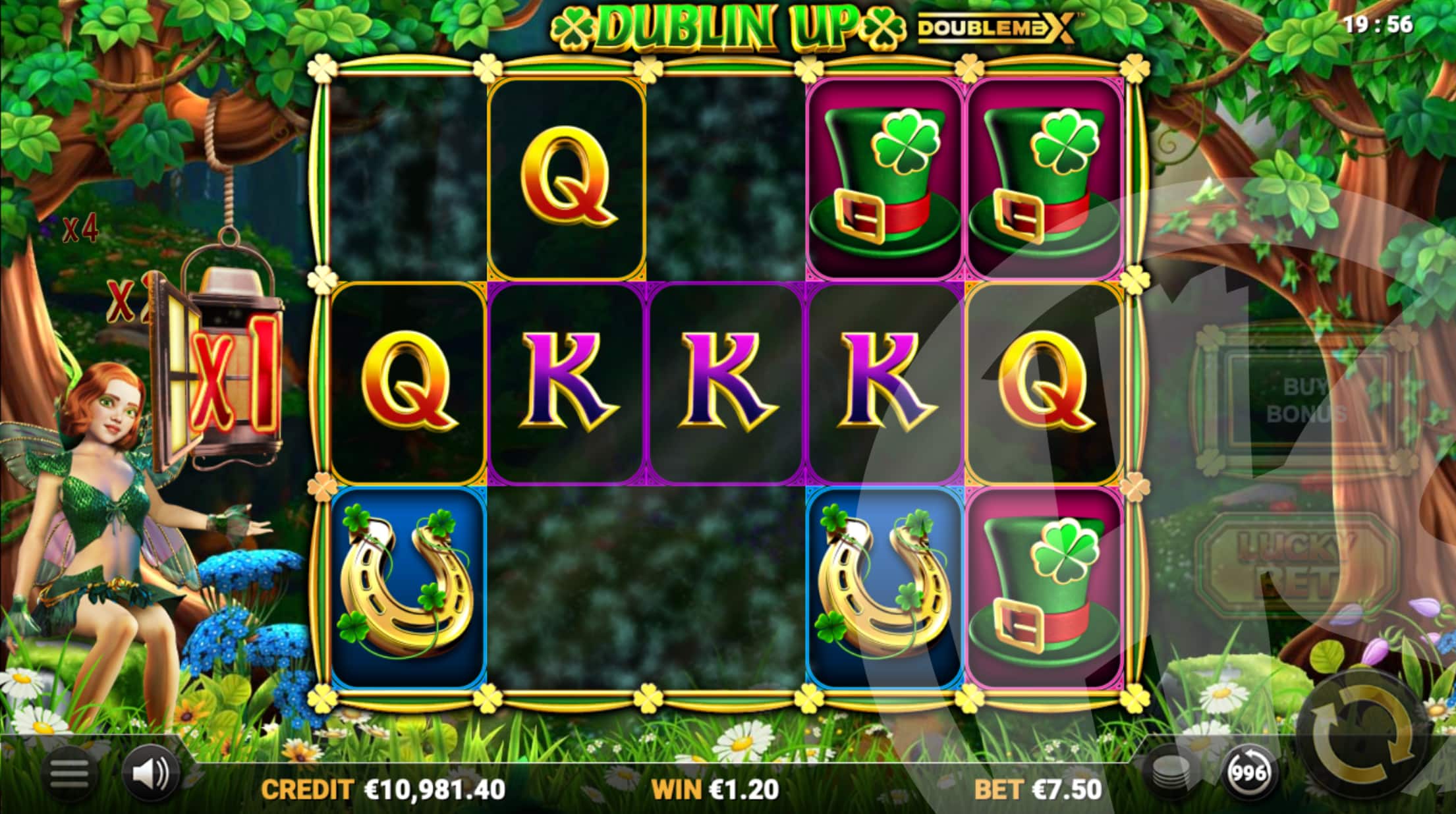 Alight, the first thing to cover in Dublin Up is the Golden Bet. By betting an additional 25%, the chance of triggering Free Spins naturally is doubled.
Other than this, cascades, Wild symbols, and win multipliers do the bulk of the work in this one. On every spin, any symbols involved in a win will be removed from the reels through cascades. All other symbols will then drop down to the bottommost available position on their respective reels, with new symbols then dropping in from above to fill the gaps. Cascades continue until no new wins are formed.
Between symbols being removed and remaining symbols dropping down, a Wild symbol will be added to the reels in one of the empty positions. Each time any symbols used in a winning cascade are removed, they will leave behind a Wild symbol in one of the available positions. Working alongside this is the win multiplier to the left of the reels – each winning cascade will increment this win multiplier by one step. As this is a DoubleMax release, win multipliers will double in each increment – from x1 to x2, x4, x8, x16, x32, x64, x256, x512, x1024, x2048, x4096 etc.
Win multipliers are applied to all subsequent wins, and reset to x1 ahead of the next spin.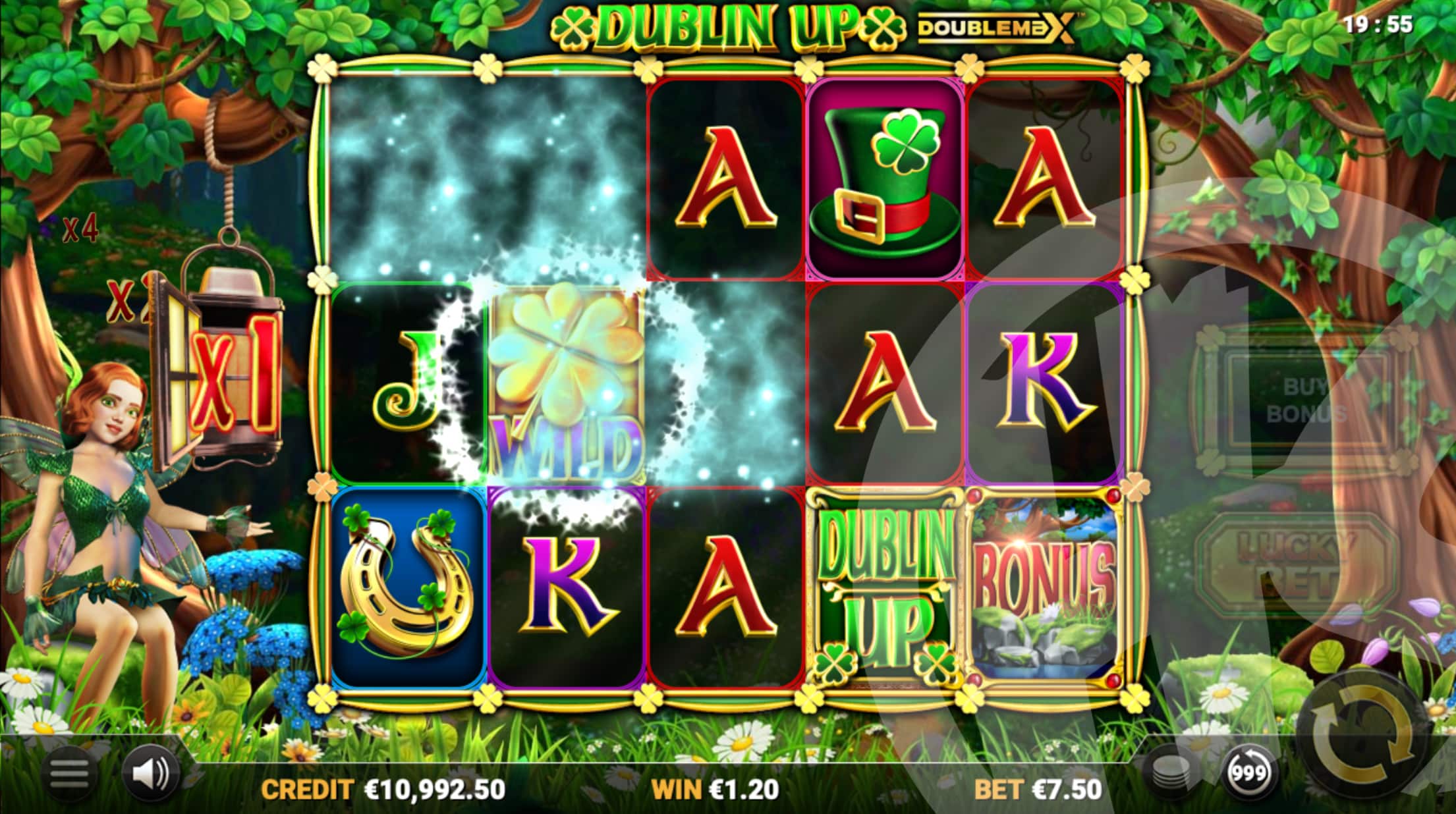 Dublin Up DoubleMax Bonus
Land 3, 4, or 5 Bonus symbols to trigger 7, 10 or 13 Free Spins. Players who trigger 7 or 10 spins have the chance to win up to 13 spins with the gamble feature. There are two gambles – from 7 to 10 spins, and from 10 to 13 spins. Both gambles have a 50/50 chance, both are carried out via a wheel gamble, and both result in the complete loss of Free Spins if unsuccessful. Players can also collect 7 or 10 spins, rather than gambling to 13. 
Once the feature begins, Free Spins work in the same way as the base game, with the exception that the multiplier does not reset between Free Spins. This gives the potential for the multiplier to continue doubling and climb upwards of x8,192.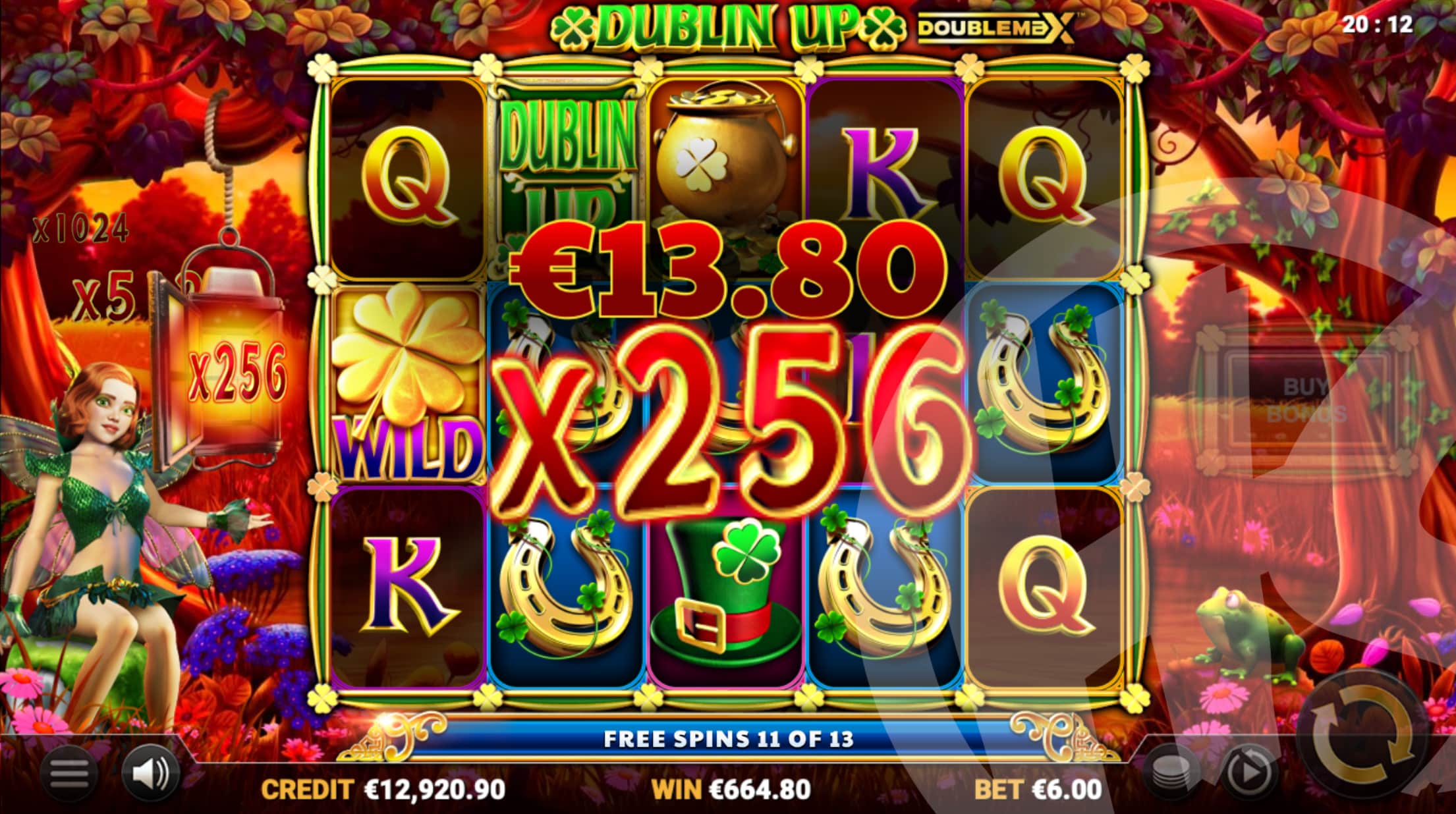 Players in appropriate regions can fast track some of this action with the Buy Bonus option. For a cost of 100x bet, 7 Free Spins are guaranteed. Players who buy the bonus have the same opportunity to gamble to 13 spins.
The maximum win available in Dublin Up is 20,024x bet. If the sum of a single game round exceeds this, the game round will end and 20,024x bet will be awarded.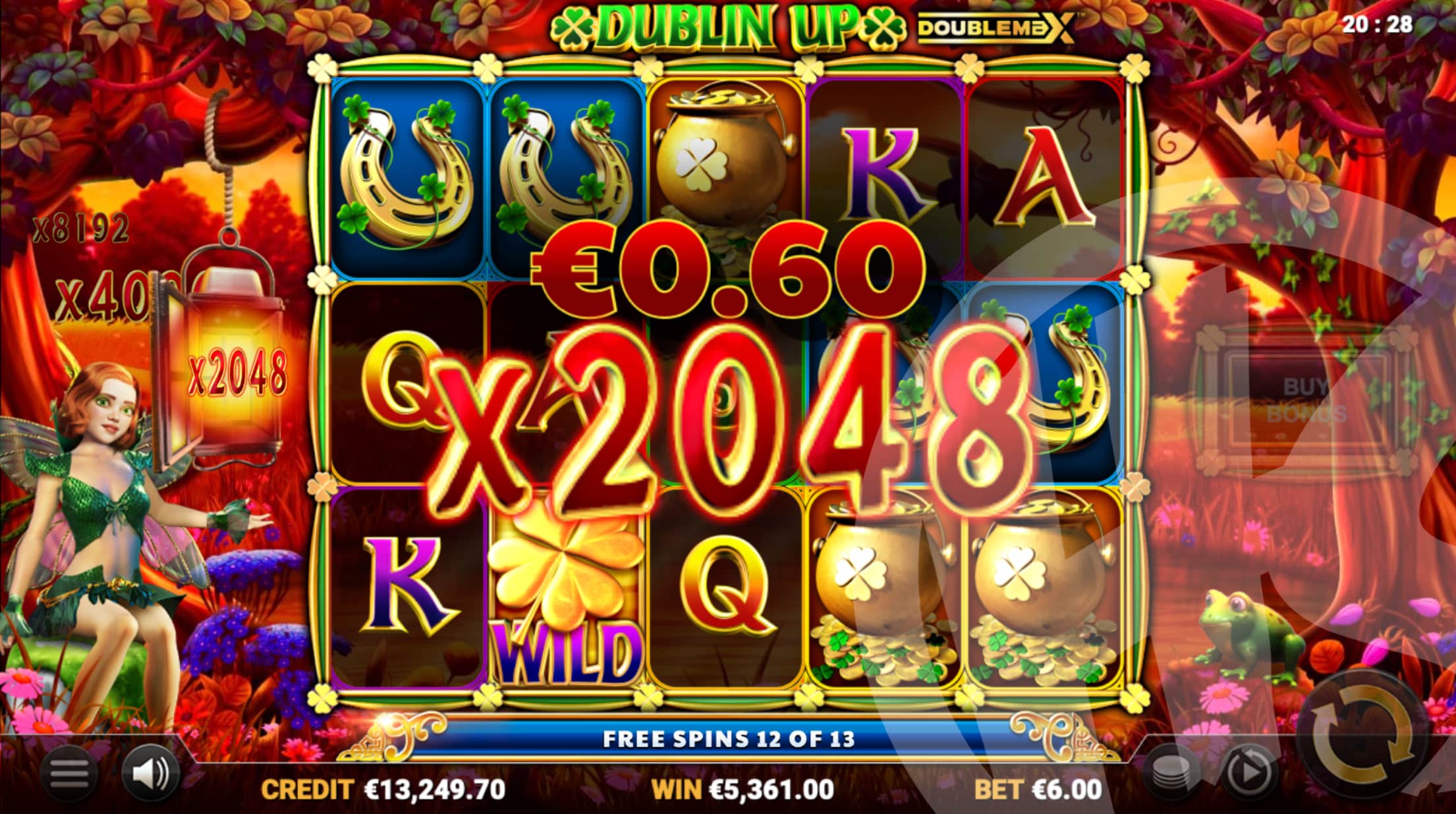 First Impression
Raptor was one of those games that, upon release, captivated players. Maybe it was multipliers as high as x16,384 or maybe it was the theme itself, but there's no denying it was popular. Even now, over a year later, we still get requests during streams for it. It had it all – superb audiovisuals, a new mechanic, and a gamble for the brave of heart.
Dublin Up possesses each of these things too, but audiovisuals are a slightly watered down version. It's the sort of release that you can't help but compare to those that came before and, much like Tiki Runner, it just doesn't have the same punch. That's not to say it shouldn't be equally as popular though – the DoubleMax mechanic and Free Spins gamble are still present, so why should the theme itself affect whether or not you'd play the game?
Gameplay is as you'd expect – a Golden Bet to double your chance of triggering Free Spins, doubling multipliers with each cascade, and Wild symbols to facilitate wins. It's all there, and it's all working. Moving into Free Spins and multipliers don't reset, which can see some huge wins. When the right combinations land, wins are possible up to 20,024x bet. 
RTP is fixed at 95.50%, and maths is highly volatile, so no complaints on either front. If you were a fan of Raptor, there's nothing to say you won't love Dublin Up – after all, it's basically the same game.
*The screenshots taken of games reviewed on this site are taken from Demo Play, as reviews are often written before games are released for real play.