Provider Push Gaming have produced some highly influential slots since their entry to the sector. Originally starting in 2010 with porting land based games online, James Marshall (Co-Founder and CEO) recently told us the turning point for the team was 2018, with the release of titles such as Tiki Tumble, Wild Swarm, Fat Rabbit and Jammin' Jars – perhaps the team's most well known title. Today though, we'll be setting aside the colourful, dancing jars that really shot the team to fame to return to the mechanic of Fat Rabbit in their latest release, Fat Drac. With high volatility and a default RTP of 96.57%, this enchanted release is capable of producing wins up to 50,000x bet in size – nearly five times the potential of its predecessors.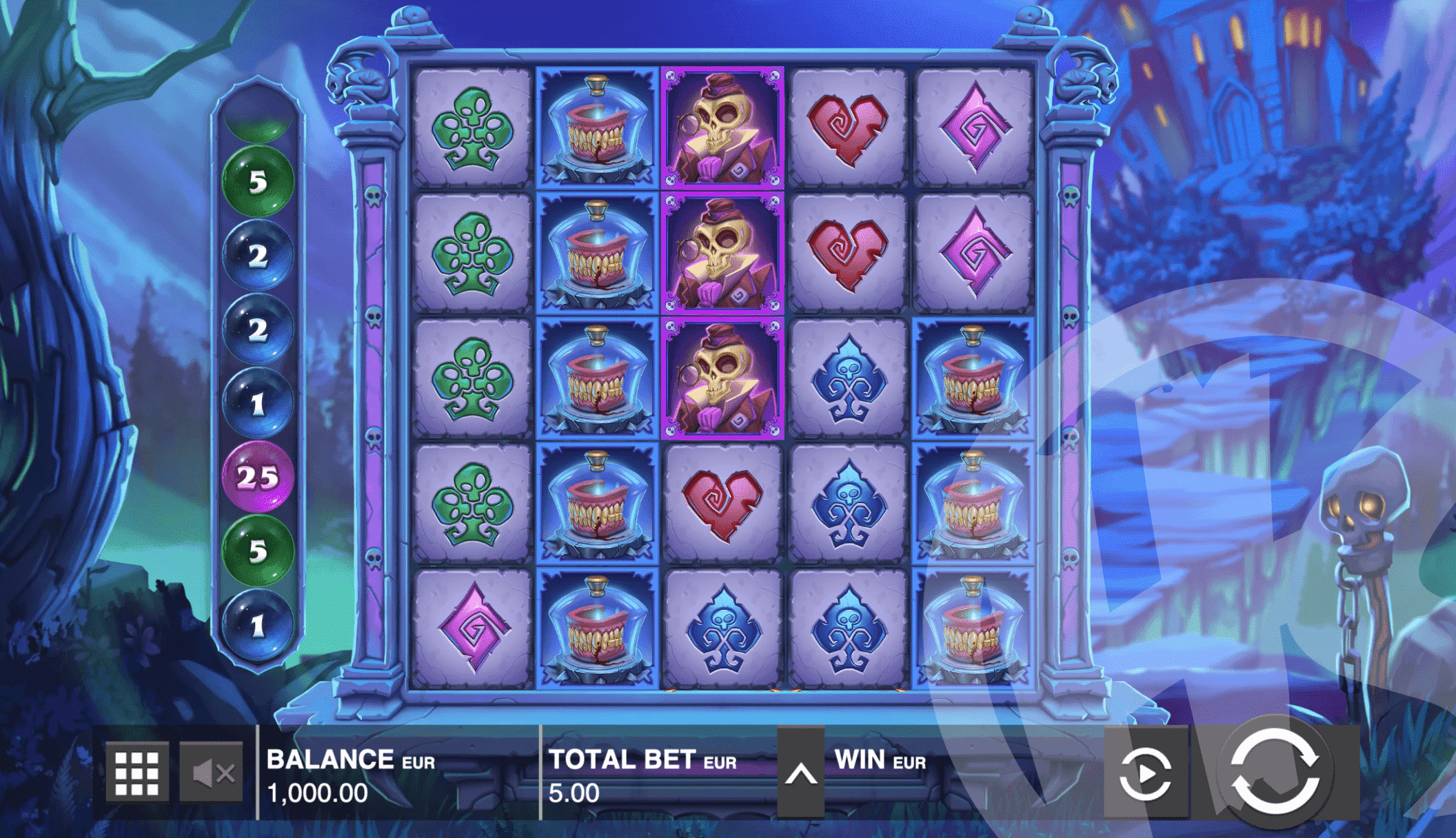 Graphics have seen a major improvement this time around. It's not that there was anything inherently wrong with the audiovisuals of Fat Rabbit or Fat Santa, but the upgrades are as clear as day, which is ironic since Fat Drac takes place at night. Somewhere deep in Transylvania we see the drac's lofty castle, and once inside we see the deep purple walls within which he resides, with only bats to keep him company. Good news for us though, since the bats play a pivotal role in helping us score Instant Cash Prizes up to 50,000x bet. Audios are jovial and kind of sinister – but in an upbeat way. Basically, the kind of track you'd be happy to let run through in the background at a Halloween Party. Although this release could definitely be played all year round, the team have perfectly captured the essence within their first Halloween release.
Fat Drac Base Features
Taking place across 5 reels, Fat Drac features 40 fixed pay lines, with wins formed by matching 3 or more symbols on consecutive reels along one of these lines, beginning at the leftmost reel. Symbols available begin with the lower paying spades, diamonds, hearts and clubs, each with just enough detail to remind us of the effort that has went into this release. Land 3 of a kind to see wins between 0.1 and 0.2x bet, whilst landing 5 of a kind will reward you with wins between 0.5 and 1x bet. At the premium end we begin with dentures in a jar, and a scroll with a quill – paying 0.3 and 0.4x bet respectively for 3 of a kind, increasing to 5 and 7.5x bet respectively for 5 of a kind wins. Finally, we have a skeleton draped in a purple suit and a red headed character who looks like he could be a Count, with these symbols paying from as low as 2 ways. Skeletons award wins between 0.4 and 20x bet for matches between 2 and 5 of a kind, whilst the male figure pays 0.5x bet for 2 of a kind, up to an impressive 25x bet for 5 of a kind.
Finally, a golden bat Wild symbol is available, paying 1x bet for 2 of a kind up to a whopping 250x bet for 5 of a kind. Wilds substitute all symbols except Goblet Scatter Symbols and Fat Drac Symbols, which we'll cover below.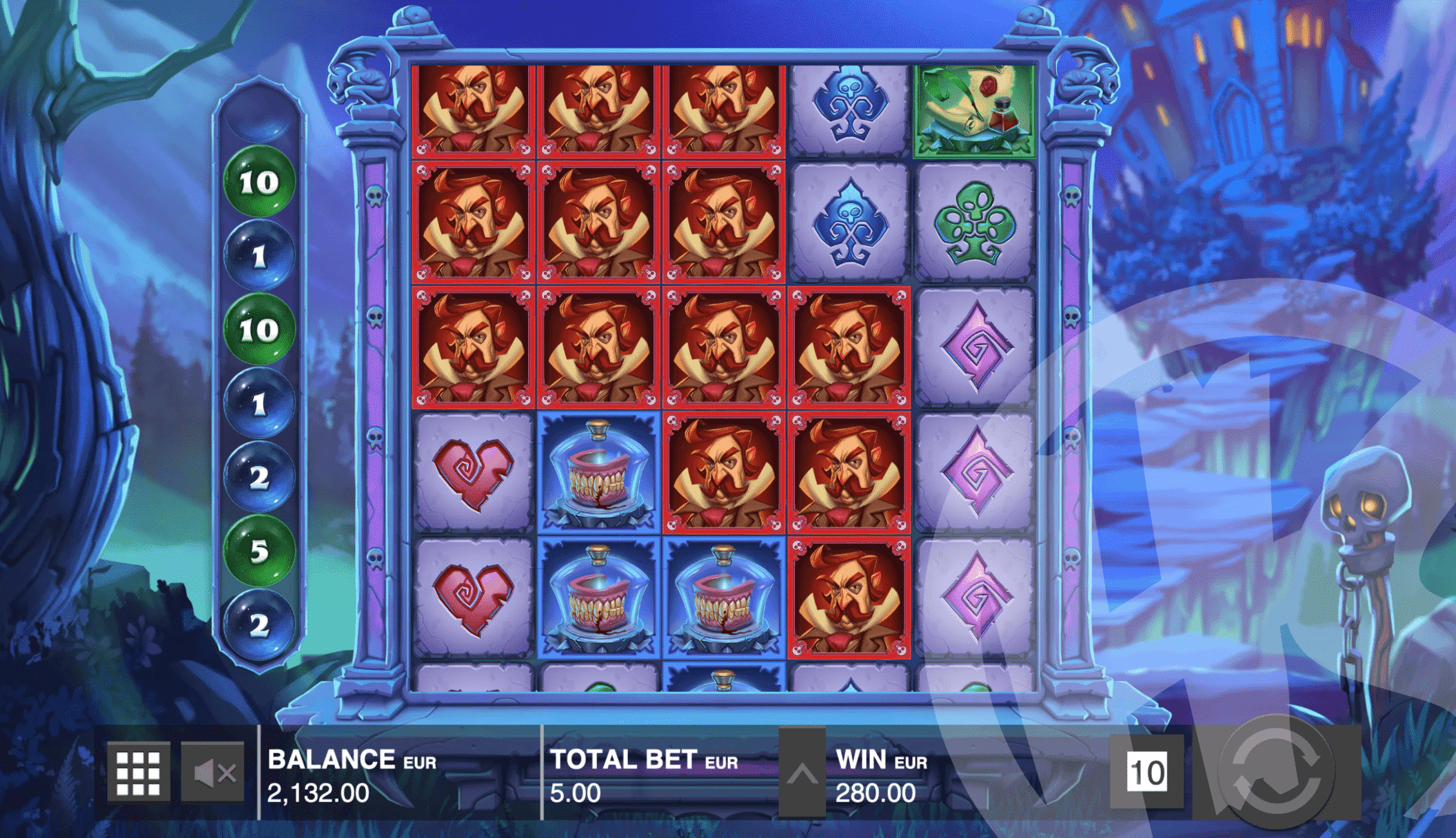 There's a few different features available to bring this vampish base game to life, the first of which being the Fat Drac Symbol, which is a revealing symbol. Land a Fat Drac on the reels and it will reveal any paying symbol, or a Bat Symbol. If it does reveal a Bat Symbol, the next feature comes into play.
You'll notice to the left of the reels there are 7 bubbles, each with a number written within. These are the Instant Prize Symbols and can be awarded through Bat Symbols. When a Bat Symbol is revealed behind a Fat Drac Symbol, the bat will fly to the left of the reels, and will pop one of the bubbles, awarding the respective prize behind it. All Instant Prize Symbols are 'x-bet' values: 1x, 2x, 5x, 10x, 25x, 50x, 100x, 250x, 500x, 1,000x, 5,000x, 10,000x, and 50,000x bet.
Both of these features then also tie into the Coffin Symbol Feature – land a Coffin Symbol on the reels to trigger a Pick Feature, wherein 4 tiles are presented to choose from. Behind each of the tiles players can reveal between 1-5 Bat Symbols, which will pop bubbles consecutively, or they can reveal a Goblet Symbol – but only if a Fat Drac Symbol is already present on the reels.
Finally, it's the Fat Bat Feature. Triggered randomly, when this happens a quite rotund Bat Symbol will drop onto the reels, collecting all 7 Instant Prize Symbols and awarding the total amount.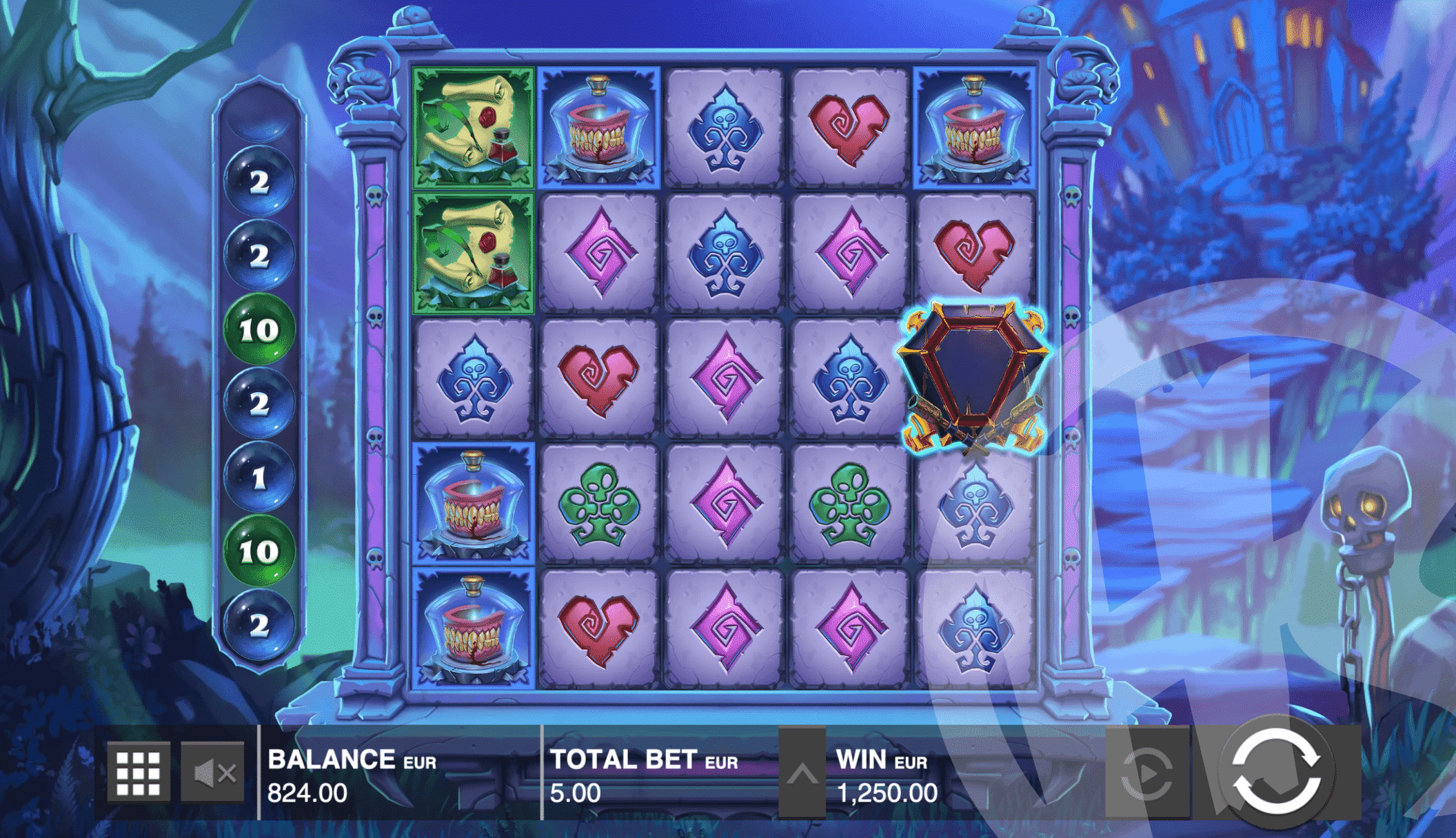 Fat Drac Bonus
Triggering Free Spins is relatively simple, and takes us back to the original 2 releases in the fat series. Simply land a Fat Drac Symbol with at least one Goblet Symbol in view anywhere else on the reels and you'll begin 5 free spins. Well, I say simply – but let's remember the volatility levels attached to this release, so although the method is simple, the execution may not be.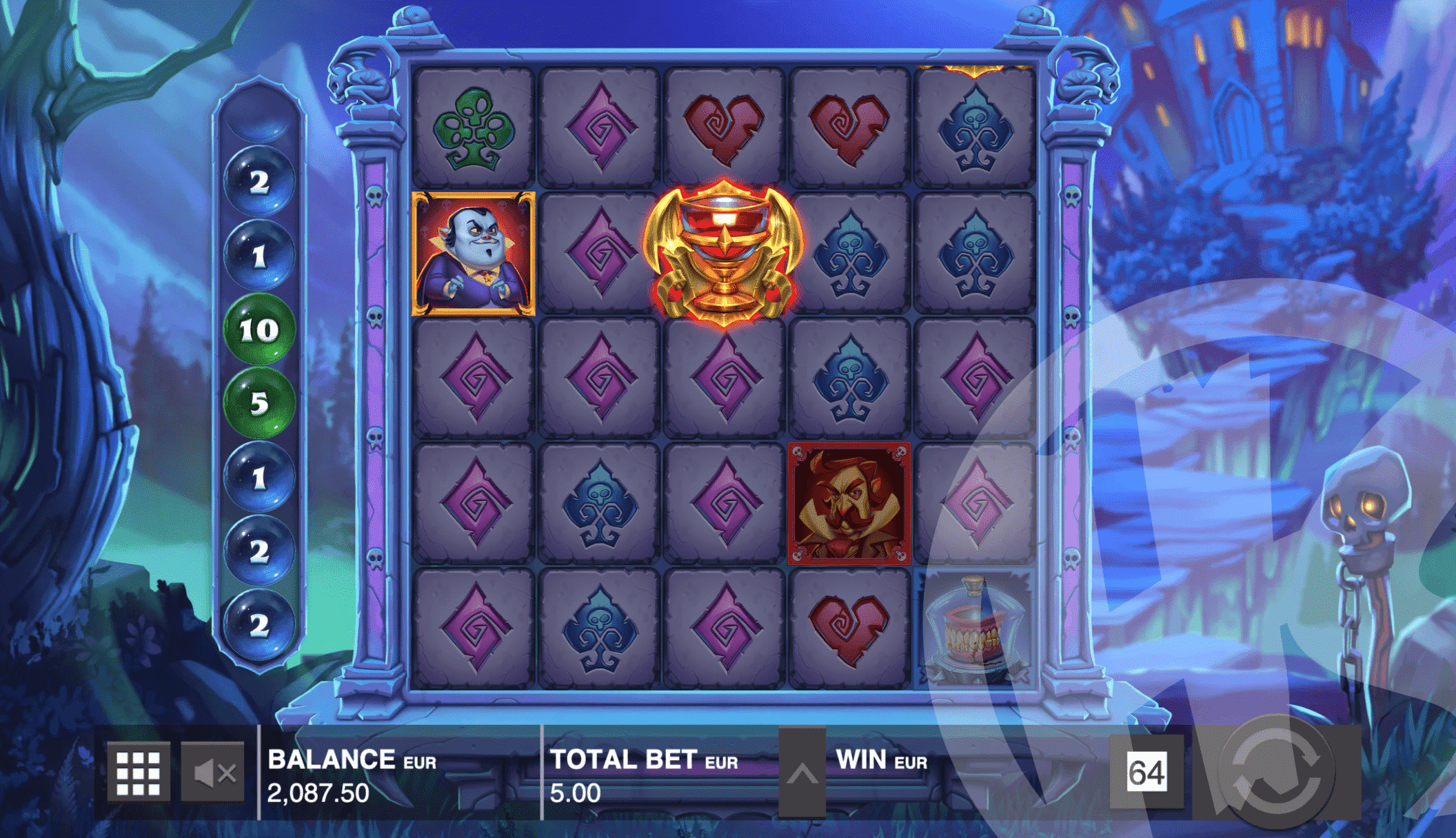 Once free spins start, the Fat Drac Symbol will remain on the reels for the duration of the feature. Each time an additional Goblet Symbol lands on the reels, the Fat Drac Symbol will move towards the Goblet Symbol and collect it. The number of symbols collected will fill the 'Drac Meter', visible to the right of the reels. As players continue to collect symbols, Fat Drac will increase further up the meter, increasing in size and awarding additional free spins as he does so.
Goblet Symbols Required for progression are:
5 Goblet Symbols: Fat Drac becomes 2×2 size and +4 free spins.
10 Goblet Symbols: Fat Drac becomes 3×3 size and +3 free spins.
13 Goblet Symbols: Fat Drac becomes 4×4 and +2 free spins.
15 Goblet Symbols: Fat Drac becomes 5×5 and +2 free spins.
The initial 5 Goblet Symbols required to progress to the second level include any triggering symbols. During free spins, Fat Drac behaves the same way as within the base game, capable of revealing Bat Symbols. Any Coffin Symbols that land in view can now reveal between 1-5 Bat Symbols, up to +5 additional free spins, or Goblet Symbols.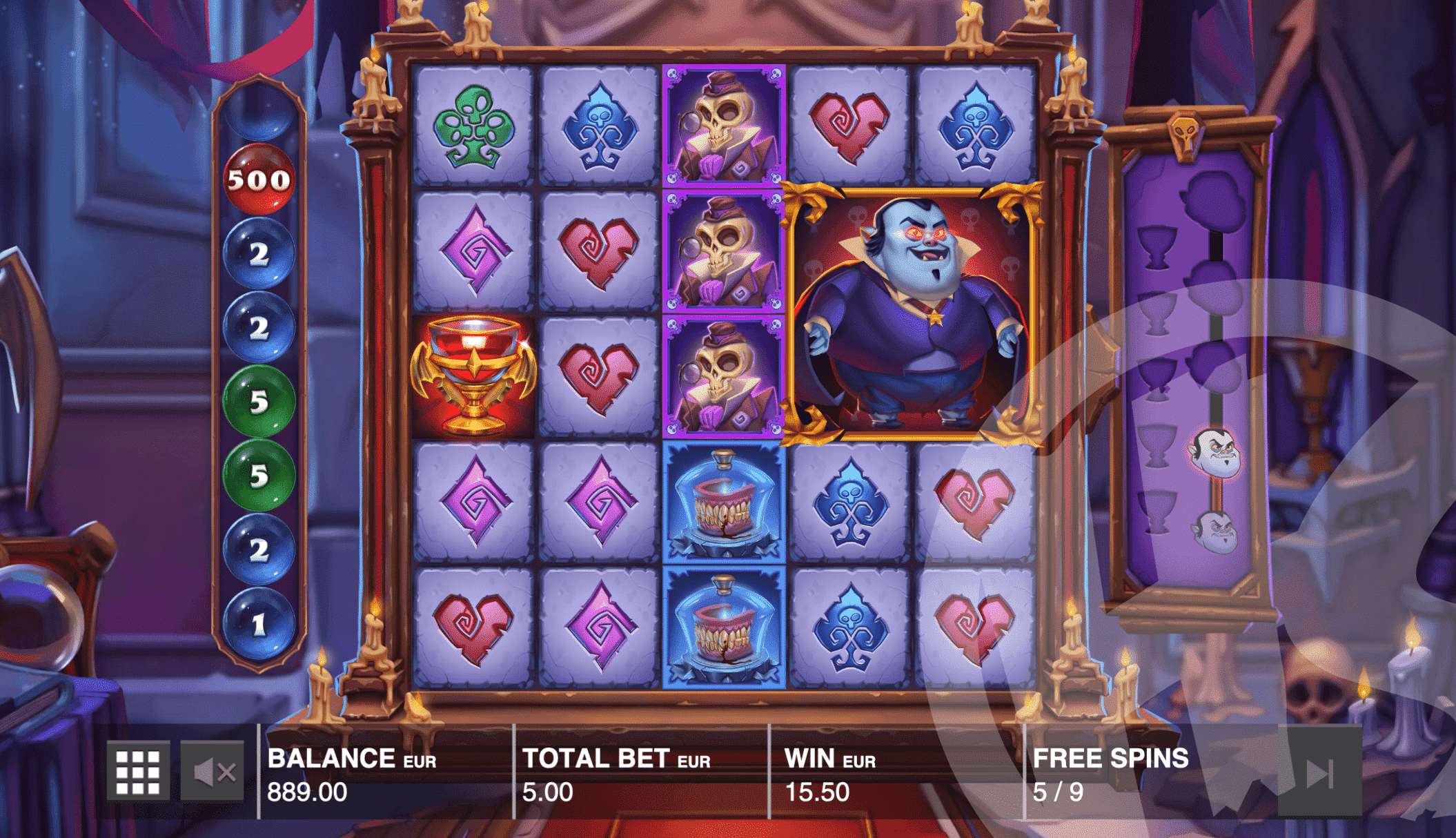 First Impression
I'll be honest and say, initially, Fat Drac took me by surprise. This is probably going to be pretty standard for every player, and for the same reason – how can we have a 'fat' release without the fat character turning wild? The wild rabbit and wild Santa of the previous releases really were what made the series what it is for a lot of players, providing some unmatched excitement when reaching larger sizes, particularly in the 'right' reel positions. Fat Drac has turned things around, and is now a Reveal Symbol, revealing any pay symbol (although this can include wilds, so all hope is not lost).
What is important to consider when we determine our opinion of Fat Drac is what we deem to make a 'series'. For me, it's the mechanic, and in this instance the mechanic is a growing symbol – not a growing wild. If Fat Drac were a growing wild we'd basically have another reskin, and whilst seasonal reskins are fun enough – do they bring anything new? Not really. Fat Drac continues the core mechanic of a growing symbol, and with the Instant Prize Symbols reminiscent of Razor Shark and Jammin' Jars 2 to the left of the reels, things can really pop off inside these bubbles, if you'll excuse the pun.
Of course, with Wild symbols paying 250x bet for 5 of a kind, a full screen of these across the 40 fixed win lines provided would equate to 10,000x bet – more or less what we have come to expect from the previous 'fat' releases. It is possible, but of course now rather than simply growing our symbol to the top level, we now have the added task of growing him and revealing wilds, making it feel considerably less possible. However, like with most fixed line releases the pay table is more than decent, so it's fair to imagine if you reach that top level you're probably in for a treat regardless. Add on top the potential for so many bats you'll want to call animal control, and this free spins feature can go some. If you're the type to chase the maximum win – you'll need to achieve this through the Instant Prize Symbol Feature, but if you're happy with anything up to and including that 10,000x mark, you'll not be disappointed.
Statistically, there's no complaints. Highly volatile with a default RTP of 96.57% and wins up to 50,000x bet on offer, there's no reason not to give this Drac a chance. Thankfully, if you really miss the expanding wild too much to deal with, your furry friend will be waiting alongside the jolly man himself for you to return.
*The screenshots taken of games reviewed on this site are taken from Demo Play, as reviews are often written before games are released for real play.