It's been just under 3 years since Push Gaming presented us with what would soon become known as the most impressive slot in their catalogue – Jammin' Jars. The volatility of this slot, coupled with dancing wilds and the huge potential that lay underneath the surface meant Jammin' Jars shot to the top of leaderboards across the sector, not just within the boundaries of Push Gaming. Even the players who hadn't had the joy of trapping 3 jars in a corner could see early on what Jammin' Jars could offer, meaning it became respected by all, not only those for whom the RTP was favourable.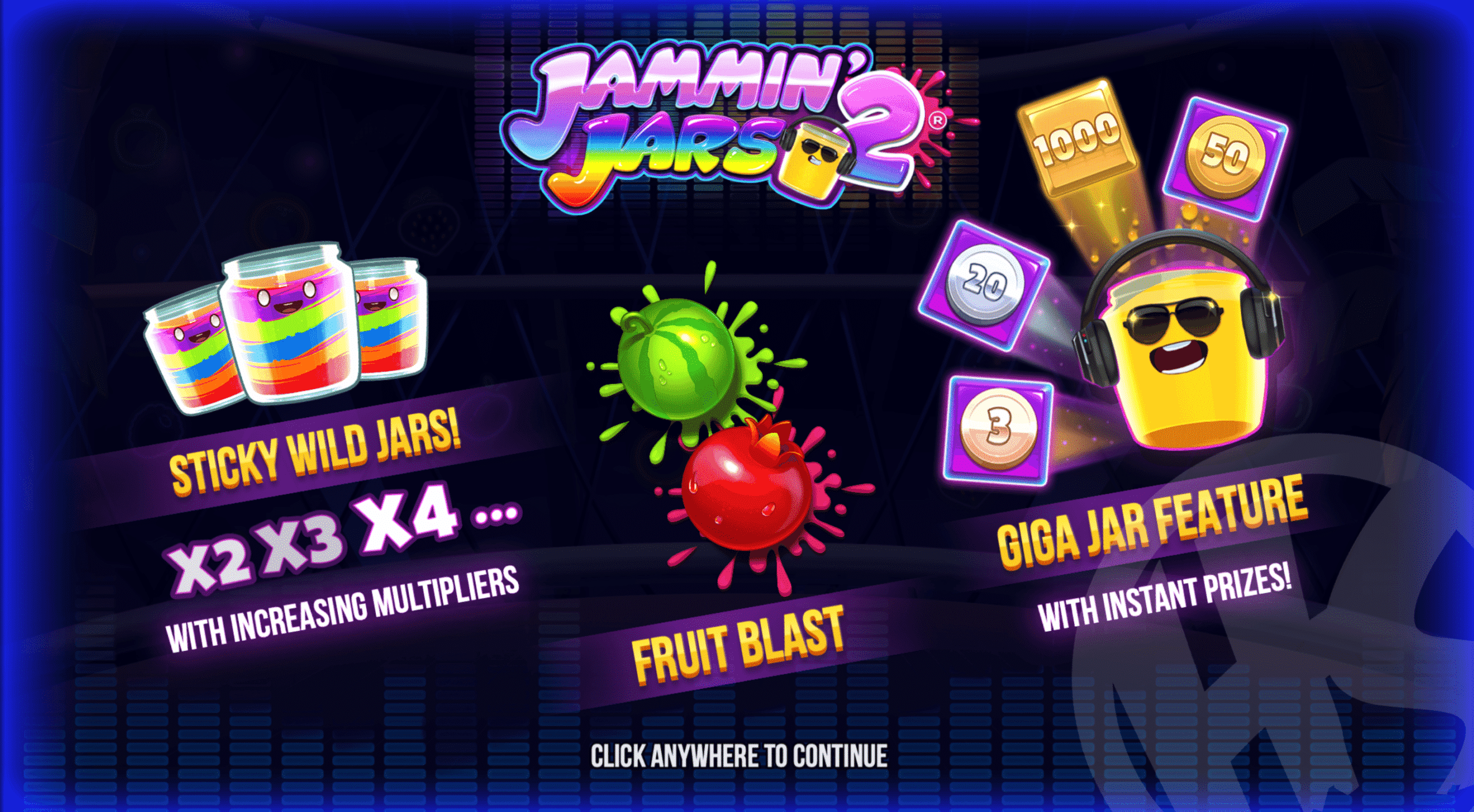 Still now, 3 years later, Jammin' Jars remains one of the most requested slots across the live streaming community, not just within Hideous Slots, and continues to make regular appearances within Big Win Areas. We ourselves landed just over €10,000 a few months ago (you can watch that here), and continue to hunt for an equally profitable bonus. However, a large part of the charm of Jammin' Jars was in the simplicity, with a clean design and a clear goal for the player. We recently discussed what it could mean for a sequel to be released, and if there was a risk of trying to fix what isn't considered to be broken (read the article here), considering wholly that it will take a lot to match the success of Jammin' Jars.
Those fears can be set aside for the moment, though, because it's time to take a look at Jammin' Jars 2, and see just what this slot has on offer. Visually, it's clear to see that Push Gaming have taken an intelligent approach to this sequel, opting for enough upgrades to be considered new and interesting, but staying true to the heart of why Jammin' Jars is loved by all. Gameplay remains on an 8×8 grid, with a step away from the disco and a step towards the nightclub. RTP is a forgiving 96.4%, and volatility is high, with a maximum win of 50,000x. To the left, we see the resident DJ, and one of the most important aspects of Jammin' Jars 2, the Giga Jar. In the background, the well known fruits of the original are shining in their neon glory, which brings us to the symbol design – new slot, new symbols.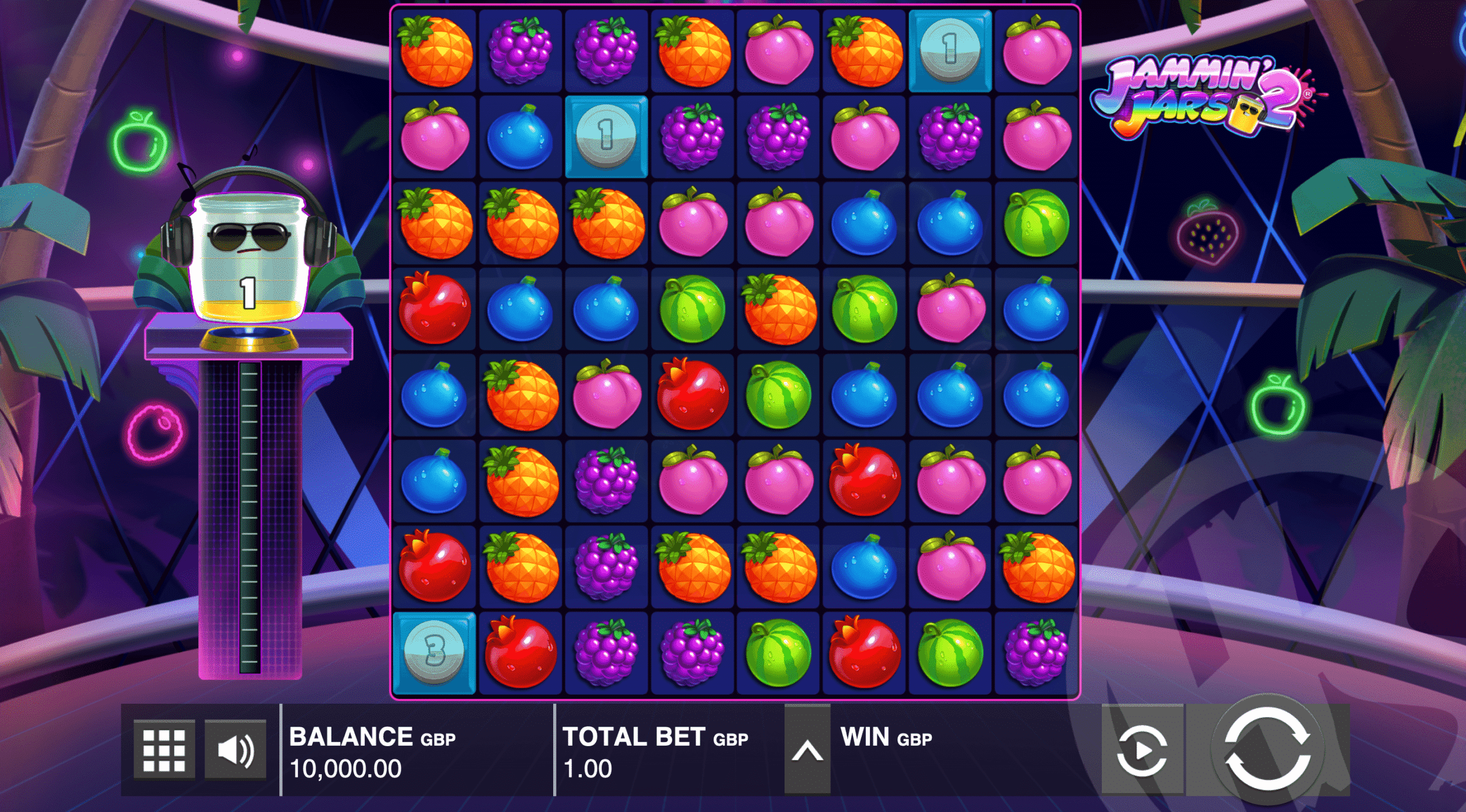 Jammin' Jars 2 Base Features
Just like Jammin' Jars, clusters of 5 or more adjacent, matching symbols are required for a win on Jammin' Jars 2. The symbols involved in the win are then removed, and new symbols drop down in their place. True to the original, Jammin' Jars 2 pay table consists of fruits: figs, berries, peaches, grapefruits, and pineapples (listed in order of pay lowest-highest). The premium strawberry we know and love is gone, and has been replaced by the red pomegranate. The pomegranate somehow manages to stand out slightly brighter than every other fruit on the board, which may be coincidence or may be very intelligent design from Push Gaming. Either way, it's the one you want.
Jar symbols remain within Jammin' Jars 2, looking exactly the same as the original, and as always act as both wilds and scatter symbols. The jar substitutes for all symbols to help wins occur, and each time it is used within a cluster win the multiplier increments by 1. At the end of each cluster win, the jar will jump to a new, adjacent position on the board. If 2 or 3 jars are used within a win, the win will first be multiplied by the first jar value, then that multiplied win amount will be multiplied again by the value of the second jar. If a third jar is used within a win, the same process occurs, where the win value will be multiplied by jar 1, then jar 2, then jar 3. 3 jars in view triggers 6 Free Spins.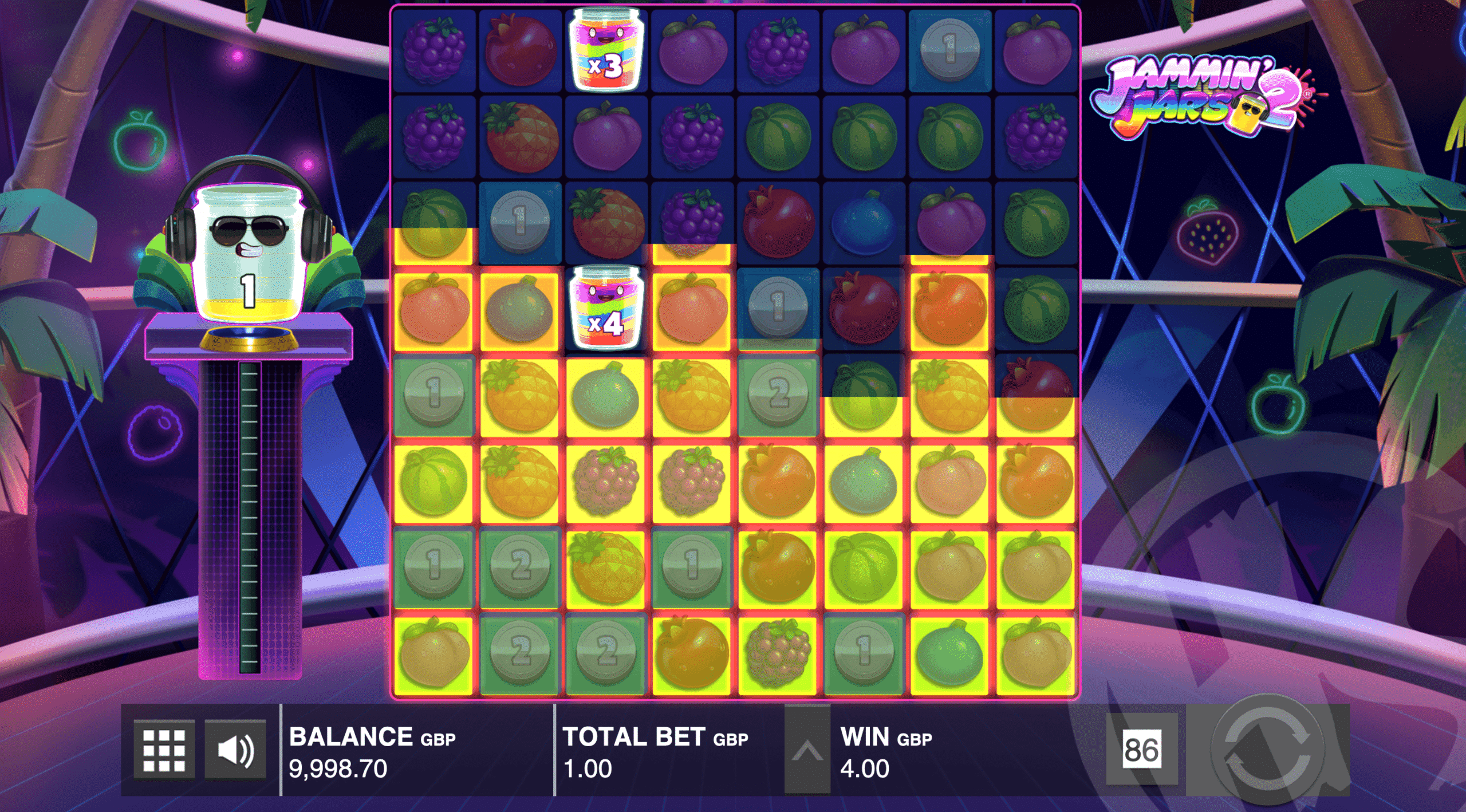 Fruit Blast
Making a comeback from the original is the Fruit Blast Feature, which became widely known as Rainbow Road in Jammin' Jars. Fruit Blast can trigger within the base game after any cascade, and is random. When triggered, an equalizer fading through green, yellow, orange and red will cover the grid, and the Giga Jar will fire onto the grid to help form wins. The Giga Jar can fire 1-3 giant fruit symbols, or instant prize symbols.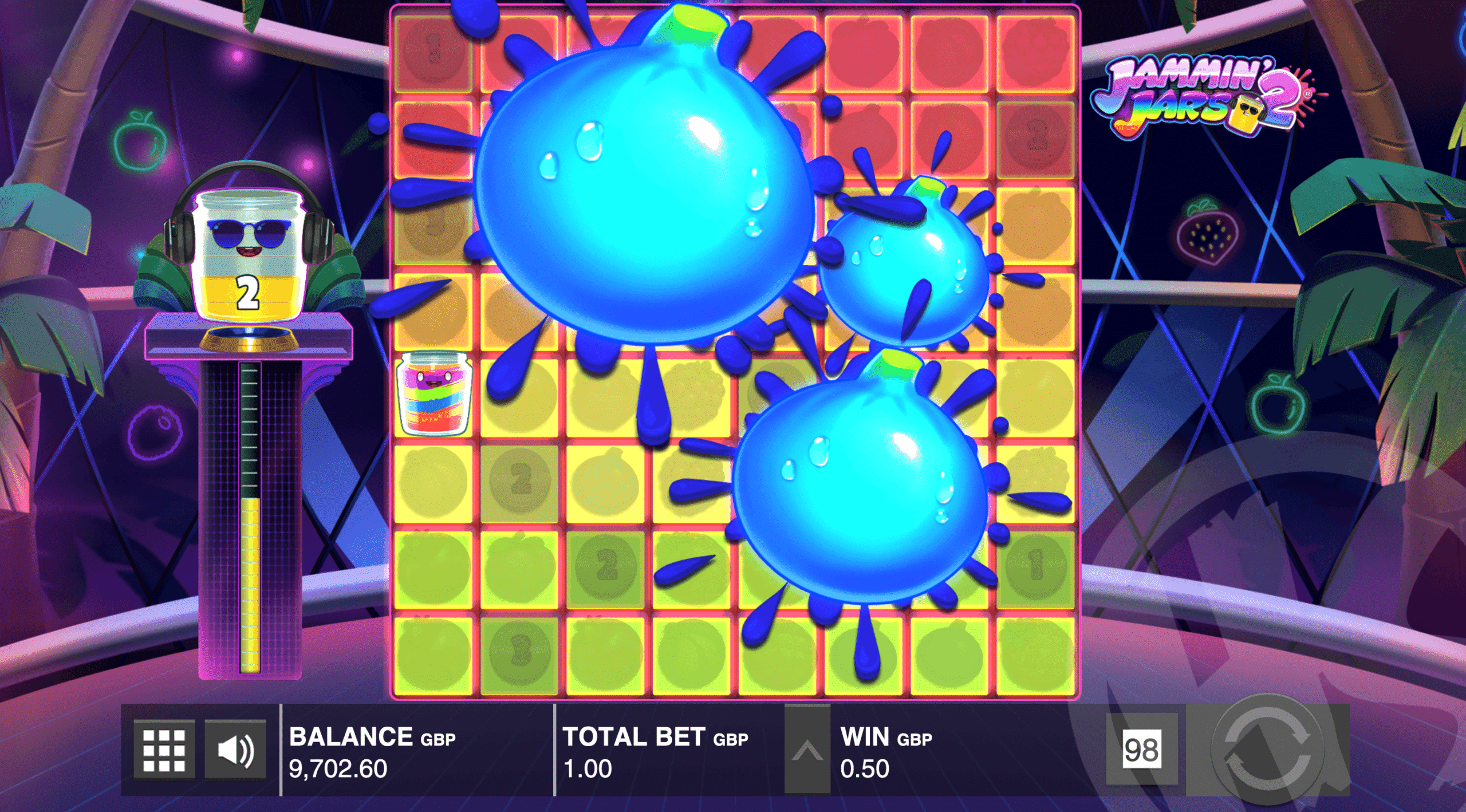 Instant Prize Symbols
Push Gaming are known for their love of coins, making appearances in both Razor Shark, and their most recent release, Dinopolis (read the review here). Coins are back in Jammin' Jars 2, and this time they're known as instant prize symbols. Clearly marked within blue boxes, values are attached to these symbols, which act as a "times stake value". This means a 1x coin on a €1 stake would pay €1. Landing five or more consecutive instant prize symbols or landing 4 with a jar will award you each of the values shown. If the jar used within the win has a multiplier attached, each value shown will be multiplied also. All instant prize values within the cluster are counted up and then multiplied by the jar value, so you shouldn't expect the jar multiplier to increment between instant prize symbols.
Instant prize symbols can have a value between 1x and 1000x, which paves the way for some huge wins when we consider that they could interact with more than one jar with multipliers attached.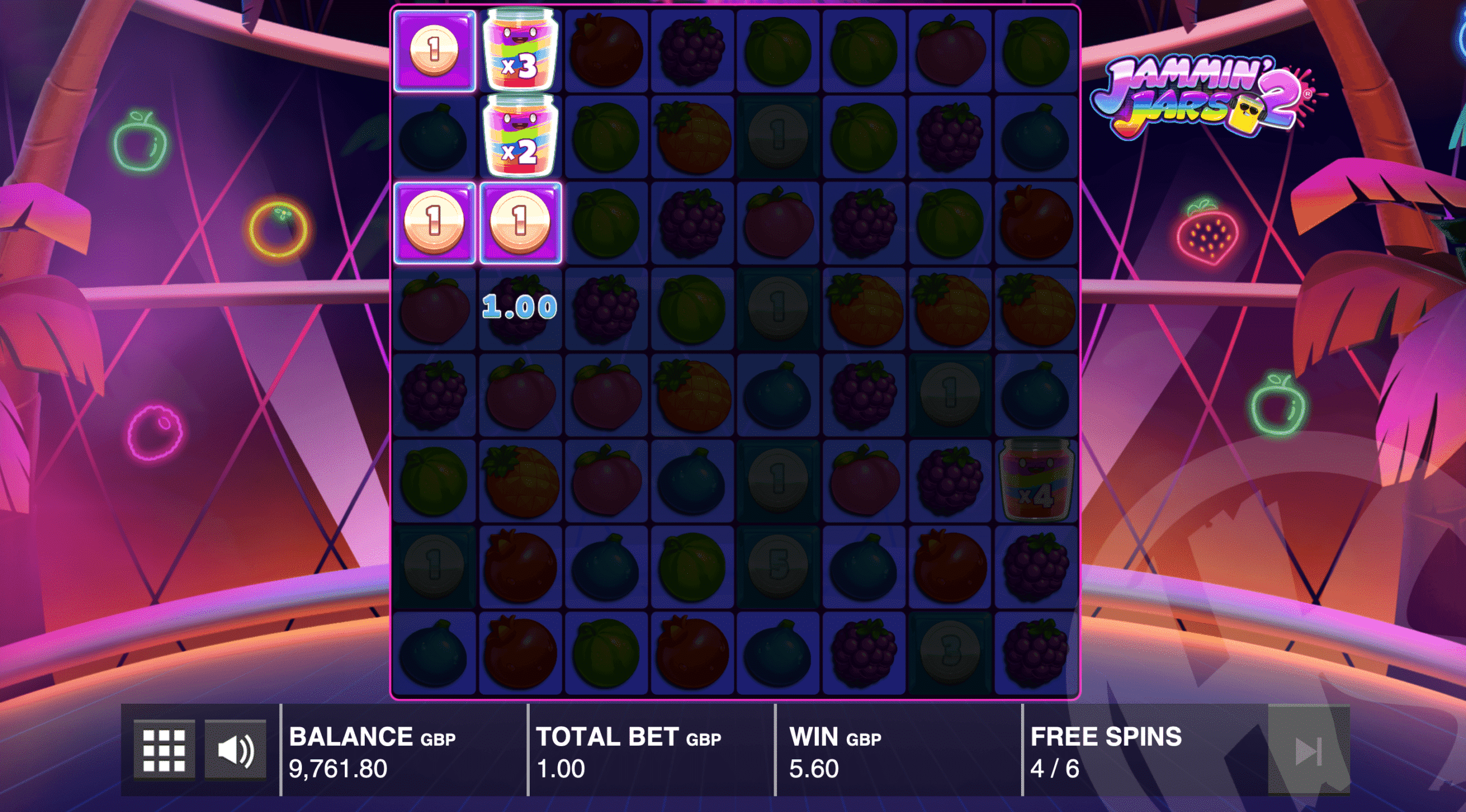 Giga Jar Feature
Gold Vinyl symbols can land on the grid at any point within the base game. These are collected and placed onto the meter directly below the Giga Jar. Once the symbol has moved to the Giga Jar meter, a random symbol will appear in the space left behind. There are 5 levels to the meter, required to "max" it, which is an ode to Wild Swarm, where players max the beehive with bees across 5 levels. Once the meter has been maxed, a gold vinyl symbol landing on the grid can trigger the Giga Jar Feature.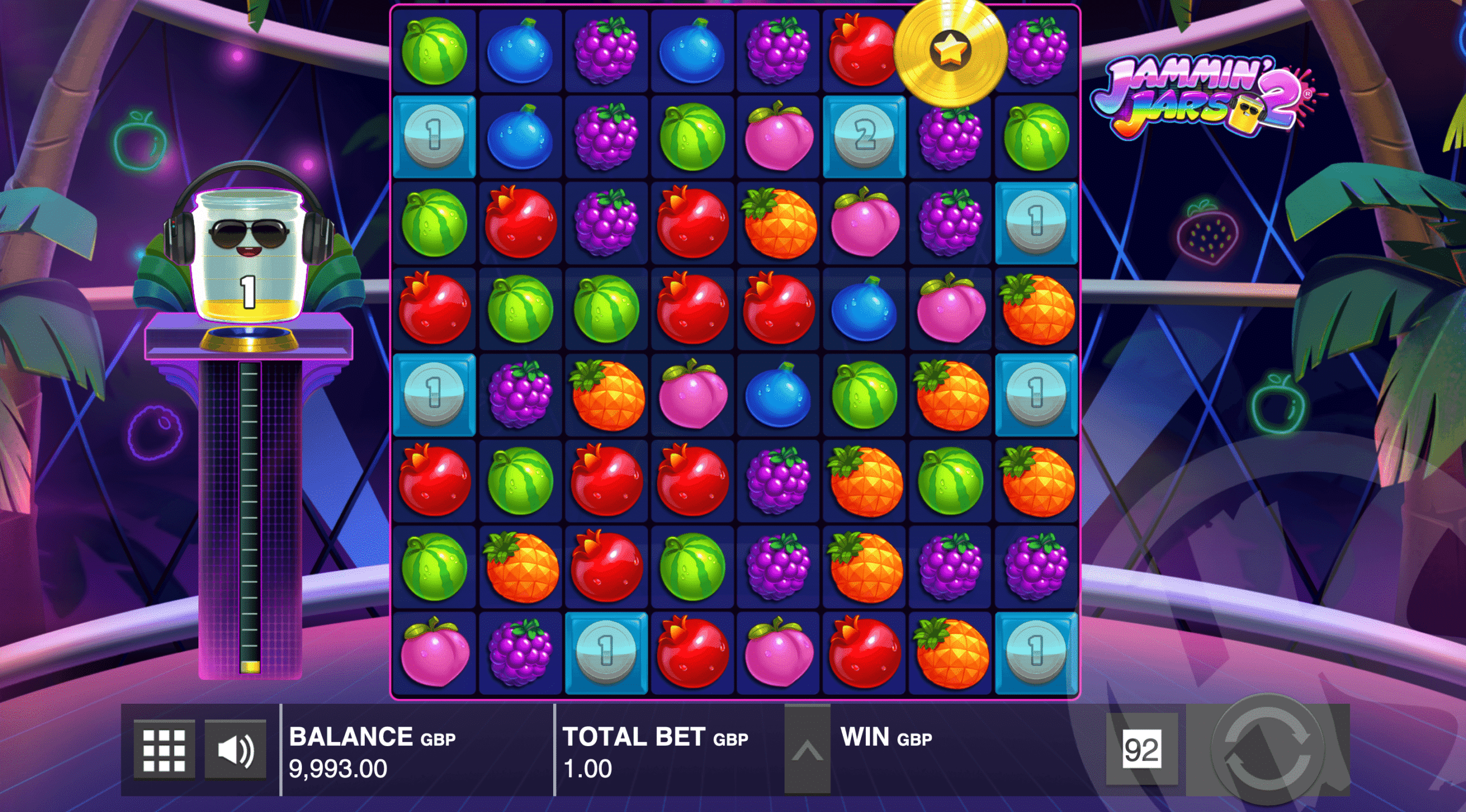 During the Giga Jar Feature, regular fruit symbols are not in play. Instead, at the beginning of the feature the Giga Jar will fire 3 or 4 regular wild jars onto the grid. These will be placed in random positions, with random multipliers attached. The Giga Jar will then take its place on the grid, and will be either 2×2, 3×3 or 4×4 in size, and will only reveal instant prize symbols rather than being a wild jar.
As no regular fruit symbols are in play, players instead are hoping for instant prize symbols. Just the same as the base game, 5 or more are required for a win. Also similarly to the base game, if the wild jar used with the instant prize symbols has a multiplier attached, the entire cluster win will be multiplied by this value.
At the end of the Giga Jar Feature players will be boosted back up to level 2, 3 or 4, and the Giga Jar will reappear on the left of the screen, above the meter. This again is similar to Push Gaming's work in Wild Swarm, where players were boosted to a higher level after Swarm Mode.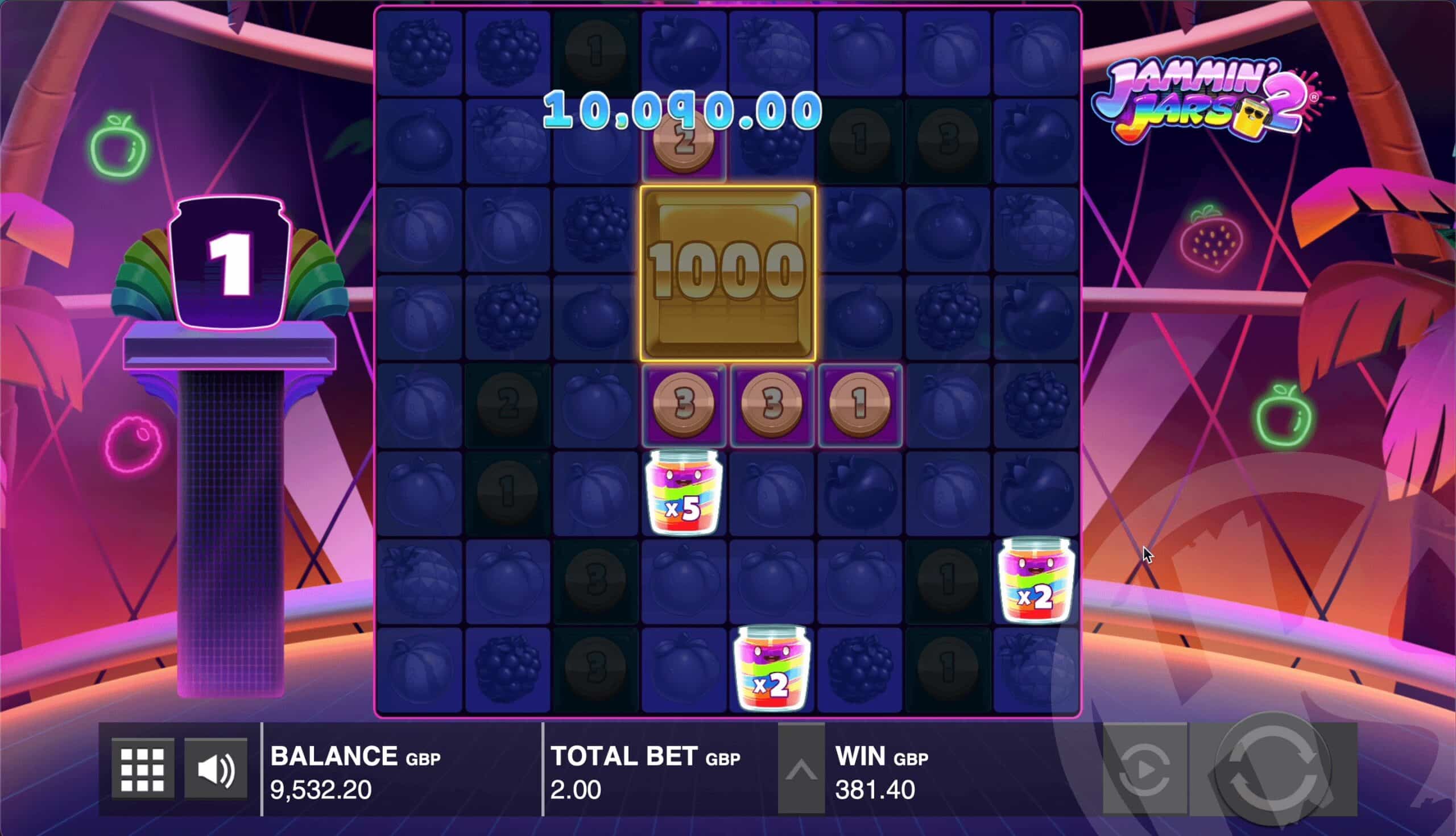 Jammin' Jars 2 Bonus
The Jammin' Jars 2 Free Spins feature deviates very little from the original. 3 jars on the grid trigger 6 free spins. Any multipliers attached to the triggering jars will carry over into the feature, and the multipliers will not reset during the free spins, instead building across all 6 spins. A fourth jar can land for additional or bigger wins, also acting as a wild. Each time a jar is used in a win the multiplier attached increments by 1.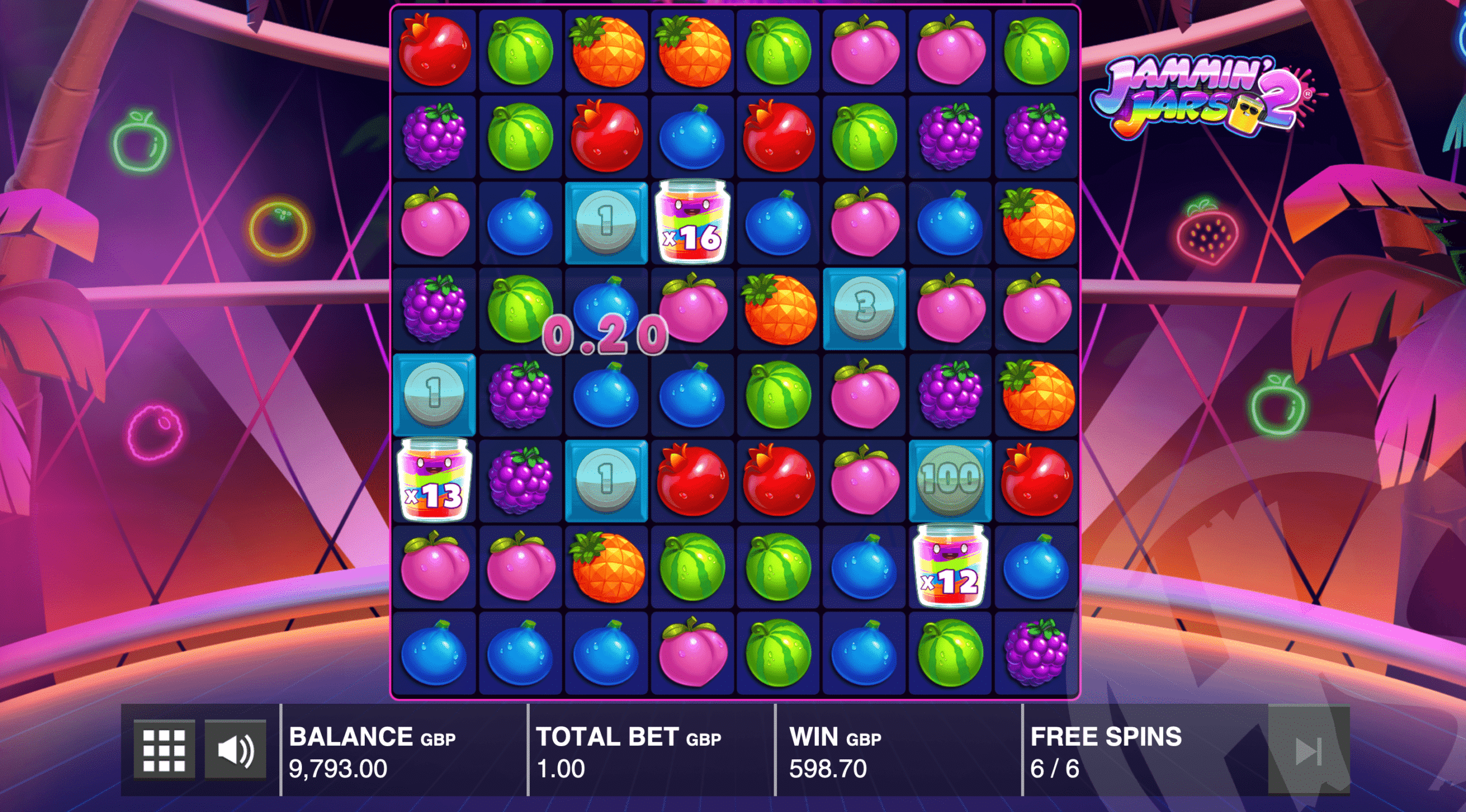 First Impression
Although initially fearful that unnecessary changes would be made to what has become one of the most popular slots widely available, it seems that Push Gaming opted to provide additional features, rather than changing what they knew players loved. The addition of coins adds to the excitement during the base game, and the Giga Jar feature gives players something to work towards. This is a mechanic that has been proven time and time again with many successful slots requiring a progression, not the least of which is Wild Swarm. Volatility is high, and given that Jammin' Jars at times felt as though it had just stopped trying to pay, we don't think Jammin' Jars 2 will feel any different. The maximum win available this time round is higher, but there will inevitably still be extended periods of play with no feature, and nothing to write home about. Thankfully, Push Gaming approach their slots with a variety of stake options, and with a 50,000x win available, that hits the mark on any stake.
We did previous state that sequels should be bigger and better, as we believe players yearn for higher possible wins within sequels. Push Gaming have hit the nail on the head as far as that is concerned, not only offering a higher maximum win, but also offering the same well loved features alongside new features with the potential to go huge. Jammin' Jars 2 so clearly follows on from the original, and does so in such a beautiful way, but this game is impressive enough to stand in its' own right, with fantastic design and great opportunities.
*The screenshots taken of games reviewed on this site are taken from Demo Play, as reviews are often written before games are released for real play.