If there's one concept that has stood the test of time, it's a fish game. Indeed, one provider that has capitalised the most from this concept is Reel Kingdom, Pragmatic Play partner and creators of the Big Bass series. Alongside their iconic Big Bass releases, the team were also behind Floating Dragon Hold & Spin – basically a fish game, but themed around Japan, and dragons. Now, they're attaching the flagship Big Time Gaming mechanic to this earlier success, and bringing us Floating Dragon Megaways. With a default RTP of 96.70% (lower versions are available), this highly volatile release is capable of producing wins up to 20,000x bet – far beyond what we're used to from the team.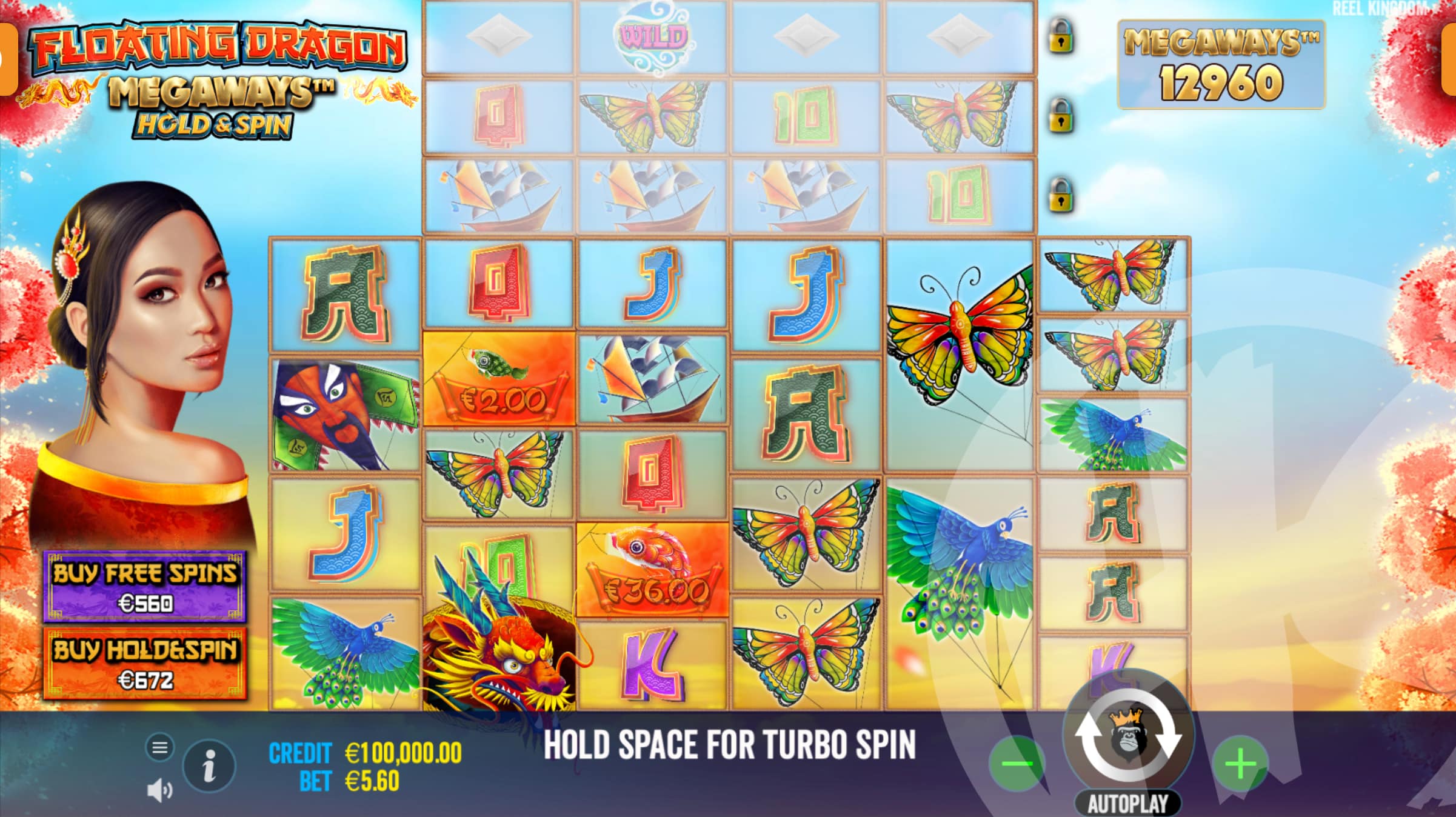 Visually, the team have maintained the Floating Dragon atmosphere by keeping everything more or less the same. Of course there have been some tweaks to enable the Megaways mechanic to fit in, but symbols, scenery, animations, graphics – all of it is immediately recognisable from its' predecessor. There's nothing wrong with this, but if you are looking for something that looks wildly different to the original, you won't find it here. Audios are also what we're used to, but they tie everything together well.
Base Features
Taking place across 6 reels, wins are formed on Floating Dragon Megaways by matching at least 3 symbols on adjacent reels, beginning with the leftmost reel. The first thing that is immediately noticeable are the additional rows across the top of the reels – we're used to one top row, but in this release, we have three, and these all count in forming wins by expanding the height of the middle four reels. Basically, the three top rows will lock or unlock independently at the beginning of each spin randomly – they may all be locked, they may all be unlocked, or a combination may be locked or unlocked. The topmost row can only contain Wild symbols or blank spaces, whilst the two rows beneath can contain any pay symbol. Only pay symbols in unlocked rows count towards wins. At maximum expansion, a total of 147,456 ways to win are possible.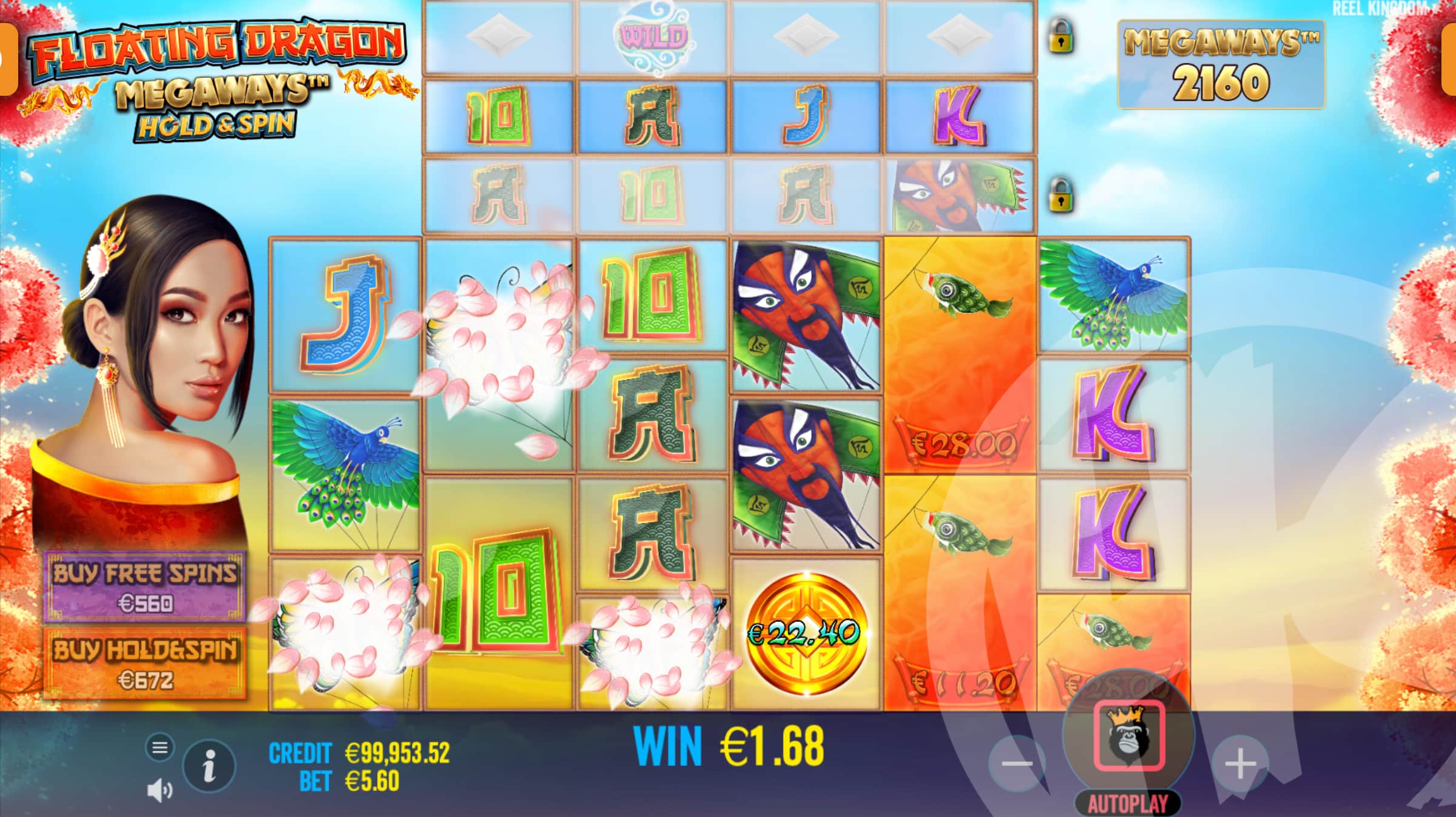 Now that's out of the way, let's discuss symbols. As mentioned above, symbols have been carried over from Floating Dragon Hold & Spin, beginning with non premiums – 10s, Js, Qs, Ks, and As. Land 3 of a kind of any non premium to see wins between 0.10 and 0.20x bet, with this increasing to values between 1 and 1.50x bet for 6 of a kind. In the mid range we have Fish Money symbols, which we'll explain more on below, awarding wins between 0.20 and 1.50x bet for matches between 3 and 6 of a kind.
At the premium end we have three types of kite – with faces, butterflies, and peacocks. Landing 3 of a kind of any of these will see wins between 0.30 and 1x bet, up to values between 2 and 5x bet for 6 of a kind. Finishing off the premiums are ships, which are the only symbol to pay for 2 of a kind – land 2, 3, 4, 5, or 6 of a kind ships to see wins of 1, 2, 10, 25, and 50x bet, respectively. Finally, we have Wild symbols – substituting for all symbols except Scatters, Lady symbols, and Coin Money symbols. Wilds can only land on the topmost row.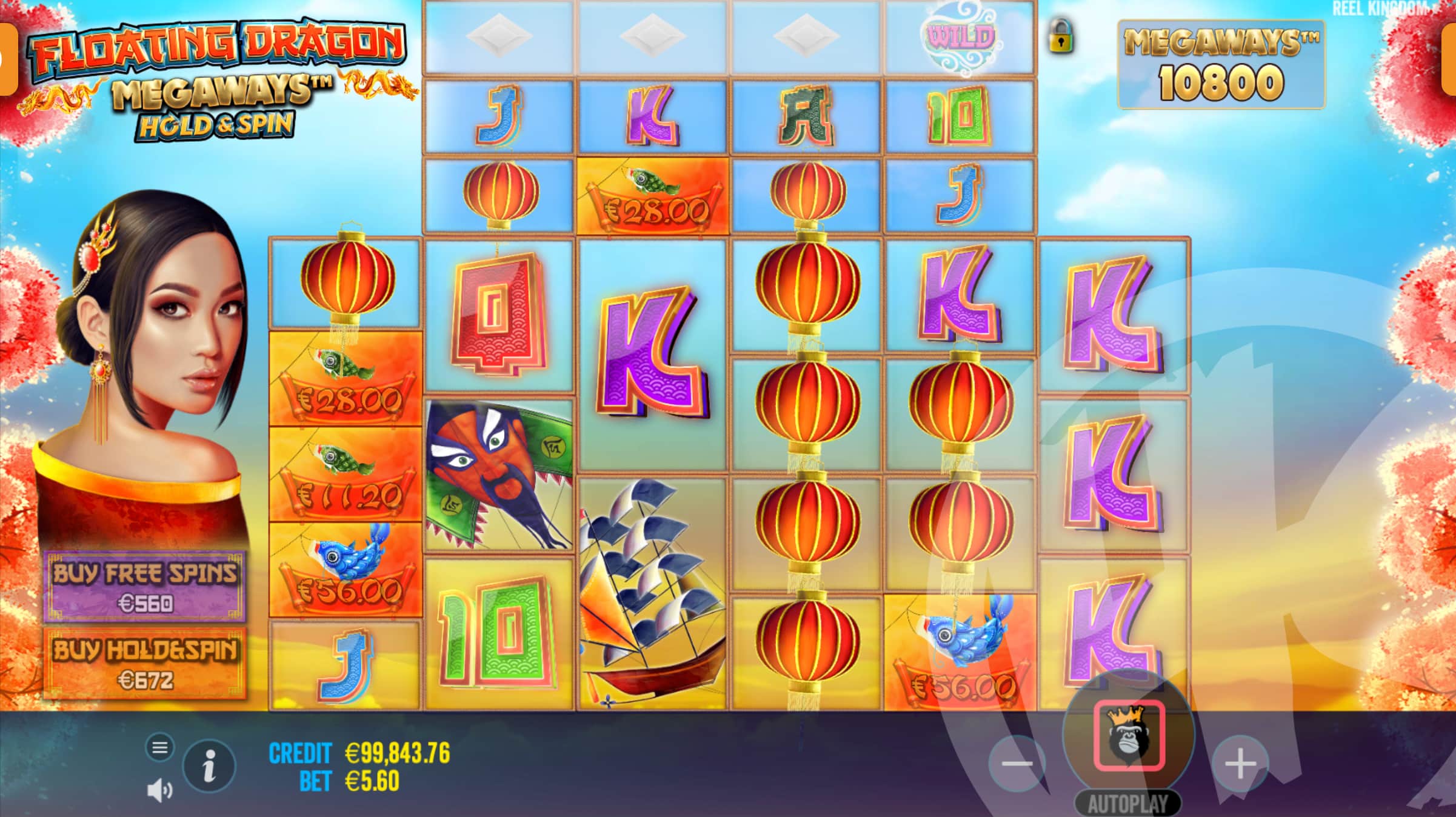 The first thing to cover in Floating Dragon Megaways is the Tumble feature. On every spin, all symbols involved in a win will be removed from the reels, leaving cherry blossom petals behind. Any remaining symbols will then drop down to fill the gaps, with new symbols then dropping in to fill the gaps not filled by existing symbols. The same will happen on the top 3 rows, although symbols will fill in from right to left, rather than dropping in. New symbols will always be the same size as the symbol they replace, and Tumbles will continue until no more wins are formed.
Next, it's Fish Money symbols. At the beginning of every spin, all Fish Money symbols will take on a random individual money value from a pre-defined set. These values can be won during Free Spins only, and range between 2 and 5,000x bet. We'll discuss Free Spins down below, but for now you just need to know this – it is not possible to win Fish Money symbol values in the base game – instead, they will Tumble as normal, being removed from the reels when enough land to form a regular win.
Orange lantern symbols can land on the reels – these are Mystery symbols, and they can appear in both the base game and Free Spins. When Mystery symbols land, they will all reveal the same regular paying symbol.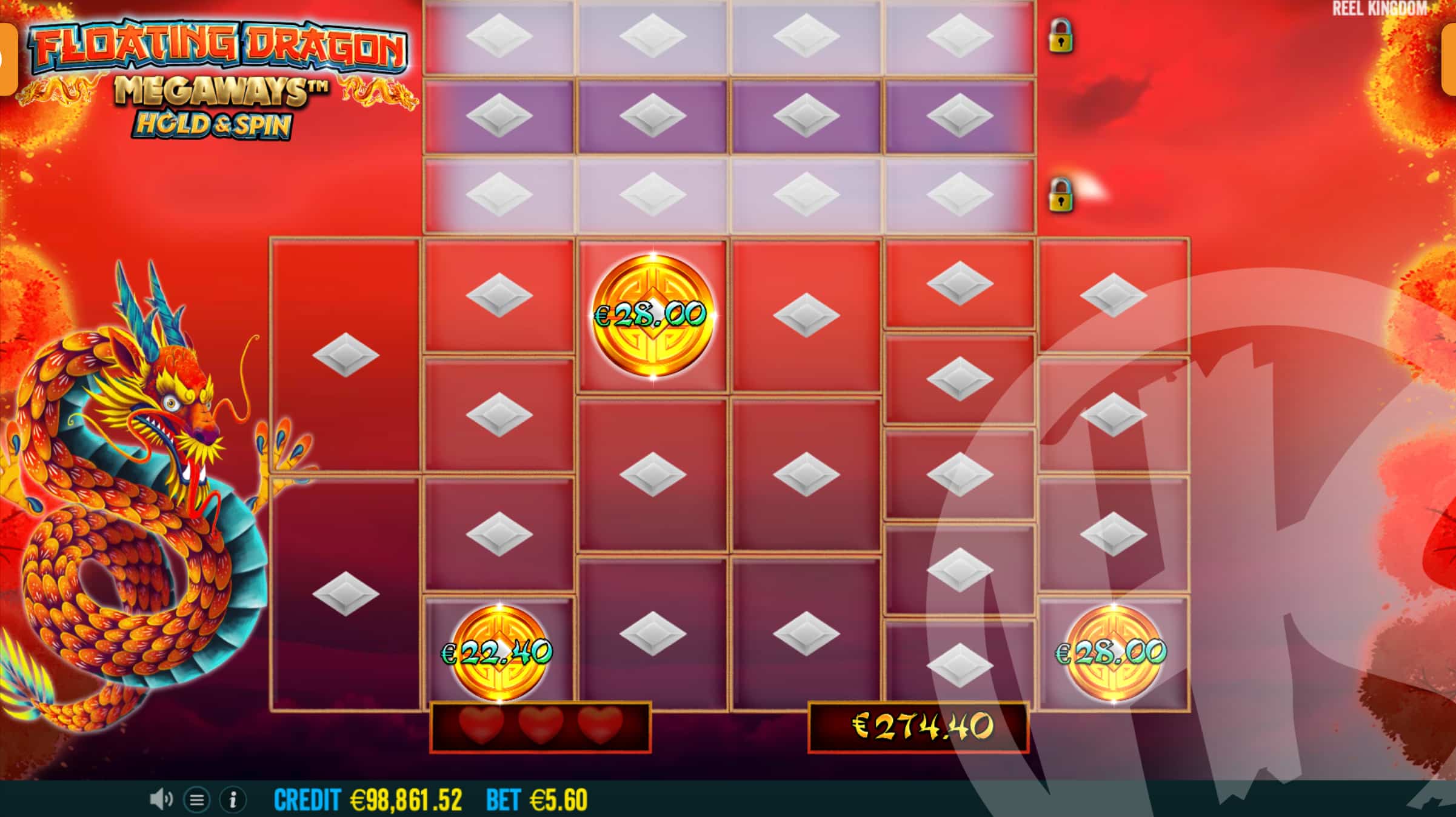 The final element of the base game is the Hold & Spin feature, triggered by landing 3 or more golden Coin Money symbols. Coin Money symbols can land on every reel or row except the topmost row, and similarly to Fish Money symbols, they take on a random value at the beginning of each spin from a predefined set – ranging between 1 and 2,000x bet.
When at least 3 Coin Money symbols land in view, they will stick into place, their values will be collected, and all other symbols on the reels will fade away. All reel positions will stay the same size, and 3 respins are awarded. During respins, it is only possible to land Coin Money symbols or Diamond Money symbols – which take on a random value between 50 and 2,000x bet.
Each time a new Coin Money symbol or Diamond Money symbol lands, respins will reset to 3, and all values in view will be collected – this includes the triggering Coin Money symbols, which stick into place and are collected again each time a new symbol lands alongside them. New Coin Money symbols and Diamond Money symbols that land will only be collected once, and then will fade away for the next respin.
The Hold & Spin feature has a win guarantee of 20x bet. If the feature ends and 20x bet has not been achieved, 3 more respins are awarded. This continues until at least 20x bet has been won.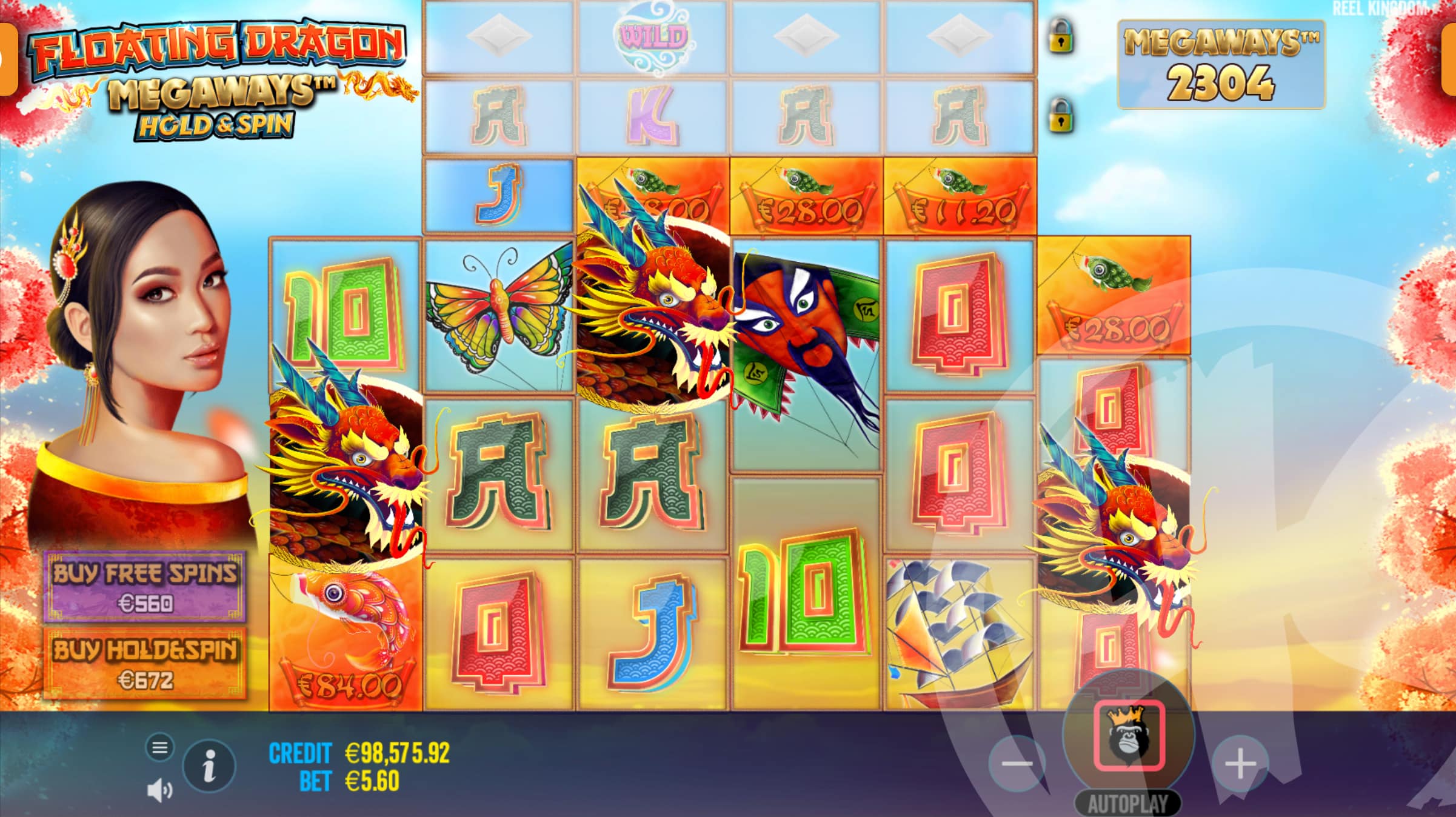 Bonus
Land 3, 4, 5, or 6 Scatters to trigger 10, 15, 20, or 25 Free Spins respectively. During free spins, the Lady symbol can land on all reels and rows except the topmost. On any spin, if this symbol lands, the values attached to any Fish Money symbols in view will be collected and awarded as a win. Alongside this, Lady symbols are collected and added to the meter at the right of the screen:
Collect 4 Lady Symbols: +10 free spins x2
Collect 8 Lady Symbols: +10 free spins x3
Collect 12 Lady Symbols: +10 free spins x10
Collect 16 Lady Symbols: +10 free spins x20
Collect 20 Lady Symbols: +10 free spins x30
It actually doesn't stop there – there is no upper limit on retriggers or multipliers in Floating Dragon Megaways – a first from the team, who usually stop the fun at x10. During Free Spins, Fish Money symbols are not counted as a win and removed as they are in the base game – instead, they remain in place, dropping to the bottom of the screen until Tumbles have finished. When Tumbles have ended, if no Lady symbol has landed, Fish Money symbols will then pay as regular symbols, but if they are collected by a Lady symbol they do not.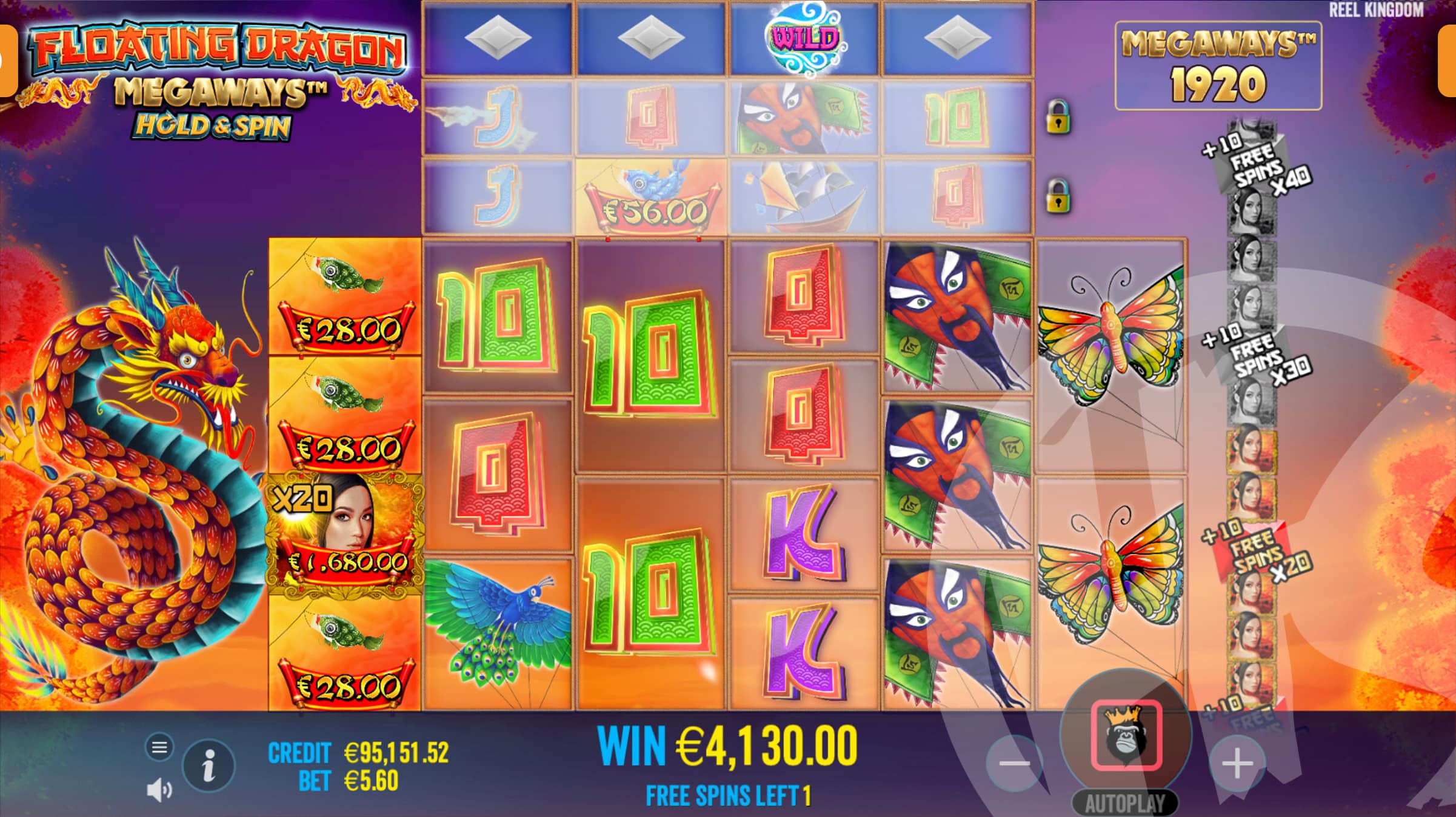 There are two random features than can occur during Free Spins:
When a Lady symbol lands in view with no Fish Money symbols, it is possible for a firecracker to appear, adding Fish Money symbols into random reel positions (except the topmost row). This is the same as the dynamite feature in the Big Bass series.
When a Lady symbol lands in view with no Fish Money symbols, it is possible that the dragon to the left of the reels will move into the centre of the screen. At this point, all symbols except Lady symbols will be removed from the reels, and new symbols will drop in – the same as the Bazooka feature in Big Bass Megaways.
Additionally, if the Lady symbol lands in view with no Fish Money symbols, Mystery symbols can randomly appear and transform into any other random symbol.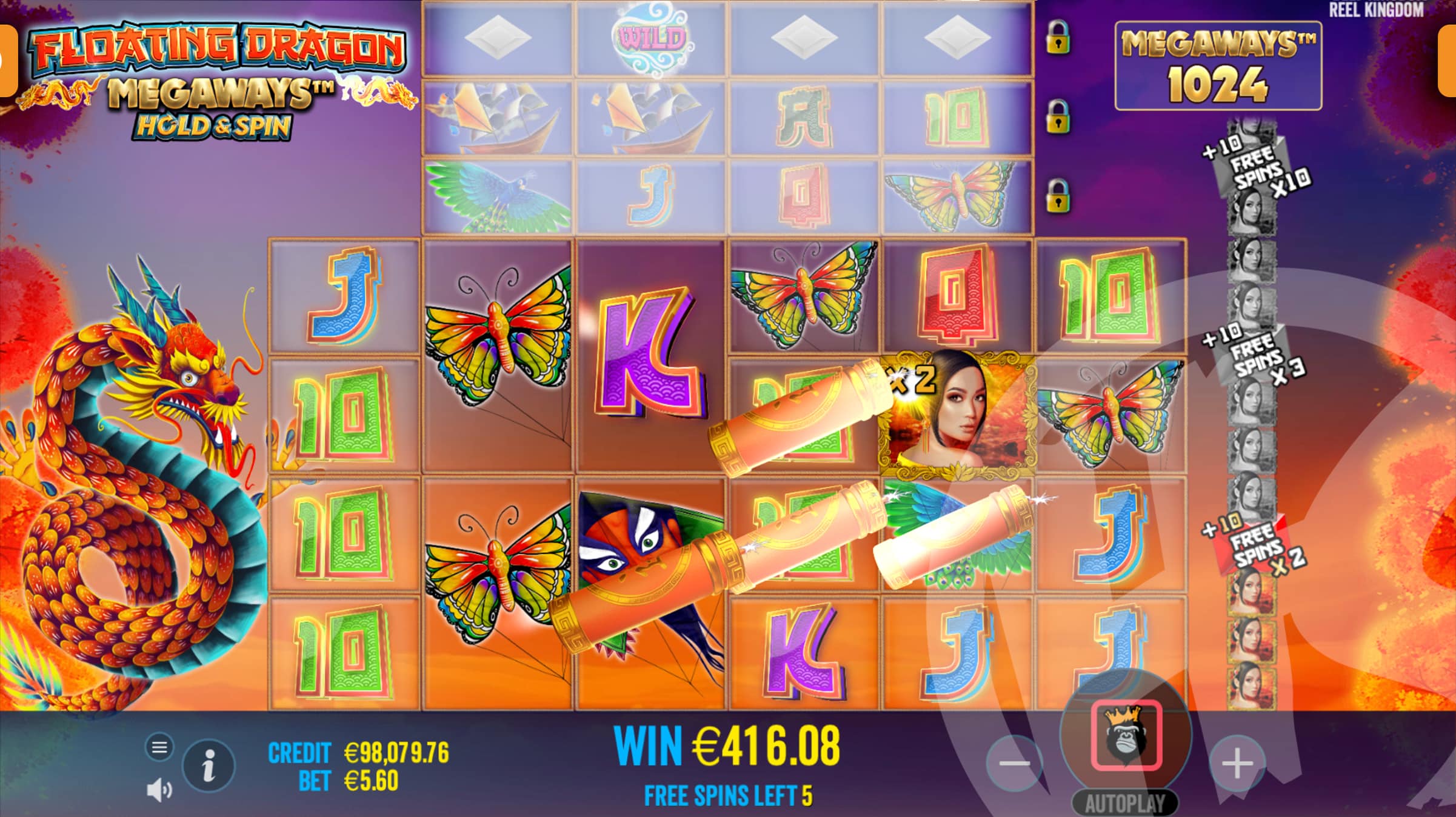 Finally, players in appropriate regions can fast track the action with two Feature Buys:
Buy Free Spins – 100x bet
Buy Hold & Spin Feature – 120x bet
When buying Free Spins, between 3 and 6 Scatters can land, with the number chosen randomly. The same applies to the Hold & Spin Feature, wherein between 3 and 6 Coin Money symbols can land – again, with the number chosen randomly.
The maximum win available in Floating Dragon Megaways is 20,000x bet. If the sum of a single game round exceeds this, the game round will end and 20,000x bet will be awarded.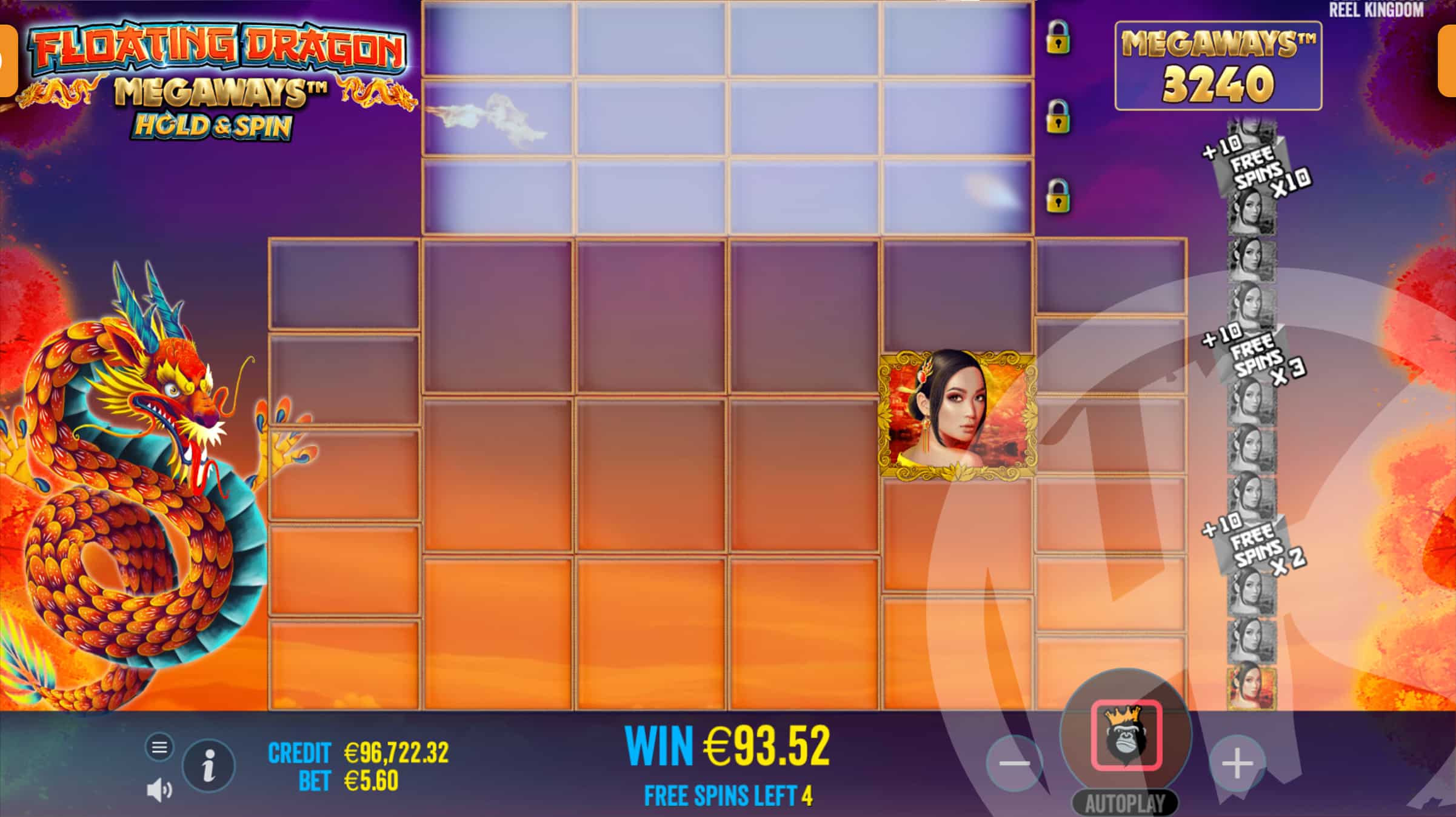 First Impression
You've got to hand it to the team at Reel Kingdom – they know when they're on to a winning idea. Hey, we don't make the rules, but players love fish games – they literally take to them like a fish to water! It's a tried and tested idea, and Reel Kingdom are making the most of it. That said, they seem to have a knack for basically re-releasing the same game, but adding something unique each time, whether that be how Fish Money symbols are treated in Bigger Bass Bonanza, the modifiers available in Big Bass Splash, or the Megaways mechanic when it was first applied in Big Bass Bonanza Megaways.
This time? Well, I thought it was the feature buy – something Big Bass Bonanza Megaways doesn't have, but as it turns out, its the unlimited multiplier/retrigger set up. We all love reaching the x10 stage of Big Bass/Floating Dragon/whatever your favourite is, but now we have opportunities to climb to x20, x30, x40, and beyond. And suddenly, things feel really, truly exciting, especially with wins now available up to 20,000x bet – considerably larger than any of these releases before.
Of course, we also have the Hold & Spin feature – which interestingly comes in slightly higher when buying, compared to Free Spins. It also comes with a 20x bet guarantee, and not one of those guarantees where you just end up with the 20x bet – a proper guarantee, where you basically get to play your feature through again. Could this turn out to be the more popular option to buy? Who knows, but this one is already loved by players, and we even have some max wins on it in our viewer gallery.
There's plenty here that sets Floating Dragon Megaways apart from its' predecessor, even though it does surprise me to admit it. One thing that remains however is volatility – things are highly volatile, with a default RTP of 96.70%, although 94.50% and 95.50% are available – not the worst in the world, but certainly worth checking beforehand.
Overall, if you're a fan of the Pragmatic/Reel Kingdom mixture that have produced so many of these releases so far, you'll love Floating Dragon Megaways just as much as the rest, if not more. If you haven't been convinced, a 20,000x bet win cap is a great enticement.
*The screenshots taken of games reviewed on this site are taken from Demo Play, as reviews are often written before games are released for real play.