Pragmatic Play are back with a sequel to one of their most popular releases, Fruit Party – an action packed, fruity edition boasting wins up to 5,000x bet in size. Fruit Party crept onto iGaming scenes in Spring 2020, but burst to the forefront later in the year, aided by the amount of maximum win videos floating around streaming platform Twitch. This year, Pragmatic are hoping to make the same impact with Fruit Party 2, similar in many ways to its predecessor, but with a few tweaks to take this party to the next level. Standard RTP has increased slightly to 96.53%, however two lower settings are available, and the maximum win remains 5,000x bet – enough to get players excited with the original, so why change what isn't broken? Volatility remains at an all time high in this sequel, rated 5/5 by Pragmatic, alongside a 1 in 2.5 hit frequency.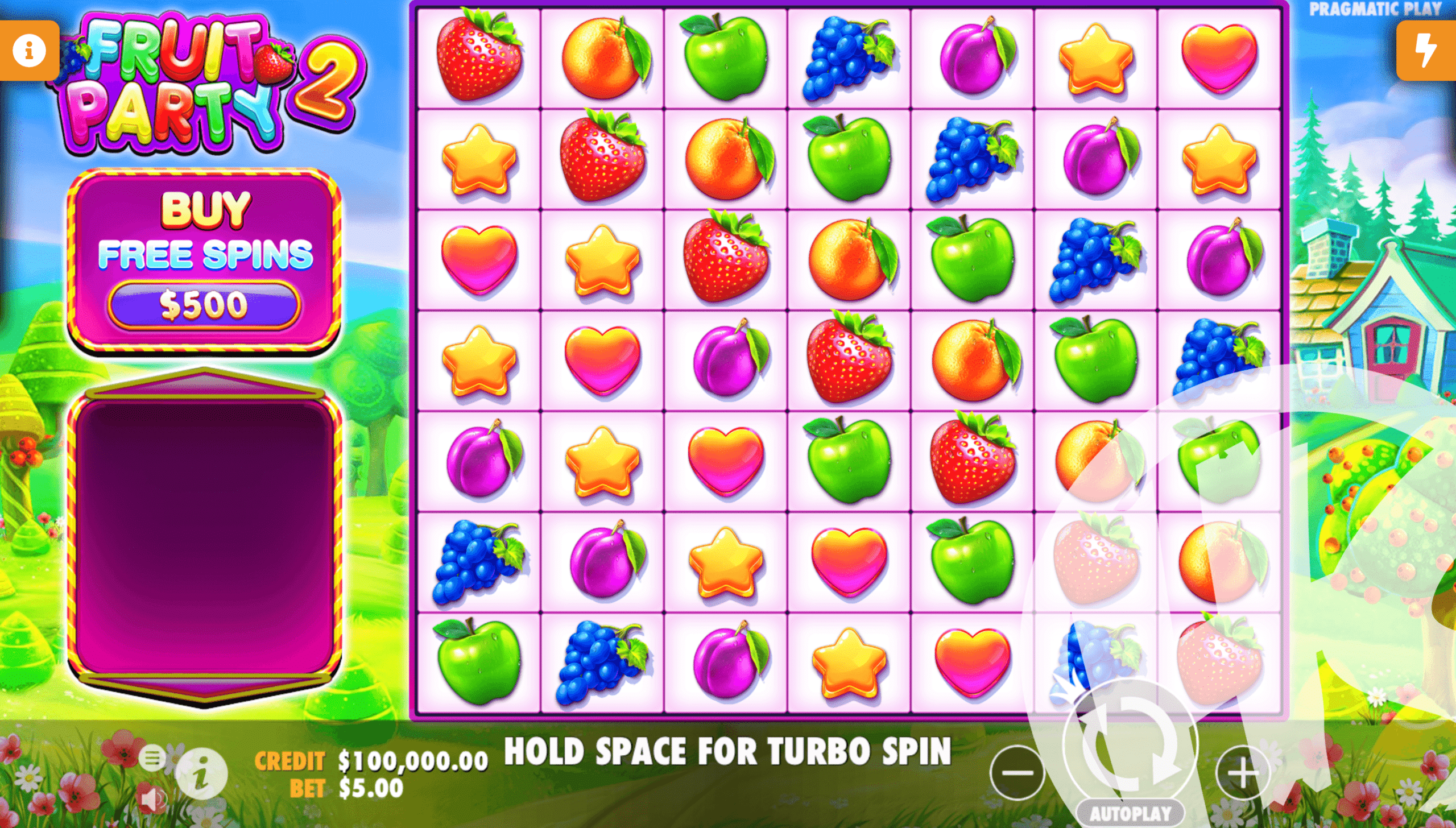 Visually, Pragmatic have improved upon graphics, however not in a way that will make players do a double take. With the original released in 2020, how much could we expect graphics to improve in the space of 14 months? What we're given, however, is sharp, crisp, and easily competes with graphics available in 2021. The background remains undistracting, with bright landscapes, orange trees swaying ever so slightly, and a cottage in the background, while audios have had an upgrade, more distinctive and clear, whilst still paying homage to the original.
Fruit Party 2 Base Features
Play on Fruit Party 2 takes place on a 7×7 grid, adopting the cluster pays mechanic players have come to known and love. Wins are formed by matching 5 or more symbols connected horizontally or vertically. 7 symbols are used to provide wins up to 5,000x bet, with symbols and payouts remaining unchanged from Fruit Party This includes the lower paying hearts and stars, rewarding players 20 and 40x bet respectively, for clusters of 15+. This party is all about the fruit, which is where the big pay outs really happen, with plums, grapes and apples paying 60, 80 and 90x bet respectively, again for clusters of 15+. Oranges turn up the heat further – landing a cluster of 15+ will be met with pays of 100x bet. Finally, clusters of 15+ strawberries pays out a whopping 150x bet. Wilds are in play, which we'll get to soon, and Scatters are represented by golden walnuts, this time around having trigger values attached, paying 3, 5, 10, 20 and 100x bet for 3, 4, 5, 6 and 7 scatters, respectively.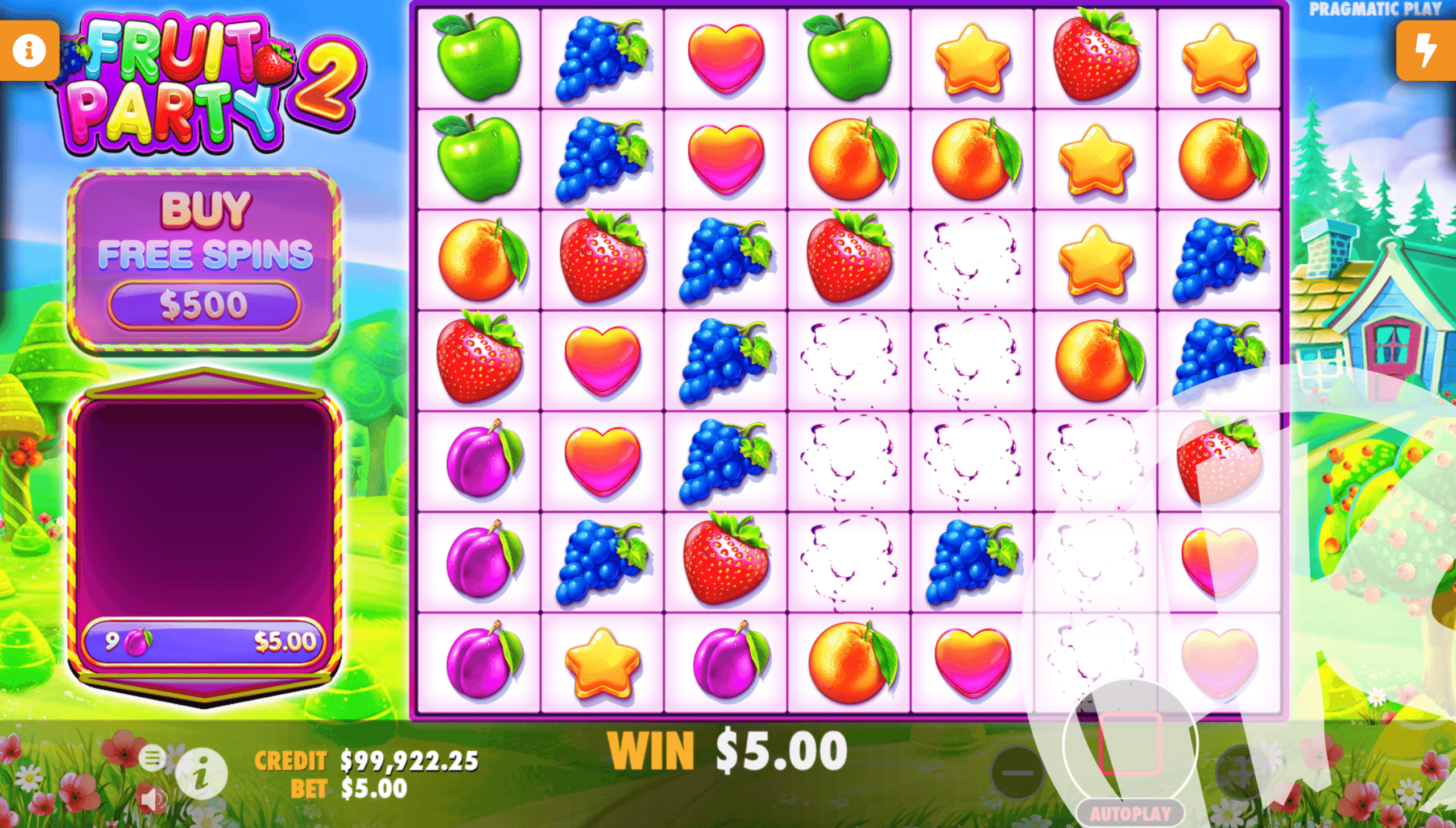 Fruit Party 2, whilst utilising cluster pays, also has a tumble feature, visible above, in which symbols involved in a winning cluster are removed from the grid, allowing for new symbols to drop into their place. When winning symbols are removed, all other symbols drop to the bottom of the grid, and the empty positions are replaced with symbols dropping from above. Tumbles continue until no more winning combinations can be formed.
The final symbol not yet mentioned is the wild symbol, which substitutes for all symbols except Scatter symbols. When a cluster of symbols are involved in a win and explode from the grid, they may leave a wild behind in their place, in one of the empty spots at random. When a wild first appears as a result of a cluster being removed from the grid, it contains a x2 multiplier, which is then applied to any future cluster wins it is part of. If the wild is then used in a cluster win, it may or may not re-appear on the board, but each time it does re-appear it will now carry a larger multiplier – x4, x8, x16, x32, x64, x128, x256, progressively for each subsequent time it appears.
If more than one wild is part of the same winning cluster, the multipliers will add together before multiplying the cluster win, for all cluster wins they are part of.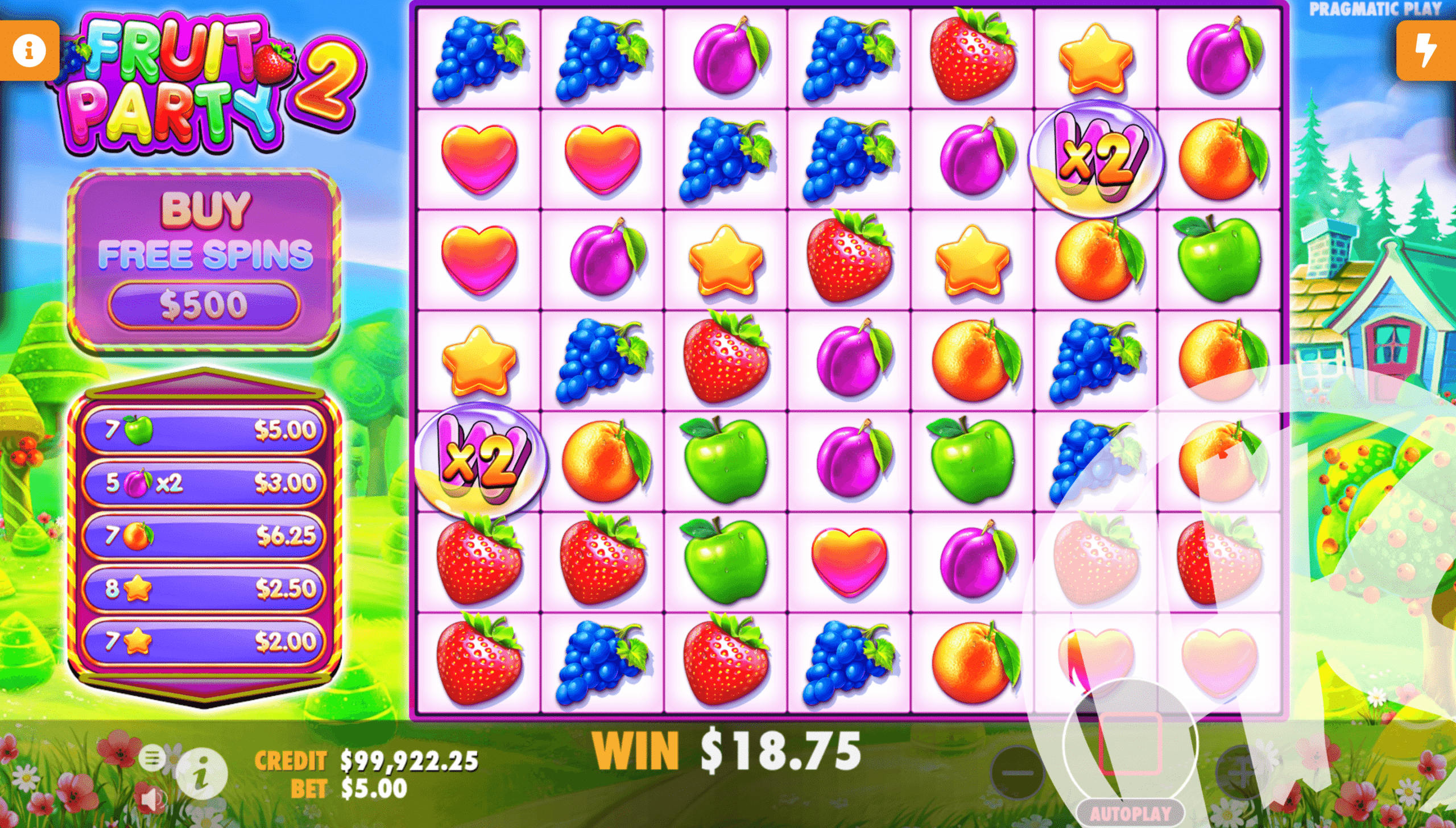 Fruit Party 2 Bonus
Landing 3 or more Scatter symbols triggers free spins, which is one of the most noticeable changes to Fruit Party 2, where additional spins are awarded at the point of trigger now:
3 Scatters: 10 Free Spins
4 Scatters: 12 Free Spins
5 Scatters: 15 Free Spins
6 Scatters: 20 Free Spins
7 Scatters: 25 Free Spins
During free spins, multiplying wilds continue to work as they do in the base game, however wilds begin with a x3 multiplier, rather than x2. After beginning with a x3 multiplier, progression is x9, x27, x81, x243 and x729 during free spins. Landing 3 or more Scatters retriggers the feature, awarding +5 free spins.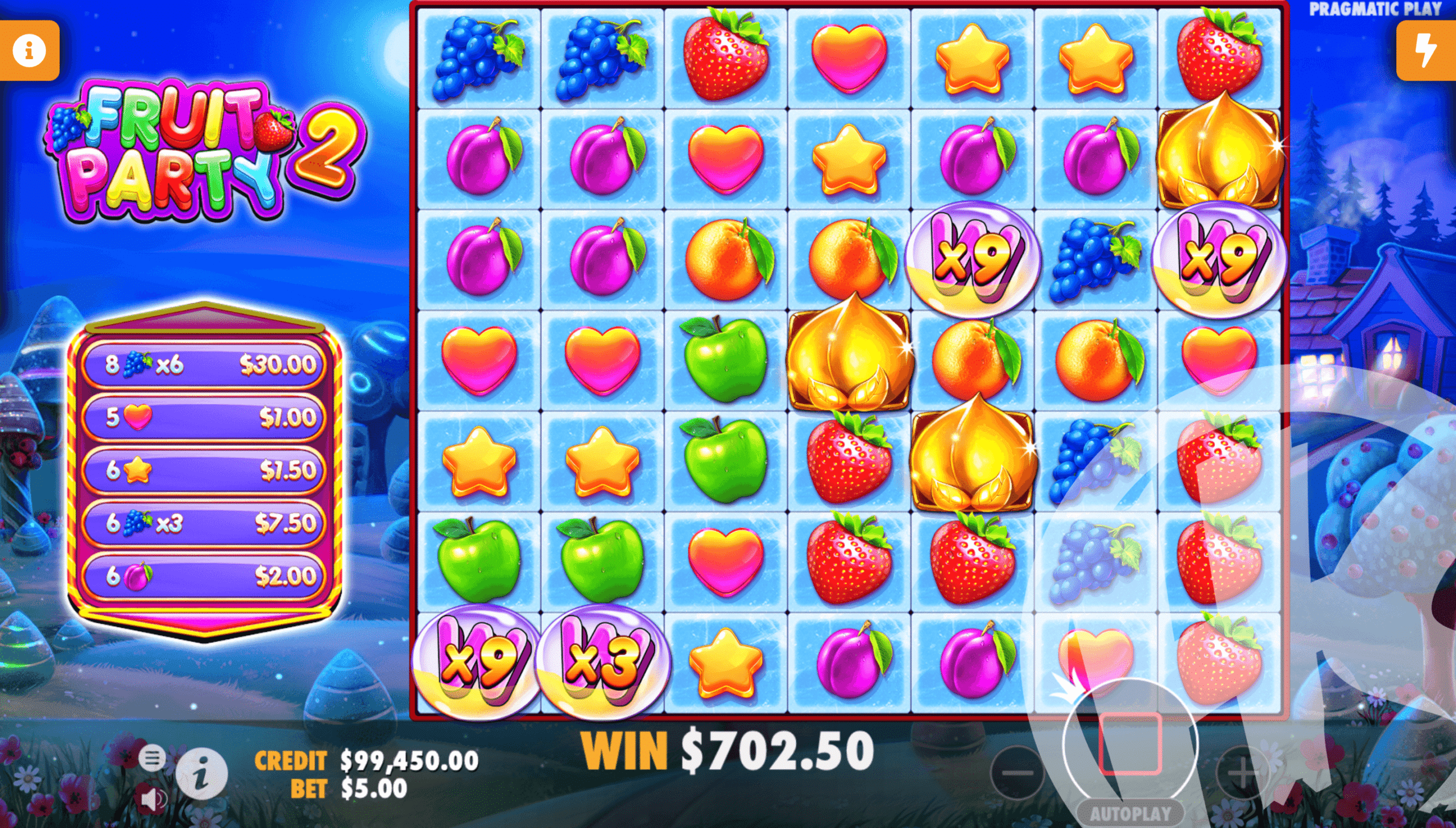 Players in appropriate regions can skip straight to the action and buy the free spins feature, for a cost of 100x bet, where between 3-7 Scatters will land on the next tumble. RTP takes a slight dip to 96.45% when free spins are bought.
First Impression
Forgetting the wild symbol for a moment, it may be hard for players to immediately notice the difference with Fruit Party 2, wherein the max win, symbols and payouts remain the same. The maximum win remaining the same, or lower, in a sequel is something we have questioned before, so it will be interesting to see how players respond. However, work has gone in behind the scenes to kick the volatility up a notch and keep things exciting. The new addition of wild multipliers helps to keep things interesting in the base game, and with a hit frequency of 1 in 2.5, base play shouldn't be monotonous – music to the ears of players unable to avail of feature buys. Default RTP has risen ever so slightly to 96.53%, which is a small increase from 96.47%, but worth a mention nonetheless. For those interested in the nitty gritty stats, a win of over 1,000x will occur 1 in 22,962 spins on average, and the maximum win will occur 1 in 495,050 spins on average
Things really come into their own when free spins start, particularly with additional spins available upon trigger now, something not available in Fruit Party. With up to 25 spins on offer, tumbles, and multiplying wilds up to x729 available, it becomes clear how Fruit Party 2 is capable of dishing up healthy wins of 5,000x bet. There's something much more enjoyable about watching the multiplier build, and seeing "x729" attached to one wild rather than waiting for a cluster to hit with a lot of individual x2 multipliers, but that could just be me…
Players who haven't given Fruit Party a chance can take joy in this slot without needing to have had any experience of the original, but players who maintain Fruit Party is one of the best grid slots to come from 2020 may not be as easily swayed from their routine. Fruit Party 2 is certainly worth a try to determine individual opinion, offering enough action to keep us interested, whilst keeping a plethora of potential underneath that fruity surface.
*The screenshots taken of games reviewed on this site are taken from Demo Play, as reviews are often written before games are released for real play.