A mere two weeks ago, Push Gaming went beyond the limits of what we've known about online slots so far in Space Stacks. Landing somewhere between a video slot and a live casino game, the team pushed the boundaries in this release whilst introducing their new mechanic – Reel Bets. There's no time to relax when you're one of the most well known providers in the industry though, and the team are already back with another release – and another unique concept – win what you see. According to Push Gaming, they "were drawn to land based slots and the feeling of hitting super wins surrounded by spectators, which inspired the "win-what-you-see" concept." Titled Generous Jack, although we aren't quite sure who Jack is, this release is highly volatile, comes with RTP options up to 96.23%, and win potential up to 10,000x bet.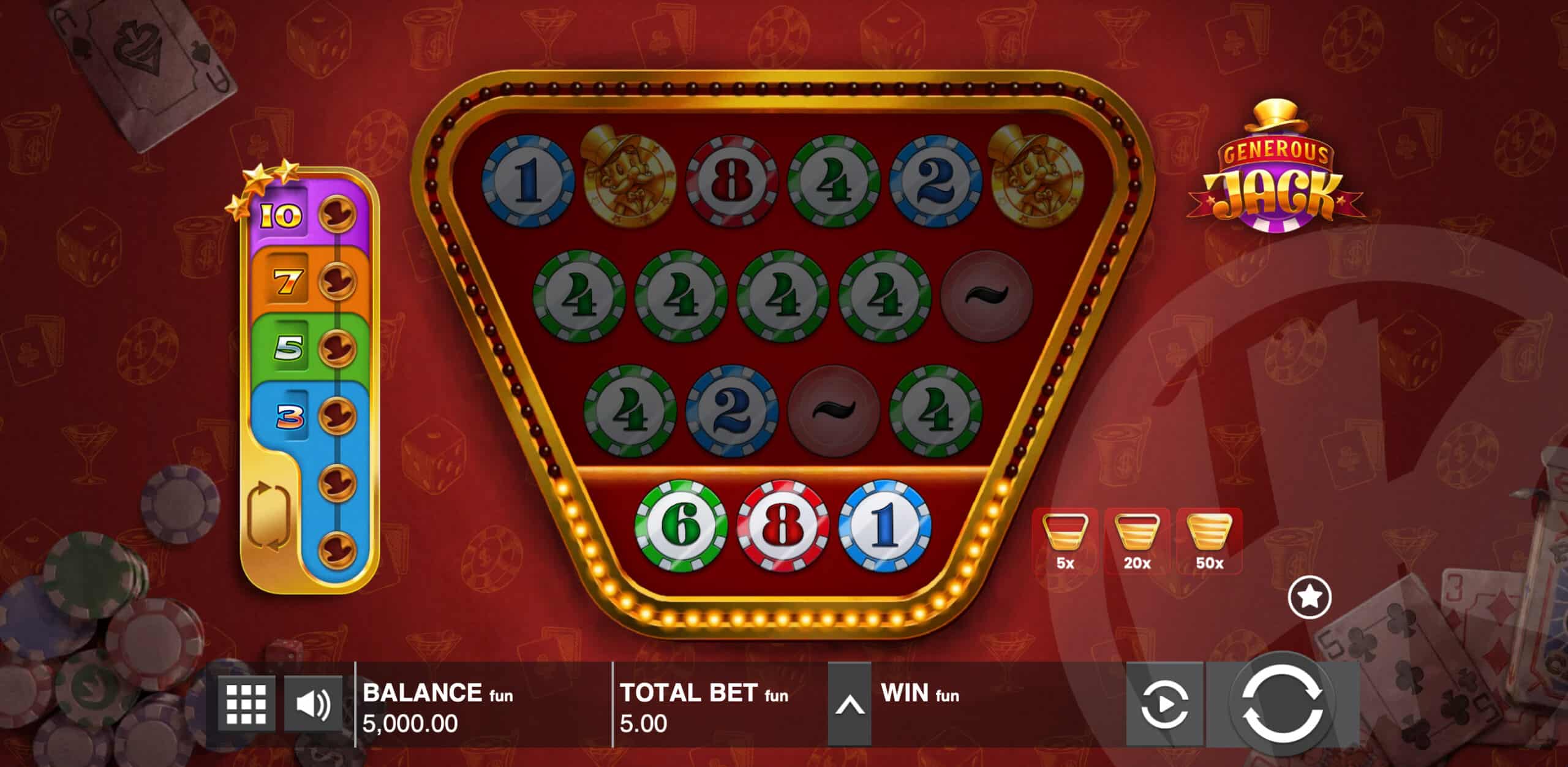 So visually things are quite plain, but it's clear to see where the inspiration has come from in this release. There's a general casino vibe with the reels surrounded in gold, and chips and cards in view. The background offers a repeat print of generic casino related things – chips, dice, cards, cash, and martinis. There isn't a huge amount happening, but it works, and definitely pays homage to the land based casinos from which Generous Jack drew inspiration. Audios are upbeat, with vintage jazz tones, and a low buzz giving the impression of a crowd in the distance – going even further in tying everything together.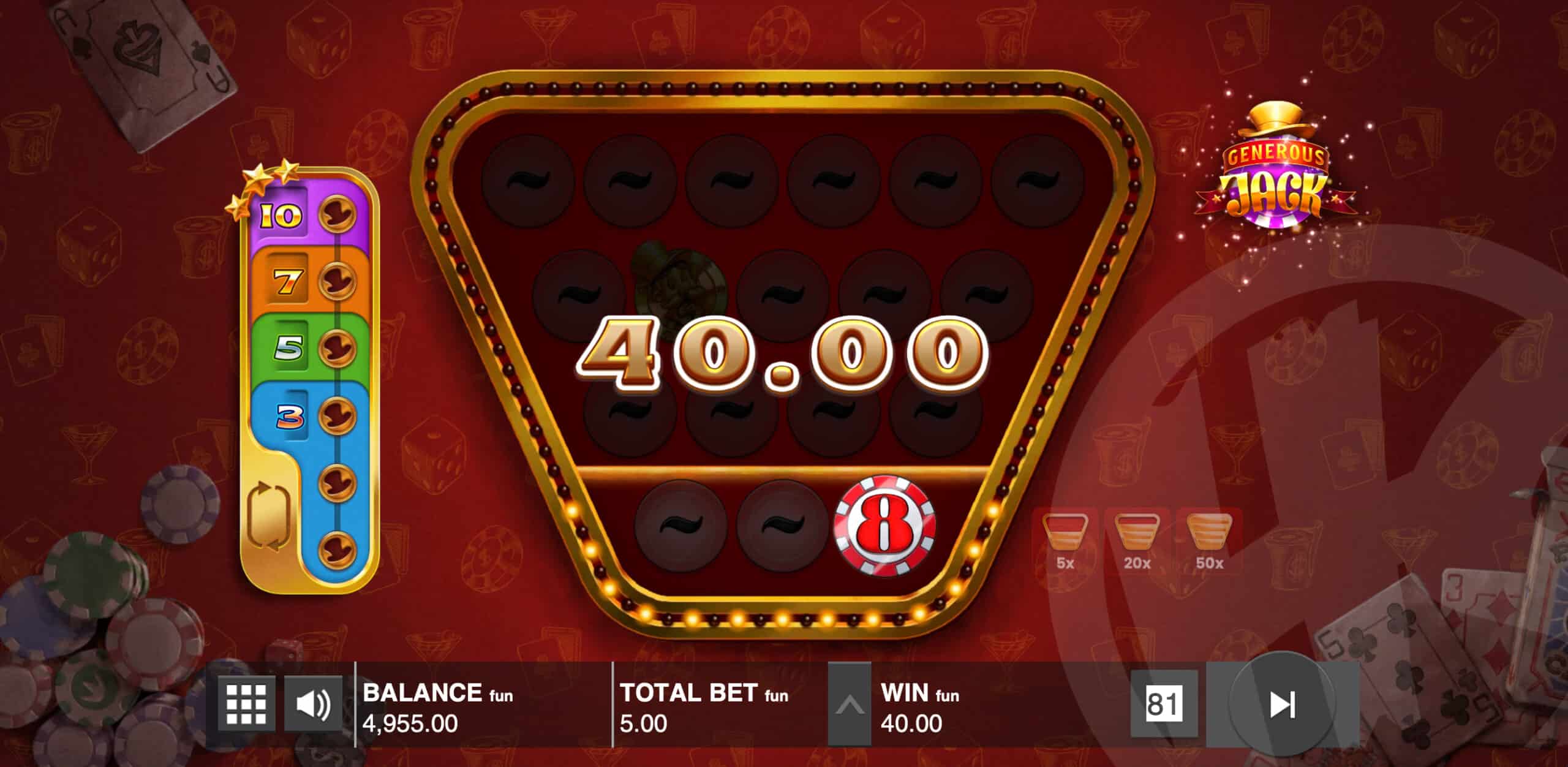 Generous Jack Base Features
So it's about now that I'd normally say 'taking place across 6 reels, wins are formed on Generous Jack by matching blah blah blah'. Forget all that. There no matching symbols, no win lines or ways to win to be had. Generous Jack relies solely upon numbered chips to produce wins, along with a dud coin. There are 18 positions in total on the reels, with the following available on each row:
Row 1 – 3 positions
Row 2 – 4 positions
Row 3 – 5 positions
Row 4 – 6 positions
The number of rows that are active will depend upon the bets you make and how the symbols land. We'll cover this soon, but for now, all you need to know is that landing a numbered chip in any active row will award its' value – you win what you see. All numbered chips take on a bet multiplier value, and can hold the values of 0x, 1x, 2x, 3x, 4x, 5x, 6x, 7x, 8x, or 9x bet. Finally, there is a dud symbol with a tilde (~) on it, and the gold Generous Jack symbol. Neither of these symbols award a cash prize.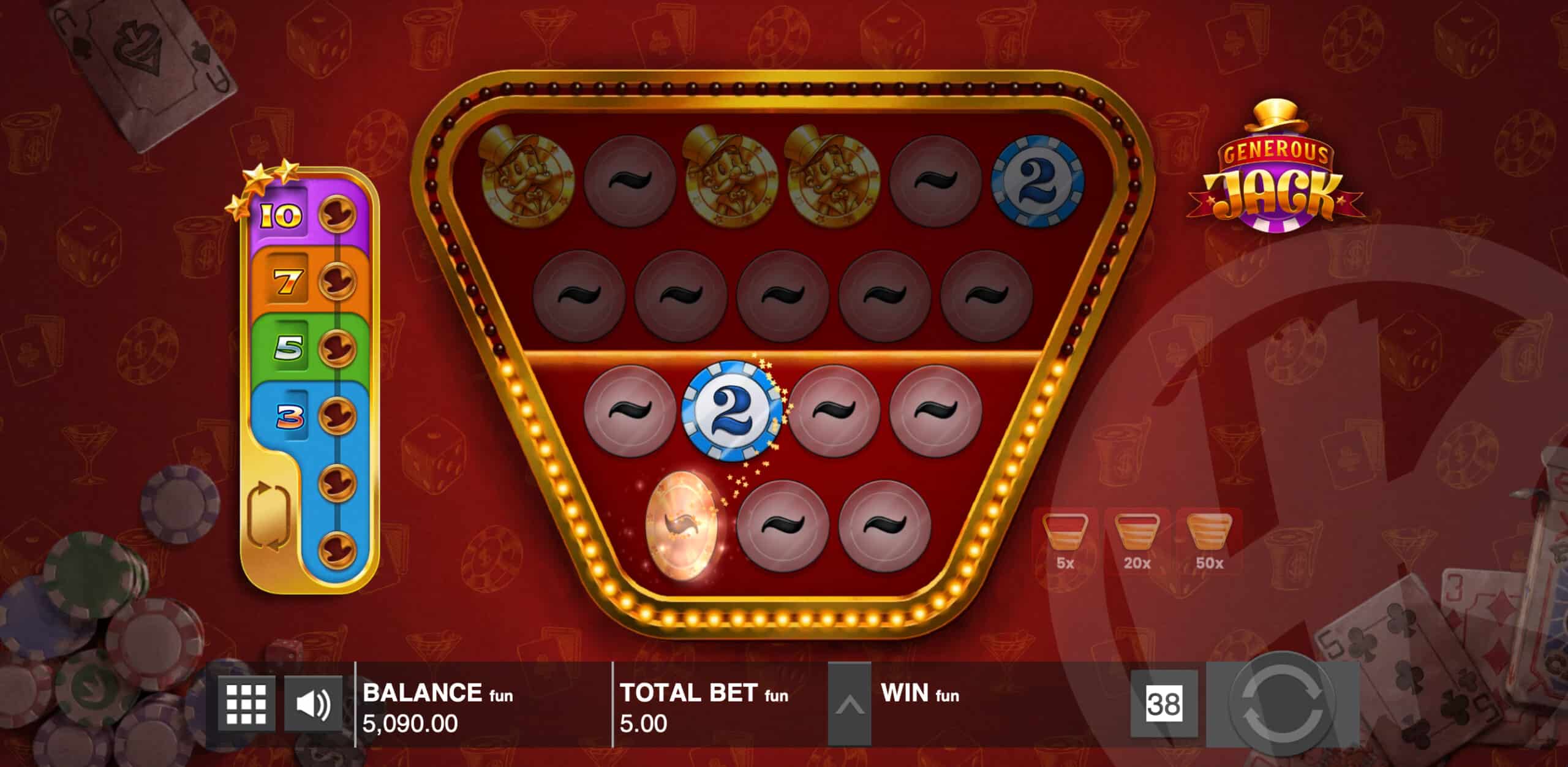 So you might be wondering 'why is there a 0 chip', which is what I wondered too, but this is part of the win what you see mechanic that makes Generous Jack what it is. By landing numbered chips next to each other, win values can become double (or more) digit prizes. It's easier just to give an example, so imagine you've landed a 5 chip, which would normally award 5x bet, but a 0 chip lands directly beside it. With win what you see, this 5 and 0 join together, and your prize would be 50, awarding you 50x bet.
Dud symbols work alongside this to stop every win from being multiple digits. If you had landed a dud symbol between your 5 and 0, these would have been awarded as individual prizes of 5 and 0, thus awarding you 5x bet, as 0 has no value on its' own. Multiple chips must land directly beside each other to be combined as prizes.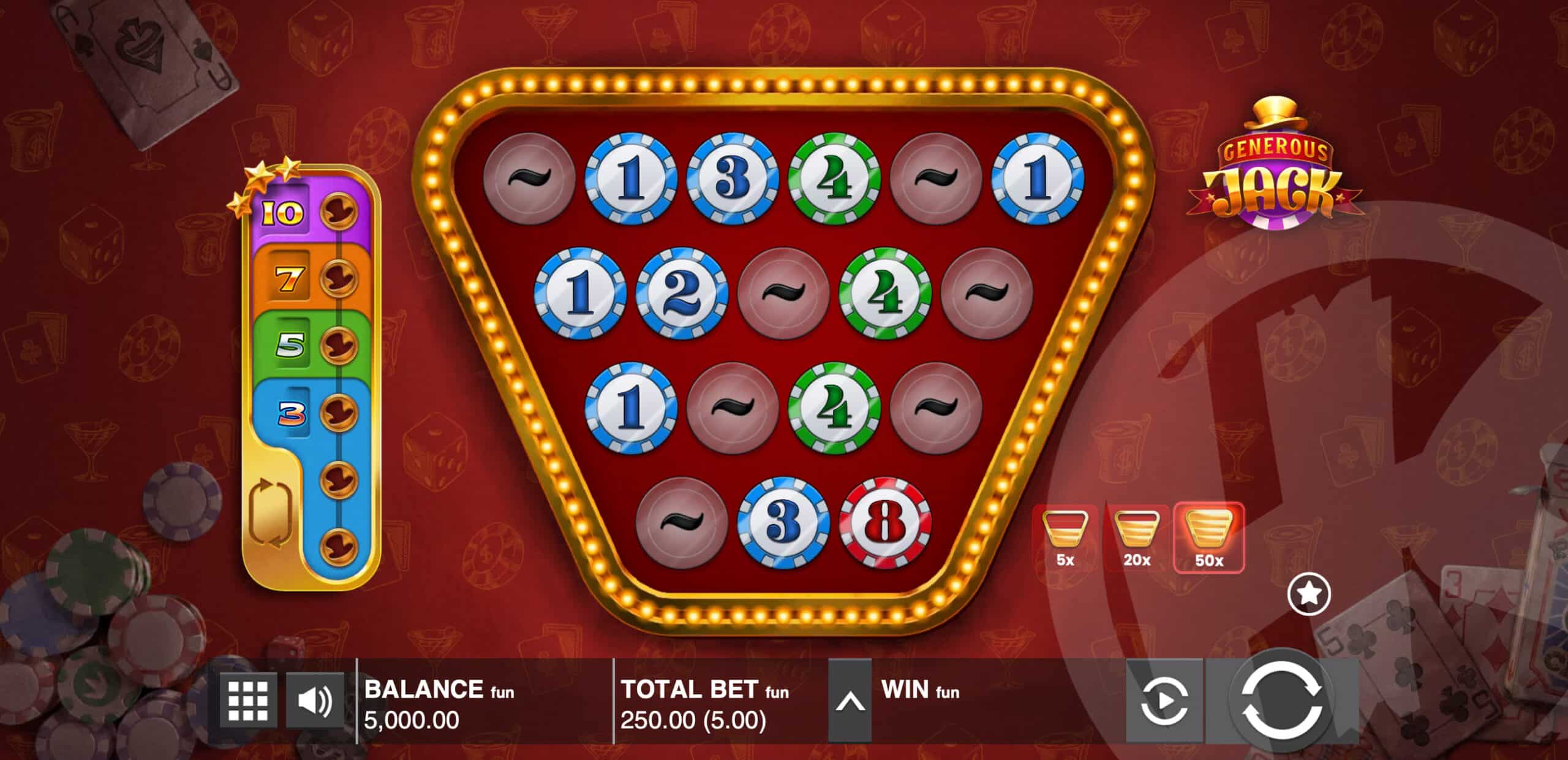 So the next thing to cover are the rows themselves. By default, only the bottom row of 3 positions is open when the game loads. This can be increased in one of two ways – by activating Super Bet, or by landing Generous Jack symbols. Let's take a look at the latter first.
On any spin, if a Generous Jack symbol lands, it will activate the next row (the lowest of all deactivated rows). When the new row becomes active, Generous Jack symbols are collected into the Free Spins meter to the left of the game play area, and a respin is awarded. Any Generous Jack symbols that have been brought into view in the newly activated row will not activate another row, but they will still be collected in the Free Spin meter and award a respin. During this respin, all numbered chips are held in place, and all dud symbols respin. Ahead of the next spin, rows are reset back down.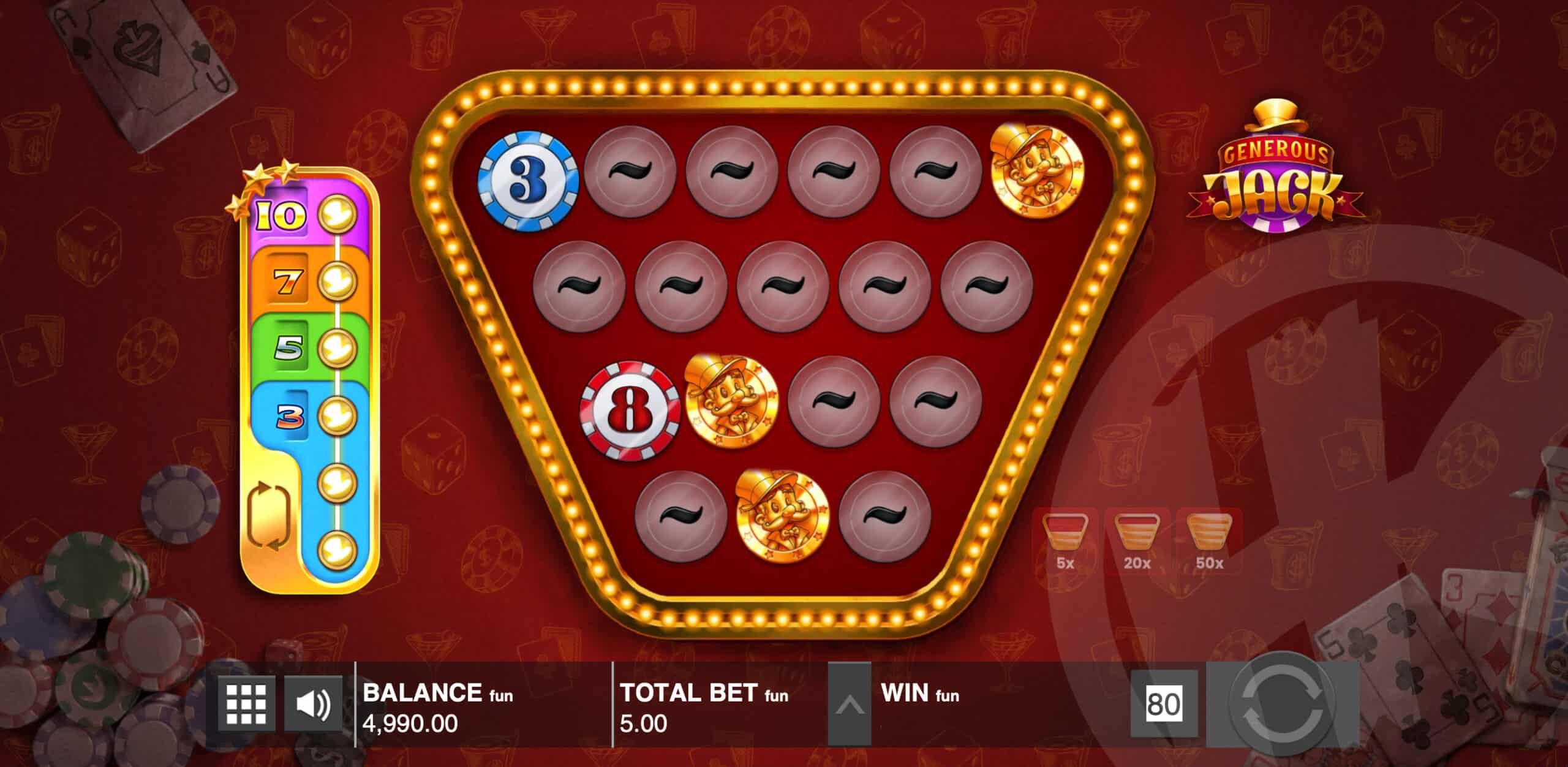 Alternatively, players can activate more rows by playing the Super Bet option. This not only opens more rows, but gives a greater chance of landing Generous Jack symbols (to trigger Free Spins), and greater wins. The following Super Bet options are available:
2 rows active – 5x the base bet (96.45% RTP)
3 rows active – 20x the base bet (96.45% RTP)
4 rows active – 50x the base bet (96.45% RTP)
RTP values are based upon the overall 96.23% option. When using the Super Bet, numbered chip wins are evaluated according to the base bet, not the Super Bet. The base bet will be visible in brackets in the Total Bet area.
The probability of landing the maximum win of 10,000x bet is increased through activating Super Bet options. Probabilities of reaching the maximum win are as follows:
Normal spin – 1 in 2,835,673
5x Super Bet – 1 in 950,562
20x Super Bet – 1 in 102,547
50x Super Bet – 1 in 41,893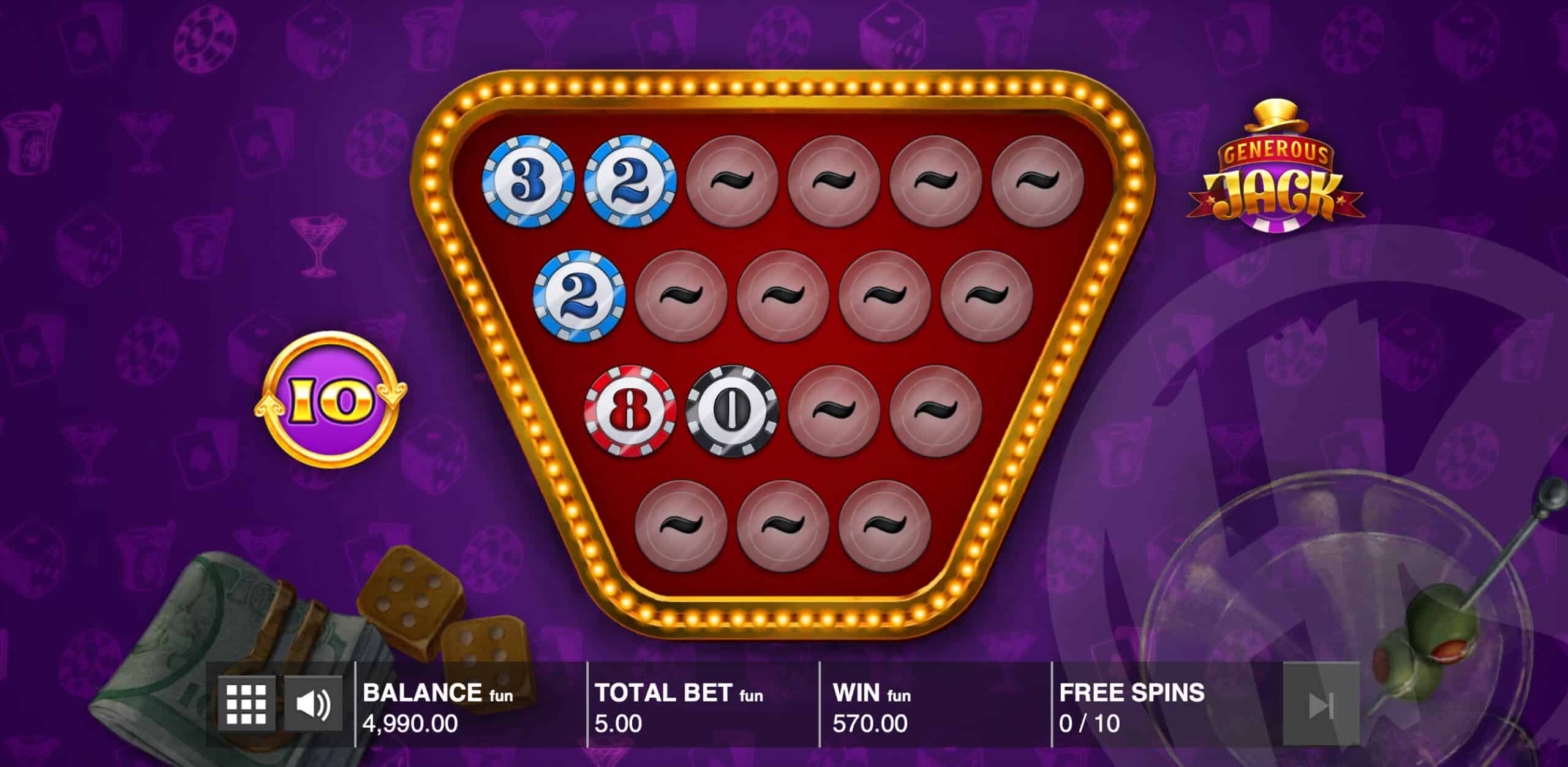 Generous Jack Bonus
Collect 3, 4, 5, or 6 Generous Jack symbols to trigger 3, 5, 7, or 10 Free Spins. Free Spins will begin after all respins have finished, and all wins have been awarded. The number of rows active at the point of trigger will remain active for the duration of Free Spins.
It is not possible to land Generous Jack symbols during Free Spins, meaning it is not possible to unlock additional rows during Free Spins. Instead, Free Spins are played with only numbered chips and dud symbols available to land. Apart from this, things continue in Free Spins much as they do in the base game – land numbered chips directly next to each other to combine their values into double (or more) digit prize values, with win what you see.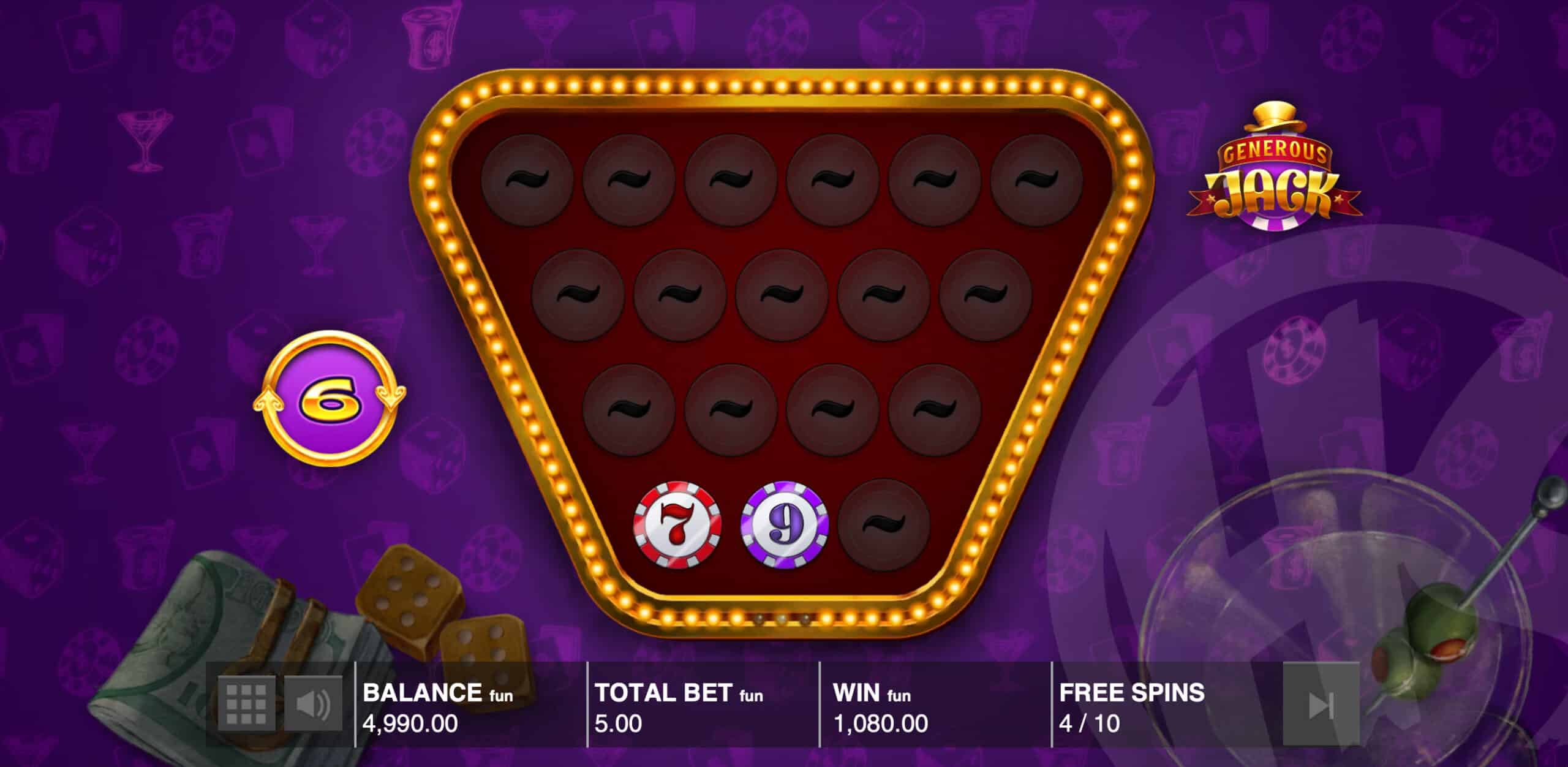 Players in appropriate regions can fast track the action with the Bonus Buy option. For a cost of 150x bet, a random number of Generous Jack symbols will land in view – 3, 4, 5, or 6, awarding 3, 5, 7, or 10 Free Spins. During this triggering spin, Generous Jack symbols continue to activate additional rows, with these active rows carrying over into Free Spins. RTP when using the Bonus Buy option increases slightly, to 96.55% (based upon the overall 96.23% option).
The maximum win available in Generous Jack is 10,000x bet. If the sum of a single game round exceeds this, the game round will end and 10,000x bet will be awarded.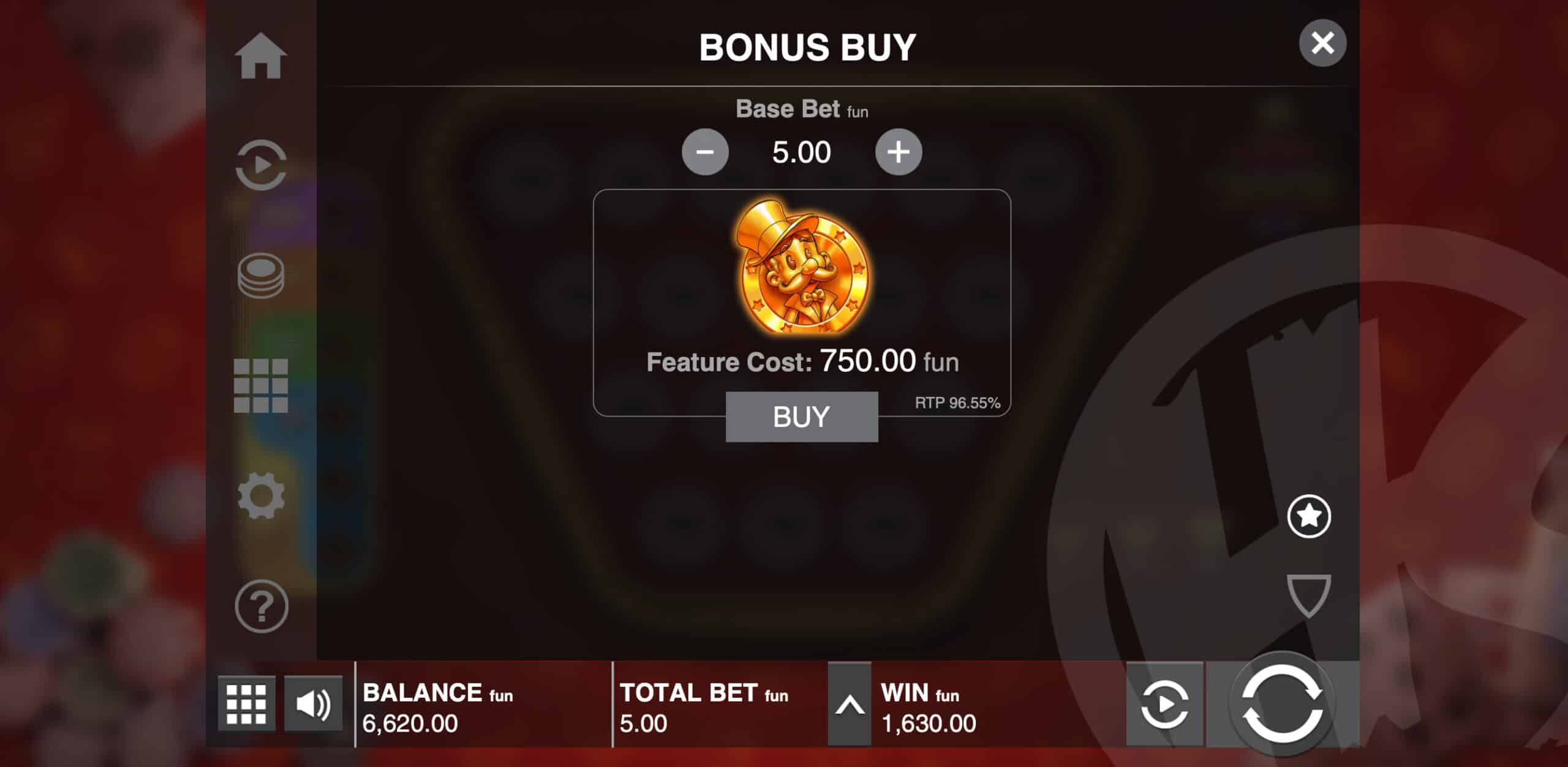 First Impression
This is a bit like Space Stacks all over again – it's hard to judge Generous Jack, because it's so unique. Let's start with the mechanic though – win what you see. Push Gaming are the authority on Instant Prize Symbols, and although we have numbered chips here, they bear similarities to Instant Prize symbols given that they're awarded as a bet multiplier. By creating a rule that two of these landing side by side can turn the prize into double, triple, quadruple, or even quintuple values, it elevates the entire experience. Marks for originality, but also marks for something that genuinely can be quite exciting. When the right combinations land, wins are possible up to 10,000x bet.
With that said, when you aren't landing symbols side by side, the maximum available numbered chip is 9 – meaning 9x bet, so things can feel a bit dry if you end up on a particularly bad run. There aren't any statistics available (to my knowledge) for how often chips do land side by side, but in my limited experience, they weren't overly shy of this.
Of course, the Super Bet option is there to kick things up a notch in the base game and increase the probability of both Free Spins and larger wins. Remember that active rows during the trigger carry over to Free Spins when considering this option. If you aren't prepared to opt for the Super Bet, the option exists to go for the Buy Bonus – at a cost of 150x bet. Finally, Maths is highly volatile, and RTP options are available up to 96.23% – although lower versions are available, so as always it's worth checking.
If you skipped straight here rather than reading the information above, it's worth repeating that the probability of hitting the 10,000x bet max win is increased through Super Bets:
Normal spin – 1 in 2,835,673
5x Super Bet – 1 in 950,562
20x Super Bet – 1 in 102,547
50x Super Bet – 1 in 41,893
All in all, Generous Jack is like nothing we've seen before, so it's hard to say who it will appeal to. If I had to make a guess? Fans of Push Gaming's maths model, fans of land based casinos, and fans of Instant Prizes seem to be the main targets.
*The screenshots taken of games reviewed on this site are taken from Demo Play, as reviews are often written before games are released for real play.