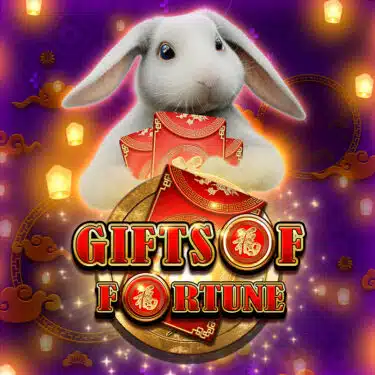 Gifts of Fortune
Game Provider: Big Time Gaming
Release Date: Available Now
Gifts of Fortune
Game Studio Big Time Gaming
Release date Available Now
RTP 96.29%
RTP Feature Buy 96.29%
Paylines Up To 117,649
Volatility High
Min Bet 0.20
Max Bet 20
Max. Win 13,960x
Rating 8.7/10
As we head into 2023, families around the world are preparing to celebrate the Lunar New Year – better known as Chinese New Year. This year it's the Year of the Rabbit, meaning anyone born in the next 12 months is believed to be be vigilant, witty, quick-minded, and ingenious. I was born in a Year of the Dog, which according to Google means I would be honest and loyal, and one of the truest friends. Well, I'm flattered but I digress, because it's time to focus on the task at hand. This year, Big Time Gaming are helping us to celebrate the New Year with Gifts of Fortune – one that is sure to please fans of the team's 2022 release, Golden Catch. With wins available up to 13,960x bet, this highly volatile release comes with a fixed RTP of 96.29%.
Visually, it's all themed in the way you'd expect, given that the focus is on Chinese New Year. There's nothing particularly complex about the design – rather it's all quite traditionally oriental, with lanterns, ornate gold, xieshan roof styled reels, and a deep, crimson red hue running throughout. Audios offer the same effects, tying the whole thing together. It's maybe not the 'best' looking of the Big Time Gaming releases, but it has a distinctive quality that fits the brief.
Gifts of Fortune Base Features
Taking place across 6 reels, wins are formed on Gifts of Fortune by matching 2 or 3 symbols across adjacent reels, beginning with the leftmost reel. Up to 7 symbols can land on each reel (including the top, extra reel), producing 117,649 ways to win. Symbols available begin with non premiums, with 9s, 10s, Js, Qs, Ks, and As, awarding wins between 0.10 and 0.15x bet for 3 of a kind matches, increasing to values between 0.40 and 0.50x bet for 6 of a kind matches. At the premium end, it's the normal Big Time Gaming approach of red, blue, green, and purple, with each colour acting as a background for a golden statue. We begin with frogs, fish, and turtles, awarding wins between 0.25 and 0.50x bet for 3 of a kind matches, increasing to values between 1 and 3x bet for 6 of a kind matches. Dragons finish things off, and are also the only symbol to pay for 2 of a kind. Land 2, 3, 4, 5, or 6 dragons to see wins of 1, 1.5, 3, 4.5, or 50x bet, respectively.
There are a few features bringing Gifts of Fortune into exciting territory, beginning with Reactions. On every win, any symbols involved in a winning combination will be removed from the reels. All remaining symbols will then drop down into the bottommost position on their respective reels, with new symbols dropping in from above to fill any remaining gaps. On the extra reel, symbols will move in from the right. Reactions will continue until no more wins are formed.
Working hand in hand with Reactions are Fortune Prizes, which is where Gifts of Fortune becomes reminiscent of Golden Catch. Any symbols which are removed through Reactions may reveal Fortune Prizes. If a Wild Red Packet is in view, it will collect all Fortune Prizes. The Wild Red Packet can only land in the extra reel, and will substitute for all symbols except Scatters. More than one Wild Red Packet can land in view. If a win occurs, they are moved to the left with Reactions. Once they reach the leftmost position of the extra reel, they will be removed.
Above the reels is a Treasure Pot, which by default has a x1 multiplier. On any spin, this Treasure Pot may reveal a multiplier up to x10. All Fortune Prizes collected by Wild Red Packets are multiplied by the Pot Multiplier.
Finally, Win Exchange™ is available. With Win Exchange, whenever you win 80x bet or more, you have the option to exchange 80x bet for 10 free spins. If you have won more than 80x bet, only 80x bet will be exchanged, and the remainder will be added to your free spins win.
If you win between 25 and 79x bet, you have the option to exchange the entire win for a chance to be awarded 10 free spins – by gambling. The chance of winning the gamble is represented by green on the wheel, and the chance of losing is represented by red. The higher x bet the win, the more green will be present on the wheel. We did not trigger the Win Exchange feature during testing, but it is possible that after winning a gamble there may be a second gamble to potentially win Enhanced Free Spins, with normal Free Spins guaranteed regardless – as is the case in Max Megaways.
Gifts of Fortune Bonus
There are two types of Scatter in Gifts of Fortune – the regular Gold Scatter, or the purple Megascatter. Land 3 or more Scatters to trigger 10 Free Spins, plus an additional 2 spins for every Scatter beyond the third. If one of the triggering Scatters is a Megascatter, 10 Enhanced Free Spins are awarded, plus an additional 2 spins for every Scatter beyond the third.
Free Spins begin with a Pot Multiplier of x1, which increases by +1 for every Wild Red Packet that occurs – regardless of whether it collects any Fortune Prizes or not. Aside from this, everything continues as in the base game – all Fortune Prizes collected are multiplied by the Pot Multiplier.
During Enhanced Free Spins, at least one Wild Red Packet is guaranteed to occur in every Free Spin.
In either feature, landing 3 or more Scatters during Free Spins will award +4 spins, plus an additional 2 spins for every Scatter beyond the third.
Finally, players in appropriate regions can opt for one of two Bonus Buy options:
Free Spins – 70x bet
Enhanced Free Spins – 200x bet
Whilst Big Time Gaming usually opt not to place a win cap on their games, the maximum win so far in Gifts of Fortune has been 13,960x bet.
First Impression
Well, if you're looking for a release to celebrate the Year of the Rabbit, look no further than Gifts of Fortune. Although not actually deemed a Golden Catch 'sequel' of sorts, it certainly feels like one, with the team taking one of their most popular (if not the most popular) releases of 2022 and pushing it a little further – namely with the introduction of Enhanced Free Spins, with a Bonus Buy to boot.
Gameplay is more or less what you'd expect from a Big Time Gaming release, with Reactions, Wild Red Packets, Fortune Prizes, Pot Multipliers, and Win Exchange all working to keep the base game ticking forward. Speaking of Win Exchange though – an 80x bet exchange cost, but a 70x bet feature buy seems like an odd arrangement, although this could either be an error in the game information (as the graphics seem like it would be a 70x exchange) or a result of my limited understanding of the mathematics in a slot release. Either way, there are plenty of opportunities to get Free Spins started in this one.
Things kick into life in Free Spins, especially with the Enhanced feature, guaranteeing at least one Wild Red Packet per spin. When the right combinations hit, wins are possible up to 13,960x bet. Maths, however is highly volatile, so it won't always be a walk in the park – although RTP is fixed at 96.29%, which is some more good news.
And that's it. If you're a fan of Chinese New Year, Big Time Gaming, or Golden Catch in particular, Gifts of Fortune should prove a perfect match for you.
*The screenshots taken of games reviewed on this site are taken from Demo Play, as reviews are often written before games are released for real play.