There are many interpretations of death in a variety of cultures across the glove, but few as formidable as the idea of the Grim Reaper – you won't even have seen his face, with most imagery instead portraying him as a skeletal figure wrapped in a dark, hooded cloak. The most recognisable quality? The scythe, used to reap souls into death. This foreboding figure forms the basis of Relax Gaming's upcoming release Grim The Splitter Dream Drop, in which you have a chance to 'lay your cards on the table and face your fate'. With a fixed RTP of 94.0% (12% Jackpot Contribution), this highly (5/5) volatile release comes with win potential up to 10,000x bet. There's no hiding in this one, which holds as many rewards as it does punishments.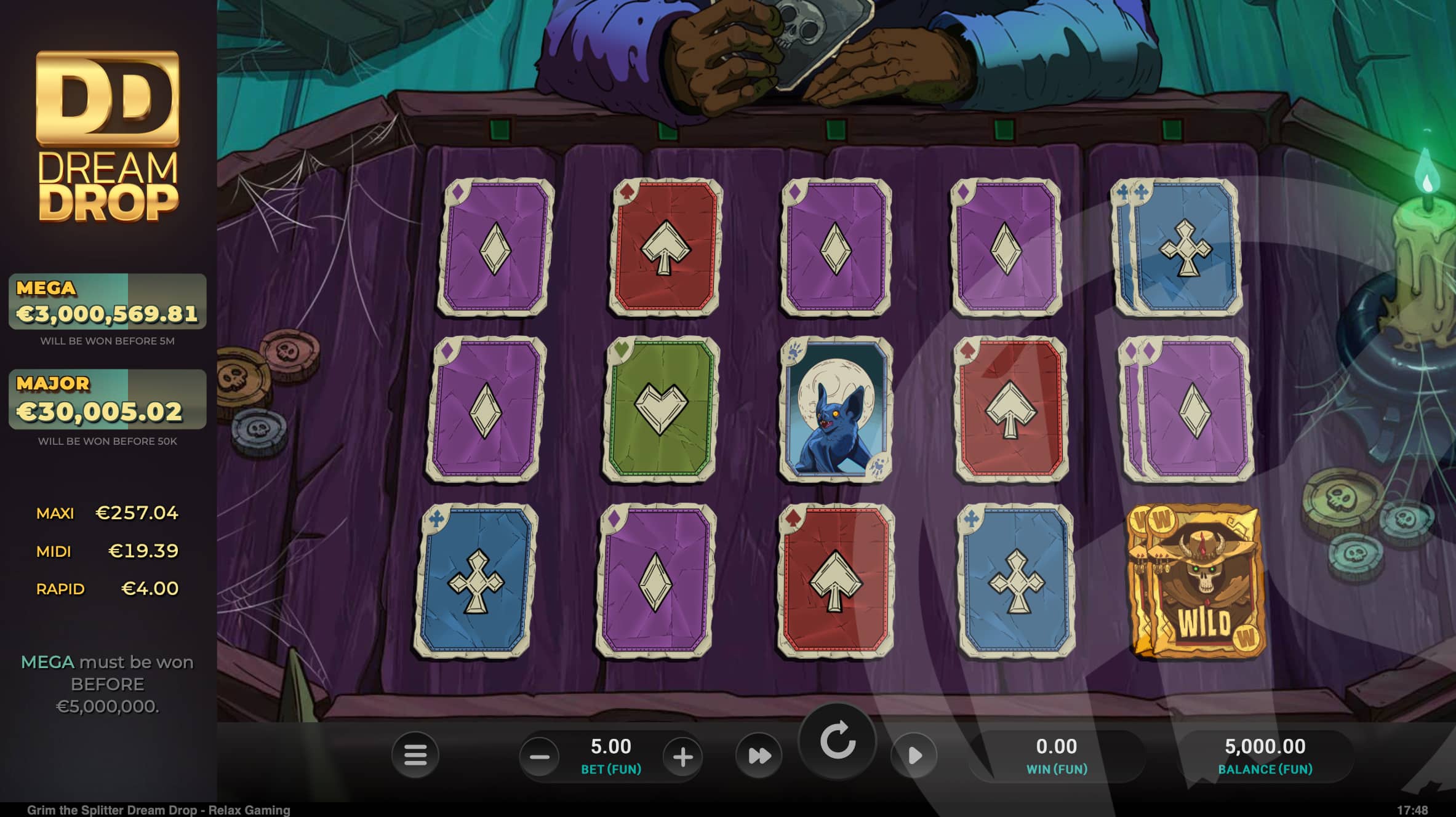 I didn't think death would like purple so much. Graphics are bold in Grim The Splitter, with the action taking place atop an old, cobweb laden wooden table (purple, obviously), with a melting candle acting as our only source of light, and Grim across the table. It's all very uniquely Relax, with their trademark stylings and colourful touch. Audios are eerie and unpleasant, but serve to add to the overall theme. All in all, not a 'pretty' picture per se, but certainly a distinctive one.
Grim The Splitter Dream Drop Base Features
Taking place across 5 reels, wins are formed on Grim The Splitter by matching at least 3 symbols from left to right, across 1 of 25 fixed win lines. I don't mention adjacent reels because you have to understand more about how this release works to understand how wins are formed. Before we get to that though, let's take a look at the symbols available, which are all styled as playing cards, paying for any matches between 3 and 20 of a kind – again, how this is the case will become clear soon. We begin with non premiums, with blue clubs, green hearts, purple diamonds, and red spades. Land 3 of a kind matches of any non premium to see wins of 0.40x bet, increasing to values of 120x bet for 20 of a kind matches. At the premium end, we have blue bats, green ravens, purple cats, and red wolves, awarding wins between 1 and 2x bet for 3 of a kind, increasing to values between 300 and 750x bet for 20 of a kind. Finally, Wilds are available, substituting for all symbols except Bonus Symbols.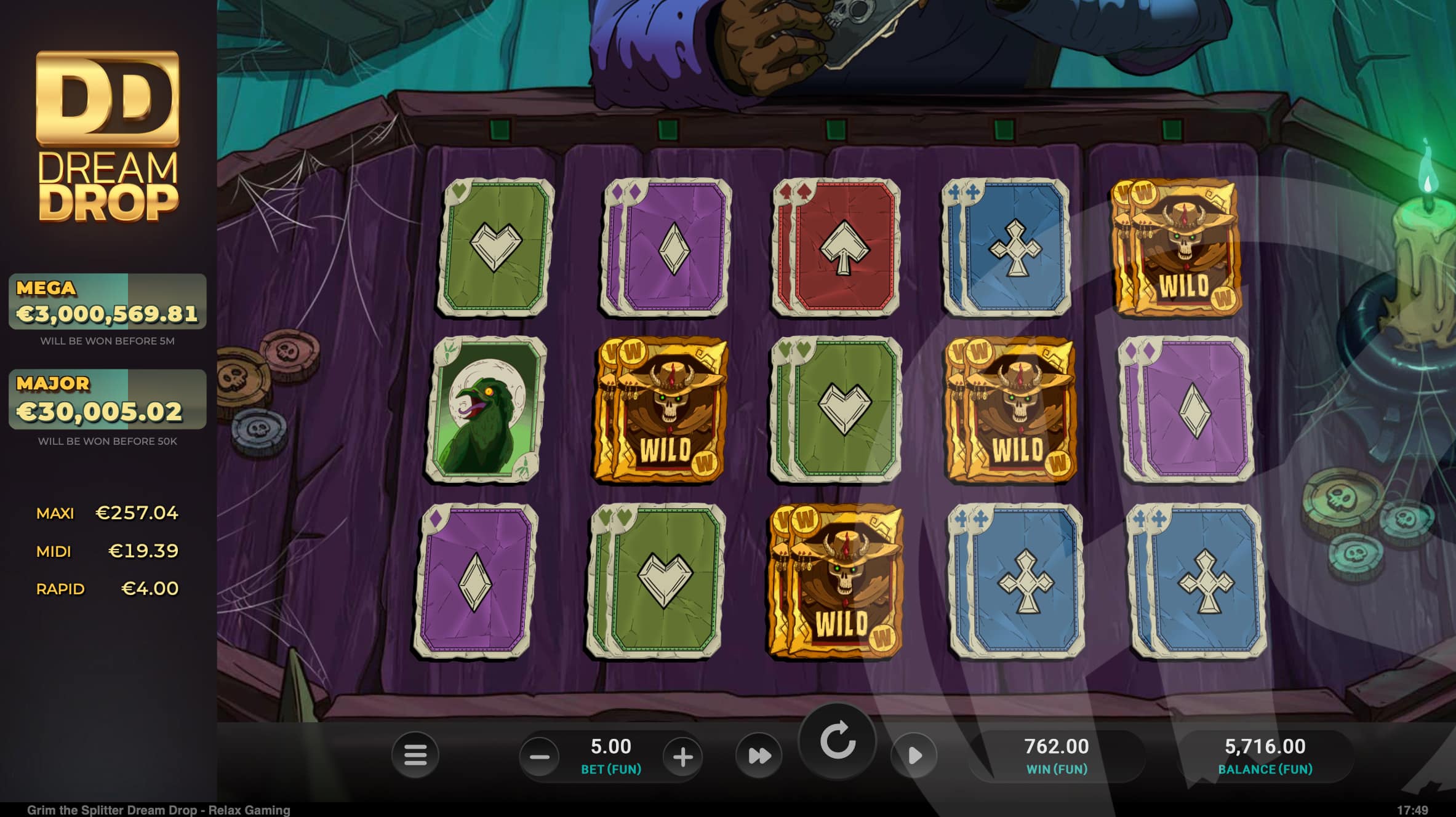 There are only two main features driving the Grim The Splitter base game forward. First up is the Splitter feature. When a Wild symbol lands on the reels, the respective reels will be split in two, duplicating the symbols that have already landed on it. It is possible to split all reels.
Second is the Dream Drop Bonus. A Jackpot Spin may be triggered randomly during the base game, and will play out as an additional spin before the normal spin plays. By landing 5 gold DD cards (one on each reel), the Dream Drop Bonus will be triggered. During the bonus, players will be shown 15 cards face down, each with a Jackpot value on it. Cards will continue to be picked until 3 of the same have been revealed. At this point, the relevant Jackpot will be awarded:
Rapid – €1 seed
Midi – €5 seed
Maxi – €100 seed
Major – €25,000 seed
Mega – €500,000 seed
You are guaranteed to win one Jackpot in the Dream Drop Bonus.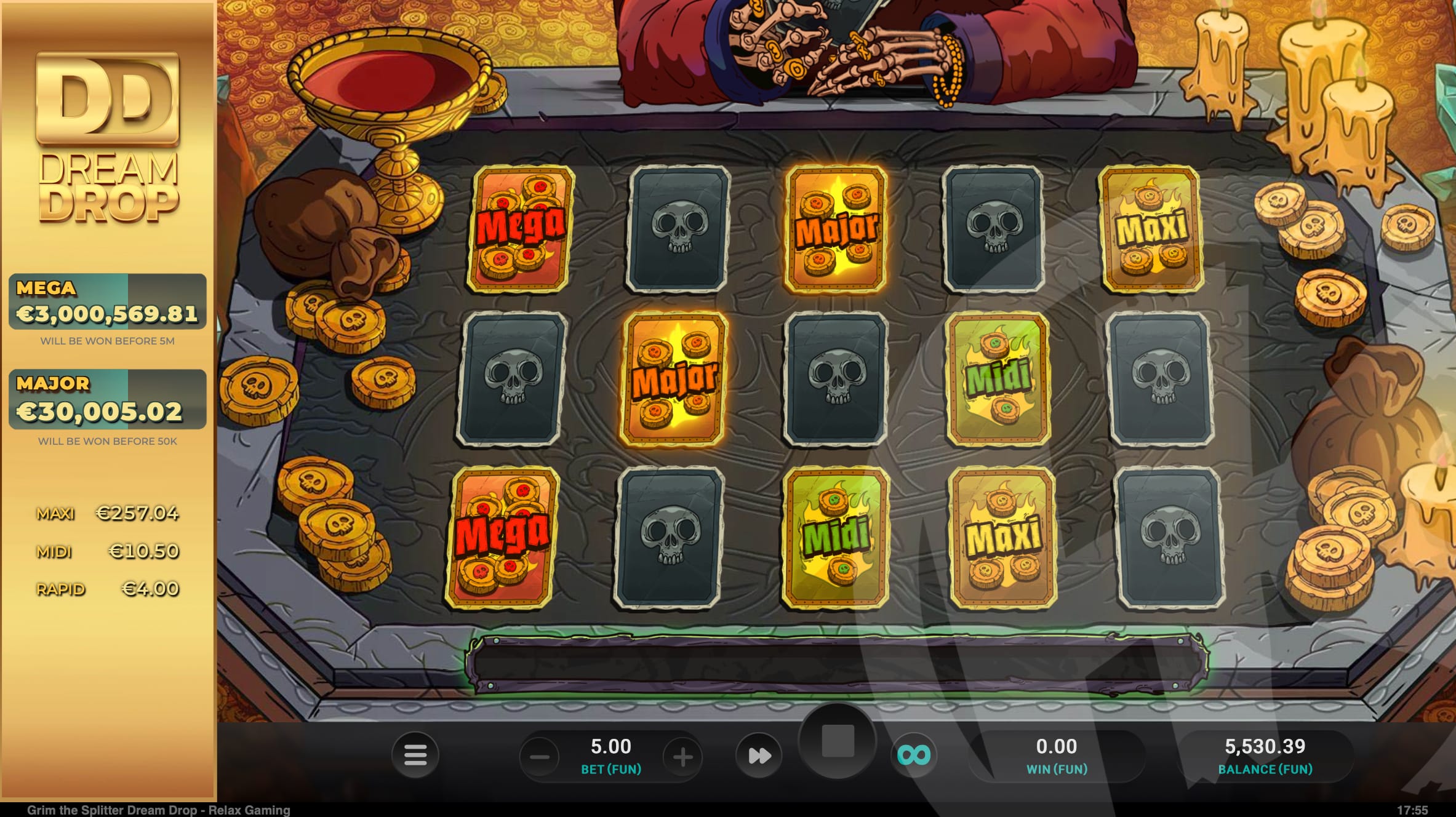 Grim The Splitter Dream Drop Bonus
Land 3 Bonus Symbols to trigger 7 Free Spins, with one additional spin awarded for every Bonus Symbol beyond the third. If the Splitter feature has split a Bonus Symbol, it will also award an additional +1 spins. All triggering Bonus Symbols will be stored above their respective reels, becoming active once a Wild lands.
During Free Spins, the Splitter feature continues as normal with one difference – it is persistent, meaning splits are stored from one spin to another. This means that when a Wild lands on the reels, it will not only split the respective reel, but will also re-activate any stored splits. It is possible to store the Splitter feature up to 3 times on each reel, which is how it is possible to have up to 20 symbols in view across the 5 reels.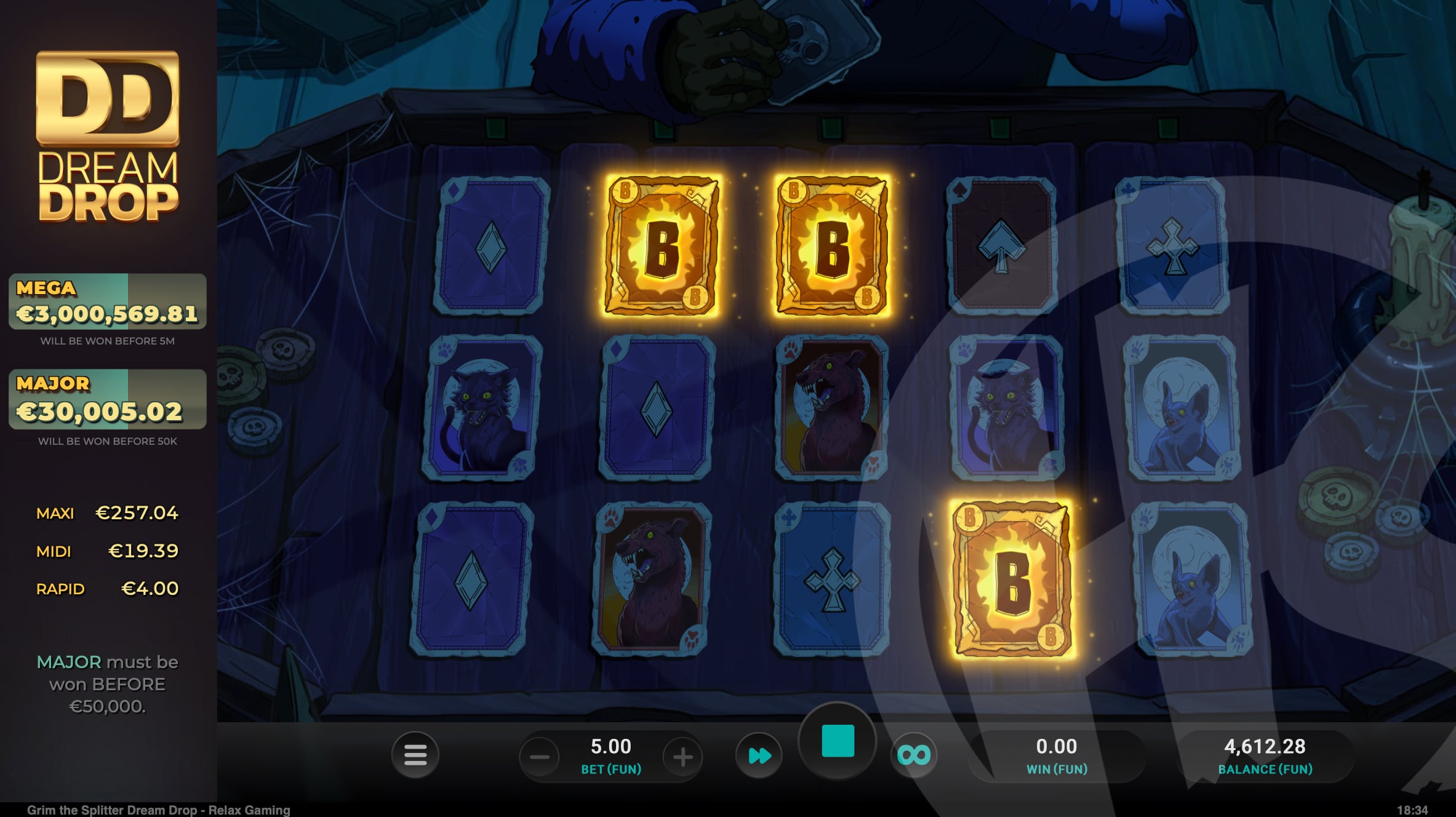 Each Bonus Symbol that lands during Free Spins will award an additional +1 spins. If the Bonus Symbol is split, an additional +2 spins are awarded.
There is no Buy Feature option available in Grim The Splitter, as is usually the case in Dream Drop releases.
The maximum win available in Grim The Splitter is 10,000x bet (excluding Jackpots). If the sum of a single game round exceeds this, the game round will end and 10,000x bet will be awarded.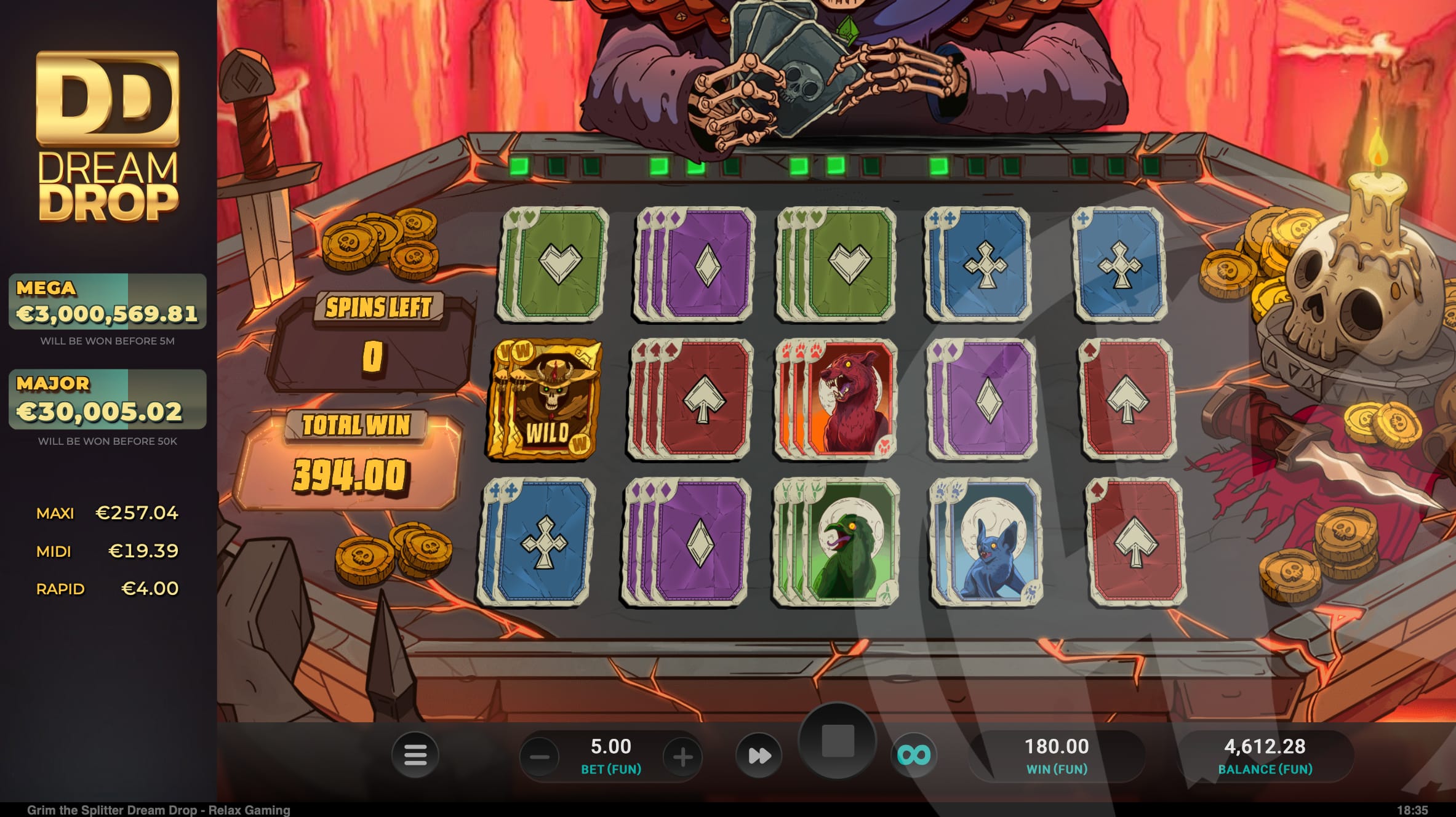 First Impression
Whilst the Grim Reaper is just about as frightening as he looks, Grim The Splitter is an interestingly deceptive release, although I don't know why it continues to surprise me that Relax Gaming can take such a simple idea and turn it into a truly potent experience. In this case, win potential is available up to 10,000x bet – just from splitting reels with Wilds and forming wins. Impressive, right? Of course this is the value outside of the Dream Drop Jackpots, which can go as high as a €500,000 seed value.
There isn't really much more to say on the matter, since the Splitter feature is where all of the action comes from. This does take on a new level of excitement in Free Spins though, wherein it's possible to split reels to contain up to 20 symbols across all 5 reels – with symbol payouts then available up to 750x bet.
RTP is fixed at 94.0%, although this includes a 12% jackpot contribution which is something to be aware of. Finally, maths is highly (5/5) volatile, again making this a dice with death – literally. If you aren't the type to go for a jackpot release, this one probably won't be for you. If you like the idea of a gritty, simple, potent release with the chance of life changing jackpot values, Grim The Splitter was made for you.
*The screenshots taken of games reviewed on this site are taken from Demo Play, as reviews are often written before games are released for real play.