If you've been following the journey of ELK Studios over the past few years, you'll be familiar with their intrepid explorer Kane, who has appeared in the team's 'Gold' series in search of lost planes, temples, and most recently ancient treasures in Avalon Gold. Along his journeys over the years Kane at one point found himself searching for inner peace in the Nepalese Mountains, in Katmandu Gold, and it's this location we return to today. Rather than bringing Kane along for the ride though, we're instead combining this location with the elements one of ELK's most popular releases of 2022, Propaganda, to produce Katmandu X. With a fixed RTP of 95.0%, this highly (9/10) volatile release is capable of producing wins up to 25,000x bet.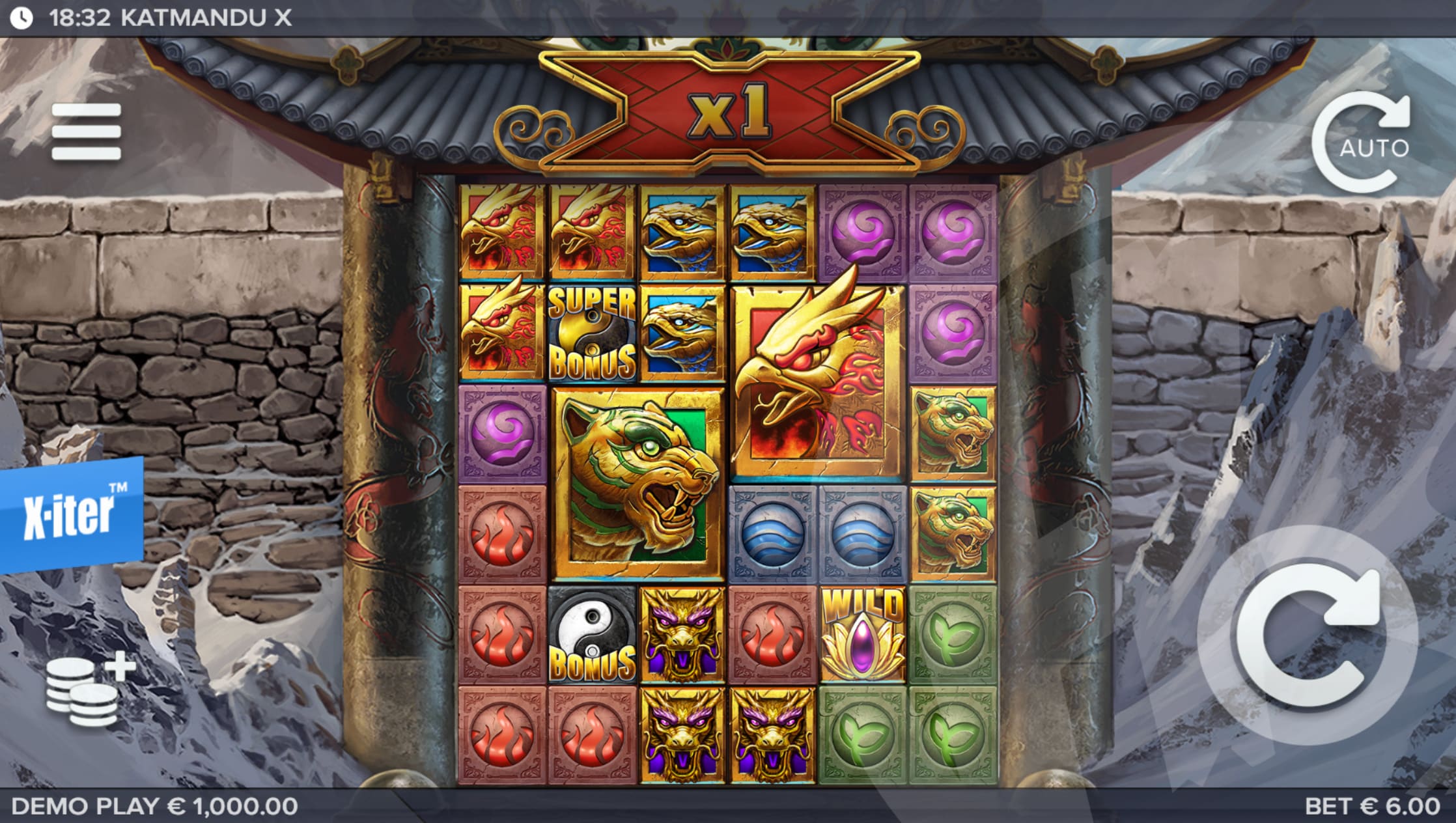 It's a pretty picture in Katmandu X. Immediately you're reminded of Katmandu Gold thanks to the snow covered landscape and the fact that the grid is now encased in an aged temple. When symbols are dropping, the same temple from the Gold release is visible behind the grid, alongside Bonsai trees. I'm still not really sure where Propaganda and Katmandu Gold fit together, but there's no debate as to the fact that this is what we have, so it's better to just roll with it. Artwork brings in the right amount of symbolism without overdoing it, with bright gold animals like dragons, Yin and Yang symbols, and lotus flower Wilds. All in all, striking and pretty, finished off with a bold soundtrack – there's no one that does music like ELK Studios.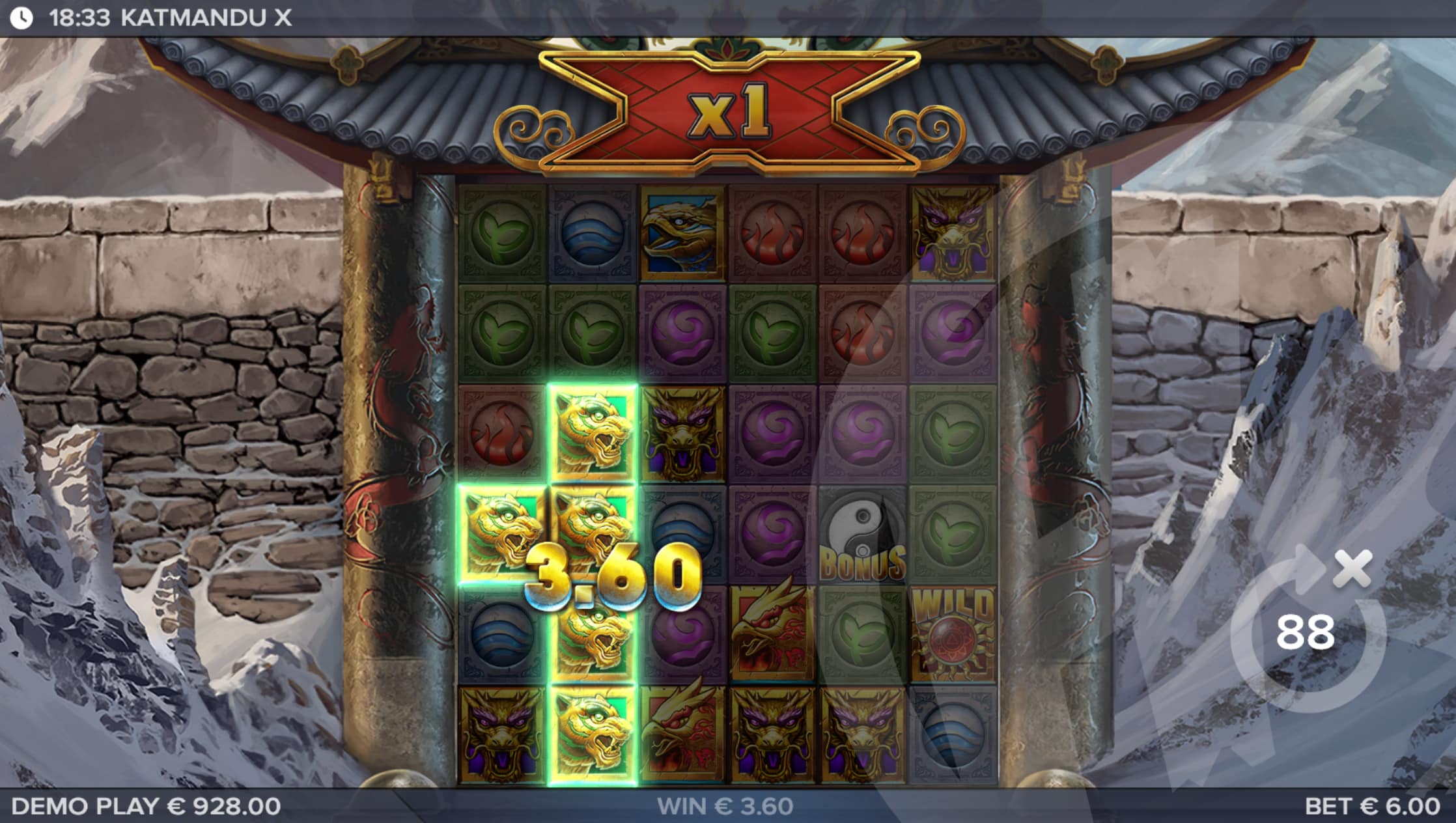 Katmandu X Base Features
Taking place on a 6×6 grid, wins are formed on Katmandu X by matching clusters of 5 or more symbols, touching horizontally or vertically. Symbols pay for 5, 6, 7, 8, 9, 10, 11, 12, 13, 14, 15, or 16+, and begin with non premiums – with four symbols that are blue, green, purple, and red in colour. These non premium symbols appear to each signify one of the four main elements of nature – water, earth, air, and fire – and award wins between 0.05 and 0.20x bet for clusters of 5, increasing to values between 4 and 7x bet for clusters of 16+. At the premium end we have four animals carved in gold, beginning with hawks, tigers, and dragons, awarding wins between 0.40 and 1x bet for clusters of 5, increasing to values between 10 and 50x bet for clusters of 16+. Finally, the highest paying symbols are phoenixes, awarding wins between 1.50 and 100x bet, again for clusters between 5 and 16+.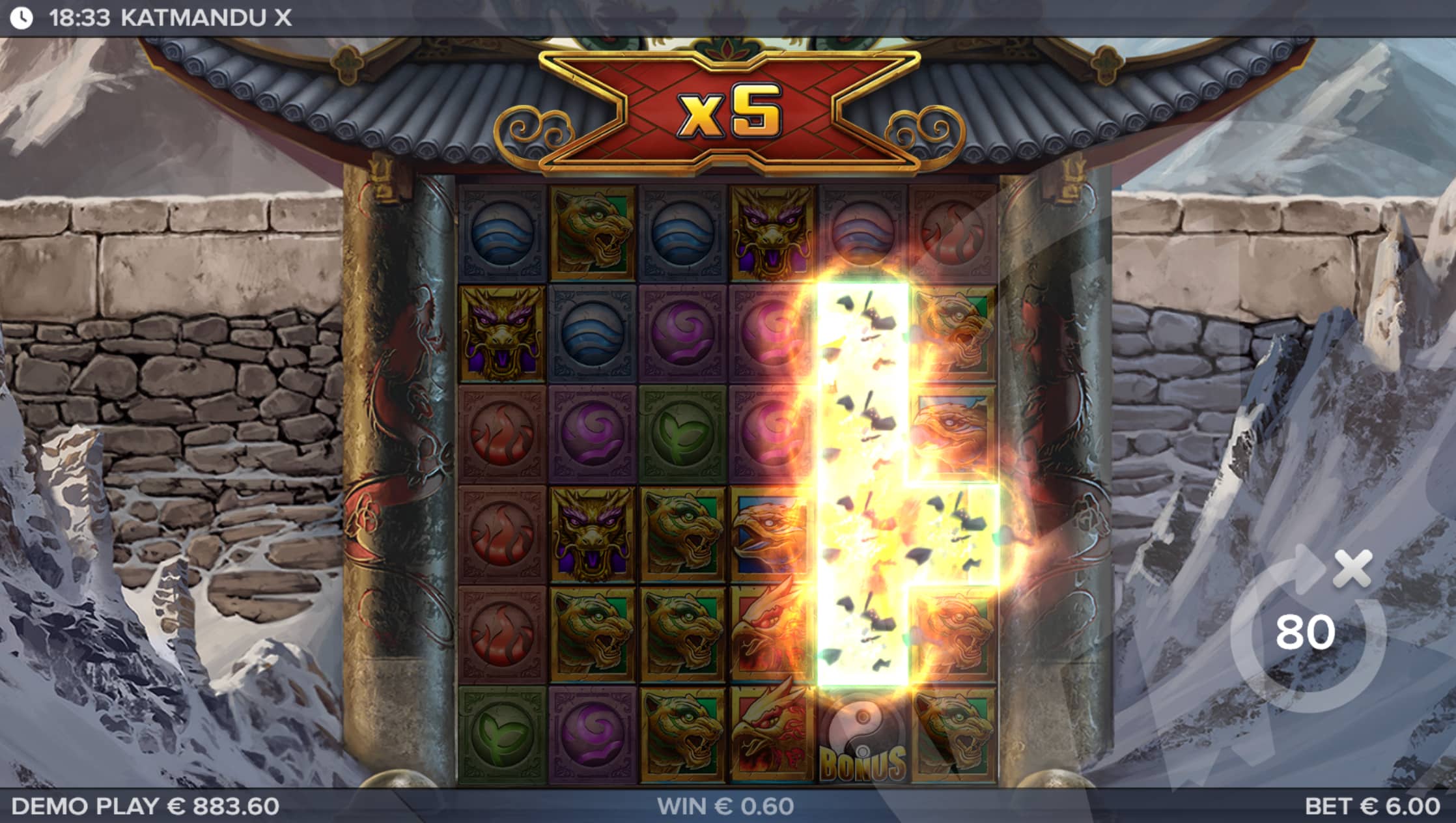 There are a lot of different features working in sync in Katmandu X so I'm not sure where to start, but I'll go with the simplest elements first – Avalanches and a Progressive Multiplier. On every spin, all symbols involved in winning clusters will be removed from the grid through Avalanches. All remaining symbols will then drop down to the bottommost available position in their respective column, with new symbols dropping in from above to fill any remaining gaps. Avalanches continue until no more wins are formed.
Working hand in hand with Avalanches is the Progressive Multiplier. Each symbol removed through Avalanches will increase the Total Multiplier, displayed above the grid, by +1. This multiplier will then be applied to all future wins in the current spin. There is no limit to how high the multiplier can climb.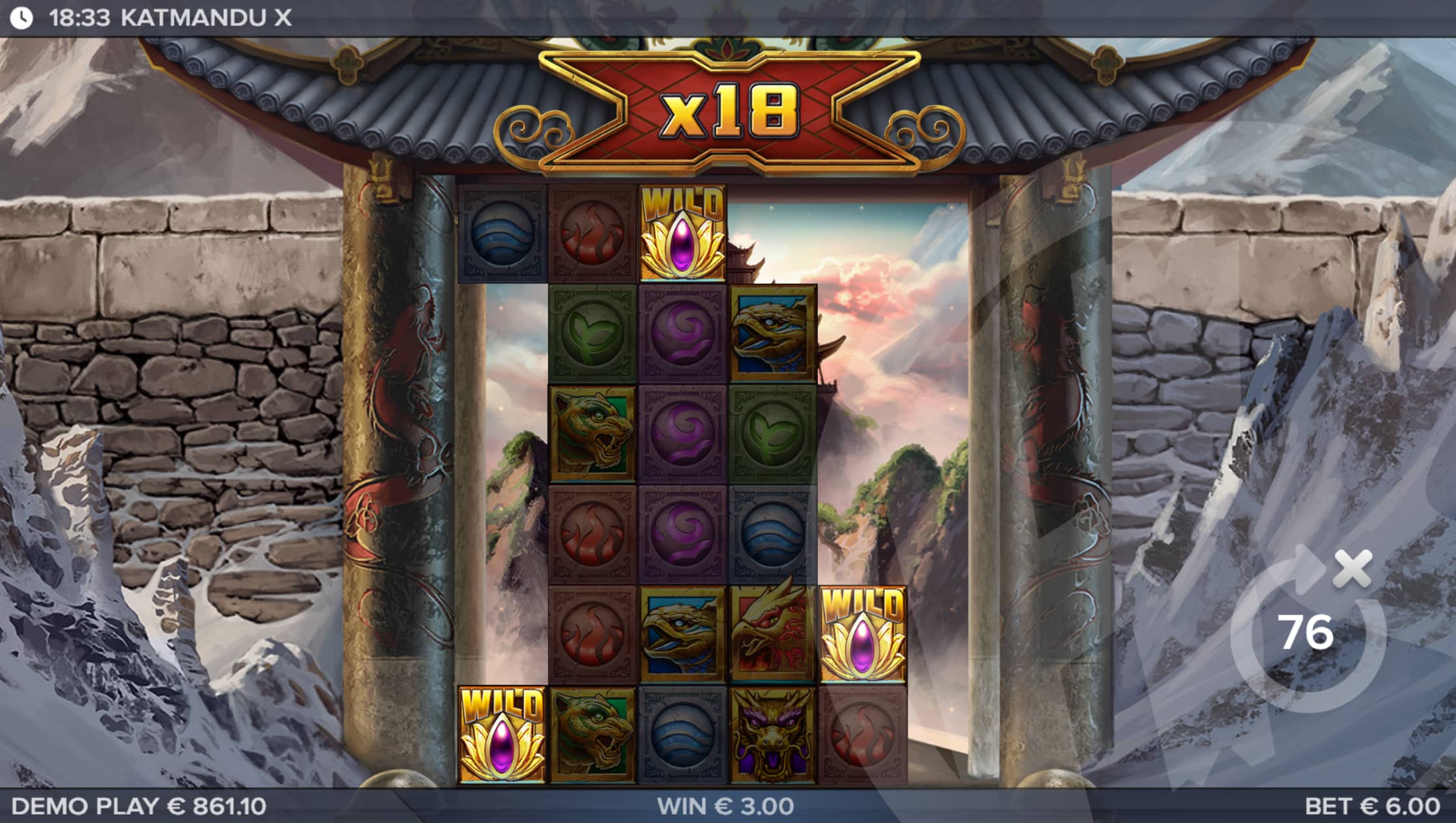 Now, working alongside Avalanches and the Total Multiplier is also the selection of Katmandu X Wilds. Each time a winning cluster is formed and removed from the grid, a Wild symbol will be left behind in one of the spaces, thanks to Wild Generation. It is also possible for Wild symbols to merge, split, or explode:
Wild Merge – when multiple Wild symbols are used in a winning cluster, their values are merged together to create a Multiplier Wild symbol. The multiplier is denoted by the number of Wild symbols used in the win.
Wild Split – if a single Wild symbol is used in multiple winning clusters, the Wild symbol will be split into the respective clusters, creating new Wild symbols. If the Wild symbol was a Multiplier Wild symbol, the newly split Wild symbols will both have the original Multiplier Wild symbol's value applied.
Exploding Wild – explodes all symbols adjacent to it, generating a redrop. Any symbols removed in an explosion will increase the Total Multiplier.
Wild symbols substitute for all symbols except Bonus or Super Bonus symbols. If a Multiplier Wild symbol is used in a winning combination, the Multiplier Wild symbol will first multiply the win and then it will be multiplied by the Total Multiplier.
Randomly on any spin, the Wild Strike feature may occur. During Wild Strike random symbols on the grid are replaced by Wild symbols, Multiplier Wild symbols, or Exploding Wild symbols.
Finally for the base game, it is possible to land Big Symbols. Each of the available symbols in the pay table can land as size 1×1, 2×2, 3×3, or 4×4. If Big Symbols are at the top of the grid on a redrop they drop to the bottom of the grid, crushing all symbols on their way except Bonus symbols, Super Bonus symbols, any kind of Wild symbols, or symbols of the same type as the Big Symbol. If this means there is a space below the Big Symbol, it will be filled with the same type of symbol as sizes 1×1.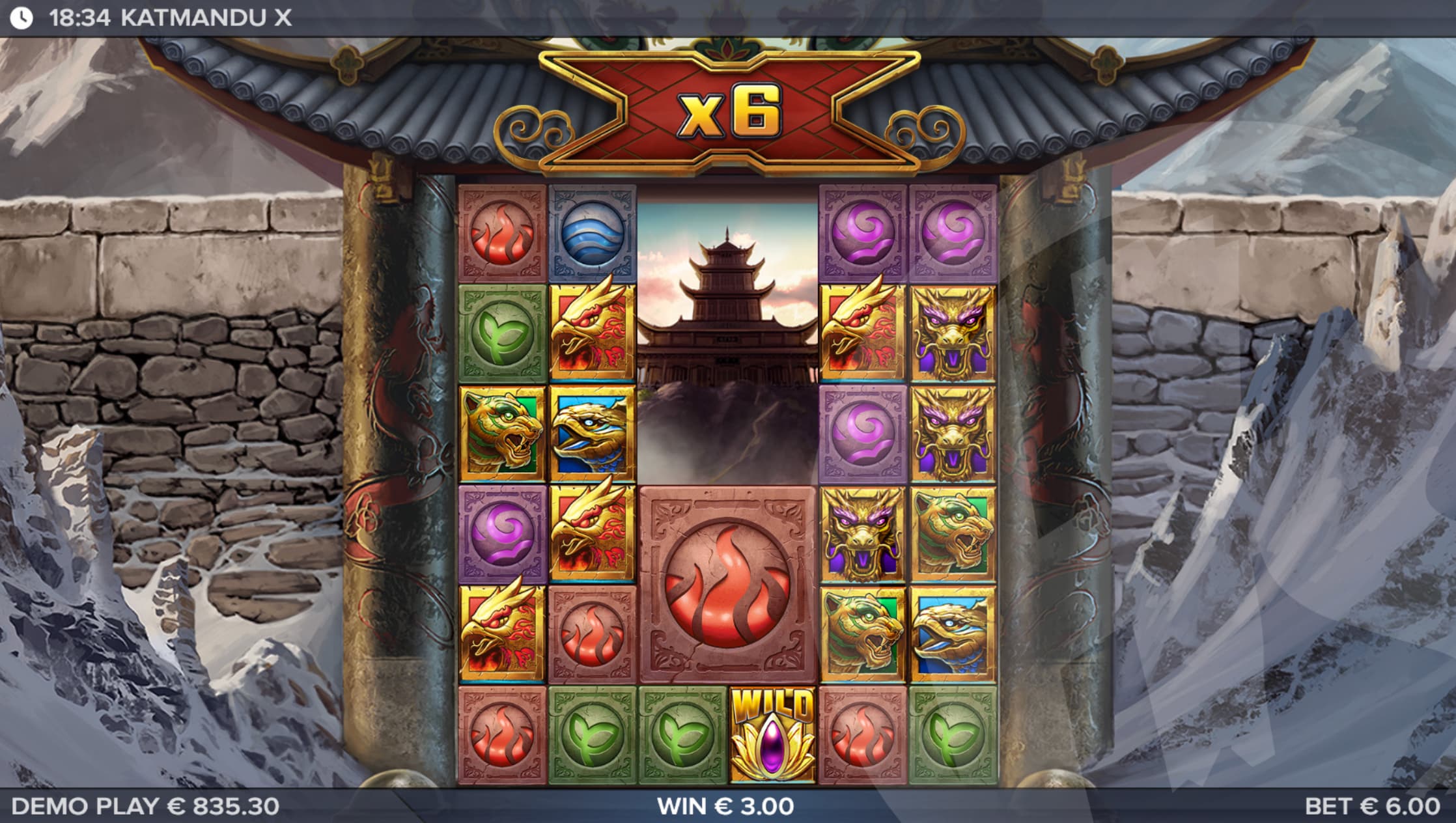 Katmandu X Bonus
Land 3 Bonus symbols to trigger 7 Free Drops. During the Bonus Game the Total Multiplier is not reset between drops, and instead is persistent through the entire feature.
It is possible to trigger additional drops through landing Yin and Yang symbols. Each symbol will award an additional +1, +2, or +3 drops.
If one of the 3 triggering Bonus symbols is a Super Bonus symbol the Super Bonus Game is awarded – again with 7 Free Drops. Again, during the Super Bonus Game the Total Multiplier is not reset between drops, and instead is persistent through the entire feature. It is also possible to trigger +1, +2, or +3 additional drops. 
During the Super Bonus Game, a Super Wild Strike feature is guaranteed at the start of each Free Drop. A Super Wild Strike replaces symbols on the grid with Multiplier Wild symbols or Exploding Wild symbols.
If a Super Bonus symbol lands during the Bonus Game it will be upgraded to the Super Bonus Game.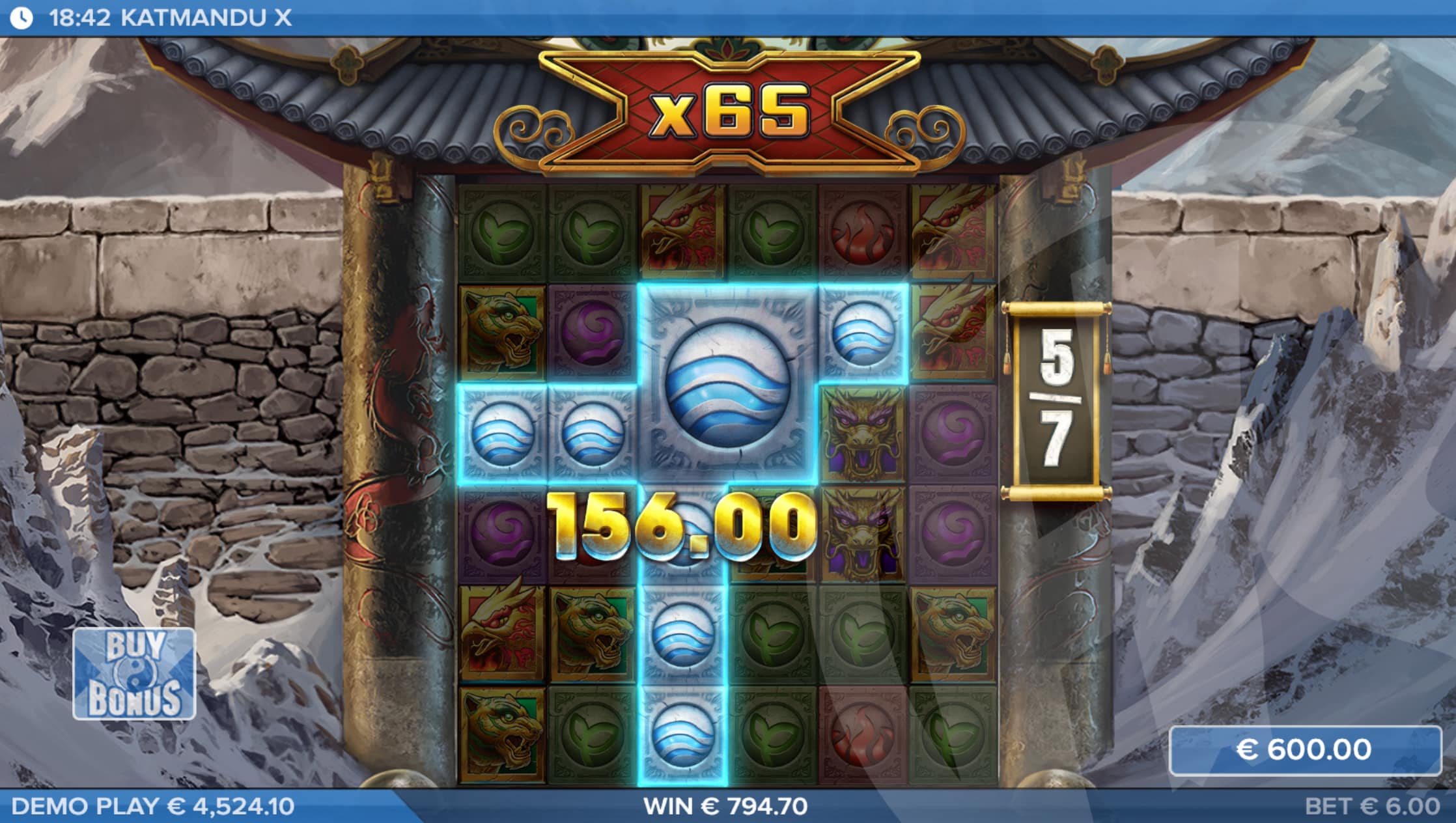 Players in appropriate regions can take advantage of the following X-iter options:
Bonus Hunt (more than double the chance to trigger the Bonus Game) – 2x bet
Exploding Wild (guaranteed Exploding Wild) – 10x bet
Super Wild Strike (guaranteed Super Wild Strike) – 25x bet
Bonus Game – 100x bet
Super Bonus Game – 500x bet
RTP is unchanged when using X-iter.
The maximum win available in Katmandu X is 25,000x bet. If the sum of a single game round exceeds this, the game round will end and 25,000x bet will be awarded.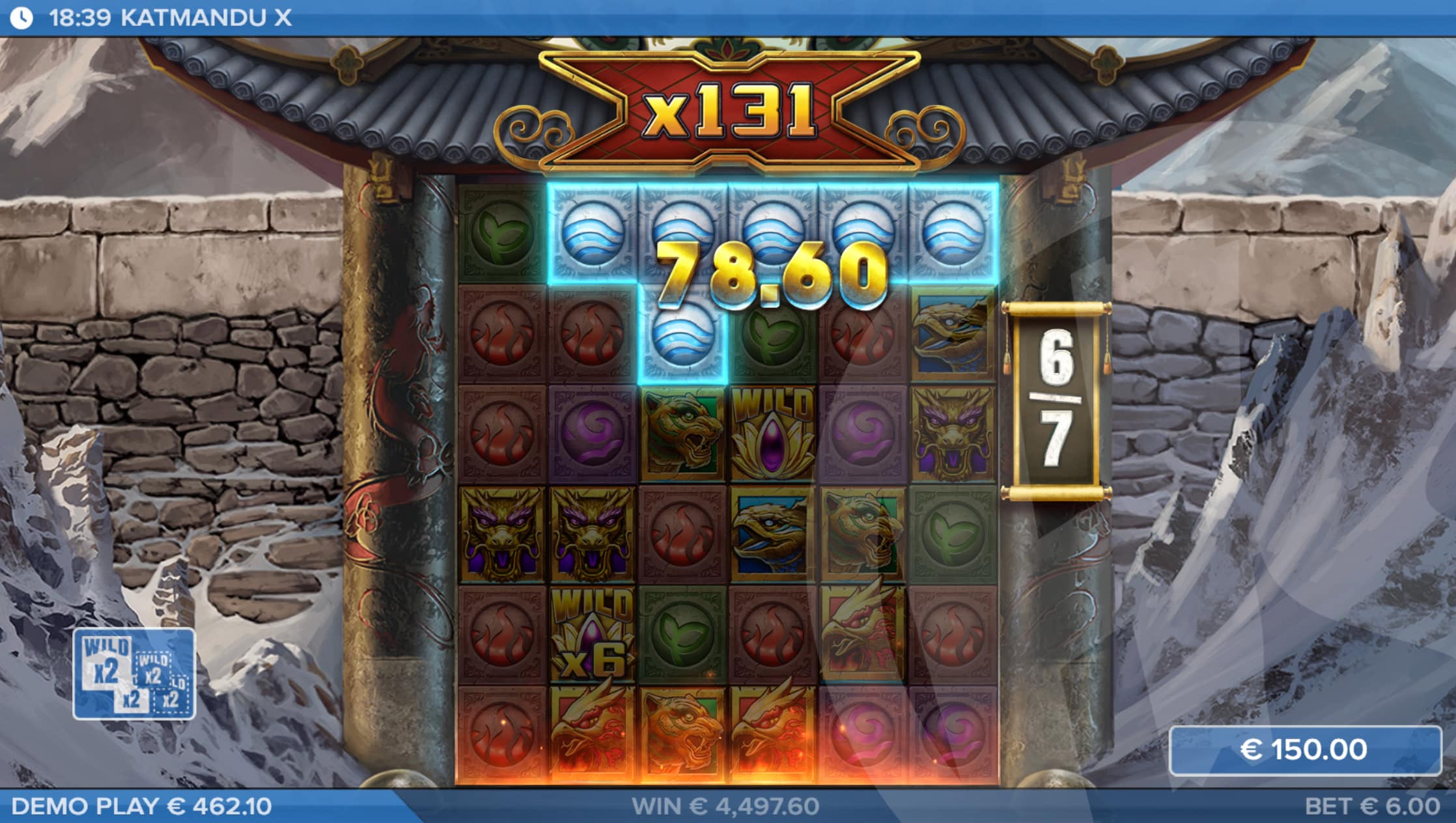 First Impression
Katmandu X is an interesting hybrid of two of ELK Studios' popular releases. Realistically, if you take away the Big Symbols and the backdrop, you've really just got Propaganda with new, Exploding Wild symbols. With that in mind, there's plenty here to keep you entertained. The base game is kept interesting with Big Symbols, all of the Katmandu X Wild action, Avalanches, a Progressive Multiplier, and of course Wild Strike and Super Wild Strike.
Free Drops are where things get really exciting though, much like Propaganda. During Free Drops, the Total Multiplier does not reset between drops, and there is the potential to upgrade the Bonus Game to the Super Bonus Game. In the Super Bonus Game, the Total Multiplier again does not reset, but there's now a guarantee of a Super Wild Strike at the start of every Free Drop – wherein Multiplier Wild symbols and Exploding Wild symbols are added to the grid. When the right combinations land, wins are possible up to 25,000x bet – more than double the potential of Propaganda and Katmandu Gold.
Finally, maths is highly (9/10) volatile which is a slight increase on both previous releases, and RTP is fixed at 95.0% – unchanged from Propaganda, but a 1.2% drop from Katmandu Gold. That said, this release contains so few features from Katmandu Gold it's better to compare it to Propaganda.
And that's all she wrote. If you liked Propaganda there's a volatility boost and win potential boost to lure you into Katmandu X, but if you specifically liked the features of Katmandu Gold, there isn't much appeal except the setting.
*The screenshots taken of games reviewed on this site are taken from Demo Play, as reviews are often written before games are released for real play.