Do you remember sometime in the middle of the COVID-19 pandemic Squid Game went viral? I watched it, but I have to be honest, I wasn't that impressed. I could see the interest, though – 456 people pitted against each other for a grand prize, and an opportunity to change their lives forever, overseen by wealthy, masked individuals? Yeah – it's captivating. Well, there's nothing to say ELK Studio's upcoming release is inspired by Squid Game, but I get Squid Game vibes from it, or maybe The Handmaid's Tale. Or, a combination of both? Masks, cameras, red robes, totalitarianism, and a strange voice speaking over the top of what's happening, it all just feels familiar in an eerie way. We're in the LA11-1 society, where citizens are masked to hide their happiness from the overlords. This is a quiet place, but these people have had enough. They're about to fight for their freedom by using their greatest weapon – love. A revolution of love. Say hello to Propaganda, ELK's next release. Highly (8/10) volatile, this one comes with a fixed RTP of 95.0%, and can produce wins up to 25,000x bet.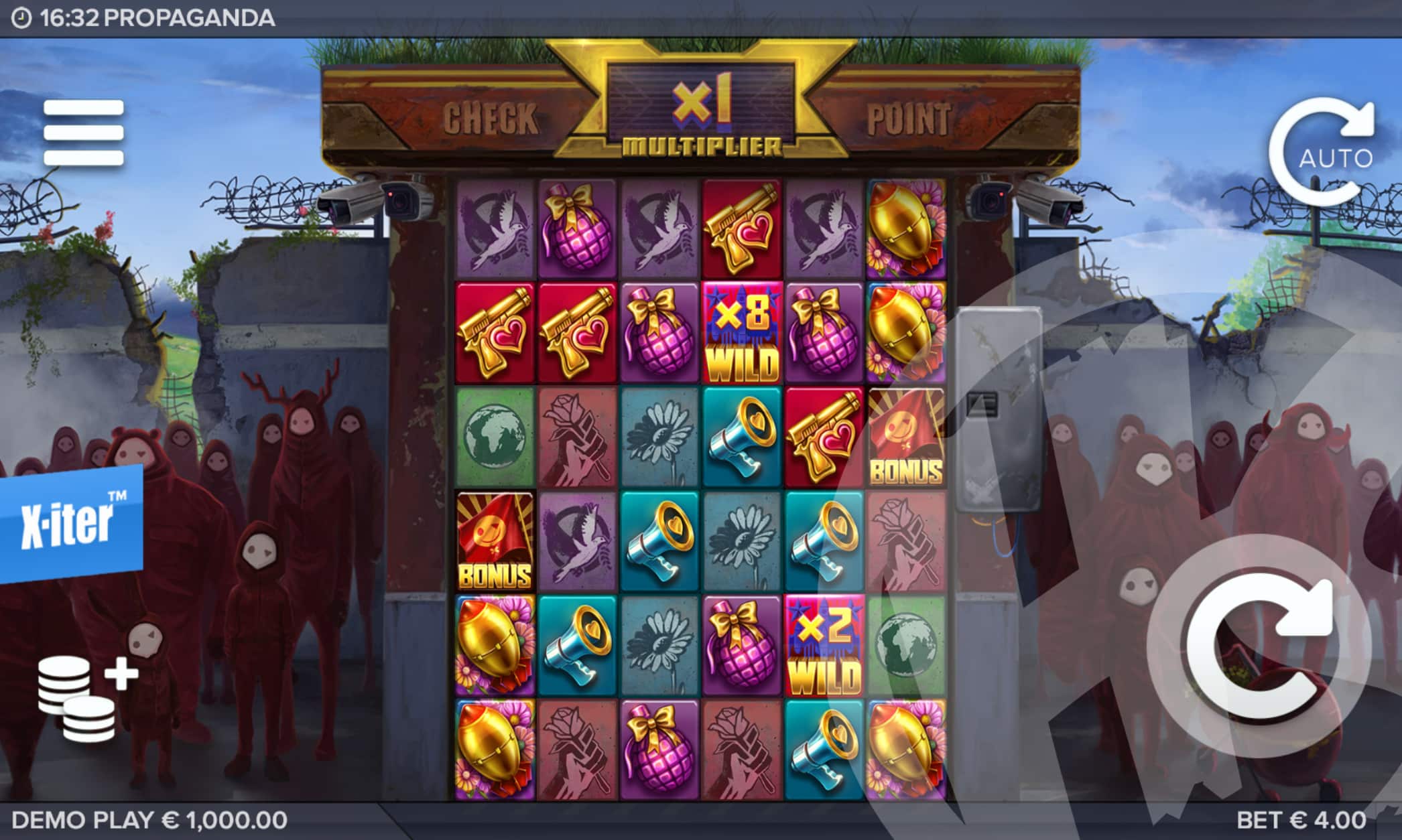 Visually, we're in LA11-1, where we can see numerous people to the side of the reels. Each person is draped in red clothing, with white masks on their face, resulting in them all basically looking the same, save for their height and weight. This is made more ominous by the security cameras and barbed wire you can see atop a very tall wall. Considering the team's most recent release was Dropz, Propaganda couldn't be further from it. That said, in the distance we can see fields and clear blue skies, so there's something pleasant waiting beyond the dystopia when this revolution is over, for sure. Audios are superb, and that's all there is to say on that – really, genuinely engaging, resulting in the whole thing coming together into something that's not only a lot of fun, but really cool too.
Propaganda Base Features
Taking place on a 6×6 grid, wins are formed on Propaganda by matching clusters of at least 5 symbols, touching horizontally or vertically. Clusters will pay for 5, 6, 7, 8, 9, 10, 11, 12, 13, 14, or 15+. Symbols begin with non premiums, with daisies, globes, roses, and doves. Landing clusters of 5 of any of these symbols will award wins between 0.05 and 0.20x bet, with this increasing to values between 2.50 and 5x bet for clusters of 15+. At the premium end, megaphones, pistols, grenades, and bombs are available, awarding wins between 0.40 and 1.50x bet for clusters of 5, increasing to values between 10 and 50x bet for clusters of 15+. Alongside all of these regular symbols are a host of Wild opportunities, but we'll get to that soon.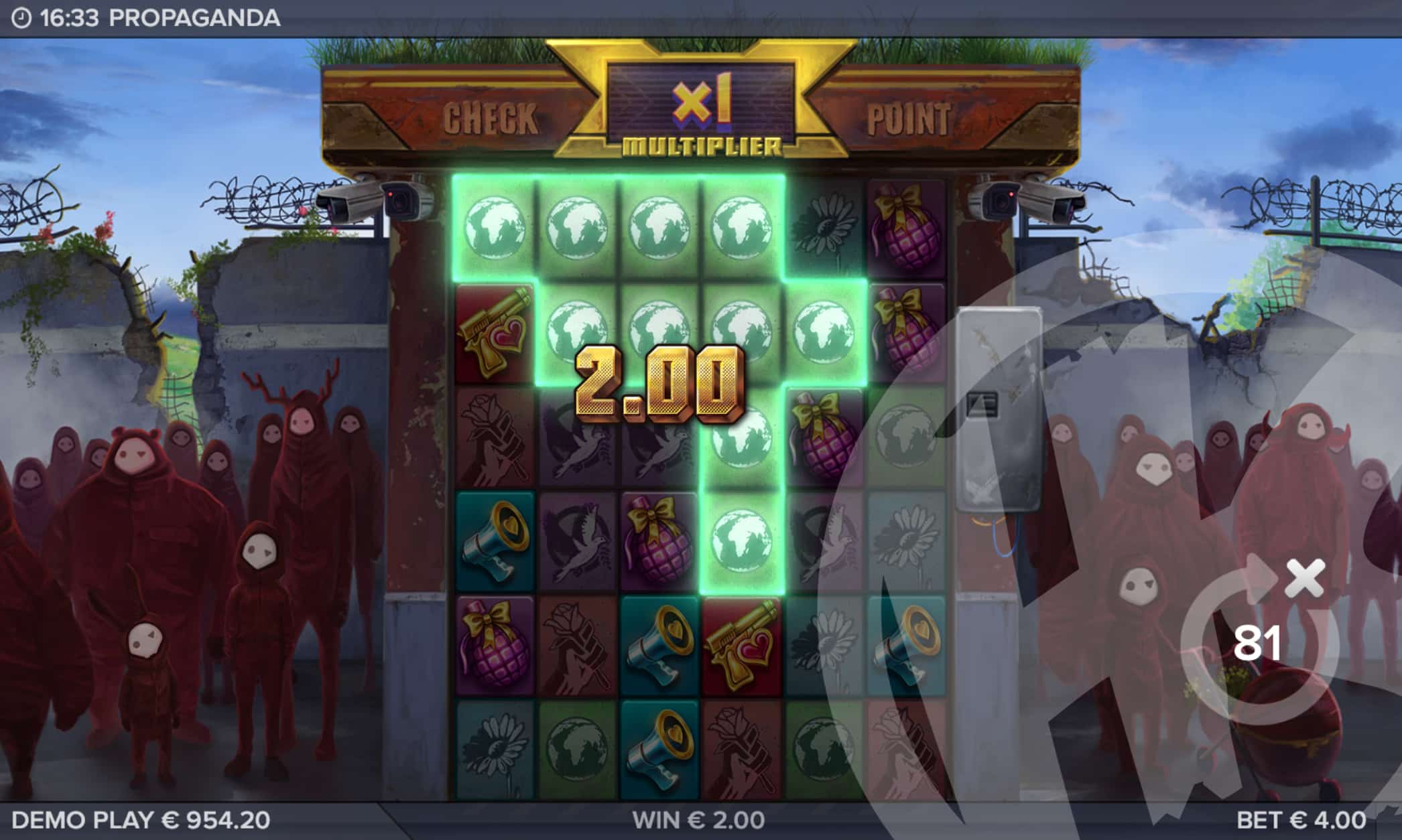 First up, it's the Avalanche feature. On every spin, all symbols involved in a winning cluster will be removed from the grid. Remaining symbols will then drop to the lowest available position on their reels, and new symbols will drop in from above to fill all remaining gaps, giving the opportunity for more wins to occur. Avalanche continues until no more wins are formed.
Working hand in hand with Avalanches is the multiplier, visible at the top of the reels. Each winning cluster will increase the multiplier, with each winning symbol increasing the multiplier by +1. This multiplier will be applied to all winning clusters, and will reset to x1 ahead of the next paid spin.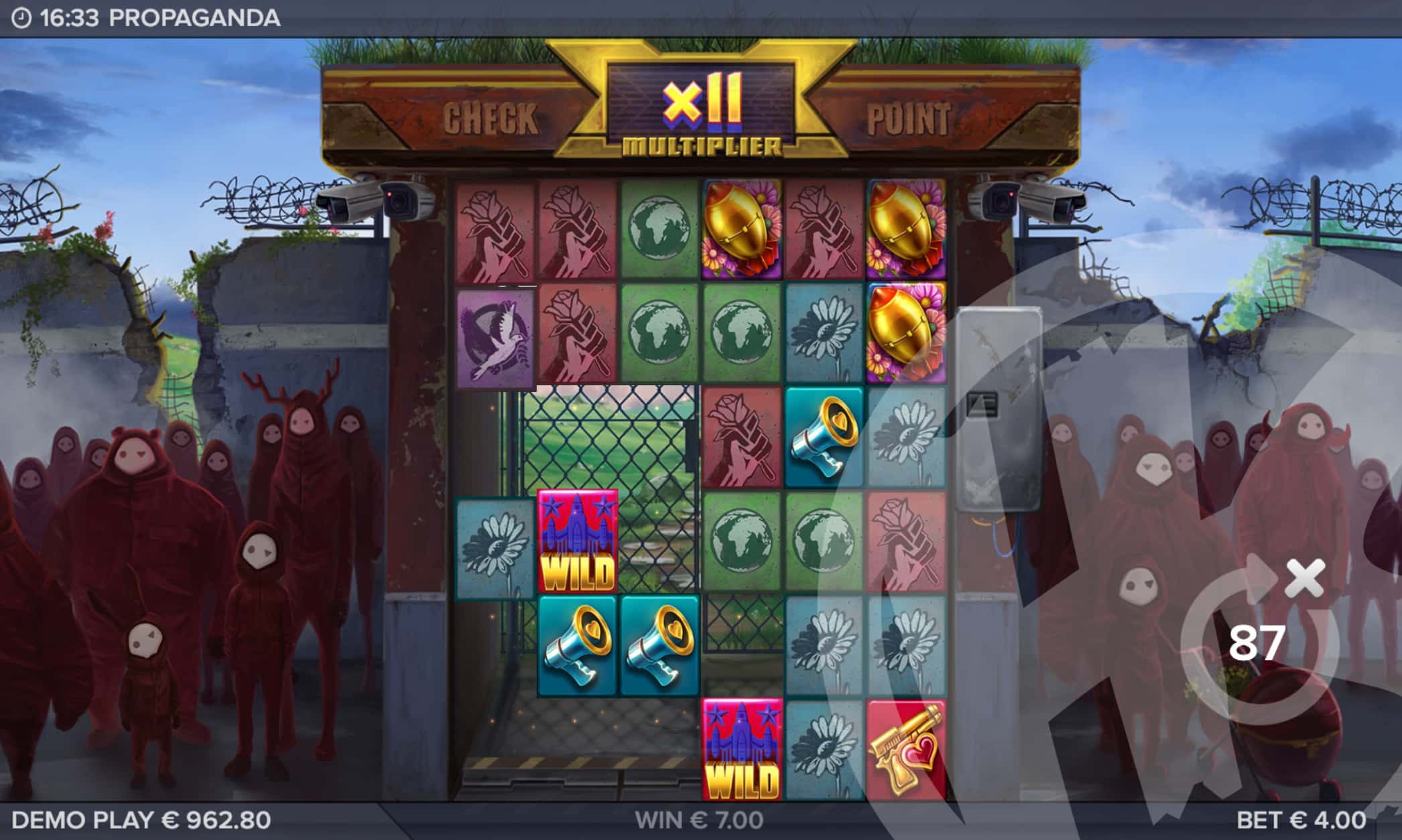 Next up, there are a number of Wild features, beginning with Propaganda Wilds. Each winning cluster, along with being removed through Avalanche, will generate a Wild symbol – appearing in one of the removed symbol positions. If this Wild is then involved in another single cluster win it will remain, but will not generate another Wild. Wilds substitute all symbols except Bonus symbols or Super Bonus symbols.
If more than one Wild symbol is used in a cluster win through the Avalanche feature, Wild Merge will occur, wherein the Wild symbols merge into a single multiplier Wild symbol. This value will be both individual Wild values added together – so two regular Wilds will form x2 (x1 + x1).
Once you have multiplier Wilds, you can trigger Wild Split – if a multiplier Wild symbol is used in more than one winning cluster, it will split into both clusters. The multiplier will be retained in both new Wilds. Multiplier Wilds will multiply their winning clusters before the win multiplier is applied, and if more than one multiplier Wild is present the cluster value will be multiplied by one, then by the other – multiplier Wild values are not simply added together.
Finally, Wild Strike can be triggered randomly, and will replace symbols on the reels with Wilds or multiplier Wilds.
Propaganda Bonus
Land 3 Bonus symbols to trigger 7 Free Drops, wherein the multiplier does not reset between spins. Other than this, things are the same as the base game, with Wilds, multiplier Wilds, Wild Strike, Wild Split, and Wild Merge.
It is possible to upgrade the Bonus to the Super Bonus by landing a Super Bonus symbol in view during the feature. Additionally, it is possible to trigger +1, +2, or +3 Free Drops by landing flag symbols.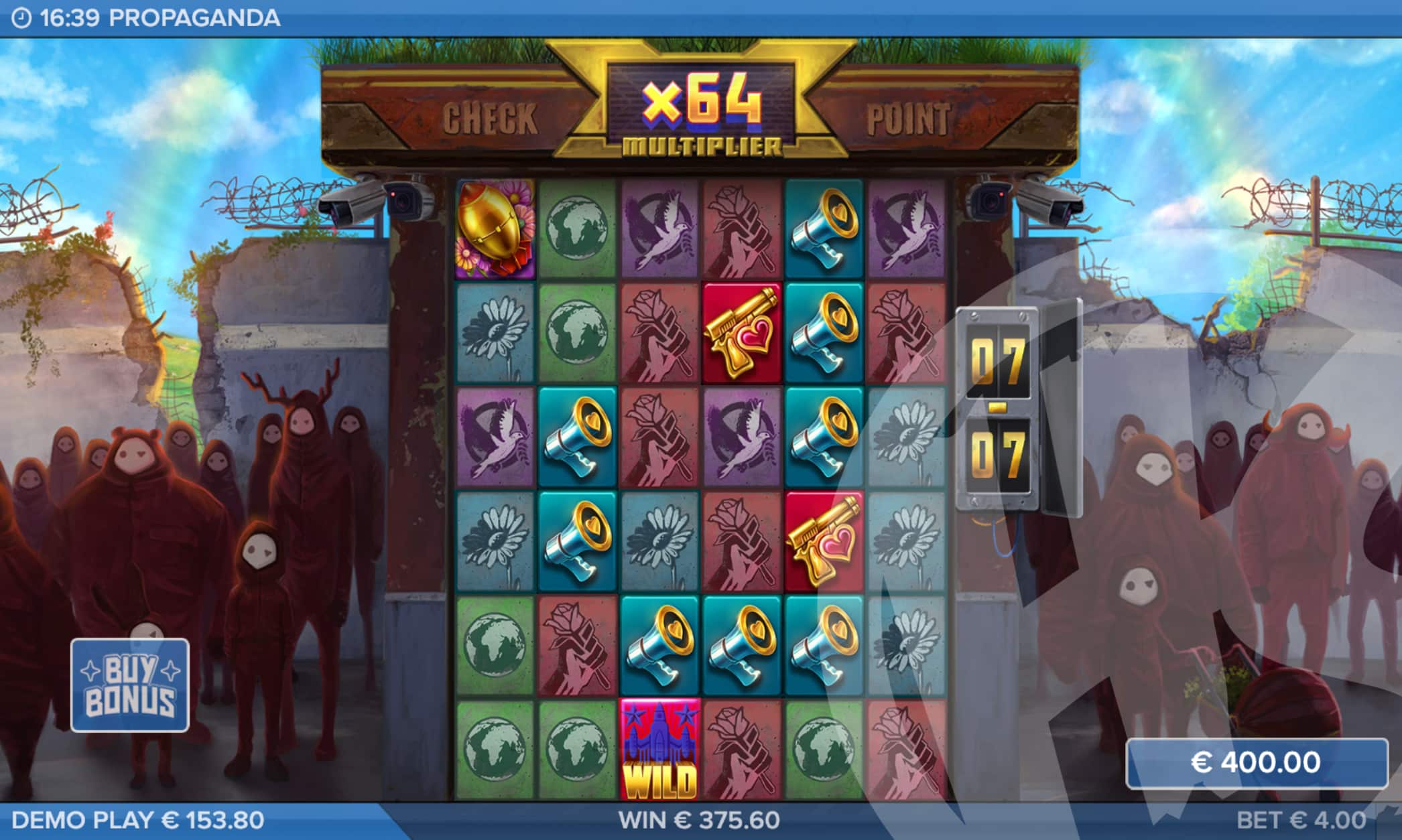 Land 2 Bonus symbols and a Super Bonus symbol to trigger the Super Bonus, with 7 Free Drops. Similarly to the Bonus, the multiplier does not reset between spins in the Super Bonus. Everything else stays the same, with one difference – a Super Wild Strike is guaranteed at the beginning of every Free Drop. A Super Wild Strike works the same as the Wild Strike, but symbols are only replaced with multiplier Wilds.
It continues to be possible to trigger +1, +2, or +3 Free Drops by landing flag symbols.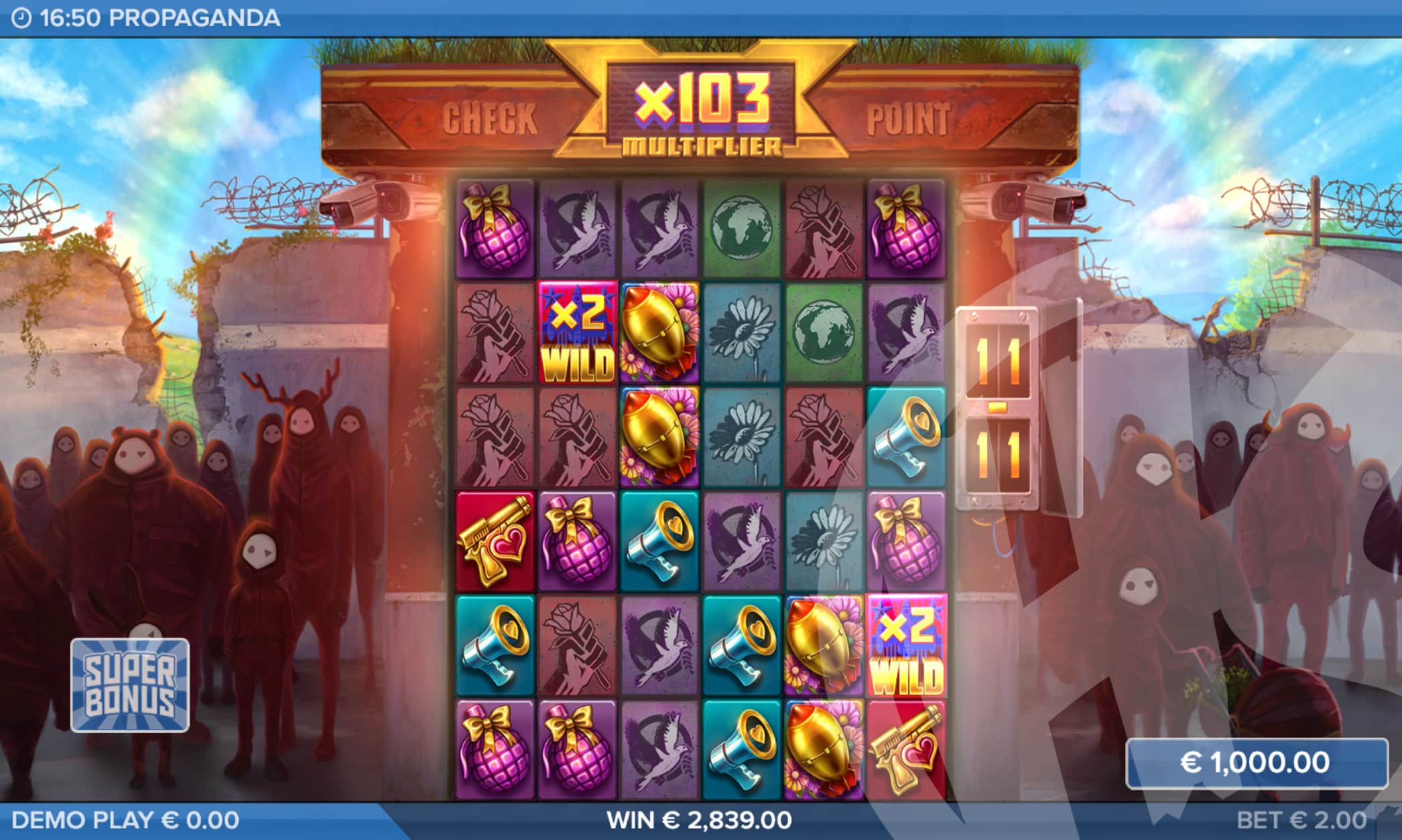 Players in appropriate regions can make use of a number of X-iter options:
Bonus Hunt (double the chance of triggering a Bonus) – 2x
Guaranteed Wild Strike – 10x
Guaranteed Super Wild Strike – 25x
Bonus – 100x
Super Bonus – 500x
The maximum win available in Propaganda is 25,000x bet. If the sum of a single game round exceeds this, the game round will end and 25,000x bet will be awarded.
First Impression
I really like this one. That's it, first impression over. Really though, I think ELK have gotten the balance just right with Propaganda. They've broached a slightly darker theme, but somehow managed to keep it fairly light, whilst offering super graphics and animations. It all fits – from the background, to the symbols, to the fonts chosen. It just works. This is elevated even further with audios, tying everything together nicely. I'd say in terms of audiovisuals, this is one of the best releases ELK have done in a long time.
Onto game play, and it's exciting, but my God – they went wild for Wilds! There are so many different Wild features available, but these all more or less stem from one thing – winning clusters produce a Wild. Simple, but effective, and when working hand in hand with the multiplier available, the right combinations can see wins up to 25,000x bet.
Rated 8/10 by the team, Propaganda is highly volatile, so things can be a bit rough at times, but the rewards are certainly there – truer than ever in the Super Bonus, where a Super Wild Strike is guaranteed on every spin. Add on top the fixed RTP of 95.0%, and everything ties together into a good package. If RTP had been 96% or more, this score would have been even higher.
ELK have done things a bit differently this time around, but I hope this new style is here to stay.
*The screenshots taken of games reviewed on this site are taken from Demo Play, as reviews are often written before games are released for real play.