Our favourite princesses are back, courtesy of Play'n GO in their latest festive release – Moon Princess Christmas Kingdom. After shaping up to be so popular the first time around in 2017, the team soon followed with Rise of Olympus in 2018, and more recently Sisters of the Sun in mid 2021 – this is one set up that has fared well for Play'n GO. Bringing back the Trinity feature, Girl Powers and a choice of free spin bonuses, combined with a default RTP of 96.20% and wins up to 15,000x bet, let's take a look at what this highly (8/10) volatile release can do…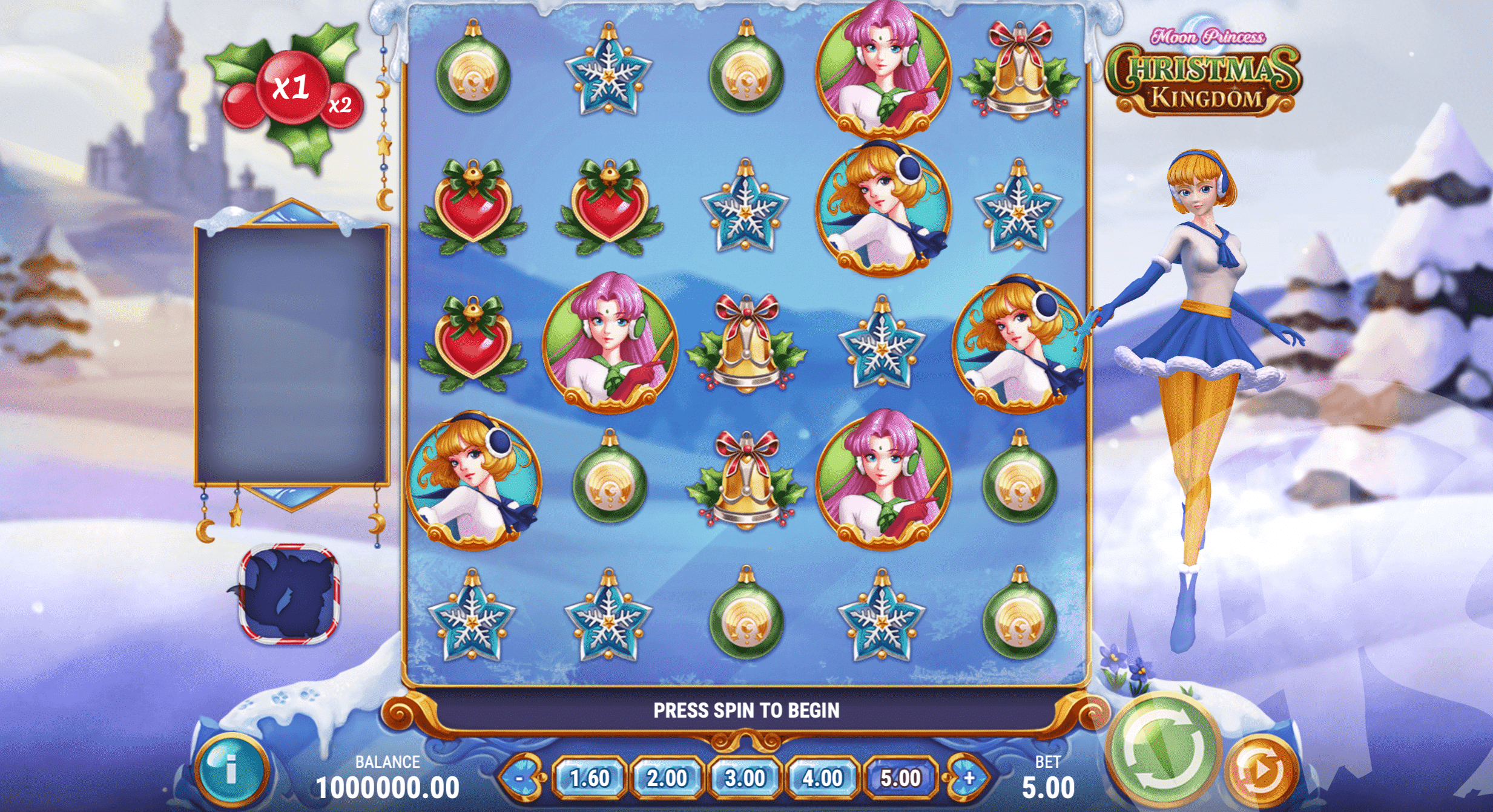 Visually, it's snowy, pleasing and all round pretty – exactly what you'd expect from a Christmas landscape. As expected, a princess will always be in view to the right of the reels, waiting to perform her power. A castle is faintly visible in the background and there are some snow capped trees scatters around, with luminous lights flashing through the sky. Audios are also suitably festive.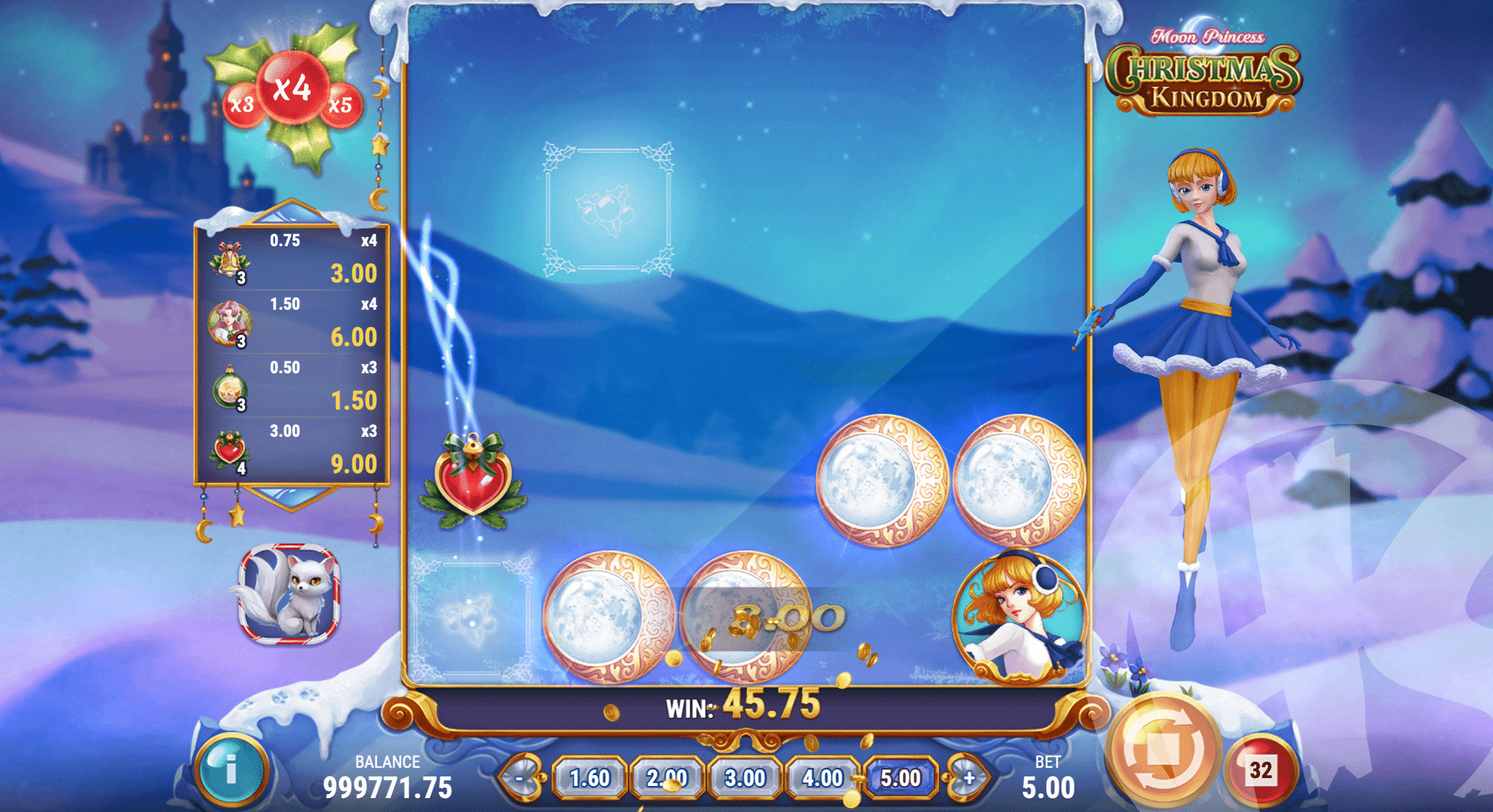 Moon Princess Christmas Kingdom Base Features
Taking place across a 5×5 grid, wins are formed using the cluster pays mechanic – just match 3 symbols, touching horizontally or vertically, anywhere on the grid. The same symbol can be used in multiple winning combinations. Symbols available look as festive as you would expect, beginning with green baubles and blue stars embellished with snowflakes, paying 0.1x bet for 3 of a kind, up to 2x bet for 5 of a kind matches. Next up its red berry hearts and golden bells, awarding wins between 0.15 and 3x bet for matches between 3 and 5 of a kind. At the premium end, the princesses have made a return, although now they're topped with a few seasonal touches. First up it's green Storm with her bright pink hair, followed by blue Star with her blonde hair, and finally pink, brunette Love – each paying wins of 0.3x bet for 3 of a kind, increasing to an impressive 10x bet for 5 of a kind. Princess symbols are interchangeable in wins, with values on offer between 0.2 and 5x bet for mixed princess matches between 3 and 5 of a kind.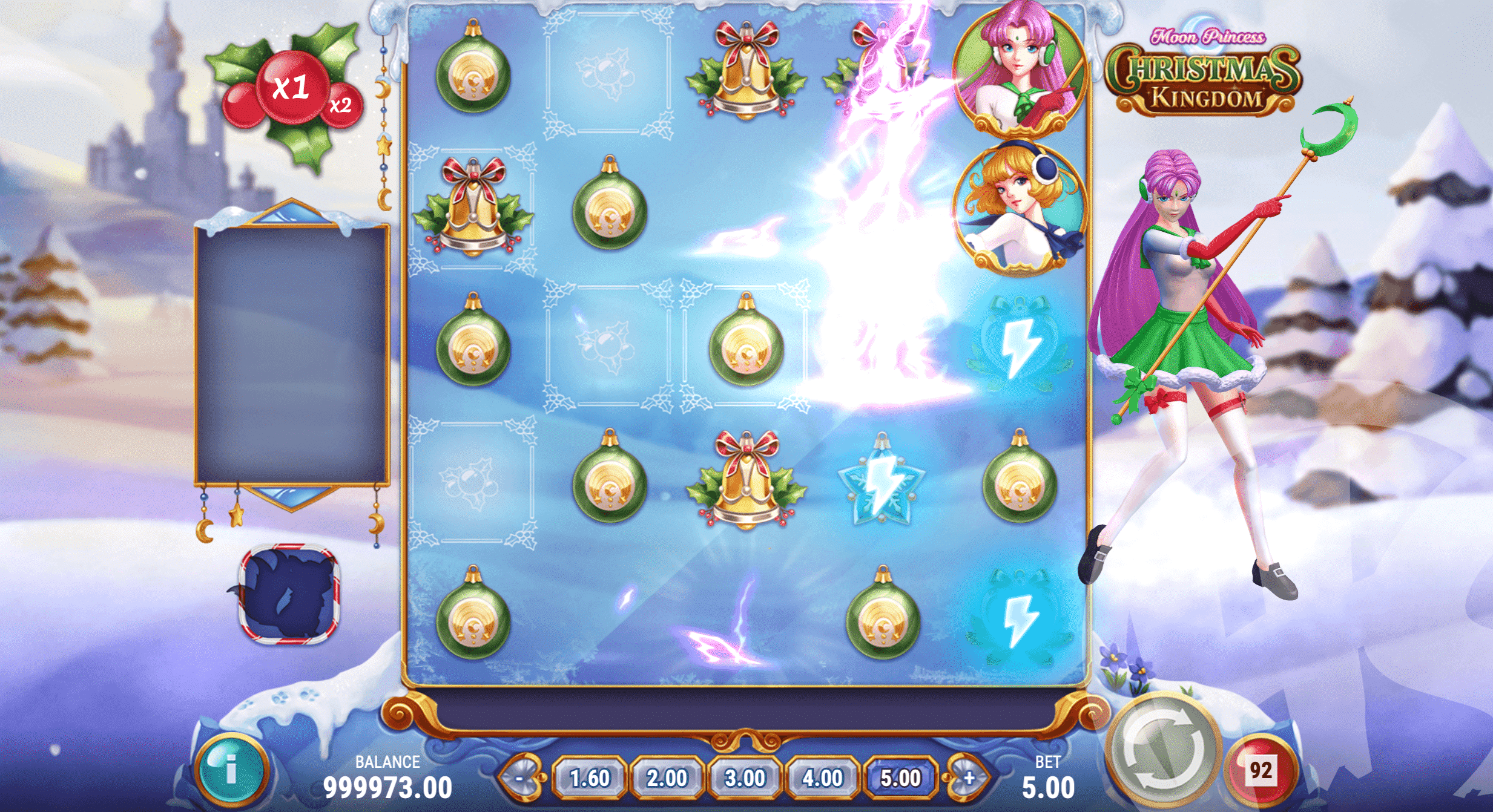 As winning combinations are formed, a couple of things happen. First, the symbols involved are removed from the grid, with the remaining symbols dropping down to fill their place. Next, any 3 of a kind matches that are formed are replaced by a single wild symbol in the middle position before remaining symbols drop down. Wilds are golden moon symbols, substitute for all symbols except the Scatter symbol, and have their own pay values – 1, 4 or 30x bet for 3, 4 or 5 of a kind matches, respectively.
On every spin, a random amount of positions on the grid are bordered with a pale white mistletoe – if a win occurs over one of these spaces, the mistletoe multiplier, visible to the top left of the grid, will increment by +1. This is a win multiplier, which will then be multiplied to any subsequent wins within that spin. The mistletoe multiplier will reset to x1 at the beginning of every new spin.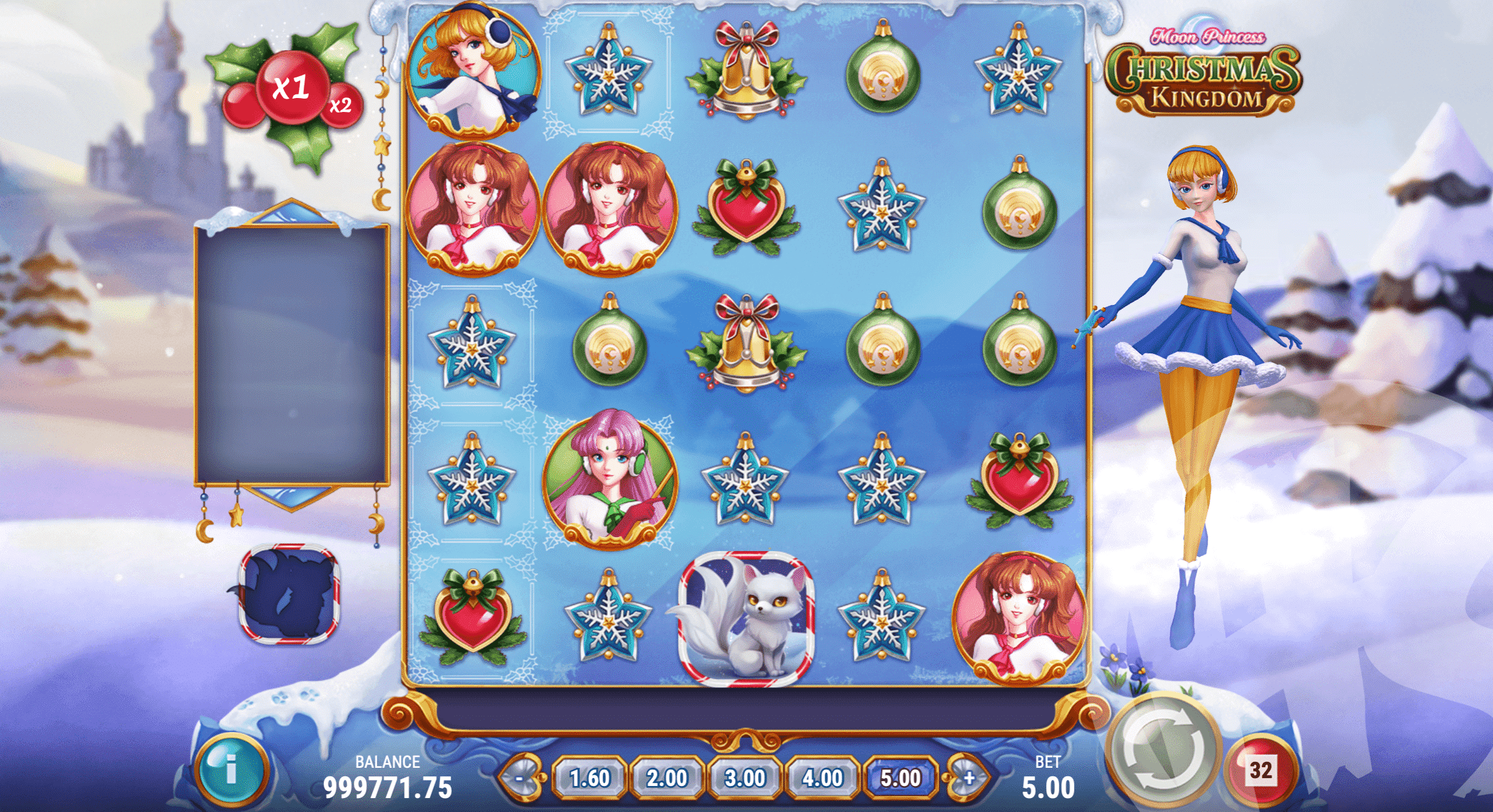 At random, on any non-winning spin, whichever princess is to the right of the reels can activate her Girl Power. It will always be the princess in view whose power will be triggered, with princesses rotating in turn as their power is used.
Love: Converts one set of symbols on the grid to another.
Star: Gifts 1 or 2 wild symbols.
Storm: Removes two sets of symbols from the grid.
Clearing all symbols from the grid awards 50x total bet, with this prize affected by the active win multiplier. If only wilds remain on the grid, they will be removed. This prize is not awarded during the Trinity feature, which is explained below.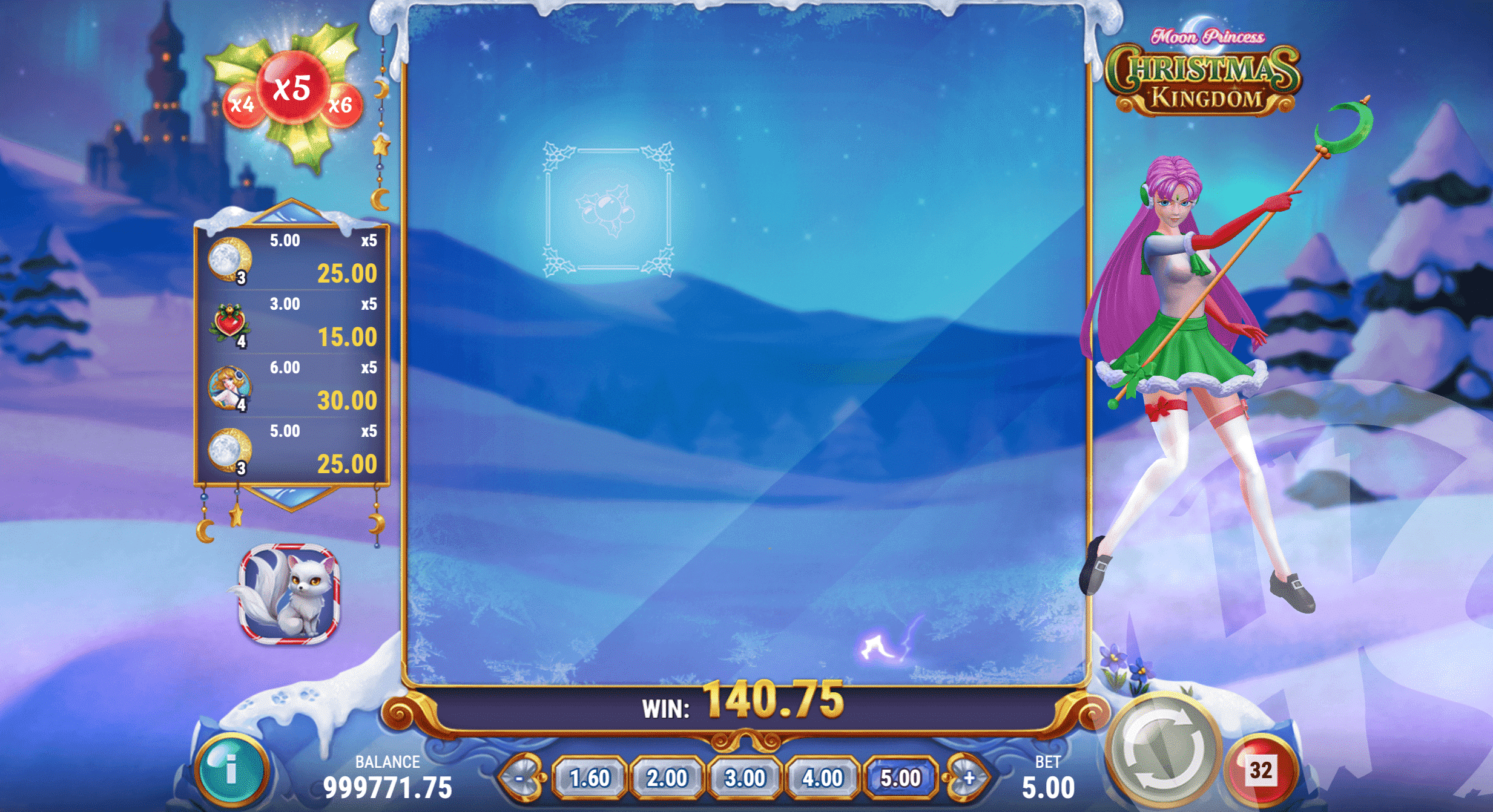 Landing a fox Scatter symbol on the reels will trigger the Trinity feature – this can happen by a fox landing organically, or by the 'What The Fox?' feature, wherein a fox will appear after all symbols have landed on the reels.
During the Trinity feature, Love, Star and Storm will perform their Girl Powers in one free round. Clearing the grid during this feature triggers Free Spins.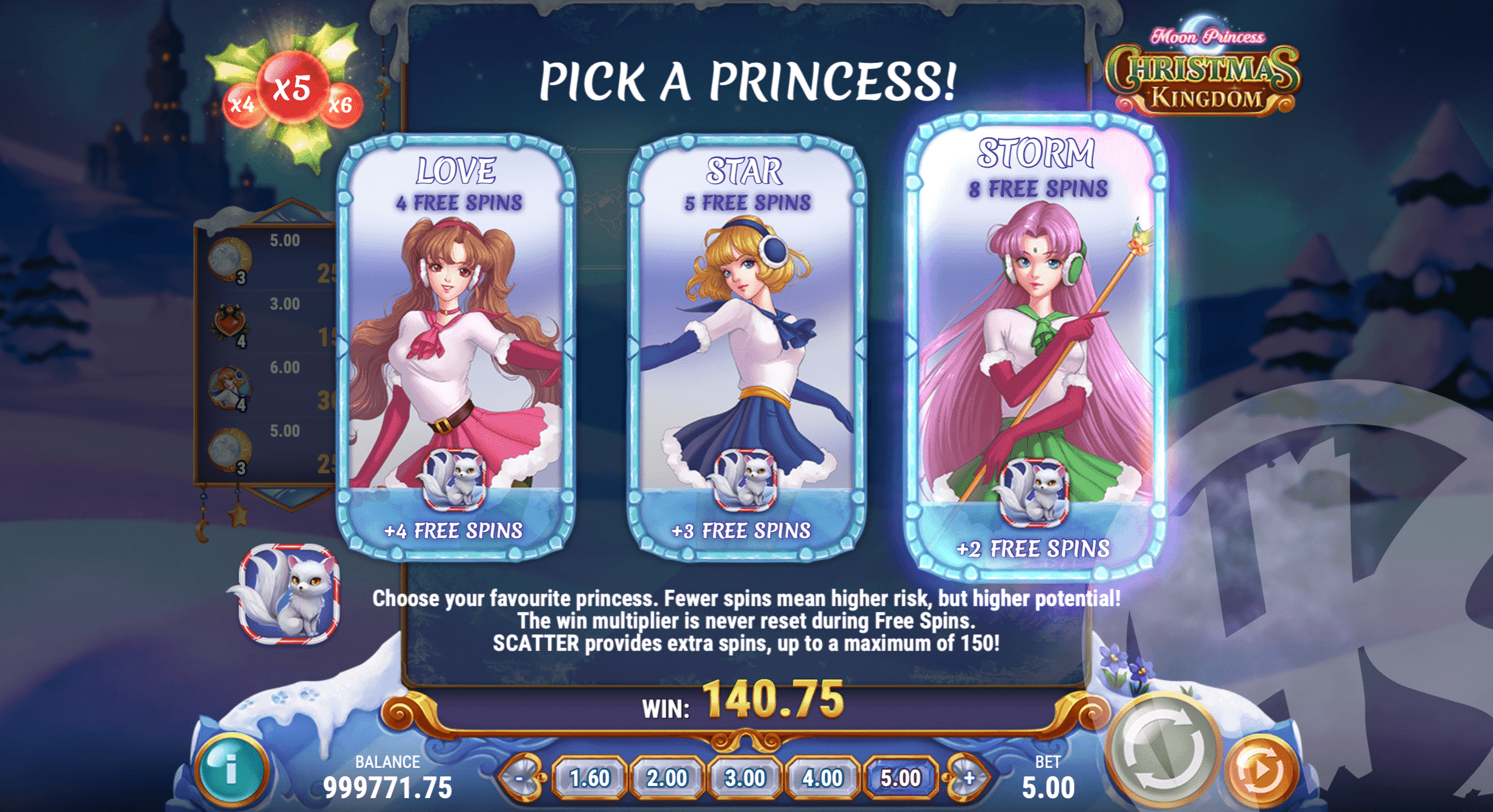 Moon Princess Christmas Kingdom Bonus
Before the Free Spins feature begins, players have to pick a princess:
Love: 4 Free Spins (retrigger awards +4 free spins)
Star: 5 Free Spins (retrigger awards +3 free spins)
Storm: 8 Free Spins (retrigger awards +2 free spins)
Fewer spins mean higher risk, but higher potential.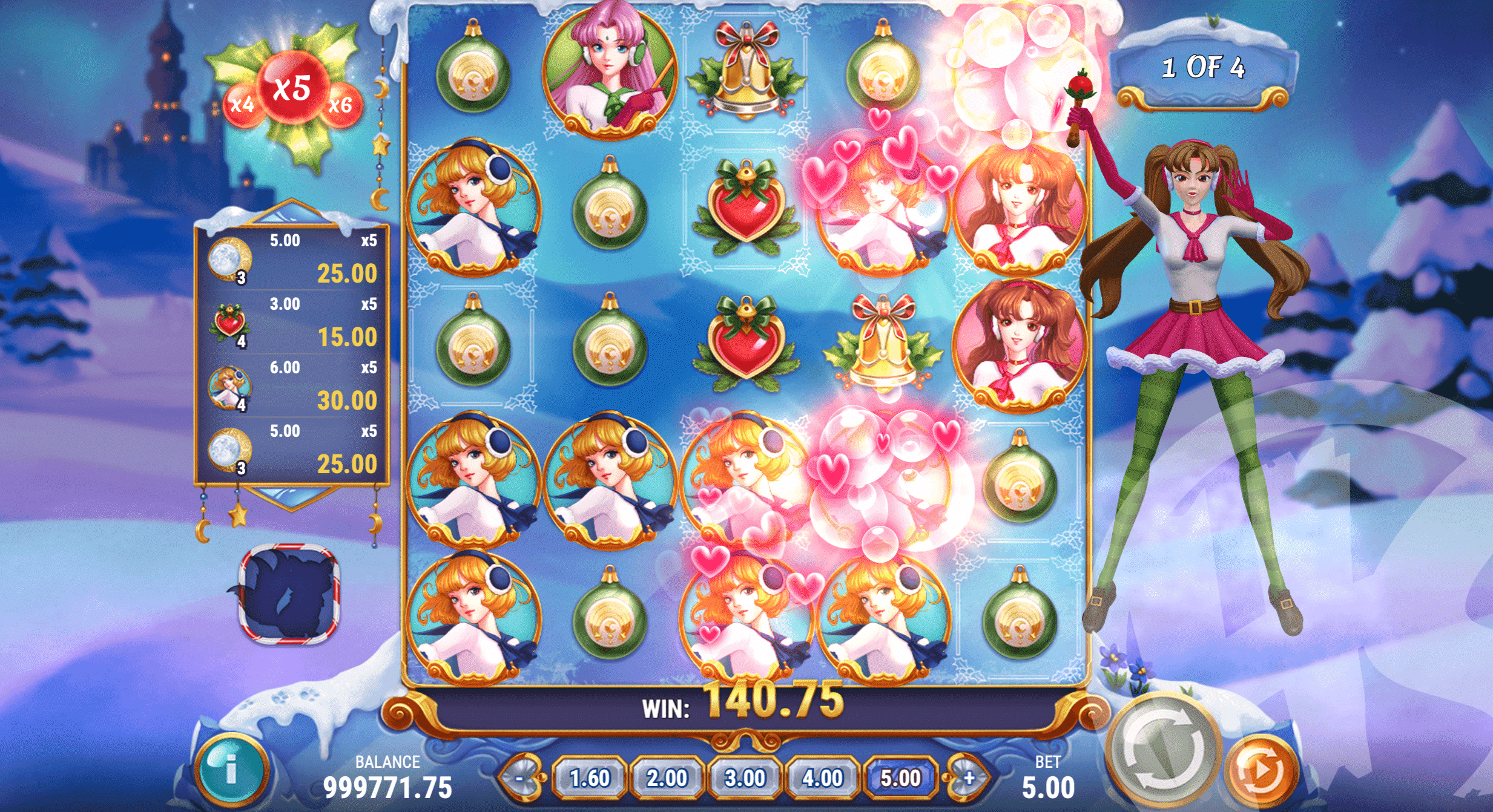 During Free Spins, whichever princess was chosen at the beginning of the round is the only Girl Power that can be triggered. On every non-winning spin, the Girl Power will be activated.
The amount of mistletoe spaces on the reels is also doubled within the free spins feature, and the win multiplier is never reset.
Landing a fox Scatter symbol anywhere on the reel awards the respective retrigger listed above, up to a maximum of 150 free spins.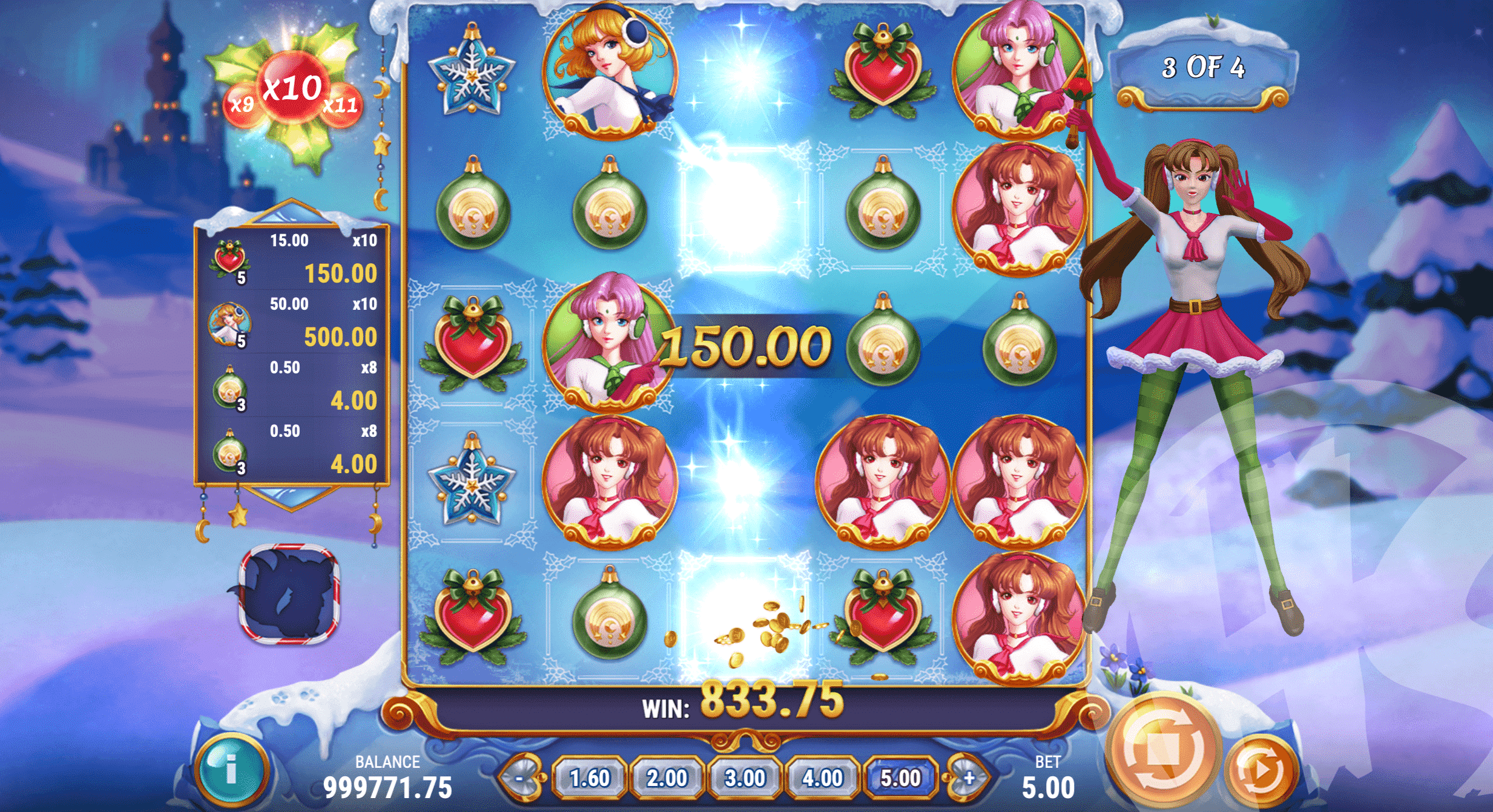 First Impression
On the one hand, Moon Princess Christmas Kingdom looks all too like your run of the mill seasonal reskin at the start. Once you've commenced into gameplay, however, things have been changed slightly – combining the original Moon Princess (and by extension Rise of Olympus) with the newer Sisters of The Sun. This is particularly noticeable with the need for a Scatter symbol to trigger the trinity feature now, and the multiplier incrementing by designated symbols, whereas before every single win incremented the multiplier.
With game play now existing as it does, the overall feel of the game has changed, as has the potential – up to 150 free spins are now available rather than the feature maxing out at 20, and win potential has tripled from 5,000x up to 15,000x bet. Other statistical changes include volatility taking a dip from 'very high (10/10)' to a more comfortable for some 'high (8/10)' now, whilst the new RTP range between 84.20% – 96.20% has taken a 0.3% dip at either side. (As always check this value before playing). The probability of maximum exposure is now < 1 in 100 million – and although this may seem very unlikely, previously this was < 1 in 160 million. So overall, some strong changes to make things feel incredibly different.
On a visual front, the princesses have changed – in a way that is quite hard to put your finger on. For many players this will be frustrating, and they'll wonder why you would fix what isn't broken. Apart from this, things are much the same with a feel good festive touch.
If you like Moon Princess, Rise of Olympus, Sisters of The Sun and all the rest, you'll lap this one up. If you haven't been charmed yet – there are enough changes in the background to consider giving this one a chance, particularly with 50x win values for grid clearance working alongside sticky win multipliers during free spins.
*The screenshots taken of games reviewed on this site are taken from Demo Play, as reviews are often written before games are released for real play.