Every now and again, we see a new mechanic that sweeps the sector, and maintains its' popularity regardless of how many similar offerings we see. An obvious example of this would be Megaways, but a more recent example is PopWins from AvatarUX. With wins exploding (or more accurately, popping) from the reels and expanding the number of ways to win, this mechanic has proved popular with players across the world, with each new release seeing the same love the previous received. Most recently, we were treated to PapayaPop, taking us back to the roaring twenties with luxury, elegance, and Art Deco themes, offering wins up to 10,542x bet. Now, the team at AvatarUX are coming back with PiggyPop, the eighth game in the series that keeps on giving. With an RTP of 95.50%, and maximum wins on offer of 10,690x bet, lets take a look at what players can expect from this highly volatile release.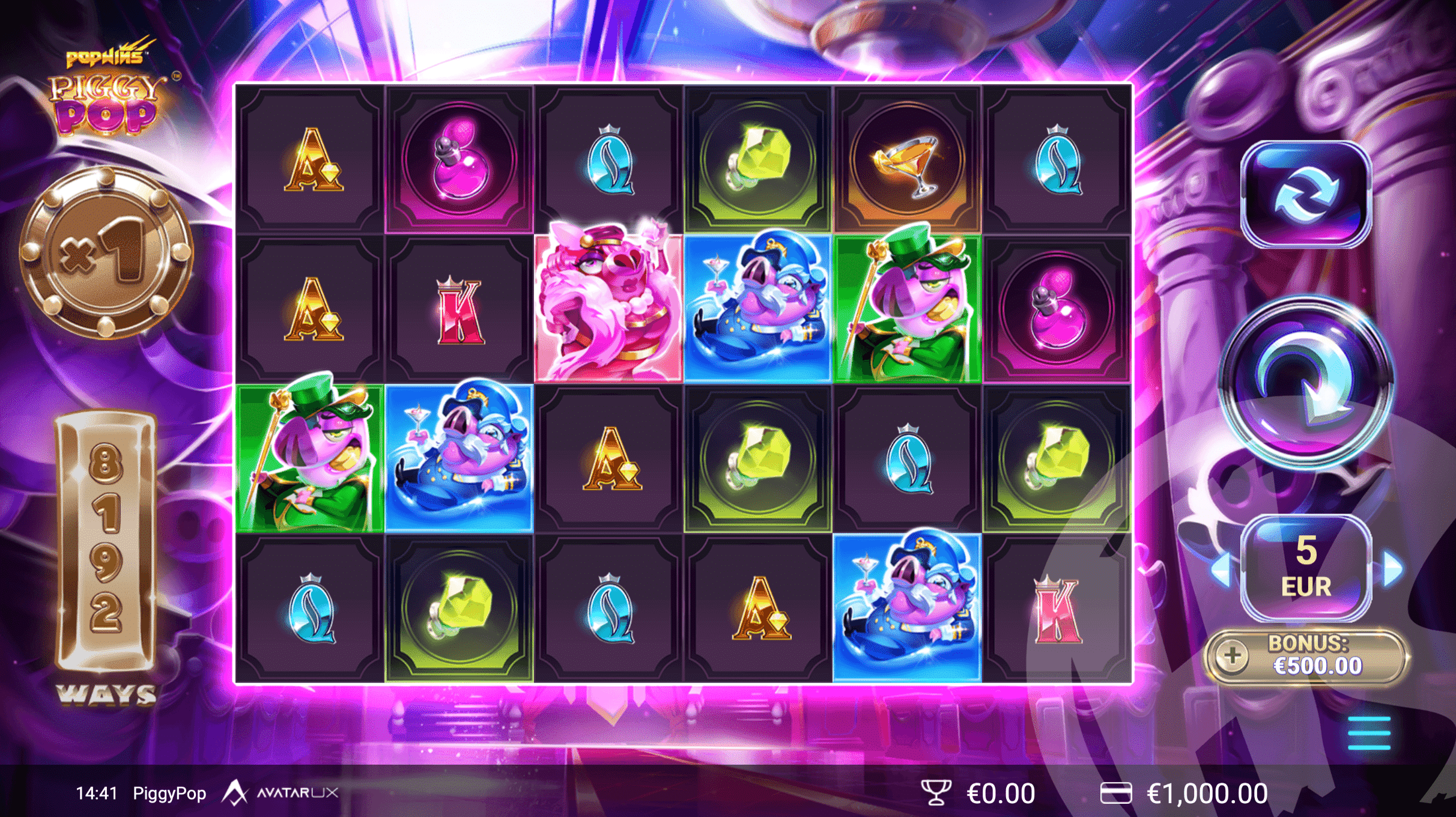 PiggyPop takes us into the decadence of the world's most glamorous and greedy casino pigs, according to the team, and visually – glamour is right. Each of the pigs in view is adorned in jewels and plush fur, with martinis in hand. Music is upbeat, almost exactly what you'd expect as the backing music from a casino scene in a Hollywood movie. As usual, the PopWins are accompanied by appropriate pop sounds, keeping things fun without being too distracting.
PiggyPop Base Features
Taking place across 6 reels, players begin with 4 symbols on each reel for a total of 8,192 ways to win. Of course, this is only a minimum value thanks to the PopWins mechanic that makes this release what it is. All symbols involved in a winning combination pop from the screen, and in doing so further increase the ways to win – each symbol removed is replaced by 2 more, up to a maximum of 6 symbols per reel during the base game.
As with every release in the PopWin series, wins pay both ways – making the maximum ways to win in the base game 93,312 ways, and any 6 of a kind win immediately worth double the value noted below.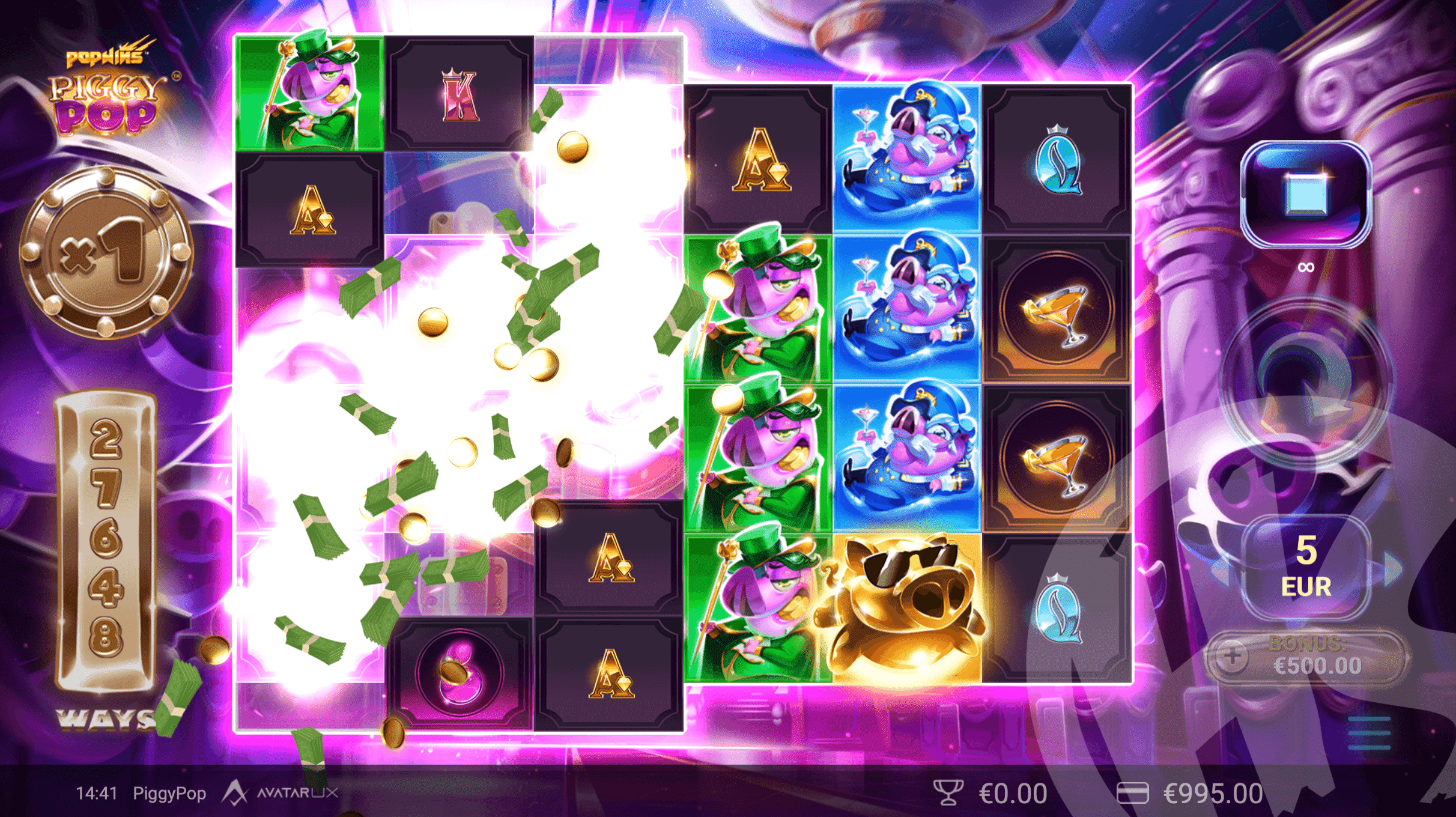 Wins are formed by matching at least 3 symbols in any position on adjacent reels, beginning with the leftmost or rightmost reel. Symbols available are broken down into low, medium, high and super high, with low symbols the expected Q, K and A, each paying 0.1x bet for 3 of a kind, up to 0.6x bet for 6 of a kind. In the medium region, pink perfume bottles, orange martinis and green garish diamond rings pay 0.2x bet for 3 of a kind, up to 1x bet for 6 of a kind. High symbols consist of 3 of the most outlandish pigs we ever did see – dressed in blue, green and pink. Each of these symbols reward players with win values of 0.3x bet for 3 of a kind, up to 1.5x bet for 6 of a kind. Finally, golden pigs with sunglasses are the only super high symbol available, paying 0.6x bet for 3 of a kind matches, up to 3x bet for 6 of a kind.
That's about as far as the action goes within the base game, however don't be fooled – PopWins releases are capable of some huge wins outside of the free spins round, especially with the potential of up to 93,312 ways to win in the base.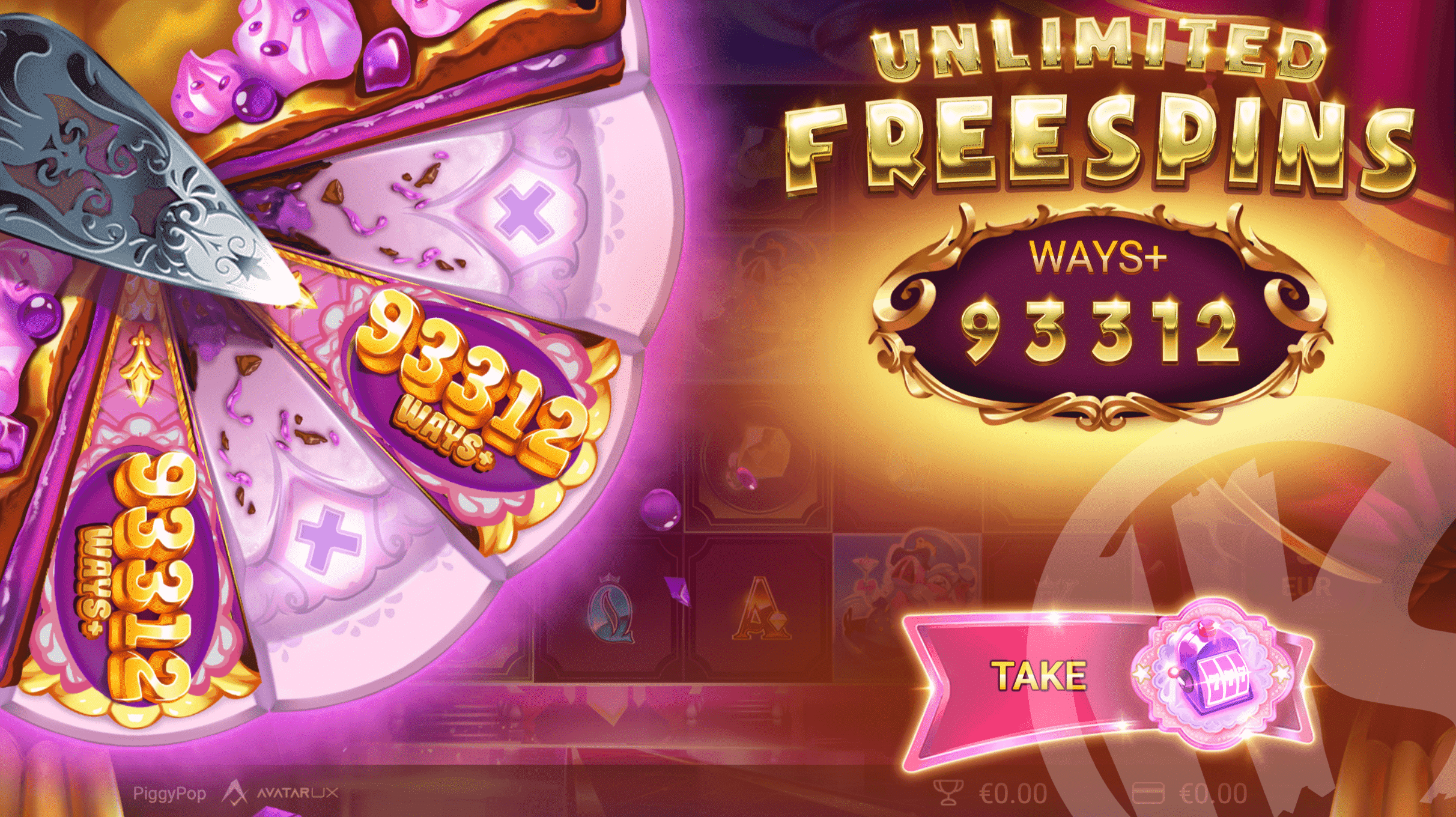 PiggyPop Bonus
Expanding every reel within the base game to the maximum of 6 symbols high triggers unlimited free spins, however before entering free spins players can try their hand at the gamble wheel to increase the starting number of win ways. Free spins will begin with all reels 4 symbols high as standard, however players can increase this as high as 6 symbols per reel:
Gamble Wheel 1: Increase each reel to 5 symbols high, or 31,250 ways to win.
Gamble Wheel 2: Increase each reel to 6 symbols high, or 93,312 ways to win.
Players can collect without gambling at all, or may collect after gambling once. Any gamble that loses will result in a complete loss of the feature, and players will revert back to the base game.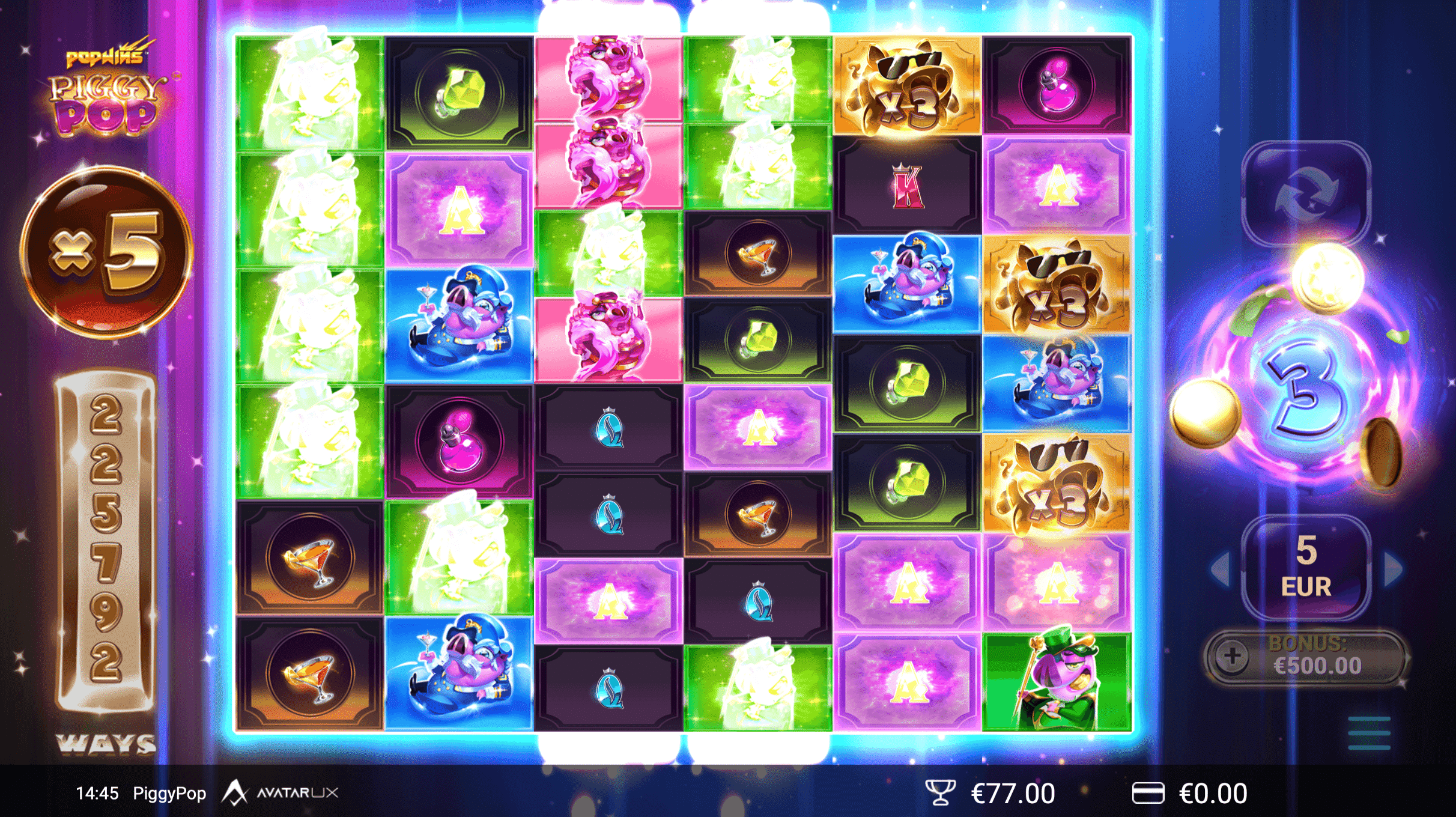 Although unlimited free spins are on offer, players begin with 3 spins. Each losing spin will decrease this counter by 1, but each spin involving a win will reset the counter to 3. A multiplier works alongside free spins, and does not reset between spins. Each spin increases the multiplier by +1 after wins have been paid. Spins not involving a win will also increase the multiplier by +1.
During free spins, things work pretty much the same way as during the base game, however reel height does not reset between spins – instead, reels will be reset to the shortest reel height currently on the reels. Reels can unlock as high as 8 symbols in free spins, or 524,288 ways to win.
Golden Pigs, the super high symbol available, will each have a multiplier attached during free spins – determined by the amount of golden pigs on the reel. Each one in view will count for x1 on the multiplier, meaning if 5 golden pigs are in view, each will have a x5 multiplier attached. Unlocking all reels to maximum height will increase this, with each pig then worth +x2.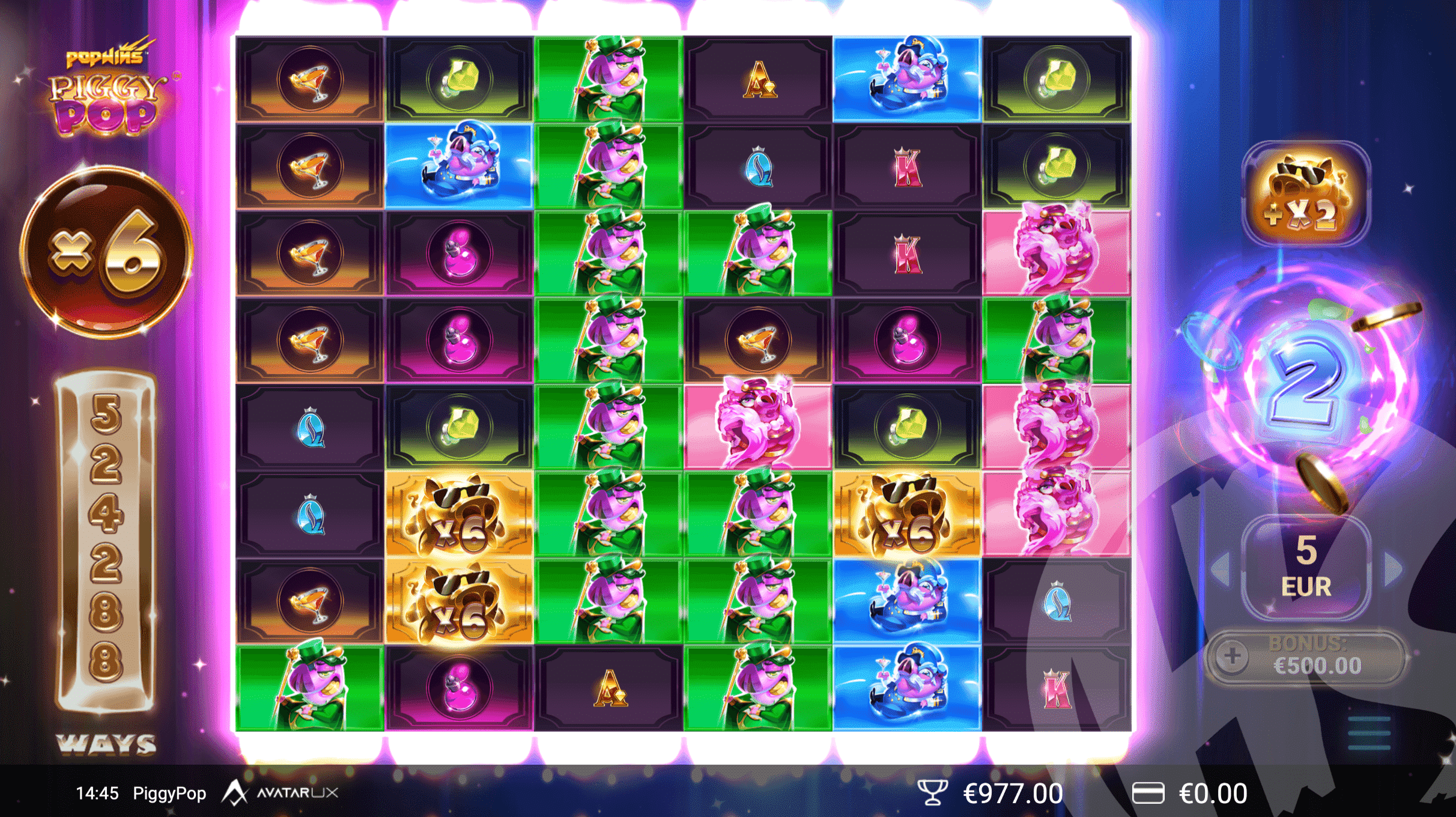 Players in appropriate regions can fast track to the action by purchasing free spins for a cost of 100x bet, where they will have an opportunity to gamble. Alternatively, for a cost of 400x bet, players can buy a feature beginning at 93,312 ways to win – which otherwise would take 2 winning gambles to achieve.
First Impression
You'd have been forgiven for thinking the team at AvatarUX had drained everything possible from the PopWins series 2 or 3 releases ago, but you'd also be wrong. With each new release, although similarities are obviously apparent, tweaks are introduced to keep the experience unique. In this instance, PiggyPop reintroduces the unlimited free spins we first saw within PapayaPop, but now combines this with multiplying golden pigs – similar to the hippo multiplier in HippoPop, but somehow still very different. When all reels are unlocked each golden pig in view is worth +x2, meaning players have the potential for piggy wins with multipliers in excess of x20, not forgetting the win multiplier already active.
It seems that the unlimited free spins during the feature will prove to the one of most popular elements the team have introduced. In doing so, our mindset changes from 'oh it's just a small win on the last spin' to 'it's a small win, but now we get 3 more spins', which invokes a feeling of excitement that we often don't see.
Players seem to love the PopWins mechanic, which isn't surprising, but important to remember. This means that PiggyPop will inevitably join its predecessors on the list of games they will not only play themselves, but will begin requesting from their favourite content creators – particularly now with a 'maximum reward' feature buy available, costing 400x bet. If you haven't found yourself taking to this series yet, there's nothing startlingly different that will guarantee a different outlook this time around, but enough small tweaks are available that you may find yourself bopping along with the pigs.
Statistically though, this release is solid, with 95.50% RTP, high volatility, a nice selection of stakes and maximum wins of 10,690x bet available. The theme is fun, bright and aesthetically pleasing, so PiggyPop will fit nicely in with the rest of the series.
*The screenshots taken of games reviewed on this site are taken from Demo Play, as reviews are often written before games are released for real play.