Provider Pragmatic Play are one of the largest in the sector, having amassed hundreds of releases in their now 8 years on the market. Like you'd expect with any studio of this size, there's some repetition between themes and mechanics, with some noticeably taking the spotlight as those in which the best work is done. In Pragmatic Play's case, this is a cluster pays release, or a 'symbols pay anywhere' release – like the recent Monster Superlanche. Today though, we turn our attention back to cluster pays in Rabbit Garden. With RTP options up to 96.05%, this highly (5/5) volatile release can produce wins up to 10,000x bet.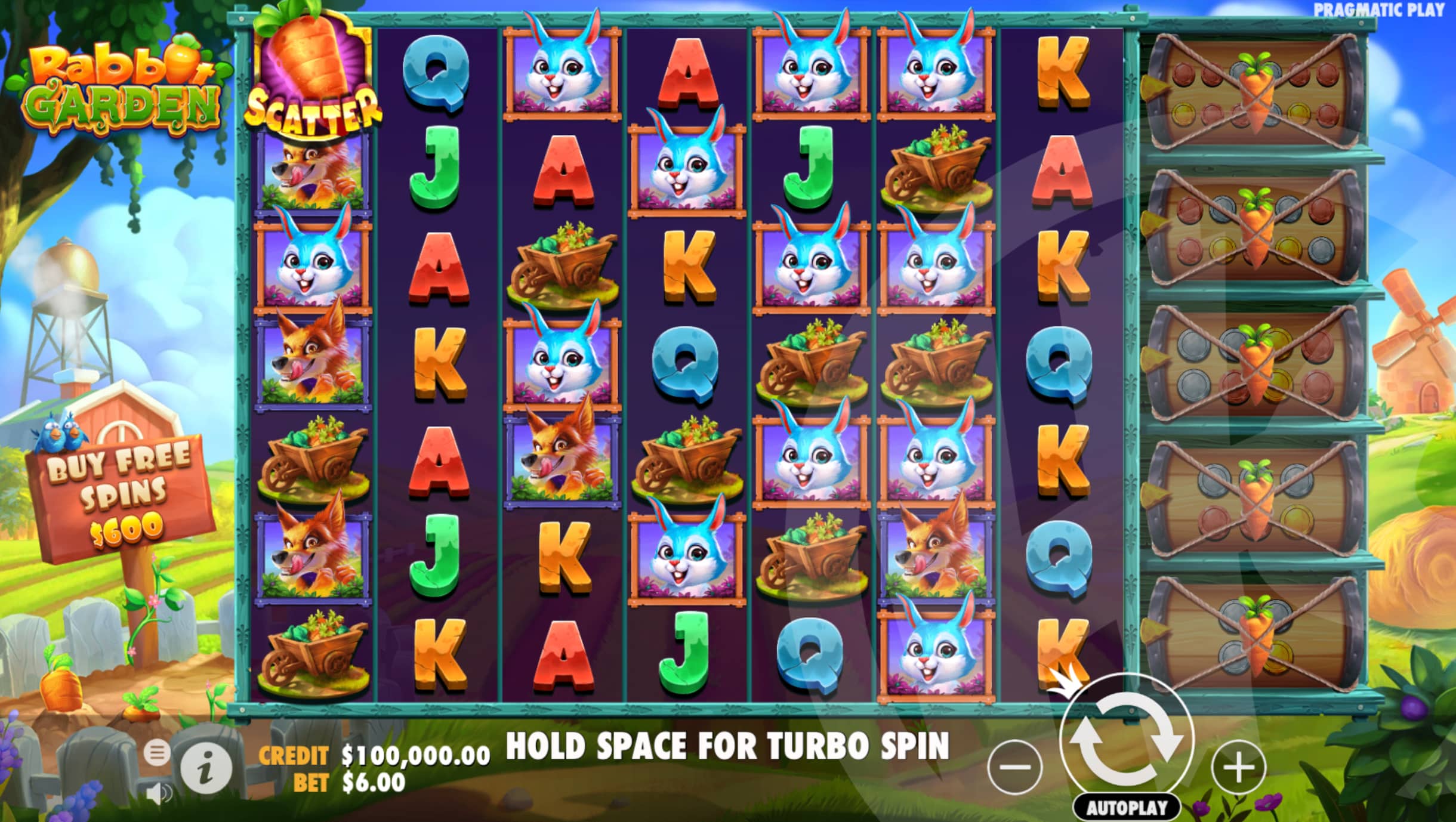 It's a vibrant picture in Rabbit Garden. We're on a green with a farm house and windmill in the background, and some white picket fences with carrots buried in the soil in the middle. Clear blue skies, bright white clouds, and pretty purple flowers make up the rest of the image, along with some typical symbols on the grid like wheelbarrows, foxes, and rabbits. All in all, very pretty – with an upbeat soundtrack bringing it all together.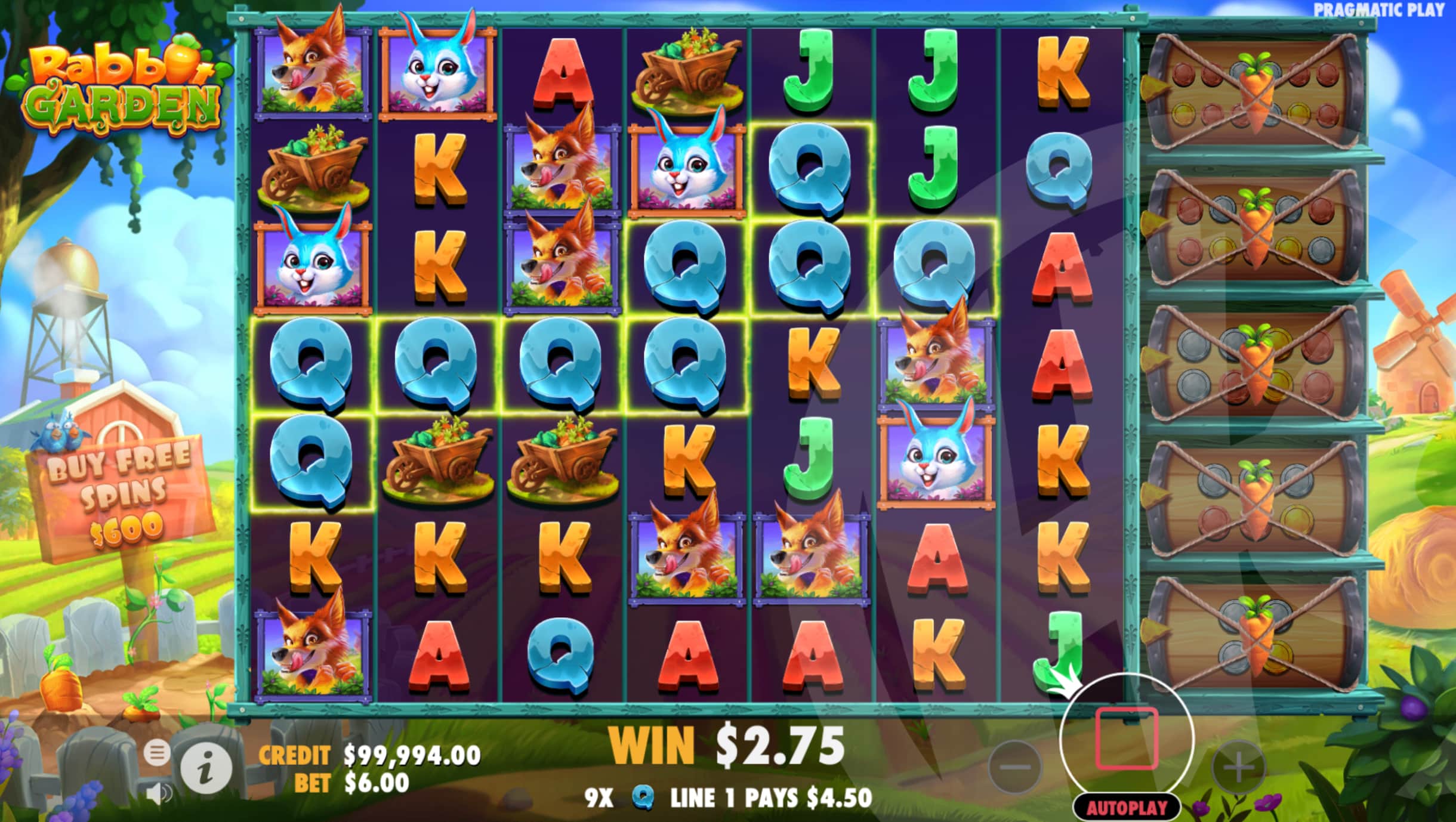 Rabbit Garden Base Features
Taking place on a 7×7 grid, wins are formed on Rabbit Garden by matching clusters of 5 or more symbols, touching horizontally or vertically. Symbols pay for 5, 6, 7, 8, 9, 10, 11, 12, 13, 14, or 15-49, and begin with non premiums – with Js, Qs, Ks, and As, awarding wins between 0.20 and 0.40x bet for clusters of 5, increasing to values between 20 and 80x bet for clusters of 15-49. At the premium end, we have wheelbarrows, foxes, and rabbits, awarding wins between 0.50 and 1x bet for clusters of 5, increasing to values between 90 and 150x bet for clusters of 15-49.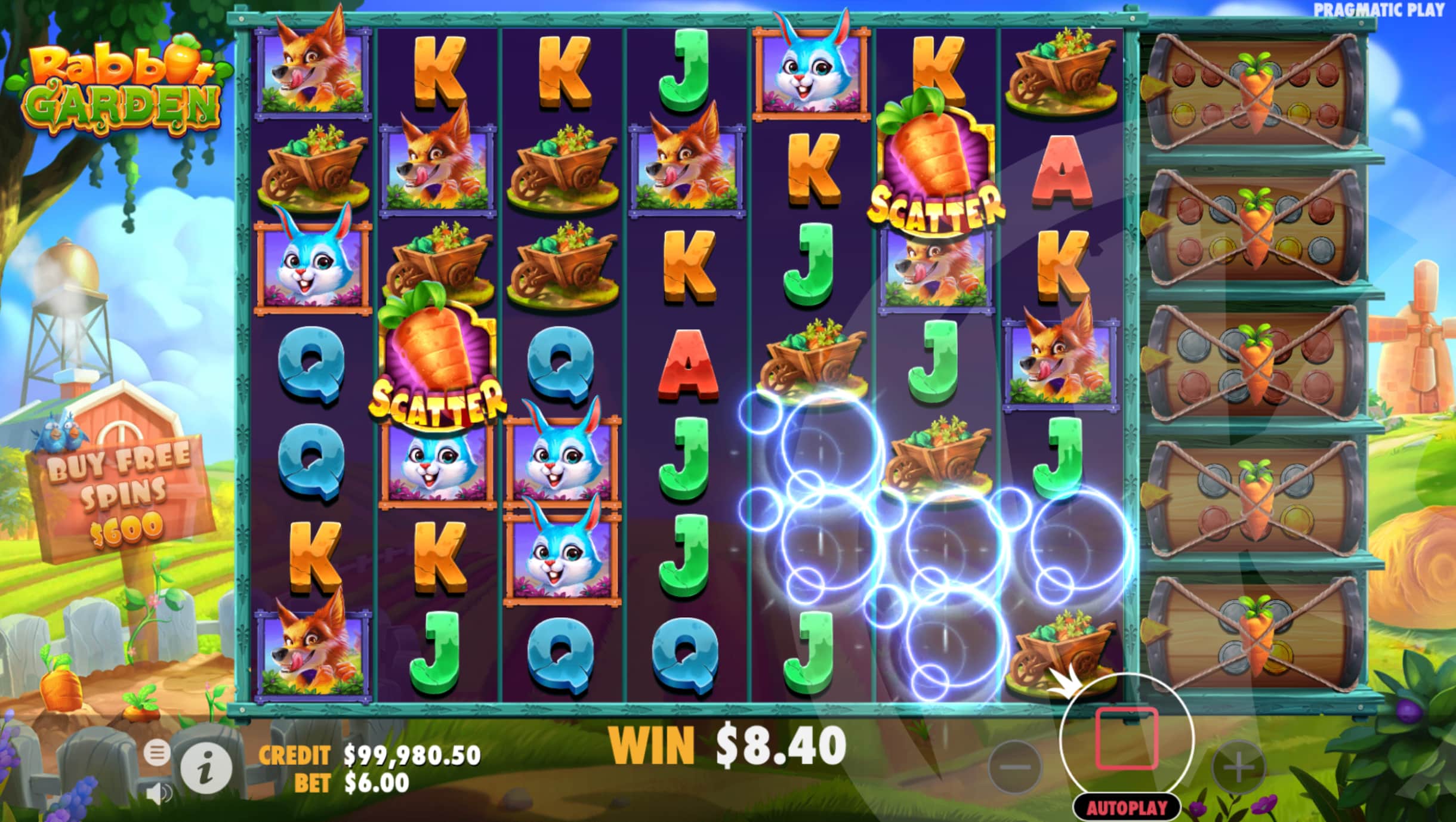 The first thing to cover in Rabbit Garden is the Tumble feature. On every spin, all symbols that are involved in a win will be removed from the grid. All remaining symbols will then drop to the bottommost available position in their respective columns, with new symbols dropping in from above to fill any remaining gaps. Tumbles continue until no new wins are formed.
Next up is the Coin Collection feature. To the right of the grid are 5 smaller reel areas, closed off with rope and a carrot in front of them. From bottom to top, these small reels will contain 4, 6, 8, 10, and 12 coins respectively. Randomly on any spin, a rabbit may appear and spin any one of these reels, adding the revealed number of coins to the grid in random positions. If a winning cluster occurs wherein one of the winning symbols is adjacent to a coin, the value of the coin will be collected. Any coins that have had their values collected will be removed with Tumbles – the rest will remain on the grid, being removed before the next spin.
Possible coin values are – 1x, 2x, 3x, 5x, 10x, 15x, 25x, 50x, 100x, 250x, 500x, or 1000x bet. Coins will be bronze, silver, or gold depending on the value they hold.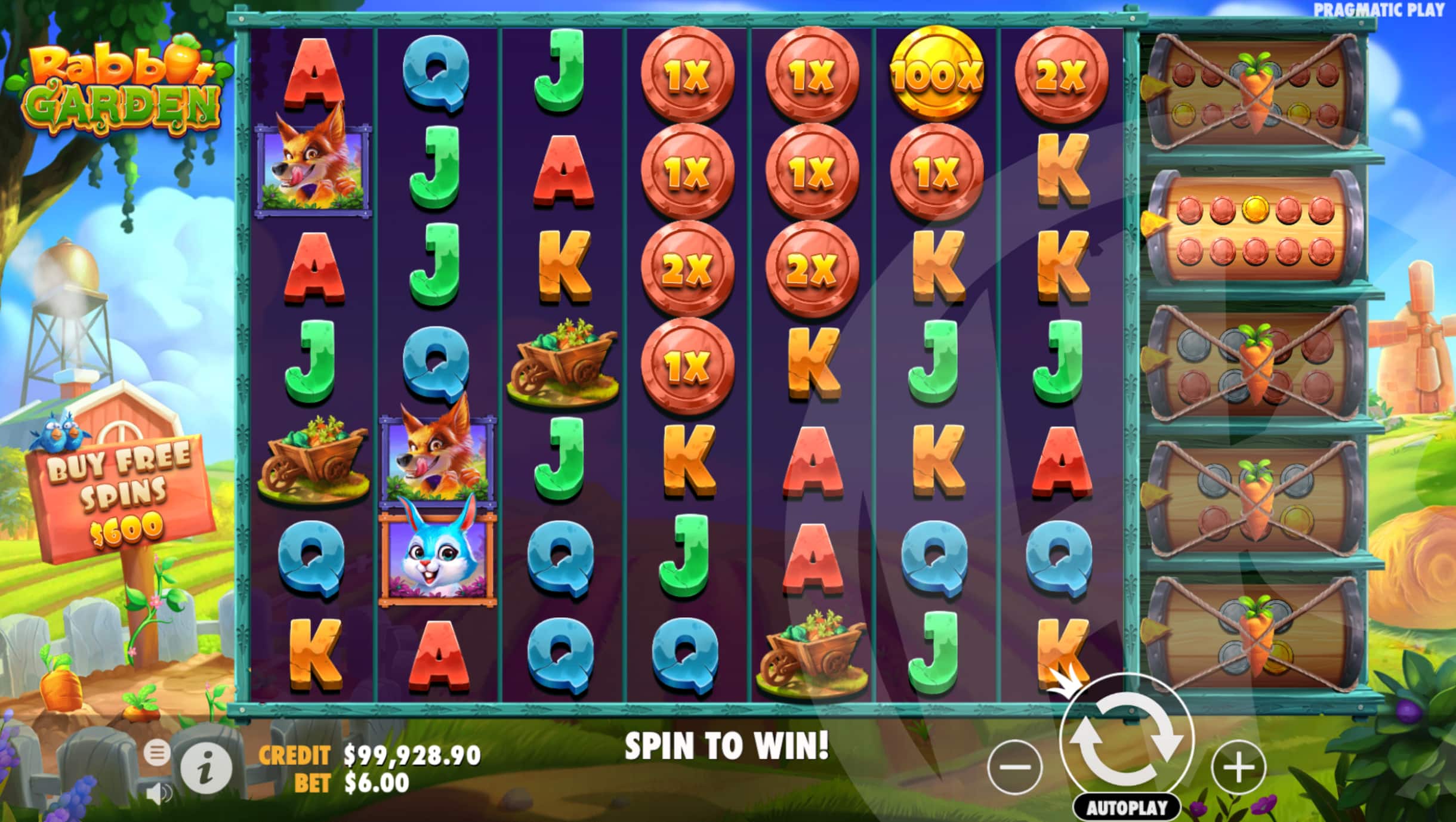 Rabbit Garden Bonus
Land 4, 5, 6, or 7 Scatter symbols to trigger the Free Spins round, with trigger wins of 2, 5, 20, or 100x bet respectively. Regardless of the number of Scatters, players always start with 5 Free Spins.
During Free Spins, players are guaranteed to land coins on every spin. The five small reels to the side of the grid are still present, with players working their way through each reel for every spin. This means spin 1 will guarantee 4 coins, whilst spin 2, 3, 4, and 5 will guarantee 6, 8, 10, and 12 coins. Possible values for coins do not change in Free Spins and remain 1x, 2x, 3x, 5x, 10x, 15x, 25x, 50x, 100x, 250x, 500x, or 1000x bet.
Working alongside this is a meter which helps players to progress to the next level of Free Spins. Each winning symbol that is removed from the grid will add points to the meter – each regular pay symbol will progress the meter by +1 point, whilst each coin that has its value collected will progress the meter by +3 points.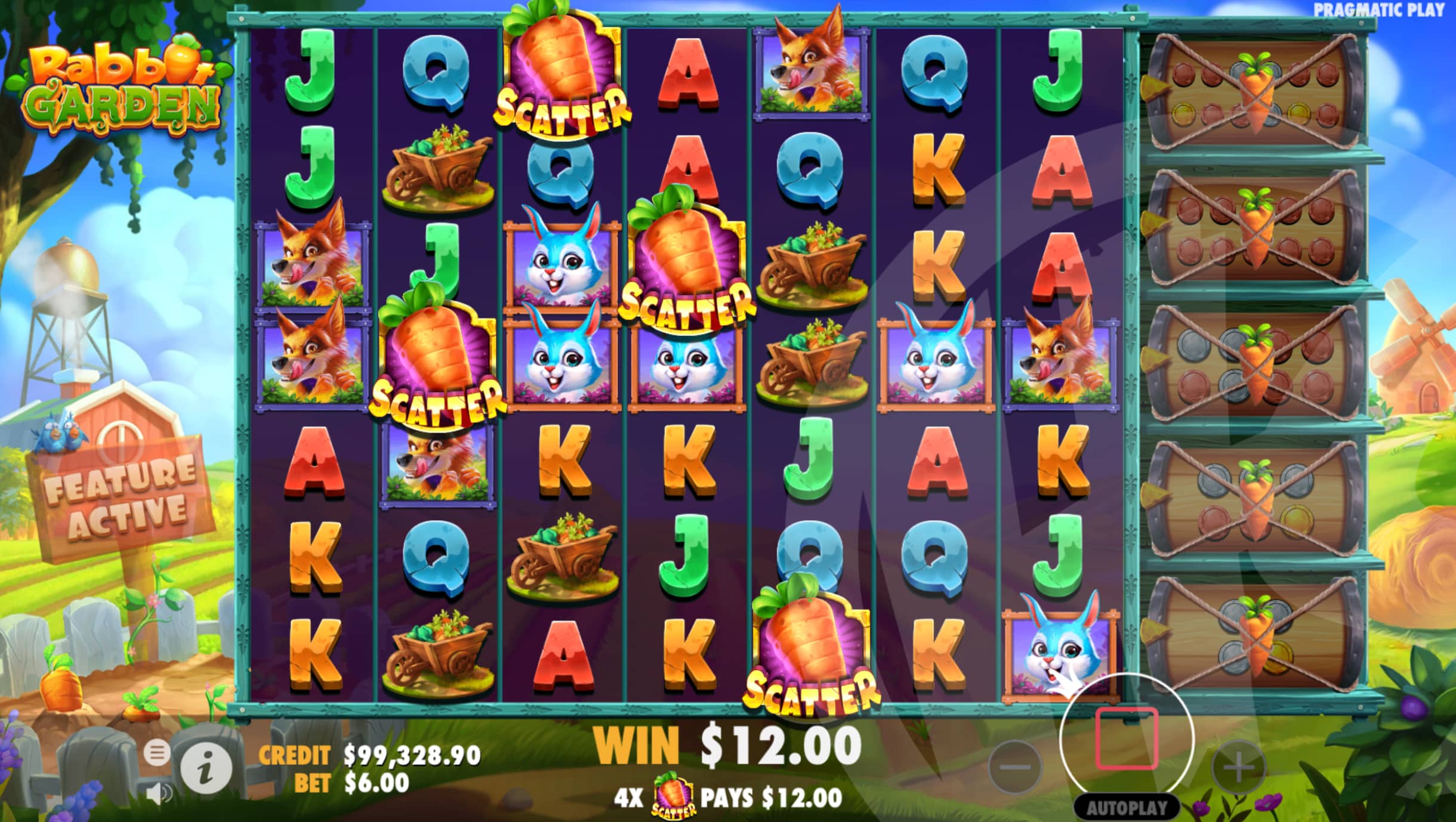 Each time enough symbols have been collected, players progress to the next level:
Collect 30 points – open level 2 (all wins and coin collections 2x)
Collect 45 points – open level 3 (all wins and coin collections 3x)
Collect 60 points – open level 4 (all wins and coin collections 5x)
Collect 90 points – open level 5 (all wins and coin collections 10x)
The next level is played after all spins on the current level have ended. Points progression reset between levels – the total amount of points required must be collected in the current level to progress to the next. Once level 5 has been reached points are no longer collected and further retriggers are not possible.
In each level players are guaranteed 4, 6, 8, 10, and 12 coins to land in spin 1, 2, 3, 4, and 5.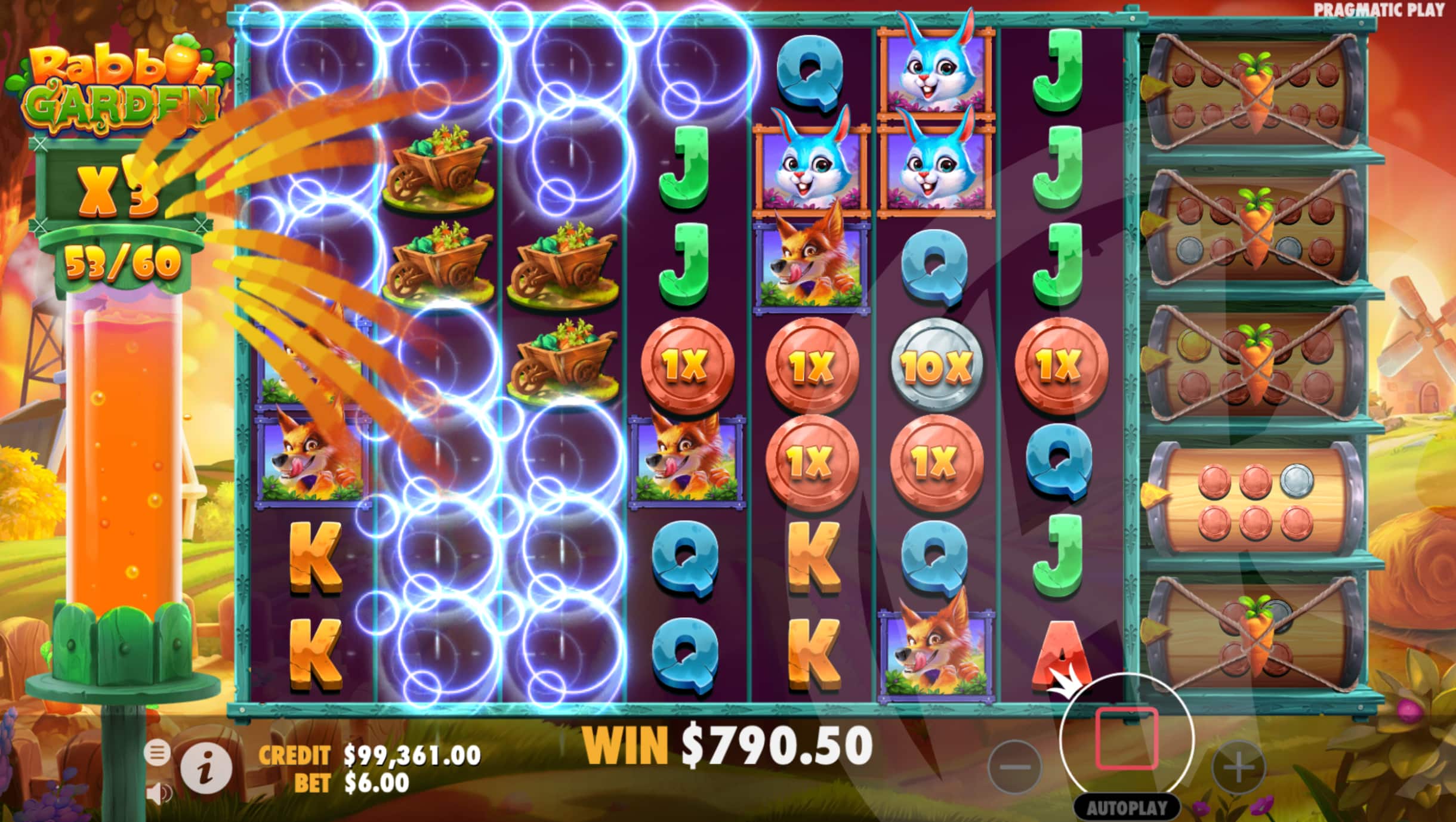 Players in appropriate regions can skip straight to the action with the option to Buy Free Spins. For a cost of 100x bet, players will guarantee entry into Free Spins with 4, 5, 6, or 7 Scatters landing randomly. In a 96.05% game setting, RTP increases slightly to 96.08% when buying Free Spins.
The maximum win available in Rabbit Garden is 10,000x bet. If the sum of a single game round exceeds this, the game round will end and 10,000x bet will be awarded.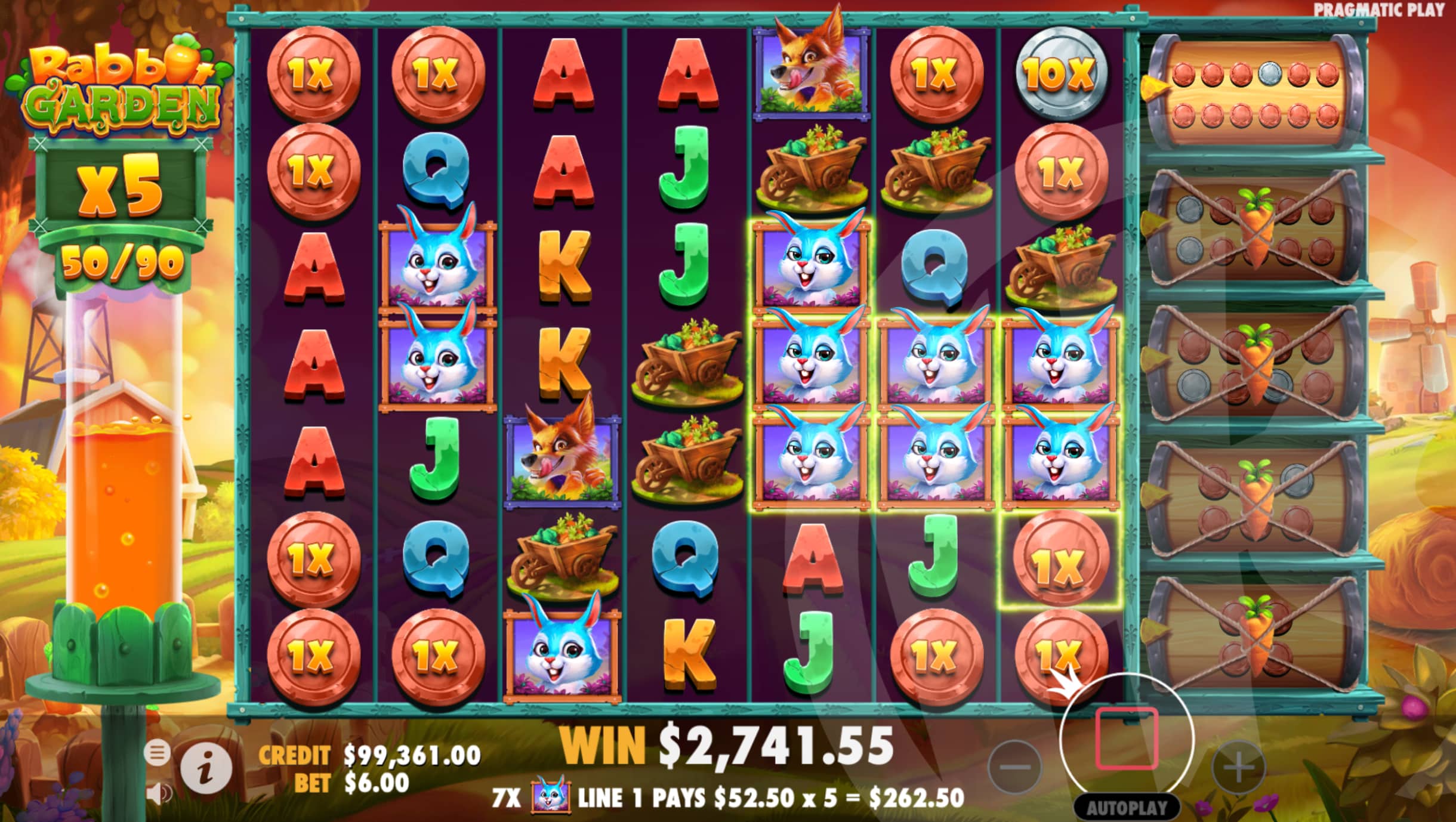 First Impression
There's no denying that Rabbit Garden is an upbeat release. Whilst other studios look to the darker side of life for inspiration, Pragmatic Play continue to do their own thing, creating slots that almost make you happy to look at. That's not to say Rabbit Garden is simply a pretty picture. This release takes what we know and love in the form of coins and adds its own twist into the collection, making it something that (to my knowledge) is completely unique.
The base game is much what you'd expect from a cluster pays release, with tumbling symbols helping to bring in most of the action alongside the chance of the rabbit jumping out to add coins to the grid. Things really kick off when Free Spins begin though, with multipliers up to x10 being applied to regular wins and coin values – and of course coin values available up to 1000x bet. Add on to this the progressive element to unlock additional spins and additional coin chances and you have something that is genuinely entertaining and exciting to play. The final cherry on top is a decent win potential – when the right combinations land, wins are possible up to 10,000x bet.
Finally, maths is highly (5/5) volatile, and RTP options are available up to 96.05%, so as always it's worth checking this. There's not much else to say on this one – if you like coin collections and cluster pays then Rabbit Garden is perfect for you.
*The screenshots taken of games reviewed on this site are taken from Demo Play, as reviews are often written before games are released for real play.