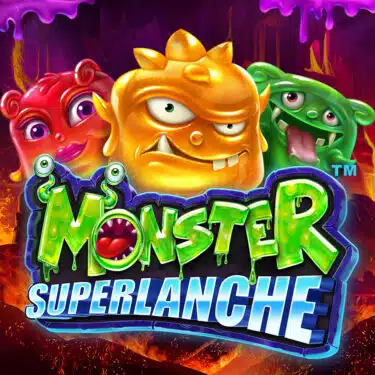 Monster Superlanche
Game Provider: Pragmatic Play
Release Date: Available Now
Monster Superlanche
Game Studio Pragmatic Play
Release date Available Now
RTP 94.05 - 96.03%
RTP Feature Buy 96.02%
Paylines Scatter Pays
Volatility High
Min Bet 0.20
Max Bet 125
Max. Win 5,000x
Rating 8.3/10
Pragmatic Play are kicking off the year with a return to one of the mechanics they're most known for, but one that doesn't really have a name. Of course, we're talking about the symbols pay anywhere style feature offered to us across the Pragmatic catalogue in releases like Sweet Bonanza, Gates of Olympus, Starlight Princess, Sword of Ares, Santa's Great Gifts, well… The list goes on. After visiting the North Pole and Greece amongst other destinations, we're heading to the home of some monsters today, in Monster Superlanche. With RTP options between 94.05% and 96.03%, this highly (5/5) volatile release comes with win potential up to 5,000x bet.
Visually, it's hard to really describe the landscape other than blue, purple, and rocky. It's really all about the monsters themselves – each of which seem to possess their own unique styling and personality. In many ways, Monster Superlanche would have worked well as a Halloween release, especially with the potion bottle Scatters, some dripping goo and the upbeat audio choice, but it still works outside of the spooky season. All in all, a pretty picture.
Monster Superlanche Base Features
Taking place across 6 reels, wins are formed on Monster Superlanche by landing at least 8 matching symbols anywhere on the reels. Symbols pay for 8-9, 10-11, 12-13, 14-15, 16-17, 18-19, or 20-30 of a kind, with little distinction between non premiums and premiums. The closest we can come is in recognising that five of the available symbols are slightly smaller, so we'll run with that. These symbols are teal, blue, purple, pink, and orange in colour, and award wins between 0.40 and 0.80x bet for 8-9 of a kind, increasing to win values between 20 and 50x bet for 20-30 of a kind. Larger symbols consist of yellow, green, red, and lighter orange monsters, awarding wins between 1.20 and 3x bet for 8-9 of a kind, increasing to win values between 100 and 300x bet for 20-30 of a kind. Finally, potion bottle Scatters are available – land 4 or more to trigger Free Spins.
Alright, so there are a few things to cover in Monster Superlanche, beginning with the Ante Bet. By betting an additional 25%, players can double their chance of landing Free Spins naturally, as there are more Scatters on the reels. In the 96.03% game setting, RTP takes a slight dip to 95.98% when activating the Ante Bet.
The next thing to look out for is the Tumble mechanic, which is a bit different to what you're probably used to. Rather than winning symbols being removed, on every spin all symbols not involved in a win will be removed from the reels, with all winning symbols dropping to the bottom of their respective reels and locking in. Empty positions are replaced by new symbols falling in from above. Tumbles continue until no new winning combinations are formed, or no new symbols are added to a pre-existing winning combination. During these steps, any Scatters which land will also lock into place.
Working hand in hand with Tumbles are reel multipliers. At the beginning of each spin, every reel is assigned a random multiplier. During Tumbles, if a reel is filled with locked in symbols, the reel multiplier becomes active, and is applied to the total win at the end of Tumbles. If more than one multiplier becomes active, their values will be added together before being applied.
Possible multiplier values are – 2x, 3x, 4x, 5x, 6x, 7x, 8x, 9x, 10x, 15x, 20x, 25x, 30x, 40x, 50x, 75x, or 100x.
Monster Superlanche Bonus
Land 4, 5, or 6 Scatter symbols anywhere on the reels to trigger 8, 12, or 20 Free Spins, respectively. If 4 or more Scatters land during Tumbles, the Tumble sequence will finish before Free Spins begin.
During Free Spins, things continue in the same way as the base game, with Tumbles and Reel multipliers working together to create wins. Land 3, 4, 5, or 6 Scatters during Free Spins to retrigger the feature and be awarded an additional +3, +8, +12, or +20 spins, respectively.
The main difference between the base game of Monster Superlanche and Free Spins is in the Total Multiplier that becomes active during Free Spins. When one or more reel multipliers are activated during Free Spins, the value will also be added to the Total Multiplier.
This value will then be reactivated the next time a reel multiplier is triggered, with the new value being added to the Total Multiplier, and the entire value being applied to the win. Similarly to the base game, if more than one reel multiplier is activated in one spin, their values will be added to the Total Multiplier in sequence – they will not multiply together.
Possible multiplier values remain the same in Free Spins – 2x, 3x, 4x, 5x, 6x, 7x, 8x, 9x, 10x, 15x, 20x, 25x, 30x, 40x, 50x, 75x, or 100x.
Finally, players in appropriate regions can skip straight to the action with the option to Buy Free Spins, wherein for a cost of 100x bet, a random number of Scatters can land guaranteeing Free Spins – 4, 5, or 6. In the 96.03% game setting, RTP will be 96.02% when buying Free Spins.
The maximum win available in Monster Superlanche is 5,000x bet. If the sum of a single game round exceeds this, the game round will end and 5,000x bet will be awarded.
First Impression
These pay anywhere releases are arguably the most popular in Pragmatic Play's catalogue, whilst also being the most unique thing the team has to offer. When you have a studio that produces so many games, it really is expected that we'll see a host of mechanics, features and themes, but this is one that time and time again receives praise from players. In the case of Monster Superlanche, it's not actually a follow on from the likes of Sweet Bonanza, but you find yourself describing it as 'it's like Sweet Bonanza' because you're not quite sure what else to say.
Regardless, Monster Superlanche comes with all the making to become a fan favourite. In particular, the team have further developed this mechanic to add their own twist, which is presumably where the word 'Superlanche' comes from – the reel multipliers that become active when filling a reel. This adds a new level of excitement beyond previous releases like this, where instead of waiting on multiplier values dropping in suddenly and randomly, you have an aim, and you know exactly what you need. This is then taken to a higher level again during Free Spins, where the Total Multiplier value can continue to grow, similarly to Gates of Olympus or Starlight Princess. Remember – reel multipliers can be as high as 100x, so there are some lucrative options available. When the right combinations land, wins are possible up to 5,000x bet, but maths is highly (5/5) volatile, so this won't necessarily be an easy feat to achieve. Finally, RTP options are available between 94.05% and 96.03%, so as always it's worth checking this.
And that's it. I know I said it wasn't a follow on, but I'm confident in saying that if you're a fan of Sweet Bonanza, Gates of Olympus or anything similar, you'll like this one.
*The screenshots taken of games reviewed on this site are taken from Demo Play, as reviews are often written before games are released for real play.