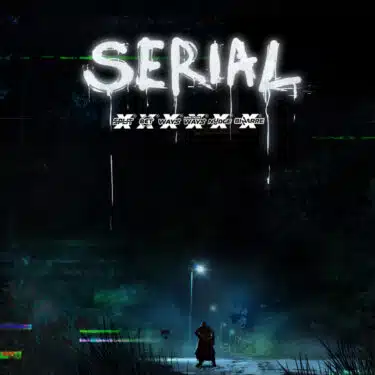 Serial
Game Provider: Nolimit City
Release Date: Available Now
Serial
Game Studio Nolimit City
Release date Available Now
RTP 92.05% - 96.07%
RTP Feature Buy 96.38%
Paylines 243+
Volatility Extreme
Min Bet 0.20
Max Bet 120
Max. Win 74,800x
Rating 9.4/10
Provider Nolimit City excel when it comes to gritty, gruesome releases – their previous release, Mental, is one of the prime examples of this. The team seem to do their best work when they get down and dirty with fear-inducing themes not many other providers would touch. There's not much more fearsome than the idea of a serial killer, especially one who hunts for blood every night with little regard to who he kills, and now Nolimit City draw on that fear in Serial. Focusing around the brutal 'Bodycam Butcher', players need to know one thing about this killer – he has no fear or mercy, so keep your wits about you. With wins available up to 74,800x bet, this extremely (10) volatile release comes with RTP options up to 96.07%, and is loaded with Nolimit City trademark mechanics – xSplit, xBet, xWays, Infectious xWays, xNudge, and xBizarre, to be specific.
Visually, everything in serial is quite dark, which is more or less exactly what you'd expect. We're in an extremely dingy bathroom, with a sink, mirror, toilet, and bath. Oh, and there's lots of blood over the place. At best guess, this is where the victims are butchered. As usual, there's plenty bringing the theme to life, including the ways to win scrawled on the mirror, and forensic markers in view. Music is an interesting choice for this kind of release, but it definitely works – both to tie the entire thing together, but also to highlight the skull of the sound designers the team have on board.
Taking place across 5 reels, wins are formed on Mental by matching at least 3 symbols on adjacent reels, beginning with the leftmost reel. Each reel begins with 3 active symbols on it, with the rest hidden behind Enhancer Cells. We'll explain how the Enhancer Cells work soon, but for now all you need to know is that Serial begins with 243 ways to win. Symbols available begin with non premiums, with hard hats, spades, gloves, a chain from a chainsaw, and what looks to be a pair of pliers – each splattered with blood. Land 3 of a kind of any non premium to see wins between 0.10 and 0.20x bet, increasing to values between 0.50 and 0.90x bet for 5 of a kind. At the premium end, we have a skeleton (in what looks to be a well, or deep hole in the ground – classic), a frightened woman (or prisoner, I guess), a surgeon, a special agent, and the Bodycam Butcher himself. I can't tell if the surgeon is meant to be in on it, but he looks pretty grim too, so maybe he does the victim dissecting. Land 3 of a kind of any premium to see wins between 0.30 and 0.50x bet, increasing to values between 1 and 5x bet for 5 of a kind. Finally, regular Wilds are available, substituting for all regular pay symbols.
So the first thing to cover is the xBet. By betting an additional 20%, players guarantee a Scatter symbol on reel 2. Symbol payouts are not affected by this bet increase, however RTP takes a slight dip to 96.04% when xBet is activated (based upon the overall RTP option of 96.07%).
Next up is the Respin feature, which works hand in hand with Enhancer Cells. On every spin, all symbols involved in a win will stick in their position and award a respin to further increase the win. If the win is improved upon, an additional respin will be awarded. On each respin, the top and bottom Enhancer Cells of one reel will open – beginning with the leftmost reel, and moving towards the rightmost reel. Enhancer Cells can reveal one of the following:
Wild – a regular Wild symbol.
Character Symbol – a premium symbol.
xWays – reveals 2-4 of the same symbol. This can be any symbol, but will always reveal the same as any other xWays symbols that are present.
xNudge Wild – a Stacked Wild symbol that nudges to fully cover the reel, with a multiplier attached that increases by +1 for each nudge.
When the Enhancer Cells of reel 5 are opened, it is possible to reveal an Infectious xWays symbol. When an Infectious xWays symbol is revealed, it will infect all other occurrences of itself on the 3-3-3-3-3 reel area (this excludes Enhancer Cells), and expand them to the same size.
When all Enhancer Cells have been opened 3,125 ways to win are active.
There are plenty of Wild symbol opportunities in the Serial base game, beginning with xNudge Wilds. We did already mention this previously when discussing Enhancer Cells, but let's recap. xNudge Wild symbols are a full reel Wild, that will always nudge to fully cover the reel they have landed upon. For each nudge they make to complete this process, their multiplier is incremented by +1. Whilst xNudge Wilds can be revealed through Enhancer Cells, they can also land organically on reels 2-4.
Alongside xNudge Wild, players can land xSplit Wilds. This is a x2 Wild symbol, which only lands on reel 5. When it does land, it splits all symbols in the row to the left of it into two symbols. xSplit can split Scatter symbols, which doubles the number of spins the Scatter will hold. If an xSplit lands on the same row as an xWays symbol, or an xNudge Wild is in view, the xSplit Wild will double the size of xWays symbols, and double the multiplier of xNudge Wild symbols. xSplit symbols will wait until all respins have finished before splitting.
There is one final thing to cover in the Serial base game, and it's quite interesting – the xBizarre feature. Basically, if the sum of a single game round exceeds 18,700x bet, you will be given a 50/50 chance of being awarded an additional 18,700x bet – up to three times. If the wrong choice is made, previous winnings will still be paid.
Serial Bonus
Land 3 Scatter symbols to trigger The Search. Each Scatter will have carried a number – the sum of these numbers is awarded as the spin count. During The Search, additional Enhancer Cells are awarded to reels 2-4, making the reel area 3-5-5-5-3, increasing ways to win from 243 without Enhancer Cells to 1,125 without Enhancer Cells – but remember this can climb much higher with the help of xWays. Apart from this, everything very much continues as normal. It is possible to upgrade The Search to The Kill by landing an xSplit Wild on reel 5. This will also award an additional +2 spins.
Land 3 Scatter symbols and an xSplit Wild to trigger The Kill. There's nothing too complicated about either bonus round in serial. The Kill is the same as The Search, with one distinction – the xSplit Wild remains on reel 5, and acts as a jumping Wild, moving to a new position on this reel every spin.
Players in appropriate regions can take advantage of the following Nolimit Bonus options:
The Search – 78x bet (96.27% RTP)
The Kill – 480x bet (96.38% RTP)
Lucky Draw (70% The Search, 30% The Kill) – 279x bet (96.38% RTP)
These RTP values above are based upon the overall RTP option of 96.07%.
The maximum win available in Serial is 74,800x bet. If the sum of a single game round exceeds this, the game round will end, and 74,800x bet will be awarded.
First Impression
After the team's recent release, Little Bighorn, it seems Nolimit City are back on the track they forged for themselves in 2021. There was nothing wrong with Little Bighorn of course but, although these releases aren't for everyone, the studio do their best work when they tackle traditionally unpleasant themes. So much so, that you kind of forget the theme would be considered unpleasant, because the entire experience becomes so immersive. Serial is a great example of this.
There's nothing overtly complex in the game play. Respins, Enhancer Cells, xWays, xNudge, and xSplit all work together to create something exciting that consistently keeps you on tenterhooks. A quick glance at the information provided can seem overwhelming, but there isn't much here that you won't be able to wrap your head around, and after about 25 spins, you'll have it sussed. RTP sits comfortably at 96.07%, however 94.08% and 92.05% settings are available, so it's worth checking this. Other stats are as follows:
Total RTP – 96.07% | 94.08% | 92.05%
RTP Main Game – 62.43%
RTP Bonus – 32.49%
Hit Frequency – 27.59%
Max Win Frequency – 1 in 12m rounds
Win 100x bet – 1 in 888 spins
Free Spins – 1 in 243 spins
When we move into the bonus (The Search) things don't necessarily get an enormous amount 'better'. There's no multiplier or anything like that, but ways to win are increased, and things definitely feel more exciting, so this is probably down to the maths model behind this – which is extremely (10) volatile, by the way. In the super bonus round (The Kill) things are kicked up a notch with a jumping xSplit Wild. When the right combinations land, wins are possible up to 74,800x bet, with the help of xBizarre.
This xBizarre feature – which offers players who win 18,700x bet the chance to be awarded this win again, up to three times – would be my only gripe visually. Although a cool feature, it didn't feel that clear to me that a choice was available – I thought it was just one of the big win graphics. Oh and speaking of those – they include a censored image of someone masturbating, so that was something. Other examples include newspaper clippings of a Renowned Psychiatrist arrested for murder – maybe acting as some inspiration for the Bodycam Butcher.
All in all, Serial does what you hoped for and then some, and brings Nolimit City back to the forefront of the sector by going where no one has gone before.
*The screenshots taken of games reviewed on this site are taken from Demo Play, as reviews are often written before games are released for real play.