When we consider the perfect setting for a slot game, what do we think of? For some, it might be the sands of Egypt, or the plains of Ireland, but that may just be because a great deal of the slots available to players take on Egyptian, Irish, or even Nordic themes. This month, Nolimit City are turning away from the generic settings for releases, just as we've come to expect of them, to bring us their most interestingly conceptualised release so far, taking players into an asylum in a country area where only doctors and nurses dare to go, 'for a mental experience – truly mental'. With a character all too similar to the infamous Hannibal Lecter making a debut as Patient 1, this institution is not for the faint hearted, with wins available to match – up to 66,666x bet. Backed up with extreme volatility levels (10/10), a hit frequency of 1 in 3, and a default RTP of 96.08%, let's take a look at what features can make Mental go really crazy.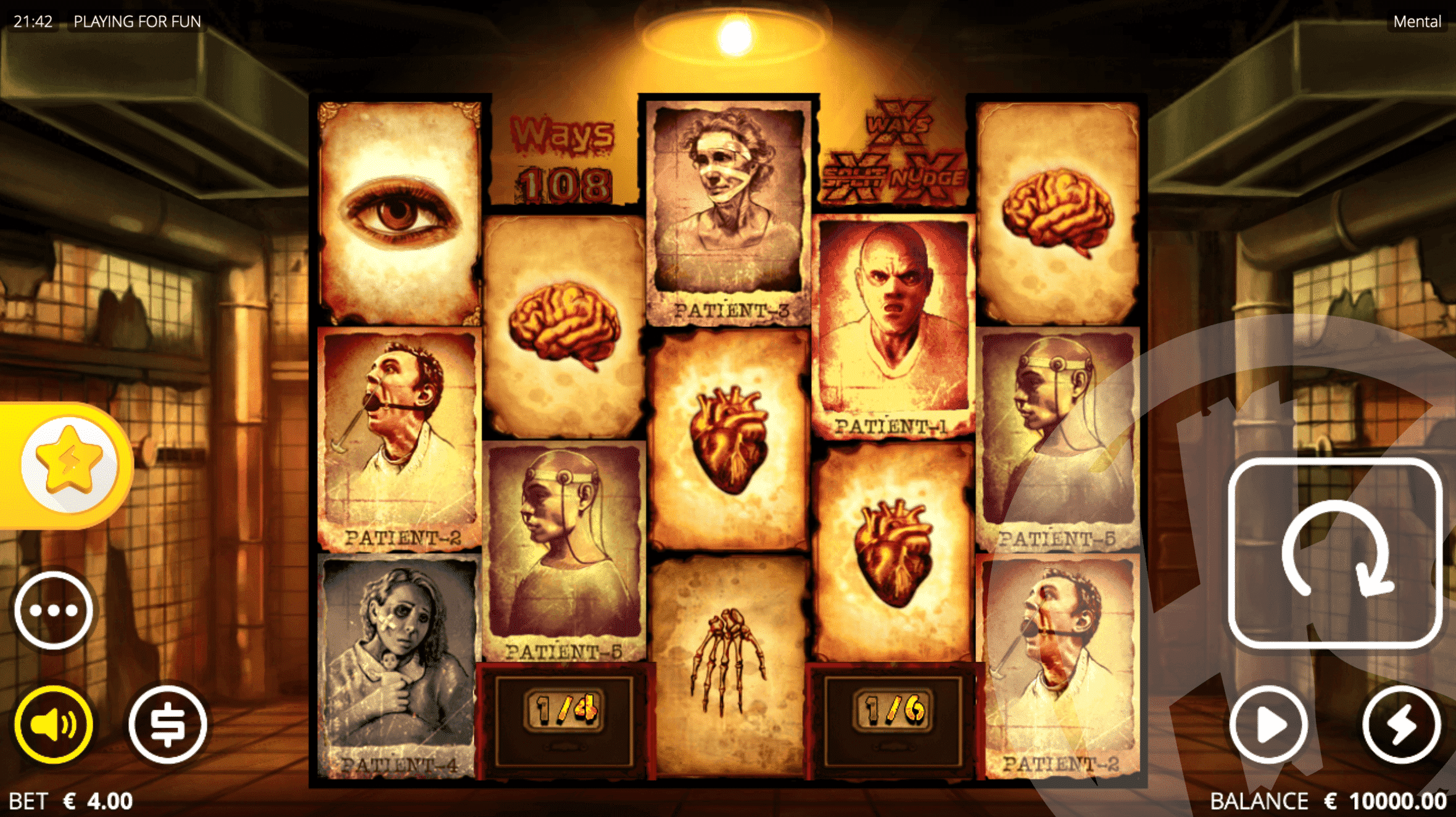 Visually, Mental takes place within a dark, damp and dingy tile-lined room, with industrial sized pipes in view and noticeable damage to the walls – maintenance is the last concern for patients or physicians here. The reels sit towards the front of the room, with some orange-fluorescent lighting flickering from above. The reels themselves look not unlike edits the first Instagram users would create, pushing the sepia toned effects a bit too far, but the whole thing works together, helping to give the impression of old, forgotten patient files, slightly ripped around the edges. Audios are tense and atmospheric, evoking a sense of panic, making this feel like a hospital we desperately want never to have to visit.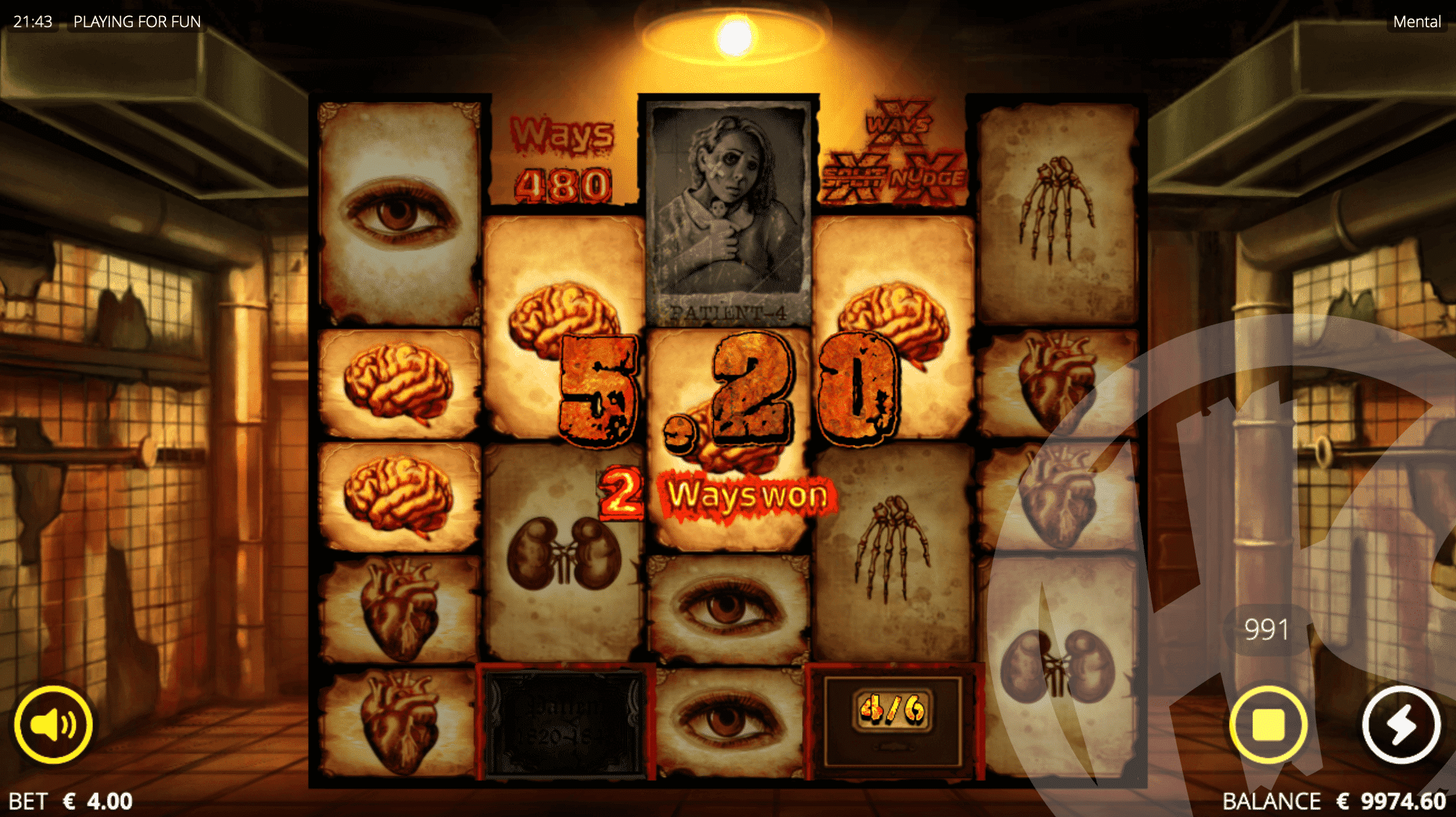 Mental Base Features
Taking place across 5 reels, Mental begins with 108 ways to win, but this can be increased thanks to the host of features available. Wins are formed by landing 3+ matching symbols anywhere on consecutive reels beginning at the leftmost reel, regardless of position or size. Speaking of symbols, the pay table looks like the lineup for a decent horror film, with 5 organ symbols coming in at the lower end – skeletal hands, kidneys, hearts, brains and eyes, paying between 1 and 1.25x bet for 5 of a kind win. At the premium end, we meet the patients. Given no names, we instead come to know them as Patient 1 through 5, each dressed in plain white hospital gowns, 'in search of an epiphany and a clear mind', as we learn from the team responsible for this insanity. Patient symbols award payouts between 1.5 and 5x bet for 5 of a kind wins, with Patient 5 being the least lucrative, and Patient 1, our Hannibal Lecter type character, being the highest paying. Finally, Wild Skulls substitute all symbols except Scatters, represented by Scorpions, Spiders, and Dead Patient.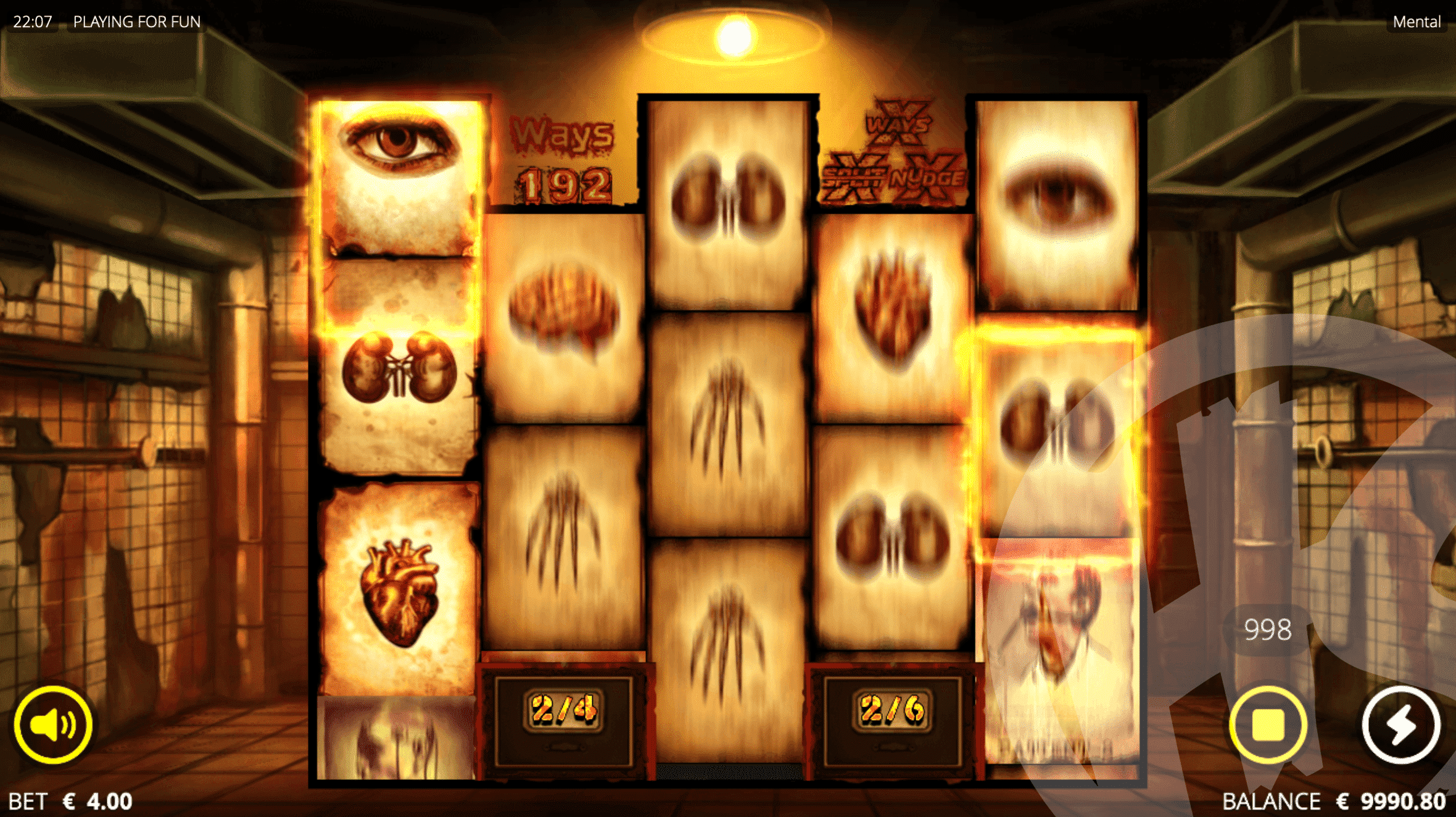 Features help to elevate Mental from just looking crazy, to being full of crazy potential – including Fire Frames, Mental Transform, Enhancer Cells and three different free spin features.
First, at the beginning of each spin within the main game, between 1-13 random positions on the reels will be given a Fire Frame. Any symbol that subsequently lands in a Fire Frame will split into 2 parts.
Landing a Spider symbol on reel 2 or reel 4 in the main game will trigger the Mental Transform feature, with each Spider symbol revealing any of the following symbols:
xWays
xSplit
Dead Patient
Wild
Patient Symbol
The Dead Patient feature will be activated if 2 Dead Patient symbols land, and in doing so reveals one of the premium patient symbols with a random multiplier: x5, x10, x15, x30, x50, x100, x200, x500, x1000 or an incredible x9999. The value is then multiplied by the amount of symbols present, with no concern for the position or reels of the symbols. Landing a Dead Patient symbol which is then split into 2 by the Fire Frames will not count as 2 symbols.
As mentioned, Mental makes use of some of Nolimit City's pre-existing mechanics; xNudge, xWays and xSplit, the latter of which was first showcased in xWays Hoarder xSplit, released in June 2021. Bringing these mechanics into the action is aided by Enhancer Cells, similar to those in San Quentin. Located at the bottom of reels 2 and 4, Enhancer Cells are activated with 4 and 6 Fire Frames, respectively – with the same Fire Frames going towards both counters. Once activated, Enhancer Cells can reveal:
Patient Symbol: One of the 5 premium patient symbols.
Dead Patient: The regular dead patient symbol.
Wild: The regular wild symbol.
xWays: Reveals 3 of the same symbol, thus expanding the reel height. xWays can reveal any symbol except Scorpions, Spiders and Dead Patient symbols.
xSplit: Splits 1 symbol on each reel to double those symbols, then splits itself into 2 wilds.
xNudge Wild: A wild reel that always nudges to be fully visible on the reel. For each nudge the wild takes to be fully visible, the multiplier increments by +1. Several wild multipliers add together.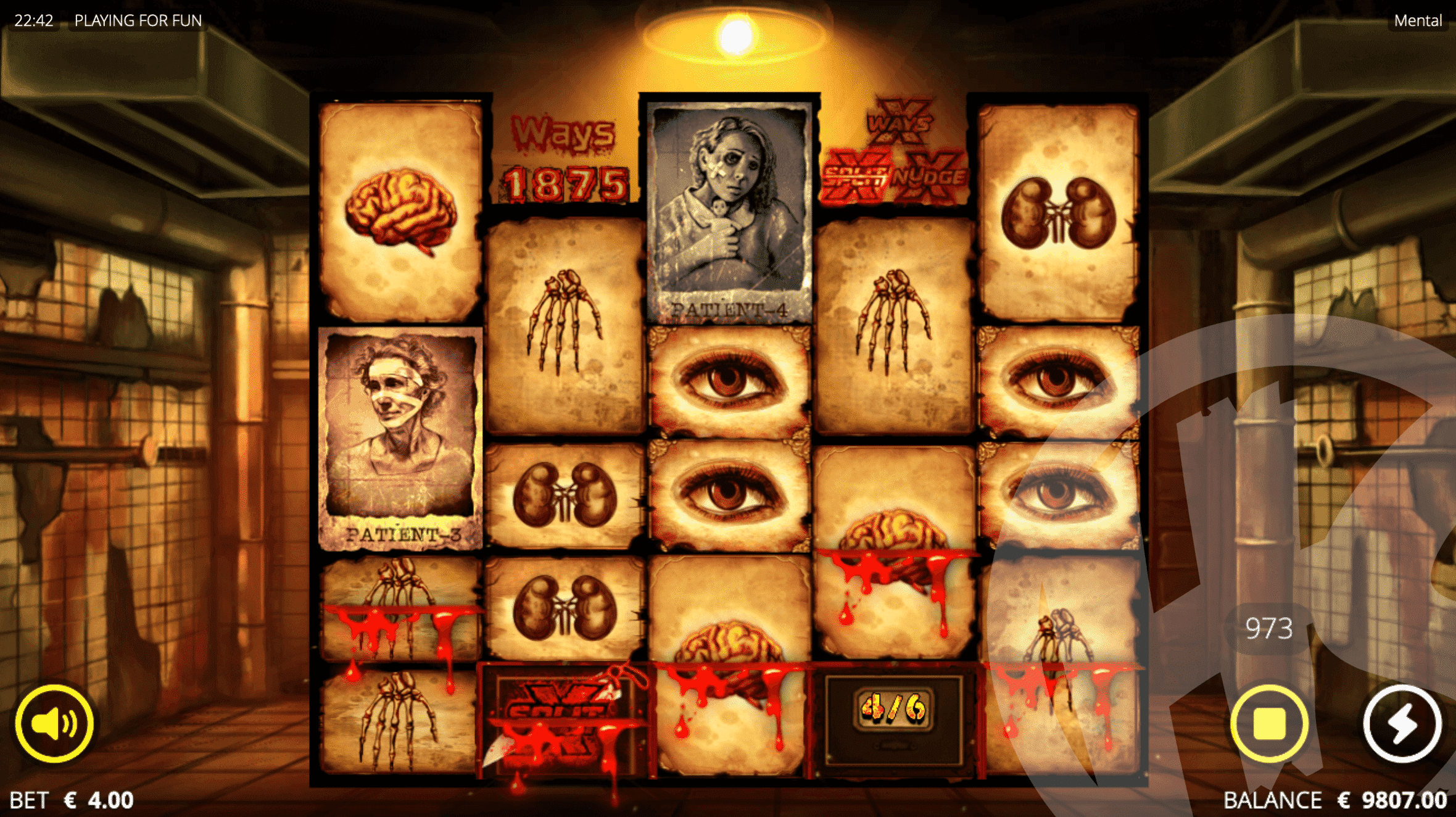 Mental Bonus
Landing 3 Scorpion Scatter symbols triggers the first of 3 free spin features, awarding 8 Autopsy Free Spins. On the triggering spin, any Scatters which land within a Frame Frame award +1 free spin. During Autopsy Free Spins, up to 5 Fire Frames can land on each spin, and once they have landed, they will stick for the duration of free spins. Autopsy Free Spins can be upgraded to Lobotomy Free Spins or Mental Free Spins, by landing 1 or 2 Spider symbols respectively. In addition, either +1 or +2 free spins are awarded, depending on the upgrade.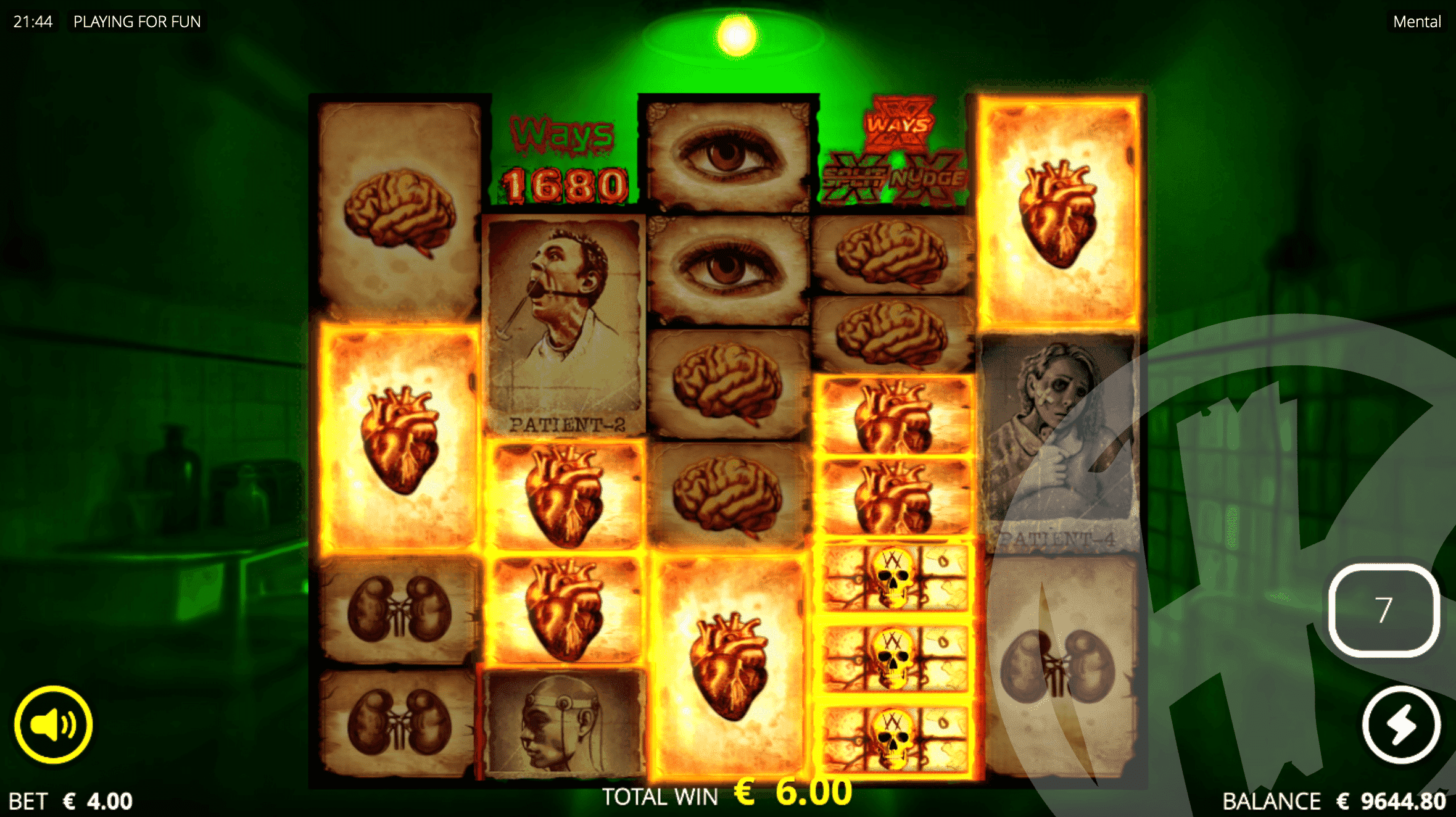 Landing 3 Scorpion symbols and 1 Spider symbol awards 9 Lobotomy Free Spins, with any triggering symbols that land within Fire Frames awarding +1 free spins. During Lobotomy Free Spins, up to 5 Fire Frames can land on each spin, and once they have landed, they will stick for the duration of free spins. In addition to this, Spider symbols are sticky, triggering the Mental Transform for each spin.
A Dead Multiplier is active during Lobotomy Free Spins, wherein the highest multiplier from each Dead Symbol is collected with it's 'count' – which signifies the number of a particular Patient symbol that is revealed. For example: if 3 Patient 1 symbols are revealed with x5, x10 and x15 multipliers, Patient 1 would be collected with a multiplier of x15 and a count of 3.
Once collected, any future occurrences of the respective symbol landing on the reels would be awarded the multiplier, up to the point the count runs out. Each time the Dead Multiplier is transferred to a Patient symbol, the Count decreases by 1. The Dead Multiplier does not transfer to symbols revealed by Dead Patient. For example: if Patient 1 has a multiplier of x15 and a count of 3, the first 3 occurrences of Patient 1 will receive a x15 multiplier.
Lobotomy Free Spins can be upgraded to Mental Free Spins by landing an additional Spider symbol. Upon upgrading, +1 free spins will also be awarded.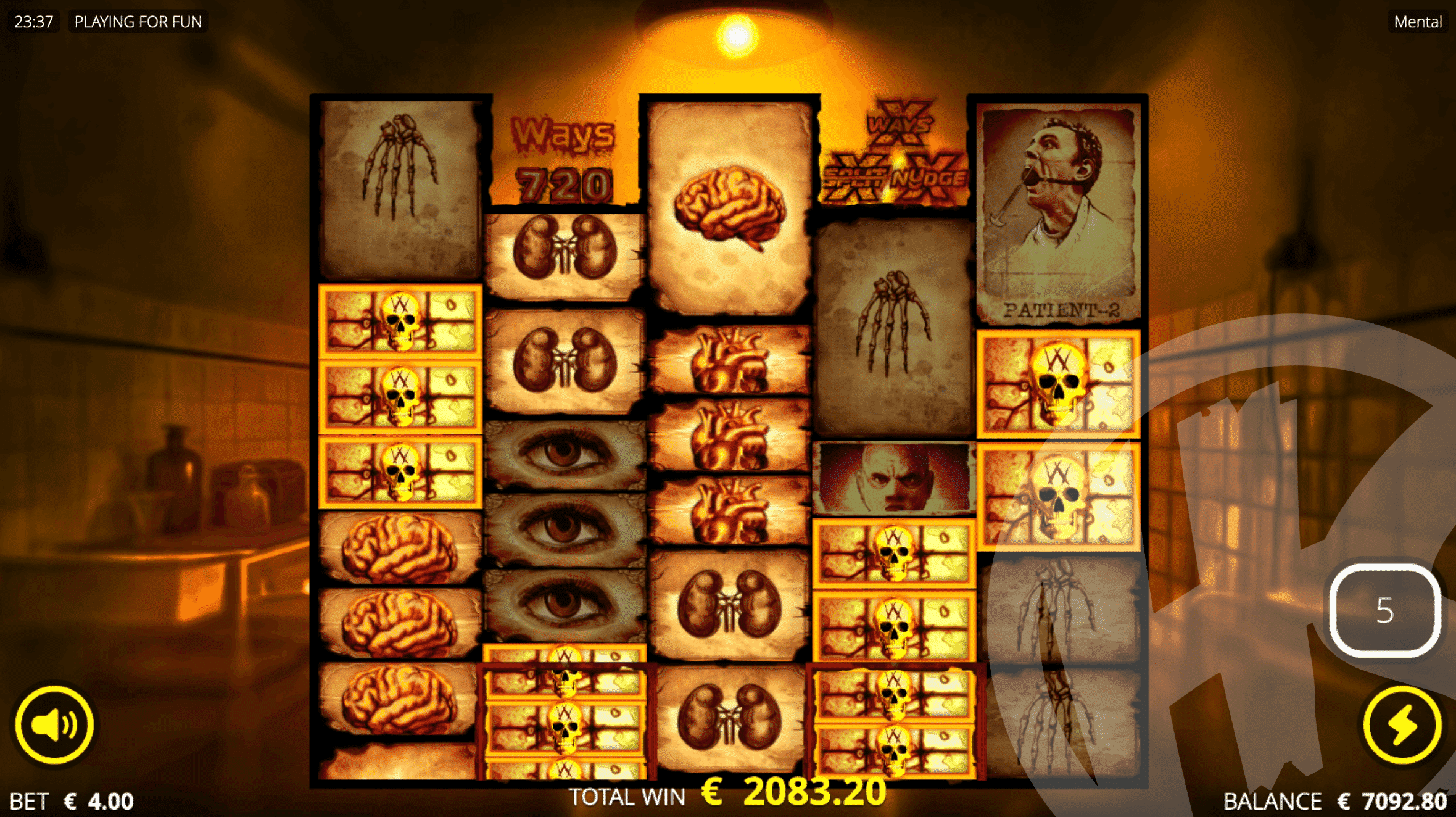 Finally, landing 3 Scorpion symbols and 2 Spider symbols awards players 10 Mental Free Spins, with any triggering symbols that land within Fire Frames awarding +1 free spins. During Mental Free Spins, up to 5 Fire Frames can land on each spin, and once they have landed, they will stick for the duration of free spins. In addition to this, both Spider symbols are sticky, triggering the Mental Transform for each spin, and the Dead Multipliers will never decrease after transferring to Patient symbols – essentially the most mental bonus available.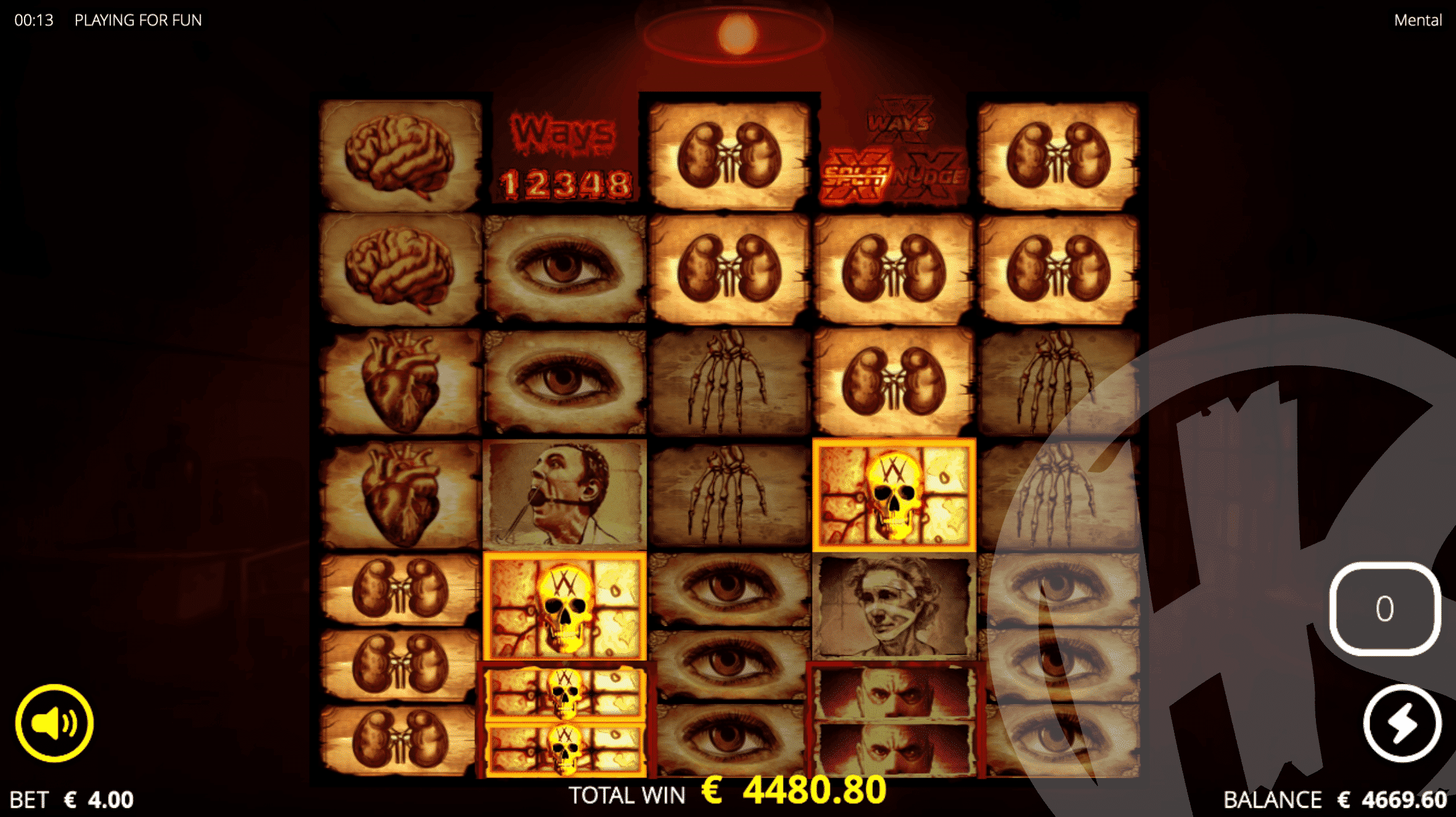 Players in appropriate regions can fast-track the action and opt straight for a Nolimit Buy, with the option to buy any of the three free spin features:
Autopsy Free Spins: 80x bet (max bet €100 | 96.12% RTP)
Lobotomy Free Spins: 200x bet (max bet €40 | 96.42% RTP)
Mental Free Spins: 1,000x bet (max bet €10 | 96.74% RTP)
The maximum win available in Mental is 66,666x – also known as '!!!This is Mental!!!'. Upon triggering a win of this size, any active feature will end. The probability of landing the maximum win is 1 in 18million spins.
According to the information available, a Lucky Draw Feature Buy will be available, with an RTP of 96.51%, however this was not listed as an available buy option in the Nolimit Feature Panel Area. This review will be updated once this information is confirmed.
First Impression
By this stage in the game, Nolimit City are known for going against the grain, with Mental continuing this trend, and then some. You'll not find another release available that takes place in a mental asylum, much less with imagery that would give the faintest of hearts nightmares. This is a dark release from the team, but one that is sure to have players talking. Forgetting for a moment how strange the theme actually is, we to admit that, unsettling as it may be for some, the shoe fits – the visuals, backing track, sound effects, flickering lights, even the big win count up finishing in a second or two of eery silence – these all add to the unusual atmosphere. It would hardly be surprising if someone playing this release found themselves jumping at an external noise once engrossed, although I half suspect the team at Nolimit love the idea of someone becoming so involved in their creativity they forget where they are momentarily.
Setting the thematic concept aside, and Mental is statically solid. Default RTP is a nice 96.08%, although a lower version of 94.20% is available, and the maximum win is an inviting 66,666x bet – appearing on average 1 in every 18million spins, which might sound crazy, but if past events are anything to go by, we'll be seeing evidence of players hitting this sooner rather than later. Volatility is an all time high, listed as 'Extreme (10/10)', although a hit frequency of 1 in 3 does somewhat soften this blow. As usual, Nolimit keep things exciting with the array of feature buys available, ranging from 80x – 1,000x cost, although players in restricted regions will have no choice but to spin it out.
Consider features, and there's plenty happening. With a combination of xSplit and xWays working alongside sticky Fire Frames, which help to expand win ways, even a regular 3 Scatter feature has the potential we crave, notwithstanding that it may be confusing at first. Of course, xNudge are also available with incrementing multipliers per nudge, although in our demo experience we didn't see any of these – that may just be bad luck though, rather than a case of being less frequent. Nevertheless, with the host of features that are available, it's clear to see how Mental is capable of producing huge wins – insane wins.
*The screenshots taken of games reviewed on this site are taken from Demo Play, as reviews are often written before games are released for real play.