Thunderkick are taking us out to sea in their next release, with Shifting Seas. There'll be no storms or shipwrecks in this release, as the team have done everything in their power to ensure a smooth journey, even setting off on a sunny day. The cheerful look of this release doesn't stop with aesthetics – there are a host of Wild features to keep your spirits up, and a Wild Reel free spins round to take the pressure off. The biggest risk comes from the highly volatile maths model, but this is slightly offset with wins available up to 15,000x bet, and a default RTP of 96.15% (versions as low as 90.0% are also available). Excuse the pun, and let's dive in.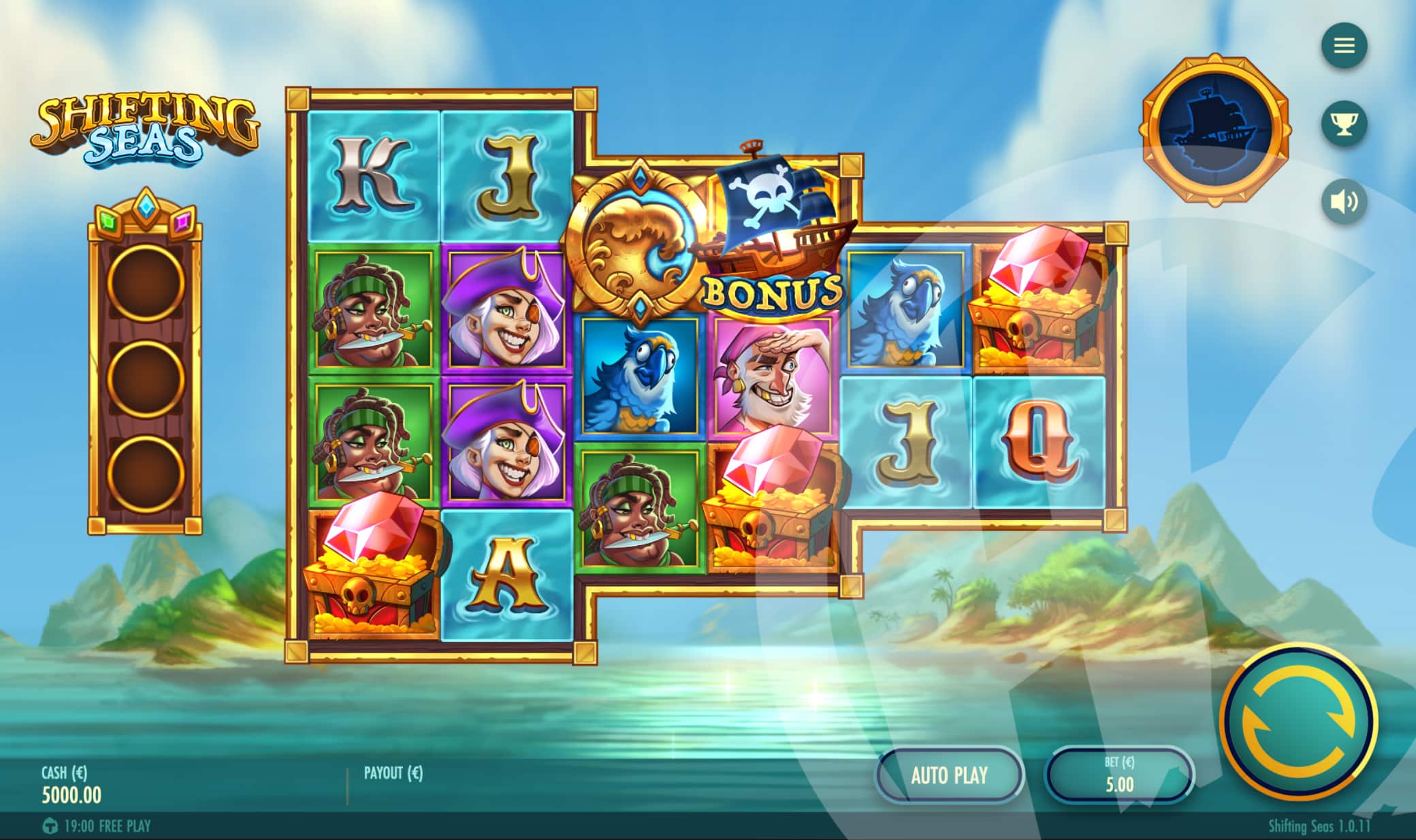 Visually, well of course, we're at sea – where else would we be? Things are kept simple with a picturesque island backdrop and close to clear blue skies. When things are done well, simple is more than enough, and things have been done well here – all the focus is on the reels, embellished in gold. Audios are the typical pirate-esque style you'd expect. I'd probably mute it, but hey, we've all got different tastes.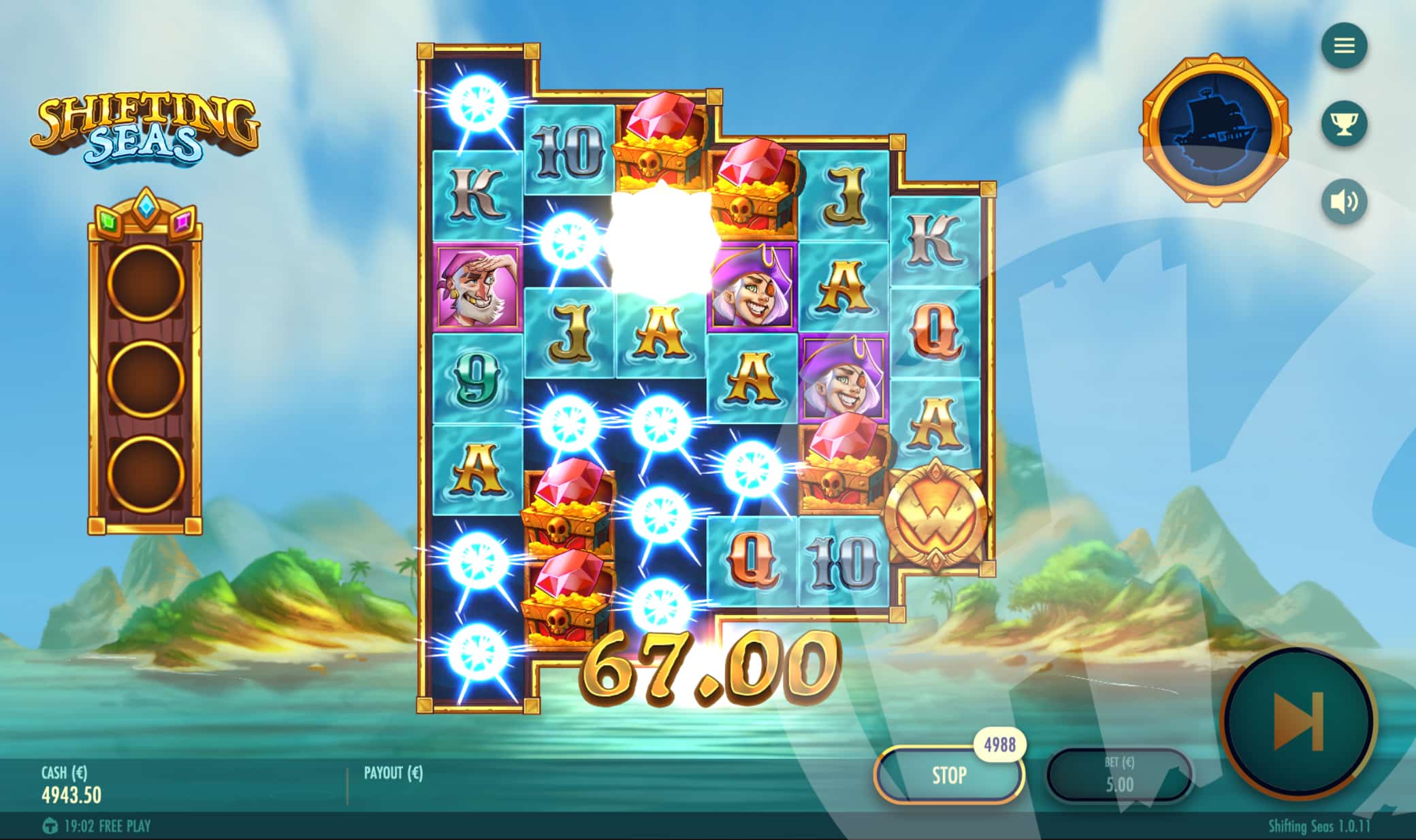 Shifting Seas Base Features
Taking place across 6 reels, wins are formed on Shifting Seas by matching at least 3 symbols on adjacent reels, beginning at the leftmost reel. We begin with 576 ways to win, but this can increase as high as 117,649 thanks to the Boost Shift feature, which we'll cover below. For now, we'll focus on symbols available, beginning with non-premiums – 9s, 10s, and Js award players with wins between 0.10 and 0.50x bet, for matches between 3 and 6 of a kind, whilst Qs and Ks award wins between 0.20 and 0.70x bet, again for 3-6 of a kind. Rounding up the lower end of the pay table are As, paying between 0.30 and 0.80x bet, for wins between 3 and 6 of a kind. Premiums begin with blue parrots, awarding wins between 0.40 and 1x bet for matches between 3 and 6 of a kind. We then meet 3 character symbols – pink, green and purple in colour, paying between 0.40 and 0.50x bet for 3 of a kind, increasing to values between 1.2 and 1.8x bet for 6 of a kind matches. Next up it's a treasure chest with a giant ruby inside – landing 3-6 of a kind will produce wins between 1 and 5x bet. Rounding up the pay table are 4 Wild symbols – one regular, and three special, each of which trigger a feature. We'll explain more on the features below, but for now all you need to know is that landing 6 of any Wild will award wins of 5x bet, and they substitute for all symbols except Scatter symbols.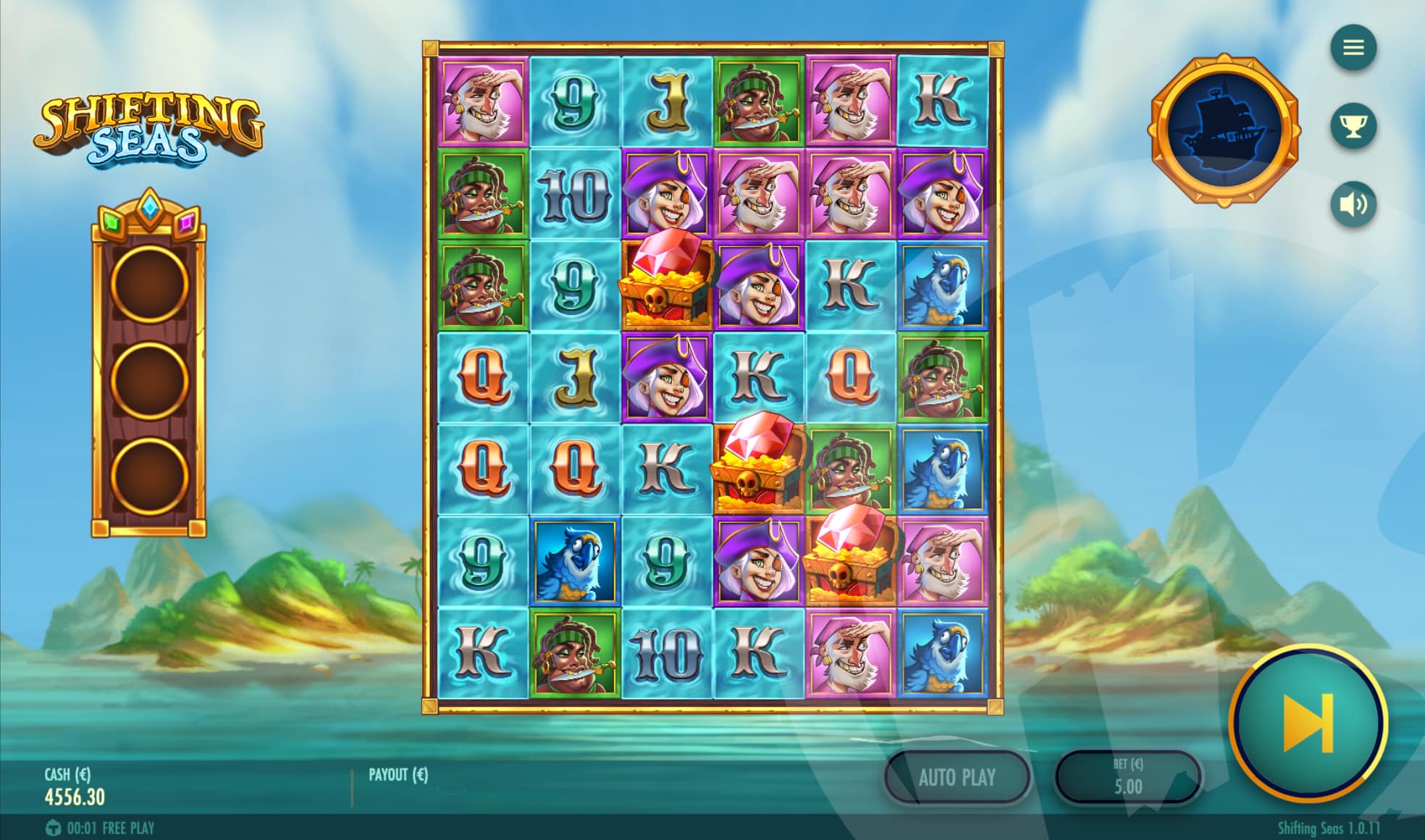 There are a host of features to wade through in Shifting Seas, beginning with the Avalanche Feature. On any given win, all symbols involved in the win will be removed from the reels. At this point, any symbols directly above a removed symbol will drop down into its place. When all existing symbols have filled any open positions, new symbols will then drop in from above to fill the rest of the reels out. This gives the opportunity for more wins to be formed. Avalanches continue until no more wins can be formed.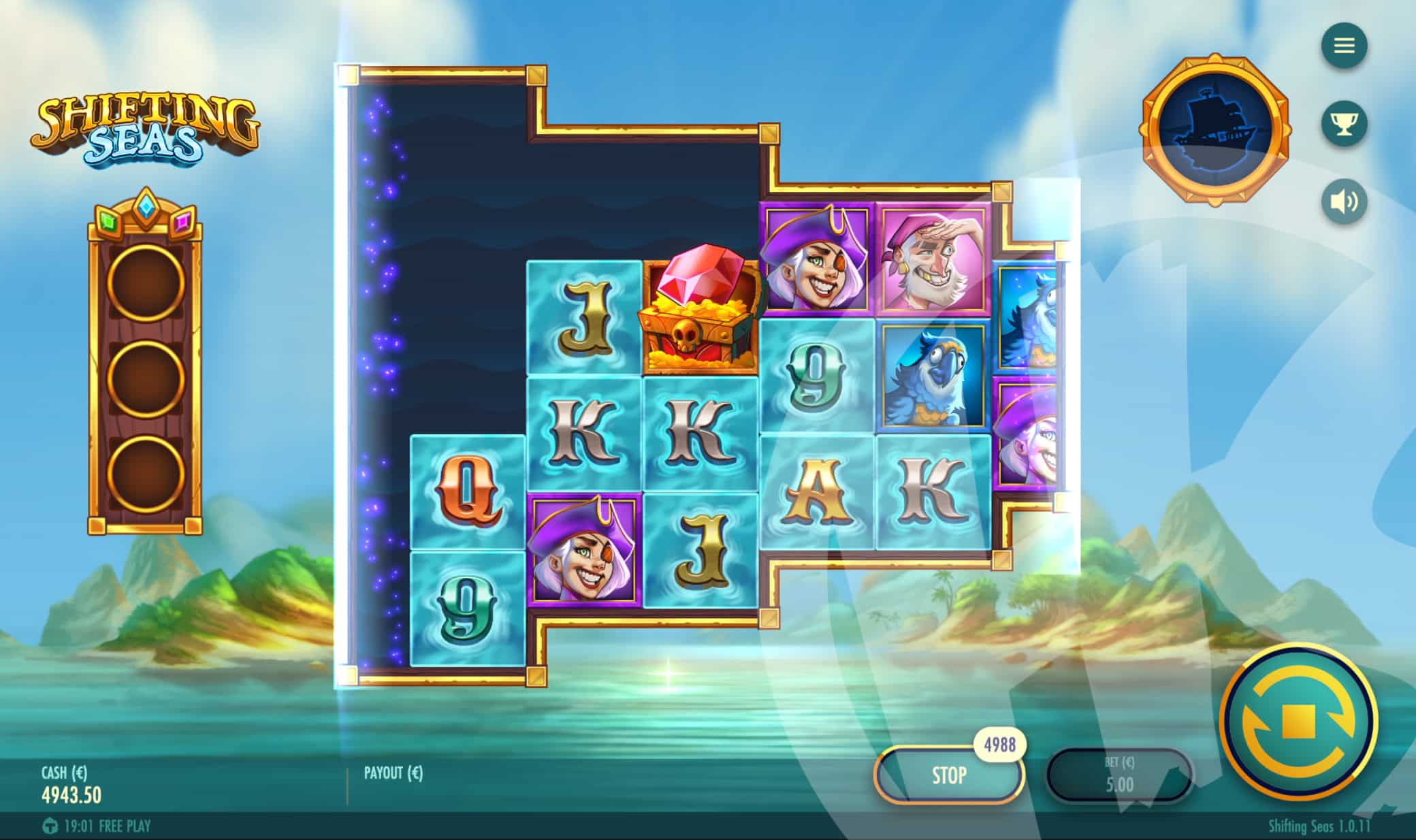 Working hand in hand with the Avalanche feature is the Shift Win/Boost Shift Feature. Every win triggers this feature, in which the rightmost reel is removed, and a new reel is placed on the lefthand side. This is how we see an increase in the ways to win – every second reel grows in height by 1 symbol. Reels begin at a size of 4-4-3-3-2-2, so the first additional reel added to the left will be 5 symbols, followed by another reel 5 symbols high. The next two reels will contain 6 symbols, and any reels that follow will contain 7 symbols. Reels cannot contain more than 7 symbols, but once you have reached this point you can continue to replace the rightmost reel until all reels are 7 symbols tall – once this happens 117,649 ways to win are available, reels continue to be replaced, but there will be no positions added.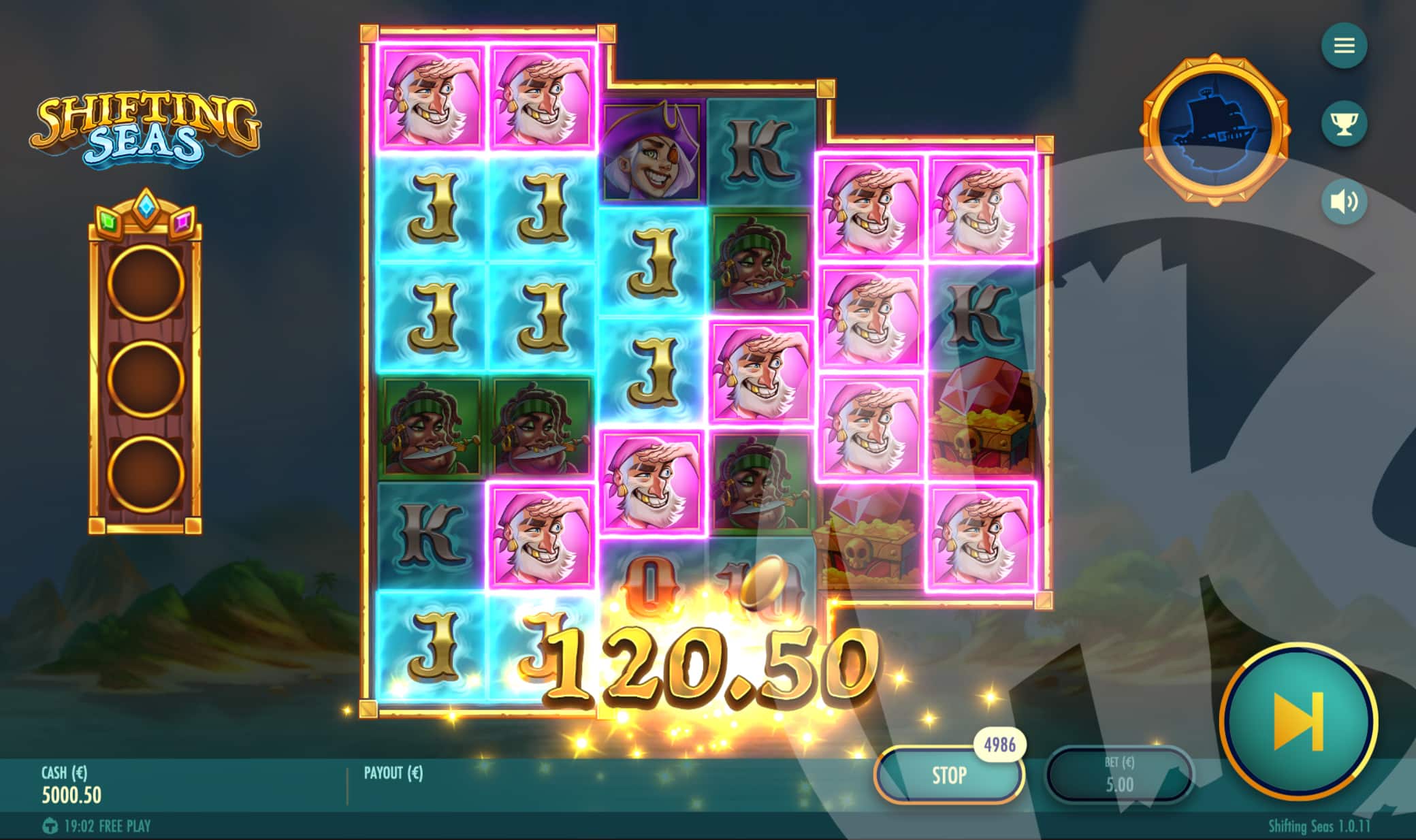 Next up are the Special Wild symbols available, each of which trigger their own individual feature. To activate a Special Wild, they need to either be part of a win, or pushed off the reels – this happens when the Wild has not been used and is on the rightmost reel when the reel is removed. There are 3 Special Wilds available:
Green (Wild Surge) – randomly transforms 1-3 symbols on any reels into regular Wild symbols.
Blue (Boost Shift) – automatically triggers a new reel on the left hand side, pushing the rightmost reel off. The leftmost reel before the Boost Shift will be replicated onto the new reel, rather than new symbols dropping in.
Pink (Symbol Rush) – randomly transforms 3-8 symbols on any reels into new, matching symbols.
In spite of the fact they all trigger individual features, each Wild symbol is considered the same in pay ways, and substitutes all symbols except Scatter symbols. When a Special Wild symbol has been activated, its feature will trigger on the next symbol drop, before regular wins are counted. Special Wilds can drop in during the Avalanche feature, and the same Special Wild can trigger multiple times in one spin.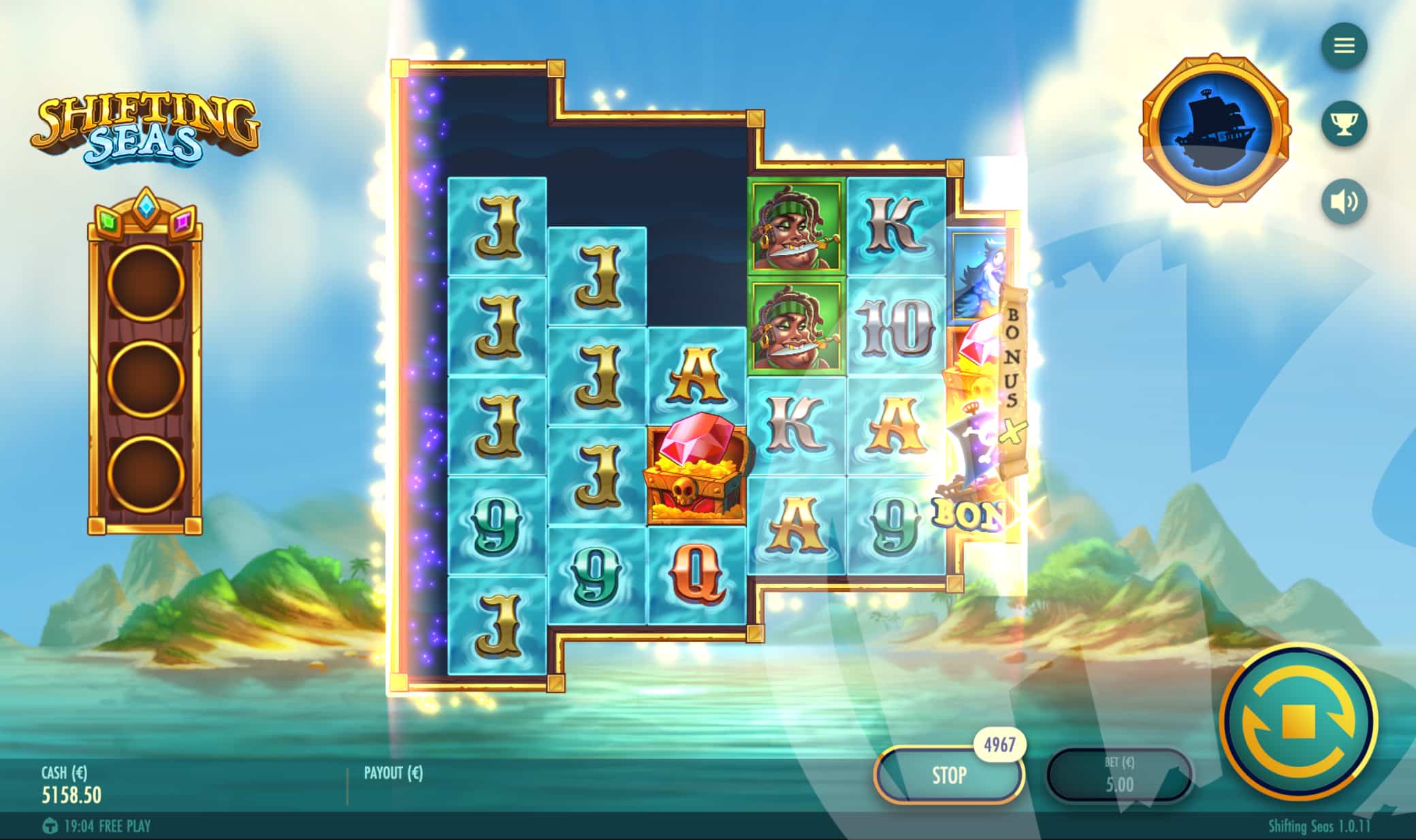 Shifting Seas Bonus
To trigger the bonus, a bonus symbol must be pushed off the reels. This is again triggered by the bonus symbol reaching the rightmost reel, and a win forming (or Boost Shift Wild activating), pushing this reel away. Bonus symbols can drop in during the Avalanche feature. The bonus consists of 8 free spins, and will begin after all Avalanches and Special Wild features have finished.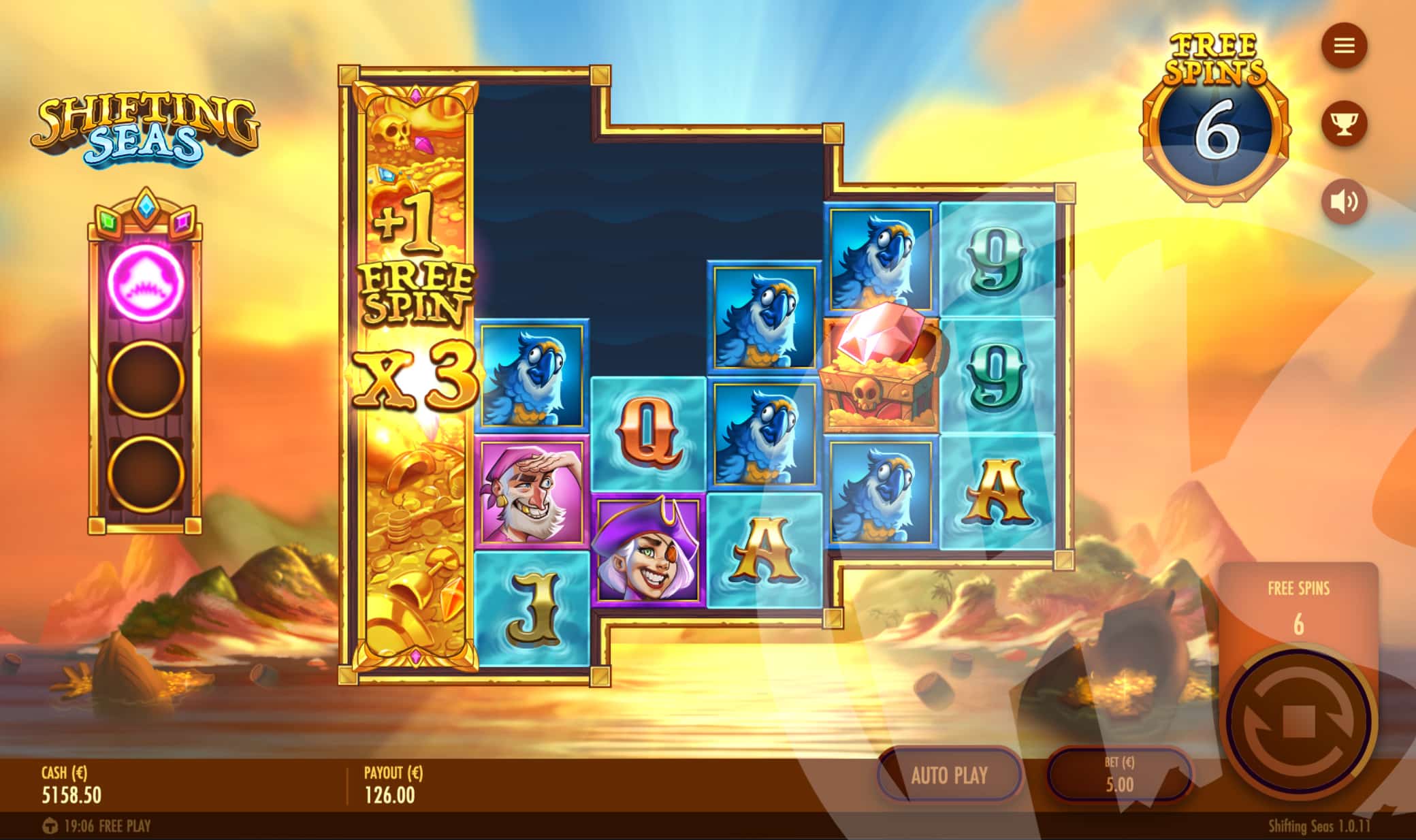 It is within free spins that we meet the final feature of Shifting Seas – the Wild Reel Feature. At the beginning of free spins, a Wild Reel will appear on the leftmost reel, marked x1. As Shift Wins occur, the Wild Reel will be moved along to the right, and once it is pushed off the rightmost reel, it will reappear on the leftmost reel, with a multiplier increase of +x1. When a Wild Reel reappears at the left, +1 free spins are awarded. During free spins, the Wild Reel is locked into place – so if it reaches reel 3 during your first spin with the help of the Avalanche and Shift Win features, it will still be there at the beginning of the next spin. Pushing a bonus symbol off the rightmost reel during the bonus will award +4 free spins.
There is no feature buy available in Shifting Seas, and the maximum available win is 15,000x bet.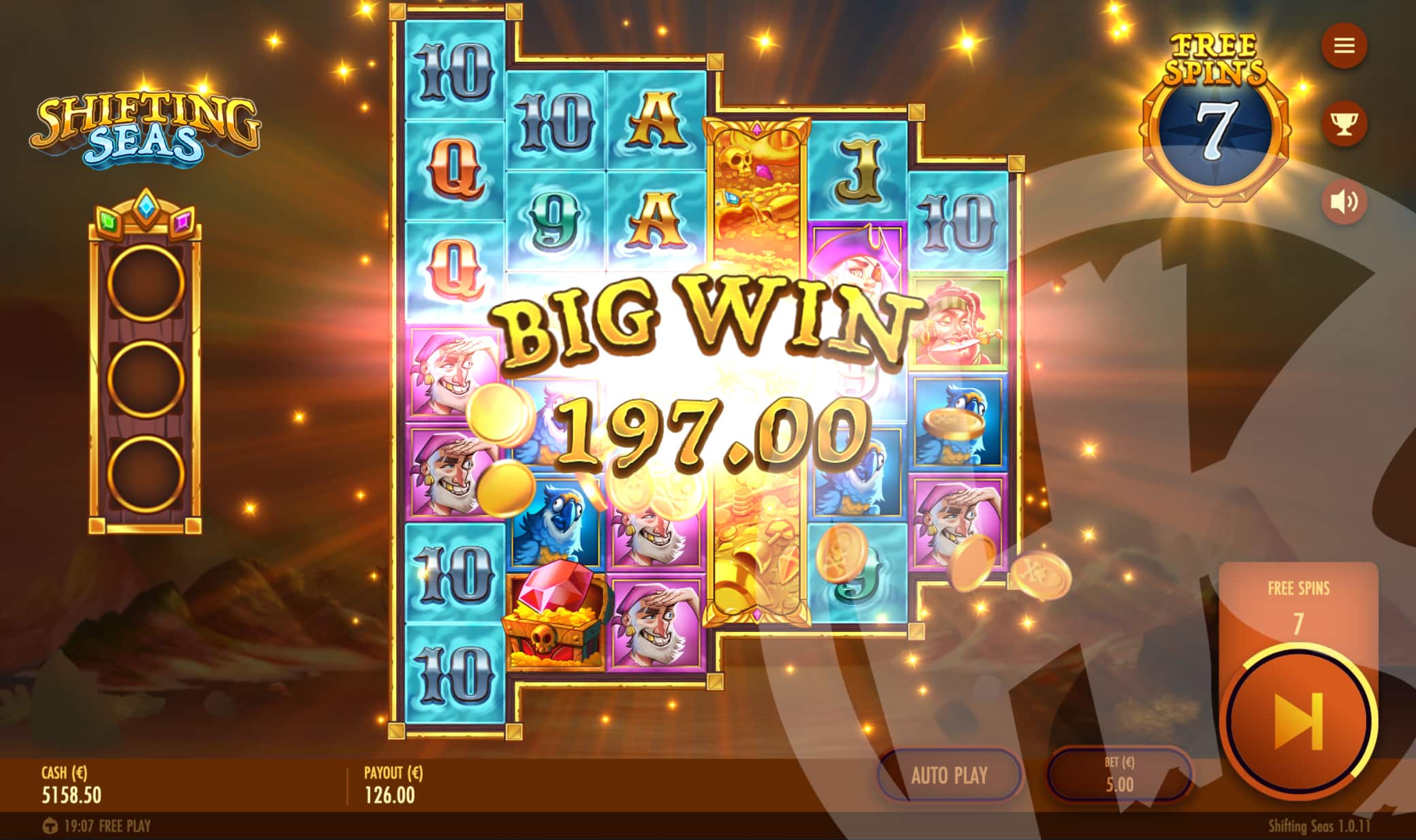 First Impression
Shifting Seas doesn't feel like a classic Thunderkick, but it offers the entertainment value we've come to expect from the team. The actual game play, with a new reel adding on, feels similar to the Infinity Reel concept we've seen before, or most recently Print Studios' Out of The Ice. Similar, but different – with reels appearing on the left rather than right, and non winning symbols remaining rather than re-spinning. It's interesting how a few small tweaks can make a known concept feel so different.
With 3 different Special Wild features on offer, the base game never seems to be boring – something particularly important in a game with no feature buy. Each Special Wild serves it's own purpose to prolonging entertainment, especially the Boost Shift, where it's possible to anticipate wins with the leftmost reel duplicating. The one thing we found to be frustrating when playing in demo was the Wild features activating before regular wins are calculated – it might not seem like much, but it's the difference between getting two new reels on the left, or just one. Of course, most of the time this wasn't a huge cross to bear, but when it comes to seeing that Bonus symbol moving further right, it can take a second to remember how things work.
The Bonus trigger itself makes the game interesting, and in a way more enjoyable. There's something about seeing the Scatter on the reels moving to a trigger point that evokes more anticipation than just waiting for a third symbol to drop – probably because any win combination can help, rather than a specific symbol required. This isn't a new thing, but it is something many players enjoy, albeit being slightly more painful when you're so close, yet so far.
Things take off when free spins begin, with Wild Reels locking with multipliers. In our testing we didn't see any higher than a x3 Wild, but it will only take the right combinations to see that figure increase, and we can't wait to see the results when it does. Theoretically, wins are possible up to 15,000x bet, with a highly volatile maths model and RTP which, at default is 96.15%, although variations as low as 90.0% are available, so as always it's worth checking.
Overall, a solid addition to the Thunderkick portfolio, although one we see the more casual player enjoying.
*The screenshots taken of games reviewed on this site are taken from Demo Play, as reviews are often written before games are released for real play.