There are few topics as contentious as 'The Wall', the unofficial name for Trump's Wall – that is, the wall Donald Trump promised to build along the Mexico border, which formed a crucial part of his presidential campaign. If there's one provider who loves a controversial topic, it's Nolimit City. They've been making a name for themselves for some time now for choosing to theme their games around ideals few other providers would approach. Their upcoming release, The Border, is fairly self explanatory – it centres around a border, and although no official materials point towards the U.S./Mexico Border, it feels like a solid guess that we're here. With six – yes, six – xMechanics on offer, The Border is an extremely (10/10) volatile release, with a default RTP of 96.17% (other versions are available), and wins available up to 44,288x bet.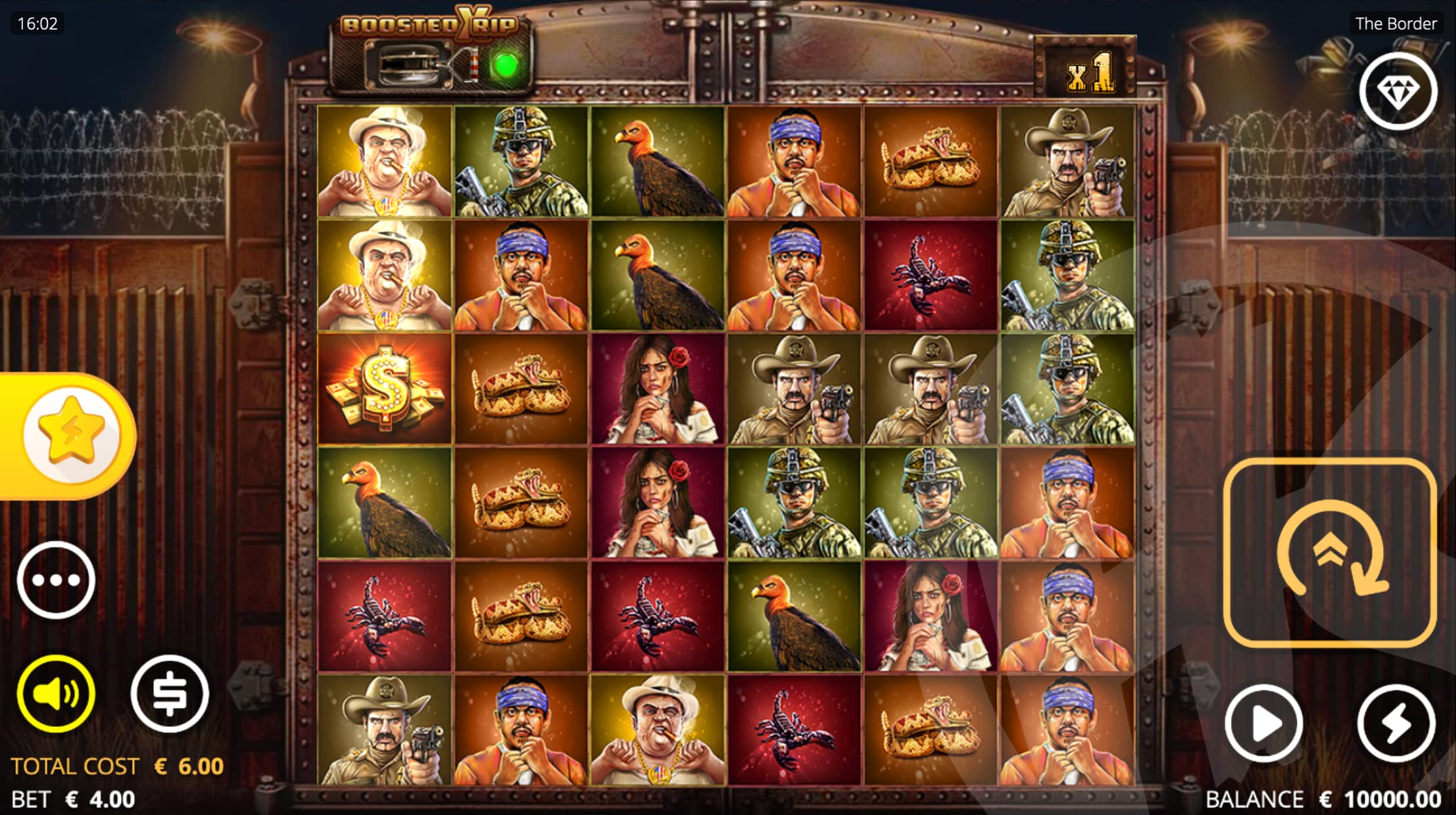 Visually – well, where else would we be but at a border. Things are bold and colourful, and it's clear Nolimit City have had fun playing around with this one. We've got barbed wire, floodlights, and even more references when the big win count up is on – including 'All Clear in Sector 7-G', and I can't tell if I'm just wildly uneducated re borders, or if this is a Simpsons reference – isn't this where Homer Simpson worked?
The Border Base Features
Taking place on a grid initially 6×6 in size, wins are formed on The Border by matching 5 or more symbols that are touching horizontally and/or vertically. With so many individual mechanics available, the potential exists to see far more than 36 symbols on the grid at any point, so Cluster values are awarded for 5, 6, 7, 8, 9, 10-11, 12-14, 15-19, 20-24, 25-29, 30-44, 45-59, 60-84, 85-99, 100-119, 120-159, and 160+ symbols. Symbols available begin with scorpions, snakes, and eagles – awarding win values between 0.20 and 553.85x bet for Clusters between 5 and 160+. At the premium end, we meet 5 characters – beginning with a stereotypically Latin-American looking female holding some cash, and a man that we already know from San Quentin – Loco Luis. They are followed by a soldier and a Border Patrol agent, with all 4 awarding wins between 0.50 and 1,107.20x bet for Clusters between 5 and 160+. Finally, we have a male character – I can't quite work out his rank (or job, given that he gives off Bounty Hunter vibes), but it's clear he's in charge here – awarding wins of 1x bet for Clusters of 5, up to an astonishing 2,214.40x bet for Clusters of 160+.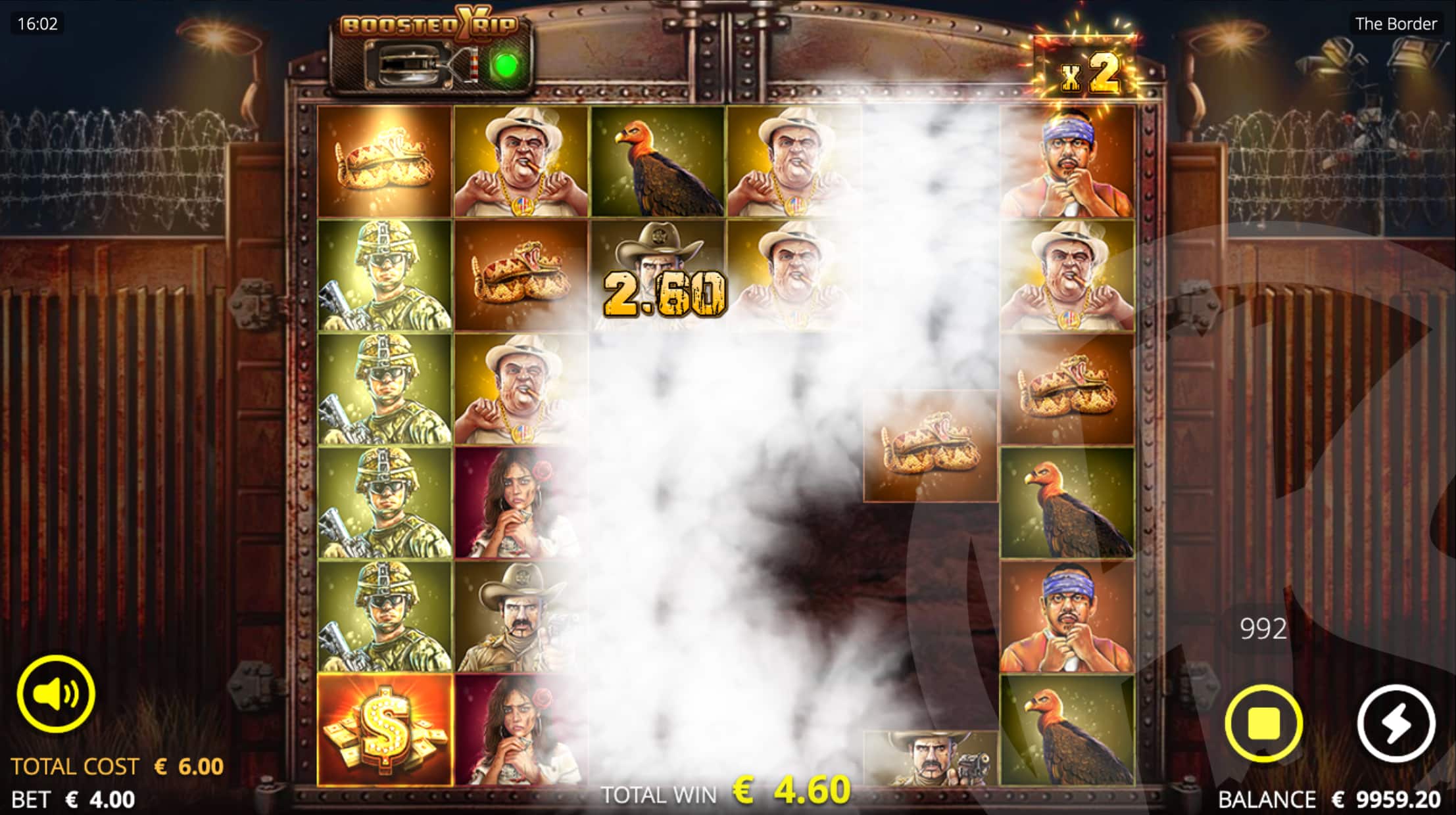 Symbol values barely scratch the surface in The Border, so let's move on and take a closer look at the many, many features and mechanics available. First up, it's the Avalanche Feature. On every spin, any symbols involved in a winning Cluster are removed from the grid, with any symbols that remain dropping down from above. Once as many spaces as possible have been filled, any remaining spaces are filled with new symbols dropping in, giving the opportunity for more winning Clusters to be formed. Avalanches end when no more winning Clusters can be formed.
Next, it's Boosted xRIP. Nolimit City have become somewhat known their their xBet, available in Tombstone Rip, Karen Maneater, Folsom Prison, and The Rave. This time however, they have combined it with the xRIP from Tombstone RIP. By turning on Boosted xRIP, players pay an additional 50% on top of their stake, guaranteeing a Scatter on Reel 1. Additionally, activating Boosted xRIP will remove all payouts below the base bet (that is – the bet value before Boosted xRIP). This is not applicable in Bonus Modes, and symbol payout values are not affected. Boosted xRIP increases the chance of triggering Free Spins from 1 in 260 spins, to 1 in 112 spins.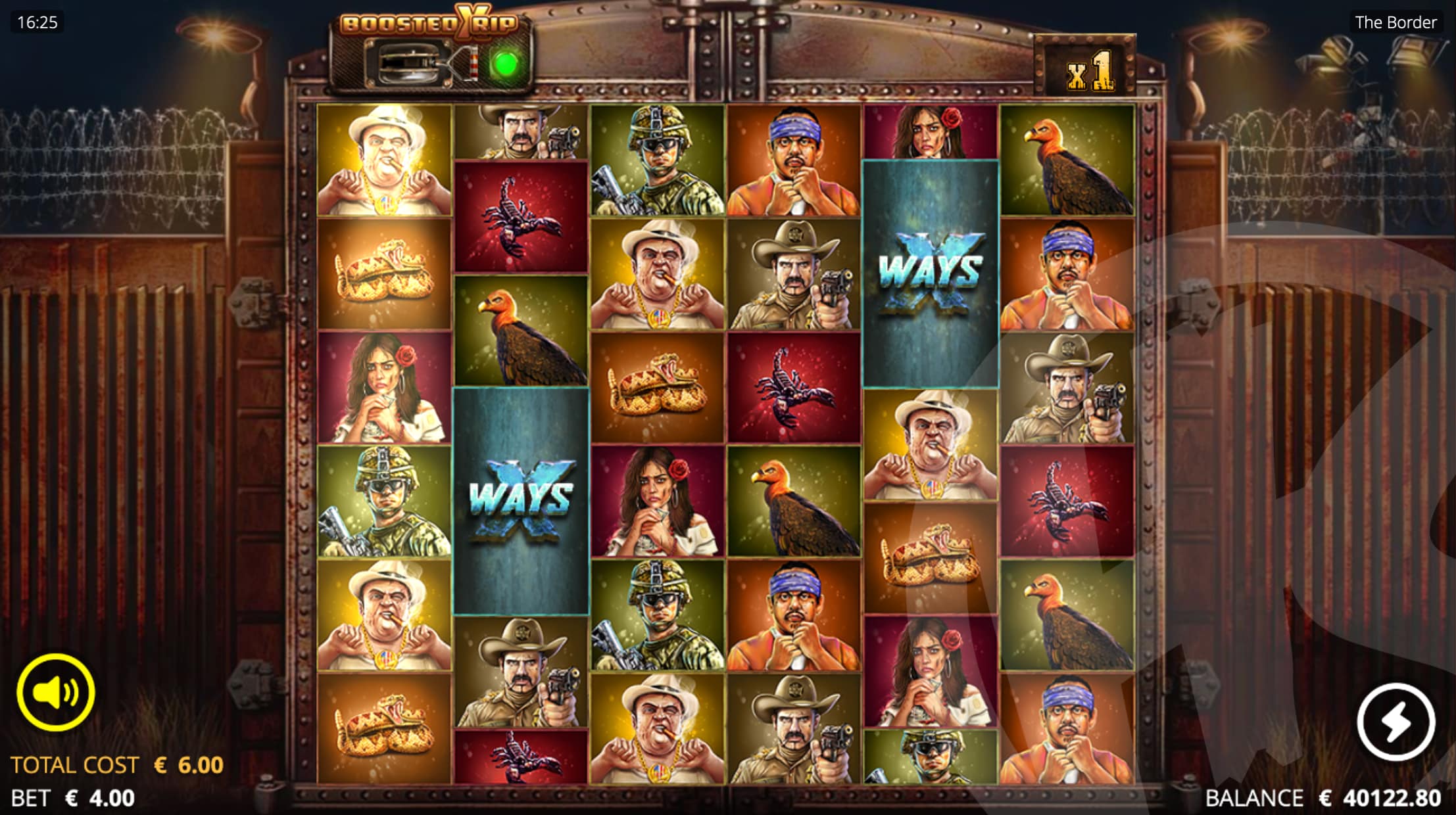 The Border comes with xWays, xSplit, xBomb Wilds, xNudge Cluster Wilds, and the new xCluster to enhance game play – a lot to unpack, so let's start with xWays and xSplit, as their behaviour hasn't changed much to adapt to Cluster Pays.
xWays symbols will transform into any regular paying symbol (any of the 8 mentioned above), either 2 or 4 symbols in size. When more than one xWays symbol lands on the reels, all xWays will reveal the same symbol. When an xWays symbol lands, it will reveal two full size symbols, or four half-sized symbols, creating an offset to help connect more symbols adjacent to each other. With only 36 starting symbols on the reels, Clusters can form beyond 160 symbols in size, and xWays is one of the most obvious examples of this growth.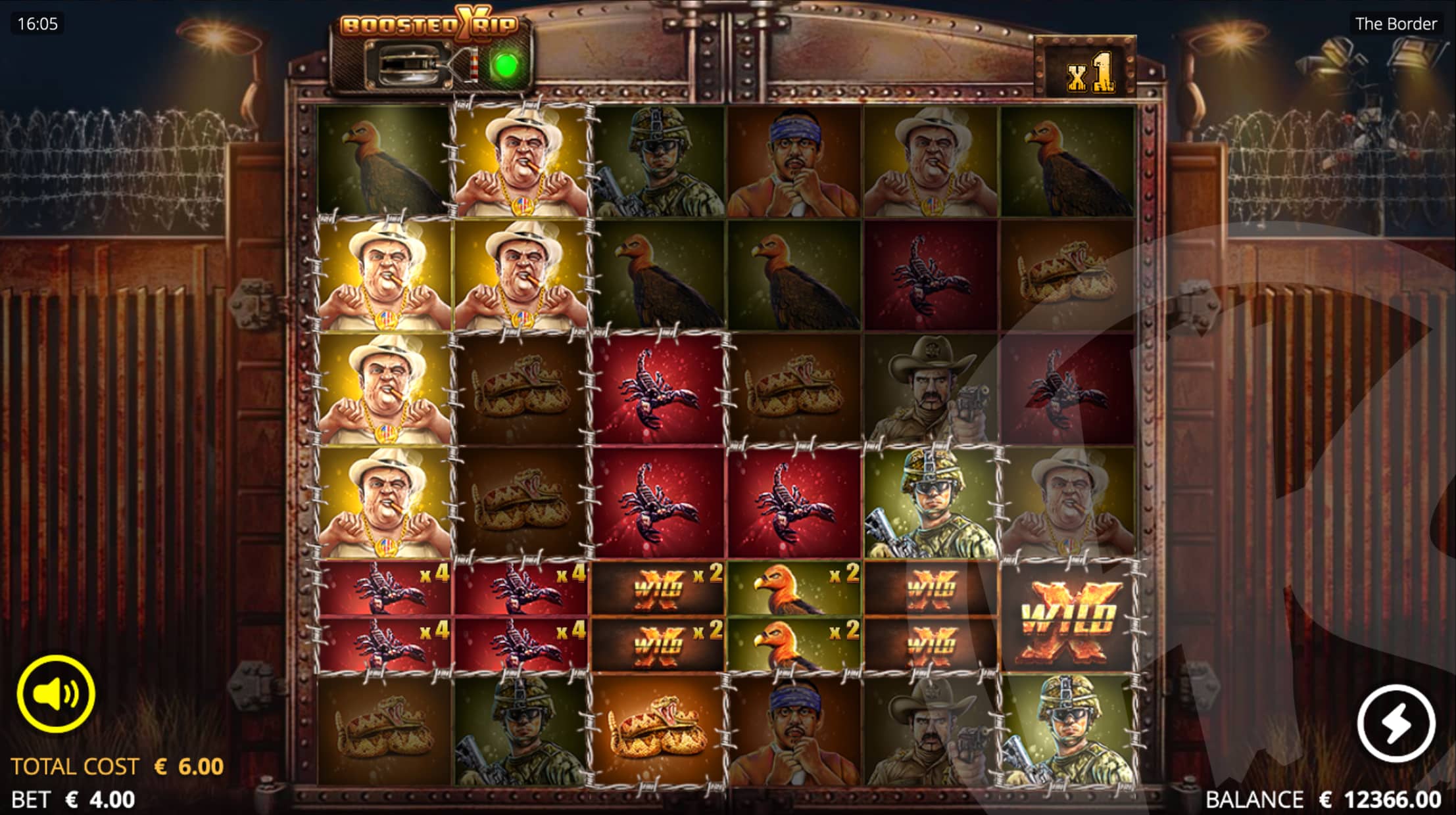 xSplit symbols can only land on reels 2-6, and when they do land, they will split all symbols to the left, doubling the size of each symbol they split. After splitting symbols to the left, the xSplit symbol will transform into a single Wild. xSplit symbols can split Scatters – turning each Scatter they split into two.
When multiple xSplit symbols land on the same row, multipliers come into effect. The first xSplit symbol will split all symbols to the left, and each time these symbols are then again split, they will be awarded a multiplier of x2, x4, progressing in increments of +x2, up to x64. This multiplier reflects the amount of symbols present.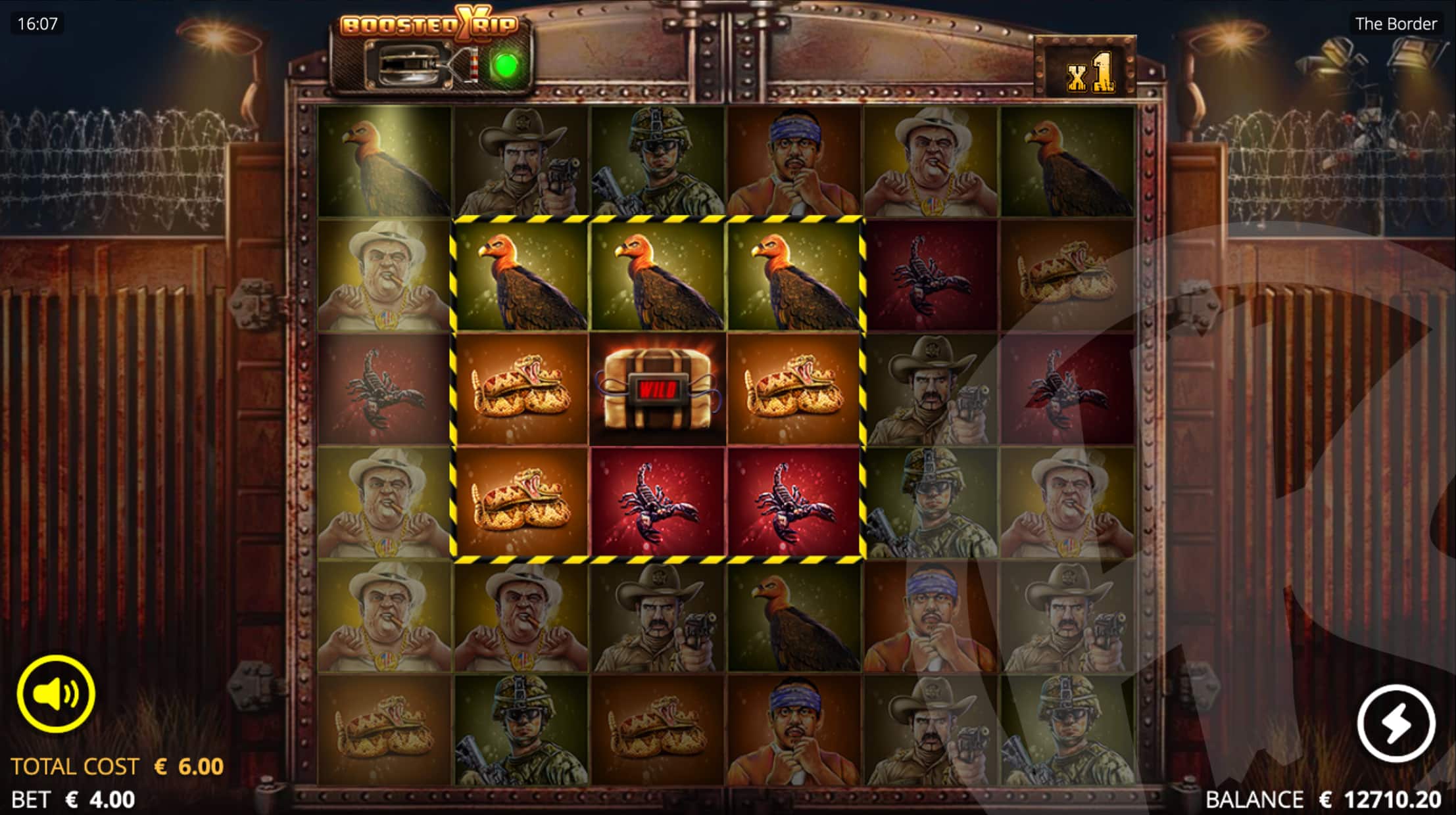 Alongside Wilds created by xSplit symbols landing, there are xBomb Wilds and xNudge Cluster Wilds present in The Border. xBomb Wilds substitute for all symbols except Scatters, and explode when they land, after winning Clusters have been calculated. Upon exploding, they will also remove any adjacent symbols from the grid – with adjacent symbols indicated by a yellow and black tape outline. Scatters and Wild symbols will not be removed in the explosion. Each xWild Bomb explosion will increase the win multiplier for the current spin by +x1. If an xBomb Wild is split by an xSplit symbol, it will increment the multiplier by any multiplier associated with it.
xNudge Cluster Wilds, embellished with the U.S. Flag, also substitute for all regular paying symbols except Scatters. These Wilds can nudge both up and down if they are part of a winning Cluster, depending on if the winning Cluster symbols are above or below them. Nudges will continue, with more symbols turning Wild, until no further consecutive symbols are part of a winning Cluster. This can be any winning Cluster – not just the original one, so if Wilds nudging forms additional winning Clusters, nudges continue until this is no longer the case.
Nudging Wilds increment the win multiplier by +x1 for each symbol they nudge over. If a symbol they nudge over has an xMultiplier value on it, they increment with this value, and if the xNudge Cluster Wild has been split by an xSplit symbol, they will start by adding their own multiplier to the win multiplier, before nudging.
At the end of every spin, the win multiplier will reset to x1 ahead of the next spin. When more than one xMechanic is triggered during the base or bonus mode the order of action will be – xWays, xSplit, xNudge Cluster Wilds, xCluster, xBomb, from left to right, and top to bottom.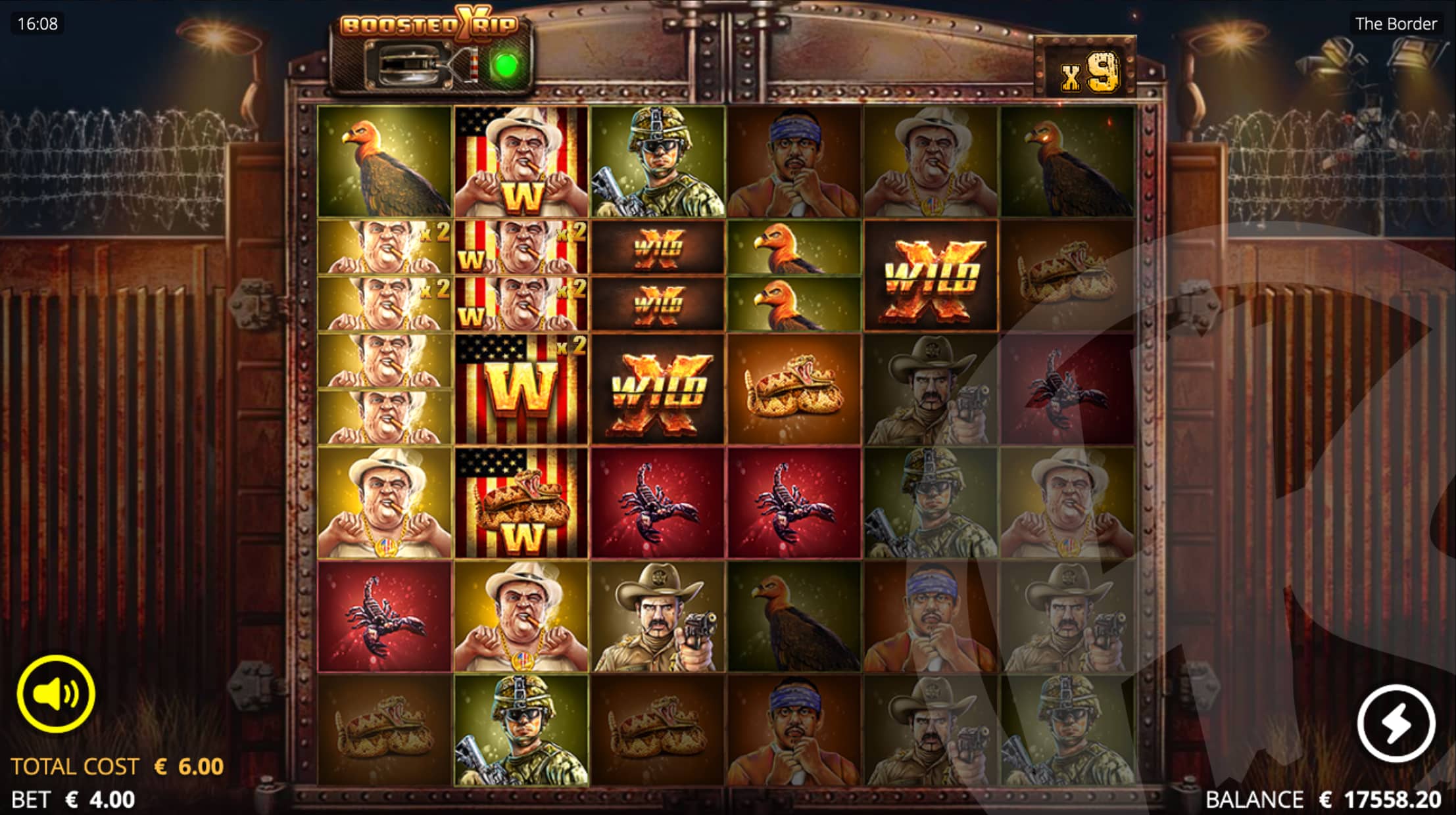 The Border Bonus
Landing 6 Scatters will trigger 10 Mule Spins. This can land as 6 Scatters, or can be fewer than 6 Scatters, with xSplit Wilds splitting at least 1 Scatter to create a total of 6. During Mule Spins, when an xWays symbol is part of a winning Cluster, all other instances of the revealed symbol on the same reel will be infected – splitting into 2 or 4 symbols, determined by the whether or not the original xWays symbol revealed 2 or 4 symbols. This happens before xSplit or xNudge Cluster Wilds get into action.
Landing 7 or more Scatters triggers 12 Coyote Spins, with any additional Scatters awarding +2 spins per Scatter. xWays symbols continue to infect Cluster symbols, but in Coyote Spins all Cluster symbols are infected. Additionally, all xBomb Wilds will add their multiplier value to any symbols displaying an xMultiplier that have not yet been removed from the reels. xBombs without a multiplier value will add +1 to these symbols.
The win multiplier does not reset in Coyote Spins. It is possible to upgrade from Mule to Coyote Spins by landing at least 1 Scatter during Mule Spins, awarding the upgrade and an additional +2 spins per Scatter.
The maximum simulated number of Coyote Spins awarded is 58.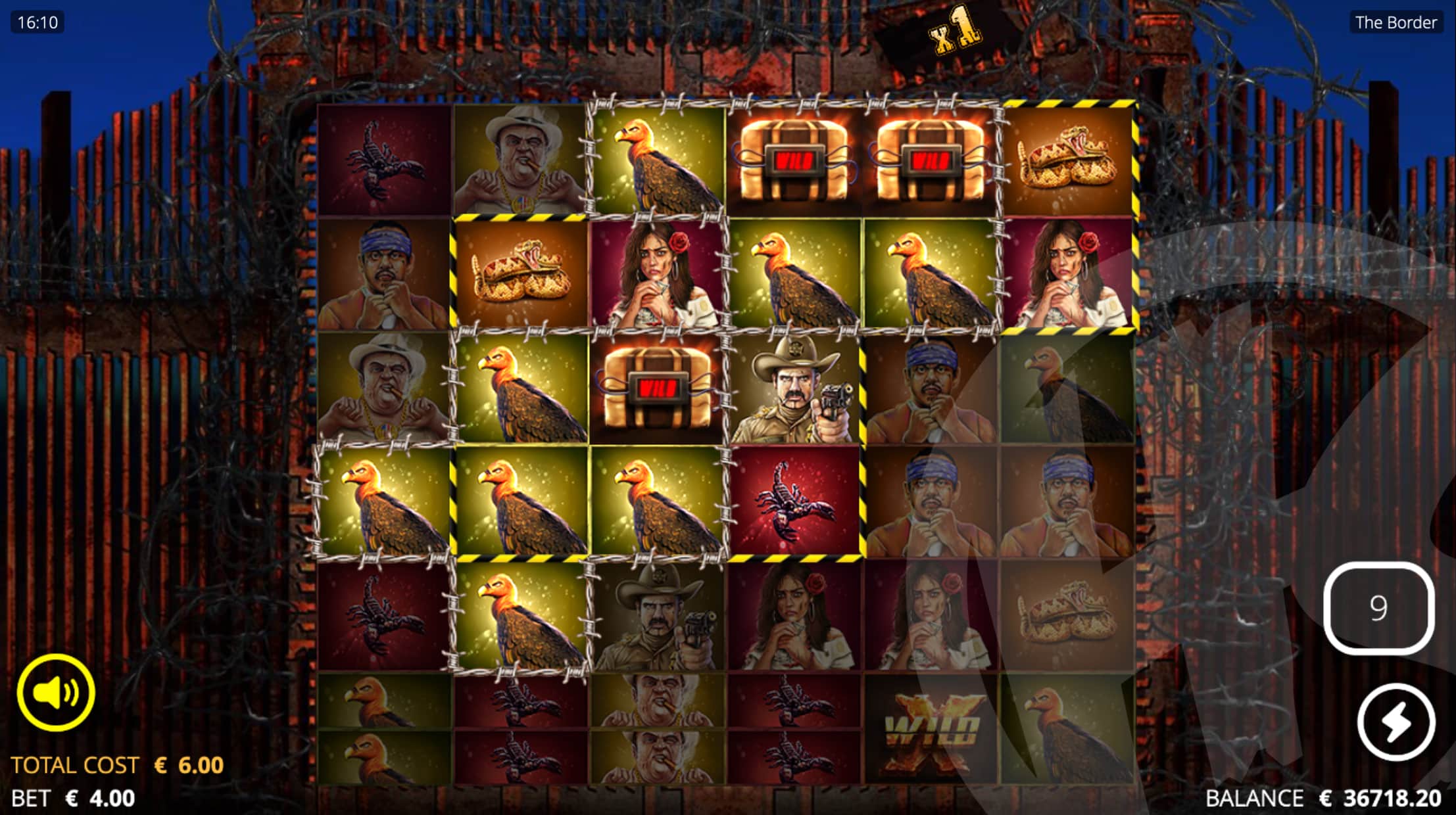 It is during Bonus Modes that we are introduced to the final xMechanic – xCluster, triggered by 2 or more unique Cluster wins in the same avalanche. The win multiplier is increased by +1 for each unique symbol Cluster from the second onwards. The xCluster multiplier is instantly added, and affects all current wins for the duration of that spin.
Seized and Destroyed occurs when the maximum payout of the game has been reached. The maximum payout available is 44,288x base bet (before Boosted xRIP) – if the sum of wins in a single game round exceeds this, the game round will end, and 44,288x base bet will be awarded.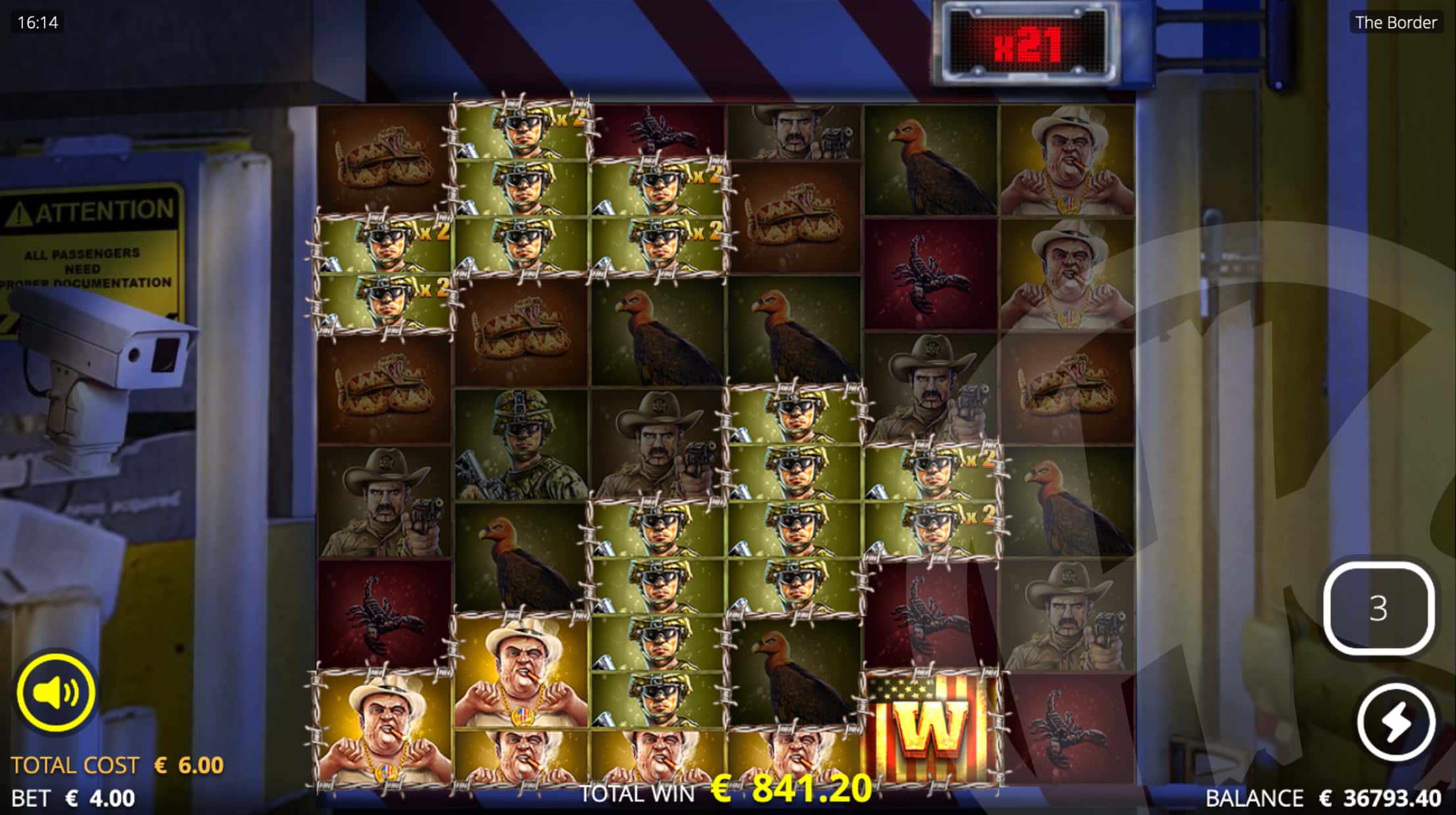 Players in appropriate regions can skip straight to the action with 3 feature buy options:
98x bet – 10 Mule Spins (96.32% RTP)
914x bet – 12-20 Coyote Spins (96.03% RTP)
506x bet – 50/50 chance of one of the above (96.05% RTP)
First Impression
When I heard Nolimit City were turning their hand to the ever popular Cluster Pays mechanic, I wasn't sure how to feel. On the one hand, it's very rare for the team to have an off-day (or an 'off-release' I guess), but on the other – I wasn't sure how their xMechanics would fit in with a Cluster release. As it turns out, I needn't have worried. In a strange turn of events, the mechanics available in The Border integrate so seamlessly, it leaves me wondering if their true destiny was Cluster Pays.
From the moment you press spin, things are chaotic, out of control, and intense – in all the best ways. If you're the type of player who wants to understand whats going on, you'll get most of the way there, and in this release, that really is enough. There's so much happening across this 6×6 grid, it feels impossible that anyone could ever track every little thing, but you can get the gist, and you start to know what you're looking for. This chaos comes together perfectly, however, and helps to form these little moments where out of nowhere, you've got a huge win, and you were too busy looking at the other end of the grid.
Mathematically, things are extremely (10/10) volatile, made even more so by the introduction of Boosted xRIP where, yes – you guarantee a Scatter, but you also remove all wins below base bet value. A trade-off that each player will weigh up for themselves, it seems. Other stats, for those interested, are as follows:
Hit Frequency – 29.58%
Main Game RTP – 53.77%
Bonus Mode RTP – 42.40%
xBoosted RIP RTP – 96.20%
Max Win – 44,288x
Max Win – 1 in 44 million spins
Max Win Boosted xRIP – 1 in 8million spins
Win 100x bet – 1 in 634 spins
Free Spins – 1 in 260 spins
Free Spins Boosted xRIP – 1 in 112 spins
Super Free Spins – 1 in 7000 spins
Bonus Mode Upgrade – 1 in 15
RTP stats above are based upon the default RTP of 96.17%, with 94.07% and 92.15% options also available. Free Spins chance with Boosted xRIP sitting at 1 in 112 spins is enticing, and the max win occurring so much more frequently with this mechanic feels like it seals the deal on its fate.
Graphics, animations, and audios are, as expected, stellar. It all ties together in a great way, perfectly encompassing the theme, the volatility, and the potential – feeling like things really can build up, specifically to the tune of 44,288x bet. This feels especially possible when moving into Bonus Modes – particularly in Coyote Spins, with a win multiplier that doesn't reset. I only wish there was somewhere to tell you how many cluster combinations are possible within your grid – out of interest, rather than making a real difference to game play.
If you're a fan of Nolimit City, and Cluster games in general, The Border will fit into your list of favourites with ease. If you aren't usually tempted by Cluster releases, the kind of maths model Nolimit are known for, along with their graphics and overall atmosphere, will probably be enough to tempt you.
*The screenshots taken of games reviewed on this site are taken from Demo Play, as reviews are often written before games are released for real play.