Nolimit City have established a name for themselves as a driving force behind creativity and innovation in the iGaming industry of 2021. Previously releasing games such as San Quentin and Infectious 5 xWays, Nolimit continue to pour passion and excitement into their releases, with a dash of quirkiness, just enough to keep players talking (for example: Beefy Dick), meaning they are widely regarded as "the ones to watch" now. Long gone are the days of 5×3 reel slots with a standard Egyptian theme – these days, players want to feel excitement in the games they play; they want a story. And boy, does Nolimit City provide us with a story, helped along by their innovative "x" series, including xWays, xNudge, and now the newer xSplit addition in this upcoming release: xWays Hoarder xSplit.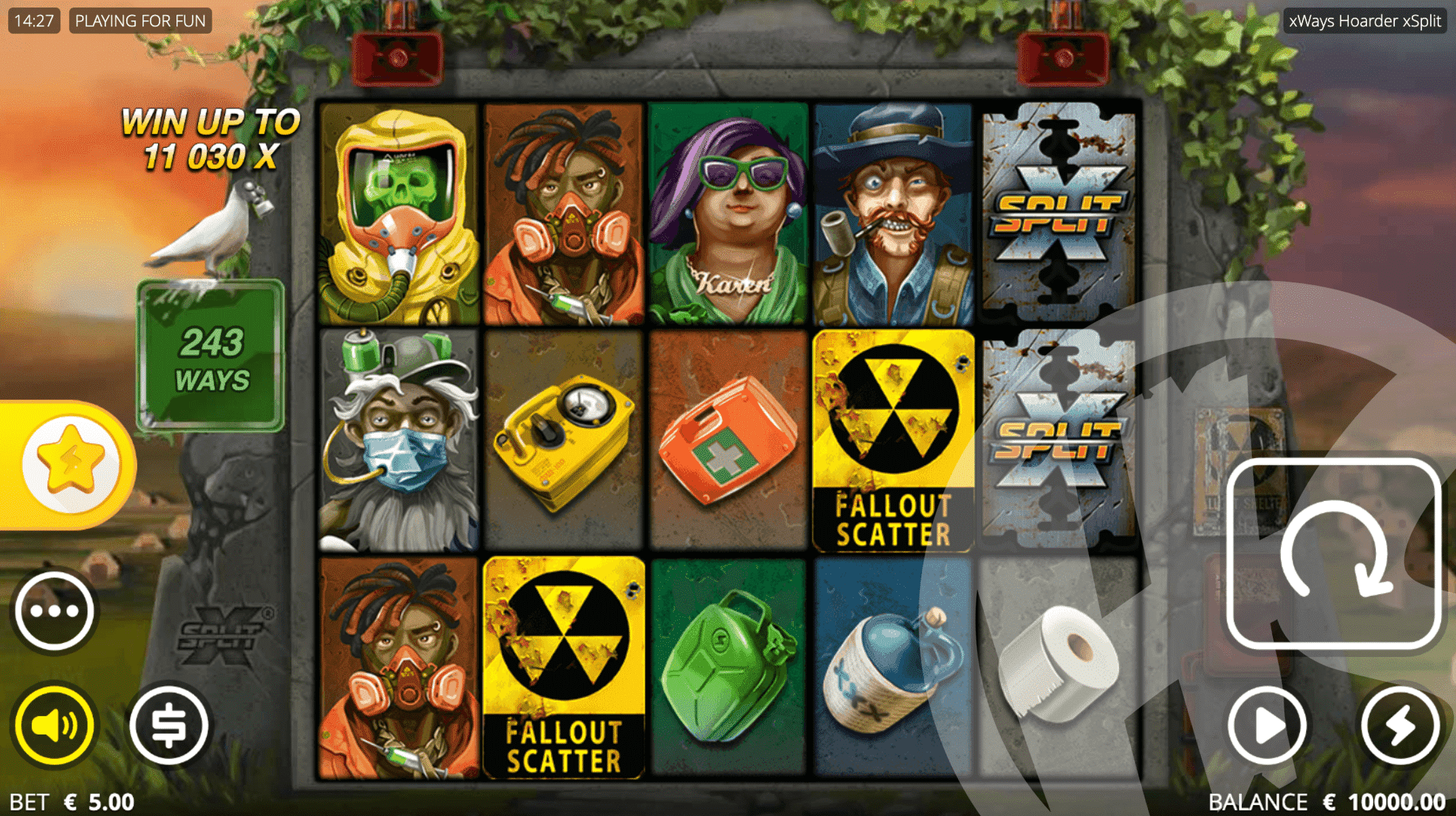 Taking us to a world where it seems things have gone disastrously wrong, xWays Hoarder takes place across 5 reels, with a minimum of 243 ways to win, increasing as high as 95,760, as wins form from left to right in this extreme volatility release. "Collect all the toilet paper you can, buy a gas mask and steal the biggest f*in car you can find. Now you're ready to play xWays Hoarder" is the advice provided by Nolimit City. Toilet roll takes on a strong theme here, perhaps reminiscent of the beginning of the COVID-19 Pandemic, where stores around the world found themselves out of stock in these necessities – is this a glimpse into life if COVID had taken a radioactive turn? Put that to the back of your mind for now, and let's focus on how to achieve wins of up to 11,030x bet – smaller than Nolimit City have offered in the past, but exciting nonetheless.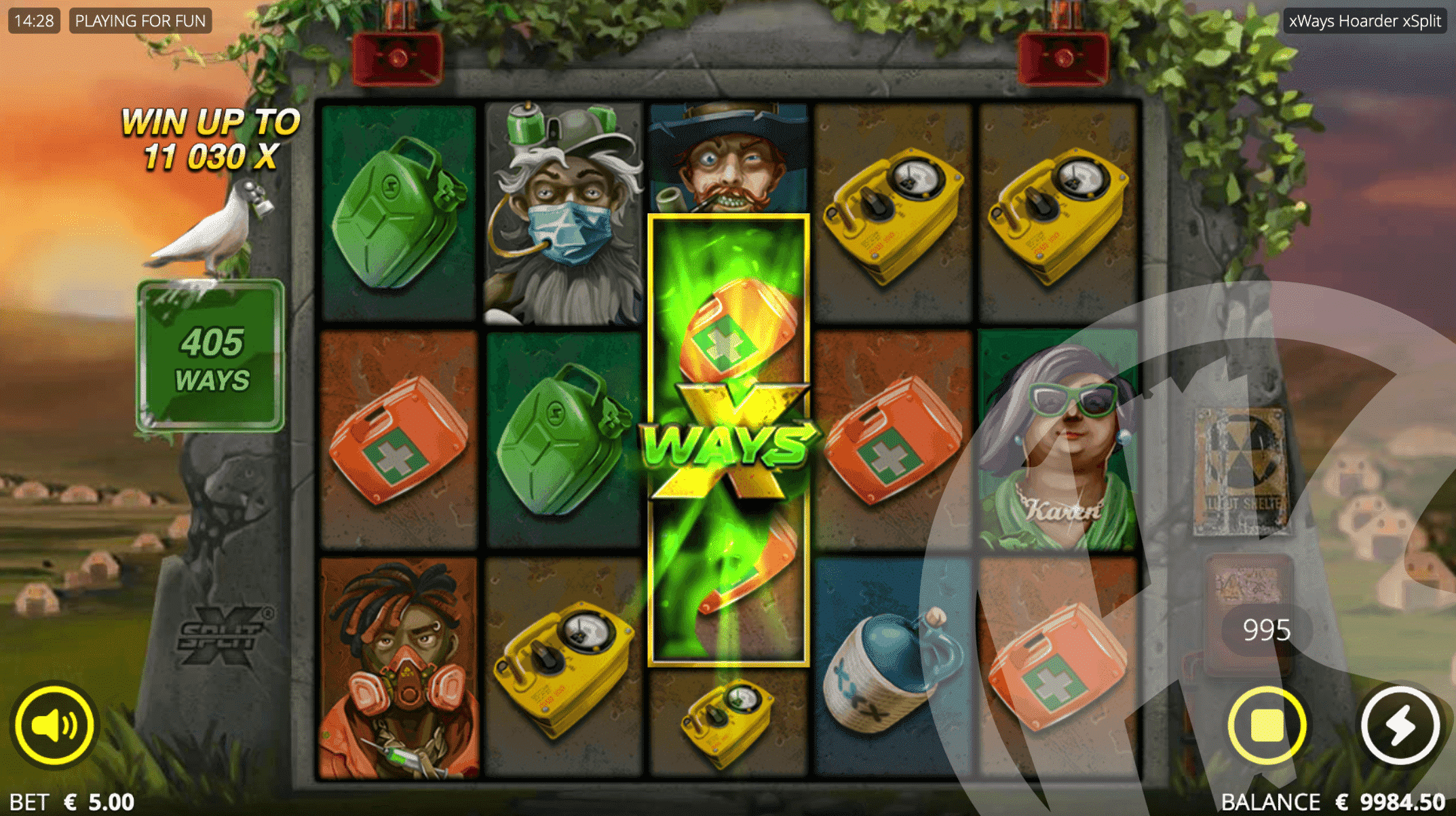 Visually, the main game reels sit atop a rock. with a pigeon to the left wearing a gas mask. Semi-destroyed radioactive signage is visible, with a number of bunkers in view in the background, and a host of our character symbols wearing protective clothing and/or masks. Racoons and emergency exit signs within free spins continue to add to an apocalyptic feeling. Soft audios ring through, nicely mixed to feel as though they come from the speakers that sit just above the reels. I say soft audios, and they sure are, but with a slightly ominous feeling, which is an impressive feat to achieve when using an upbeat audio track.
xWays Hoarder Base Features
Meet Karen, Hovenberg, and Moonshine King, and memorise them. They're your competition, and you need to be sure you can hoard more products than them in a time where supplies are scarce. Supplies available across symbols include toilet roll, bottles of moonshine, petrol, medikits, and Geiger counters, awarding players between 1 and 1.25x bet for 5 of a kind. Moving into the premium side of the pay table, and we are greeted by Hovenberg, Moonshine King, Karen, Dr Dwayne and Gordon Geiger, paying out between 1.5 and 5x bet, again for 5 of a kind. Rewards are higher once the new xSplit Wilds mechanic comes into play, and go up a notch further when combining xSplit with xWays, a perfect opportunity to stock up.
xWays: Able to land on reels 2, 3 or 4, xWays symbols reveal between 2-4 of the same symbol, to increase the win ways available. When more than one xWays symbol is in view, they each reveal the same symbol "for a major punch in the gut". xWays work in the same way we have previously seen, in releases such as San Quentin.
xSplit Wilds: Able to land on reels 3, 4 or 5, xSplit Wilds split all symbols to the left on the same row, and double that symbol. If a symbol is split more than once, it will be displayed with a multiplier. After splitting symbols to the left, they remain on the reels as a regular wild, substituting for all symbols except Scatter symbols. When xSplit Wilds split xWays symbols, the xWays multiplier will be doubled for every split.
xSplit Wilds setup on reels:
Reel 3: One single xSplit Wild symbol can land
Reel 4: Two stacked xSplit Wilds can land, meaning it can land on two rows during one spin
Reel 5: Three stacked xSplit Wilds can land, meaning it can land on all three rows during one spin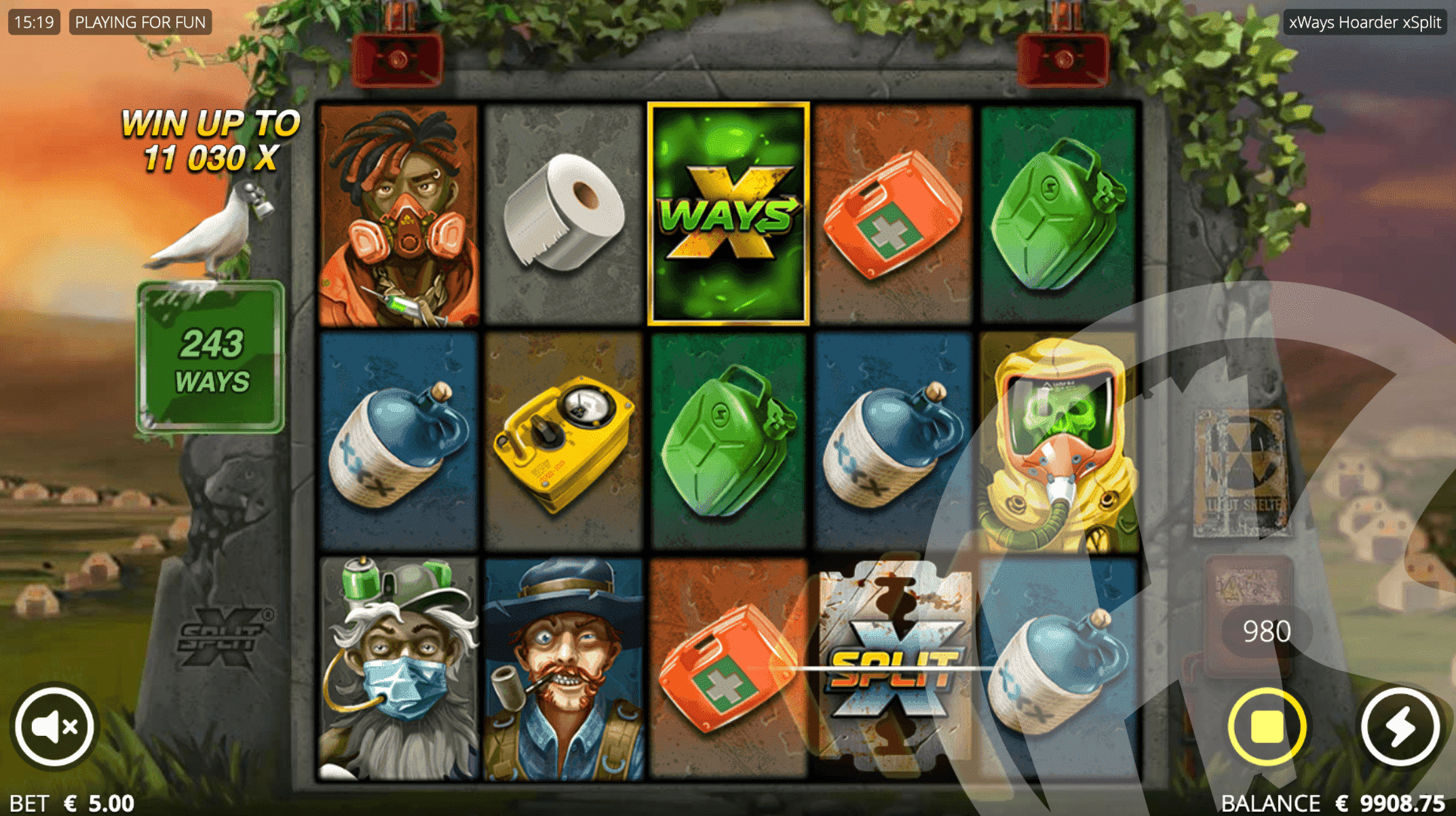 xWays Hoarder Bonus
Radioactive "Fallout" Scatter symbols can land on reels 2-5 to trigger free spins, which moves the action inside the bunker, where the music is slightly more upbeat. Landing 3 or more Scatter symbols triggers Bunker Raid Spins. Scatter symbols do not get split by xSplit Wilds, and instead become Super Scatter symbols:
If a Super Scatter symbol position triggers Bunker Raid Spins the position of the Super Scatter, and any positions below it, become sticky xWays symbols.
If a Super Scatter symbol position does not trigger Bunker Raid Spins, the Super Scatter converts to an xWays symbol in its position.
3 or 4 Scatter symbols triggers 7 or 10 Bunker Raid Spins, respectively. During Bunker Raid Spins, xWay symbols are sticky for the duration of the feature after landing, and Super Scatter symbols converts itself and symbols below into sticky xWays symbols when entering the feature. Every xWays symbol that lands during Bunker Raid Spins awards +1 spin, and drops down to the lowest non-xWays occupied position, merging with any existing sticky xWays symbol on that reel.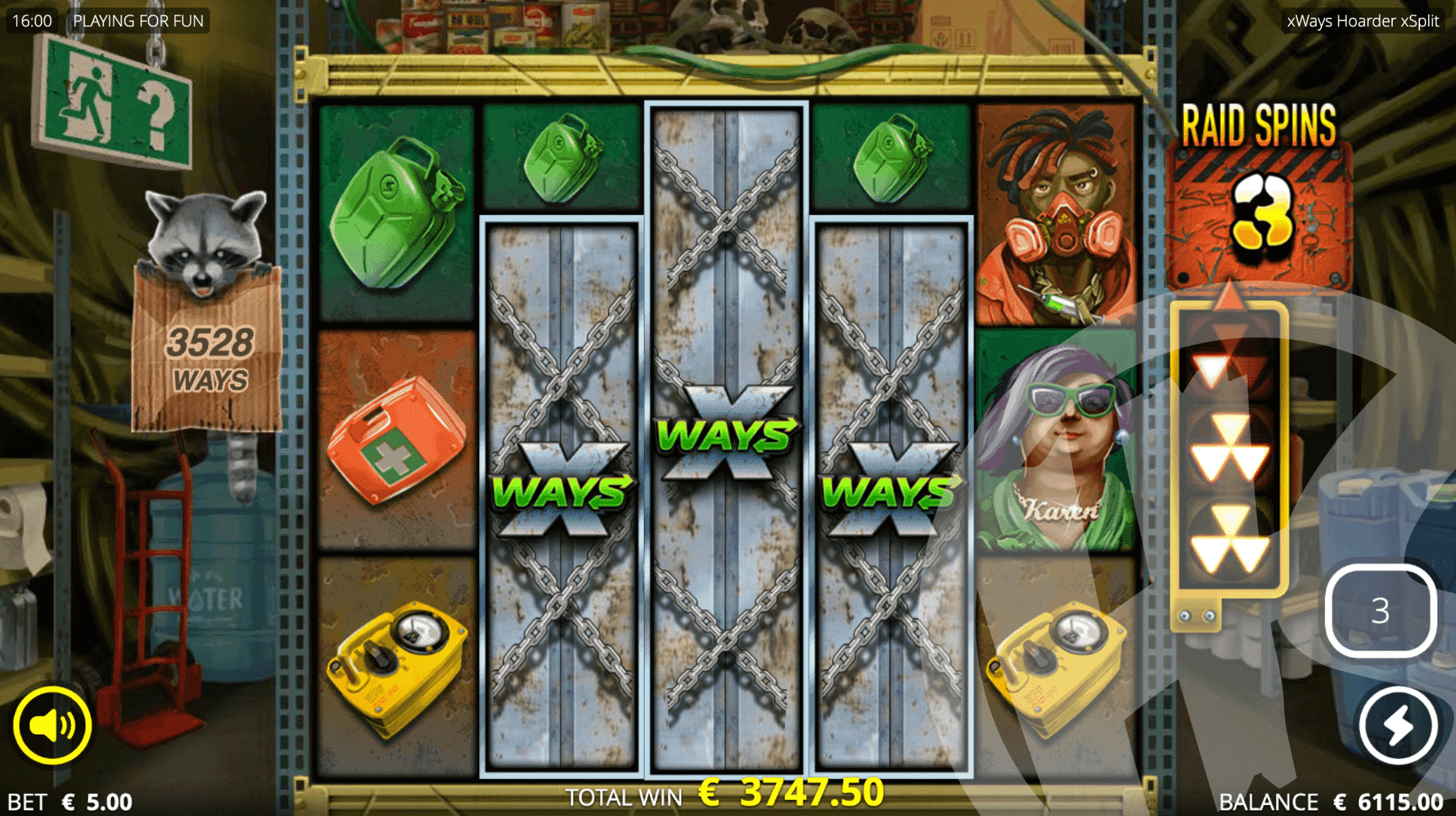 Hoarder Levels are available during Bunker Raid Spins, with 4 levels (beginning at Level 0). Every third xWays symbol collected progresses players to the next Hoarder Level:
Hoarder Level 1 (3 xWays collected): The lowest paying character symbol and object symbol are removed from the reels.
Hoarder Level 2 (6 xWays collected): The second-lowest paying character symbol and object symbol are removed from the reels.
Hoarder Level 3 (9 xWays collected): The third-lowest paying character symbol and object symbol are removed from the reels, and Wasteland Spins are triggered. 
Wasteland Spins is the final level. At this level, only 4 symbols appear on the reels; the two highest paying characters (Dr Dwayne and Gordon Geiger) and the two highest paying low-symbols (medikit and Geiger counter).
During Wasteland Spins, the collected xWays symbols shift into a mega symbol, which has multipliers attached to what would be each reel. These 3 multipliers then multiply together to form one huge multiplier attached to the symbol chosen for centre position on that spin. The symbol and multiplier in the mega position changes each spin.
King of Waste is the stage at which the maximum payout is achieved – 11,030 times bet.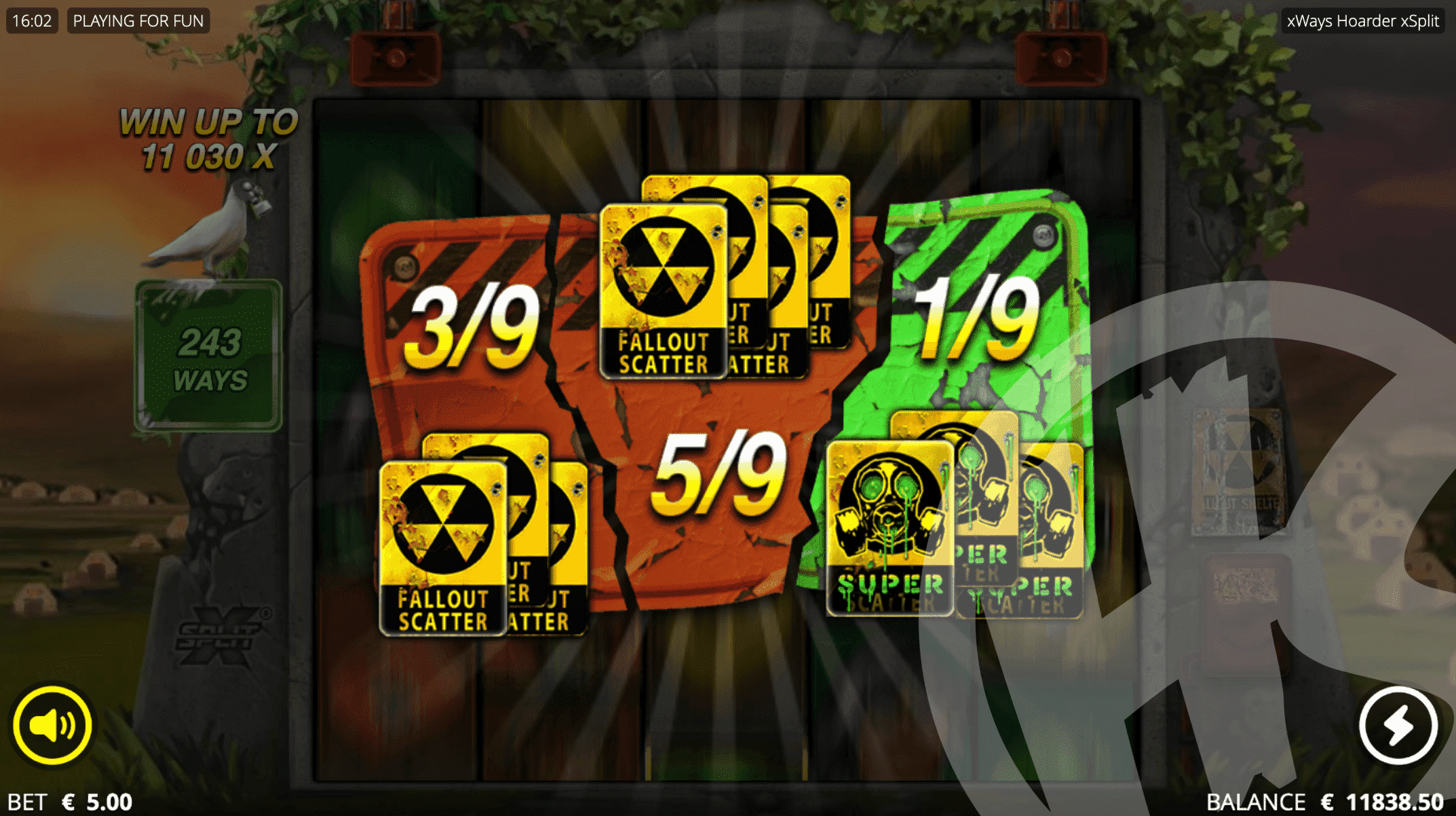 For players in appropriate regions, 4 feature buys are available:
95x bet: 7 Bunker Raid Spins
180x bet: 10 Bunker Raid Spins
777x bet: 7 Super Raid Spins
218x bet: A Random pick

3/9 chance of landing 3 Scatters
5/9 chance of landing 4 Scatters
1/9 chance of landing 3 Super Scatters
Super Raid Spins, despite being the most expensive of the feature buys, offers immediate progression as the Super Scatter symbols immediately become sticky xWays symbols.
First Impression
The design in Nolimit City games is second to none. It is so clear to see the amount of thought, time, and effort goes into making each one of these games, which offers players so much to look out for away from the reels. I continue to admire the fact that Nolimit releases this year have people talking, and are so hyped up, but yet never disappoint. The releases we are given continue to push the boundaries of what we know, through innovation and themes. Each of these games have so much detail squeezed in it could be hours or days after release before someone will think "Oh, I never noticed there's a skull up there before…"
On a technical front, the game is solid. RTP (more RTP values below) is a generous 96.14%, although a 94.10% version is available, and the maximum win of 11,030x bet, although lower than Nolimit City have offered us in the past few months, is still more than worthy of our time. On average, players can expect to hit this maximum win 1 in every 14m spins, with 100x bet wins coming in once in every 840 spins. Combined with a 1 in 5 hit frequency, players will inevitably see some huge wins from this release.
Progression through bonuses is a tried and tested technique that players enjoy, and the bigger feature buys have been tried and tested by Nolimit. Now, we're combining both, as the more expensive buy offers an immediate progression, which players will love to see. Through free spins the technique in design remains evident, with symbols not just being removed from the board without much indication – instead, we get to see the x-ray version of our now removed symbols, which just adds to the overall theme and excitement.
xWays symbols have been improved upon too. Where previously (San Quentin) xWays would have revealed a stack of symbols, now each xWays symbol has its own design, with the relevant symbol scattered across the space and a multiplier attached. A small change, but important when considering the work that goes in. Whether this will disappoint players as it "feels" less impressive to look at, we'll wait and see. xSplit Wilds make an interesting addition to the 'x' series, keeping things interesting and helping to trigger the best feature possible. Overall, xWays Hoarder is a well designed and executed addition to the Nolimit City catalogue.
The theoretical RTP for xWays Hoarder is 96.14% (94.10% also available)
The theoretical RTP for Bunker Raid Spins 3 Scatter feature buy is 96.38%
The theoretical RTP for Bunker Raid Spins 4 Scatter feature buy is 96.38%
The theoretical RTP for Bunker Raid Spins 3 Super Scatter feature buy is 96.68%
The theoretical RTP for Random Bunker Raid Spins feature buy is 96.50%
*The screenshots taken of games reviewed on this site are taken from Demo Play, as reviews are often written before games are released for real play.