I remember going to the farm when I was in Primary School, and being mesmerised by the fact that I could feed lambs and piglets, and see rabbits and puppies, amongst other animals – pretty much the dream for any young child. Well, we're heading back to the farm today, but this time around there aren't many animals – instead this farm, owned by provider Relax Gaming, is home to a variety of vegetables, an abundance of Wilds, and some extreme weather. Whilst the name of the farm is not made clear, the name of the game is Wild Yield – a highly (5/5) volatile release, with RTP options up to 96.12%, and win potential up to an impressive 50,000x bet.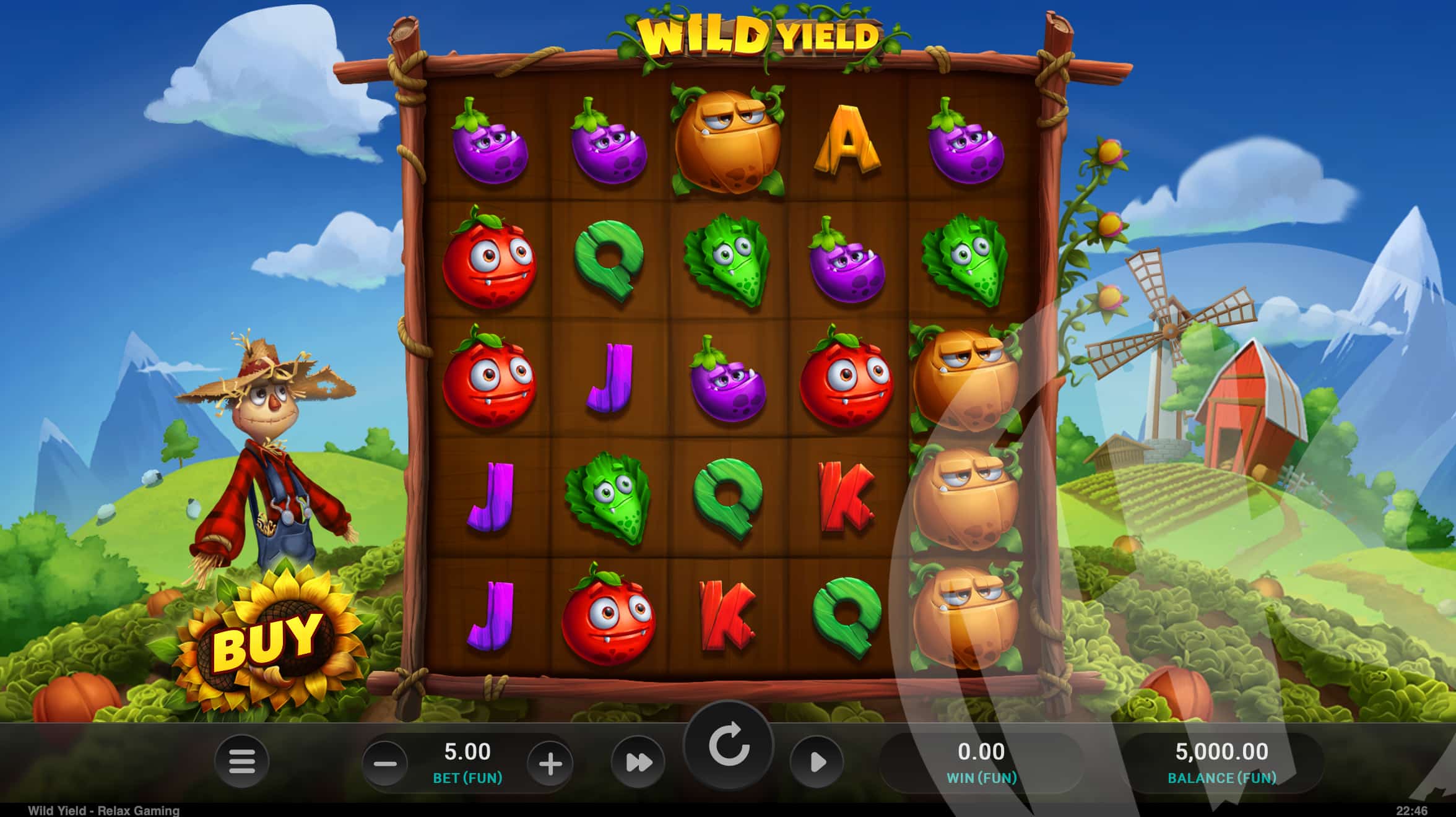 Where else would we be in a farm filled adventure, but on a farm? It's a bright and sunny day on the Relax Gaming farm, with clear skies and grass that is just a bit greener than usual. Crops grow in front of a red barn and windmill, and a scarecrow sits to the left of the reels – protecting both crops and sunflowers alike, although he looks like one of the more timid scarecrows widely available. The entire picture is finished off with wooden reels, sheep in the distance, and mountains in the backdrop, and tied together with upbeat banjo styled audios – the kind that might get a little much, but that do the job nonetheless.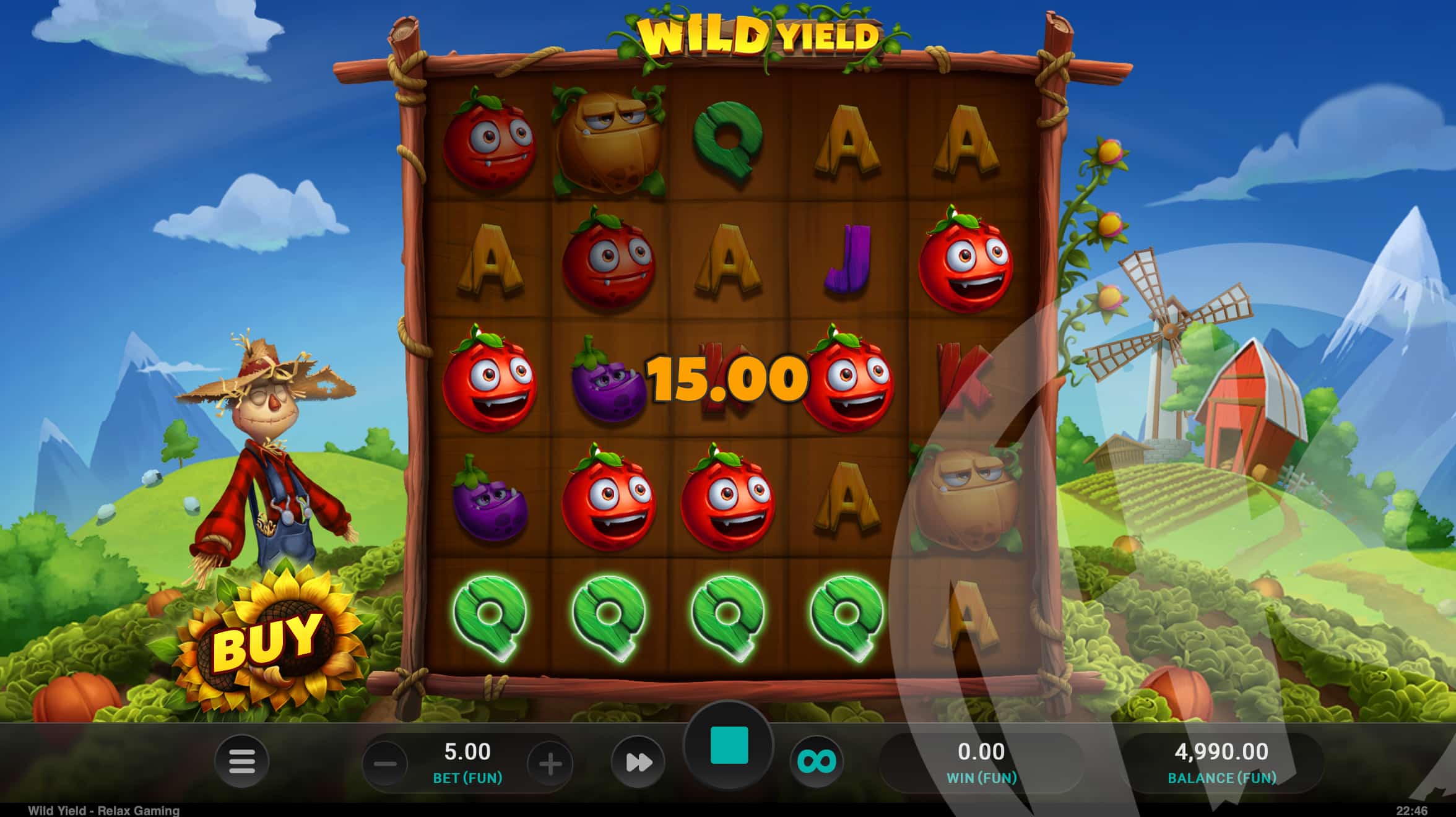 Wild Yield Base Features
Taking place across 5 reels, wins are formed on Wild Yield by matching at least 3 symbols on adjacent reels, beginning with the leftmost reel, across 1 of 259 connected ways to win – similar to Nolimit City's Road Rage. In this instance, win ways are formed by matching symbols in adjacent reels, either on the same row, or one row above or below – ie, diagonally. Symbols available begin with non premiums, with Js, Qs, Ks, and As, awarding wins between 0.10 and 1x bet, for matches between 3 and 5 of a kind. At the premium end, we have four vegetables – aubergines, tomatoes, lettuce, and pumpkins. Land 3 of a kind of any premium to see wins between 0.20 and 0.50x bet, increasing to values between 1.50 and 3x bet for 5 of a kind. Finally, Wild Sunflower Symbols are available, substituting for all symbols except Bonus Symbols, and awarding wins of 3x bet for 5 of a kind.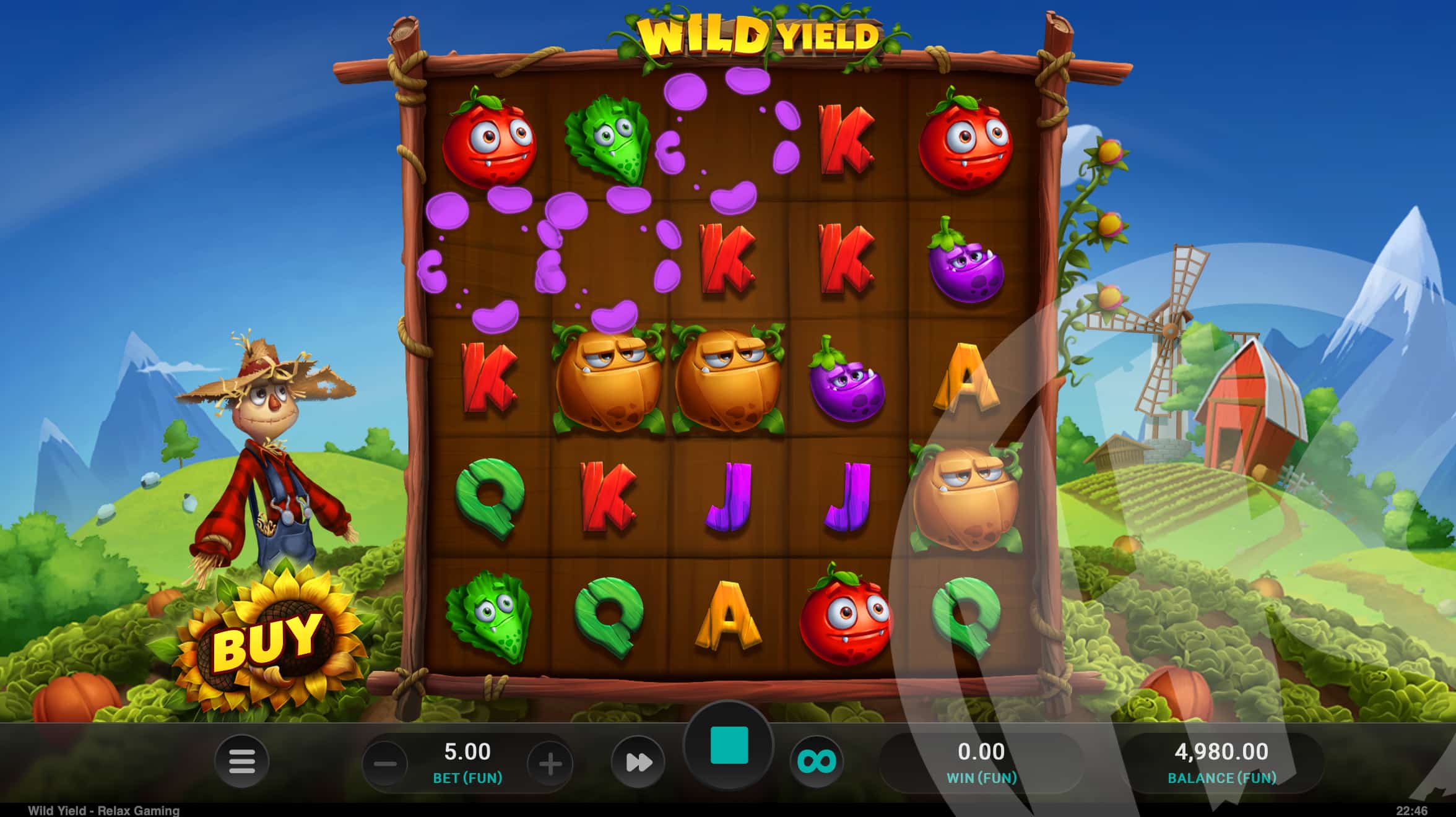 So the first thing to cover in Wild Yield is the cascade mechanic. On every spin, any symbols involved in a winning combination will be destroyed, and will disappear from the reels, along with any Weather Symbols or Bonus Symbols. Bonus Symbols will be collected on the flowers to the right of the reels. Once symbols have been removed, remaining symbols drop down into the bottommost available position on their reels, and new symbols drop in from above to fill any gaps – giving the chance for new wins. Cascades continue until no more wins are formed.
If a Wild Symbol has a counter applied to it, it will not disappear during cascades – instead its' counter will decrement by -1. When the counter runs out and reaches 1, Wilds will be removed as normal. Of course, you don't know anything about Wild counters yet, so let me explain.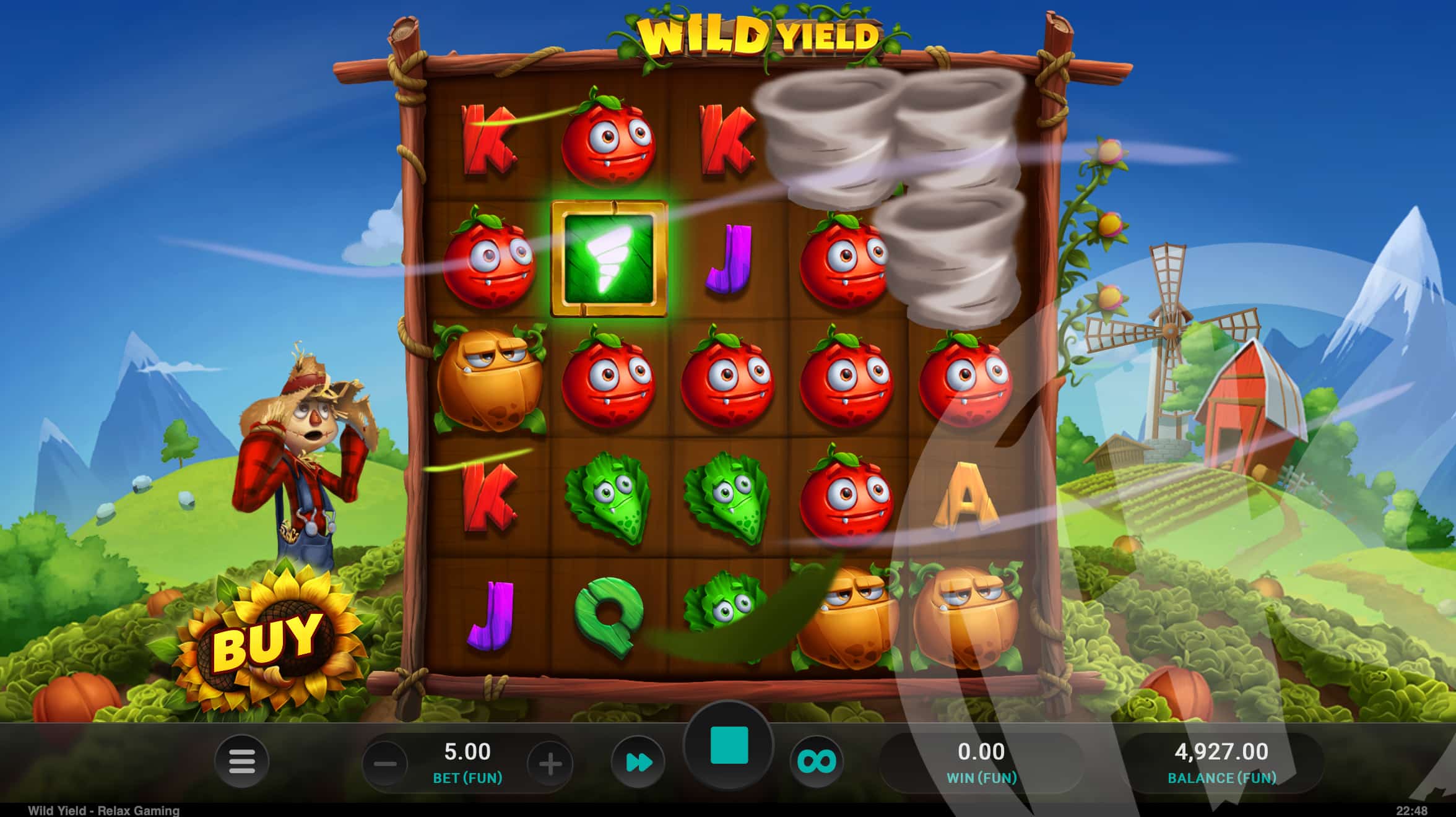 On any spin, a Weather Symbol may land on the reels – Tornado, Rain, Lightning, Earthquake, or Frost. Weather Symbols will transform symbols on the reels into Wilds. Each Weather Symbol will award 1 or 2 patterns from its' group. Patterns can be 3 symbols stacked tall, 3 symbols across individual reels, 3 symbols touching horizontally and vertically, and so on – there are quite a lot of them, but you get familiar pretty quickly with what each Weather Symbol can do. Occasionally, a Weather Symbol can award a Super Pattern – adding more Wilds to the reels.
If a Weather Symbol is going to transform a symbol that has already been turned Wild, it will instead apply a counter to said Wild, incrementing by +1 each time this happens. This counter will act as a multiplier for each connected ways win that passes through it, but also serves to inform how many times it may be used before being removed through cascades.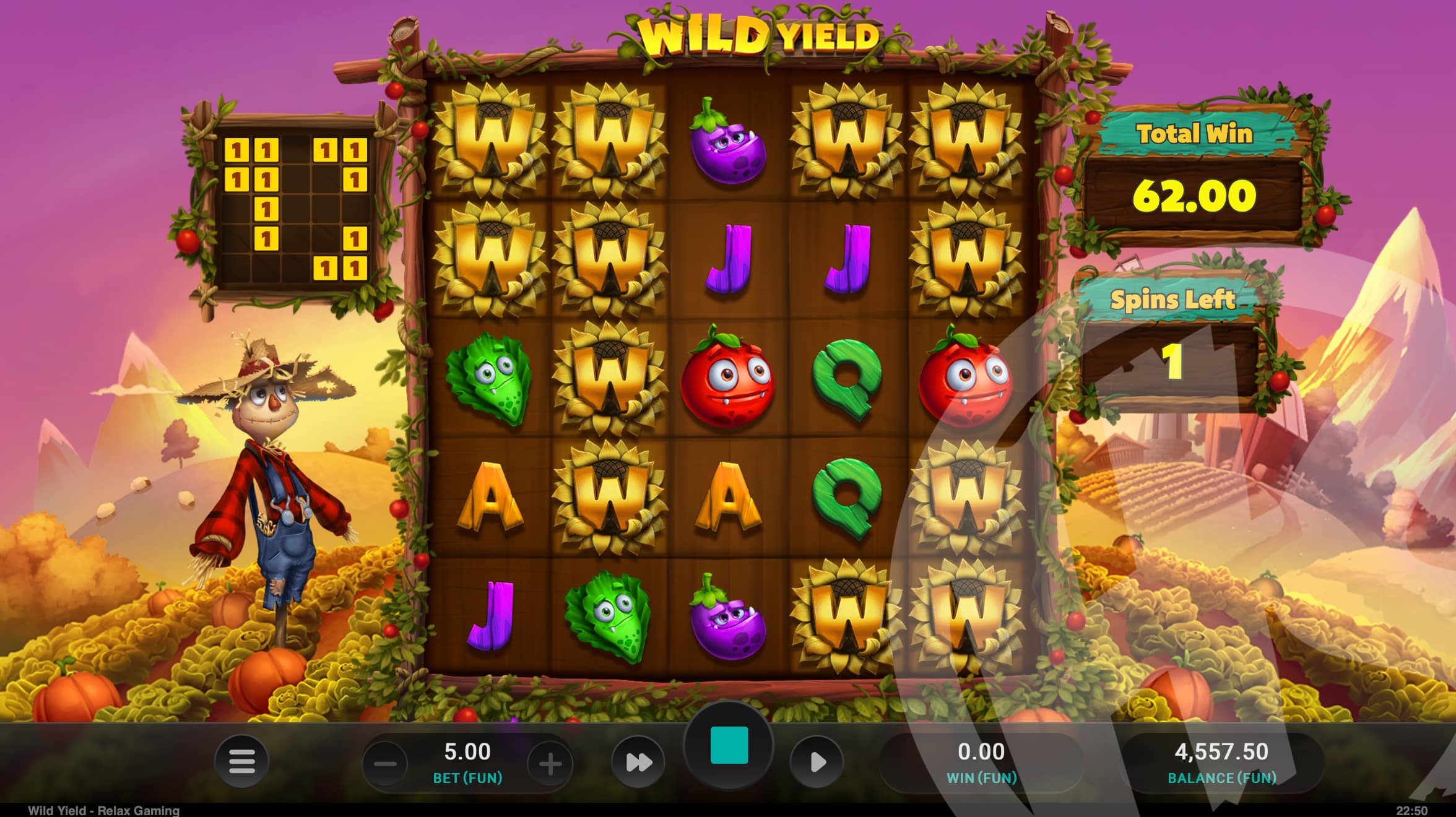 Wild Yield Bonus
Collecting 3 Bonus Symbols will award 6 Free Spins, with every extra Bonus Symbol awarding an additional +1 spins. During Free Spins, things continue much as they do in the base game, with Weather Symbols (Tornado, Rain, Lightning, Earthquake, or Frost) landing to transform symbol positions into Wilds through a regular or Super Pattern. Again, if a Weather Symbol is going to transform a symbol that has already been turned Wild, it will instead apply a counter to the Wild, incrementing by +1 each time this happens, and acting as both a multiplier for connected win ways that pass through it, and an indicator of how many times it may be used before being removed through cascades.
A Special Weather Symbol can land during Free Spins – the Fire Symbol. Rather than having predetermined positions, the Fire Symbol will pick random positions and transform them into Wild Symbols.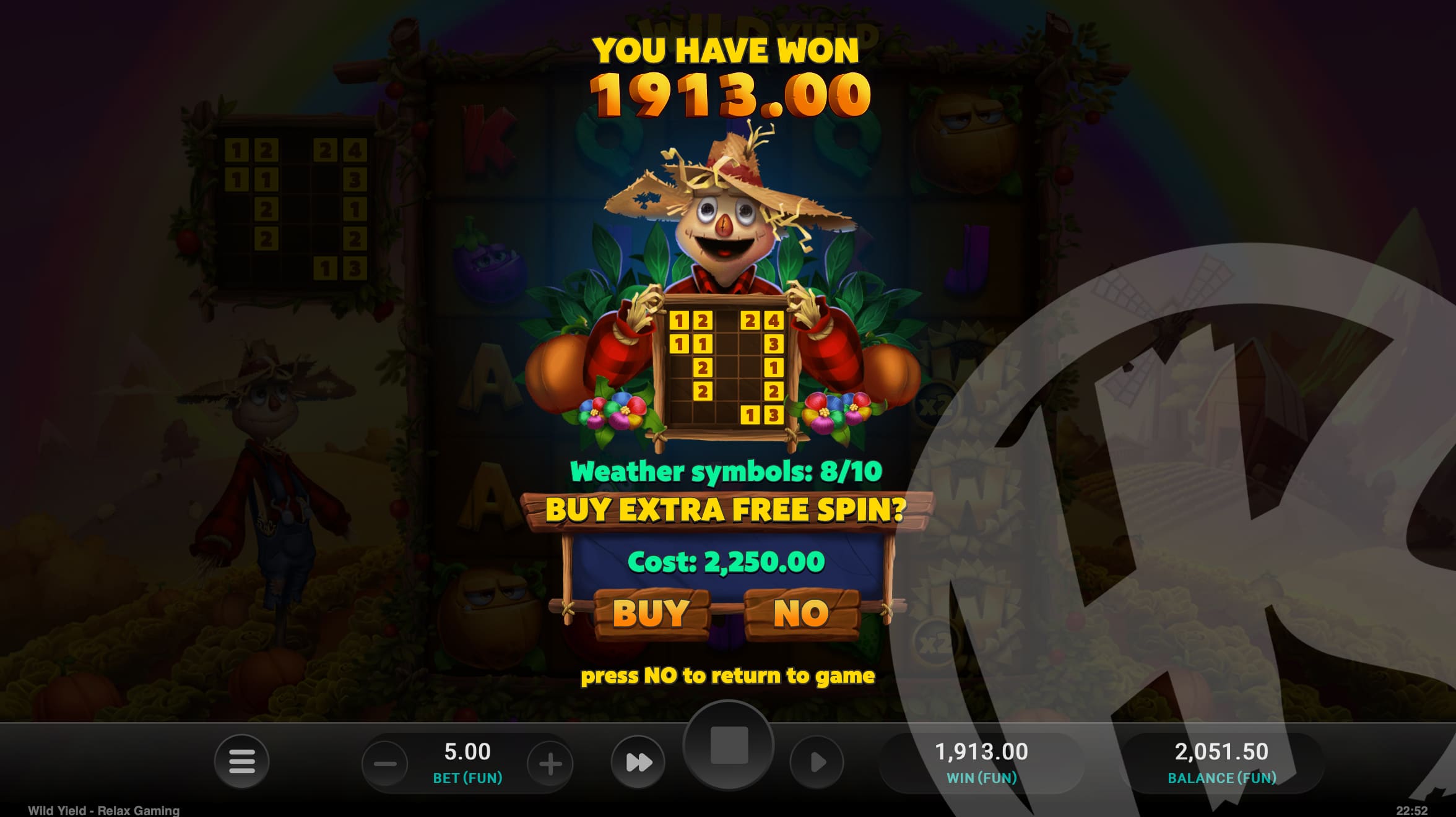 There is a side board during Free Spins, which has the same amount of positions upon it as the main reels do. Each time a symbol position is transformed into a Wild Symbol, its' position will be marked on the side board. Each time a Weather Symbol lands on the reels, it will transform not only the symbol positions for this spin, but will also re-transform all marked positions on the side board into Wild Symbols on the relevant reel positions.
Any positions on the side board that would be marked multiple times (due to being transformed more than once) will instead be given a multiplier value, incrementing by +1 each time the position is transformed.
Each Bonus Symbol that lands during Free Spins will award an additional +1 spins.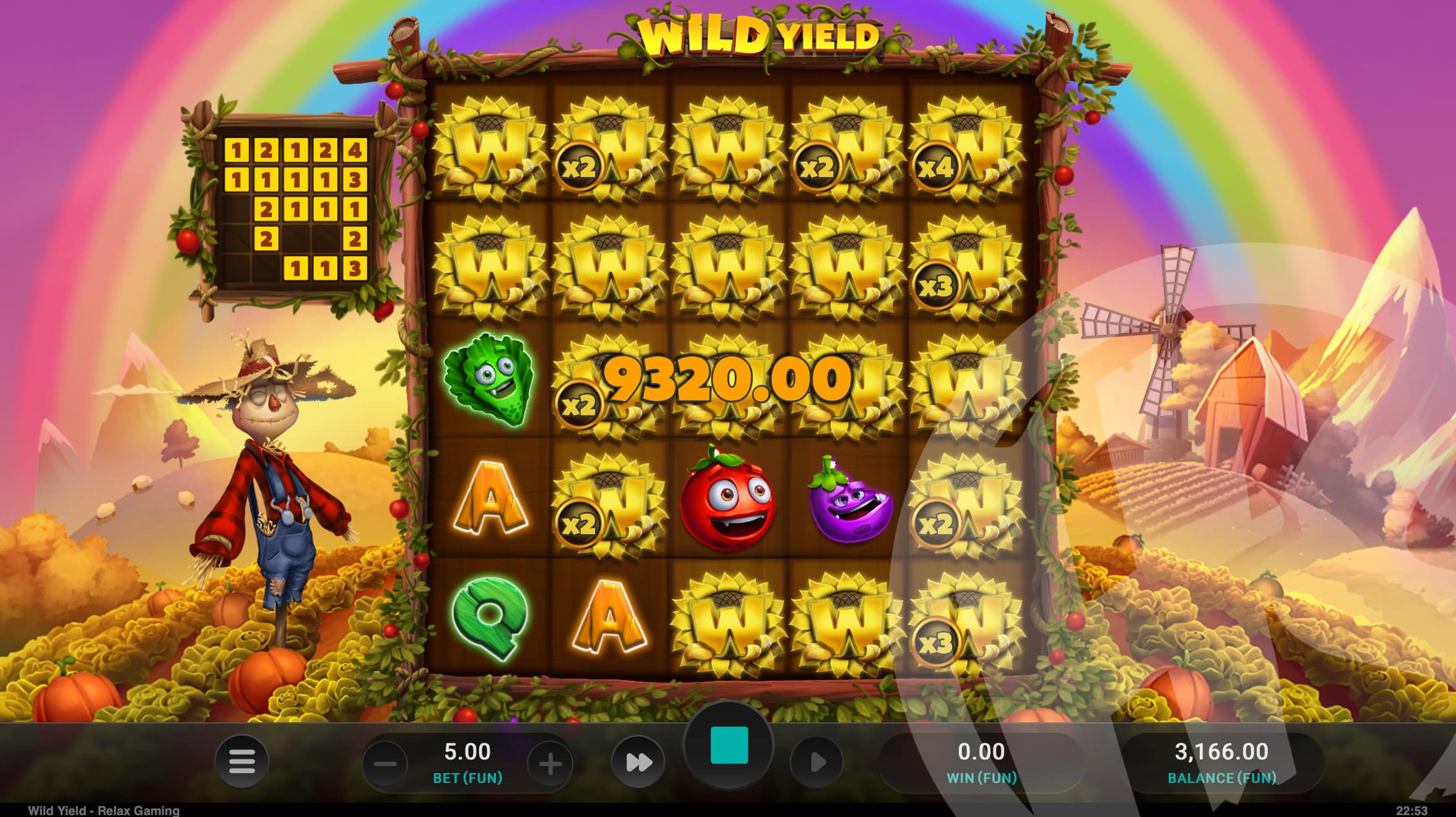 Once Free Spins have ended, players have an opportunity to buy an Extra Free Spin, however this is only possible if less than 10 Weather symbols have landed during Free Spins. When an Extra Free Spin is bought, 1 more spin is awarded, and the side board state remains – if an additional Weather Symbol lands it will transform all symbol positions from the side board into Wild Symbols, along with transforming its' own pattern of symbols into Wilds.
Any symbols transformed during this Extra Free Spin will also be added to the side board, and the opportunity to buy another Extra Free Spin will be offered again. This continues to be made available until 10 Weather Symbols have landed.
The Buy Extra Free Spin price is unique, calculated from the amount of Wild Symbols that are available on the side board, and their position.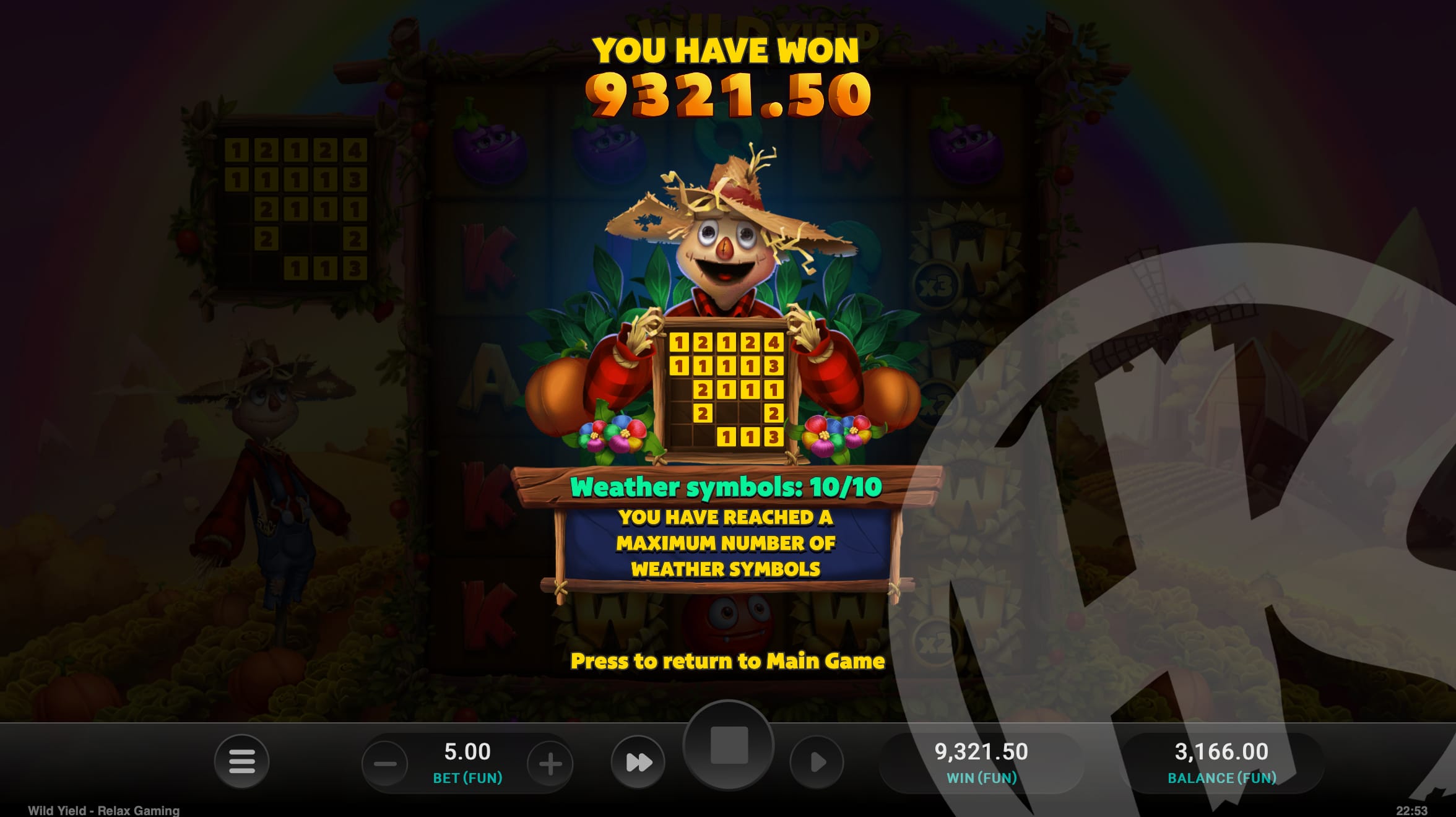 Finally, players in appropriate regions can take advantage of the Buy Feature option in Wild Yield. For a cost of 90x bet, a minimum of 3 Bonus symbols will be awarded.
The RTP when utilising the Buy Extra Free Spin or Buy Feature options will increase slightly, to 96.50%. This is based upon the 96.12% RTP model.
The maximum win available in Wild Yield is 50,000x bet. If the sum of a single game round exceeds this, the game round will end, and 50,000x bet will be awarded.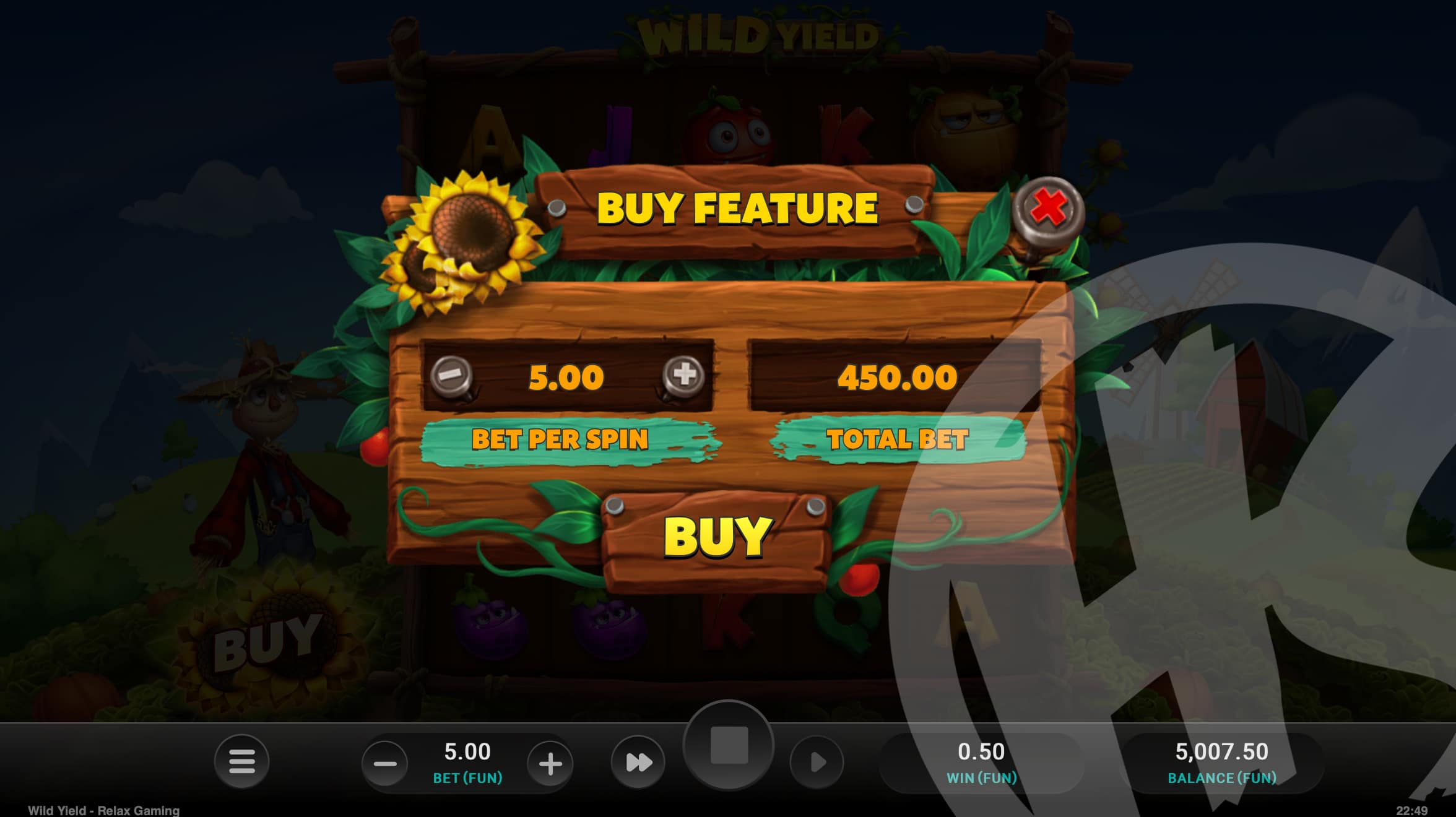 First Impression
I quite like that Relax Gaming can release something like Money Train 3, which is futuristic and quite dark, one week and then a few weeks later bring us a release like this one – a jolly trip to the farm. That said, the lighthearted nature of this one shouldn't distract you – Wild Yield is a highly (5/5) volatile release, capable of producing potent combinations – specifically to the tune of 50,000x bet.
The idea itself works. We know by now that Relax will often take one small feature and run with it, shaping and moulding it until it forms into something great – the last game of theirs we reviewed, Hot Rod Racers, had the same feeling to it. In this case, it's really just Wild symbols on the reels, but the idea of having them form patterns, multipliers, and stick on the side board during Free Spins is what takes this simplicity to the next level – and makes it something truly exciting.
Speaking of Free Spins and of course, things definitely kick up a notch when moving into the bonus round – specifically with the additional of the Buy Extra Free Spin feature. It can be an expensive venture, but one that definitely reaps rewards when the cards are dealt just right. That said, on the way to the win above in this review, I think I bought the Extra Free Spin twice for around 50x and didn't get any Weather symbols – short lived excitement, and quite painful. I still went back for more though, and that's what makes Wild Yield exactly what it is – you just can't help but want to try again, no matter what it's done to you before.
RTP options are available up to 96.12%, so as always it's worth checking, and I think that's everything pretty much covered. There's always a risk of bias in these reviews, and I am a big fan of Relax, but even with that set aside, Wild Yield is simple enough to please the majority of players, but potent enough to please the thrill seekers amongst us – it's one for pretty much anyone.
*The screenshots taken of games reviewed on this site are taken from Demo Play, as reviews are often written before games are released for real play.