If you aren't familiar with the work of Print Gaming, they are the team behind the innovative and quirky Royal Potato, and Out of the Ice – the latter of which has been our only max win to date during a stream, making it one of our favourites. Now the team are back again with Huntress Wild Vengeance – a highly volatile release with win potential up to 20,000x bet. We sat down with Carl Wiggman, CEO of Print Studios, to ask 3 of our most pressing questions about this new release.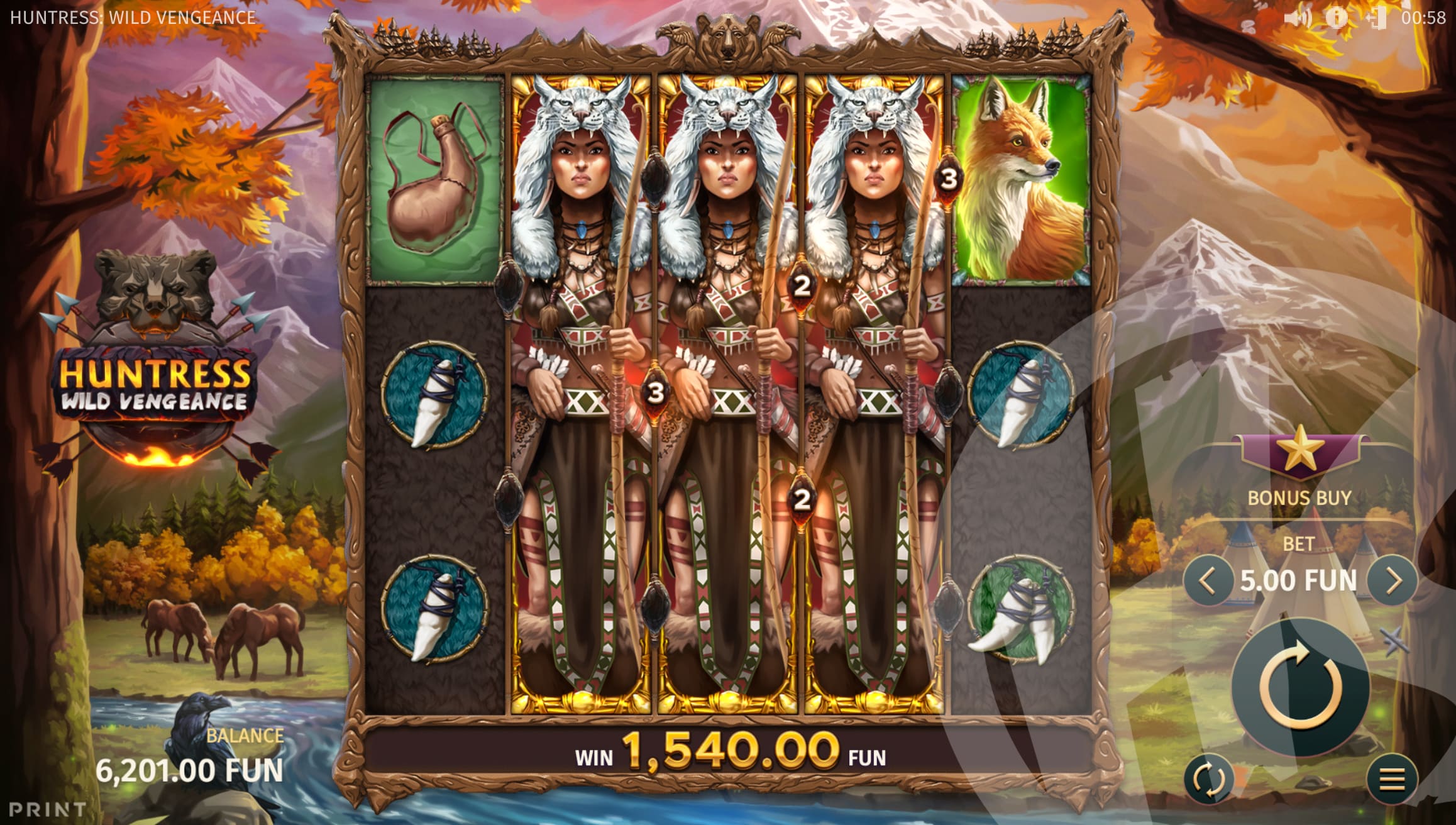 Hi Carl – Congratulations on the release of Huntress Wild Vengeance, it's a great game, and the artwork is superb. You've gone for an interesting gamble within this release – it's quite intense. Were you aiming for tension and excitement in particular with this idea, or was it more about just trying to tie the gamble into the overall theme?
Thanks, those are kind words!
Tension and excitement were the main reason, we wanted to test the players gambling courage so to speak. Being forced to make the decision in the moment is in some ways more thrilling than committing and then waiting for a result, but it can get dull over time.
For that reason, we've wanted to do this type of gamble mechanic for a long while, it's kind of a coincidence it worked out well with the story in this case.
We wanted to test the players gambling courage so to speak.
SuperSpinners are back in this release, which we were glad to see. Where did the idea for SuperSpinners originally come from, and do you think this is something the team will aim to tie into most future releases?
SuperSpinners was one of the early ideas of why we wanted to start the studio actually. I have been obsessed with coming up with new mechanics that add stimulation and potential simultaneously, and SuperSpinners is one of the most efficient solutions towards that from a classic line-win vantage point.
We didn't realize how versatile it was back then though, as we've come up with countless applications since that we can't wait to try out. We'll keep experimenting with it, although it won't be the only thing we do.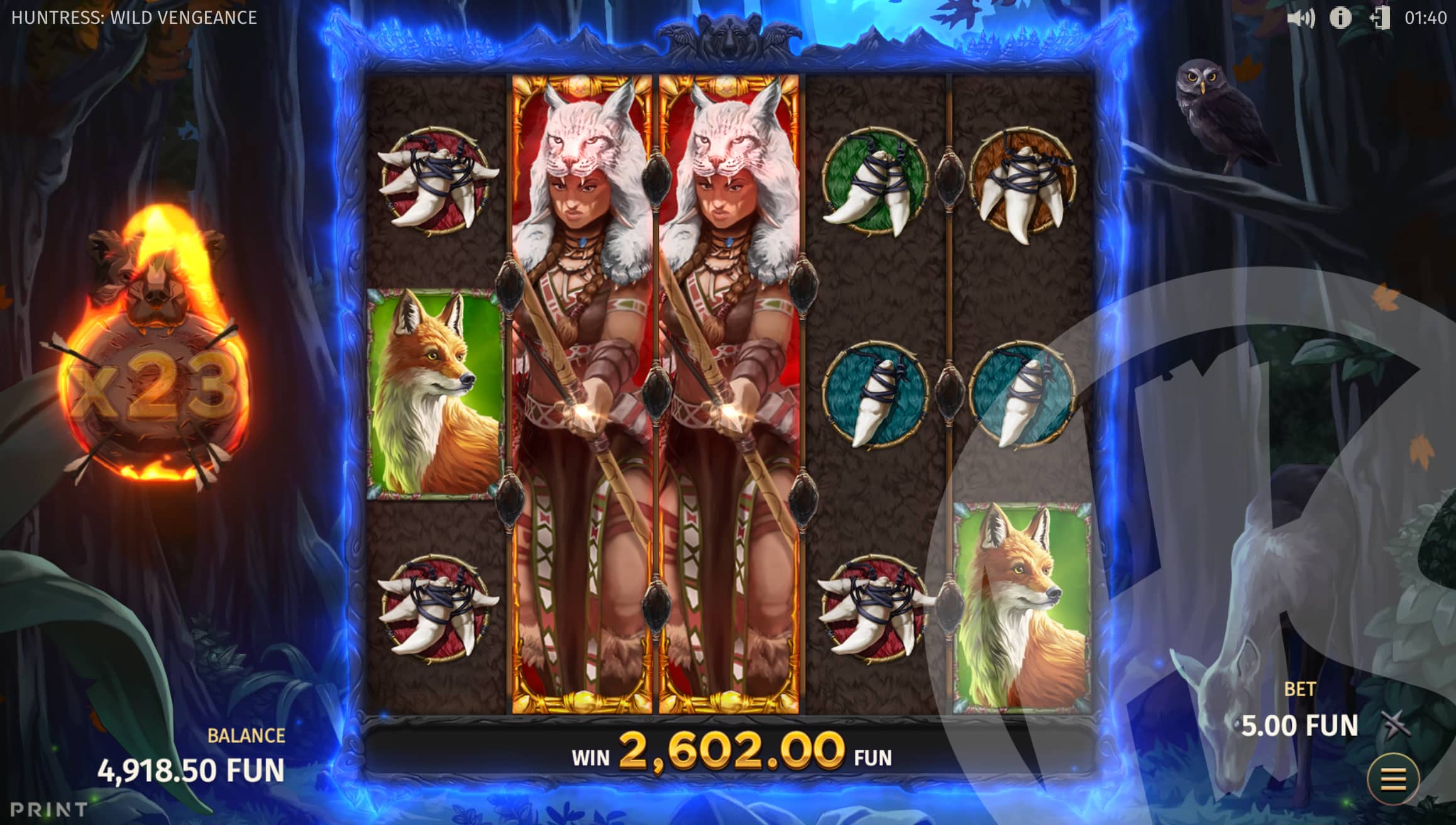 We hit our first ever max win on your previous release, Out of The Ice. Can you tell our viewers a little more about the potential in Huntress Wild Vengeance, and what sort of game play they can expect? How high can the global multiplier go?
Huntress Wild Vengeance is packed with potential, especially in the 500-2000x range. Those wins are quite common, but as a result it's also easy to get a bit of a whack bonus (sorry). Gambling up to 26 spins will improve the chances of landing something, but since the multiplier can increase massively in bursts its highly unpredictable all around.
I must confess I actually don't know what the global multiplier can get up to, all I can recall is I had it at 58 one time while testing natural spins (sometimes we use cheats during development to test things faster).
Getting up to 30 is relatively common, at which point landing any Huntress can be huge. One thing I like is that the Huntress is always equally common, and the reels stay the same regardless of where the global multiplier is, even though it might feel otherwise sometimes.
—
Well, that is interesting – the chance of landing a Huntress Wild remains the same, regardless of how much the Global Multiplier has increased, which will be music to the ears of players across the sector. We're really excited about this release, and don't doubt that we'll be seeing some huge wins in no time at all.