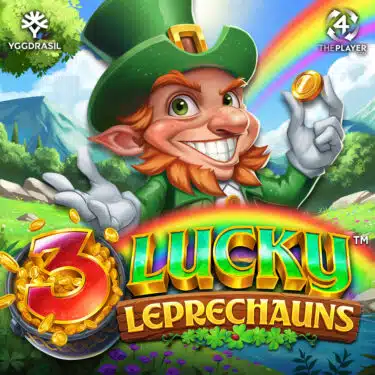 3 Lucky Leprechauns
Game Provider: 4ThePlayer
Release Date: Available Now
3 Lucky Leprechauns
Game Studio 4ThePlayer
Release date Available Now
RTP 96.0%
RTP Feature Buy 96.0%
Paylines 243
Volatility Medium - High
Min Bet 0.10
Max Bet 30
Max. Win 5,000x
Rating 8.2/10
It's time for another trip to the Emerald Isle, and this time it's 4ThePlayer leading the way, after their recent trip to Sin City for 9k Kong in Vegas. Today, our focus is on the idea of the leprechaun – an idea so old it is said to have first emerged in the 8th century.
According to David Russell McAnally, the leprechaun is the son of an 'evil spirit' and 'degenerate fairy', meaning he is neither wholly good, nor wholly evil – seems like a fair description of online slots too, neither wholly good, nor bad. Either way, 4ThePlayer are showing us their interpretation of the leprechaun in 3 Lucky Leprechauns, including the lesser known female leprechaun.
With an RTP of 96.0%, this medium-high volatility release can produce wins up to 5,060x bet – and comes with a free spins frequency of 1 in 75, one of the more forgiving statistics we've read in a long time.
Visually, it seems that 4ThePlayer have gone for the good side of the leprechaun, with bright blue skies broken apart by fluffy white clouds and a vibrant rainbow. Our landscape is friendly and colourful, with a river, a pebbled path leading to a small cottage, a pot of gold, and some other typically Irish imagery.
It's all very nice to look at, although attention immediately goes to the Leprechaun Trail to the left of the reels, which we'll get to soon. Audios work to bring everything together – quite stereotypically Irish, but in a way that works. When considered altogether, it's the sort of friendly release that will help to put you in a nice mood once you load it up.
3 Lucky Leprechauns Base Features
Taking place across 5 reels, wins are formed on 3 Lucky Leprechauns by matching at least 2 or 3 symbols on adjacent reels, beginning with the leftmost reel. Each reel holds 3 symbols, producing 243 ways to win. Symbols begin with non premiums, with 10s, Js, Qs, Ks, and As, awarding wins between 0.50 and 0.70x bet for 3 of a kind, increasing to values between 3 and 5x bet for 5 of a kind matches. In the mid range, we have mushrooms and beers, awarding wins between 1 and 8x bet for wins between 3 and 5 of a kind.
Premiums consist of four leafed clovers and wishing wells, awarding wins of 1.50x bet for 3 of a kind, increasing to values of 10 and 20x bet respectively for 5 of a kind wins. Horseshoes are the highest paying symbol and the only to pay for 2 of a kind, awarding wins of 0.50, 2.50, 10, or 30x bet for 2, 3, 4, or 5 of a kind, respectively. Finally, Wild symbols are available, substituting for all symbols except Bonus Scatters.
So, there are no 'base game features' per se in 3 Lucky Leprechauns, but at this point it's imperative to point out that players can expect a bonus on average 1 in 75 spins – much more frequently than most games on the market.
SLOT STATS
There are a host of bonus features available that we'll get to in a moment, but for now we'll explain what you can expect to see in this release. Thanks to 4ThePlayer's SLOT STATS™, we know that after 100 spins the average best win provided is:
All Players: 49x bet
1 in 10 Players: 215x bet
1 in 100 Players: 859x bet
1 in 1000 Players: 3,530x bet
Other than this, a fun little addition is that players can choose their Luckiest Leprechaun, which is the character that will appear on the Wild symbol. There are 3 choices – Ardal, Muriel, or Seamus.
3 Lucky Leprechauns Bonus
Land 3 or more Bonus Scatters to trigger the Leprechaun Trail. By landing additional Scatters, it is possible to start higher on the trail:
3 Bonus Scatters – Level 1
4 Bonus Scatters – Level 7 (Win Spins begin)
5 Bonus Scatters – Level 12 (Pick-a-Win begins)
When the Leprechaun Trail bonus begins, players will either progress to the next level, or award a prize. There are 3 types of prizes to be won:
Cash Prizes – between 7 and 5,000x bet.
Win Spins – between 4 and 15 spins. Every spin is a win, and every win is multiplied by 5x.
Pick-a-Win Bonus – up to 5 picks, with each pick awarding between 50 and 2,000x bet.
When Win Spins or the Pick-a-Win Bonus are awarded, players can choose between playing their bonus or taking a Cash Prize instead. All Cash Prizes are listed on the Leprechaun Trail.
Buy Feature
Players in appropriate regions can skip straight to the action with the following Buy Feature options:
Leprechaun Trail (3-5 Scatters) – 35x bet
Win Spins (4-15 Spins) – 75x bet
Pick-a-Win Bonus (1-5 Picks) – 330x bet
When buying Win Spins or the Pick-a-Win Bonus, it is not possible to collect the Cash Prize alternative.
The maximum win available in 3 Lucky Leprechauns is 5,060x bet. If the sum of a single game round exceeds this, the game round will end and 5,060x bet will be awarded.
First Impression
4ThePlayer are a studio that strive to release games to suit players, rather than what might be their own idea of what makes sense, and it seems this becomes more evident as time progresses. In this example, we have a medium to highly volatile release, still capable of producing lucrative wins, but offering a bonus frequency of 1 in 75 spins. In the latest flurry of extremely volatile releases across the market, the team have found an opening, and it seems obvious that players will like what they've done here.
There isn't a great amount driving the base game forwards, but that's mostly due to the bonus frequency. When the Leprechaun Trail begins though, things kick up a notch, with Cash Prizes, Win Spins, and the Pick-a-Win Bonus on offer – and don't forget players are even given a choice towards the top end of taking their bonus or an alternative Cash Prize. It's interesting to see a release with a pick bonus offering the most lucrative rewards, but regardless, this trail offers wins up to 5,000x bet – just shy of the overall maximum win potential of up to 5,060x bet.
Maths is medium to high volatility, and RTP is 96.0%, so no complaints on either front. There's something playful about this one, which helps to make it enjoyable, even when the luck of the Irish isn't on your side.
*The screenshots taken of games reviewed on this site are taken from Demo Play, as reviews are often written before games are released for real play.