Provider 4ThePlayer are back once again with another one of their bold releases, and this time we're heading to Sin City. We're not alone though, because it seems Kong has managed to escape from Skull Island and secure himself a job as a croupier in one of the big casinos on the Las Vegas Strip – complete with a red waistcoat. Immediately, I know I'd rather spend a night in Vegas with Kong than climb Everest with a Yeti, but will we prefer 9k Kong in Vegas to the team's popular 90k Yeti release? We'll find out soon, but for now all you need to know is that this release is highly (5/5) volatile, with an RTP of 96.0% at its' highest, and wins available up to 9,216x bet.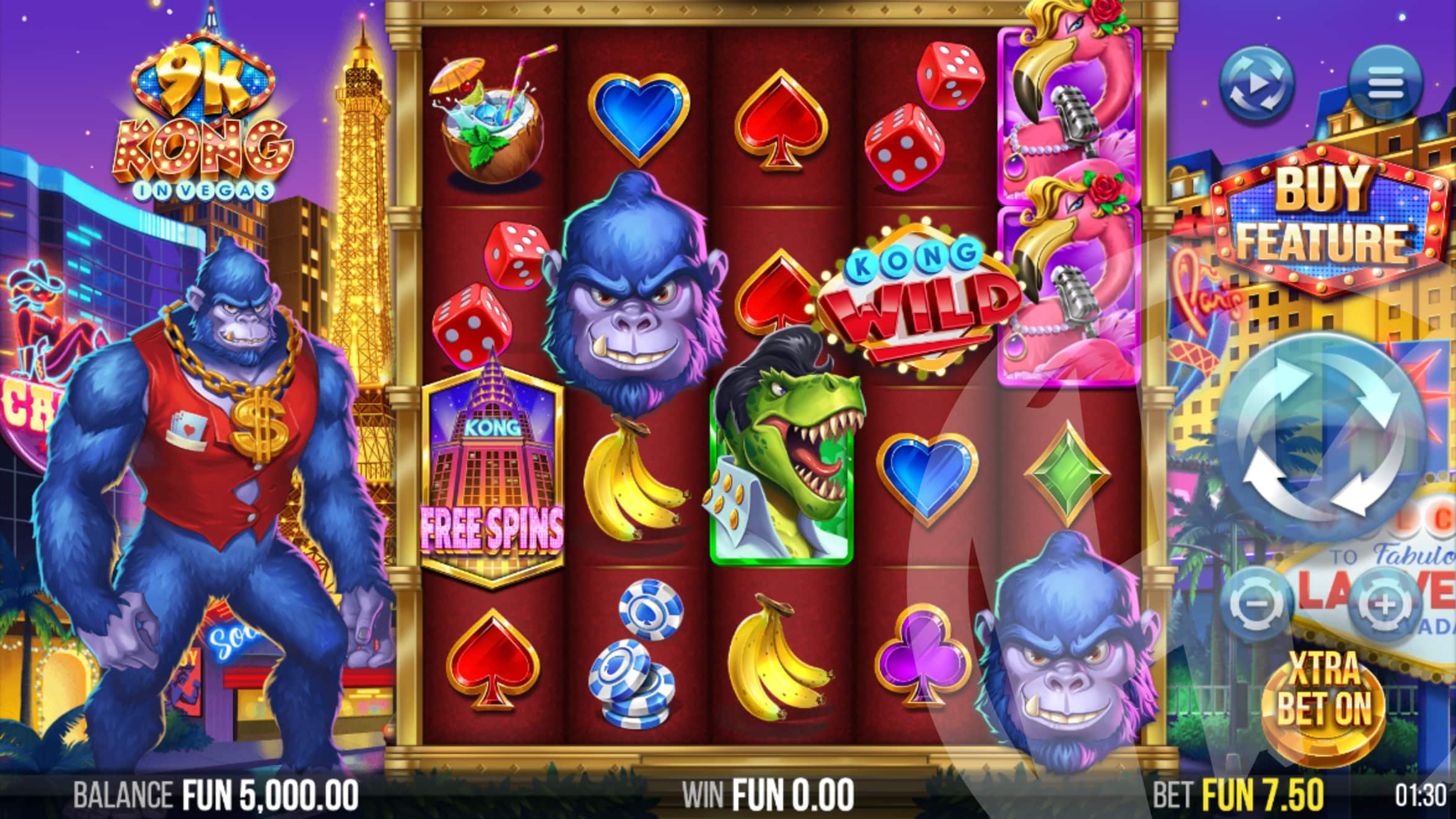 Visually we're in Las Vegas, right in front of the popular Paris hotel. The Welcome to Fabulous Las Vegas Nevada sign is visible to the right of the reels, with stars and lights helping to light up the purple night sky. It's all very busy, with an Elvis styled dinosaur, Kong himself, and a karaoke styled flamingo all taking their place on the reels – alongside the Kong Wild which has been nicely styled to look like the aforementioned Welcome sign. This isn't one for someone who likes things on the 'plain' side, but it will suit players in the market for a bright, attention grabbing release. Audios are smooth – kind of a blues feeling, and bring the whole thing together.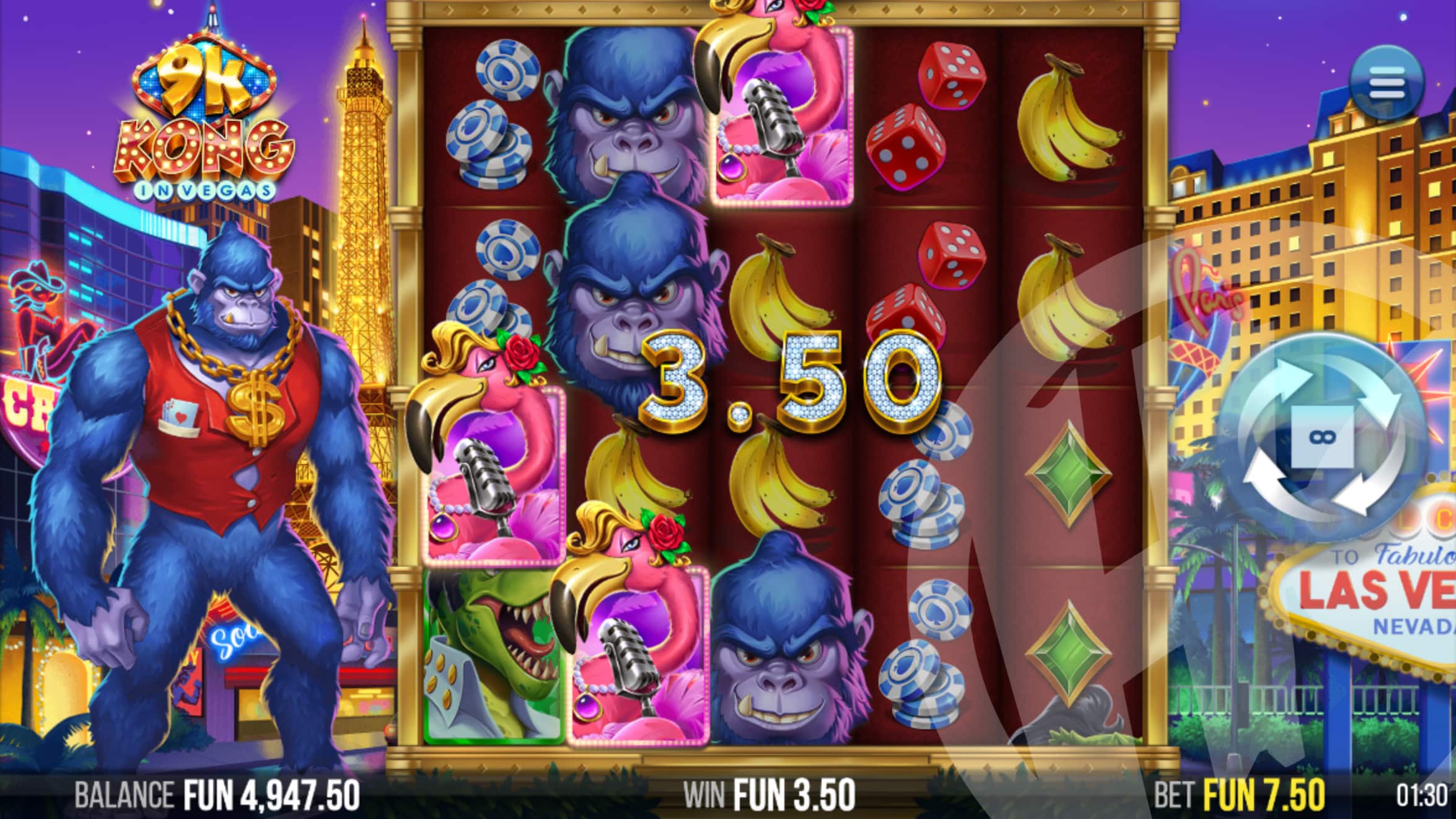 9k Kong in Vegas Base Features
Taking place across 5 reels, wins are formed on 9k Kong in Vegas by matching at least 2 or 3 symbols on adjacent reels, beginning with the leftmost reel. Symbols can land in any position, producing 1,024 ways to win. Symbols available begin with non premiums, with purple clubs, green diamonds, blue hearts, and red spades, each awarding wins of 0.20x bet for 3 of a kind, increasing to values between 1 and 1.20x bet for 5 of a kind matches. In the mid range, we have poker chips, dice, cocktails (maybe Pina Coladas?) served in coconuts, and a bunch of bananas, awarding wins between 0.40 and 0.50x bet for 3 of a kind, increasing to values between 1.50 and 2.50x bet for 5 of a kind matches. Premiums pay for as little as 2 ways, and begin with karaoke flamingos and Elvis styled dinosaurs, awarding wins of 0.20x bet for 2 of a kind, increasing to values between 3 and 3.50x bet for 5 of a kind matches. Finally, Kongs are available, awarding wins of 0.50, 2.50, 3, and 4.50x bet for 2, 3, 4, and 5 of a kind, respectively, and Wild symbols, which substitute for all symbols except Free Spin scatters.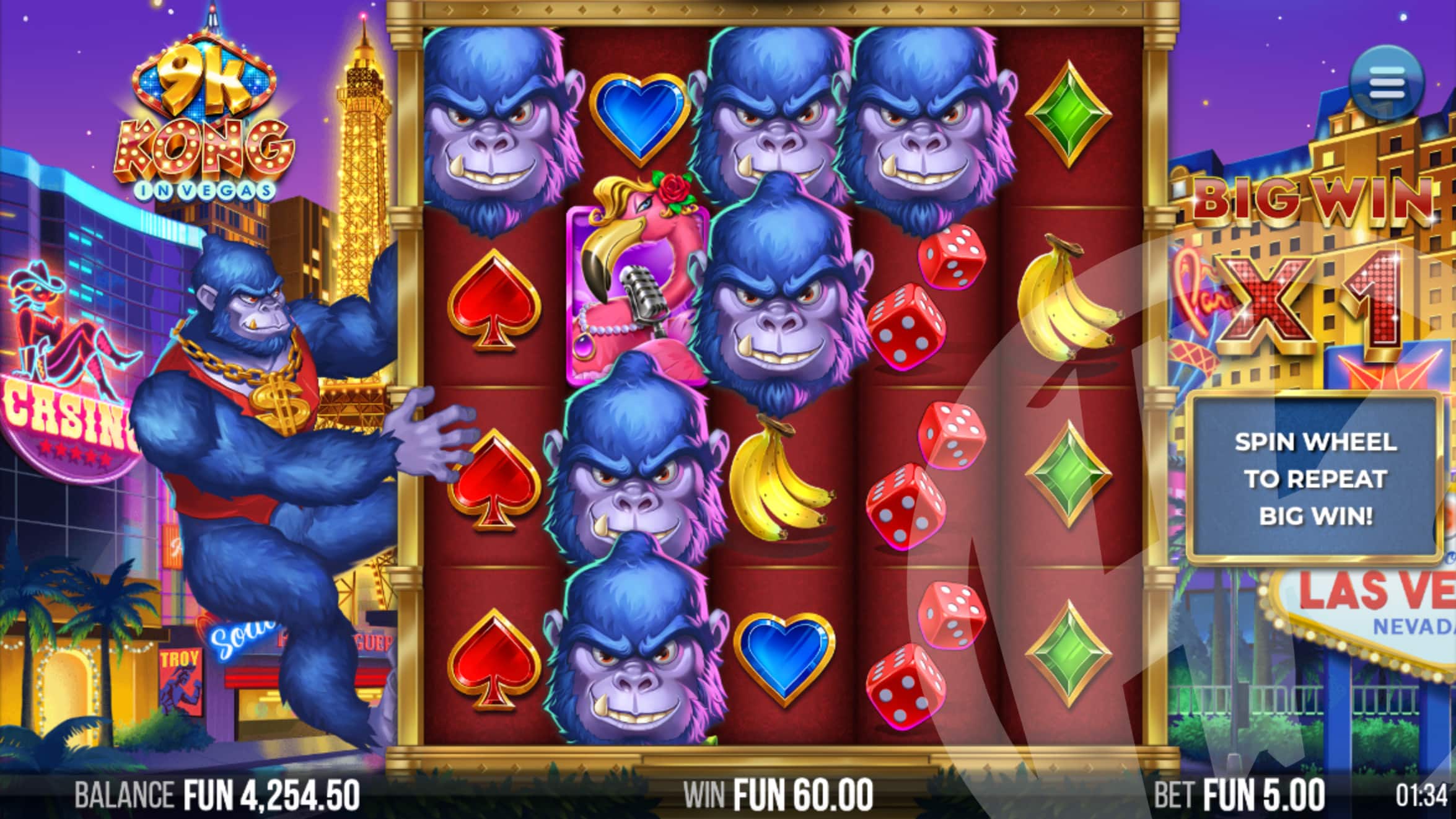 The first element to cover in 9k Kong in Vegas is the Xtra Bet. By betting an additional 50%, the chance of triggering Free Spins is increased to 150%, and an extra spin on the wheel is awarded to repeat big wins and Free Spins. Symbol payouts are unaffected by the Xtra Bet.
Speaking of the wheel, which is styled like a roulette wheel, this is the main feature of 9k Kong in Vegas – the Big Win Repeater, awarded after any win of 10x bet in size or more. When a win of this size occurs, players have an opportunity to spin the wheel, in which the result is either collect the value won so far (green), or repeat the win, thereby awarding it again (blue). There is no chance of losing the win through this feature.
If, after spinning the wheel, the win is repeated, players will have a chance to spin the wheel once more. This continues until eventually the wheel lands on collect. Each time the wheel is spun, the collect chance gets slightly larger. The amount of times the win has been won is indicated to the right of the wheel, as a multiplier value.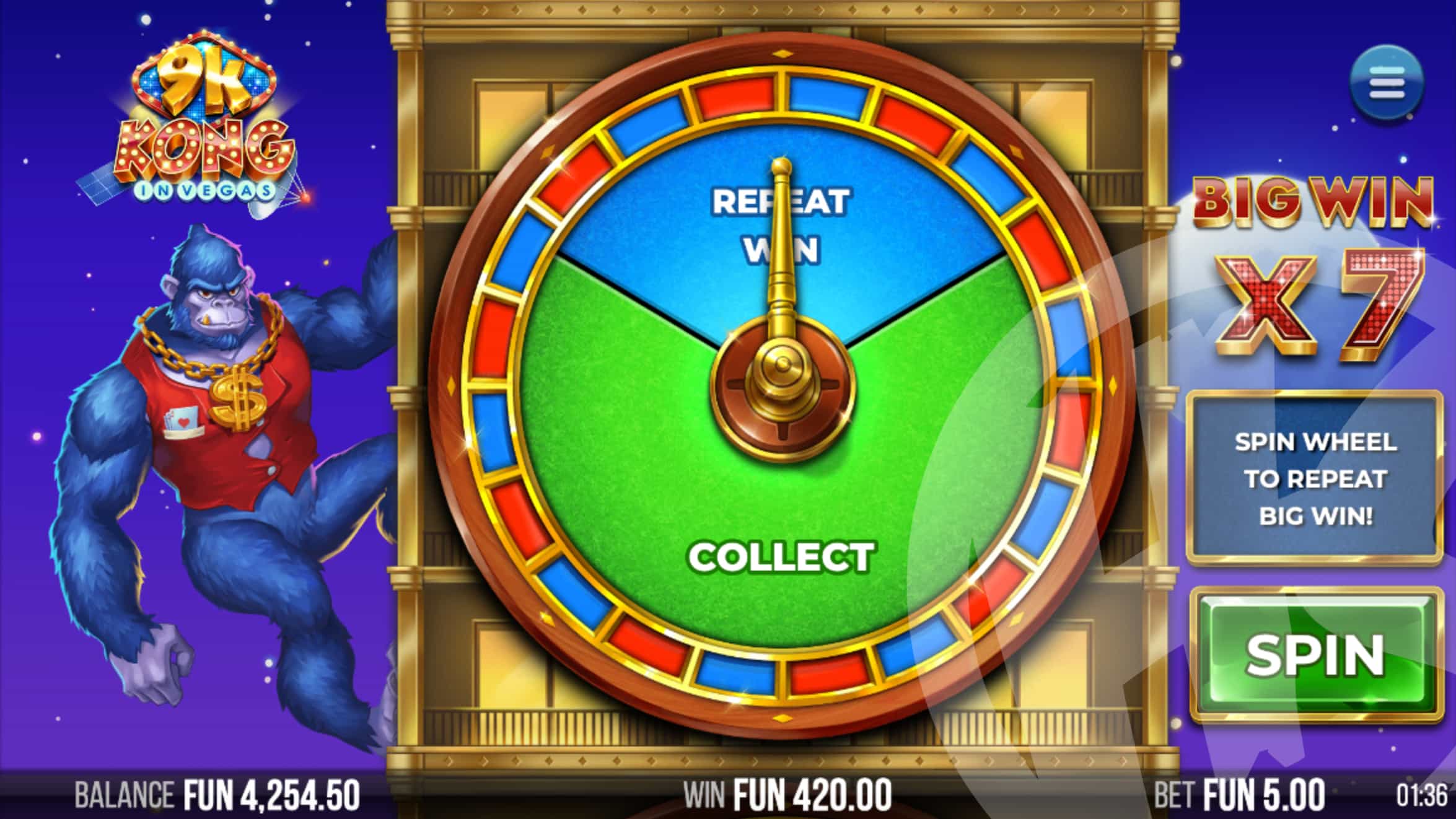 9k Kong in Vegas Bonus
Free Spin Scatters can land on reels 1, 3, and 5. If all 3 Scatters land in view, players will be awarded 10 Free Spins. During Free Spins, the highest win of any single spin will be collected to the right of the reels. Each time a new win is of a higher value, the highest win display will be replaced. On every subsequent win after the highest win is achieved, the highest win is added to the current win, awarded, and added to the total win of spins – so your highest win is repeated for every win achieved after it.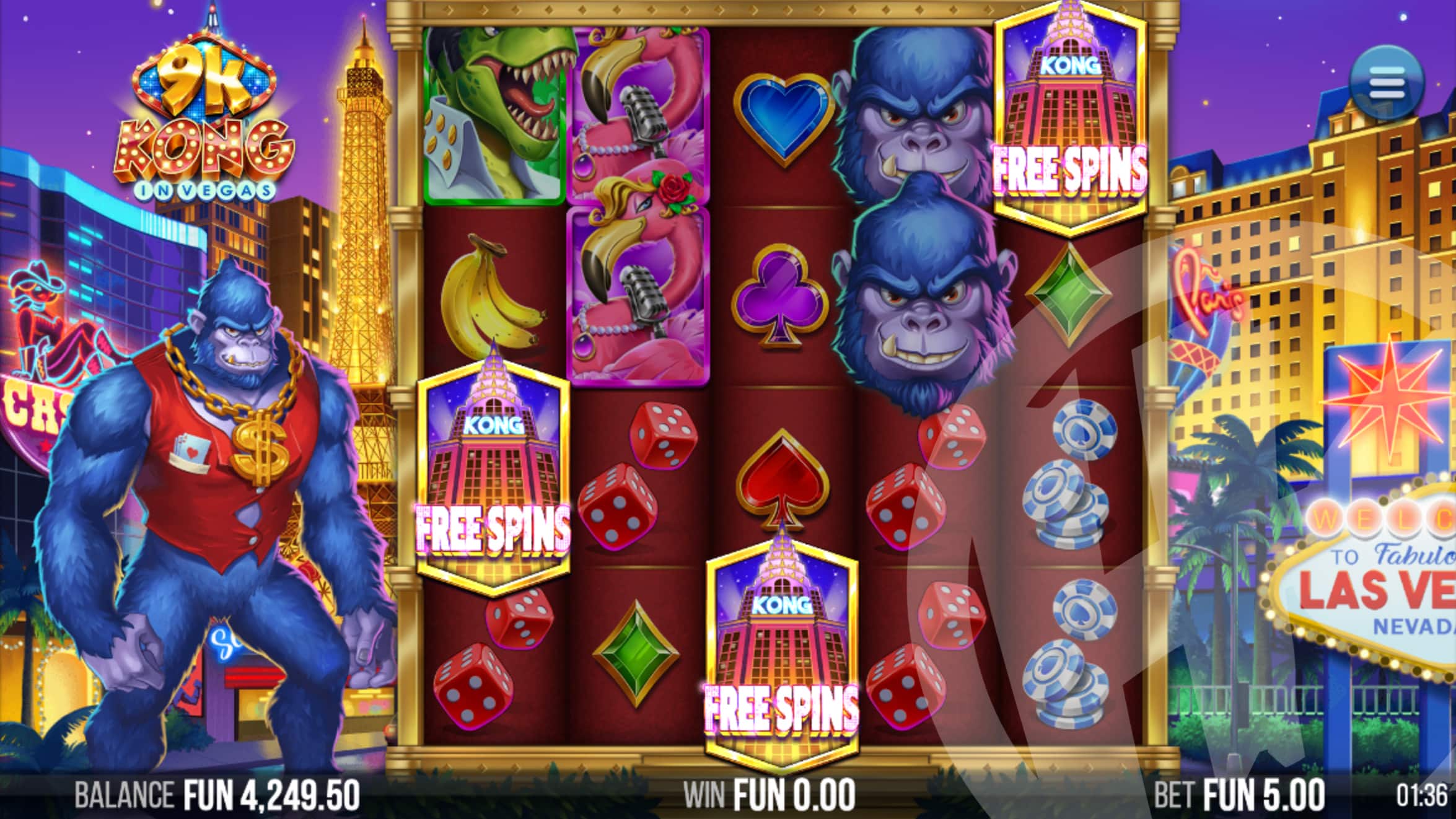 After the awarded 10 Free Spins have ended, players will then spin a wheel, where one of the following possible outcomes are possible:
Collect – Free Spins end.
5-20 more Free Spins are awarded – the Highest Win value is maintained.
5-20 more Free Spins are awarded – the Highest Win value is reset to 0.
If more Free Spins are awarded, the wheel is then awarded again at the end of those Free Spins. This continues until the wheel lands on Collect.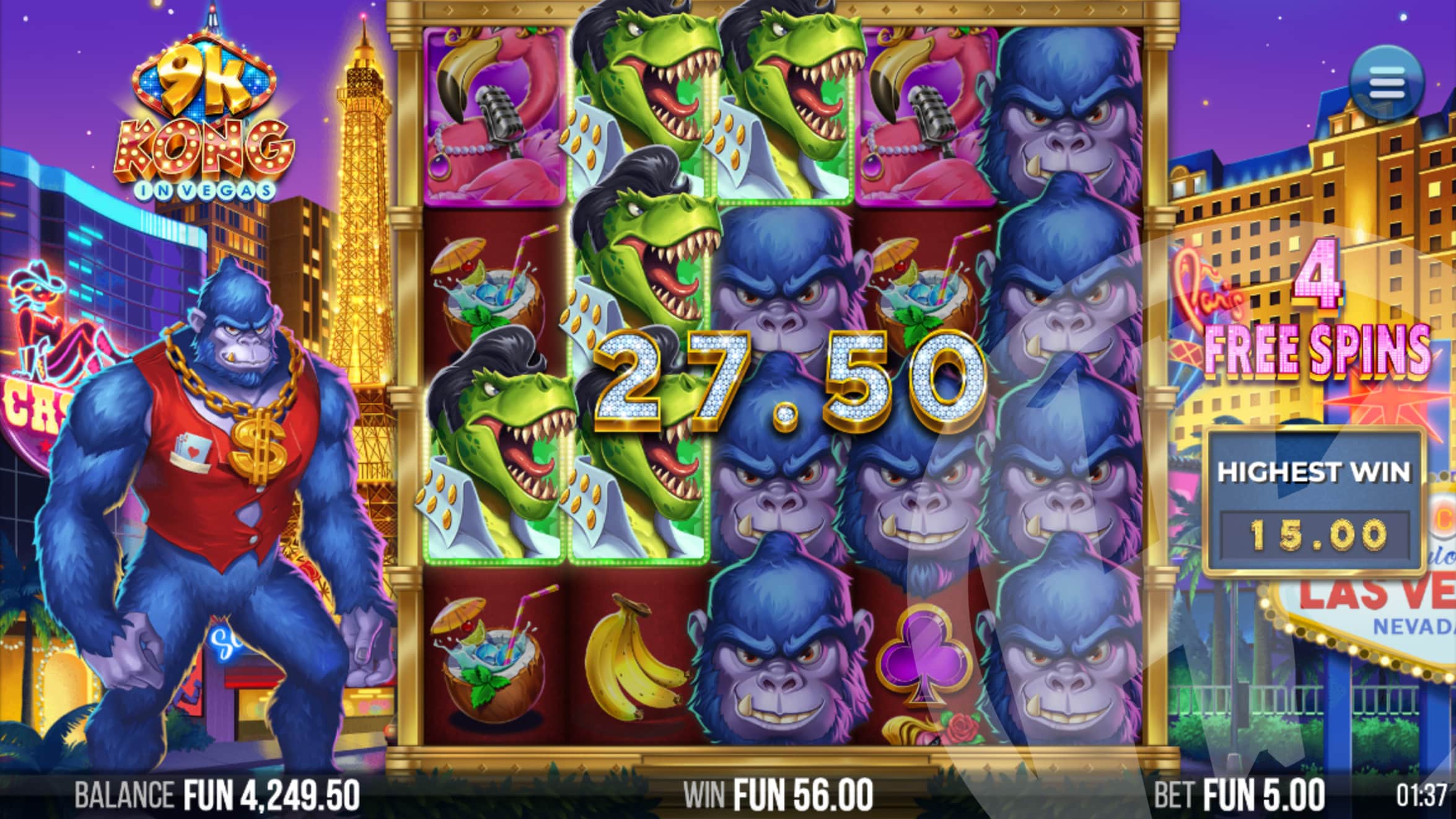 Players in appropriate regions can take advantage of the following two Buy Feature options:
50x bet – Big Win Repeater
85x bet – 10 Free Spins
The maximum win available in 9k Kong in Vegas is 9,216x bet. If the sum of a single game round exceeds this, the game round will end, and 9,216x bet will be awarded.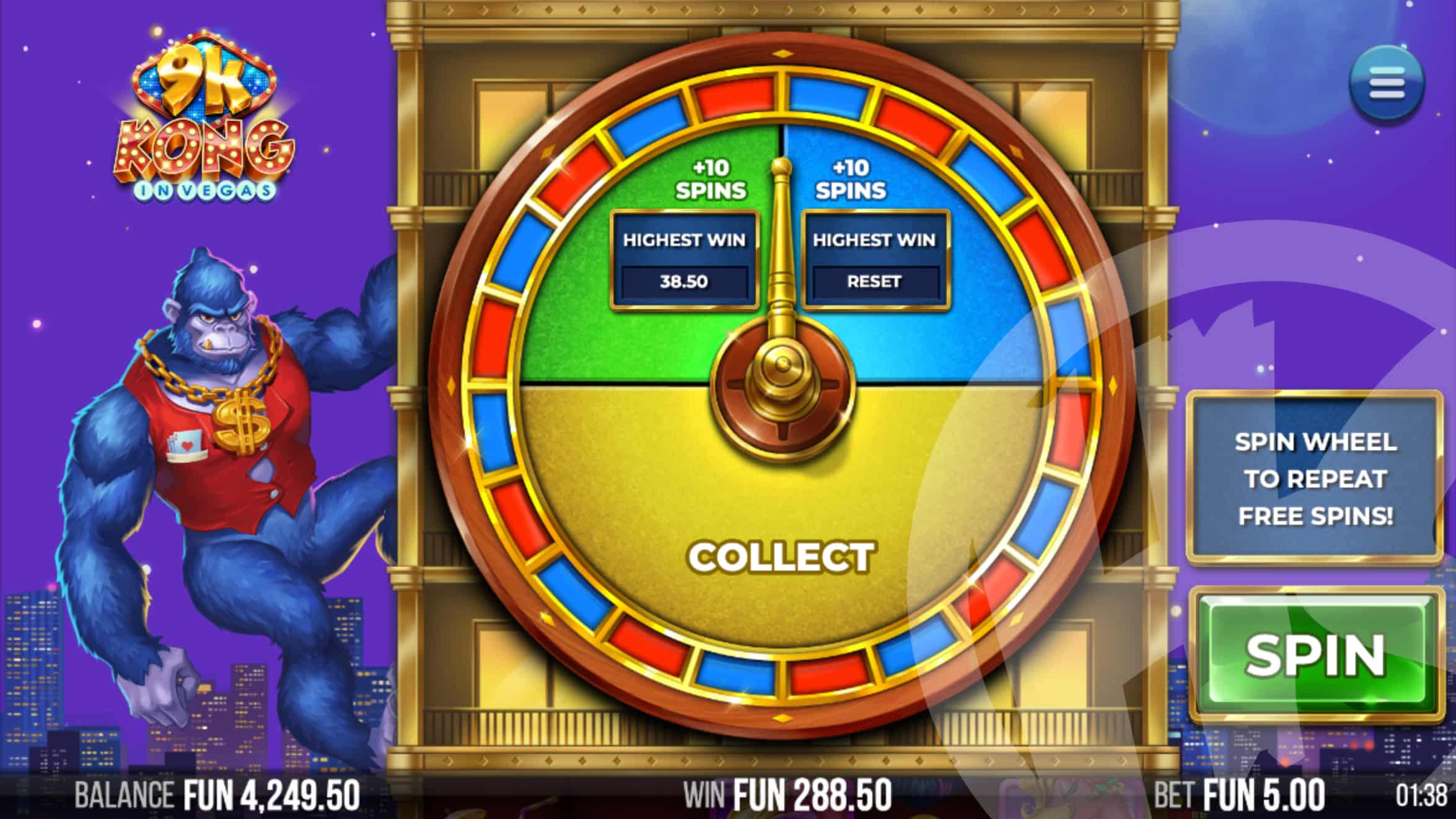 First Impression
There's a lot happening in 9k Kong in Vegas, but at the same time, there's not a lot happening. That's not a bad thing, but there's only one feature, and the team have pushed that feature to be able to produce pretty much all of the game play from it, which is impressive. Of course, this is the Big Win Repeater. During the base game, this helps to keep things exciting, especially when you are fortunate enough to land a big win, and can repeat it multiple times – at one point our win repeated 6 times. When the right combinations hit, wins are possible up to 9,216x bet.
Moving into Free Spins, and the idea of the highest win repeating for each subsequent win is certainly a nice one, made better with the wheel options at the end of the bonus round. Again, we did get the repeat on this, so there's definitely good value for money in this release. This seems to fit pretty well with 4ThePlayer's ethos in giving players what they want – everyone wants value for money, and 9k Kong in Vegas definitely provides this.
Maths is highly (5/5) volatile, and RTP is 96.0% at its' highest, although 94.0% is possible, so as always it's worth checking this. If you're a fan of 4ThePlayer's style, it doesn't get much more 4ThePlayer than this one.
*The screenshots taken of games reviewed on this site are taken from Demo Play, as reviews are often written before games are released for real play.