4ThePlayer are back following on from the success of their recent releases, 4 Fantastic Fish, 7 Elements, and 60 Second Heist. Now, they're revisiting one of their previous releases – the originator of the BONUS↑UP™ mechanic. Of course, it's 3 Secret Cities, but this time we're upping the stakes to head for 4 Secret Pyramids, a very highly volatile release, offering players 4 locations, a multitude of features, and wins available up to 55,000x bet. Topped off with an RTP of 95.0%, let's take a closer look at this new release.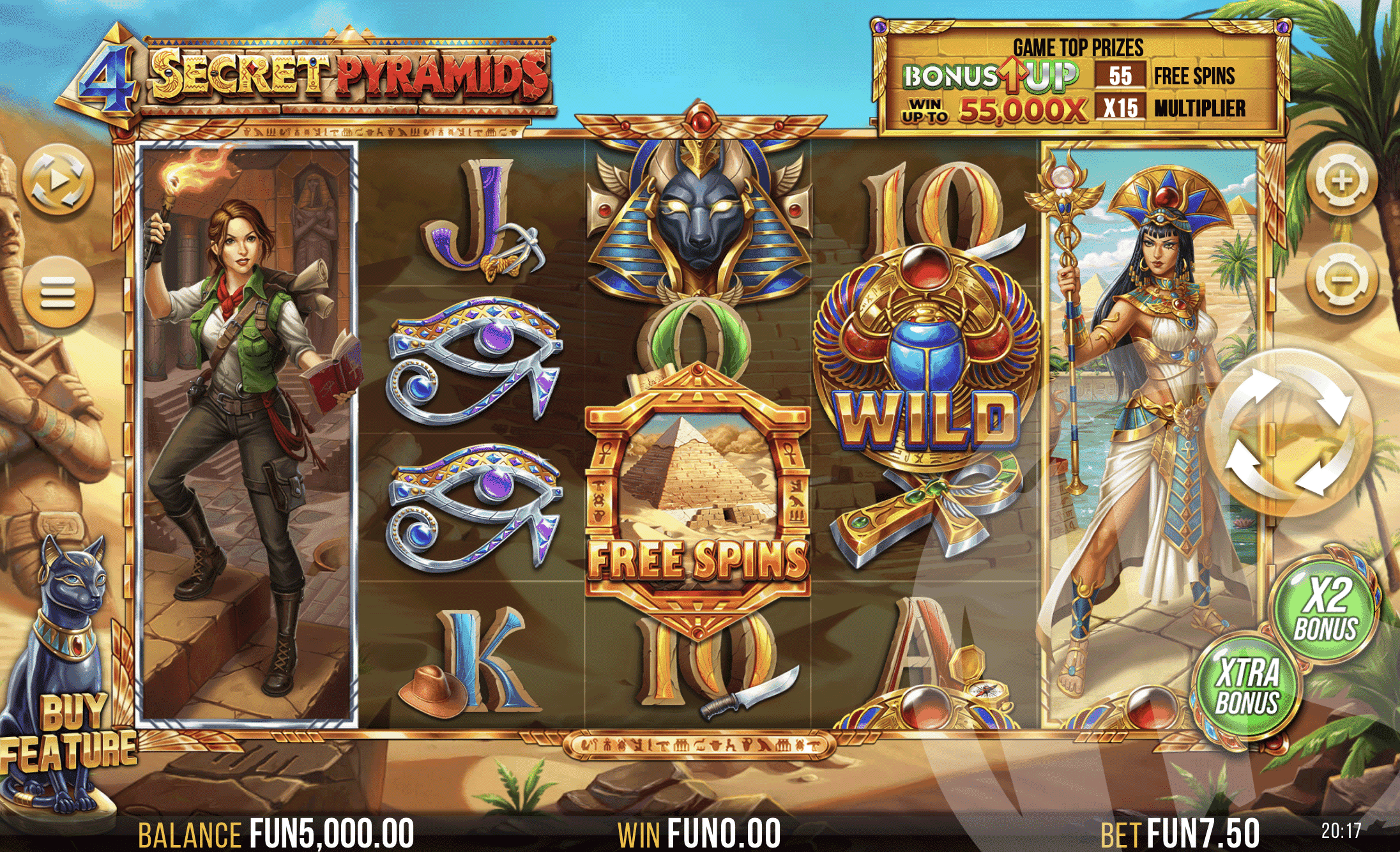 Visually, graphics are crisp and clear, with an obvious focus on high paying symbols and important features. With 2 extra bet options available (more on these below), they won't take long to find, which is great news for players who have become accustomed to forgetting about these features on other releases. The whole thing is a nice mix of Egyptian and Aztec, forming into a hybrid that we didn't necessarily expect, but we won't complain about. Audios are peaceful yet atmospheric, fitting the theme well but blending into the background – subtle in the best kind of way.
4 Secret Pyramids Base Features
Taking place across 5 reels, wins are formed on 4 Secret pyramids by matching at least 2 or 3 symbols on adjacent reels, beginning at the leftmost reel – for a total of 1,024 ways to win. Symbols available begin with non-premiums, with 10, J, Q, K and As, awarding between 0.2 and 0.3x bet for 3 of kind, increasing to values between 1 and 2x bet for 5 of a kind. At the premium end, Ankhs and Eyes of Horus pay between 0.5 and 2.5x bet for wins between 3 and 5 of a kind, whilst Anubis symbols pay between 0.2 and 3x bet, for wins between 2 and 5 of a kind. We then have a female explorer and an Aztec Goddess, both of which pay 0.5x bet for 2 of a kind, up to 4 and 5x bet respectively for 5 of a kind. Finally, there is a Scarab Wild, which substitutes for all symbols except Scatters.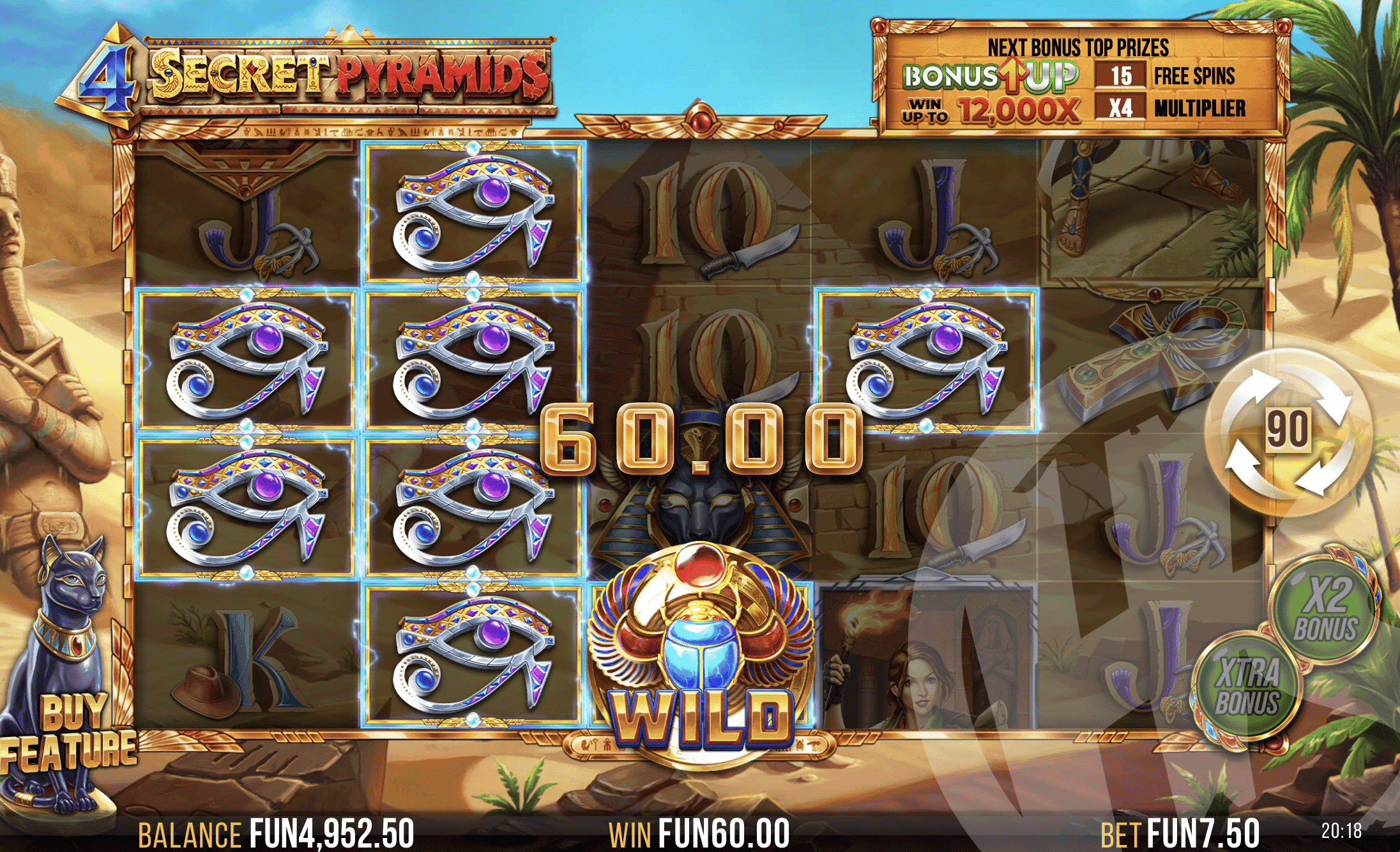 With symbols out of the way, let's take a look at some of the features available in 4 Secret Pyramids, beginning with BIG REEL Portrait Mode™, 4ThePlayer's own mechanic. BIG REEL Portrait Mode enables players to choose when playing on mobile if they would like to play classic small reels, or BIG REEL Portrait Mode, wherein the reels are larger, stacked on top of each other, spinning right to left and paying out top to bottom. Payouts and game features remain unchanged in BIG REEL Portrait Mode, but it does make the whole thing a lot more aesthetically pleasing and tidier once you can wrap your head around the reels paying from top to bottom. If you can't, don't worry – you can still choose to select 'Classic' mode.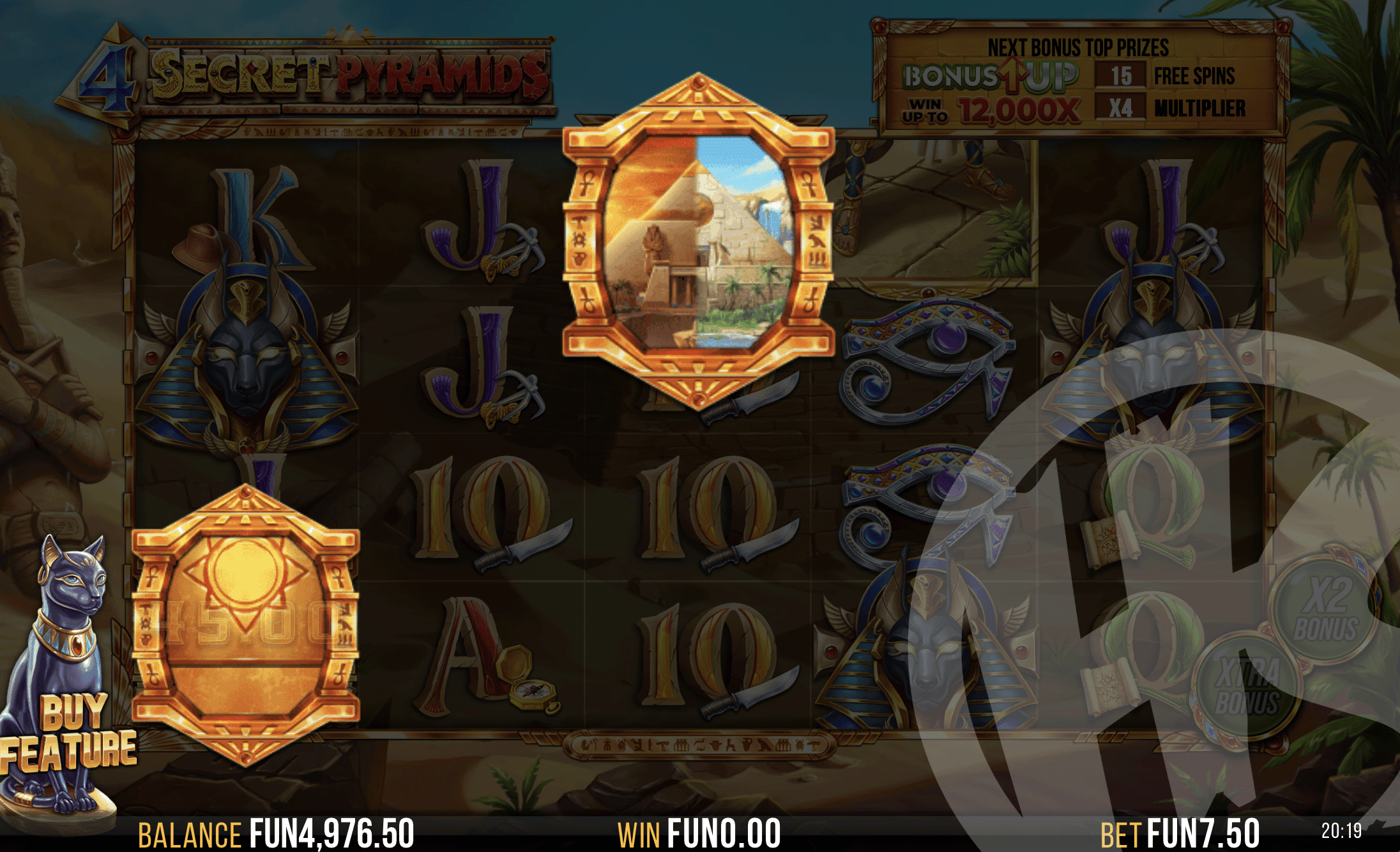 The second feature available in 4 Secret Pyramids is BONUS↑UP™, another 4ThePlayer special. You may remember this feature from 3 Secret Cities, but let's recap for those who don't – 4 Secret Pyramids comes with 4 bonus locations, and as you move your way through each level, the features and wins available improve. When you load the game, you'll see a box above the reels, which will rotate between telling you the location you are in (along with the potential of said location), and telling you about the next location you'll be moving to.
To move between locations, there are two options:
If you land Scatters on reels 1 and 3, you will have the opportunity to pick one of them – you will either win up to 50x bet, or you'll progress to the next location.
When you trigger free spins, you have an opportunity to gamble to the next location.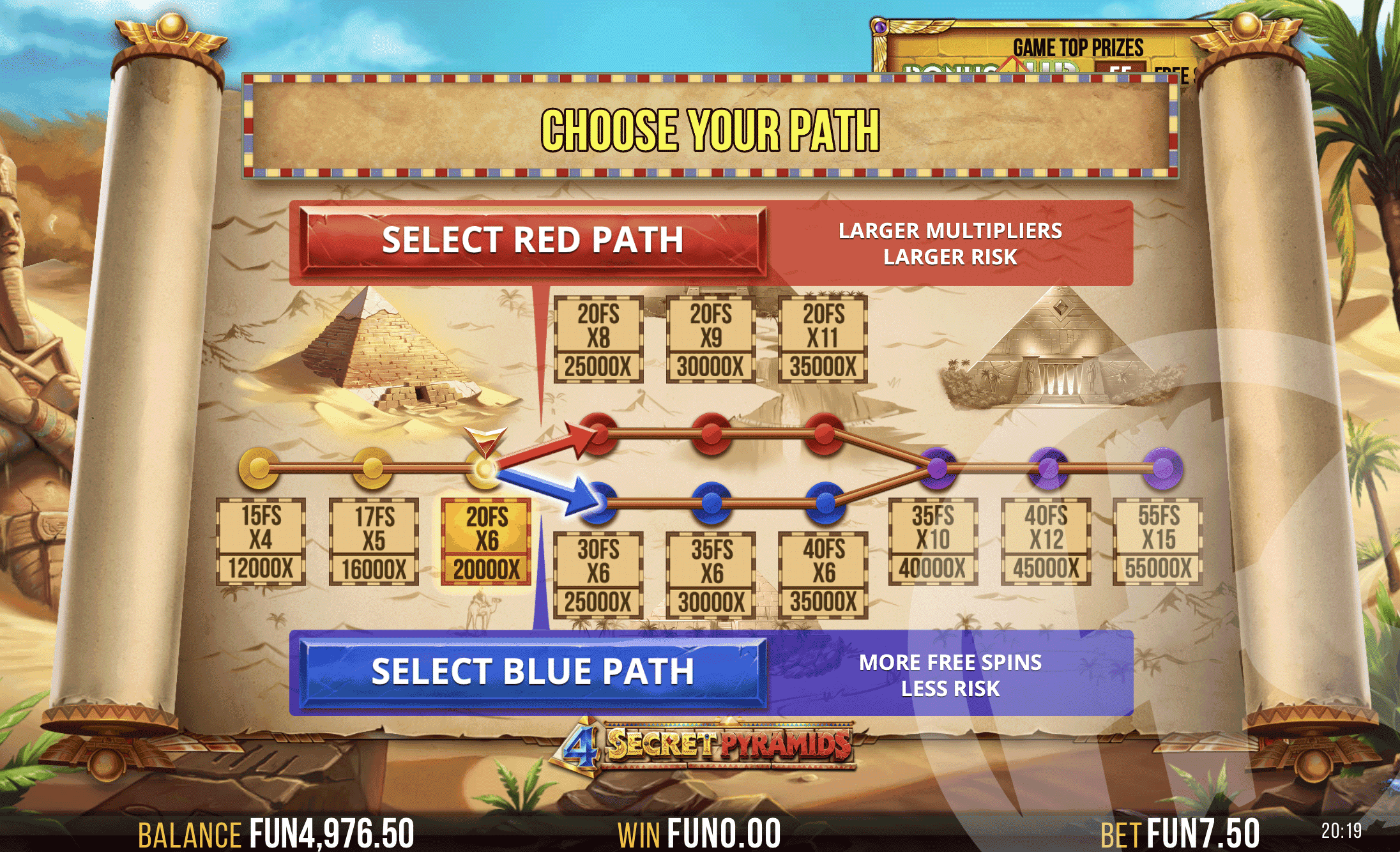 Each location offers different sub-levels with varying win potentials. You can see these in the image below, but the minimum for each level is:
Up to 15 free spins, with a multiplier of x6 and wins up to 12,000x bet.
Up to 20 free spins, with a multiplier of x9 and wins up to 25,000x bet.
Up to 30 free spins, with a multiplier of x6 and wins up to 25,000x bet.
Up to 35 free spins, with a multiplier of x10 and wins up to 40,000x bet.
The highest possible combination is up to 55 free spins, with a multiplier of x15 and wins up to 55,000x bet.
You'll notice in the image below that there is an opportunity to choose your path after the first location. You can opt for the Red Path, with larger multipliers but larger risk, making this the higher volatility option. Alternatively, you can opt for the Blue Path, winning more free spins with less risk, but lower multipliers – lower volatility.
The final note for the base game is in the additional bets you can activate – bet 25% extra to double the chance of triggering free spins, or bet 25% extra to double your free spin rewards. You can bet both of these additional features, just one, or none.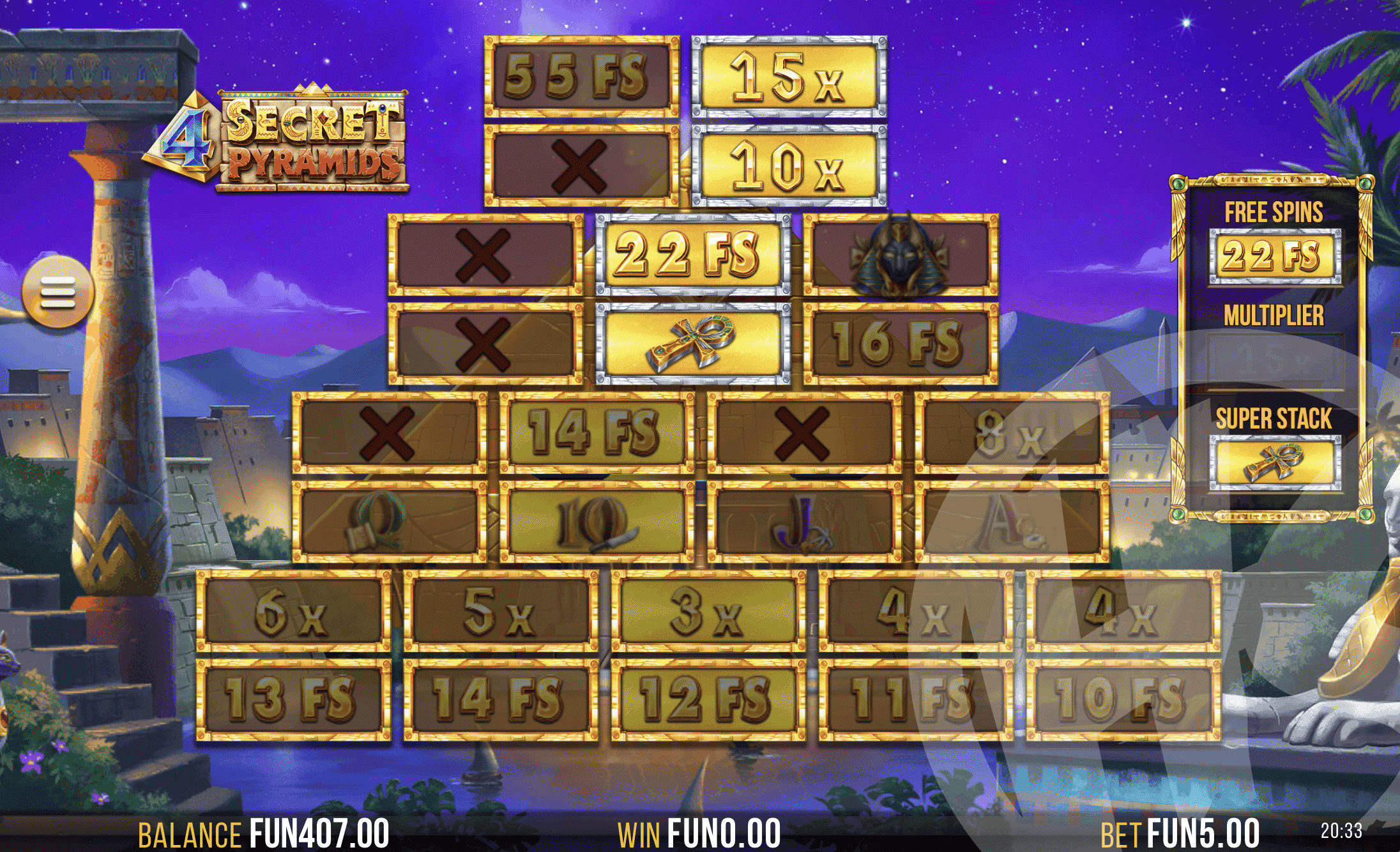 4 Secret Pyramids Bonus
Landing 3 Scatters on reels 1, 3 and 5 triggers free spins – at whichever level you are at. Before beginning free spins, you have an opportunity to gamble for the next location, enhancing your bonus. If you are at the bottom level, losing the gamble will see you lose your entire bonus, but if you are at the blue or red location you can gamble to the top, known that if you lose you have the bottom location to fall back on.
At the beginning of free spins, you'll have the opportunity to participate in Pyramid Pick, where you choose the features active in your free spins. Each tier of the pyramid is a multiple choice, and you will always get through the first 3 levels, to choose the amount of free spins you have, the multiplier active, and which symbol is super stacked.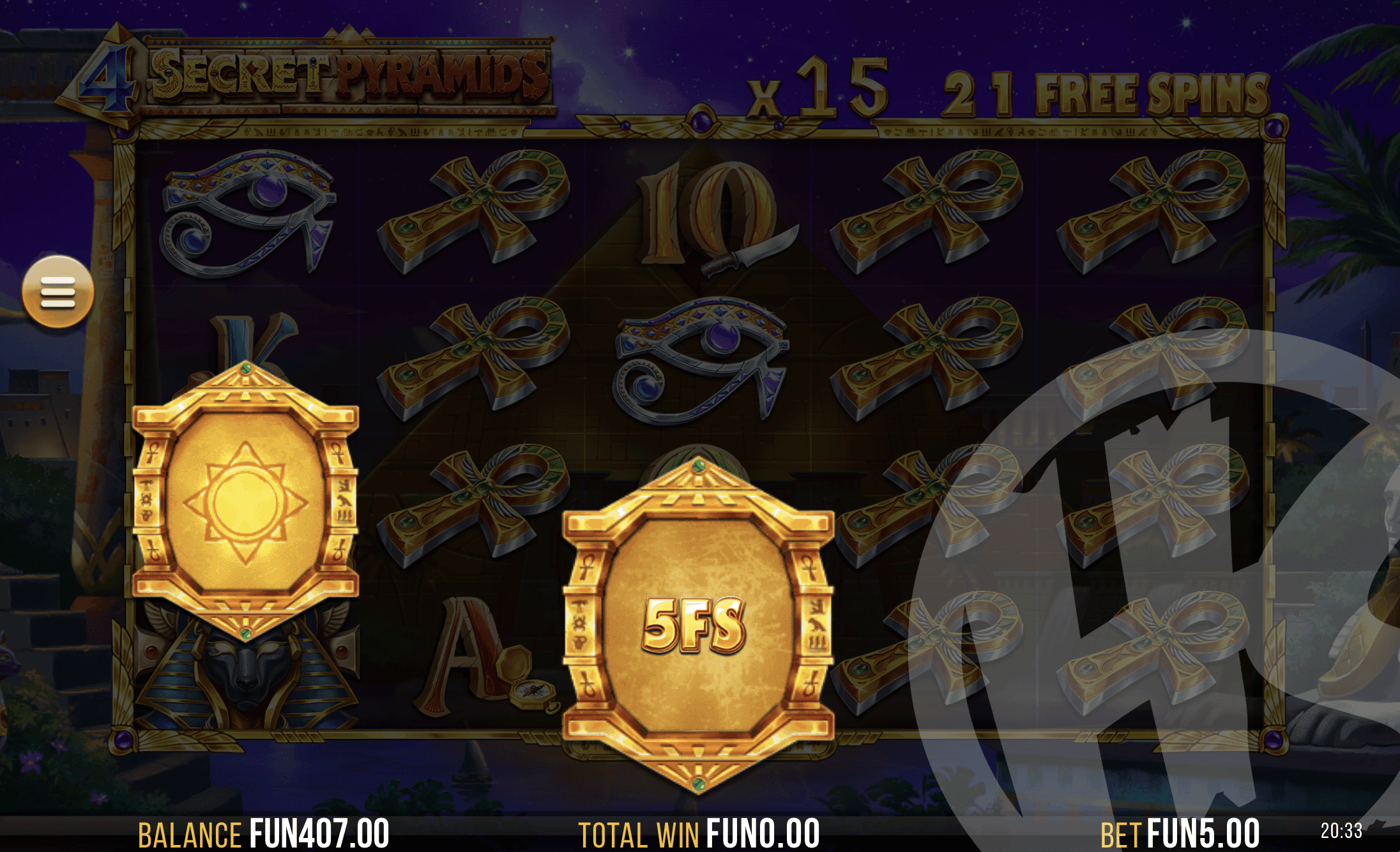 After the first 3 levels, there are 5 more levels to enhance your bonus even further with additional free spins, higher multipliers and better stacked symbols. The later choice is always the active choice – revealing 10 free spins, then revealing 15 free spins at a higher level will mean you receive 15 free spins. The choices are limited to your current location, and between levels 4-8 there is one red X amongst the choices – picking this will end the Pyramid Pick and begin free spins with your current chosen configuration.
Once you have completed Pyramid Pick, you will have to choose where your x2 reward is added to, if you had this additional 25% bet activated (this will only apply to players who land a bonus naturally, as this option is not available in the feature buy). You can double your free spins, or double your multiplier, again controlling your volatility. This only applies to players who activate the x2 Bonus option.
During free spins, the active multiplier multiplies every win. Landing a Scatter on Reels 1 and 3 will award a pick of the two, each awarding between 5 and 10 additional free spins.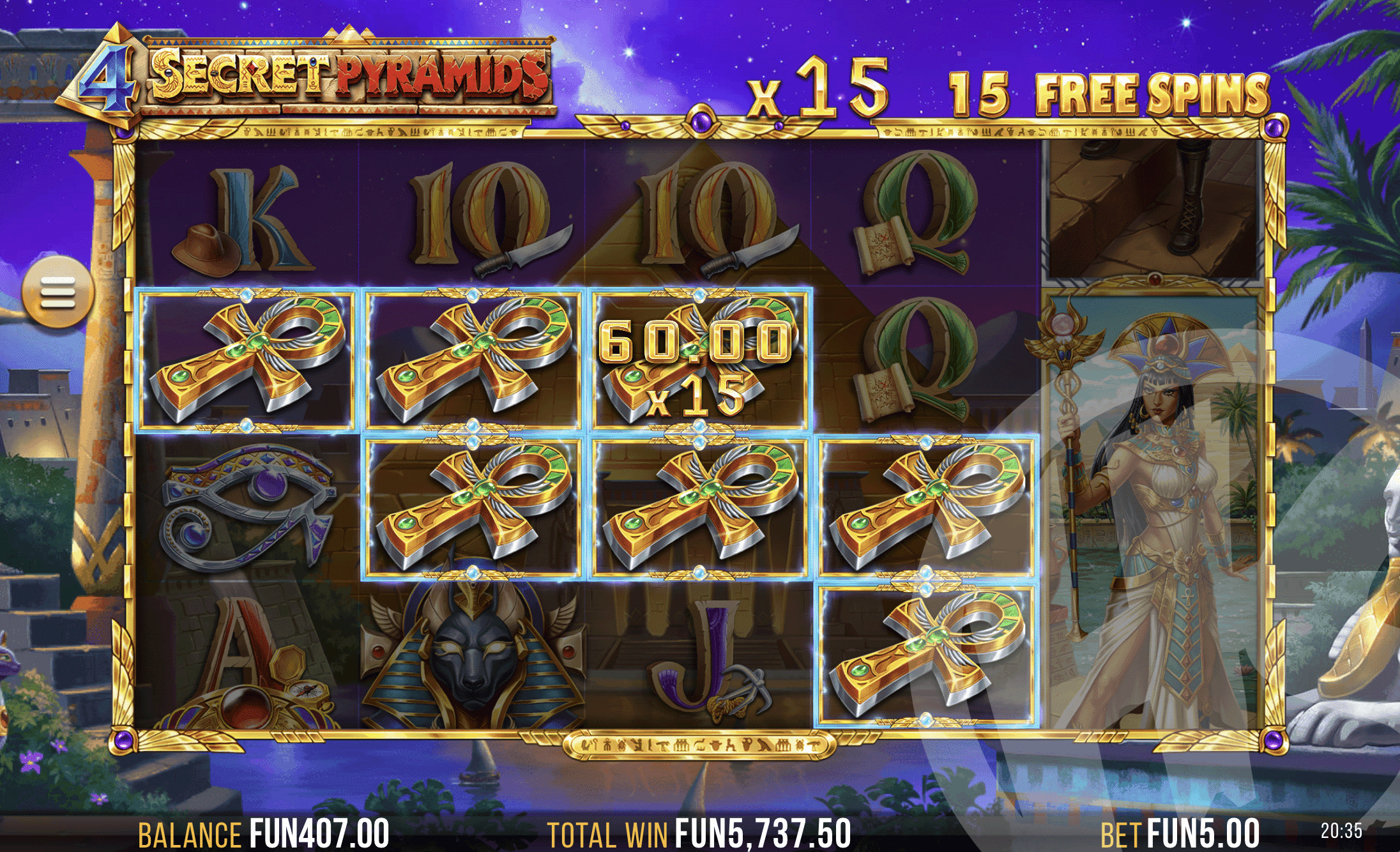 For those in appropriate regions, there are a number of Feature Buy options available, with the following top prizes:
60x bet – 20 free spins, x6 multiplier and up to 20,000x bet.
120x bet – 40 free spins, x6 multiplier and up to 35,000x bet.
120x bet – 20 free spins, x11 multiplier and up to 35,000x bet.
200x bet – 55 free spins, x15 multiplier and up to 55,000x bet.
After buying one of the above options, players enter the Pyramid Pick, and go through the steps we described above.
First Impression
4 Secret Pyramids carries on seamlessly from where 3 Secret Cities left off, continuing the progression through levels to see features and win potential increase. In our time of testing, it was not uncommon to land 2 Scatter symbols, and certainly not rare to see a progression to the next level when taking part in this pick feature. Upon reaching the fork in the road, as it were, players are given a choice, giving greater control over the volatility option they'd like to opt for. Worth remembering though, that even if you go for the 'safer' option, 4 Secret Pyramids is still a release described as 'very high' volatility from 4ThePlayer themselves, so don't think you'll be playing it too safe by opting for blue.
Once free spins begin things really kick off, starting with Pyramid Pick – as crushing as it is rewarding. On our first four attempts, our Pyramid Pick died at level 4, but on the fifth attempt we reached the very top – with 22 free spins, a x15 multiplier and stacked ankh symbols, and at this point we really began to see just what 4 Secret Pyramids can do.
The pyramids may be secretive, but the aim of the game is not so much – it's all about your picks, with an understandable expectation that the higher you get on the Pyramid Pick, the better the bonus you can expect to get. If you're opting to spin the bonus in, the Xtra Bonus and x2 Bonus options certainly do make a different, albeit by increasing your stake by 50%. Still, worth putting the stake a bit lower in order to activate these features and reap those rewards.
With wins available up to 55,000x bet, 95.0% RTP and superb graphics, 4 Secret Pyramids will fit nicely into 4ThePlayers portfolio, pleasing more than just fans of 3 Secret Cities.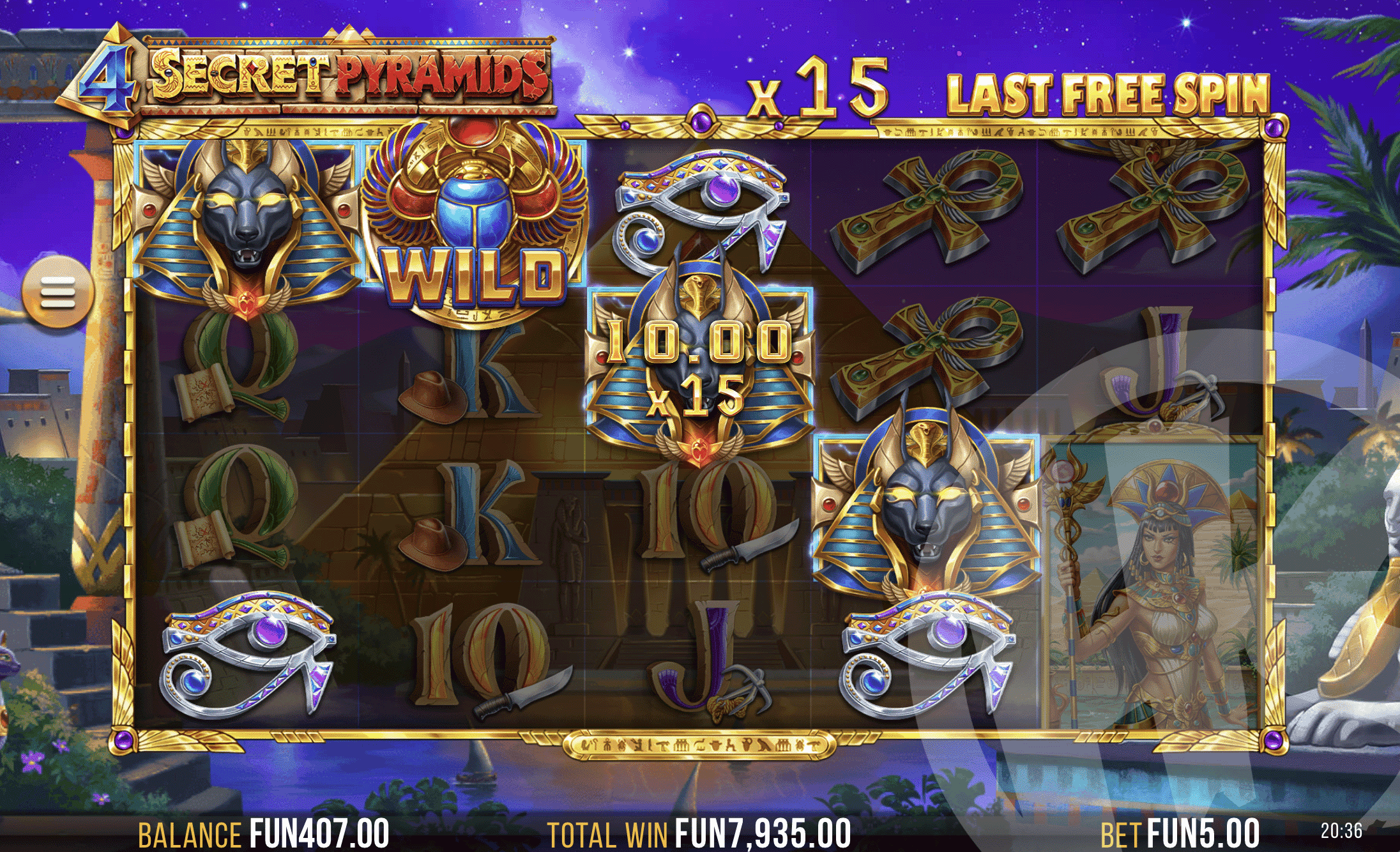 *The screenshots taken of games reviewed on this site are taken from Demo Play, as reviews are often written before games are released for real play.