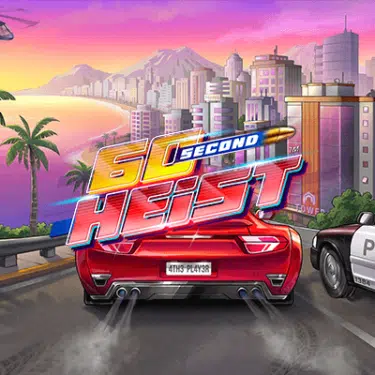 60 Second Heist
Game Provider: 4ThePlayer
Release Date: Available Now
60 Second Heist
Game Studio 4ThePlayer
Release date Available Now
RTP 94.0% - 96.0%
RTP Feature Buy 96.0%
Paylines 1,024
Volatility High
Min Bet 0.20
Max Bet 20
Max. Win 60,000x
Rating 8.7/10
4ThePlayer are back, and they're starting 2022 with a bang in their upcoming release, 60 Second Heist. We know by now that 4ThePlayer don't like to go down the 'expected' route with their games, preferring instead to forge their own path, as evidenced in their previous releases – 3 Secret Cities, 10x Rewind and most recently, 90k Yeti Gigablox. 60 Second Heist is no different, with a Bonus Bet Slider to increase the chances of triggering Free Spins, wherein no set amount are awarded – instead, it's a chance to win as much as you can in 60 seconds, with their new WIN TIME mechanic. When the time runs out, the feature ends, but thankfully there's plenty of extras to keep things exciting and literally ticking over. Let's take a closer look at this highly volatile release, with a 96% default RTP and wins on offer up to 60,000x bet.
Visually, we're in an expensive seaside town – featuring a lavish hotel, beautiful palm trees and mountains in the background. Maybe we're in Miami, but wherever it is there's a luxurious feel to things, making this the perfect place for a heist. Music is upbeat, almost electronic and is fitting with both the theme and the graphics.
60 Second Heist Base Features
Taking place across 6 reels, each with 4 symbols, wins are formed by matching at least 2 symbols on adjacent reels, beginning at the leftmost reel – for a potential of 1,024 ways to win. Symbols available begin at the lower paying end, with 10, J, Q, K and As, whilst premiums include a stack of dollar bills, gold bars, a bag of diamonds, and four character symbols – a heister in a pig mask, a criminal looking type, a heister in a monkey mask, and a modern Miami vice looking gentleman. Finally, two wilds are available, featuring two female characters – both substitute for every symbol except Scatters.
There's a few different things happening within then base game, beginning with BIG REEL Portrait Mode™, 4ThePlayer's own mechanic. This enables players to choose when playing on mobile if they would like to play classic small reels, or BIG REEL Portrait Mode™, wherein the reels are larger, stacked on top of each other, spinning right to left and paying out top to bottom. Payouts and game features remain unchanged in BIG REEL Portrait Mode™, but it does make the whole thing a lot more aesthetically pleasing and tidier once you can wrap your head around the reels paying from top to bottom. If you can't, don't worry – you can still choose to select 'Classic' mode.
Next, it's Turbo Lock Respin. After a winning base game spin, winning symbols are locked on the reels, and all other symbols respin to create a bigger win. If new symbols land, symbols will again lock for another respin. This feature lasts 10 seconds, with reels continuing to spin even if no new symbols land. After 10 seconds, the accumulated win will be awarded.
Finally, players can take advantage of the Bonus Bet. Free Spins will trigger within 60 Second Heist on average once every 400 spins. Players can open the Bonus Bet and move the slider, increasing their stake, but also their chance of triggering free spins. The slider will have labels clearly showing the new cost, and the new chance of triggering free spins, and this must then be activated by clicking again. For those in appropriate regions, this slider can move the whole way to paying 100x bet per spin, and triggering the Free Spins every spin – effectively a bonus buy option. However for those within the UK this slider won't extend quite so far, but will still enable players to increase their stake somewhat for a chance to increase free spins chance.
60 Second Heist Bonus
Land 3 Timer Scatters on Reels 1, 3 and 5 to trigger Win Time Free Spins. Rather than awarding a fixed amount of free spins, Win Time Free Spins last 60 seconds. Play against the clock, and keep spinning until you run out of time. There will be a light moving around the outside of the reels during Free Spins, and each time the light completes a lap, the multiplier will increment by +1. This is a win multiplier, which is applied to all future wins during the feature. The higher the multiplier, the faster it increases.
Special Symbols are available during Free Spins, including Extra Time and Speed Boosts, which speed everything up – including reels spinning, wins counting and the multiplier light movement. These will not be boosted for the remainder of Free Spins, but rather a specific amount of time. Extra Time symbols will add extra seconds to the clock. Multiple Special Symbols can land in one spin.
If the countdown reaches 00:00 when you are in the middle of spin, that spin will finish and you will be awarded all wins from it. The timer can also go above 60 seconds – if you land multiple Extra Time symbols you are not capped at 60 seconds.
First Impression
We're used to 4ThePlayer doing their own thing by now, and although going your own way can be a risk, it can also bring rewards – of which 60 Second Heist is one, in my opinion. There's so many aspects of this release which are working well, not just together but as stand alone mechanics. First, in the base game 4ThePlayers BIG REEL Portrait Mode™ continues to be well received, and although it can take a few minutes to wrap your head around, it does enhance the mobile experience greatly – particularly important when we consider that in 2019, 50% of gamblers did so on their mobile device, with this figure no doubt continuing to increase over the years.
Next, the transparency of 4ThePlayer continues to be one of the most important aspects of their business. As always, we've been provided with their Slot Stats™. This is not just for us to write this review – these statistics are available to all players in the Game Rules area. The average best win after 100 spins is:
All players: 44x bet
1 in 10 players: 181x bet
1 in 100 players: 562x bet
1 in 1000 players: 1,445x bet
Some nice figures there! We also know that 4ThePlayer aren't a provider to offer a maximum win that is so far beyond reach we'll never see it – we are frequently seeing huge wins on their games, and saw a maximum win on 90k Yeti Gigablox not long after release. Some of these wins are also available in our gallery, which can be viewed here.
Next, both the Turbo Lock Respin and Win Time Free Spins are working very well – not just as mechanics, but as part of this heist theme which has been well executed here. There's an extra helping of jeopardy served when Free Spins look like they're over, and suddenly you land a few Special Symbols to turn it around. This can be seen in our screenshots above – where we had quite a poor return on a 500 Bonus Bet feature, with only 9 seconds remaining, then we landed 2 +20 second symbols, and suddenly our bonus returned nearly 3 times the cost, with the help of a juicy x10 multiplier. You really can't make any assumptions in this release, anything could happen at the last second – literally. Special shout out to the fact that the timer can surpass 60 seconds, awarding players the entire time they have landed, unlike other bonuses where you can only 'top up' to a certain level and it can feel like a bit of a waste. Add in a the highly volatile label, and wins on offer up to 60,000x bet, and we're on to a winner.
Overall, 60 Second Heist is a great release from the team, and I'm looking forward to seeing what they bring us this year – hopefully they continue with their own quirky style, because I for one enjoy it.
*The screenshots taken of games reviewed on this site are taken from Demo Play, as reviews are often written before games are released for real play.