The Ancient Greeks believed there were 4 elements that made up everything we see on – Earth, Water, Wind and Fire – and unless you've spent most of your life living under a rock, you're probably familiar with these. This theory was supported by Aristotle, but he added that he felt there may be a fifth element – aether. Let's put that to one side for the moment though, and jump forward a couple of thousand years, to the 7 Elements theory – plants, warm energy, soil, mineral, water, cold energy, and air. This is the theory 4ThePlayer subscribe to, and the focus of their next release – 7 Elements.
7 Elements introduces some new mechanics for the team, including Future Power™. Don't worry though, Future Power is an add on, not a replacement – you'll also see BIG REEL Portrait Mode™ on offer. With Future Power, the game evolves over time, constantly improving and enhancing the experience. RTP is fair at 95.0%, and wins are on offer up to 25,000x bet, so let's take a closer look at this highly volatile release.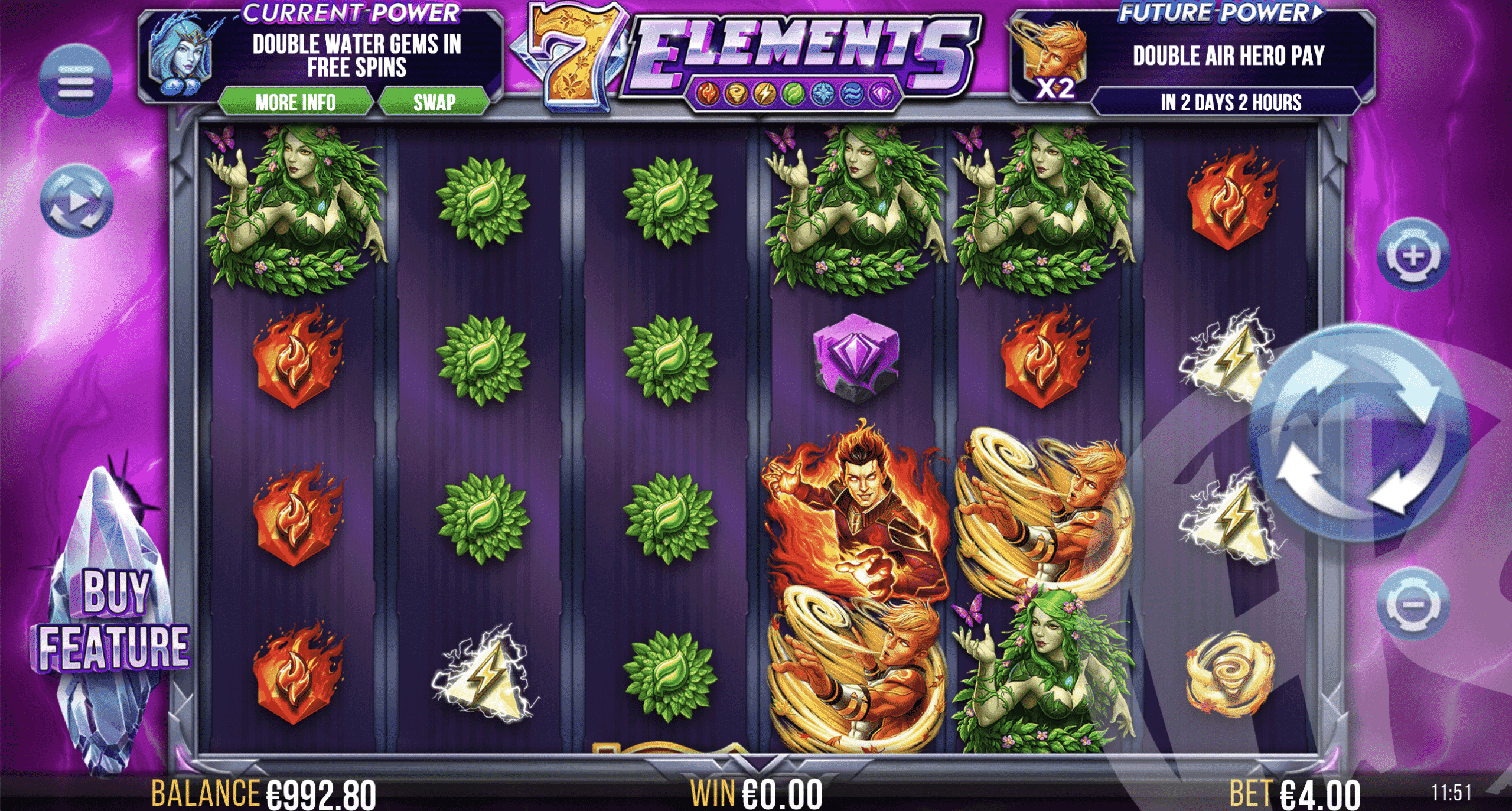 Visually, things couldn't be more purple if you were trapped inside a plum. Both the reels and symbols are vibrant and eye catching, with heroes created to take on a central role in the experience. Immediately noticeable in design are a few things – first, a 'Current Power' is highlighted in the top left, and a 'Future Power' is highlighted in the top right. We'll get to that in a moment, and explain more about the powers available, but what we have with these in view is a clear way for players to understand the game. No symbols or codes to try and condense things, but rather clear language to ensure players know what they're getting into – something 4ThePlayer are well known for.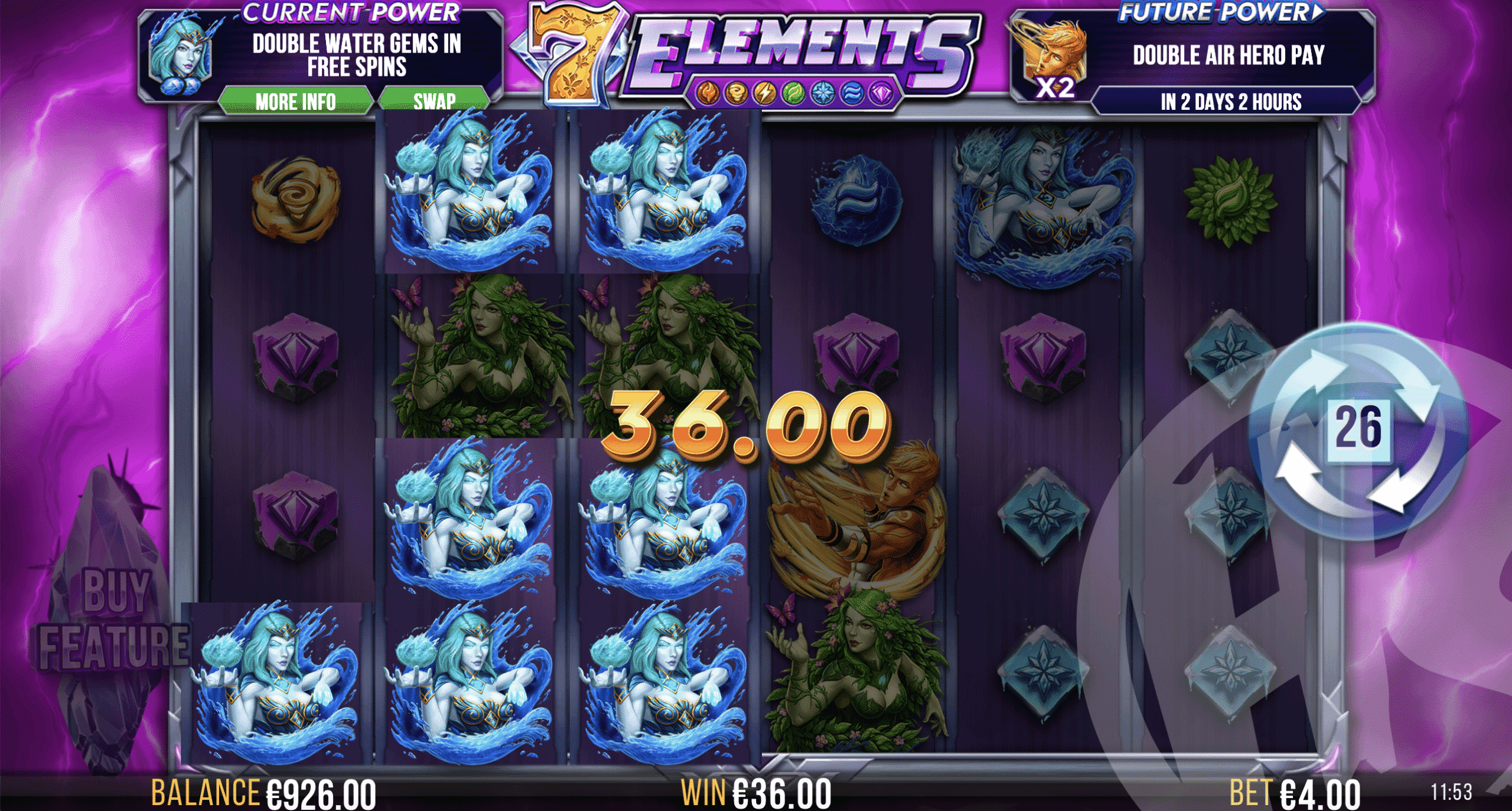 7 Elements Base Features
Taking place across 6 reels, each with 4 symbols, wins are formed on 7 Elements by matching at least 3 symbols on consecutive reels, beginning with the leftmost reel, for 4,096 ways to win. Symbols available begin with non premiums, with each of the 7 elements – awarding values between 0.3 and 0.4x bet for 3 of a kind wins, up to values between 2.5 and 3x bet for 6 of a kind. Premium symbols introduce our characters – 4 heroes of wind, nature, fire and water – paying between 0.3 and 0.4x bet for 3 of a kind matches, increasing to values between 5 and 6x bet for 6 of a kind. Finally, Wild 7s substitute for all symbols except Scatters.
Maybe you're one of the eagle eyed players who noticed around Christmas time that the Yeti in 4thePlayer's 90k Yeti was wearing a Santa hat? This will be present in 7 Elements too, with key calendar dates celebrated through additions to the Character symbols. This includes Halloween, Christmas, New Year, Chinese New Year, Valentine's Day, St Patrick's Day, April Fools Day, and Easter. Just a bit of fun, but still nice to see.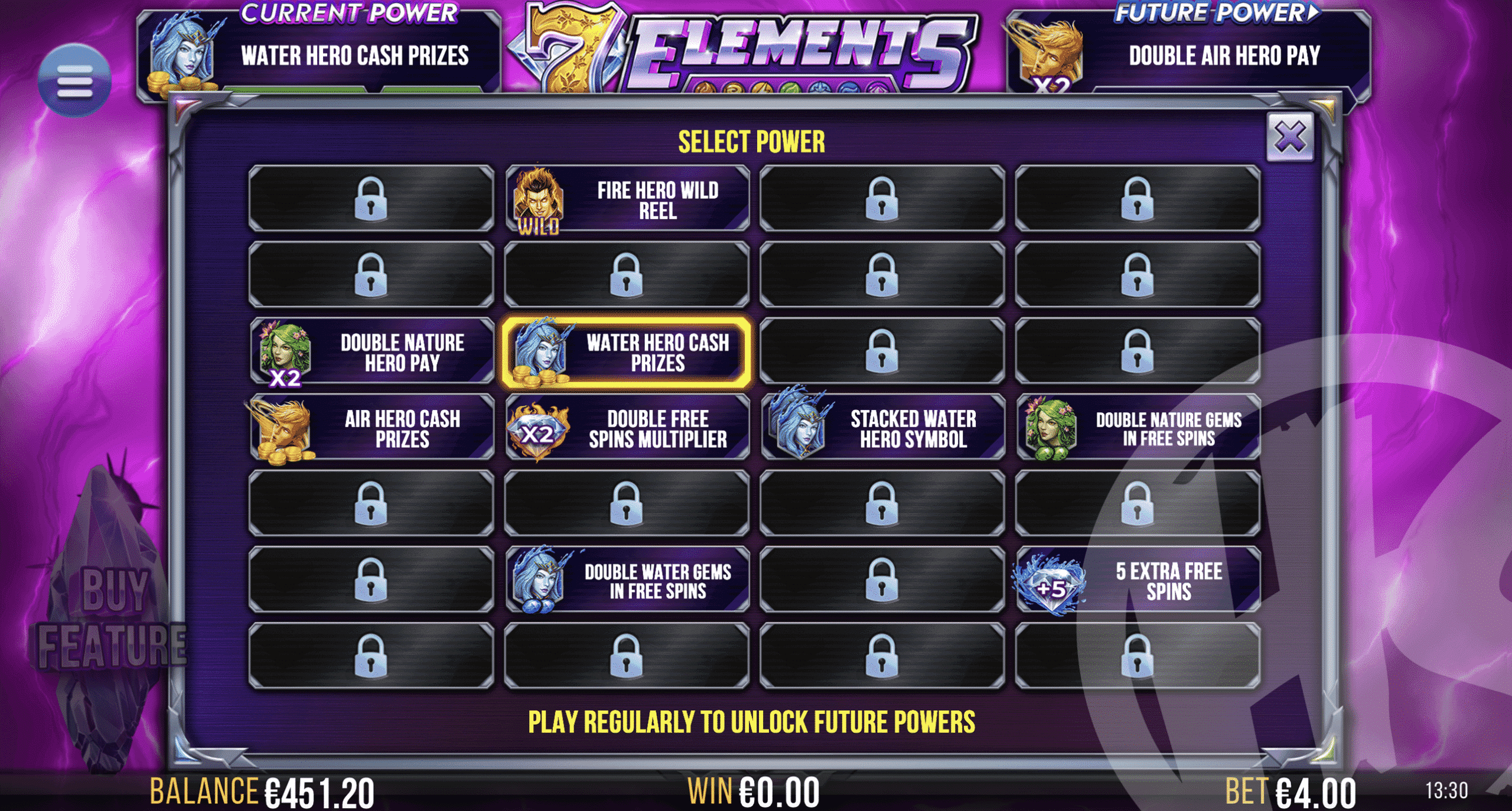 Okay, so now symbols are out of the way, let's take a look at some of the features available in 7 Elements, beginning with one I already mentioned – BIG REEL Portrait Mode. BIG REEL Portrait Mode enables players to choose when playing on mobile if they would like to play classic small reels, or BIG REEL Portrait Mode, wherein the reels are larger, stacked on top of each other, spinning right to left and paying out top to bottom. Payouts and game features remain unchanged in BIG REEL Portrait Mode, but it does make the whole thing a lot more aesthetically pleasing and tidier once you can wrap your head around the reels paying from top to bottom. If you can't, don't worry – you can still choose to select 'Classic' mode.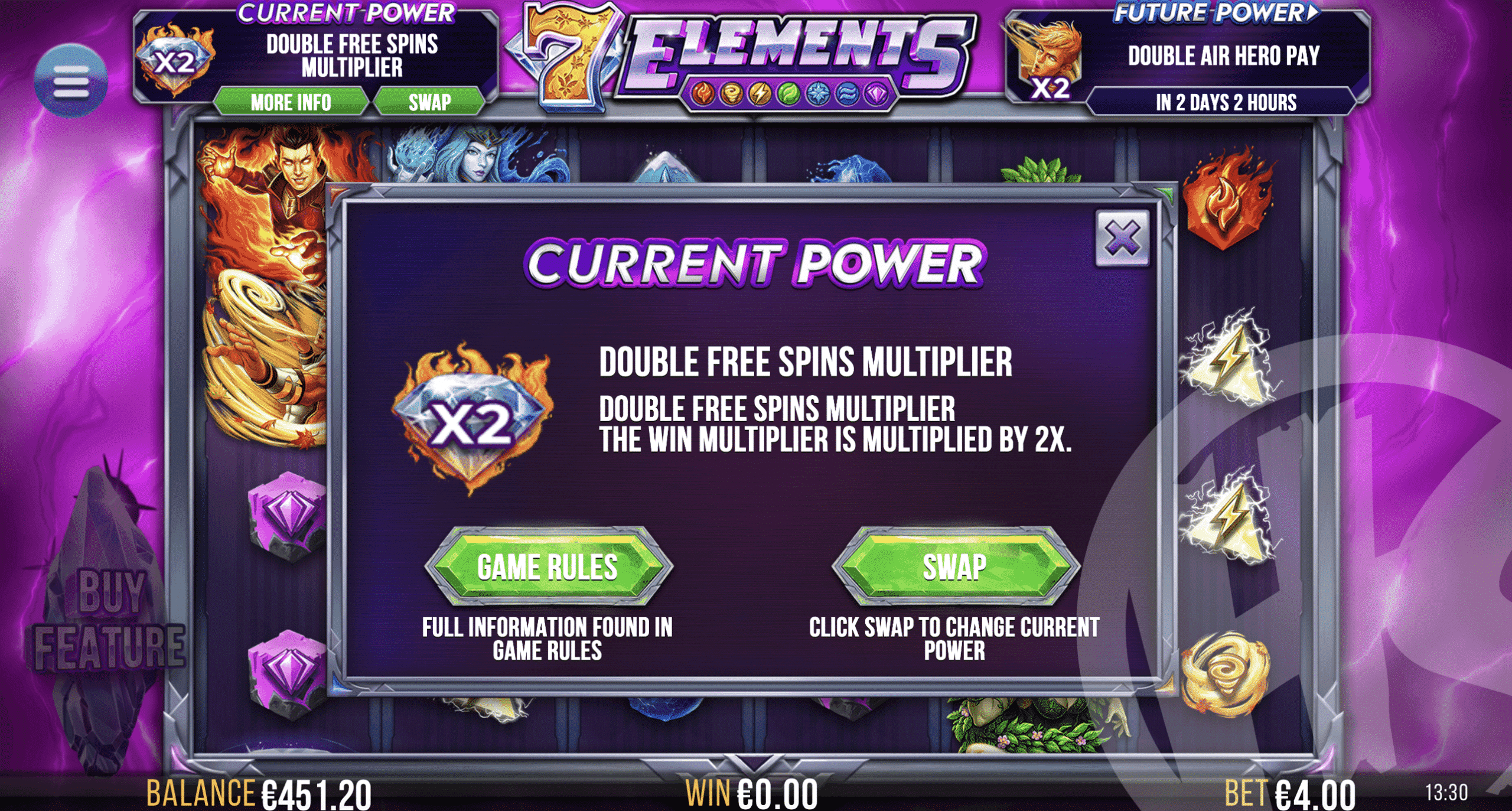 Moving on to the exciting part – it's time for the powers! In 7 Elements, powers are unlocked over time, and players can choose to activate any of the powers they have unlocked. For the first month, powers unlock twice a week, and after this time has passed a new power will unlock every week. Once you have unlocked a power and played whilst it is active, you can return to it at any point, using the 'Swap' button.
Players can see their currently active power in the 'Current Power' area, and their next power to unlock in the 'Future Power' area, along with a countdown to that point.
Powers have RTP applied to them, so you can feel the power you play with, rather than it just being a bell or whistle for a graphical effect. Powers available are:
Double Pay: Doubles the value awarded for the chosen symbol.
Cash Prizes: Cash Prizes land. Any on winning symbols will be awarded.
Wild Reel: Symbols can turn Wild if they land on this reel.
Double Free Spins Multiplier: Win multiplier active in free spins multiplied by x2.
Double Gems: A symbol will land with an extra gem in free spins.
Stacked Symbol: A symbol can stack 2 high on reels, to increase ways to win.
+5 Free Spins: If free spins are triggered, an additional +5 spins are awarded.
Unlocked powers do not reset if stake is changed.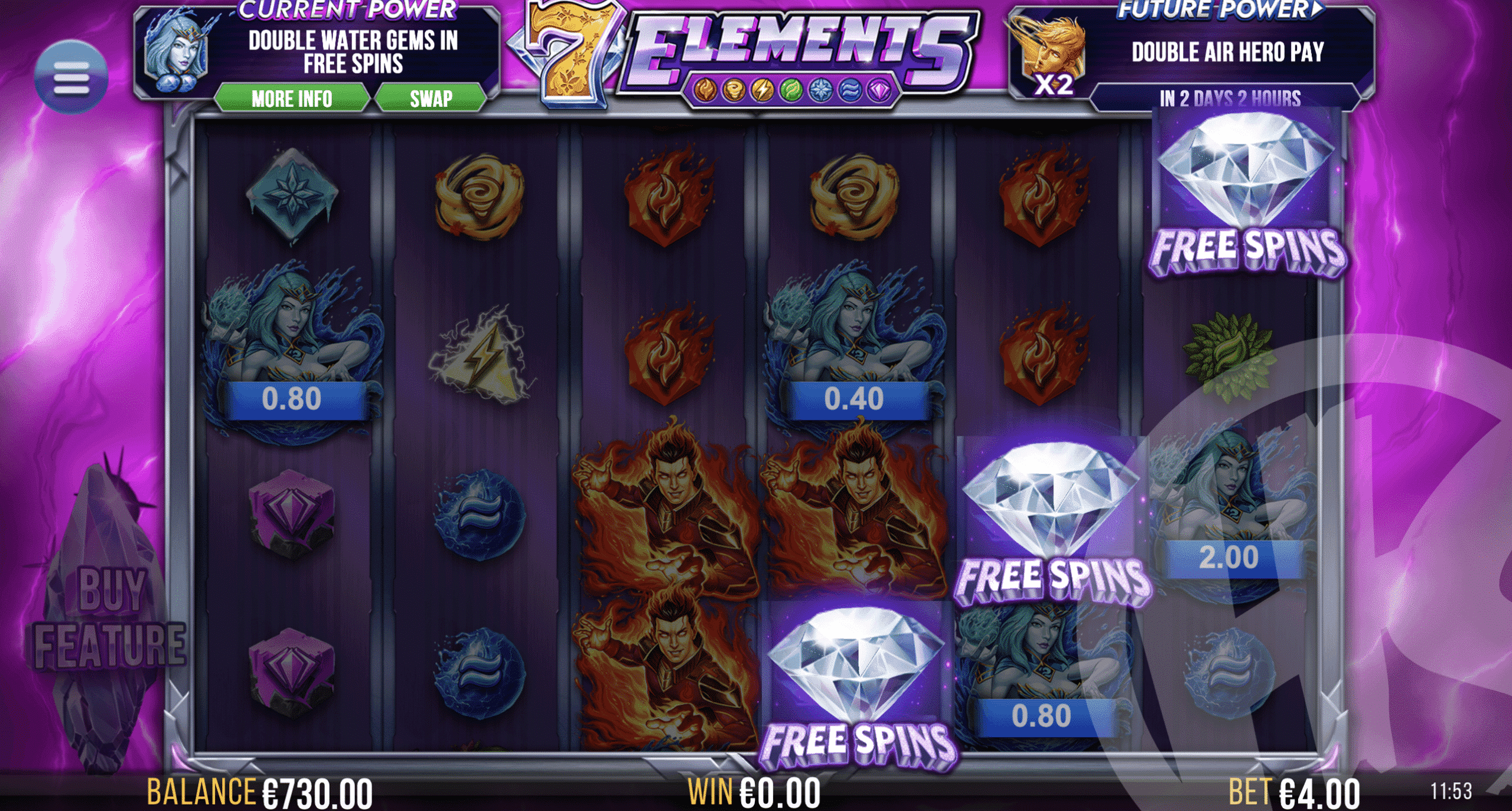 7 Elements Bonus
Land 3 Diamond Scatters to trigger 10 free spins. Landing 4, 5 or 6 Scatters do not award additional free spins, but do award cash prizes of 10x, 100x or 1,000x, respectively. If your chosen base game power would affect the free spins (+5 spins or double multiplier, for example), this will move across and this feature will be added to your bonus game.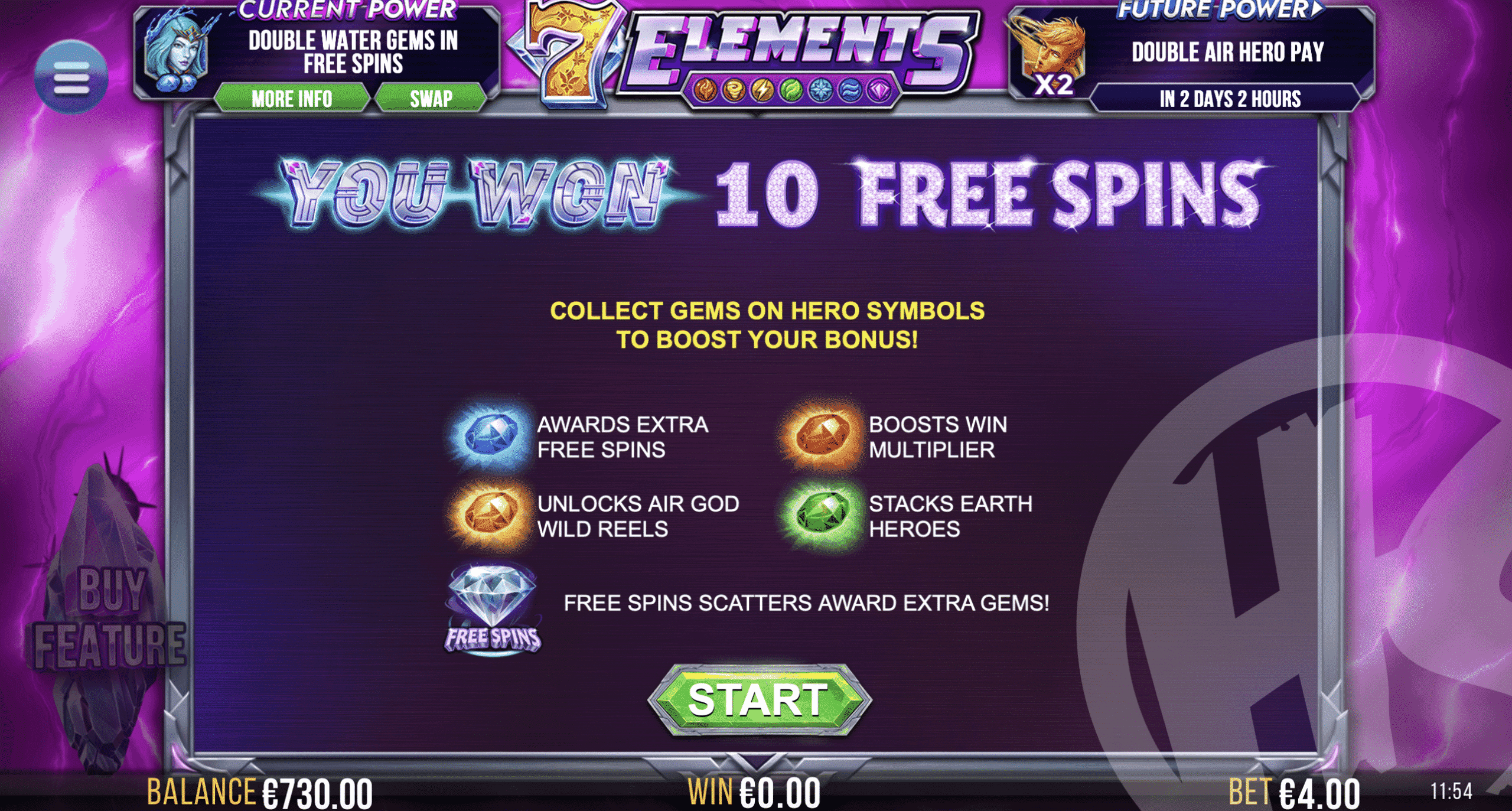 During free spins, hero symbols come with their relevant gem attached – gems are collected to fill four meters at the side of the reels. Filling meters unlocks additional features. Every hero symbol that lands on the reels awards 1 of their relevant gems. Features available are:
Water Hero: Awards + 5 additional Spins, followed by +5, + 10 and +15.
Fire Hero: Boosts multiplier through stages of x2, x3, x5, x7 and x10.
Air Hero: Unlock wild reel 3, followed by 2 and 4, then 2, 4 and 6, and finally 1, 3, 4 and 6. Air Heroes that then land on these reels will turn wild.
Nature Hero: Stack Nature Hero symbols 2, 3 then 4 symbols high.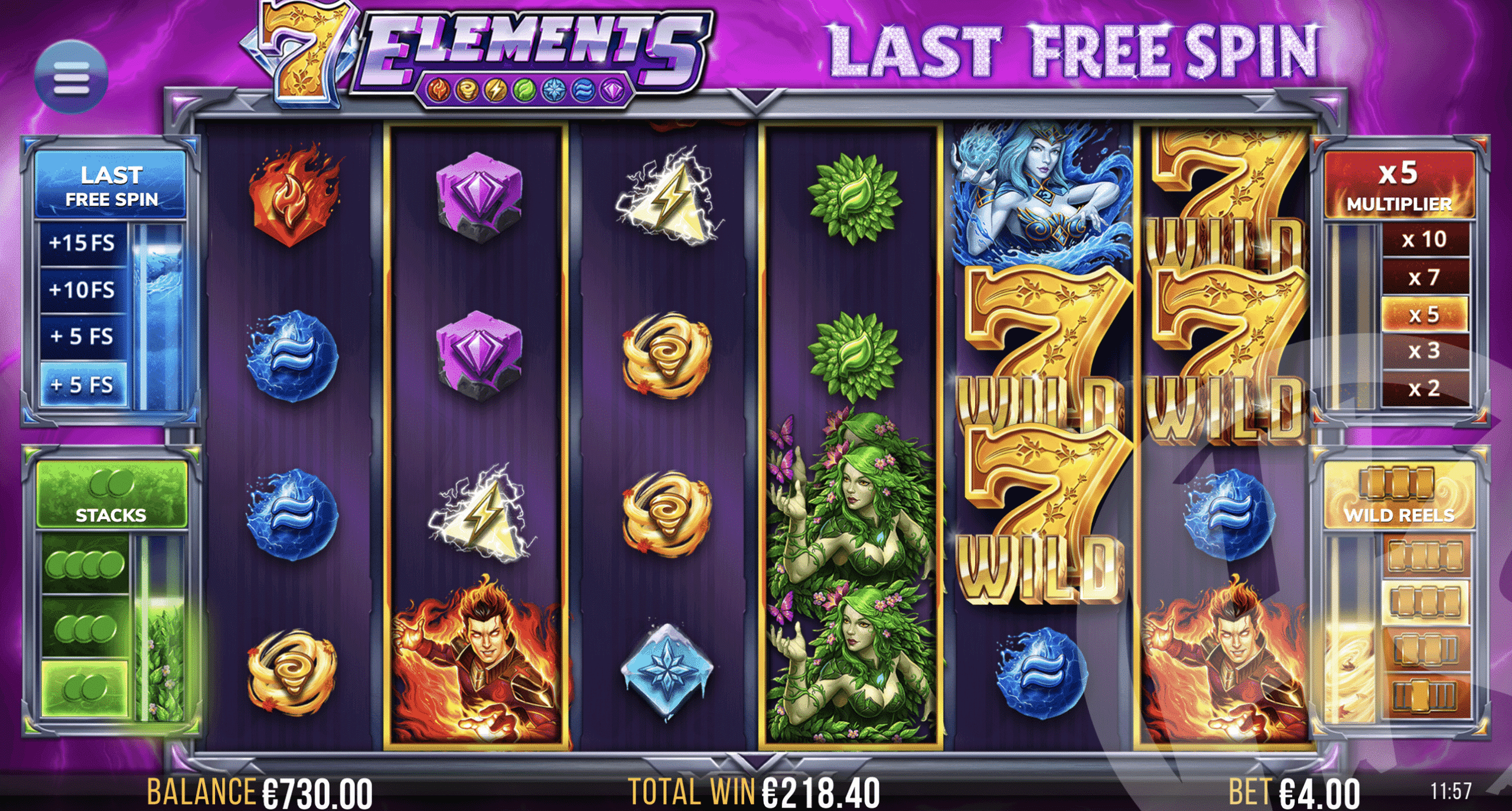 As gems, which are the same colour as the relevant hero, are collected, the meter is filled and one of the above is awarded. Meters are then reset again, and gems are collected again to progress to level 2, and this continues until the best possible booster has been achieved. Over 600 combinations exist during the free spins, helping it to feel fresh and exciting each time.
If a Scatter symbol lands in view, an additional gem is added to all Hero symbols present on the reels.
On average, a bonus will land 1 in 200 spins. Players in appropriate regions, however, can fast track this and buy a feature, for a cost of 56x bet. When the feature is bought, RTP increases to 96.5%.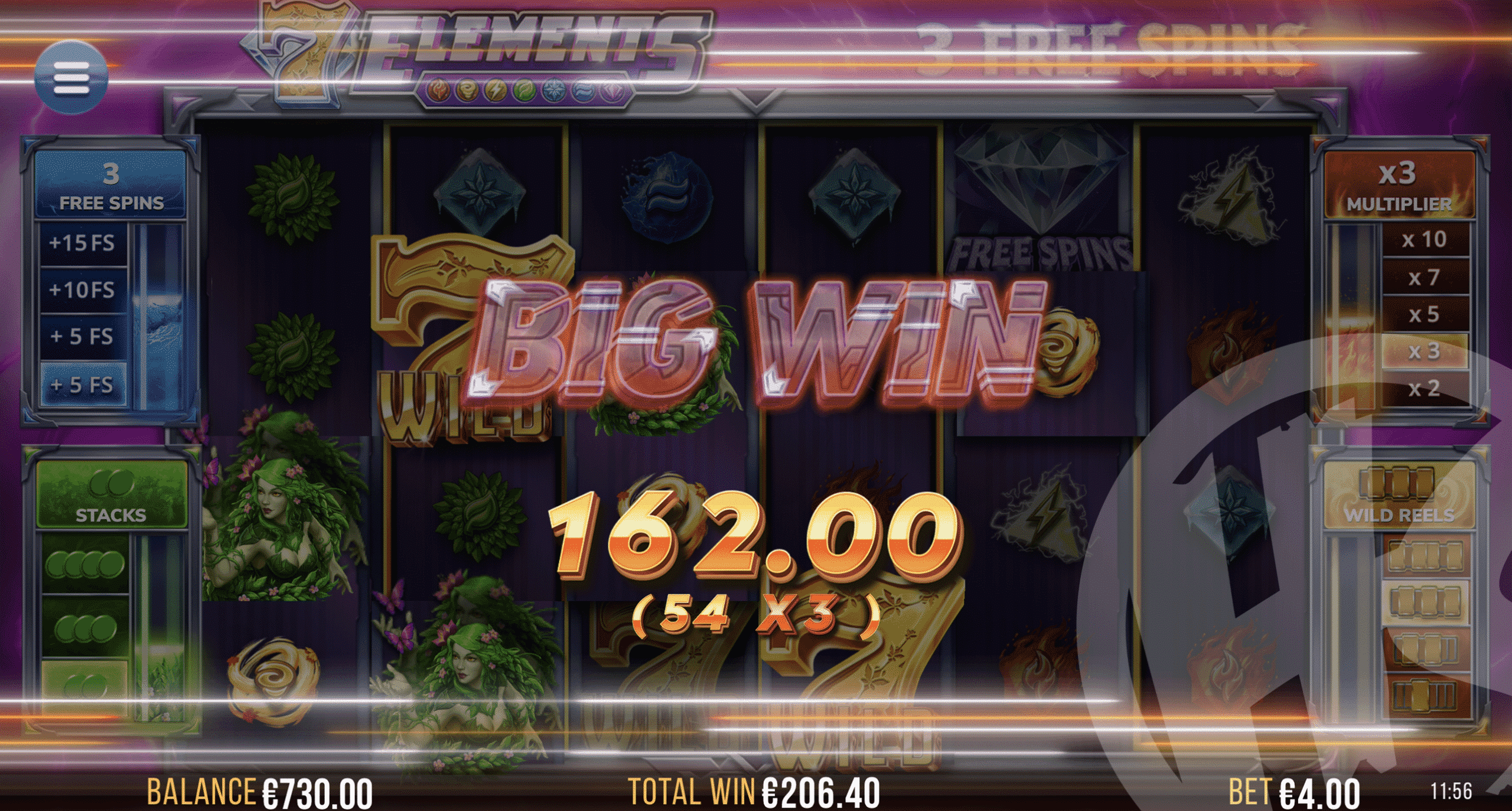 First Impression
I'm sure it wouldn't be a rare occurrence to find a player that wished their game could continue to boost and improve as time progresses – and 4ThePlayer have decided to offer just this. We still don't know which powers are still locked – will it be similar powers, but better (maybe +10 free spins rather than +5, or trebling the win multiplier in free spins), or perhaps similar (a different stacked symbol, or different wild reel), or maybe the new powers revealed will be completely distinctive to what we have already seen unlocked.
This is certainly a step in a unique direction, which is something 4ThePlayer are continually doing, and it will be interesting to see the response from players to the decision to boost a game throughout the year. This desire to bring new things, for an actual reason rather than just to call them 'new', is what continues to push 4ThePlayer further into the limelight – players like to see new things, and with 4ThePlayer we get that in spades. The team have brought plenty of fun into 7 Elements though, especially with characters overlaid to celebrate key dates throughout the year.
A further boost is that the power chosen actually has an effect on gameplay. This isn't just some visual thing where players are treated as though they're too stupid to realise nothing has changed – there is a difference in how 7 Elements will play based upon the chosen power, and it will be fun to see which powers players go for.
Playing through the game is as exciting as any from the team, but things really kick into high gear once the free spins begin – there's so much happening and so many meters building it can seem confusing at first, but a deep breath and some concentration and you know exactly what you're looking for. It would have been great to see the Bonus Bet from 60 Second Heist make a return, but I suppose we can't ask the team to squeeze too many new things into one release. RTP in 7 Elements is fair at 95% (increasing to 96.50% for the feature buy) and the volatility levels have been labelled high, so we would say approach with caution – rewards are possible though, with wins available up to 25,000x bet.
Overall, this is about as '4ThePlayer' as you can get – exciting, unique, vibrant, not at all what you were expecting and yet completely charming – it sums the team up!
*Please be aware – the demo link we were provided came with 9 powers unlocked. This is not how the game will begin for first time players.
*The screenshots taken of games reviewed on this site are taken from Demo Play, as reviews are often written before games are released for real play.