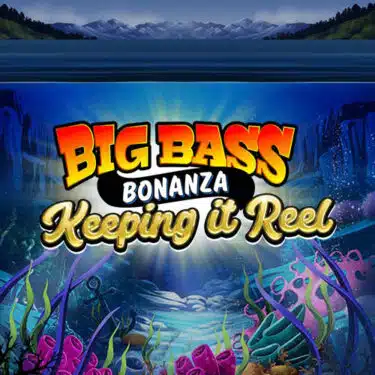 Big Bass Keeping it Reel
Game Provider: Reel Kingdom
Release Date: Available Now
Big Bass Keeping it Reel
Game Studio Reel Kingdom
Release date Available Now
RTP 94.07% - 96.07%
RTP Feature Buy 96.07%
Paylines 10
Volatility High
Min Bet 0.10
Max Bet 250
Max. Win 10,000x
Rating 8.2/10
One mechanic that has stood the test of time in the slot sector is the fish game, and Pragmatic Play partner Reel Kingdom have been one of the main studios to capitalise on this, through their Big Bass series – consisting (so far) of Big Bass Bonanza, Bigger Bass Bonanza, Big Bass Bonanza Megaways, Christmas Big Bass Bonanza, and Big Bass Splash. It's a lot, right? And this doesn't including their Floating Dragon releases that are basically Japanese Big Bass! In spite of this, these teams are showing no signs of slowing down, with two more Bass releases already in the pipeline. For today though, we'll just be focusing on the next to be released – Big Bass Keeping it Reel. With a default RTP of 96.07%, this highly (5/5) volatile release is capable of producing wins up to 10,000x bet.
Visually, we're under the sea. There's never too much of a change in scenery in these releases, with even symbols remaining the same throughout most of Big Bass Keeping it Reel's predecessors. What tends to be the main change is the water, and today we're in a more tropical area of the sea, with colourful coral and stones lining the ocean floor. You'd almost think you're in a fish tank, until you look above the reels and see snowy mountains, which at first made me think of Antarctica, until I saw similar mountains without snow, so maybe we're in Alaska or somewhere like that. Audios are more or less the same as they have been so far, so no changes there.
Big Bass Keeping it Reel Base Features
Taking place across 5 reels, wins are formed on Big Bass Keeping it Reel by matching at least 2 or 3 symbols on adjacent reels, beginning with the leftmost reel, across 1 of 10 fixed win lines. Symbols available with non premiums, with 10s, Js, Qs, Ks, and As. Land 3 of a kind of any non premium to see wins of 0.20x bet, with this increasing to values between 5 and 10x bet for 5 of a kind. At the premium end, it's much the same as we expect – Fish Money symbols, tackle boxes, dragonflies, and fishing rods. Land 3 of a kind of any of these symbols to see wins between 1 and 3x bet, with this increasing to values between 20 and 100x bet for 5 of a kind. Finishing off the regular pay table is a fishing bobber, which is the only symbol to pay for 2 of a kind. Land 2, 3, 4, or 5 bobbers to see wins of 0.50, 5, 20, and 200x bet, respectively.
So the only thing to cover in the base game is the Ante Bet, a favourite of Pragmatic Play, whom Reel Kingdom are partnered with. By betting an additional 50%, players have an increased chance of landing Free Spins naturally, as more Scatter symbols are present on the reels. Just how much this chance is increased by is not clear – we just know it is increased. When Ante Bet is active, the option to Buy Free Spins is disabled, and RTP remains the same.
You do get a bit of an insight into Free Spin action in the base game through the values on the Fish Money symbols, but these values only come into play during the bonus. Apart from that, it's all very normal – try to land 5 of a kind wins, which with no other features or multipliers available, you can see some pretty good returns from – up to 200x bet, specifically.
Big Bass Keeping it Reel Bonus
Land 3, 4, or 5 Scatters to trigger 10, 15, or 20 Free Spins, respectively. When 2 Scatters land, it is possible that a hook animation will appear, and bring a third Scatter into view, triggering the bonus. This hook can also appear to bring a fourth or fifth Scatter into view. During free spins, the Fisherman Wild symbol, which substitutes for all symbols except Scatters, can land on the reels. On any spin, if this symbol lands, the values attached to any fish Money symbols in view will be collected and awarded. Alongside this, Wild symbols are collected and added to the meter at the bottom of the reels:
Collect 4 Wild Symbols: +10 free spins x2
Collect 8 Wild Symbols: +10 free spins x3
Collect 12 Wild Symbols: +10 free spins x10
Any additional spins awarded are played after the current batch of spins have ended. The multiplier applies to any Fish Money symbol values collected, and is not a general win multiplier. After reaching +10 free spins with a x10 multiplier, the feature cannot be retriggered.
Alongside the regular Wild symbol, it is possible to land a Golden Wild symbol, which works hand in hand with the landing net, visible to the top left of the reels. On every spin, all Fish Money symbols not collected by a Wild symbol will instead be stored in the landing net, and retain their value. These values are added together, making the total value of the landing net the total of all Fish Money symbol values – which is then displayed on the front of the net. At the beginning of every spin, if there are Fish Money symbols in the net, one fish will randomly escape the net, and a value will be subtracted from the net value.
When Golden Wild symbols land, they work in the same way as regular Wild symbols – collecting any Fish Money symbol values in view, and adding to the collection meter below the reels. However, they will also collect the value of the landing net. The landing net does not reset its value, continuing to gather and store any Fish Money symbols not collected by Wilds or Golden Wilds for the duration of Free Spins.
On any spin where at least one Wild symbol is in view with no Fish Money symbols, the Dynamite feature can trigger, adding Fish Money symbols to the reels in random positions. On any spin where at least one Fish Money symbol is in view with no Wild symbol, a hook may appear and drag at least one Wild symbol onto the reels. On any spin where at least one Wild symbol is in view with no Fish Money symbols, a boat can drive across the screen, replacing random symbols on the reels with Fish Money symbols. All 3 of these features occur randomly.
Players in appropriate regions can skip straight to the action with the Buy Free Spins option. For a cost of 100x bet, 3, 4, or 5 Scatters will land randomly. RTP is unchanged when buying the bonus.
The maximum win available in Big Bass Keeping it Reel is 10,000x bet. If the sum of a single game round exceeds this, the game round will end and 10,000x bet will be awarded.
First Impression
It's actually quite impressive that Reel Kingdom continue to find new ways of bringing us Big Bass – I would have run out of ideas by now. Obviously a lot stays the same, including the overall mechanic, but each time a new release gets added to the list, it has a little twist. This time? It's the landing net, and it does its job in not only adding something generally new, but also in adding a bit of excitement.
That said, it seems like it would have made sense to just add less fish on the reels, instead of having one leap out before each spin? It might not seem too annoying if you only lose 10x and catch 100x, but is it possible to land the biggest fish, and then lose it on the next spin? Is it possible to land the biggest fish, lose it on the next spin, and then land the Golden Wild? How frustrating would that be? I have so many questions! During one of my bonuses, I collected 5x and 5x on my first spin, but on the next spin 3x escaped? So this seems to just be random values, rather than a specific fish value escaping like the information suggests, making it all a bit strange.
The base game doesn't have much going on, except for the Ante Bet, where for an additional cost of 50%, you can increase your chance of triggering Free Spins. As I said above, just how much of an increase isn't made clear. However, when things move into Free Spins they get their normal splash of Bass excitement, with increasing multipliers, retriggers, Fish Money values, and now the landing net. It's all happening, and it all works together. Landing the right combinations can produce wins up to 10,000x bet – the biggest of any release in this series so far, by at least double.
RTP at its default is 96.07%, although 95.07% and 94.07% settings are available, so as always be sure to check this beforehand. Finally, maths is highly volatile and rated 5/5, in keeping with the series so far, which always tends to sit around 4 or 5 out of 5. If you're a fan of the Big Bass series, there's not much else to say except that there is yet another release for you to sink your teeth into, and given the few tweaks that have been made, there's no reason to think established fans won't love this one.
*The screenshots taken of games reviewed on this site are taken from Demo Play, as reviews are often written before games are released for real play.