Now that we're into November, does that mean it's officially time to start looking towards Christmas? When I wrote that, I actually got a bit distracted and started looking at presents online, but I'm back now and ready to get stuck into Pragmatic Play partner Reel Kingdom's new release. I don't think the title of this one will come as much of a shock to anyone, since we're now onto number 7 (I think?) in this series. You guessed it, it's Big Bass. More specifically, Bigger Bass Blizzard – Christmas Catch. With RTP options up to 96.08%, this highly (5/5) volatile release is capable of producing wins up to 4,000x bet.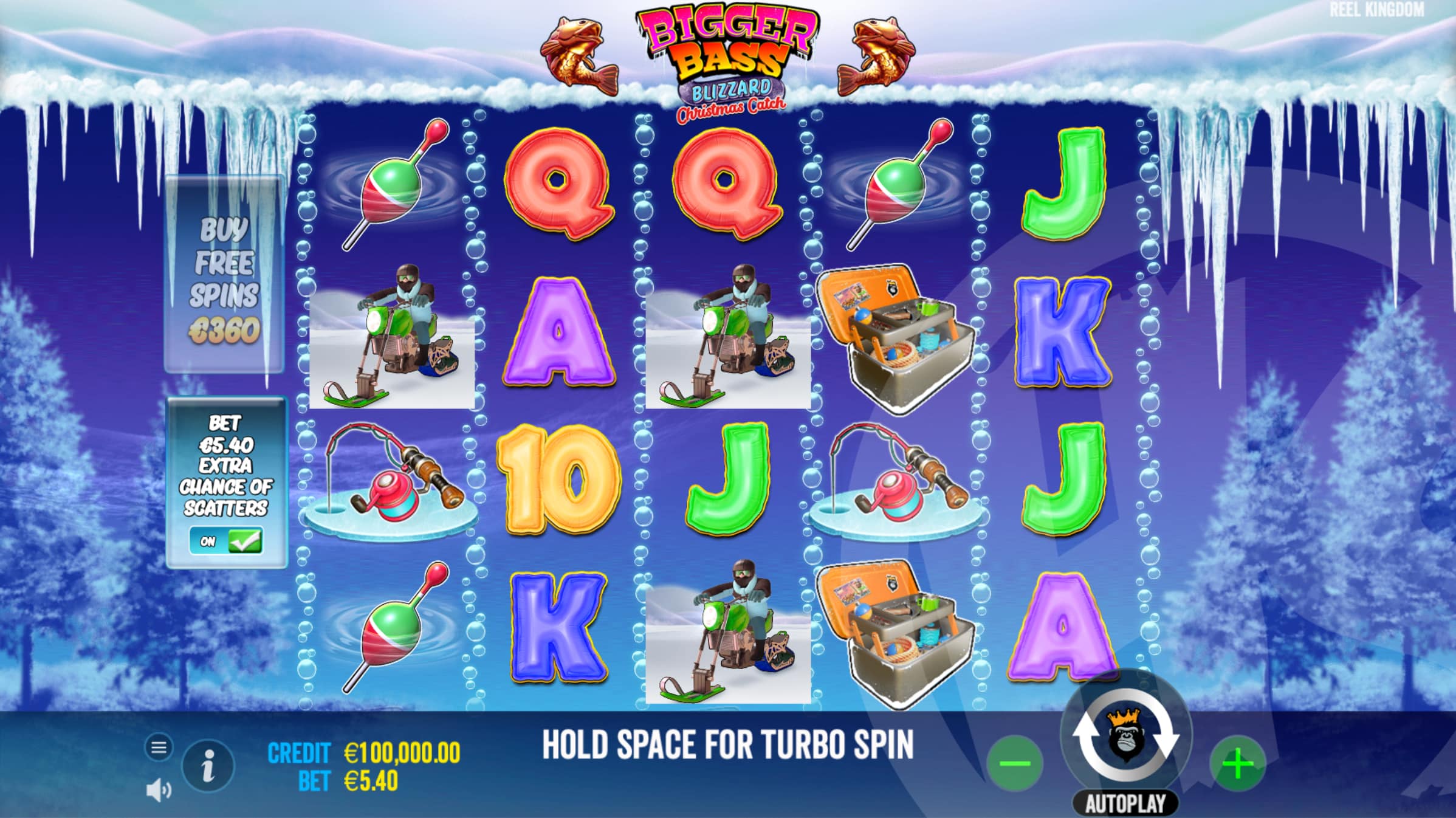 Visually… Well, I'm running out of ways to describe what is basically the same thing. It's the usual set up from the team in Bigger Bass – bubbles acting as reel separators, an underwater background (this time with snowy Christmas trees), and an above water landscape – snowy mountains, to be precise. Fishing rods, bobbers, and tackle boxes bring the theme to the symbols, along with a character on a snowmobile. Audios are a mixture of suitably Big Bass, and suitably festive, so they do a good job of tying everything together.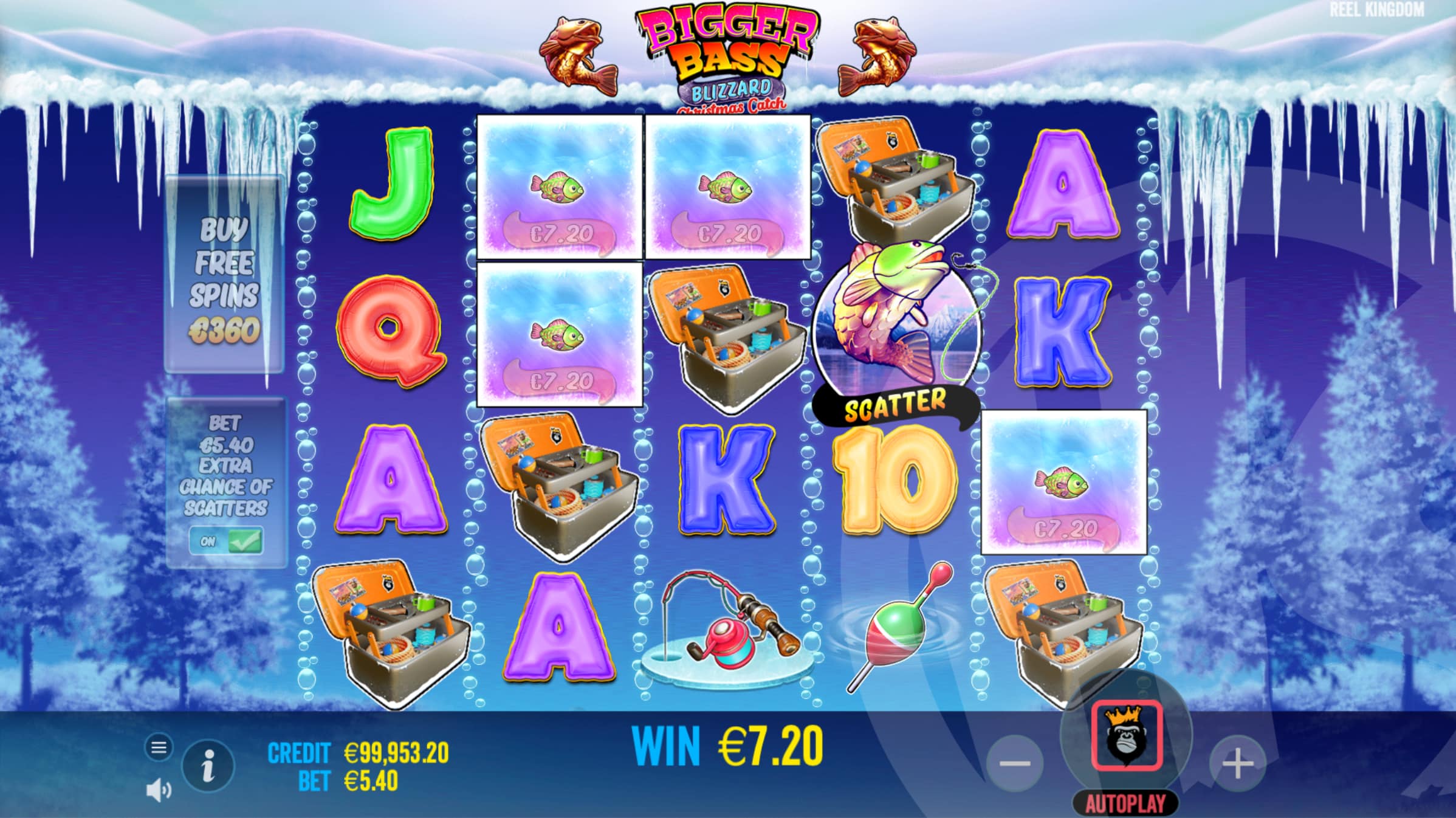 Bigger Bass Blizzard Base Features
Taking place across 5 reels, wins are formed on Bigger Bass Blizzard by matching at least 2 or 3 symbols on adjacent reels, beginning with the leftmost reel, across 1 of 12 fixed win lines. Symbols available begin with non premiums, with 10s, Js, Qs, Ks, and As, awarding wins of 0.50x bet for 3 of kind, increasing to values of 10x bet for 5 of a kind. At the premium end, we have tackle boxes, fishing bobbers, and fishing rods. Land 3 of a kind of any of these premiums to see wins between 2 and 3x bet, increasing to values between 50 and 100x bet for 5 of a kind. Rounding up the premiums is our character on a snowmobile, who also pays for 2 of a kind. Land 2, 3, 4, or 5 of these characters across a win line to see wins of 0.50, 5, 20, or 200x bet, respectively.
Now, in the middle of this pay table we have fish Money Symbols. At the beginning of each spin, each fish Money Symbol takes on a random value from a predefined set – 2, 5, 10, 15, 20, 25, 50, or 4,000x bet. Whilst landing 3 or 4 of these symbols across a win line will award wins of 1 and 5x bet respectively, landing 5 of a kind across a win line will award the total value of all fish Money Symbols in the line.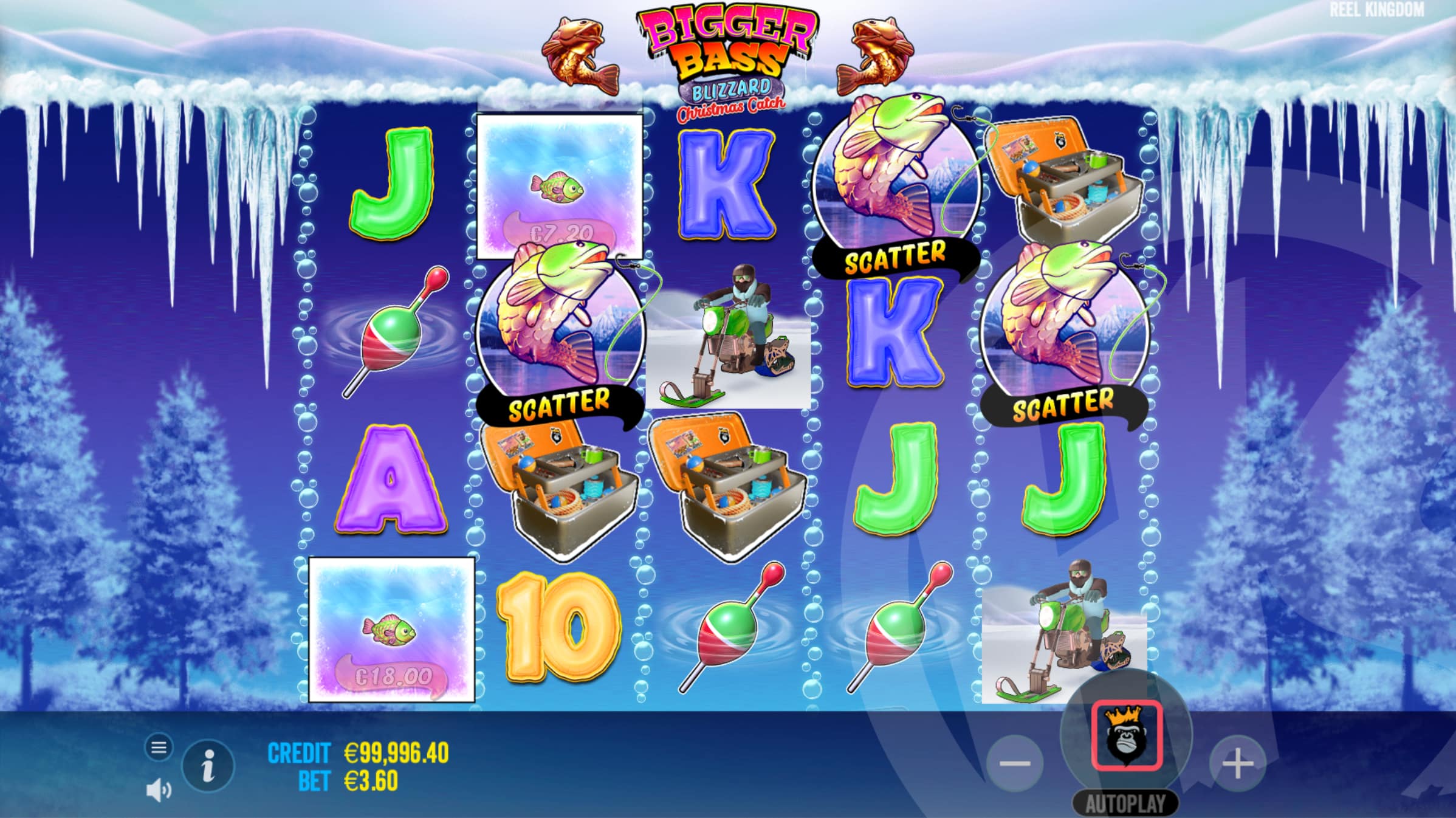 The main thing to cover in the Bigger Bass Blizzard is the Ante Bet. By betting an additional 50%, more Scatter symbols are present on the reels, thus the chance of triggering Free Spins naturally is higher. It is not made clear just how much higher this chance is – just that it is higher. When Ante Bet is active, RTP is unchanged, symbol values are unaffected, and option to Buy Free Spins is disabled.
That's pretty much it for the base game. Remember, this isn't a Big Bass follow up, but rather a Bigger Bass Bonanza followup. So the only other thing to be aware of is that bet values are odd – 0.12, 0.24, 0.36 etc. Nothing really to write home about, but just something that has always confused me about the Bigger Bass release.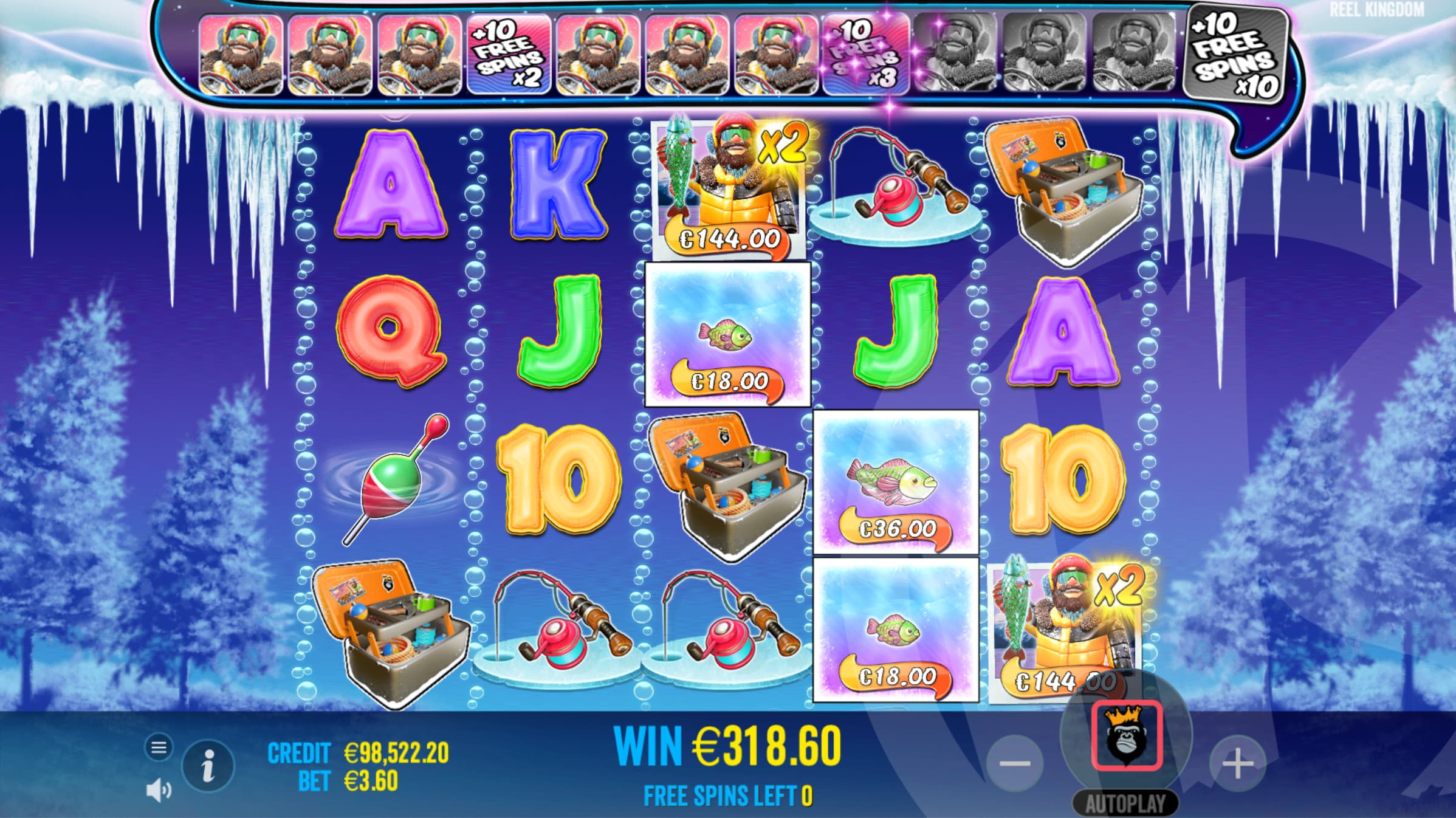 Bigger Bass Blizzard Bonus
Land 3, 4, or 5 Scatters to trigger 10, 15, or 20 Free Spins, respectively. When 2 Scatters land, it is possible that a hook will appear, and bring a third Scatter into view, triggering the bonus. This hook can also appear to bring a fourth or fifth Scatter into view. During free spins, the Wild symbol is introduced – which you'll recognise as the Fisherman, but in winter gear. This Wild, which substitutes for all symbols except Scatters, can land on any reel. On any spin, if this symbol lands, the values attached to any fish Money symbols in view will be collected and awarded. Alongside this, Wild symbols are collected and added to the meter at the top of the reels:
Collect 4 Wild Symbols: +10 Free Spins x2
Collect 8 Wild Symbols: +10 Free Spins x3
Collect 12 Wild Symbols: +10 Free Spins x10
Any additional spins awarded are played after the current batch of spins have ended. The multiplier applies to any Fish Money symbol values collected, and is not a general win multiplier. After reaching +10 free spins with a x10 multiplier, the feature cannot be retriggered.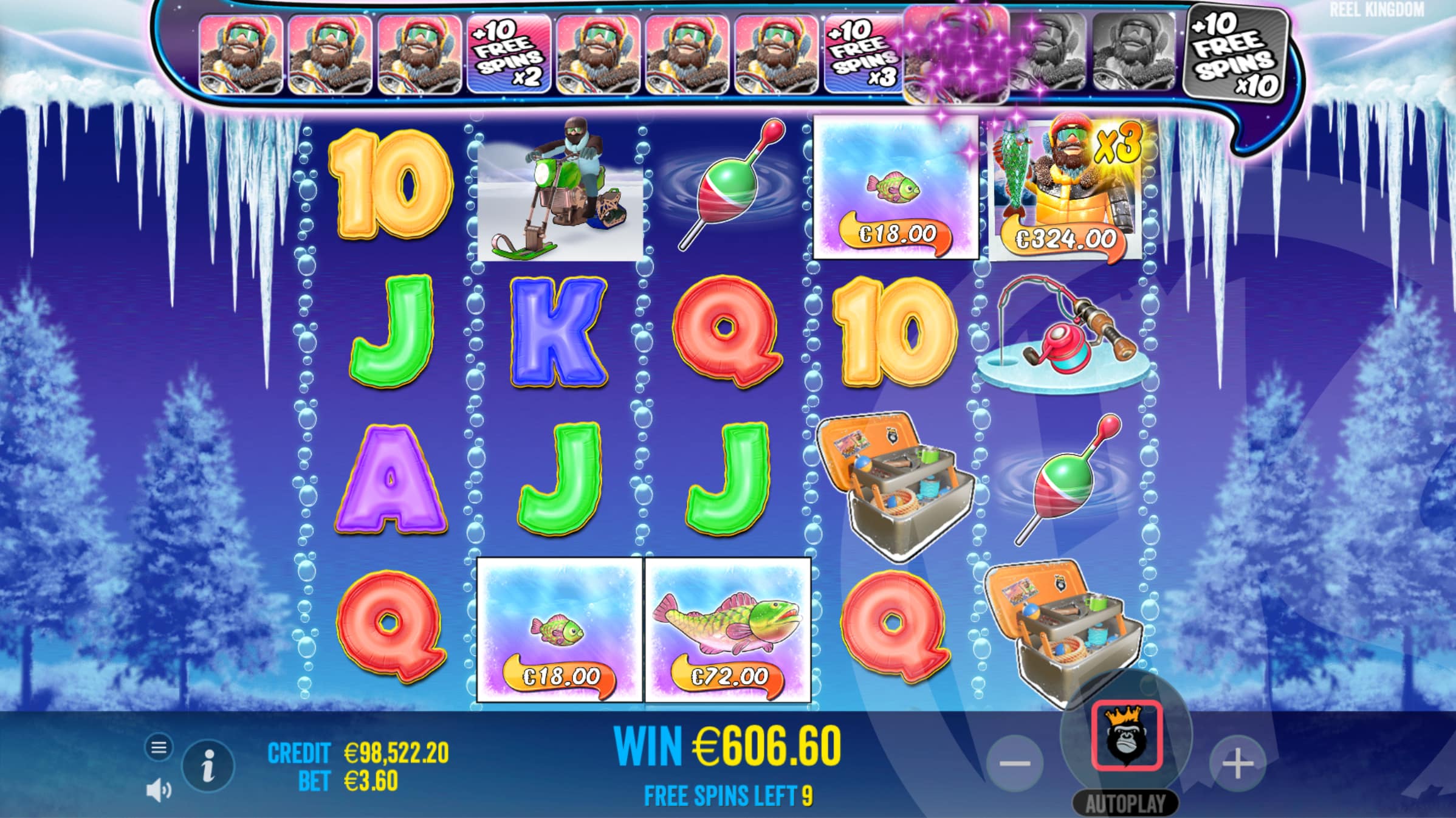 When 1 or 2 Wild symbols are in view, a whale can appear, placing fish Money symbols into random positions on the reels at the end of a spin. These values will then be collected by the Wilds. Additionally, 1 or 2 hooks can randomly appear, pulling Wilds or fish Money symbols onto the reels. Multiple Wilds in view will each collect all fish Money symbols in view.
Finally, players in appropriate regions can fast track the action with the Buy Free Spins option. For a cost of 100x bet, 3, 4, or 5 Scatters will randomly land. RTP dips slightly, to 96.07%, when buying Free Spins.
The maximum win available in Bigger Bass Blizzard is 4,000x bet. If the sum of a single game round exceeds this, the game round will end and 4,000x bet will be awarded.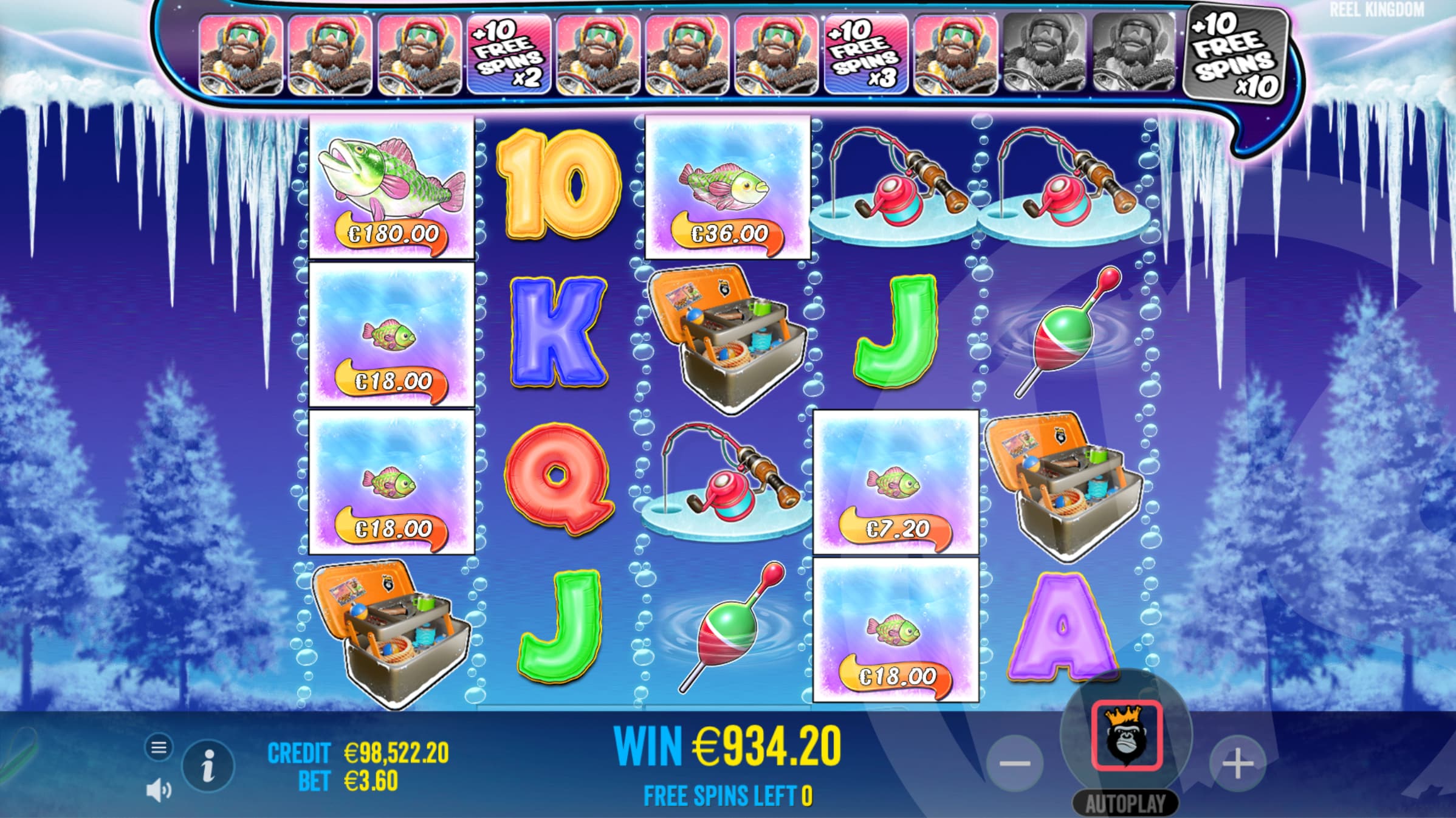 First Impression
Well, what to say? Every now and again a Big or Bigger Bass comes along that adds a little tweak to this series – Big Bass Keeping it Reel is one example of this. In this instance though, we're really just looking at Bigger Bass Bonanza modified slightly to fit into the Christmas season. Even the artwork, which has certainly been changed, has really only been changed in colour, not design.
Gameplay is as you expect, although Bigger Bass has always been a preference of mine given that you can collect the sum of all fish Money Symbols – if you land 5 of a kind, that is. Moving into Free Spins and everything is just exactly what you know and expect – Wilds collect fish Money Symbol values, you collect Wilds, and you can progress to win multipliers as high as x10 – brilliant. When the right combinations happen, wins are possible up to 4,000x bet – not the lowest of this series, but not the highest either.
RTP at its' highest is 96.08%, but settings are available of 95.07% and 94.07%, so as always it's worth checking. Maths is highly (5/5) volatile, and that's pretty much it for that side of things. Basically, if you like this series and you've been looking for a particularly festive one, Bigger Bass Blizzard will suit you – although even at this point it's worth noting, Christmas Big Bass Bonanza does already exist. If you weren't convinced by Bigger Bass before now, there probably aren't enough changes to convince you – unless you're really into snowmobiles.
*The screenshots taken of games reviewed on this site are taken from Demo Play, as reviews are often written before games are released for real play.