We've all heard the phrase 'one small step for man, one giant leap for mankind' – spoken by Neil Armstrong when he made history by becoming the first person to step foot on the moon. There was a time when space travel alone seemed impossible, much less actually setting foot on masses other than Earth. Nowadays, with technology improving we have telescopes to help us get up close and personal with the observable universe – it is true to say that the impossible is achieved every day, with humans travelling into space, planning missions, and receiving images from telescopes in incredible quality. Similarly, AvatarUX have achieved the impossible – by finding yet another element to add to their PopWins™ series, somehow producing a game that feels new, despite there being more than a dozen Pop releases now. This time, we're going out of this world with some unlikely accomplices in CritterPop, a highly volatile release with an RTP of 96.0% and wins on offer up to 20,000x bet.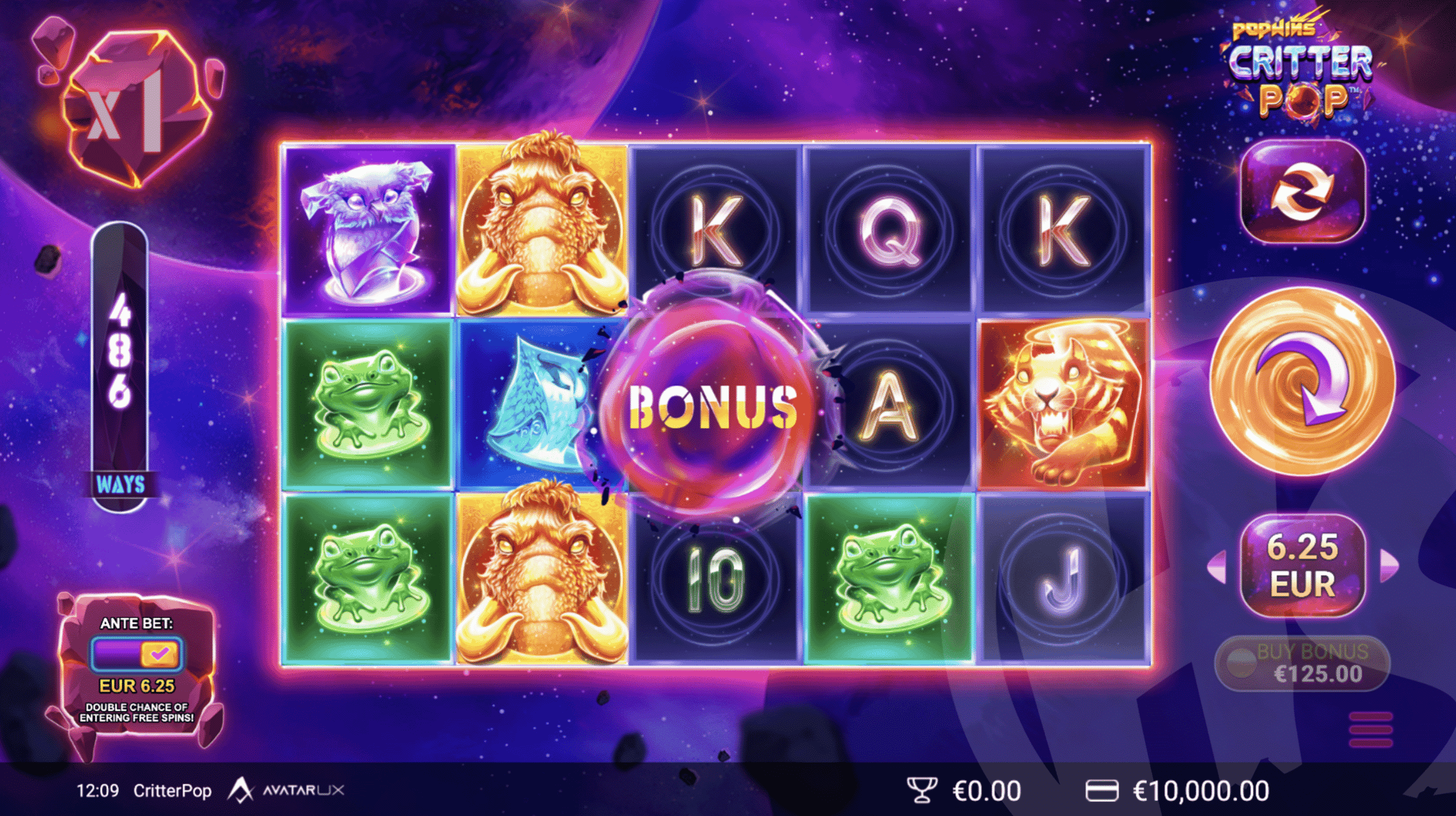 Visually, the team have done well to tie half of their theme into every aspect of this release – from the spin button to the Scatter, win count ups, and backgrounds – everything is space. Of course, it's called CritterPop, not SpacePop, and it seems the critters only really appear in symbol form, so AvatarUX could quite have easily replaced the symbols to anything else and changed the game. I digress though, and admit that everything looks slick and on theme, in spite of there being a bit of distance between the two main elements. Audios are where things really shine, with a great ambience created through the background music and sounds – bold, but not so bold as to be distracting.
CritterPop Base Features
Taking place across 5 reels, wins are formed on CritterPop by matching at least 3 symbols on adjacent reels, beginning with either the leftmost reel or rightmost reel. At their starting size, each reel is 3 symbols high, for 486 ways to win, although this can increase thanks to the PopWins mechanic, which we'll explain more on below. For now, let's take a look at the pay table, which begins with non-premiums – 10 and Js award players between 0.2 and 1x bet for wins between 3 and 5 of a kind, whilst Q, K and As offer between 0.3 and 1.5x bet, again for wins between 3 and 5 of a kind. At the premium end, we meet our 6 'critters', beginning with green frogs and blue birds, paying between 0.5 and 2x bet for wins between 5 of a kind. Next up it's purple owls, awarding players with wins between 0.7 and 3x bet for matches between 3 and 5 of a kind, followed by pink cats, paying between 1 and 4x bet, again for wins between 3 and 5 of a kind. The two highest paying symbols are orange tigers and yellow mammoths, which form wins of 1.2 and 1.5x bet respectively for 3 of a kind, up to wins of 5 and 6x bet respectively for 5 of a kind. Finally, there is a Wild symbol that substitutes for all symbols, but that only appears during Free Spins, and a Scatter, although this holds no payout value.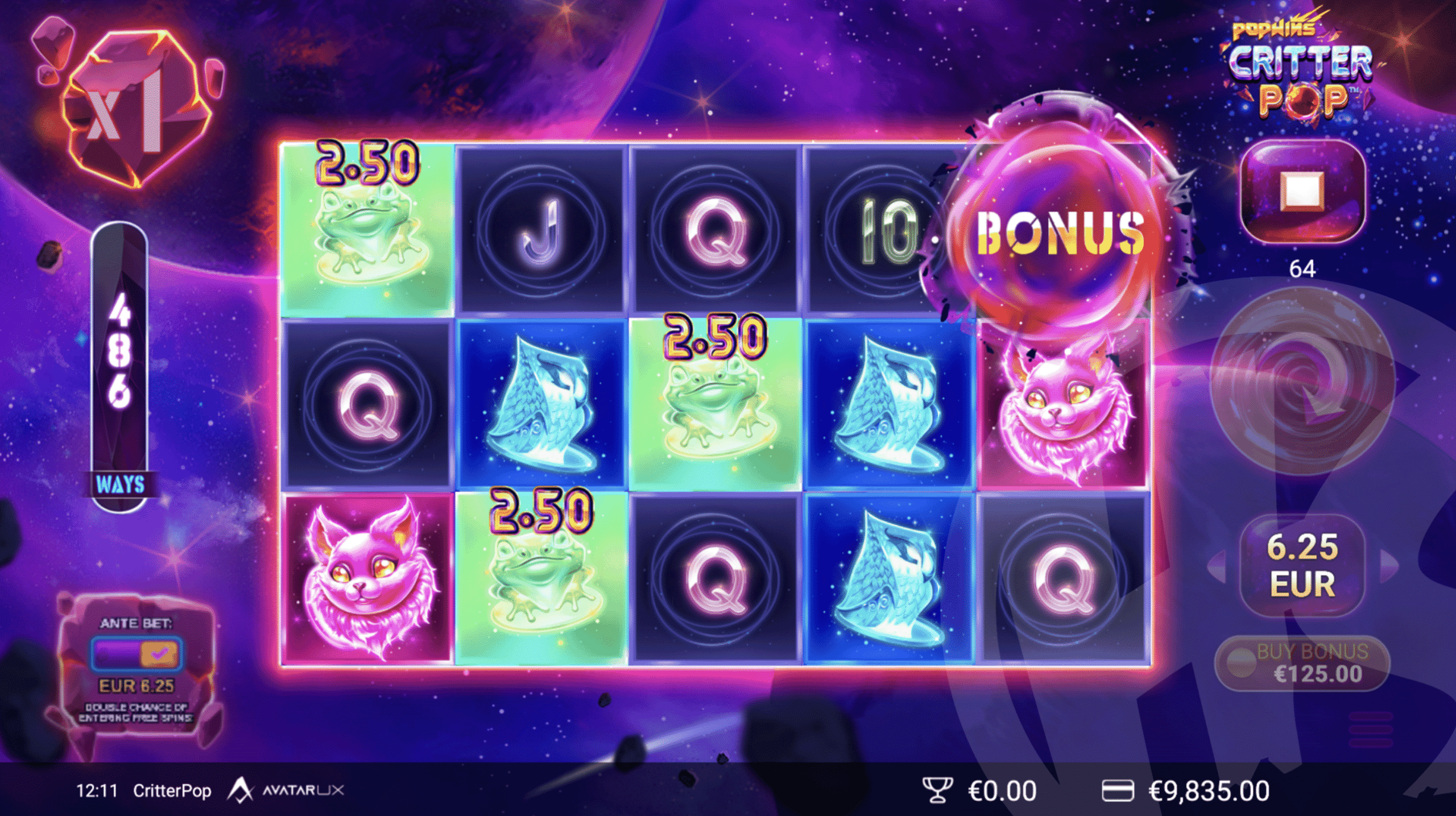 When it comes to the base game, CritterPop is pretty much what we're used to in this series, with PopWins. All symbols involved in winning combinations will 'pop' from the reels, with each individual symbol being replaced by two more symbols, thereby increasing the ways to win. In the base game, each reel can increase as high as 6 symbols, forming 15,552 ways to win (don't forget wins can be formed from the left or the right).
The only other thing to discuss in the base game is the addition of an Ante Bet – seen in RagingPop. By betting an extra 25% per spin, players can double their chance to land Free Spins.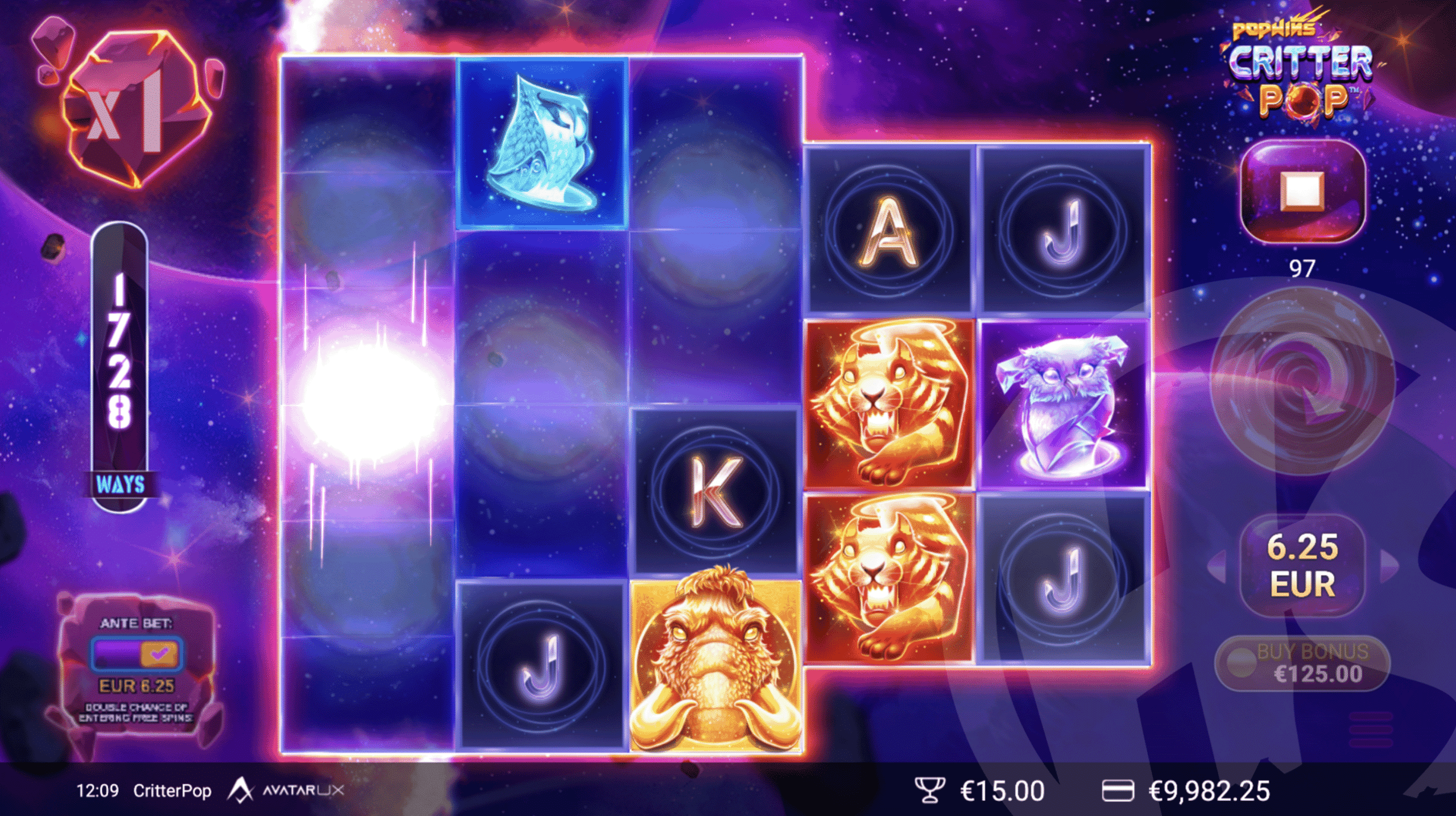 CritterPop Bonus
Land 3, 4 or 5 Scatter symbols to trigger Free Spins, with the following starting ways:
3 Scatters: 2,048 starting ways
4 Scatters: 6,250 starting ways
5 Scatters: 15,552 starting ways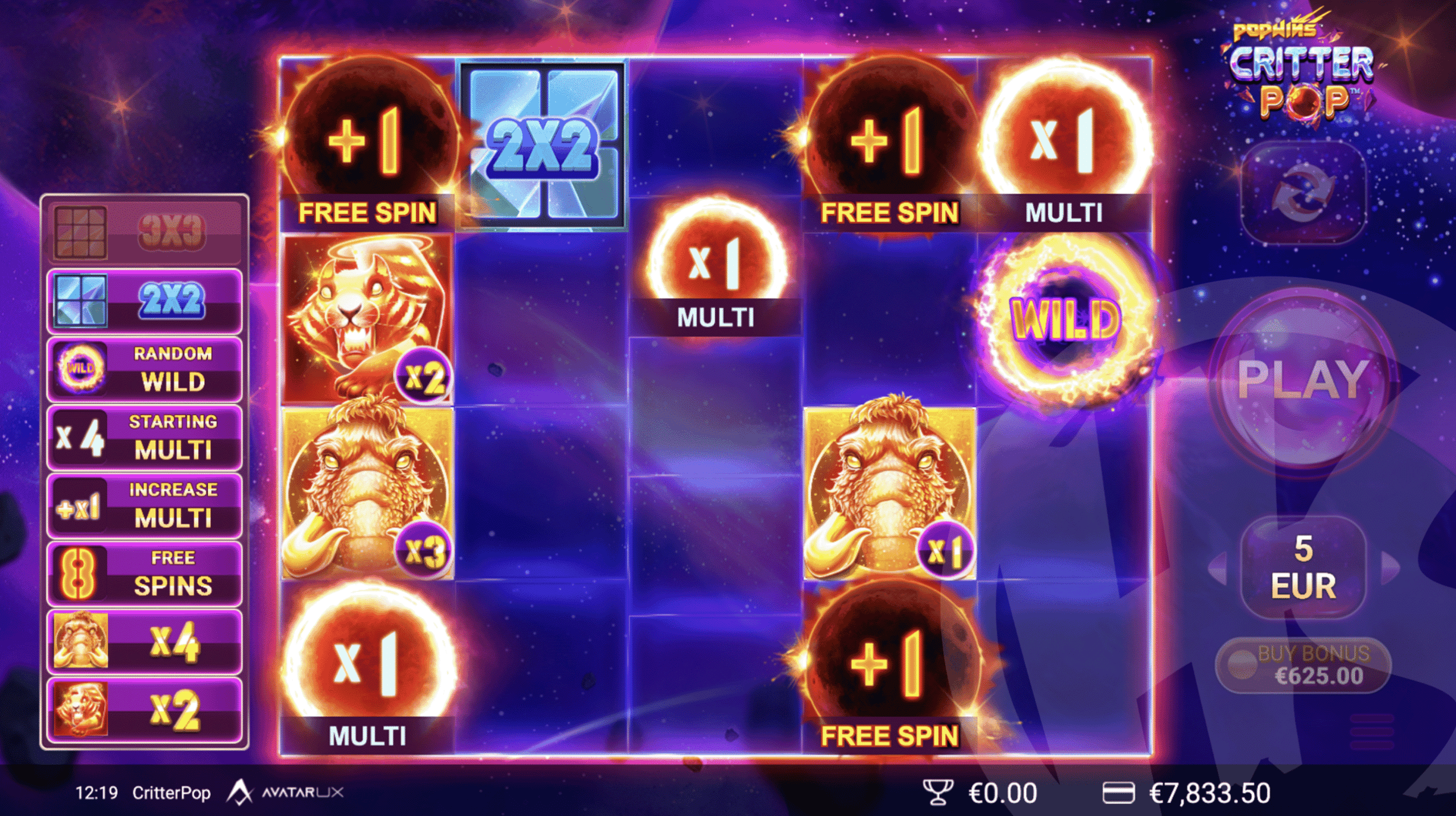 Before starting Free Spins, players must take on Rewards Reels. The size of the Rewards Reels grid carries over from the triggering base game spin, and if the feature is bought this is chosen at random. All reel positions will spin, awarding Free Spin enhancements at random. The following rewards are possible:
Free Spins: An additional +1, +2, or +3 spins.
Multiplier: x1, x2 or x3 added to the starting multiplier.
Multiplier Growth: +1 or +2 added to the growth after each cascade.
Mega Symbols: random 2×2 sized symbols.
Giga Symbols: random 3×3 sized symbols.
Random Wild: substitutes all symbols except Scatter.
High Symbol Multiplier: x1, x2 or x3 added to Tiger symbols.
High Symbol Multiplier: x1, x2 or x3 added to Mammoth symbols.
The same reward can land multiple times, giving a chance of having a huge amount of spins, or starting with an extremely high multiplier.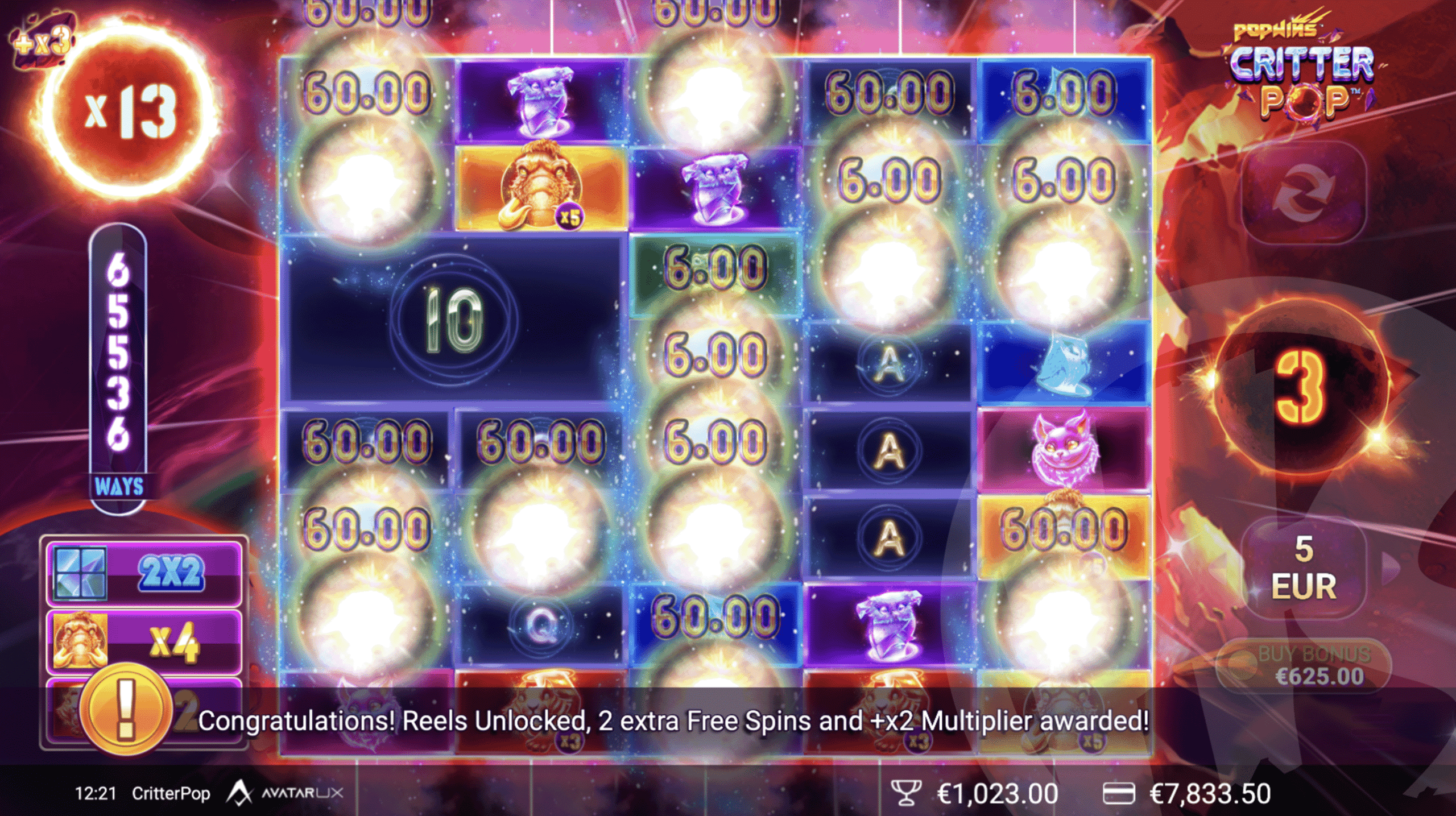 During Free Spins, each reel can increase to 8 symbols high, giving a maximum of 65,536 ways to win. Alongside this, reels don't reset back to their starting point between each spin – instead, they reset to the height of the shortest reel, so seeing wins on both sides of the grid is crucial from the start.
When all reels reach their maximum height of 8 symbols, an additional +2 spins are awarded, reels remain fully unlocked for the remainder of spins, and +2 is added to the multiplier increase for each win. This means, if you start Free Spins with your multiplier increasing by +1 for every win, it will now increase by +3 per win – this number will sit alongside the multiplier, to help you keep track. The win multiplier is applied to every cascade during Free Spins, and does not reset.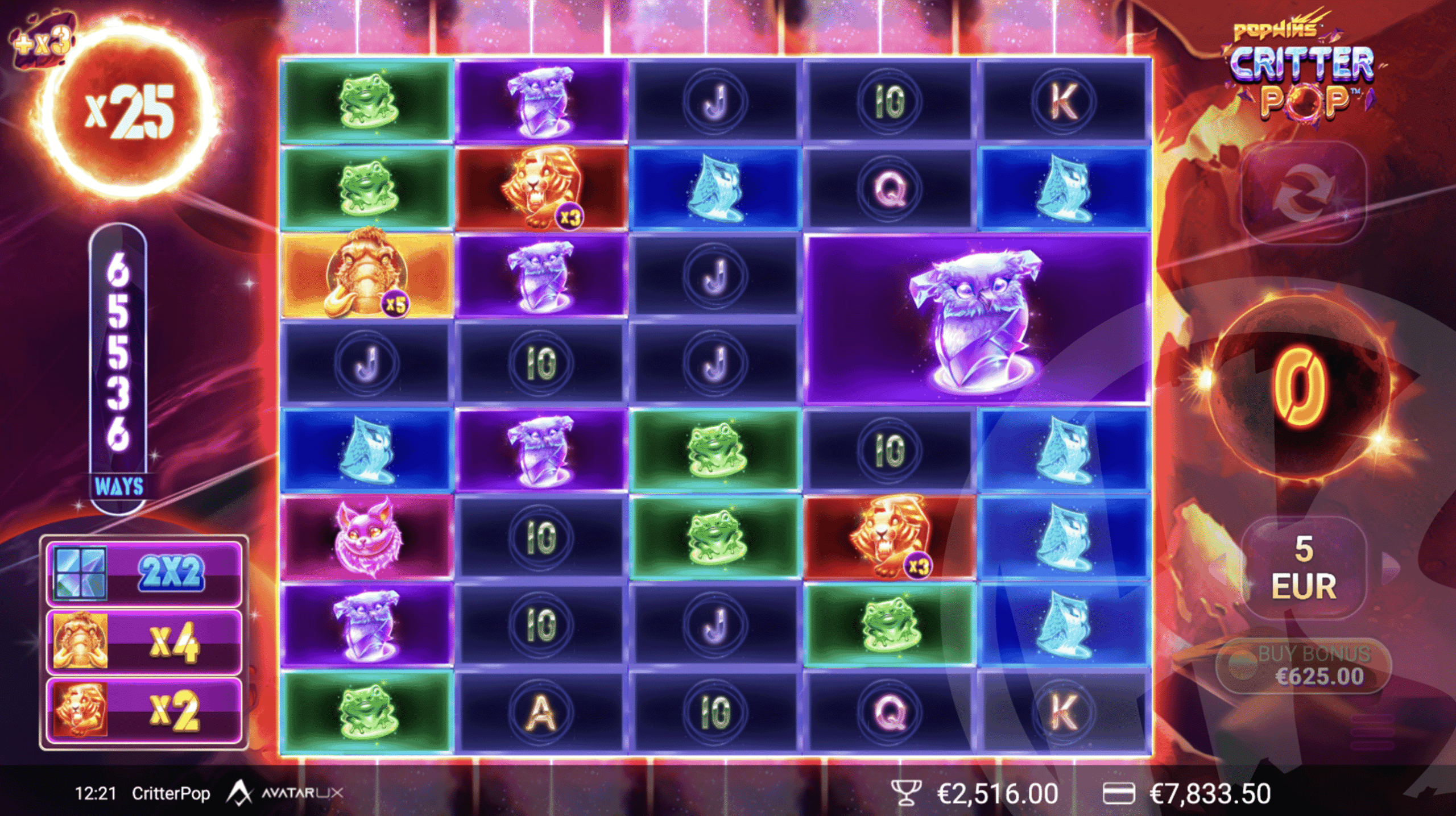 Players in appropriate regions can take advantage of the following Feature Buy options:
Buy Bonus: 125x (2,048 starting ways)
Buy Bonus Plus: 250x (6,260 starting ways)
Buy Bonus Max: 500x (15,552 starting ways)
When playing CritterPop on Demo, it was not possible to opt for the Buy Bonus Max on a stake higher than €2, or the Buy Bonus Plus on a stake higher than €3. This may be true when the game is released, but at this point we are unsure of this.
The maximum win available in CritterPop is 20,000x bet. If the win of a single game round exceeds this, the game round will end and 20,000x bet will be awarded.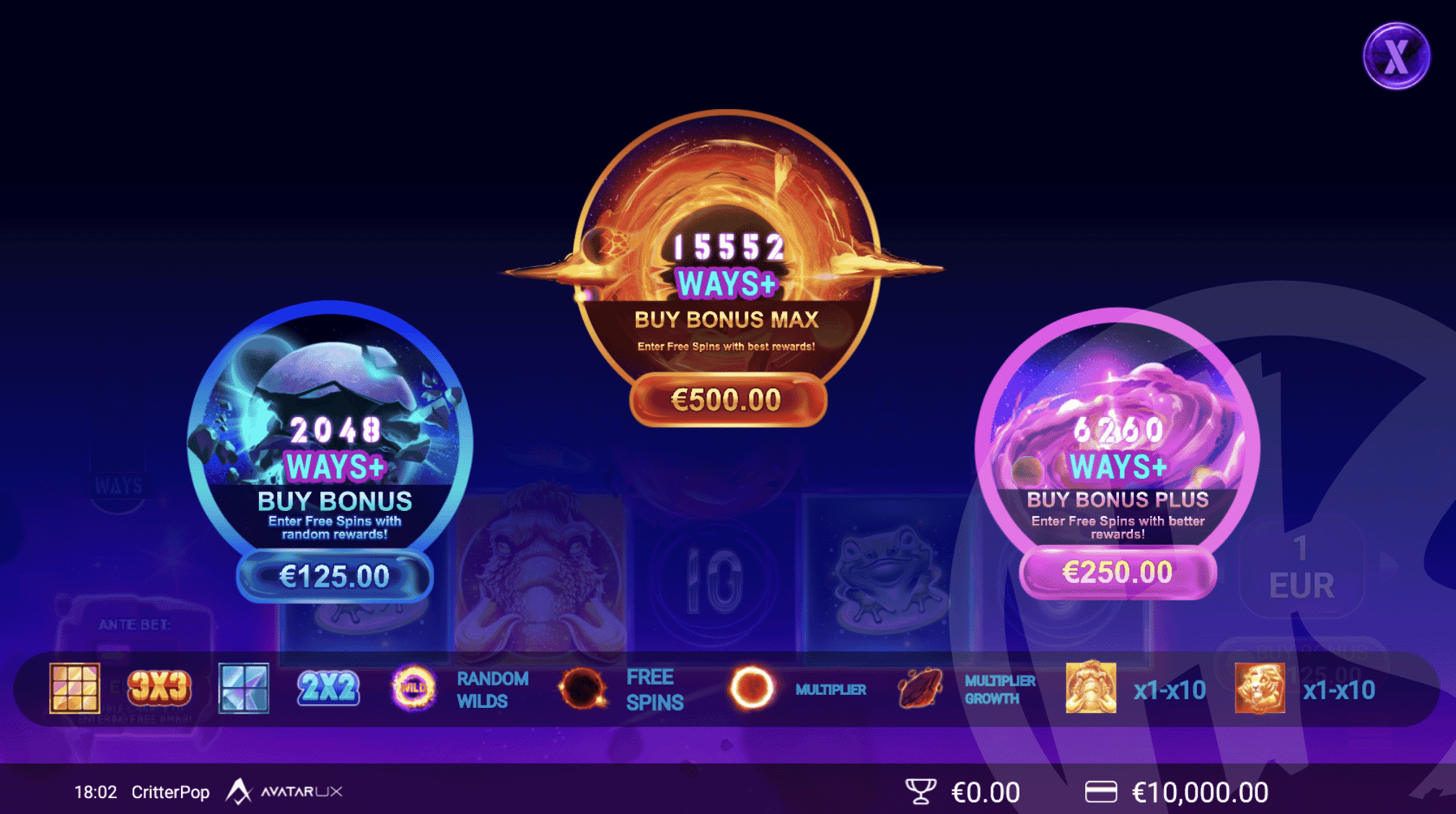 First Impression
It's beginning to feel like AvatarUX will never run out of things to do with their PopWins mechanic. At this point we've seen it all when it comes to the theme alone – cherries, hippos, monkeys, pigs, papayas, and now critters, to name a few. With the introduction of the Rewards Reels, and an Ante bet, the team have once again found a way to make their mechanic feel fresh, with CritterPop offering something that the rest of the portfolio doesn't. AvatarUX seem to be one of the best at giving players a reason to try their new releases, and CritterPop is no different.
CritterPop also takes advantage of the Feature Buy options we first saw in PiggyPop, offering a maximum buy, however the gamble is removed from the lower buy options – something the team chose to implement in MonkeyPop too. On the one hand, we know how harsh the Pop gambles can be, but we know a lot of players (particularly streamers) enjoy buying the bottom level and taking the gamble, so it remains an interesting decision to take that away from the game. The gamble has also been removed in the base game – instead players must now land 4 or 5 Scatters to see the higher levels, although the only difference is the starting ways, so whether this will really bother anyone remains to be seen. Maths doesn't lie, however, and we know the 5 Scatter option has a value four times as high as 3 Scatters, so we expect to see some results there.
With the option to boost your Free Spin set up, every bonus feels different, and it helps to keep us interested. In testing, we'd be lying if we didn't admit our best results directly tied in with our best Reels Rewards results, so it doesn't seem like an animation that serves no purpose so far – although our limited testing pool isn't enough to offer any kind of proof of this. Either way, things are highly volatile in CritterPop, with wins available up to 20,000x bet and an RTP of 96.0%.
Overall, if you love the PopWins series, we'll say what we always say – there's no reason you won't love CritterPop. If PopWins haven't captured your heart just yet, the few tweaks we have here may just do it.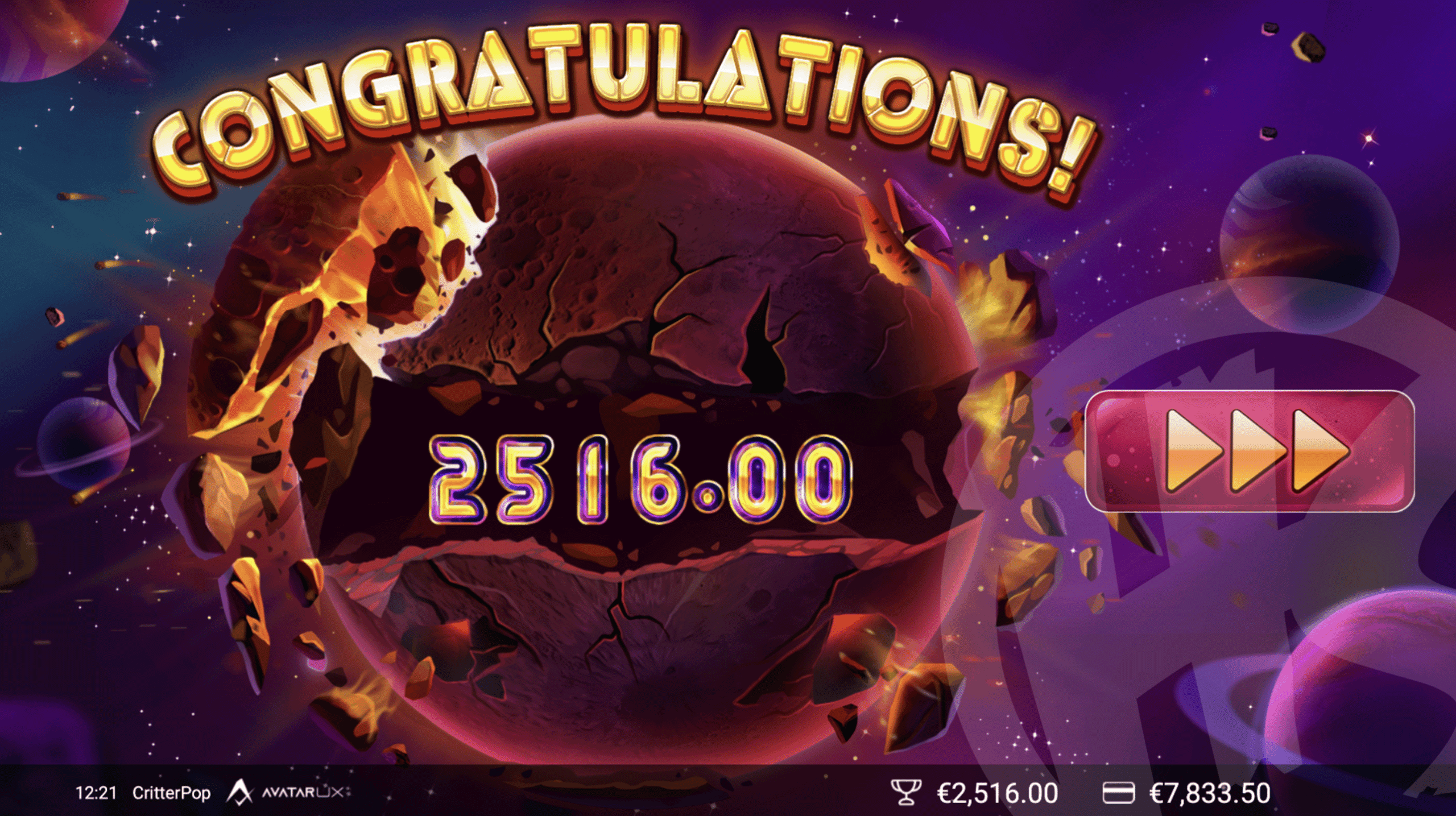 *The screenshots taken of games reviewed on this site are taken from Demo Play, as reviews are often written before games are released for real play.