From the late 1800s, canaries were used in mining to detect poisonous or deadly gases like carbon monoxide. The thinking behind this was that canaries are susceptible to very small amounts of these gases, so they would kill the canary before killing the miners, thus providing time to escape. This continued until 1996 at the latest, at which point canaries were replaced by hand-held carbon monoxide detectors. However, there's still one miner making use of canaries as guinea pigs, and you might know him from releases such as Fire In The Hole, or Misery Mining. That's right, Nolimit City are back with their third mining release, but in true Nolimit City fashion, they're changing things up – in Dead Canary. With RTP options up to 96.02%, this extremely (10) volatile release can produce wins up to 65,000x bet.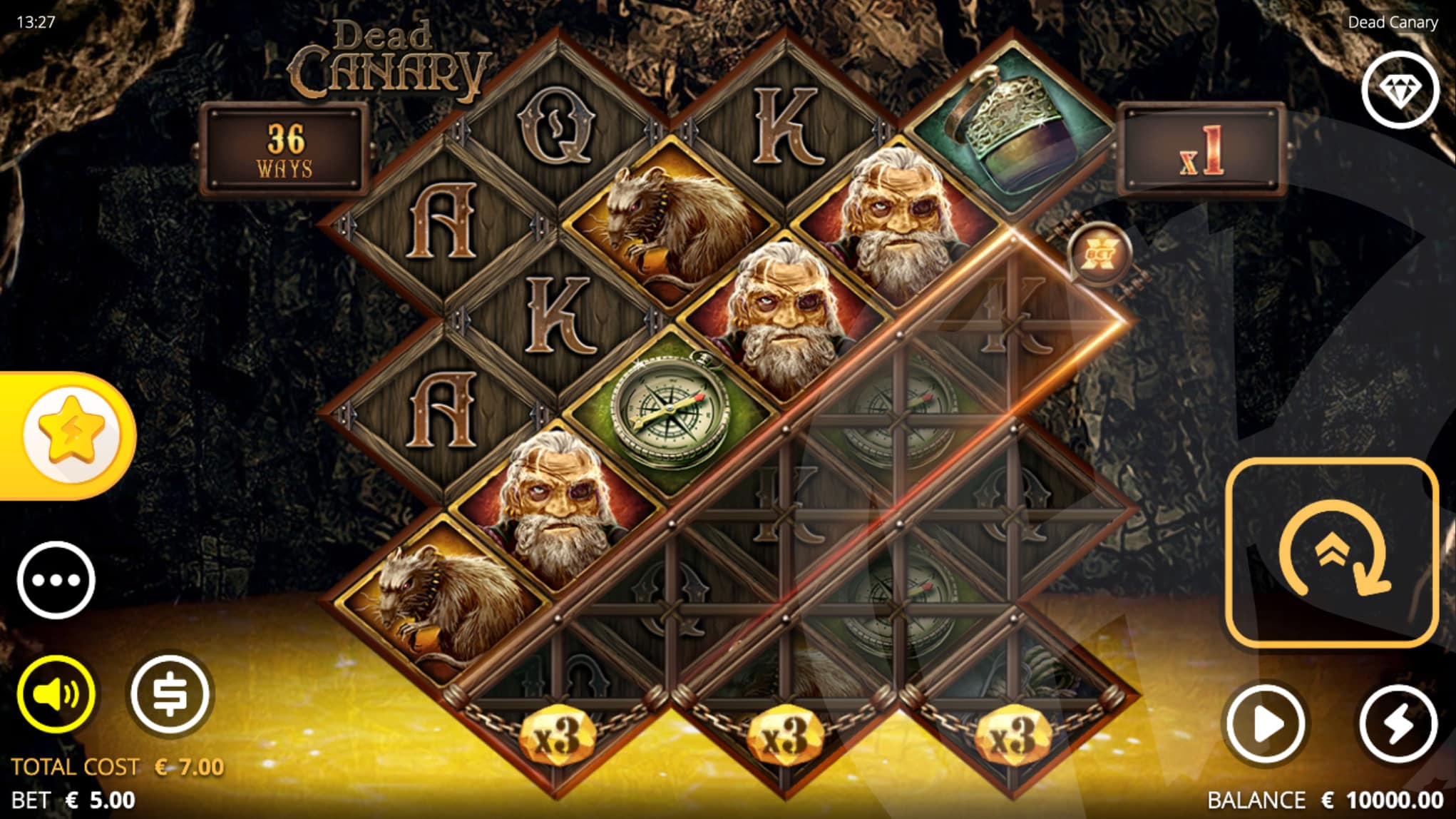 Everything in Dead Canary looks pretty much like what you'd expect from a mining release – clearly a follow on from the two releases we mentioned above. It's all quite dark and dingy, but in a striking way. The first noticeable thing though is the reel setup – kind of like a criss-cross pattern. As it turns out, it's still pretty simple to recognise and calculate wins, which we'll explain soon, but the setup certainly serves its purpose in piquing our interest. Audios offer the same bold, foreboding atmosphere, tying the whole thing together in the way you'd expect.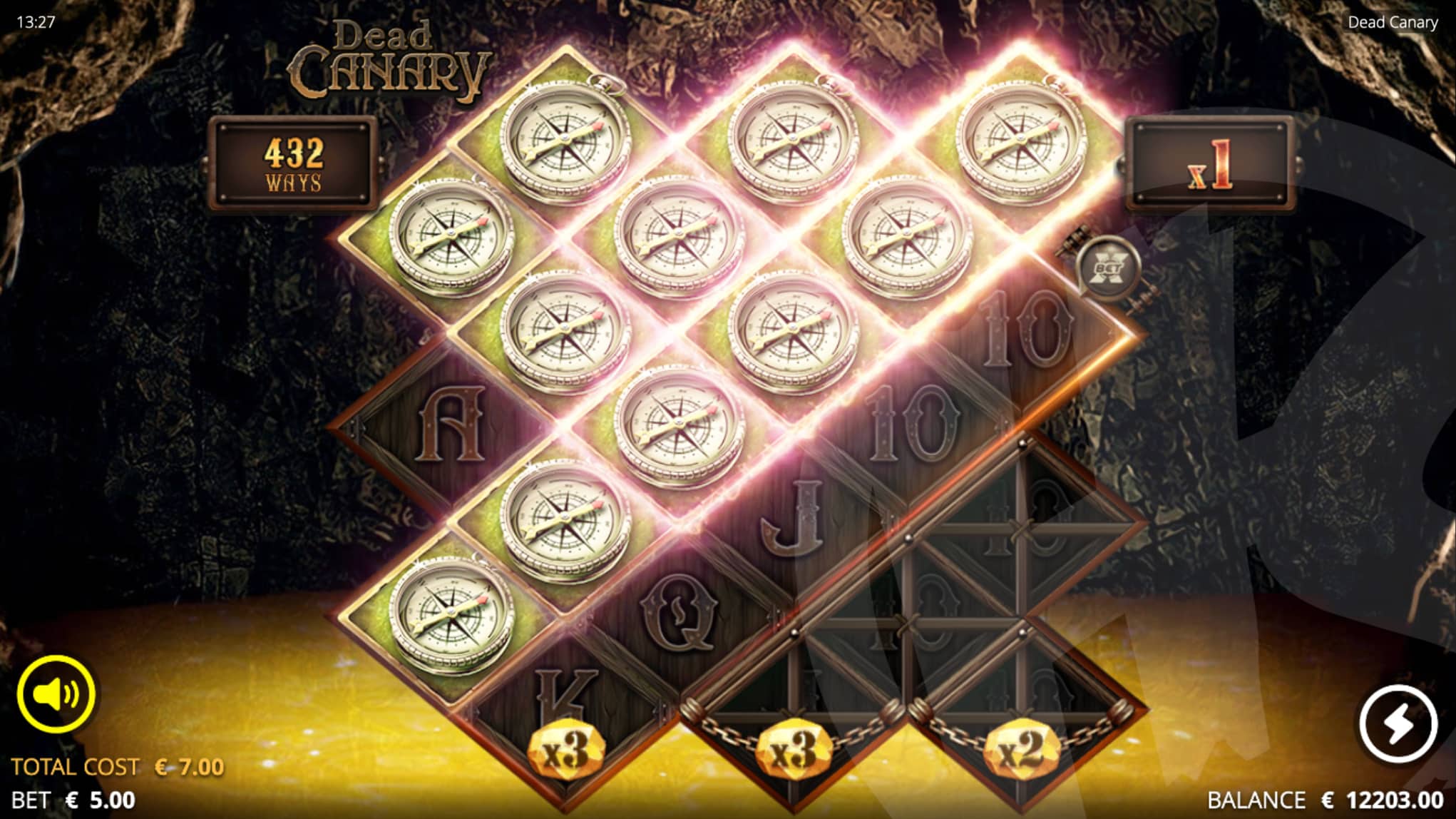 Dead Canary Base Features
Alright, so ignoring the criss-cross aesthetic and looking at symbols touching point to point, you can see that reels are 3-4-3-4-3-4 in size. This produces up to 1,728 ways to win, although things actually start at 36 ways to win, as the bottom three rows are initially blocked off with barriers. We'll explain all this in a minute, so for now let's cover the symbols available, which begin with non premiums – 10s, Js, Qs, Ks, and As. Land 3 of a kind of any non premium to see wins between 0.25 and 0.30x bet, increasing to values between 1 and 1.50x bet for 6 of a kind. At the premium end we have rope, a hip flask, a compass, a rat, and the dwarf character – both of which you'll recognise from previous releases. Land 3 of a kind of any premium to see wins between 0.40 and 1x bet, increasing to values between 2 and 7.50x bet for 6 of a kind matches.
The first thing to cover in Dead Canary is the reel setup itself. As I said, reels begin with 36 ways to win, because the bottom three rows are blocked by barriers. One of the blocked rows will open up after each win.
At the bottom of reels 2, 4, and 6 there is a multiplier – this coincides with the blocked rows, so the multipliers are also blocked off. When the barrier blocking the row is removed and the symbol underneath the multiplier is destroyed, this multiplier value is added to the overall win multiplier. This will also happen if the barrier is removed and the symbol underneath the multiplier is a Scatter.
Another simple way to unblock barriers is through the xBet option. By betting an additional 40%, players can guarantee a Scatter, along with the first barrier removed. Symbol payouts are not affected. Based on the 96.02% option, RTP increases to 96.33% when using xBet.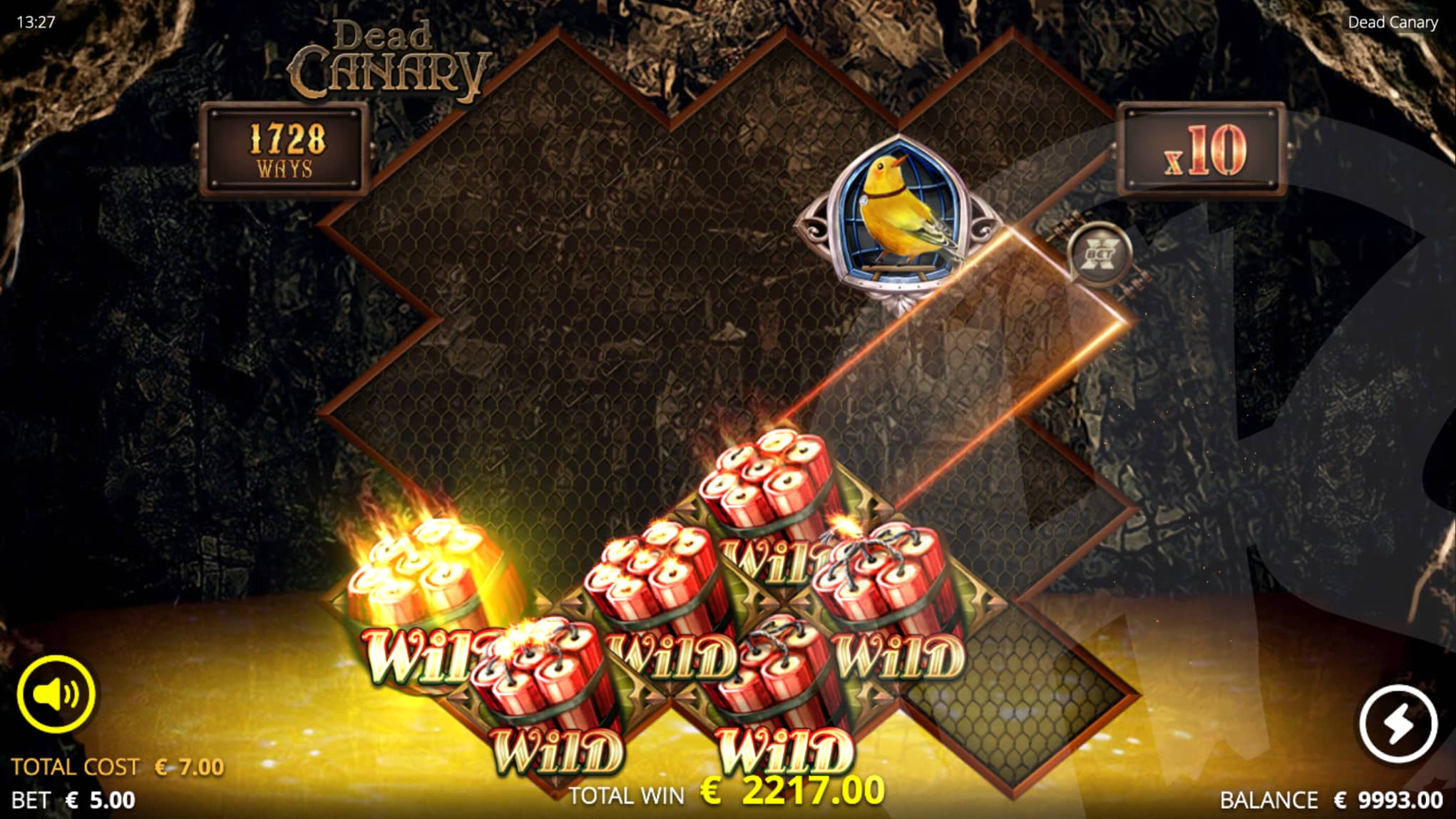 Finally, unblocking rows can also be achieved through the xBomb Multiplier and Wild Mining features. An xBomb Wild symbol will substitute for all symbols except Scatters. When an xBomb lands, it will explode all symbols except Scatters or other xBombs in a cross pattern next to it. All xBombs will explode before the next collapse, with each explosion increasing the win multiplier by +1.
Wild Mining occurs when 3, 4, or 5 of the same symbol align diagonally, but there is no winning combination. The symbols will be removed, and create a Wild Symbol(s) in the middle position of this alignment:
3 Symbols – 1 Wild xBomb
4 Symbols – 2 Wild xBombs
5 Symbols – 3 Wild xBombs
Wild Bomb explosions will increase the win multiplier by +1 before the next collapse. All other symbols will be removed, except xBomb symbols. If a Scatter is removed through the explosion, it will reappear in a random position in the next collapse.
Dead Canary Bonus
There are two kinds of Scatter in Dead Canary – the Silver Cage Scatter and the Gold Cage Scatter. Either Scatter can land anywhere on the reels, however if they land behind a blocked reel they will not come into play until they are unblocked. Three Scatter symbols of any kind trigger Canary Freespins. These start with 3 spins, with each xBomb resetting the spin counter to 3.
At the beginning of Canary Freespins, the reel layout changes to 4-3-4-3-4-3-4. The four vaults (one in each corner) will be locked. These four vaults still collect coins and multipliers from their 3 neighbouring positions, and may be unlocked through xBomb explosions. When a vault is unlocked, everything collected will be awarded as a win at the end of the bonus. If a Scatter has landed in a vault position it will be pushed towards an available space in the centre before spins begin.
Scatters start with a 1x value, and can collect coins, multipliers, upgrades, the rat enhancer, or the dwarf enhancer:
Silver Cage Scatter – collects in an x-shape 1 position from itself.
Gold Cage Scatter – collects in an x-shape from the entire row(s).
The Scatter symbol furthest to the left will pick up first. Each Scatter starts with 3 hit points, only awarding their collected wins if the bird inside the cage dies. xBombs and Gas take one hit point away from the Scatter. When the bird dies, its value is awarded and it will respawn in its cage.
Scatters will stop collecting after reaching a value of 65,000x. They can collect the following:
Coins – all coin values are valued at times bet. Values will add to the value of each Scatter that collects it.
Bomb – bombs explode and affect neighbour positions in an x shape. Explosions remove 1 hit point from Scatters and open vaults. Bombs reset the number of spins to 3 regardless of where they land.
Multipliers – can double or triple the collected value of Scatters or vaults.
Gas – affects all adjacent birds, removing 1 hit point from each Scatter it affects.
Rat – can be picked up by one Scatter, and acts as a Persistent Payer, sharing its collected value with all other Scatters for every spin until it dies. The rat will add 1 hit point to the Scatter that picks it up, and when it dies a bird will respawn in its cage. The rat collects in the shape of the bird it transformed from.
Dwarf – can be picked up by one Scatter, and acts as a Persistent Collector, collecting the value of all other Scatters into its own value for every spin until it dies. The dwarf will add 1 hit point to the Scatter that picks it up, and when it dies a bird will respawn in its cage. The dwarf collects in the shape of the bird it transformed from.
Upgrade – upgrades Silver Cage Scatter Symbols to Gold Cage Scatter Symbols for every subsequent spin, and adds 1 hit point to every Scatter it affects.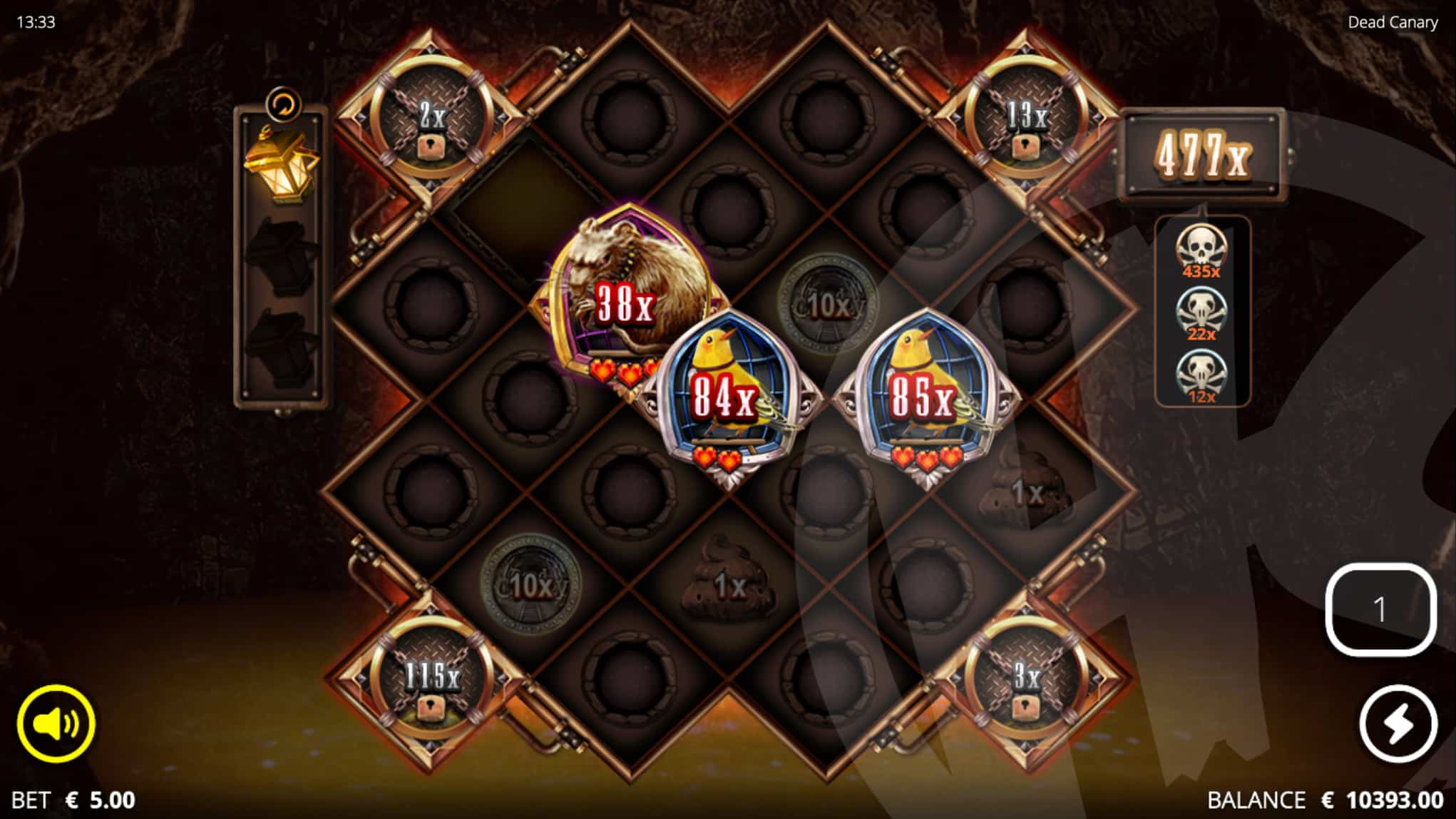 Finally, players in appropriate regions can take advantage of the following Nolimit Bonus options:
Canary Freespins – 68x bet (96.30% RTP)
Golden Canary Freespins (1 Golden Cage Scatter) – 500x bet (96.37% RTP)
Lucky Draw (any Scatter may be Golden) – 284x bet (96.39% RTP)
The maximum win available in Dead Canary is 65,000x bet (Happy Wife, Happy Life). If the sum of a single game round exceeds this the game round will end and 65,000x bet will be awarded. If xBet is enabled, this is 65,000 times the base bet.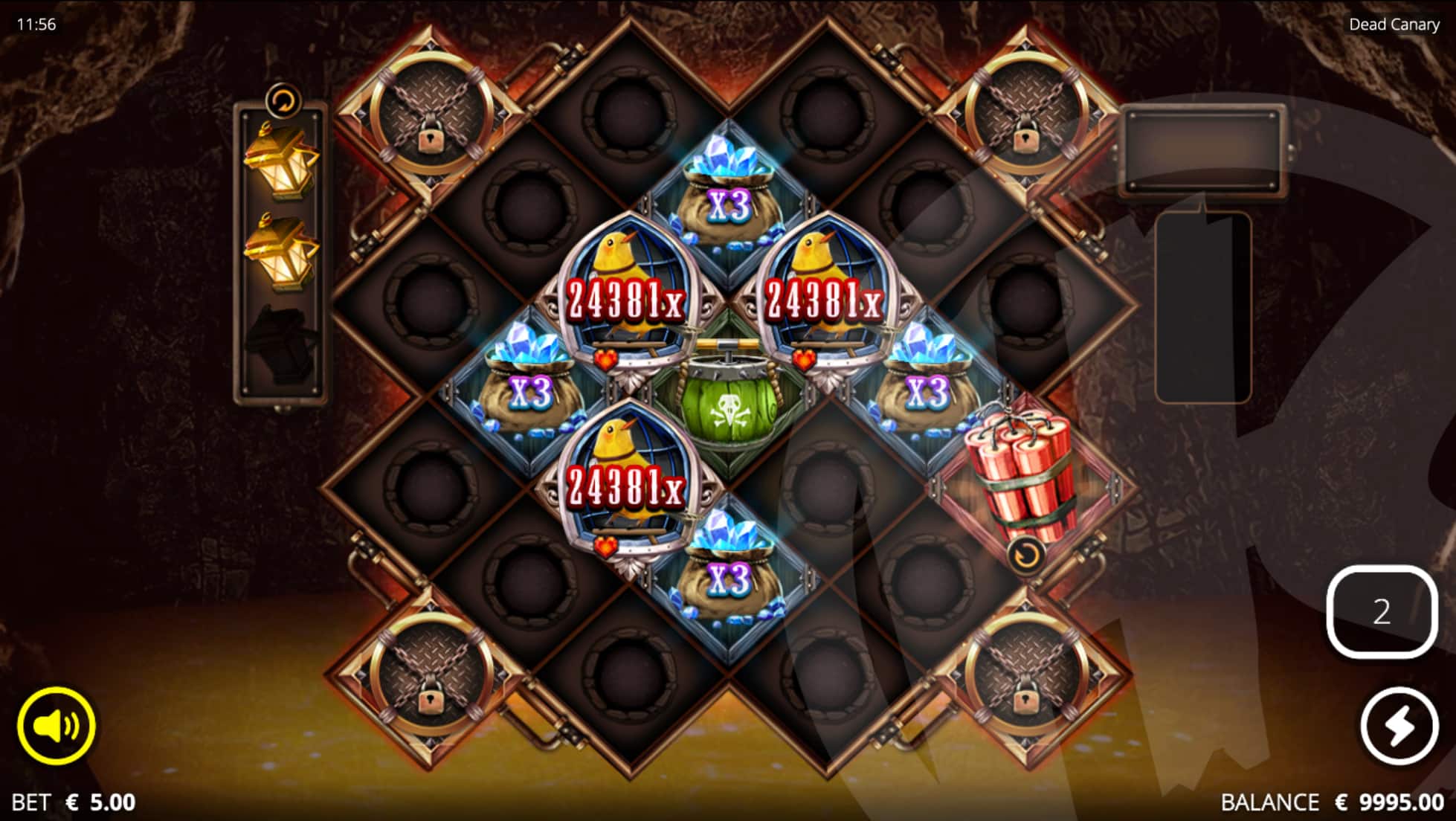 First Impression
Dead Canary does a great job of carrying the torch from Fire In The Hole. For some, Misery Mining did this job but for others, Misery Mining slightly missed the mark. It seems unlikely we're going to have players disappointed with Dead Canary. Bold yet dark, and fun yet potent, it has everything we look for in a new release. Most importantly, in comparison to the last release from the team, Pearl Harbor, it has plenty happening yet isn't unnecessarily complicated.
No complaints in the base game with multipliers, xBet, xBombs, and Wild Mining making up most of the excitement. It's Freespins though where things really kick off. At first glance you might not understand why some values are collected and others ignored, especially with multiple Scatters collecting at once, but it doesn't take long to suss things out, and then you can really get into it. When the right combinations hit, wins are possible up to 65,000x bet. That said, this is an extremely (10) volatile release, plus your birds actually have to die to see the value awarded. This is not unlike Push Gaming's Mad Cars, and is something that has happened to me in my limited amount of testing – I landed a dwarf in the regular bonus, the value reached x875, but the bird had 1 hit point left and my bonus ended at 30x bet – heartbreaking.
Finally, RTP options are available up to 96.02%, although as always it's worth checking this. There isn't much more to say on this one other than it's an excellent close to the year for the team at Nolimit City. If you liked Fire In The Hole, I'm confident in saying you're going to love Dead Canary. If you weren't convinced by Fire In The Hole or Misery Mining, this unique twist on a hold and win style might still be able to convince you, who knows.
*The screenshots taken of games reviewed on this site are taken from Demo Play, as reviews are often written before games are released for real play.