If there's one man who has been on plenty of adventures over the years, it's ELK Studios' explorer, Kane. To give you a quick recap, so far ticked off the list of adventures is a search for a lost plane in Pacific Gold, discovering his kingdom in Tahiti Gold, searching for temples in Zulu Gold and Ecuador Gold, an ancient ritual in Voodoo Gold, unfolding his ancestor's treasure in Avalon Gold, building his wealth in the new world in Black River Gold, and searching for inner peace in Katmandu Gold. Now, Kane has discovered a diary belonging to his notorious ancestor, pirate Long John Steal, which mentions Tortuga, the location of a hidden pirate colony home to old shipwrecks, unstable cannons, and bottomless chests of treasure. Well, that's where we're being taken today, in Dead Man's Gold. With a fixed RTP of 94.0%, this highly (9/10) volatile release can produce wins up to 25,000x bet.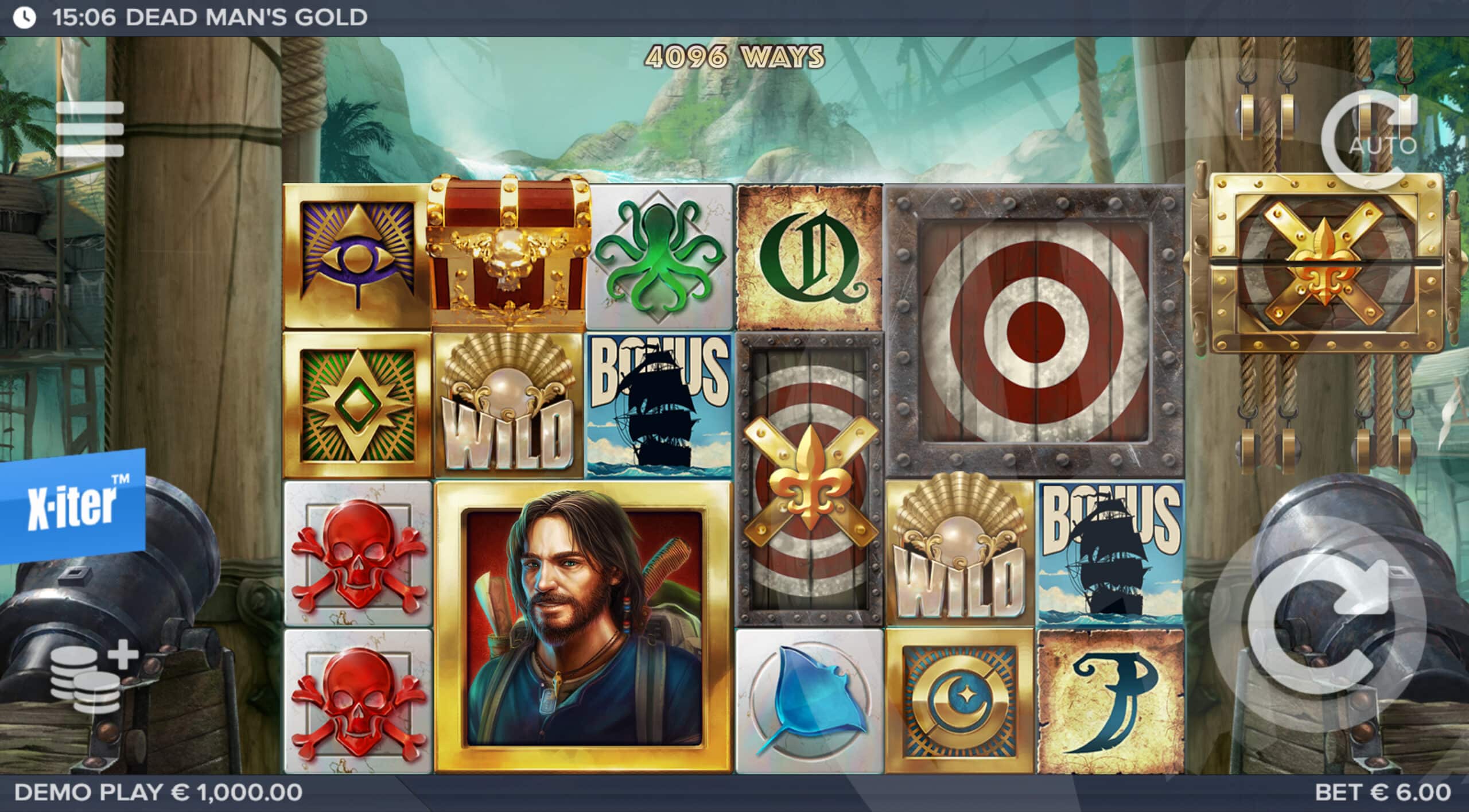 Things are quite stereotypically 'Gold' today – immediately recognisable as part of this distinguished series. Everything takes on a strong pirate aesthetic, from the cannons in front of the reels, to the wooden pillars and ropes in the background. Non premiums have a worn scroll effect, which is a weird choice when compared to the silver steel of premiums, but it's certainly memorable. Alongside all of this, we have the usual skull and crossbones, pearls, ships, swords and crests, anchors, octopuses, and treasure chests. A strong soundtrack ties it all together – something ELK have always excelled at.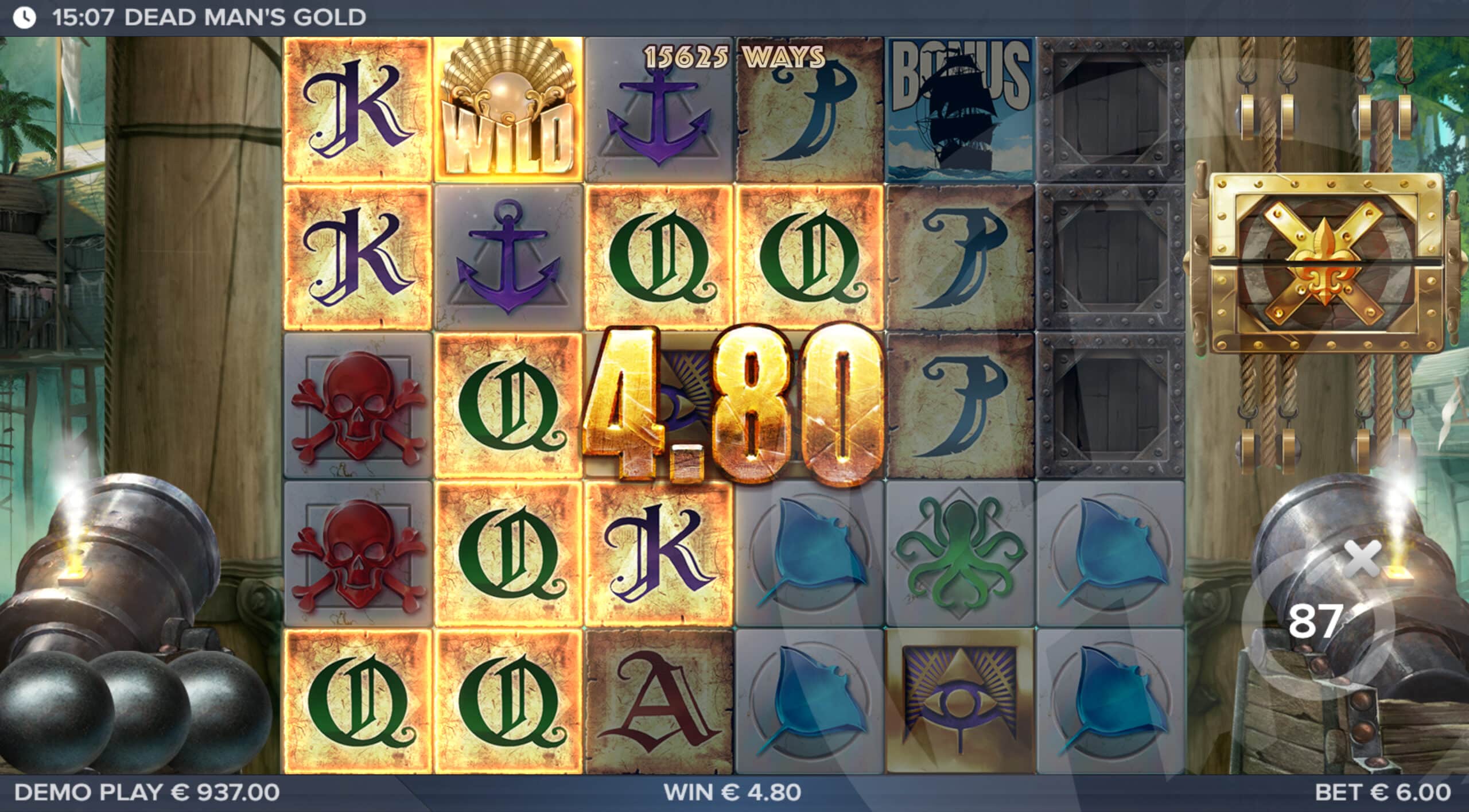 Dead Man's Gold Base Features
Taking place across 6 reels, wins are formed on Dead Man's Gold by matching at least 3 symbols on adjacent reels, beginning with the leftmost reel. Each reel begins with 4 symbols, producing 4,096 ways to win, although this can increase to 8 symbols per reel, producing 262,144 ways to win. Symbols available begin with non premiums, with Js, Qs, Ks, and As, awarding wins between 0.10 and 0.30x bet for matches between 3 and 6 of a kind. In the mid range, we have stingrays, octopuses, anchors, and skulls and crossbones, awarding wins between 0.15 and 0.20x bet for 3 of a kind matches, increasing to values between 0.80 and 1x bet for 6 of a kind wins. Finally, premiums consist of gold moons, stars, eyes, and Kane himself. Land 3 of a kind of any premium to see wins between 0.50 and 1.50x bet, increasing to values between 2 and 5x bet for 6 of a kind matches.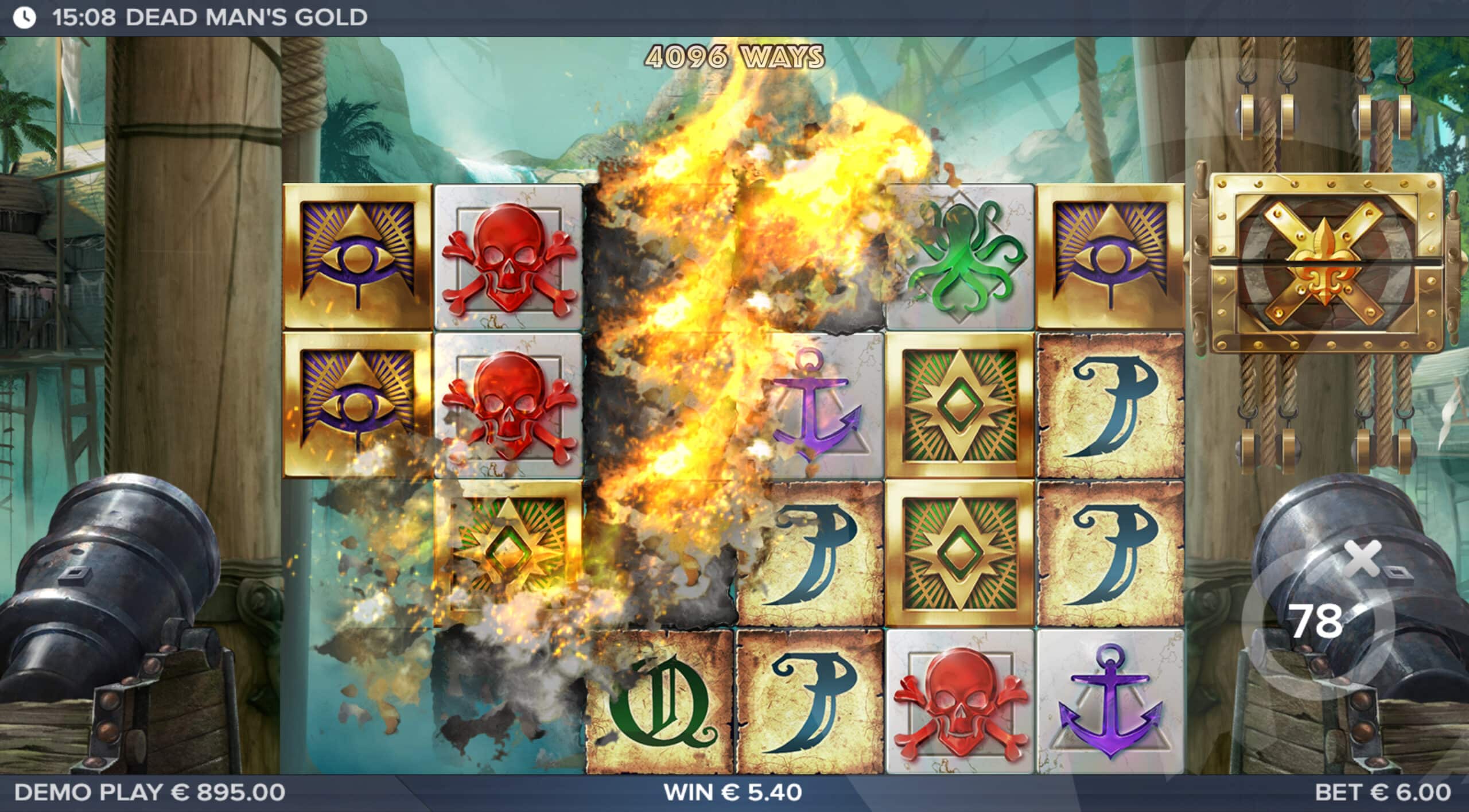 There are a few different things to cover in Dead Man's Gold, beginning with Avalanches. On every spin, all symbols involved in a win will be removed from the reels. All remaining symbols will then drop to the bottommost available position on their respective reels, with new symbols dropping in from above to fill any remaining gaps. Alongside this, an additional row of symbols will be added during the Avalanche, up to a maximum of 8 rows – or 262,144 ways to win. Avalanches continue until no new wins are formed.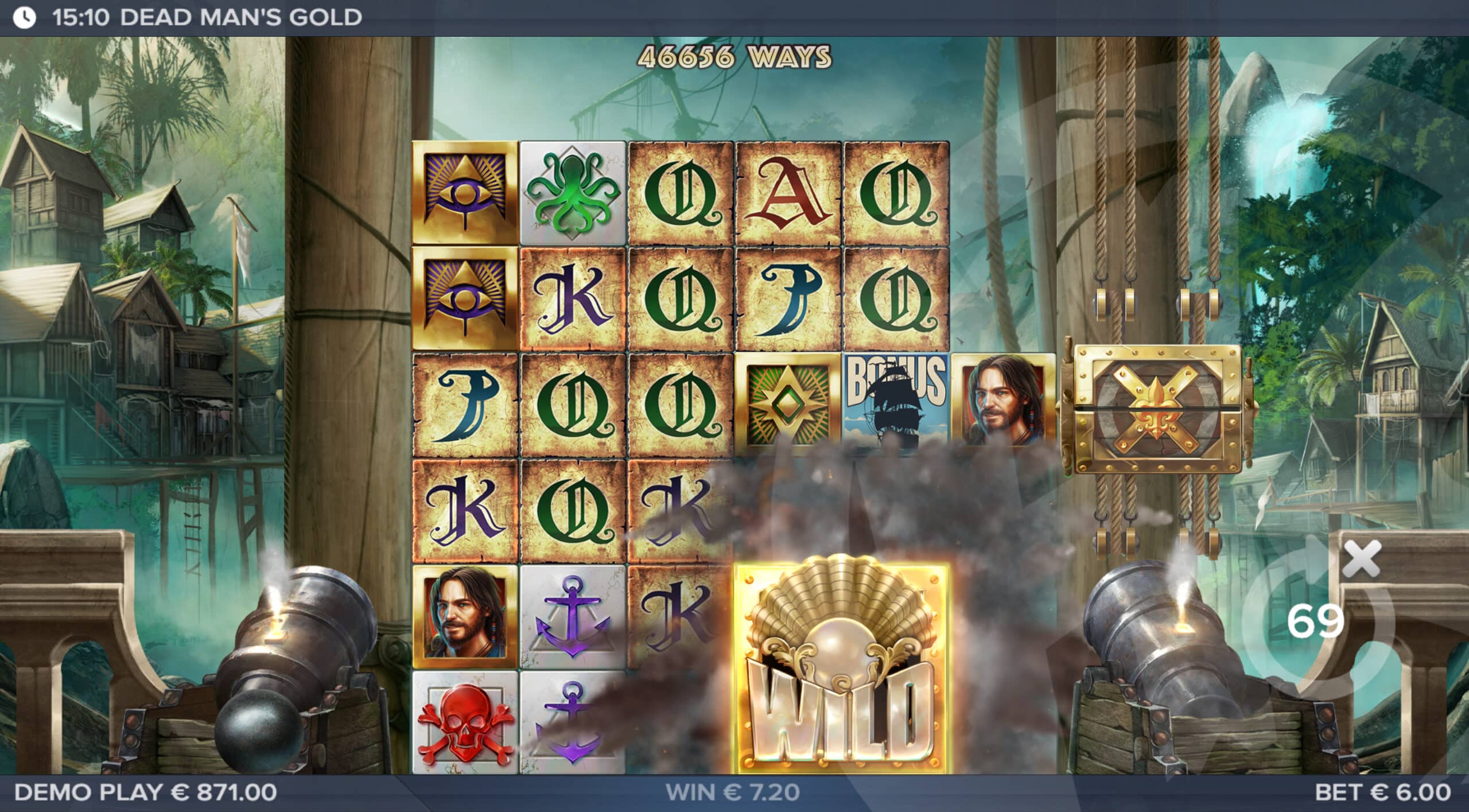 Next are Wild symbols and Big symbols. The Wild symbols substitute for all symbols except the Treasure Target, Multiplier Treasure Target, Bottomless Chest, Cannonball, and Bonus symbols. We'll cover all those in a moment, but for now all you need to know is that Wilds substitute for all regular pay table symbols.
Super, Mega, and Epic symbols, of size 2×2, 3×3, and 4×4 respectively, can land in any position on the reels. If they overlap into the row above the current highest row on the reels, the additional row will be added in full. If there are any gaps underneath Big symbols, the Big symbol will drop down 1×1 instances of itself to fill the gaps.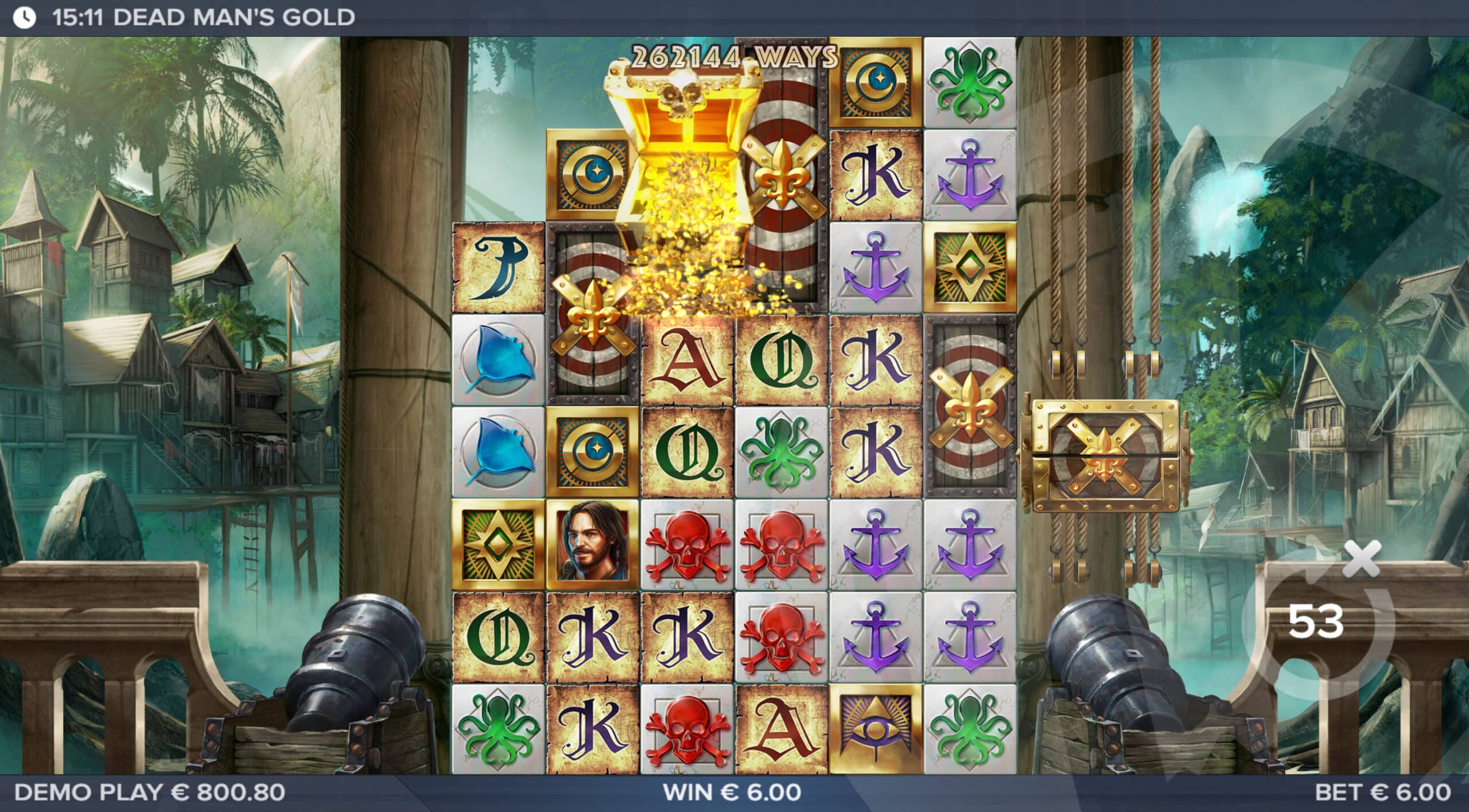 Next it's Treasure Targets, but first you need to know about Cannonballs. At the bottom of the reels, there is a cannon on each side. These are the Pirate's Cannons, and are activated by landing Cannonballs in view. Treasure Targets can land in any position on the reels, and can be any size between 1×1 and 3×3. When Cannonballs have activated the Pirate's Cannons, the cannons will shoot the Treasure Targets, which then reveal hidden Wild symbols and blow up all non-winning symbols adjacent to themselves. Each Cannonball will shoot one Treasure Target.
Similarly to Big Symbols, Treasure Targets with a gap underneath will fill the gap with 1×1 instances of themselves – these will all be considered individual targets. It is also possible to land Multiplier Treasure Targets, which work in the same way, except they also increase a persistent global win multiplier by +1.
The last feature to mention within the base game is the Bottomless Chest. When this symbol lands on the reels, it acts as a blocker, but it also generates empty spaces within its reel and fills them with premium symbols, Wild symbols, or Cannonball symbols, up to the maximum row height.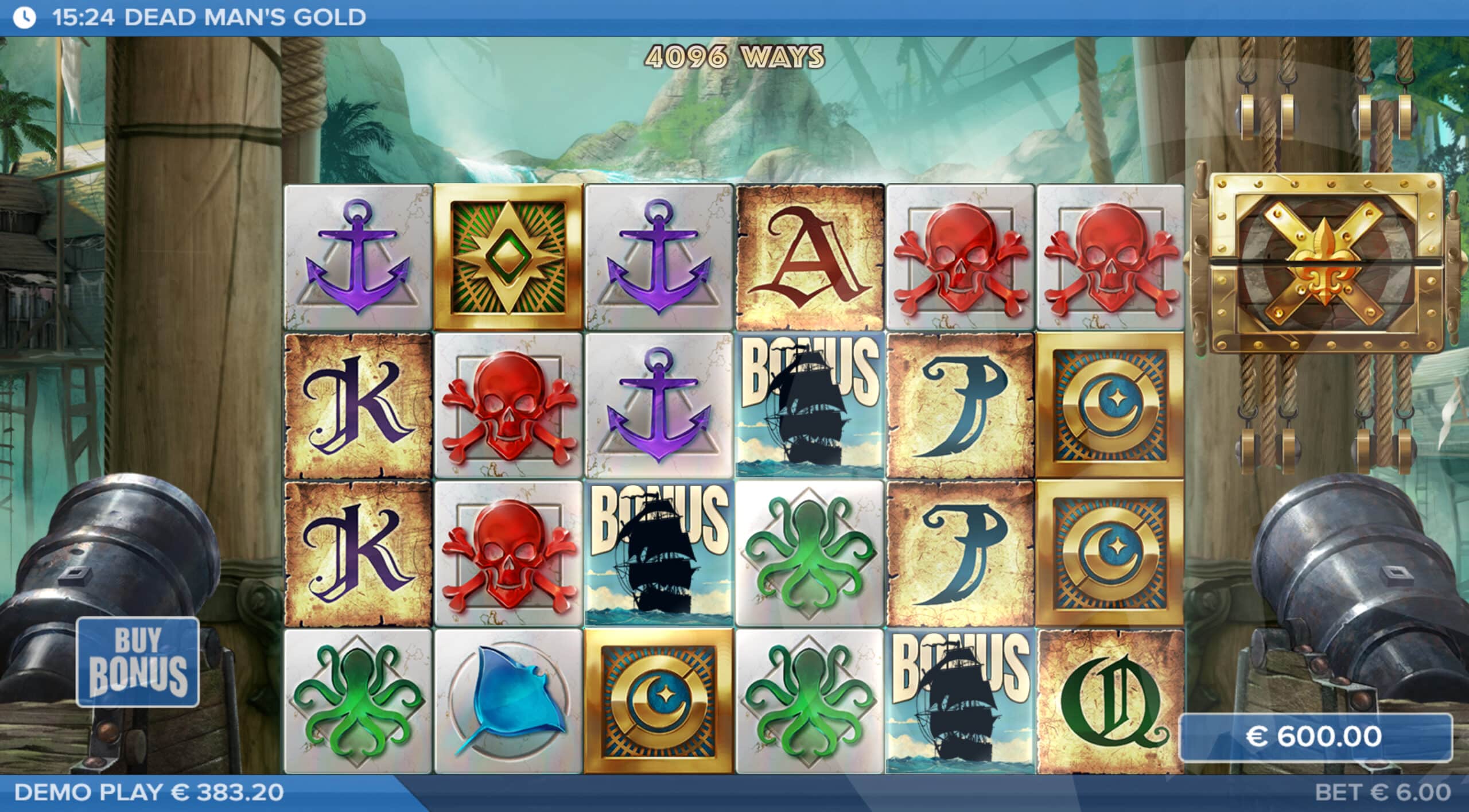 Dead Man's Gold Bonus
Land 3, 4, 5, or 6 Bonus symbols to trigger the Bonus Game, in which 10, 15, 20, or 25 Free Drops are awarded respectively. Everything continues as normal in the Bonus Game, with Big symbols, Wild symbols, Treasure Targets, Multiplier Treasure Targets, Cannonballs, and Bottomless Chests.
The main difference, however, is that Treasure Targets, Multiplier Treasure Targets, and subsequently generated Wild symbols are sticky until they are used during the Bonus Game. Any Cannonballs collected will also be held until they are used. Bottomless Chests are also sticky, even when used, and the global win multiplier does not reset between drops.
Land 3 or more Bonus symbols during the Bonus Game to trigger additional Free Drops.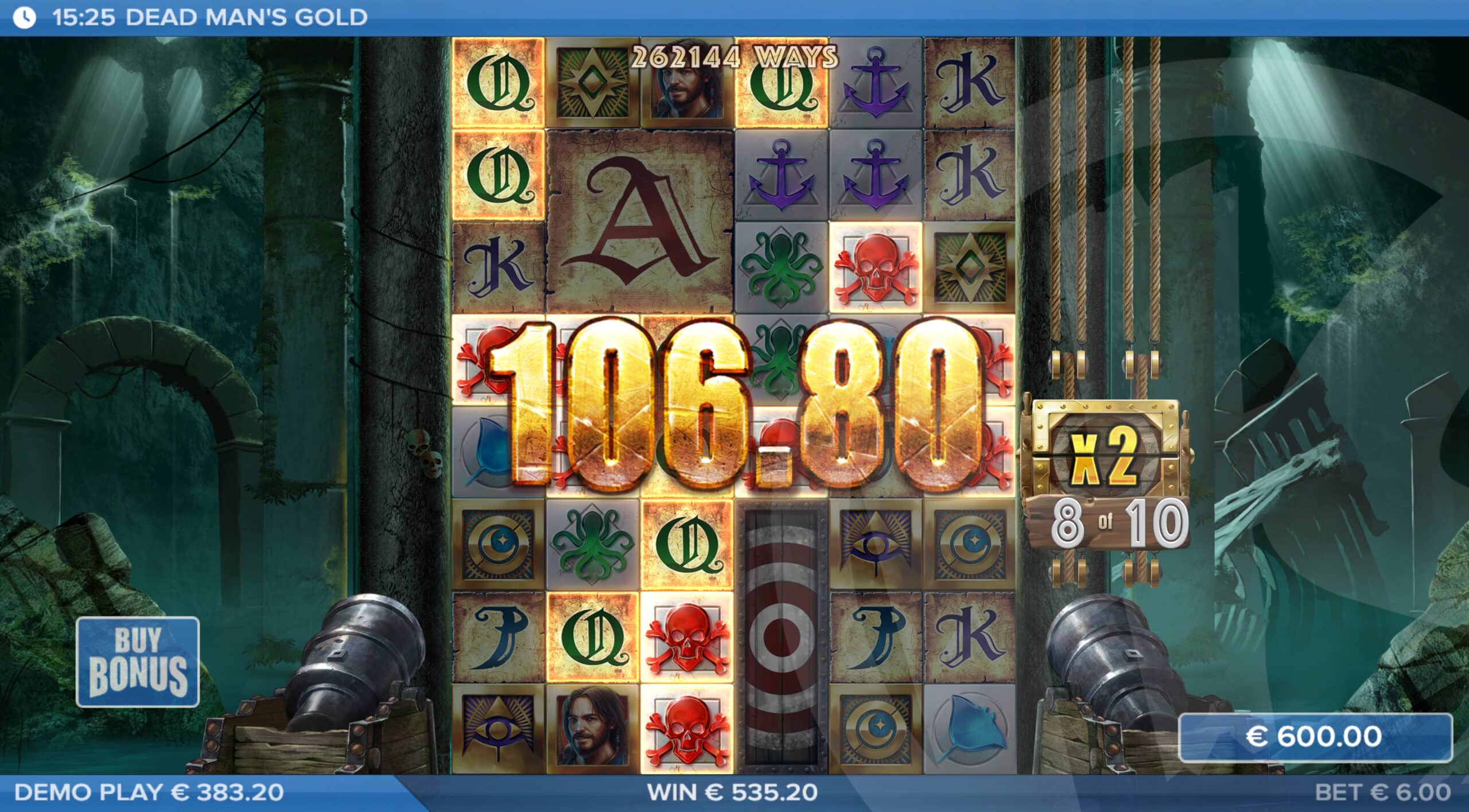 Players in appropriate regions can take advantage of the following X-iter options:
Bonus Hunt (increased bonus chance) – 3x bet
Charged Wilds (all Wilds will be Charged Wilds) – 10x bet
Super Cannon Spin (unlimited cannon ammo and Super Bonus chance) – 25x bet
Bonus Game – 100x bet
Super Bonus Game (unlimited cannon ammo) – 500x bet
The maximum win available in Dead Man's Gold is 25,000x bet. If the sum of a single game round exceeds this, the game round will end and 25,000x bet will be awarded.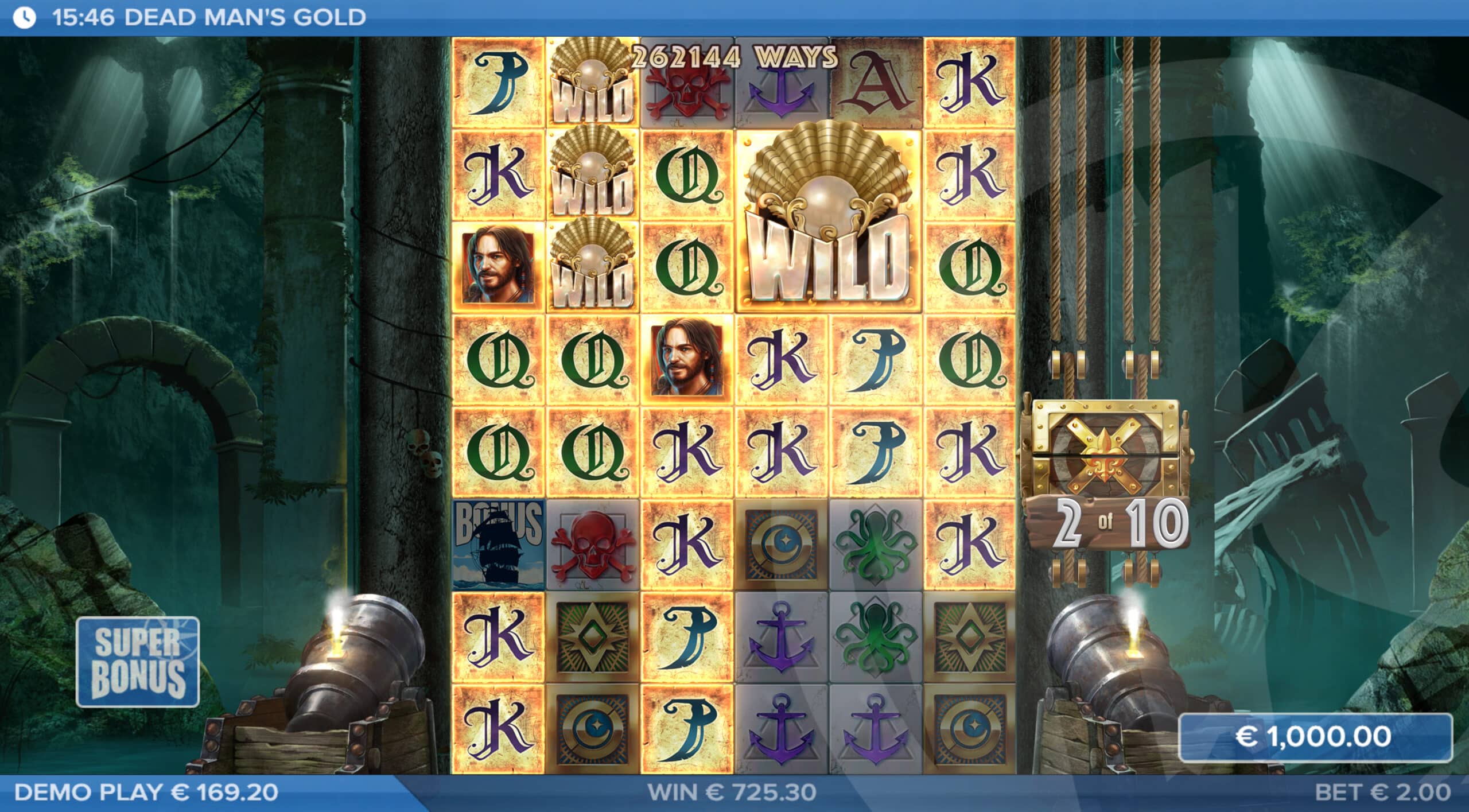 First Impression
One of the main benefits to the Gold series from ELK Studios is that there are always a lot of features to keep us entertained, and Dead Man's Gold is no different. From Big symbols and Treasure Targets to Cannonballs and Bottomless Chests, there's plenty happening in the base game to keep us entertained until the Bonus Game is triggered – and they all offer the potential for huge wins.
When the Bonus Game begins, things are kicked up a notch, with Treasure Targets, Multiplier Treasure Targets, Cannonballs, and generated Wild symbols sticking until they are used. Bottomless Chests are also sticky throughout, and the global win multiplier does not reset between Free Drops. If you're lucky enough to trigger the Super Bonus Game (which is only available through two X-iter options), you'll be treated to unlimited ammo, too. When the right combinations occur, wins are possible up to 25,000x bet.
Finally, maths is highly (9/10) volatile, and RTP is fixed at 94.0%. If you've been a fan of this series so far, Dead Man's Gold provides another opportunity to sink your teeth into, with more than enough tweaks to feel new.
*The screenshots taken of games reviewed on this site are taken from Demo Play, as reviews are often written before games are released for real play.