One of the more popular locations for an online slot is a farm, which is exactly where we find ourselves heading today, thanks to Snowborn Games. Farms are always depicted as quite bright and cheery in any kind of cartoon form, but that isn't always the case in real life.
Regardless though, when you head to any kind of farm you're usually guaranteed to find a variety of animals to make your visit more interesting, and today the focus of this enjoyment is a hen, ready to produce all eggs you need to find huge wins in Eggs Bonanza.
With an RTP of 96.0%, this highly volatile release can produce wins up to 15,000x bet.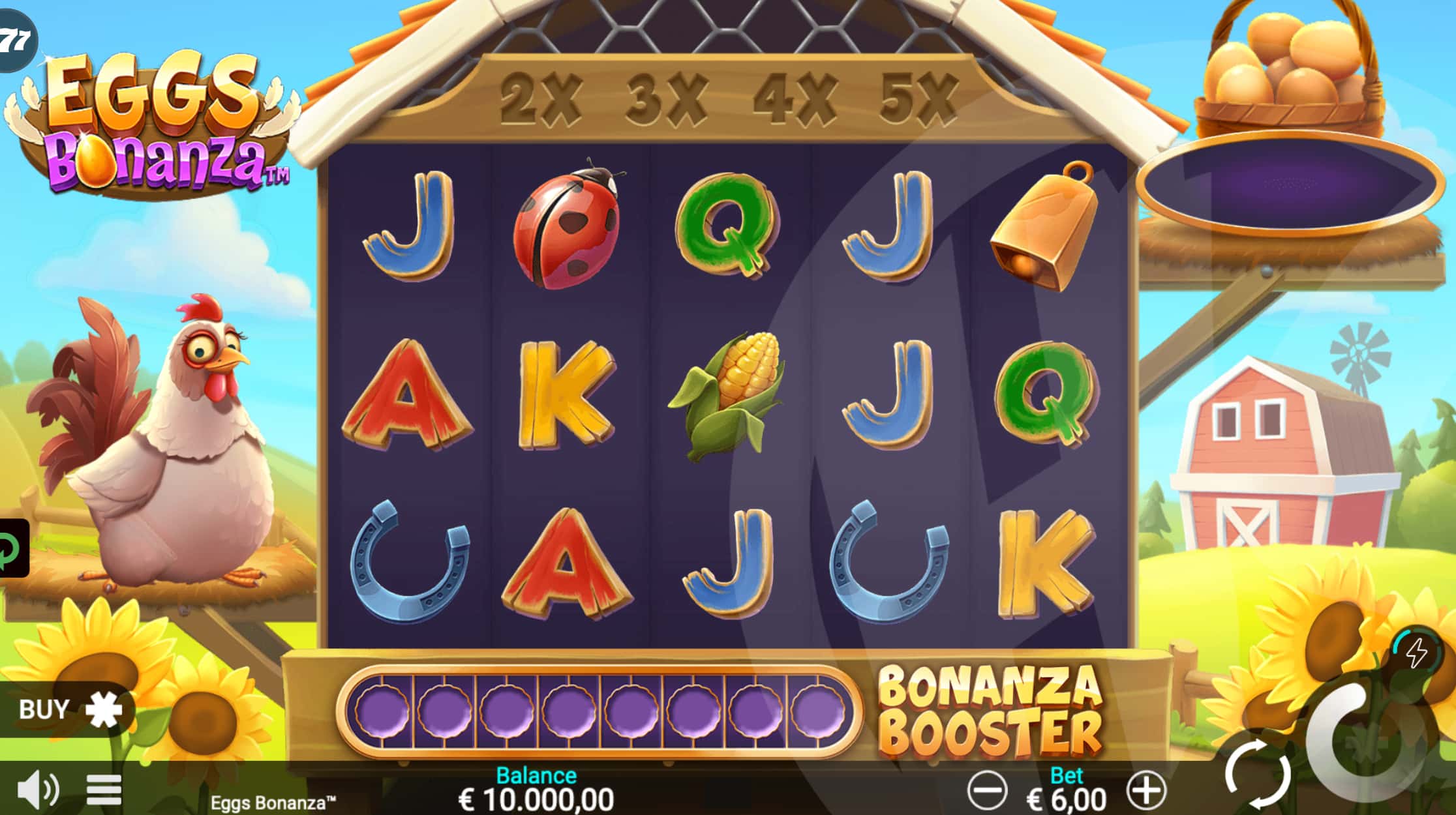 Well, bright and cheery it is. It's a sunny day in Eggs Bonanza, with clear blue skies and vibrant green grass. All of the usual suspects show up in this release, including a red wooden barn, windmills, sunflowers, and some fields in the distance. The hen sits to the left of the reels with clean, white feathers and a tail that is both fluffy and tall.
Aside from this all of our attention goes to the symbols on the reels, including ladybirds, horseshoes, corn husks, cowbells, and cute little chicks. Finally an upbeat and cheerful country-style tune comes in to tie it all together, littered with farm life sounds.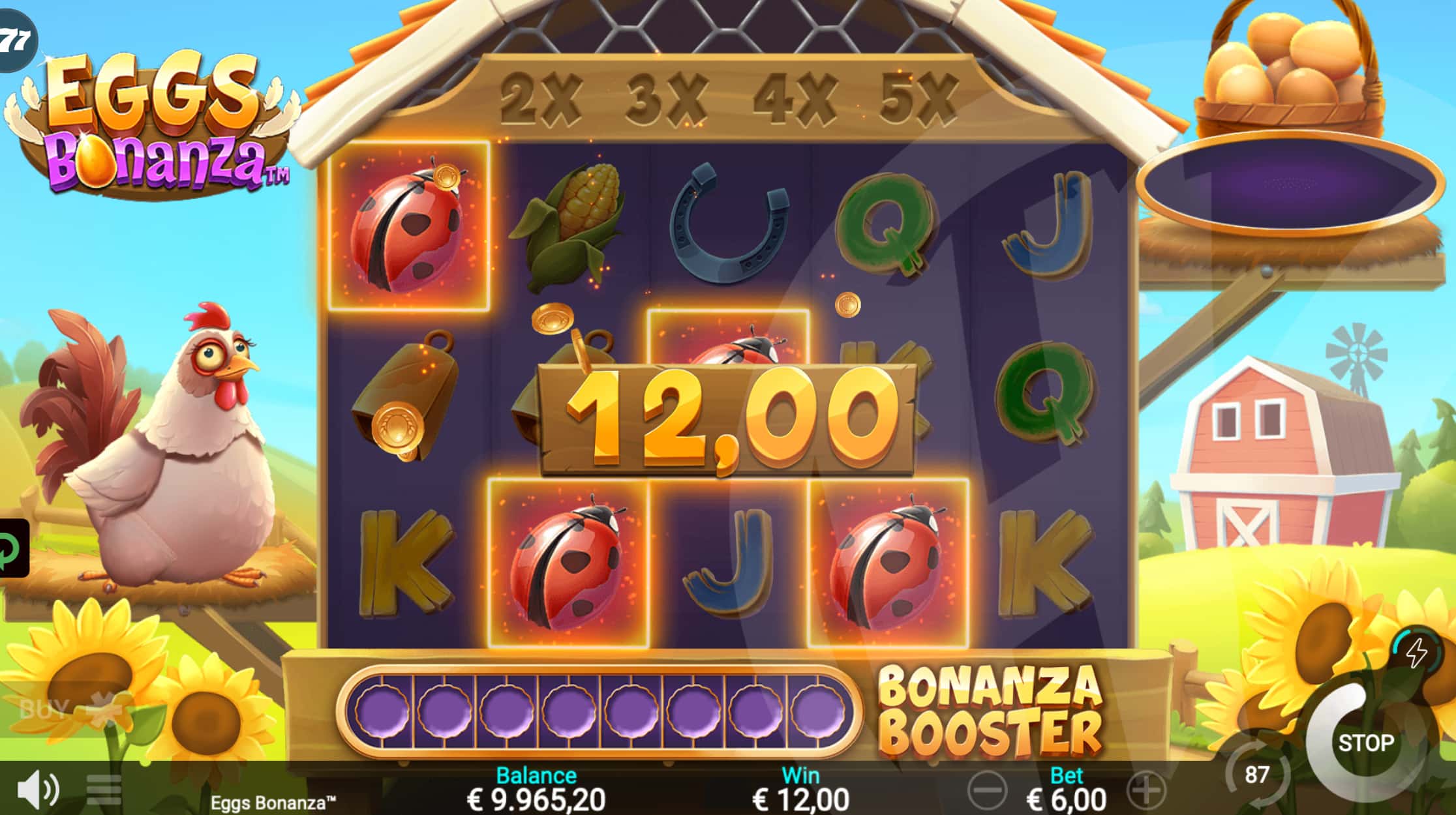 Eggs Bonanza Base Features
Taking place across 5 reels, wins are formed on Eggs Bonanza by matching at least 3 symbols on adjacent reels, beginning with the leftmost reel. Each reel holds 3 symbols, producing a total of 243 ways to win. Symbols available begin with non premiums, with Js, Qs, Ks and As, awarding wins between 0.20 and 0.40x bet for 3 of a kind matches, increasing to values between 1.30 and 2.60x bet for 5 of a kind wins.
At the premium end we have horseshoes, corn husks, cowbells, ladybirds and chicks. Land 3 of a kind of any premium to see wins between 1 and 6x bet, increasing to values between 5.20 and 25x bet for 5 of a kind matches. Finally, Wild symbols appear on reels 1, 2, 4 and 5 during the base game and substitute for all symbols except Bonus symbols, Egg symbols, Golden Egg symbols and Collect symbols.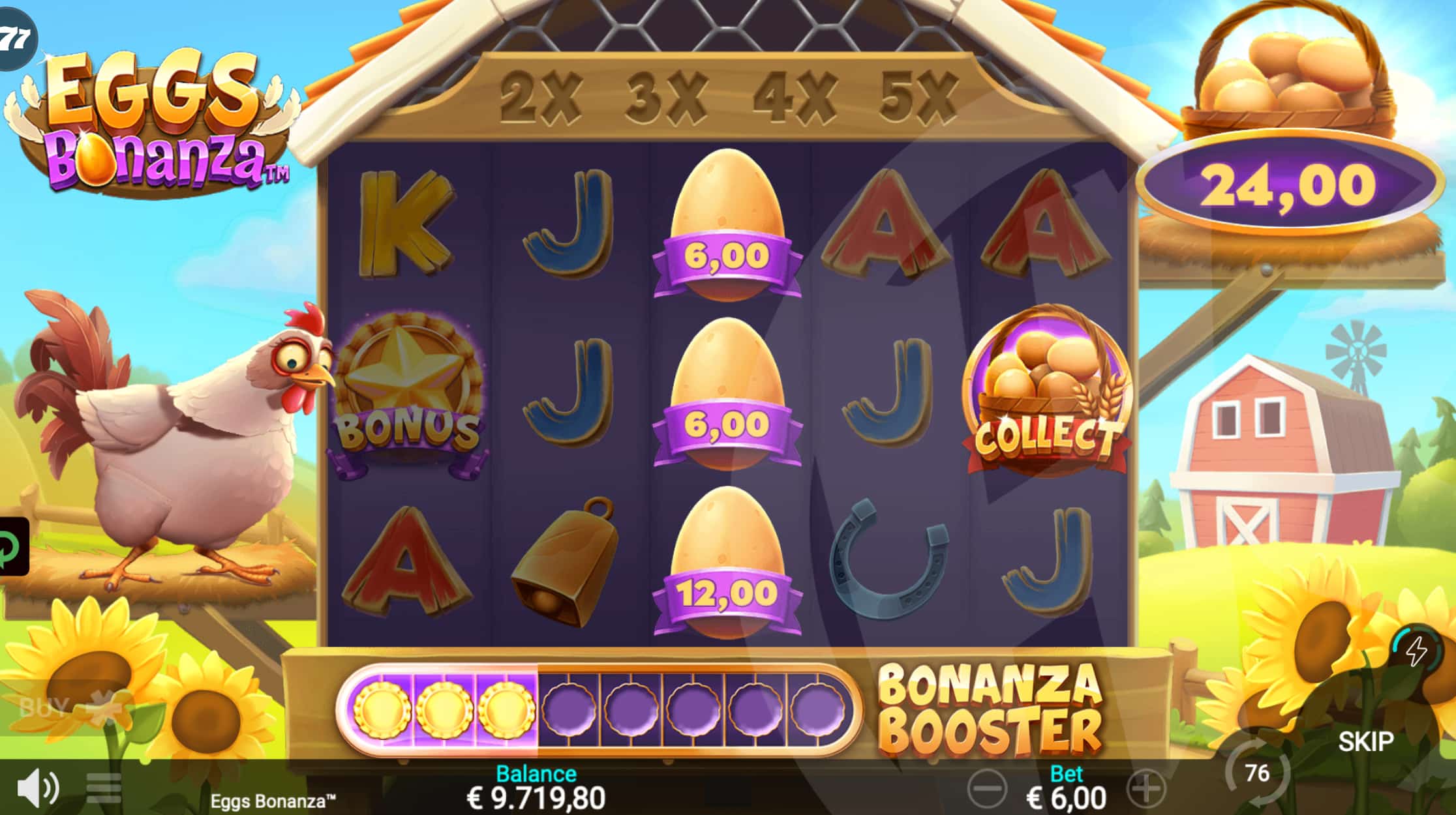 Eggs Collect
Alright so there are a few features to cover in Eggs Bonanza, beginning with Eggs Collect.
It is possible to land Egg symbols or Golden Egg symbols on the reels during the base game. These both have cash values attached to them.
All Egg symbols hold the following cash values – 1x, 2x, 3x, 4x, 5x, 6x, 8x, 10x, 15x, 50x or 200x bet.
When at least one Egg symbols lands alongside a Collect symbol, the value of all Egg symbols in view will be collected.
Collect symbols can only land on reel 5.
Chicky Respin
Land a Golden Egg symbol on reels 1 and 5 to trigger Chicky Respins, which start with 1 respin.
During this feature all symbols are removed from the reels except Egg symbols, 1UP symbols or Blank symbols.
Each time an Egg symbol or 1UP symbol lands in view, another respin is awarded.
When a 1UP symbol lands in view, the overall feature multiplier (above the reels) is increased by +1. This can be increased to 2x, 3x, 4x or 5x.
Once the feature multiplier reaches 5x no more 1UP symbols can land.
When no new Egg symbols or 1UP symbols land in view the feature will end. At this point, the total value of all Egg symbols in view is collected, multiplied by the feature multiplier (if necessary) and awarded as a win.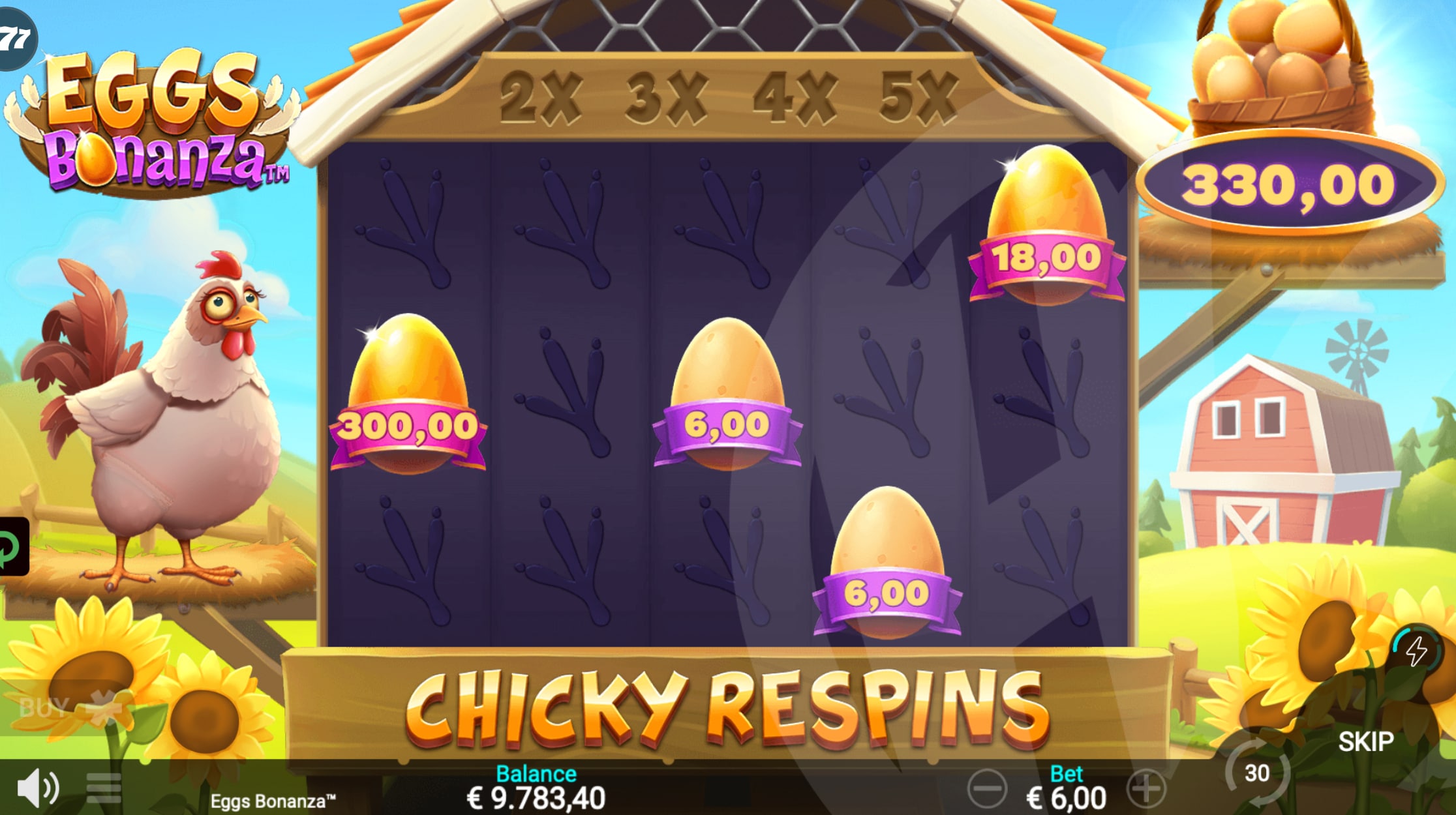 Bonanza Booster
Finally for the base game is the Bonanza Booster, which works hand in hand with tokens.
There are 2 kinds of tokens available in the game – Bonanza Booster tokens and Collection tokens. Collection tokens are used in the Bonanza Bonus, but they're collected in the base game.
Below the reels is the Bonanza Booster, which tracks the progress of token collection. Each time a Bonus symbol lands on reels 1 and 5, the meter is increased by 1 step. This is considered a Bonanza Booster token, and 2 of these are equal to 1 Collection token.
Up to 16 Bonanza Booster tokens can be collected, equalling 8 Collection tokens.
Changing your bet does not affect the Bonanza Booster – it is not stored independently between bet levels.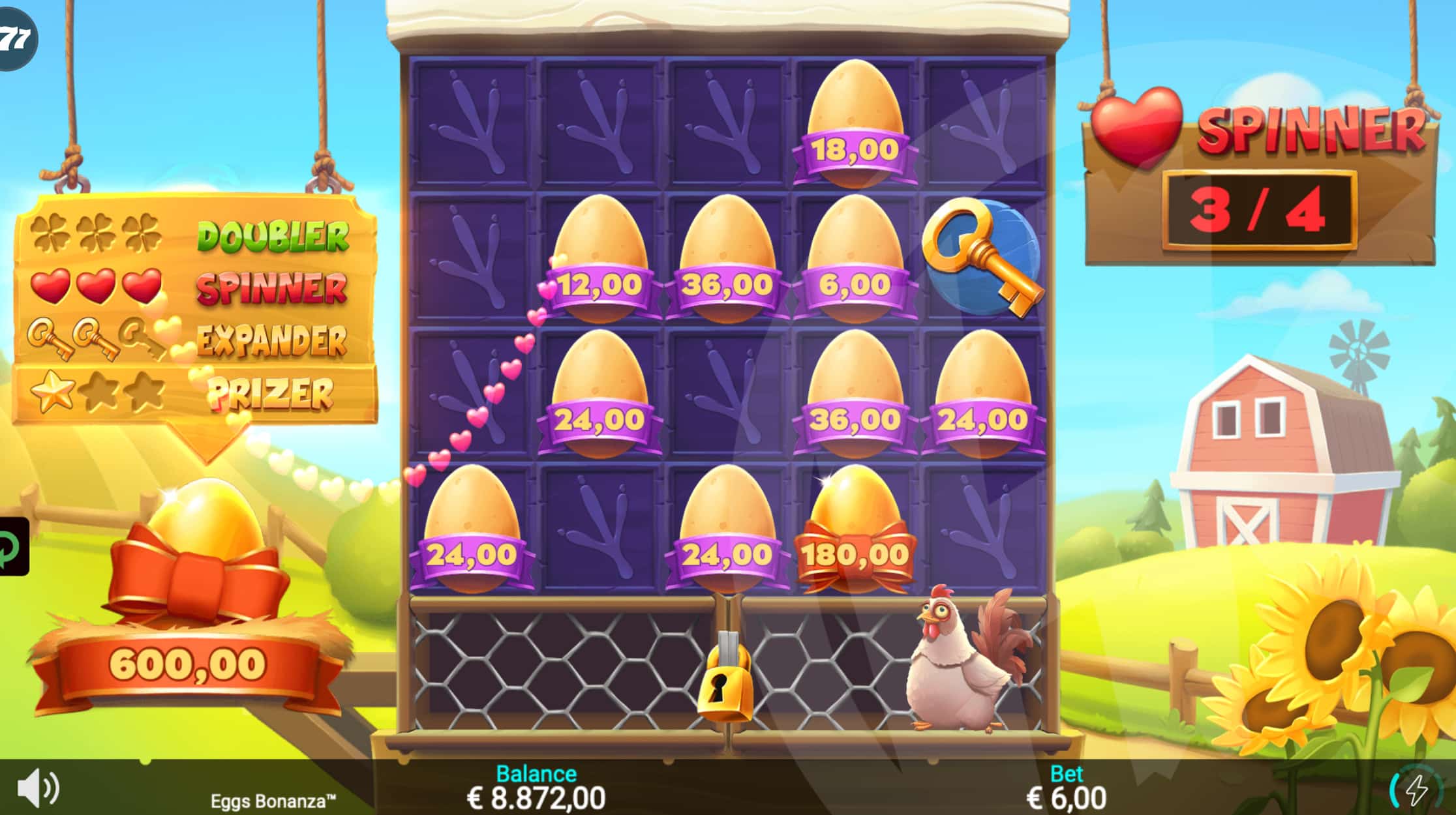 Eggs Bonanza Bonus
Land 3 Bonus symbols on reels 1, 3 and 5 to trigger the Bonanza Bonus, with 3 spins/lives awarded.
During the feature it is only possible to land Egg symbols, Collection tokens or Blank symbols on the reels. Collection tokens can be clovers, hearts, keys or stars.
Like any hold & win feature, each time a new symbol lands on the reels spins will be reset back to 3. When no new symbols have landed and no spins remain, the feature will end.
Collection Tokens
Before the Bonanza Bonus begins any Collection tokens collected in the base game will be awarded. If an uneven number of Bonanza Booster tokens have been collected, one will be discarded.
These Collection tokens will be randomly distributed amongst the Collection Feature meters available in the feature.
Each time a Collection Feature meter has been filled (3 tokens required) it is reset back to 0.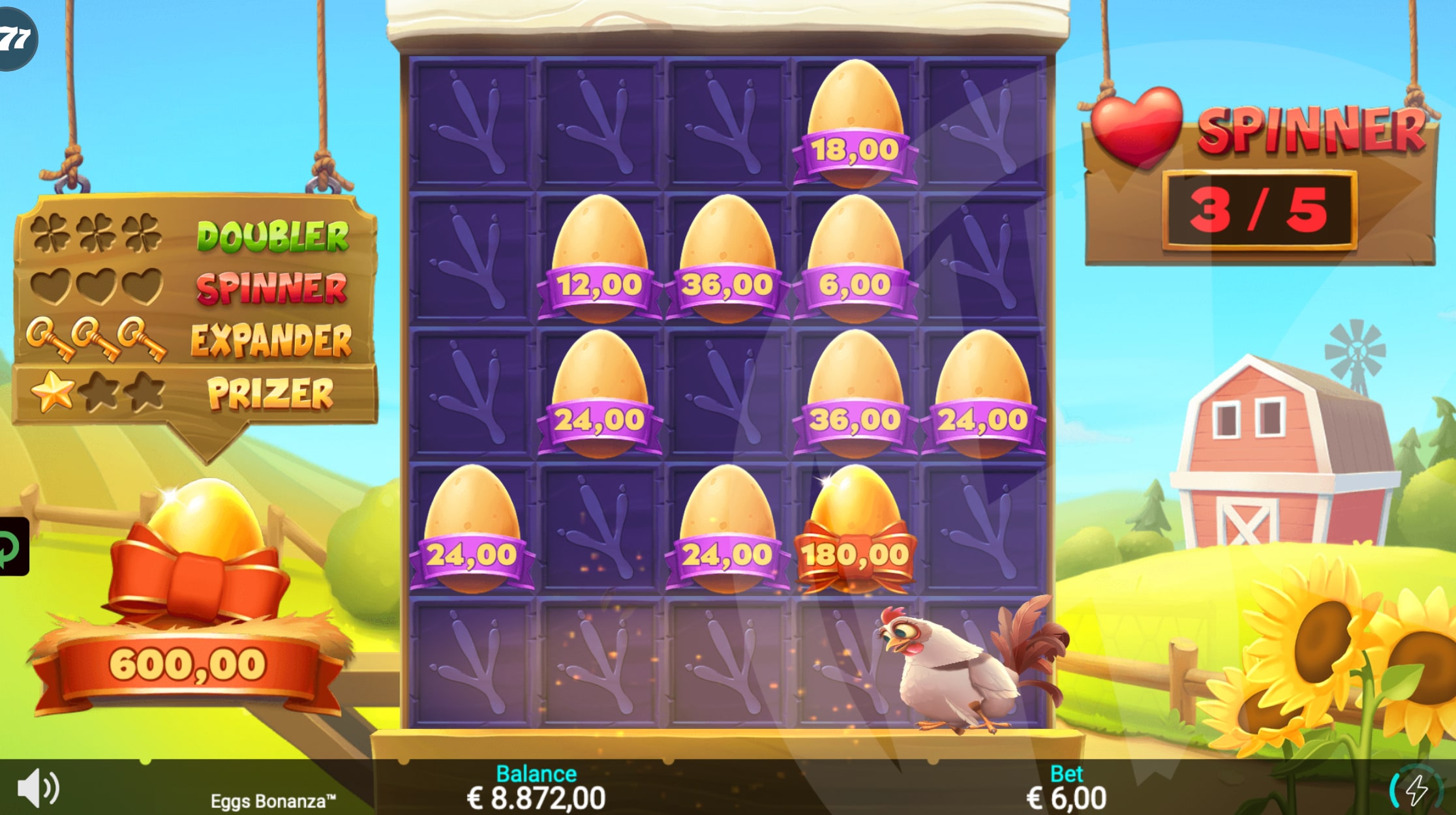 Collection Feature Meters
There are 4 Collection Feature meters available.
Doubler – doubles all Egg symbols on the reels and all Prize Egg values not yet won.
Spinner – increases the spin reset counter by +1, so each retrigger awards an extra spin.
Expander – unlocks and activates an additional row.
Prizer – adds a Prize Egg to the reels, with values of 15x, 50x, 200x and 1,000x bet for the first, second, third and fourth activation respectively.
Double, Spinner and Expander can be triggered twice, whilst Prizer can be triggered 4 times.
When no more spins remain, the total value of all Egg symbols in view is collected and awarded as a win. Any Collection tokens not used will be added back to the Bonanza Booster.
Feature Shop
Players in appropriate regions can skip straight to the action with the Feature Shop, wherein for a cost of 70x bet it is possible to buy the Bonanza Bonus with 1-8 Collection tokens awarded.
The maximum win available in Eggs Bonanza is 15,000x bet. If the sum of a single game round exceeds this, the game round will end and 15,000x bet will be awarded.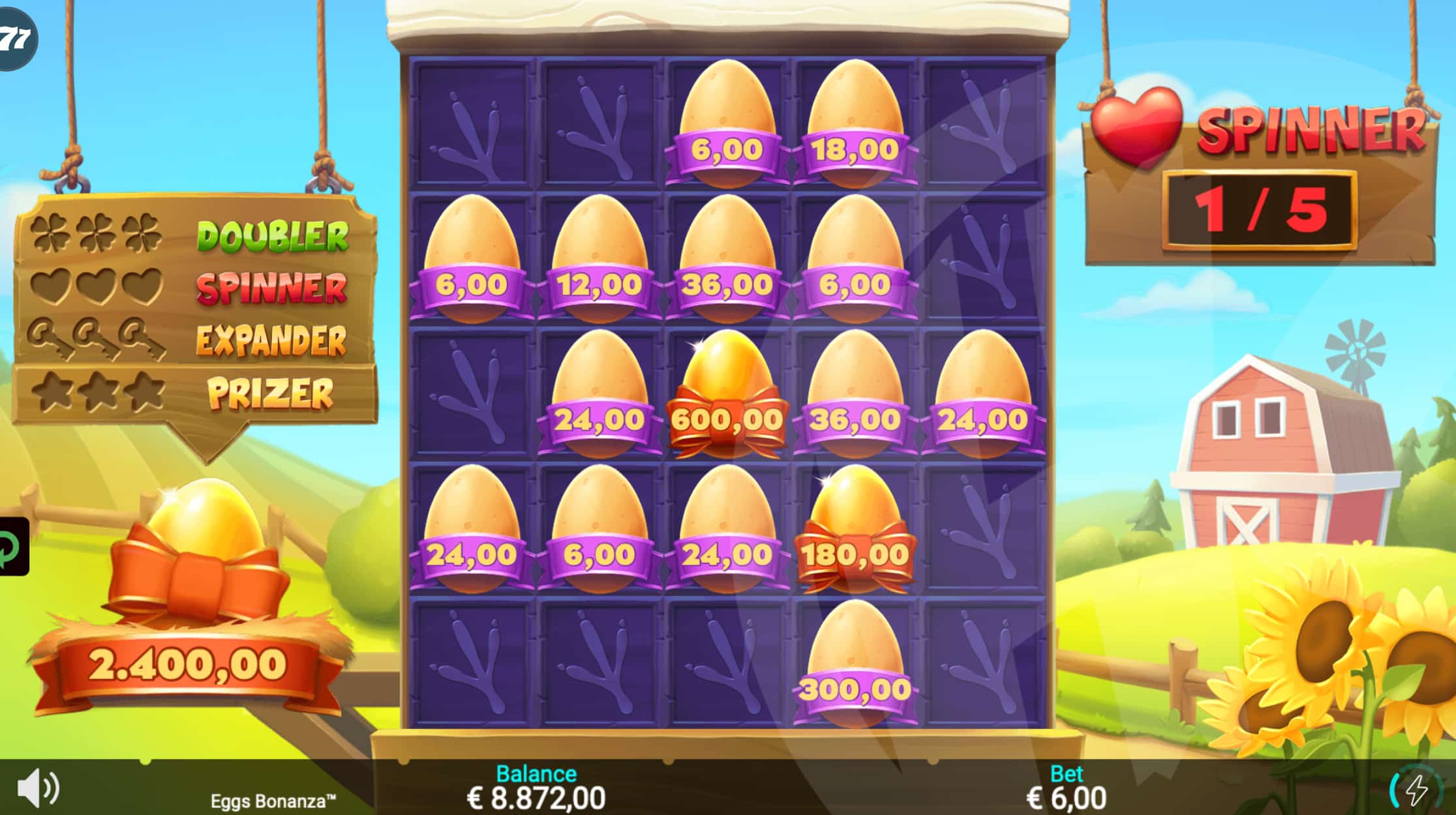 First Impression
There's plenty happening in Eggs Bonanza to keep players interested, that's for sure. In the base game, Egg symbol values up to 200x bet and Chicky Respins shoulder most of this weight, but the Bonanza Booster is certainly something to keep an eye on. By building up tokens to be used during the feature, players can get a head start on some of the Collection Feature meters that make the bonus exciting.
The Bonanza Bonus, whilst not wholly unique, does bring its own touch to an almost overdone concept by offering additional rows, higher spin resets, doubling values and Prize Egg values through token collection. Considering that Prize Egg values can reach 1,000x bet and can be doubled twice, there's plenty here to get excited about. When the right combinations land, wins are possible up to 15,000x bet.
Finally, maths is highly volatile and RTP is 96.0%, so no complaints there. It might look friendly but Eggs Bonanza can pack a punch in the right setting, making it a great option for hold & win fans.
*The screenshots taken of games reviewed on this site are taken from Demo Play, as reviews are often written before games are released for real play.