Nolimit City, who have quickly become one of the most exciting slot providers of our time, are back again with their latest release. The team are throwing them out thick and fast lately, with no signs of slowing down – both literally and metaphorically. With recent releases under their belt like Das xBoot, Mental and xWays Hoarder, we've come to expect a lot from a release with the weight of this name behind it. However, this latest edition waves goodbye (temporarily, we expect) to the xWays and xNudge we've seen in previous offerings, and brings back to the xBomb feature we were first introduced to through Fire In The Hole, an early 2021 release. The result? Evil Goblins xBomb – a highly volatile edition with wins up to 31,969x bet on offer. With a default RTP of 96.14% and a hit frequency of 2 in 5, players should buckle up for a darker, fearful experience – these goblins are truly evil.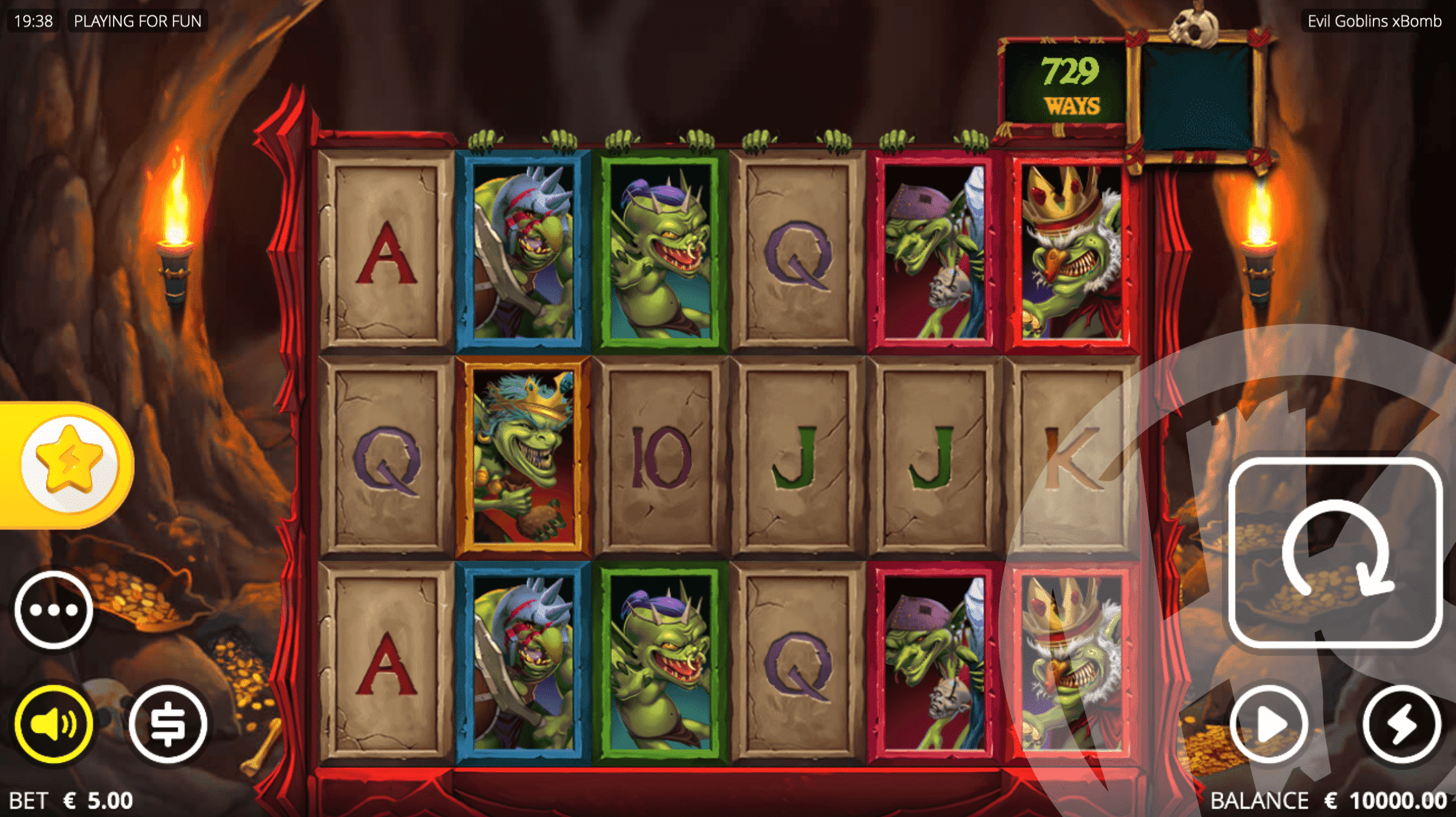 Visually, the experience is somewhat similar to the previously mentioned Fire In The Hole – we're deep in a cavern, with low flame-lighting and some gold scattered amidst bones on the ground – human bones. Audios are dark, bumbling along to evoke the dark atmosphere the team so clearly crave as of late, with reel sounds louder than we often notice, resulting in an ASMR-like experience to summon tension, rather than relaxation.
Evil Goblins xBomb Base Features
Taking place across 6 reels, Evil Goblins xBomb begins with 729 ways to win, however thanks to the xBomb feature available this is just a minimum. Wins are formed by matching symbols across adjacent reels in any position, beginning at the leftmost reel, and any symbol involved in winning combinations are removed from the reels – allowing new symbols to drop into place and more wins to be formed.
Symbols involved in wins begin with lower paying 10, J, Q, K and A, awarding wins between 0.1 and 0.2x bet for 3 of a kind matches, up to values between 0.4 and 0.9x bet for 6 of a kind. Royal symbols are certainly an unusual choice from the team that brought us toilet roll and razor blades, however it does help to put all the focus on our goblin friends (or foes?), who have been immaculately designed and executed to make up the premium end of the pay table. There's no real obvious way to describe them, but they do consist of a King and a Queen Goblin, and award players between 0.25 and 0.35x bet for 3 of a kind matches, increasing to values between 1 and 3x bet for 6 of a kind. Finally, there are Scatters and Wilds on offer, but we'll get to those in a moment.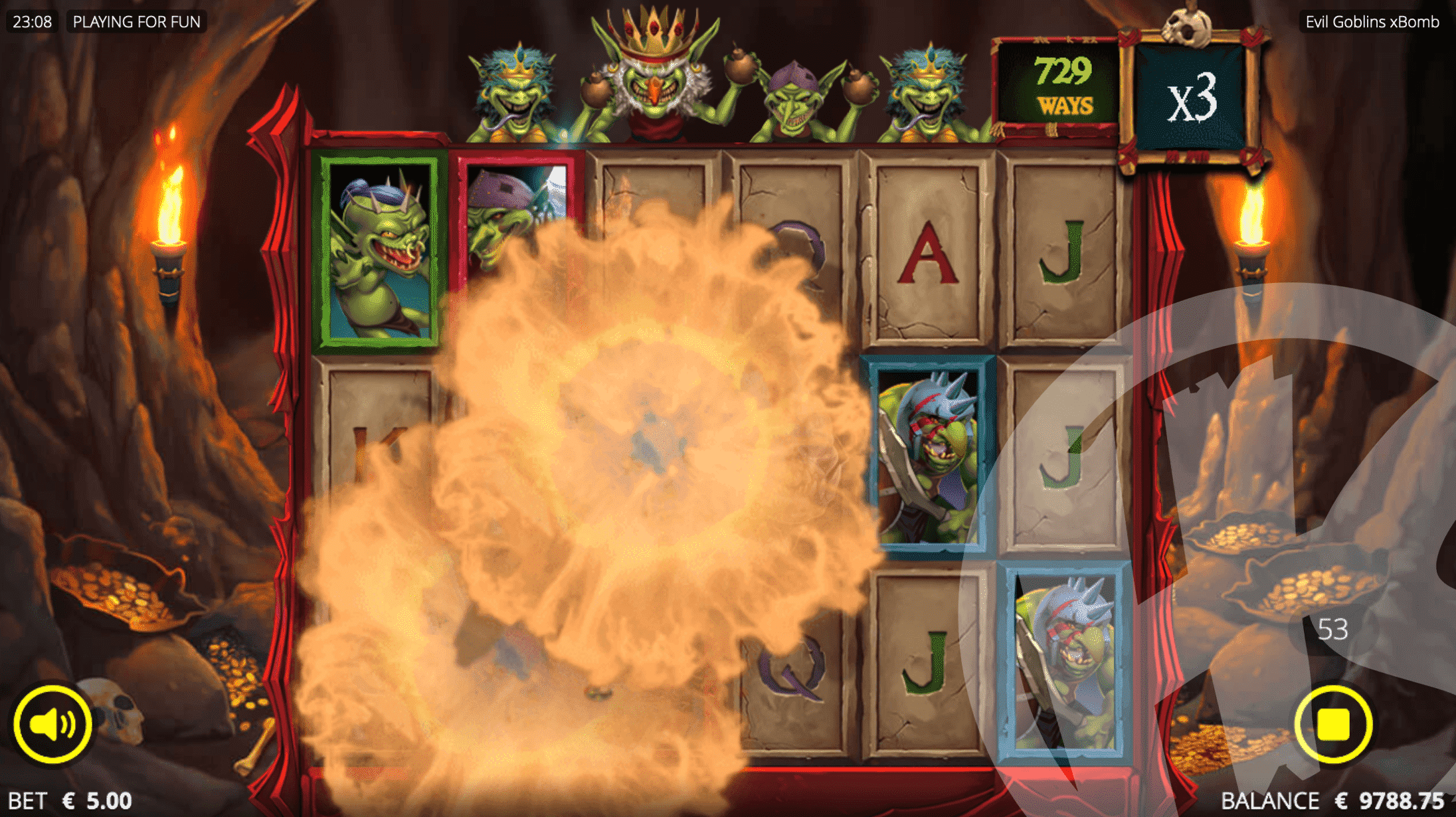 Thankfully, the win values noted above can be massively increased thanks to the features available, beginning with xBomb. On any spin, landing an xBomb symbol (a dynamite crate saying KABOOM) will remove any symbols adjacent to the xBomb from view, and increase the win multiplier by +1. Scatters and Wilds will not be removed from the reels, and the xBomb explosion will occur once all wins have been paid on the current cascade, before the next cascade happens. xBombs will explode regardless of if there is a win or not.
Each xBomb symbol will also add one additional row to the reel area, up to a maximum of 7 rows high – or 117,649 ways to win.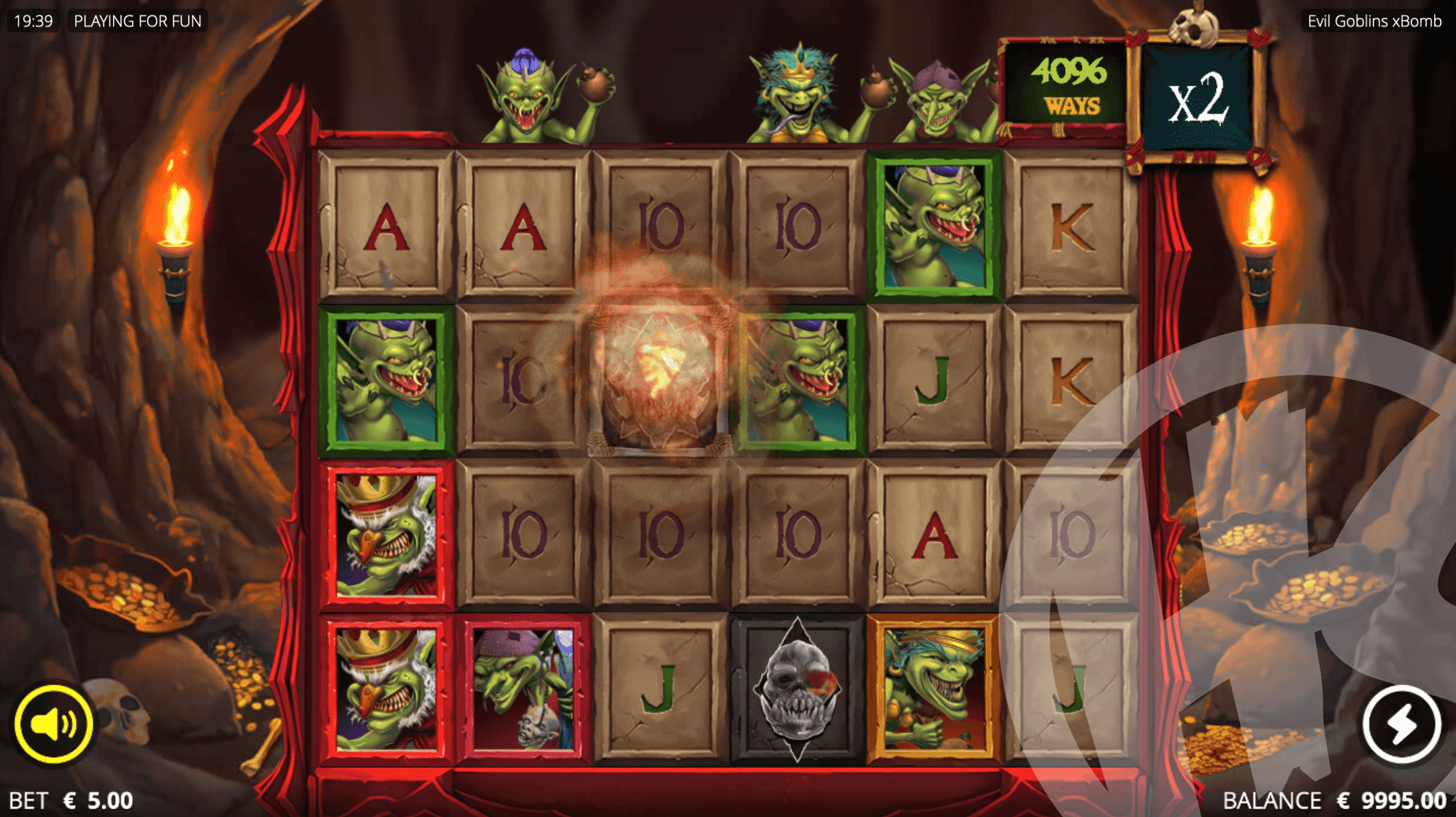 Next up are wilds, and there's a few ways to see these. First, wilds can land regularly on reels 2-6, substituting for all symbols except Scatters and xBombs. If you don't land a wild organically, you have a second opportunity through the Goblin Sacrifice Feature. At the beginning of each spin, four goblins will appear at the top of the reels – the same goblins that make up the premium end of the pay table. If the respective goblin symbol lands underneath the same goblin at the top of the reels, the goblin will throw an iron grenade at its own symbol for the ultimate sacrifice – therefore turning all occurrences underneath itself wild. Once the grenade has been thrown, the goblin will disappear and be replaced by a new goblin, for another chance of wilds. This feature is not unlike the Federation Wild Spins of Rick and Morty Megaways, if that helps understanding.
Although it can take time to really notice which goblins are matching you get used to the symbols fairly quickly, and it does help that the symbols have their own unique colours, alongside the goblins being pretty distinctive when their entire body is in view.
Finally, players can trigger Resurrection Wilds – a bit like the Dead Patient symbol in Mental. Dead Wilds can appear on the reels, and while 1 or 2 do nothing, landing 3 causes the Dead Wilds to activate, becoming Resurrection Wilds. The last wild symbol which landed will be boosted with a multiplier:
3 Resurrection Wilds: x11 multiplier
4 Resurrection Wilds: x33 multiplier
5 Resurrection Wilds: x55 multiplier
The multiplier will only apply to the last wild symbol which landed.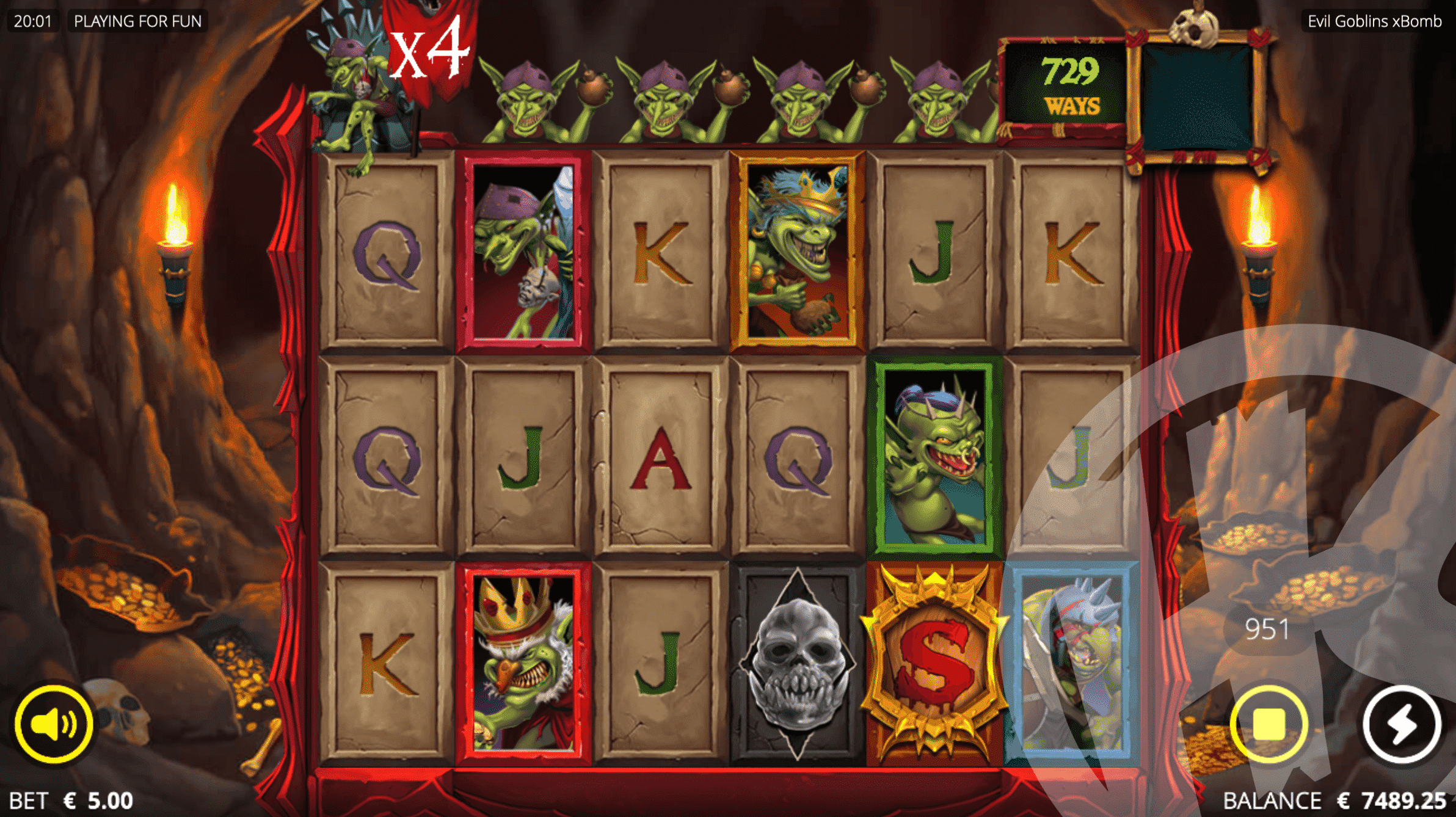 Landing four of the same goblin at the top of the reels will trigger the Evil 4 feature. The goblin will sit atop a throne at the top of reel 1, with a multiplier of x4 or higher. If the goblin then lands on reel 1, it will count as four goblins. When a new version of the goblin appears on the top reel, it will increase the multiplier by +1.
Players can expect to see 100x wins on average 1 in every 788 spins, and a free spins round on average 1 in every 191 spins.
Evil Goblins xBomb Bonus
Scatter symbols can land on reels 2-5. Landing 3 or 4 Scatter symbols triggers 8 or 9 Fresh Meat Spins, respectively, whilst landing an additional Scatter during this feature will award +1 free spins.
During Fresh Meat Spins, Dead Wilds are guaranteed on every spin alongside a significantly higher chance of Goblin Sacrifice or xBomb features triggering. Fresh Meat Spins can be upgraded to Goblin Feast Spins by triggering the Evil 4 feature. If more than 5 spins remain when the feature is triggered, however many spins are left will move over and be applied as the multiplier in the upgraded feature – eg: 6 free spins remaining will equate to a minimum multiplier of x6.
Landing 2 xBomb symbols in the spin that triggers Fresh Meat Spins will award Explosive Fresh Meat Spins – the same experience, but with a guaranteed xBomb on every new spin – improving reel size and multipliers.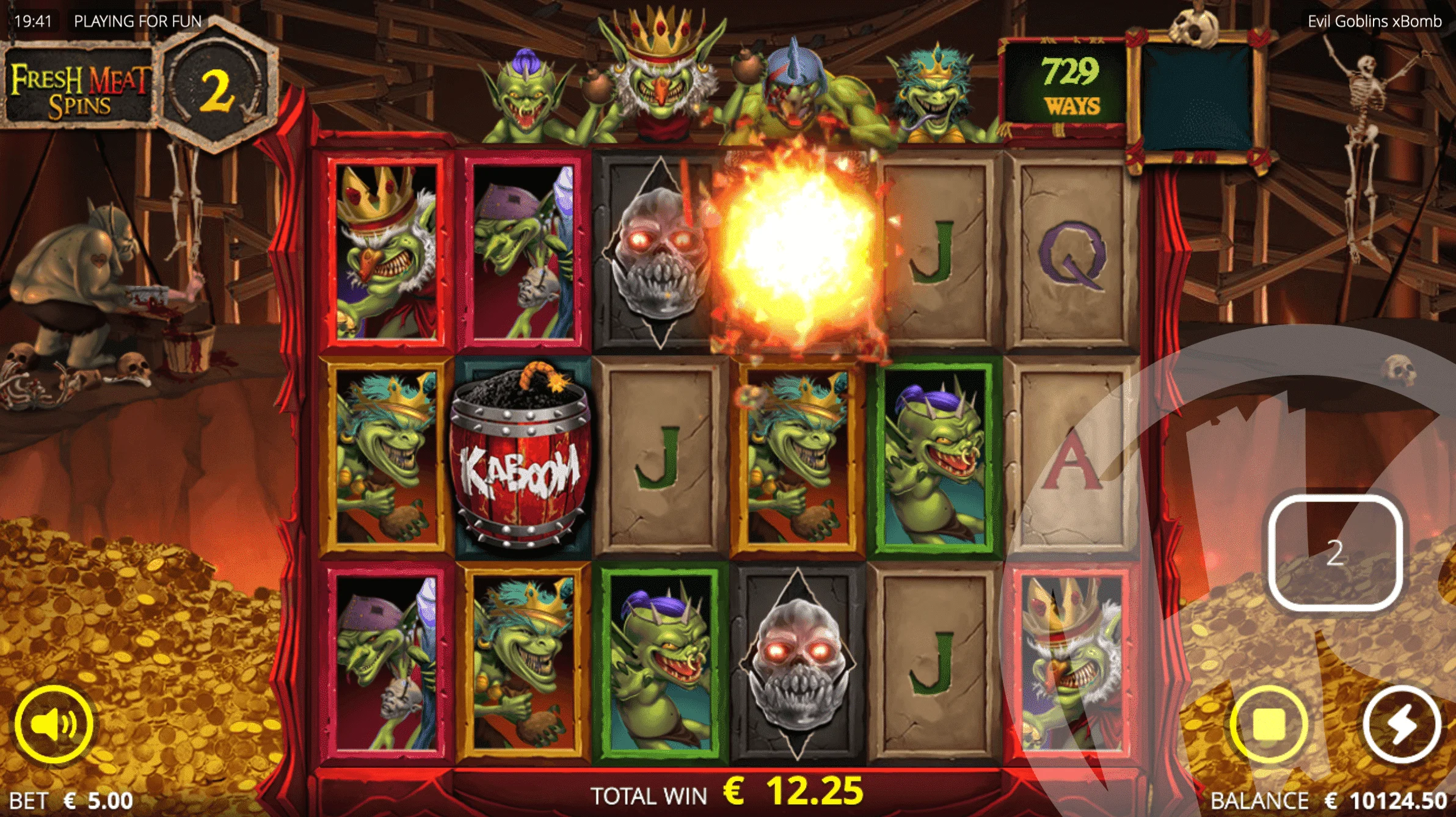 Landing 3 Scatter symbols with the Evil 4 feature activated triggers Goblin Feast Spins – 4 free spins with the Evil 4 multiplier activated. Whenever the same goblin appears in one of the four top positions, it will stay in its place as a skeleton for the rest of the bonus round, and the spins will reset to 4. Spins can reset four times in total.
Any new matching goblins will turn into a skeleton and stick for the remainder of the feature, but will still turn any matching symbols on the reel below wild.
Landing 2 xBomb symbols in the spin that triggers Goblin Feast Spins will award Explosive Goblin Feast Spins – the same experience, but with a guaranteed xBomb on every new spin – improving reel size and multipliers.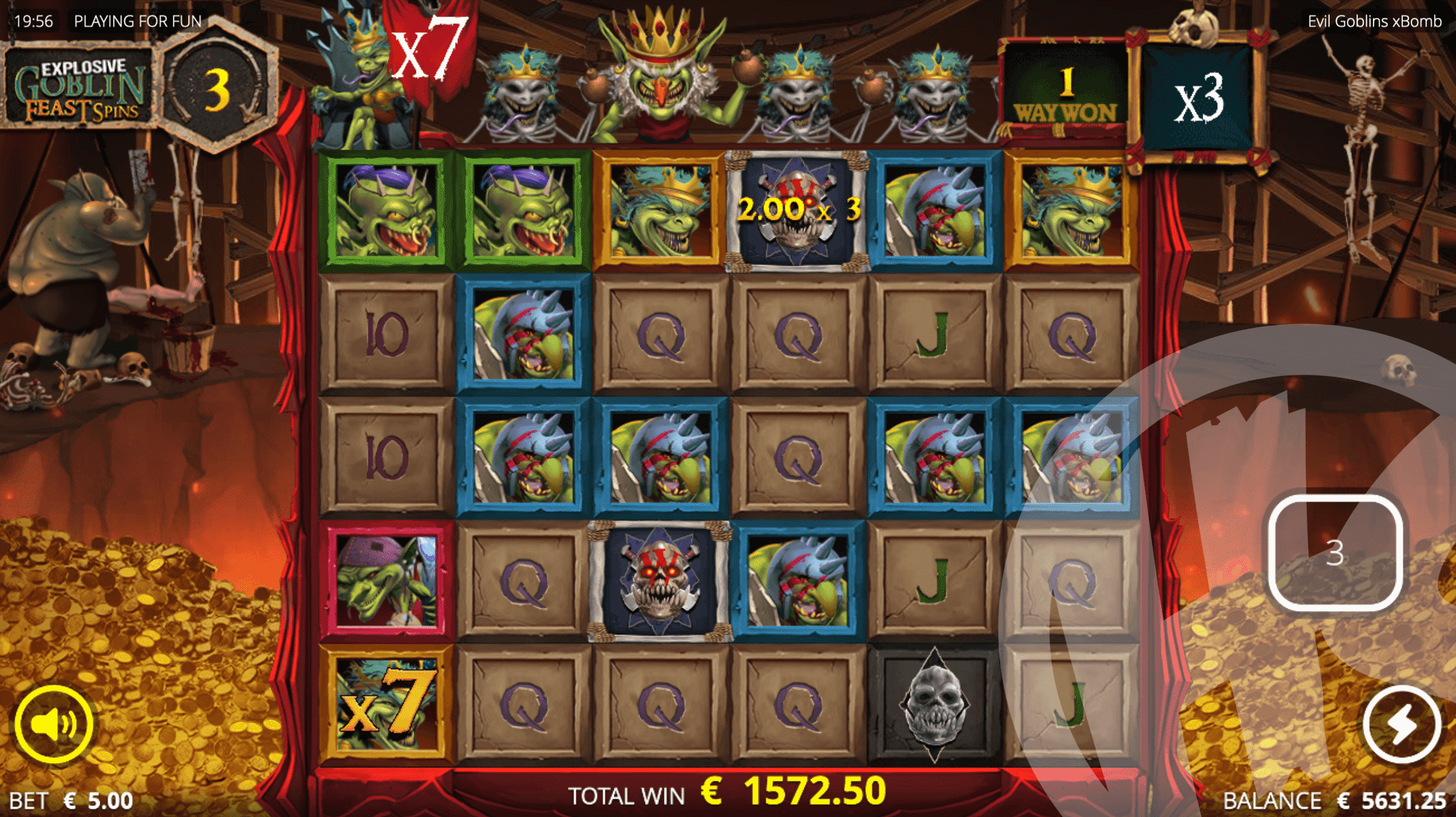 Players in appropriate regions can avail of the Nolimit Bonus option, with an array of feature buys on offer:
8 or 9 Fresh Meat Spins: 60x bet (96.28% RTP)
8 or 9 Explosive Fresh Meat Spins: 150x bet  (96.56% RTP)
Goblin Feast Spins: 300x bet (96.73% RTP)
Esplosive Goblin Feast Spins: 666x bet (96.81% RTP)
Lucky Draw: 181x bet (96.47% RTP)
3 Spins with x2 xBombs on each: 32x bet (96.03% RTP)
Maximum stakes apply: €100, €60, €32, €14, €40 and €100 respectively.
All Hail The King occurs when the maximum win of 31,969x bet has been reached. When the total win exceeds this amount the game round will end and 31,969x bet will be awarded.
First Impression
It seems that Evil Goblins xBomb has split the crowd more than we've come to expect from a Nolimit City release, particularly before release. This, of course, could be due to following some remarkable releases over the past few months – Mental and xWays Hoarder being the obvious examples. Evil Goblins on the surface does look relatively simple, even in design, comparatively to some of the team's other accomplishments. Graphics are still second to none, but the themes on offer are less extreme than previous editions, even with Goblins feasting upon deep fried fingers. However, appearances can often fool, and despite being on the more timid side in looks, Evil Goblins is still capable of producing monstrous combinations for huge wins.
On a personal level, and for what it's worth – Evil Goblins has quickly made its way into my top 3 releases from the team this year so far, particularly after spending some time playing and experiencing what is on offer. The bonus choices with the features available go a long way towards helping players to always be on the lookout for something, which is especially important for players who cannot, or will not, take the short cut to the feature buy. The xBomb feature in particular seems to offer more in the way of excitement – even when expanding the ways doesn't result in a win, we still have those few seconds of tension – will it, or won't it? Comparatively, when xWays doesn't hit, its more of a blink and you miss it kind of moment.
With xBombs, Resurrection Wilds and the Evil 4 feature alongside four free spin offerings, Evil Goblins xBomb has enough buried within to keep the casual player entertained, whilst offering the potential that we anticipate from Nolimit City – enough rewards for the more established player to take a bigger risk, or perhaps spend more time trying. In this case, that's 31,969x bet, expected 1 in 55M spins.
Evil Goblins xBomb might not have every player gossiping about what is to come weeks before release, but it seems the kind of game that will stand the test of time, and will be held in reverence from those players that do favour it above others.
*The screenshots taken of games reviewed on this site are taken from Demo Play, as reviews are often written before games are released for real play.