In a world where 'fat' is often an insult, Push Gaming have found a way to change its meaning, making it something players aspire to – the fatter the Rabbit, or the Santa, or the Drac, the bigger the reward. Finally, we're being treated to the fourth in this well known series, and this time things are more affluent than ever. Enter the world of the Fat Banker, and see for yourself what this latest release from the team has to offer. Here's a clue – the return of the coveted growing Wild Symbol, wins up to 25,000x bet, a default RTP of 96.43%, and a highly volatile maths model, capable of both making and breaking dreams in one breath. Let's take a closer look…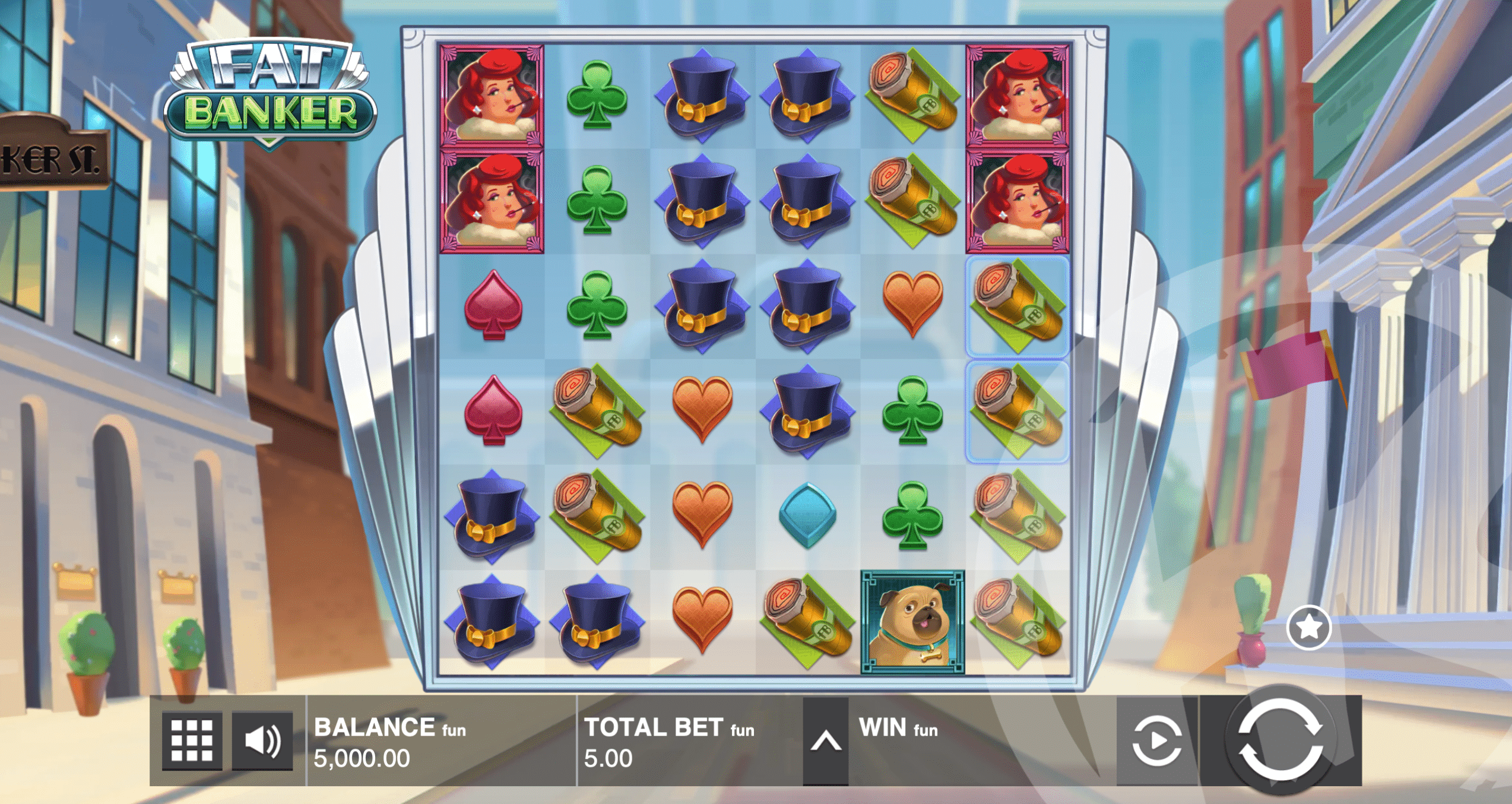 Visually, we're outside of a bank, in a town with the cleaning streets I ever did see. The whole thing has a suitably wealthy feel to it, even down to the smooth music playing in the background. The symbols take on the same feeling, with pugs (I'm reminded of Percy in Pocahontas here, eating his cherries in the bubble bath), cigars, top hats, and characters draped in fur and the finest jewels. It's just… rich.
Fat Banker Base Features
Taking place on a 6×6 grid, wins are formed on Fat Banker by matching 3 or more symbols on adjacent reels across 1 of the 50 fixed win lines. Symbols available begin at the lower end, with diamonds, clubs, hearts, and spades, each paying between 0.10 and 1x bet for matches between 3 and 6 of a kind. Premium symbols begin with top hats and cigars, awarding wins between 0.30 and 10x bet for matches between 3 and 6 of a kind, followed by pugs, awarding wins between 0.50 and 16x bet, again for matches between 3 and 6 of a kind. This is followed by female characters, with values between 0.60 and 20x bet for 3 and 6 of a kind matches. Finally, both Fat Banker Symbols and Wild Money Bag Symbols award wins between 1 and 40x bet for matches between 3 and 6 of a kind. The Fat Banker is also a Wild, and both it and Wild Money Bags substitute for all symbols except the Silver Safe, Bullion and Multiplier Symbols.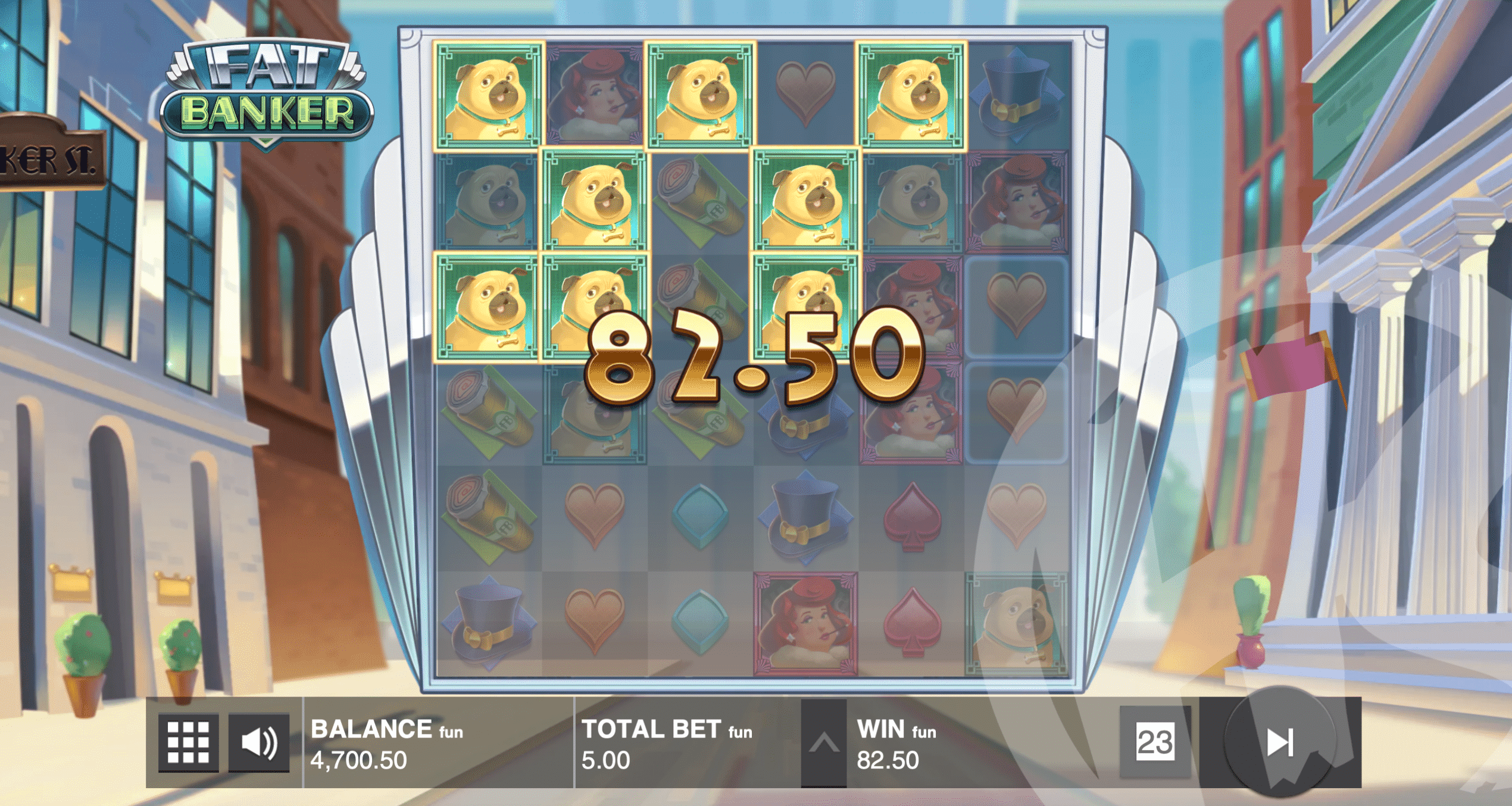 There are a number of features available within Fat Banker, beginning with Bullion Symbols – or as you may know them, Instant Prize Symbols. Capable of landing on reels 1-5 during the base game, Bullion Symbols take on a bet multiplier value – 1x, 2x, 3x, 5x, 10x, 25x, 50x or 100x in size. These values will be collected when a Silver Safe lands on reel 6.
Working hand in hand with Bullion Symbols are Multiplier Symbols, also capable of landing on reels 1-5 in the base game. When the Silver Safe lands on reel 6 and a Multiplier Symbol is in view on reels 1-5, the Bullion Symbol values will be multiplied by the relevant amount – 2x, 3x, 5x, 10x or 100x.
Whilst Bullion Symbol values are collect when the Silver Safe lands in any position on reel 6, the Fortune Link Feature will be triggered if the Safe lands in one of the two marked hot spots – the two middle positions of reel 6. A Bullion Symbol must be in view alongside the Silver Safe in the hot spot. The Fortune Link Feature starts with 2 free spins, and these are reset each time a new Bullion Symbol or Multiplier Symbol lands in view. During this feature, Bullion and Multiplier Symbols can land on any of reels 1-6. The feature will end when no new symbols land for both free spins.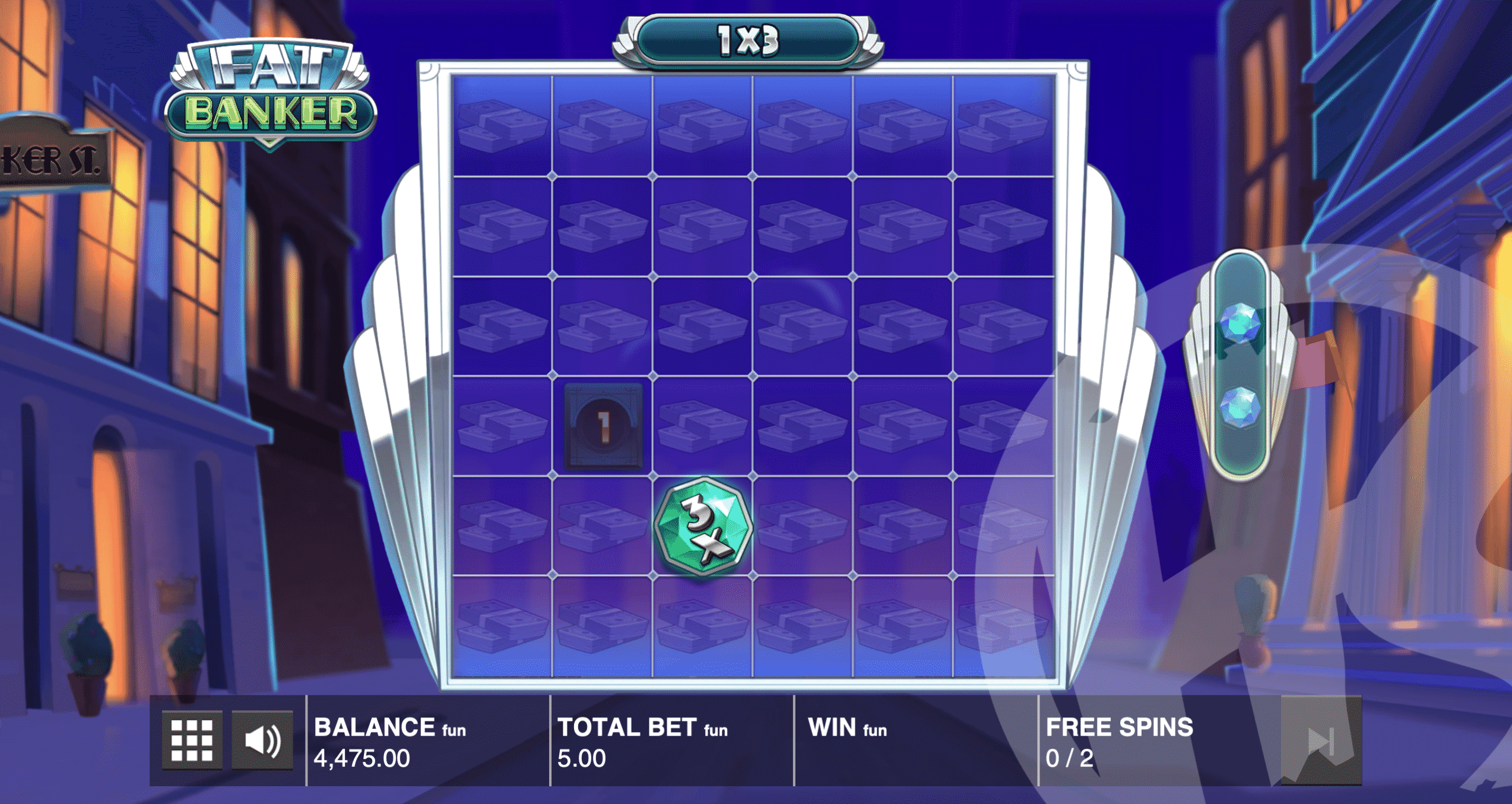 In the base game, the Red Car Feature may be activated. This happens if a Fat Banker, Silver Safe (in a hot spot), Wild Money Bag (with or without a multiplier), Multiplier Symbol, or a Bullion Symbol is in view. At least one of these symbols must be in view, and once the Red Car Feature is activated, a new win may be created, or a feature may be triggered.
Similarly, the Gold Car Feature may be activated during the Fortune Link Feature, or during free spins (more on these below). If the Gold Car Feature is activated during the Fortune Link, at least one more Bullion or Multiplier Symbol will land in view, resetting the 2 spins. If the Gold Car Feature is activated during free spins, a random number of Money Bags (with or without multipliers) are added to the reels, guaranteeing the next level is reached, awarding more free spins.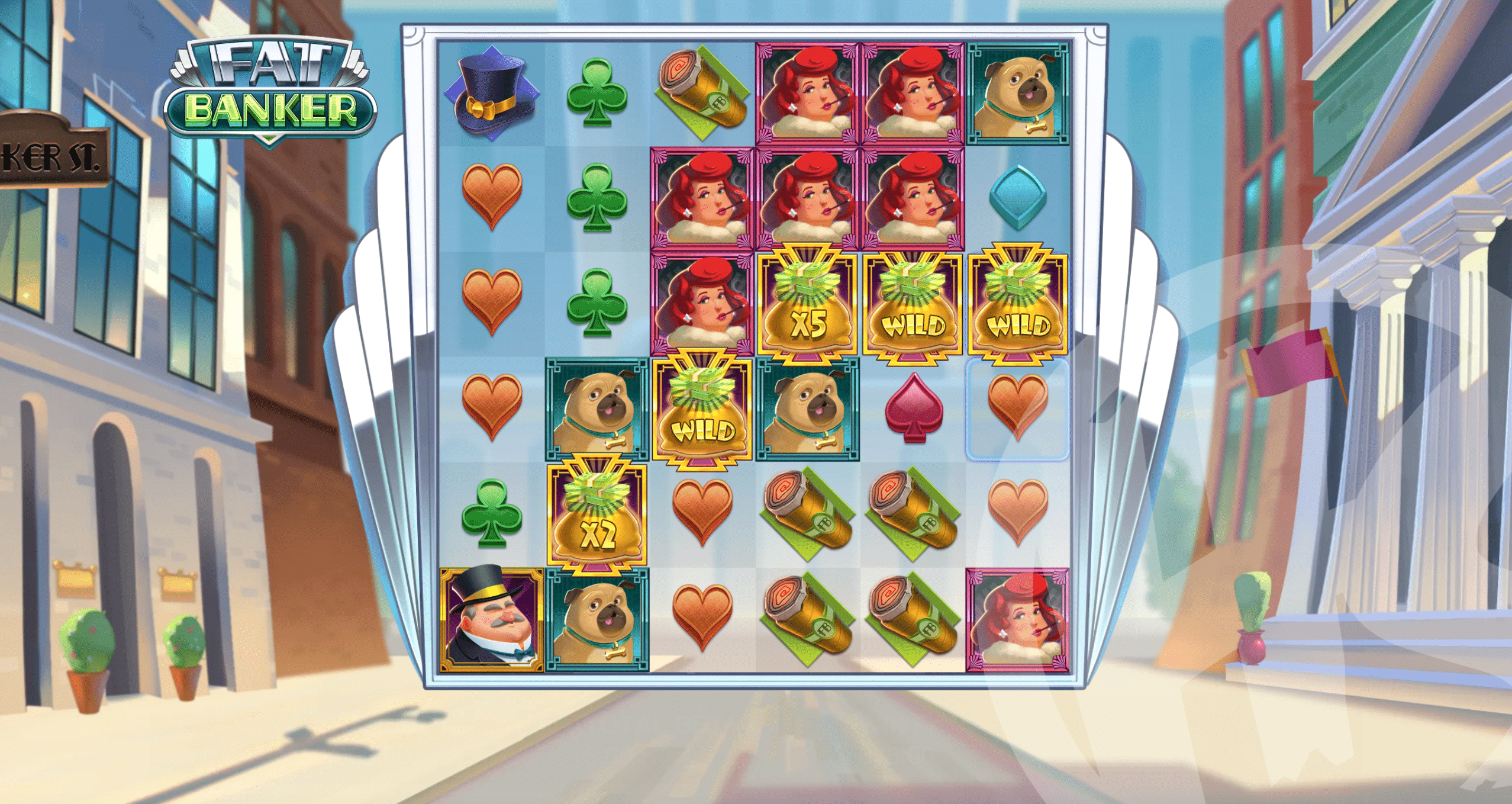 Fat Banker Bonus
Free Spins are triggered when a Fat Banker Symbol lands in view, with at least one Wild Money Bag Symbol. The Fat Banker can only land on reel 1, whilst Wild Money Bags can land on reels 2-6 during the base game. Wild Money Bags can have multipliers attached of x2, x3 or x5.
Triggering the feature awards 5 Fat Banker Free Spins. At the beginning of free spins, the Banker Symbol will move on top of any triggering Wild Money Bags, collecting them. The Fat Bank Symbol is a Wild, and will remain on the reels for the duration of free spins. The collected Money Bags will then be added to the meter to the side of the reels, helping players to progress through different levels:
Level 1: Banker Symbol is 1×1 in size.
Level 2 (collect 5 Money Bags): Banker Symbol grows to 2×2, and + 3 spins are awarded.
Level 3 (collect 4 Money Bags): Banker Symbol grows to 3×3, and + 3 spins are awarded.
Level 4 (collect 4 Money Bags): Banker Symbol grows to 4×4, and + 2 spins are awarded.
Level 5 (collect 3 Money Bags): Banker Symbol grows to 5×5, and + 2 spins are awarded.
Level 6 (collect 3 Money Bags): Banker Symbol grows to 6×6, and + 1 spin is awarded.
The Banker Symbol cannot be larger than 6×6 in size. Along this journey, if Money Bag Symbols with multipliers are collected, the Banker takes on this multiplier, and applies it to all wins involved with the Banker Wild. Multiple multipliers add together.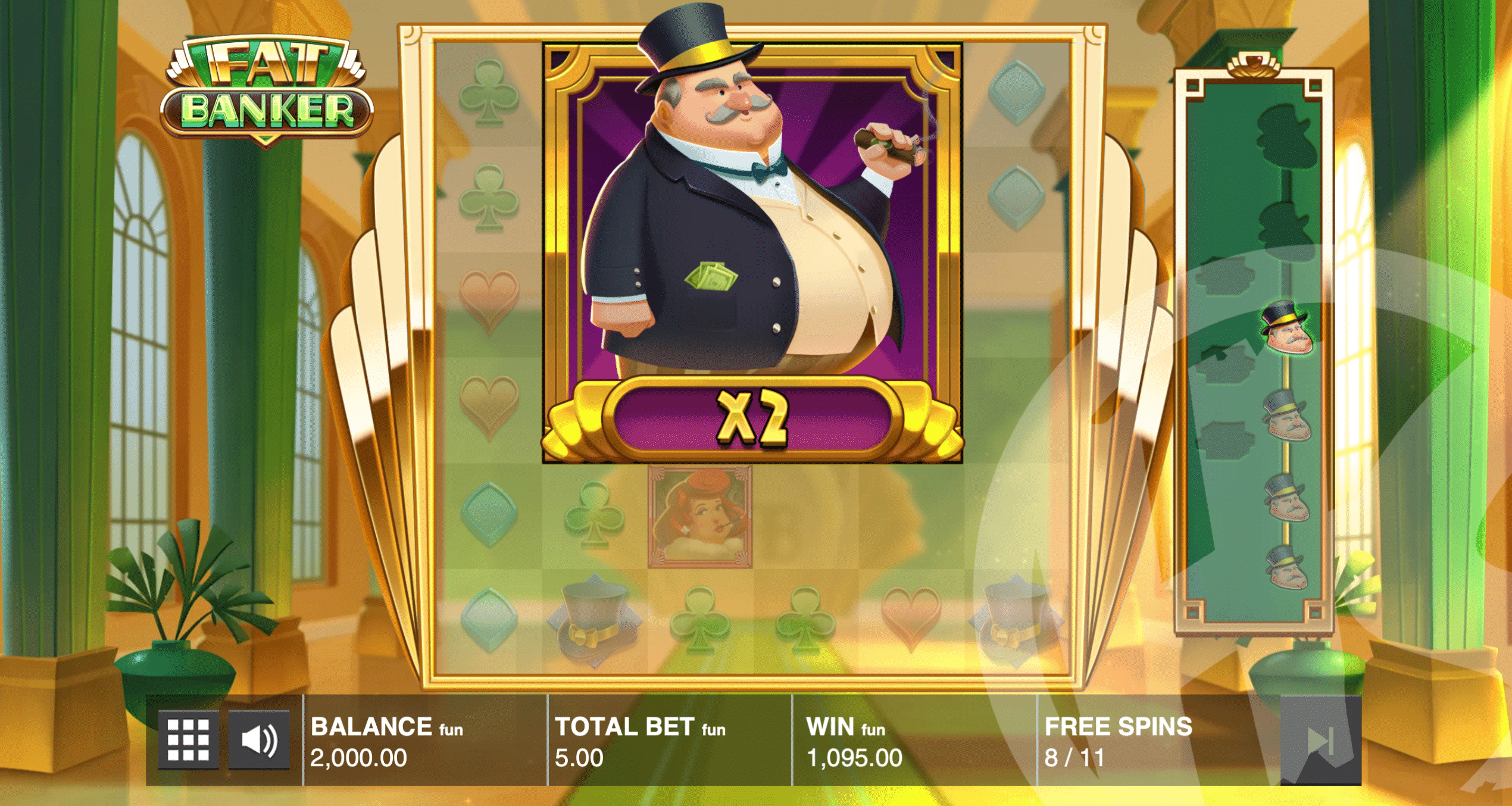 Players in appropriate regions have the choice to buy the feature round, with a number of options:
Buy Fortune Link Feature: 30x bet (96.63% RTP)
Buy Free Spins with a random number of triggering Money Bags: 150x bet (96.65% RTP)
Buy Free Spins with 5 triggering Money Bags guaranteed: 600x bet (96.64% RTP)
First Impression
The Fat Series has proven to be a lucrative one for the team at Push Gaming, and this shows no signs of slowing down – in fact, as the theme chosen here shows, things are continuing to get more lavish. What I like about this series is that it has an obvious progression – first we saw the growing Wild in Fat Rabbit, with wins available under 4,000x bet. This was followed with more or less the same mechanics but a massive potential increase in Fat Santa, with wins available over 6,000x bet. Then, in Autumn 2021, we then were introduced to Fat Drac, – no growing Wild, instead with a growing Mystery Symbol, complete with Instant Prizes and wins up to 50,000x bet.
And now we have Fat Banker, featuring the return of the growing Wild Symbol, Instant Prizes, base game features, and a number of feature buy options. Sure, potential has taken a dip since Fat Drac, with Fat Banker capable of producing wins up to 25,000x bet, but the progression is clear to see. The Fat Series continues to bend and mould into new releases, new concepts and a new playing experience, which is what makes it one of the best series available for players.
Statistically, things are solid – the highest available RTP is fair at 96.43%, however other versions are available, so its advisable to check this beforehand. As mentioned, wins are available up to 25,000x bet, and volatility is high – so approach with caution, as robbing this banker won't come easy.
Playing through, things play nicely. It's obvious what you want – lots of Wild Money Bags, preferably with multipliers, and a Banker that grows so big he might burst. The Car Features are a nice touch, in particular the Gold, capable of activating at the last moment and producing a re-trigger during Free Spins, so it really isn't over until the fat lady sings – or in this case, the fat man.
If you're a fan of the Fat Series you're sure to love this one, and if you haven't been convinced yet, who knows? There's enough happening here to twist your arm. In the meantime, if you want to learn more about the inspiration behind Fat Banker, check out our interview with Serhii Pisotskyi, Game Producer at Push Gaming.
*The screenshots taken of games reviewed on this site are taken from Demo Play, as reviews are often written before games are released for real play.