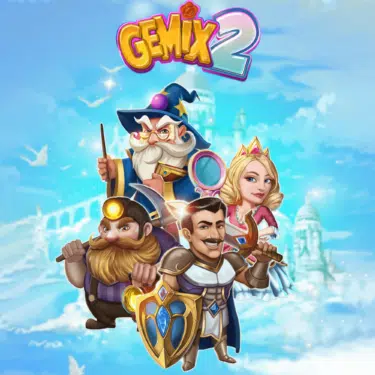 Gemix 2
Game Provider: Play'n GO
Release Date: Available Now
Gemix 2
Game Studio Play'n GO
Release date Available Now
RTP 96.26%
RTP Feature Buy N/A
Paylines Cluster Pays
Volatility High
Min Bet 0.10
Max Bet 100
Max. Win 7,500x
Rating 8.1/10
If Play'n GO are famed for one thing, it's their grid releases. With a list that now includes fan favourites like Reactoonz, and more recent examples such as Hammerfall, players across the sector continue to feel an extra level of excitement when this developer takes things in the grid direction rather than their more classic 5×3 reel execution. One of their earliest grid adaptions was Gemix, released in 2014, which allowed players to progress through different worlds, with a host of characters and features to help facilitate big wins. As a result of the success of Gemix, Play'n GO are now bringing us Gemix 2, a follow up to the original, with a few upgrades, the first of which is the maximum win – now sitting at 7,500x bet. Default RTP is 96.26%, although lower settings are available so it is worth checking before spinning. Alongside this, volatility has increased slightly, still within the high range, although now rated 9/10.
Visually, graphics are clear and the overall game board has had an upgrade to become far more aesthetically pleasing, less cramped with more space to understand each trigger as it happens, rather than feeling overwhelmed. Information available remains the same, so this is down to execution and clever design rather than removing anything we would consider important. Character symbols have had an upgrade alongside backgrounds, which continue to change depending on the active world, with a castle in the clouds for the prince/hero figure, darker tracks with overhead lanterns for the miner, a bubblegum pink castle in the countryside for the princess, and a magical woodland area near a lake for the wizard. Sounds are triumphant, and feel exactly like the backing audios for the final fight scene in an older Disney movie, just before the princess is rescued, which ties everything together nicely, considering the characters that make appearances.
Gemix 2 Features
Set atop a 7×7 grid, Gemix 2 adopts the cluster pays mechanic, wherein wins are formed by matching at least 5+ symbols horizontally or vertically adjacent. 8 symbols help to form these wins, with dark blue rectangles, lighter blue triangles, purple squares and green pentagons making up the lower end, awarding wins between 4 and 10x bet for clusters of 15+. In the middle region, orange flowers and pink moons pay 25 and 50x bet for clusters of 15+, respectively. Finally, at the premium end, red hearts and golden yellow stars are the highest available symbols – land clusters of 15+ for wins of 100x and 200x bet, respectively.
A host of features are available to enhance gameplay within Gemix 2, beginning with cascades, in which symbols involved in a winning combination are removed from the grid, allowing new symbols to drop down in their place. Cascades continue until no more wins can be formed.
Next up is Crystal Charge, a meter to the right of the grid that charges as winning symbols are collected, much like in releases like Honey Rush and Wild Frames. Crystal Charge is activated once 25+ symbols have been collected in one spin, and collecting 50+ symbols activates a Super Charge with all 4 effects, listed below, simultaneously, alongside a x2 multiplier:
Nova Blast: One symbol explodes, destroying and transforming adjacent symbols.
Crystal Warp: One symbol is targeted. All matching symbols are warped to other symbols.
Light Beam: One symbol shoots out light beams. Hit symbols are transformed to other symbols.
Chain Lightning: Two corner symbols are connected with a chain lightning. All hit symbols are transformed to one of the corner symbols.
Collecting an additional 50 symbols retriggers the Crystal Charge, and increments the multiplier by +2, up to x20.
World Patterns are a big part of Gemix 2, much like the original, with 4 unique worlds to travel through. To the right of a grid is a pattern, kind of similar to the bonus pattern on Tome of Madness. Within the main grid, each of these squares are highlighted dark blue beneath the symbols. Any symbol wins atop these squares will then highlight the squares yellow, and once all squares within the pattern are highlighted yellow players will progress to either the next pattern, or the next world. There are two patterns per world, and each win within a world increases the World Bonus value. 
At the end of each world, after both patterns have been completed, players get a pick bonus. G-nome, the absolutely not shady travelling merchant will appear with two options in his pocket – one contains the World Bonus value, and the other is empty.
There are also 4 different guardians that can appear during play, each with a unique wild symbol. World wilds trigger randomly, and the guardian of the respective world will be the first one to appear.
Prince (World 1): Up to 2 mega wilds can appear with a x1+ multiplier.
Miner (World 2): Up to 10 wilds can appear.
Princess (World 3): Wilds can spread from edge to edge.
Wizard (World 4): Up to 5 sticky wilds can appear in random positions.
Wilds turn into miner wilds if Crystal Charge is triggered during the game round, which continues normally after the effect.
First Impression
There's always a lot happening within Gemix 2, and although there are no free spins on offer, and no one "big" feature like Reactoonz, there is plenty of excitement to keep things ticking over for players. With 4 worlds, each containing 2 patterns, 4 guardians equipped with wild powers, and 4 modifiers available, players won't spend much time feeling as though this release is a grind. Instead, there will always be something to look for, and something happening, with one particular goal being the Super Charge feature, offering all 4 modifiers one after another, with multipliers climbing as high as x20.
RTP, although different settings are available, is 96.26% at default level, and it is worth noting that not all lower settings are available in every region or licensing jurisdiction. The maximum win of 7,500x is nice to consider, and although pales in comparison to some of the other maximum wins available, suits this release just as the characters suit their locations. Audiovisuals have received the upgrades we would expect after 7 years, now fitting in nicely with this years releases.
Perhaps geared more towards the casual player, more interested in having fun with bright, colourful releases than tracking down the wins buried deep beneath the surface of releases like San Quentin, Gemix 2 does its job of being a great follow on from its predecessor, receiving just enough upgrades to be new and shiny, and make us want to play with it, but not so many that Play'n GO have lost the heart of the original.
*The screenshots taken of games reviewed on this site are taken from Demo Play, as reviews are often written before games are released for real play.