It's important to know when you're onto a good thing in life, and it seems AvatarUX are well aware of this fact when it comes to their PopWins mechanic. The team are finishing the year in style as they release their 8th PopWins release of 2022, and their 16th overall – HelioPOPolis. According to them, 'in an alternative reality where the might of the Egyptian empire never dwindled, HelioPOPolis™ rose through the ages to become a technological marvel'. I'll take their word for it, because my knowledge of anything historical or mythological has never been great. With a fixed RTP of 96.0%, this highly volatile release can produce wins up to 20,000x bet.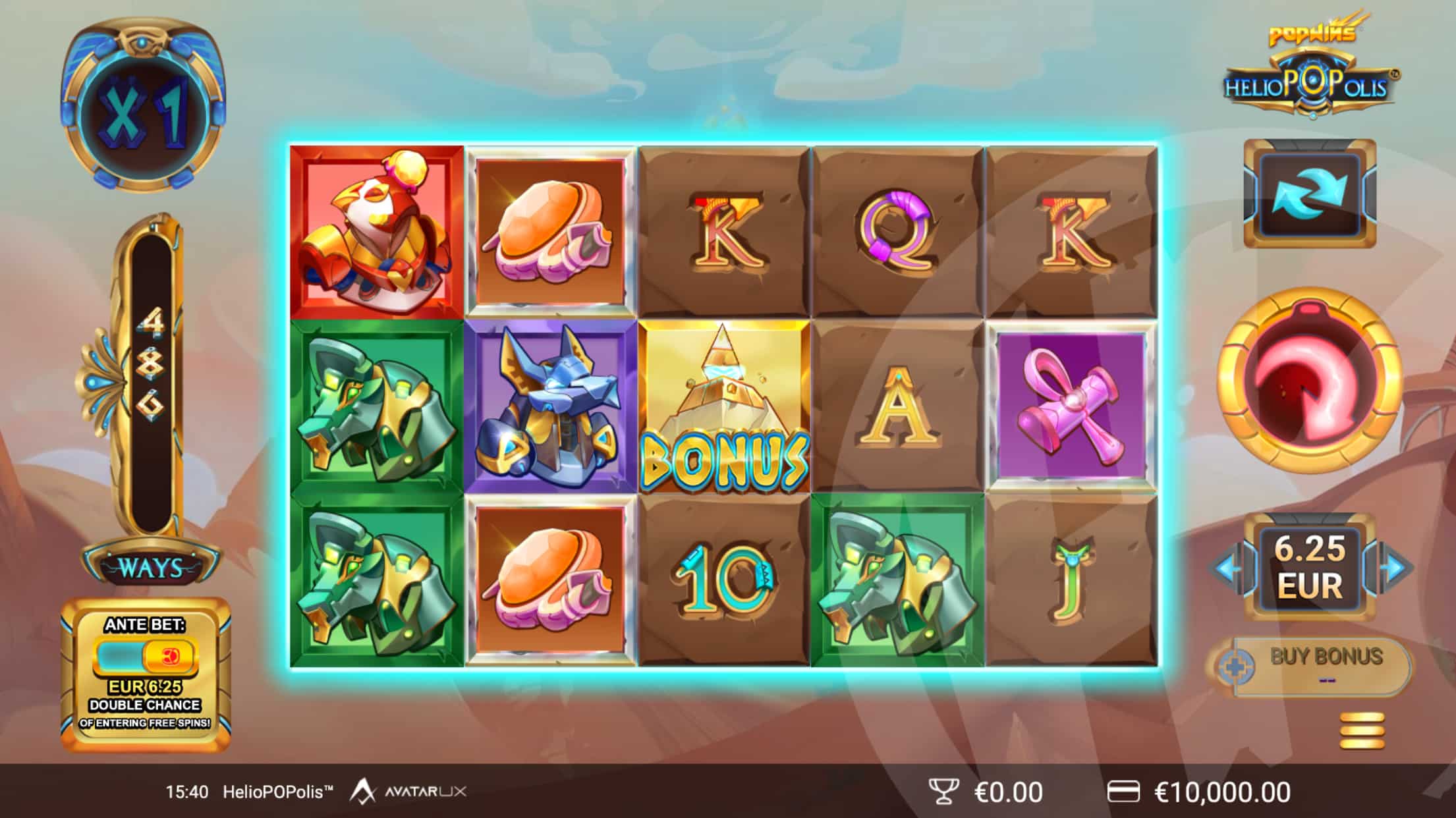 AvatarUX have really developed a distinctive style, and HelioPOPolis doesn't stray from this norm. We're on the plains of Egypt, with an almost abstract backround to keep things simple yet stylish, and a brightly coloured array of symbols on the reels. There isn't a great deal to say on the matter – and certainly nothing we haven't said before. All in all it's very much what you'd expect with a vibrant, almost electronic tune to tie it all together.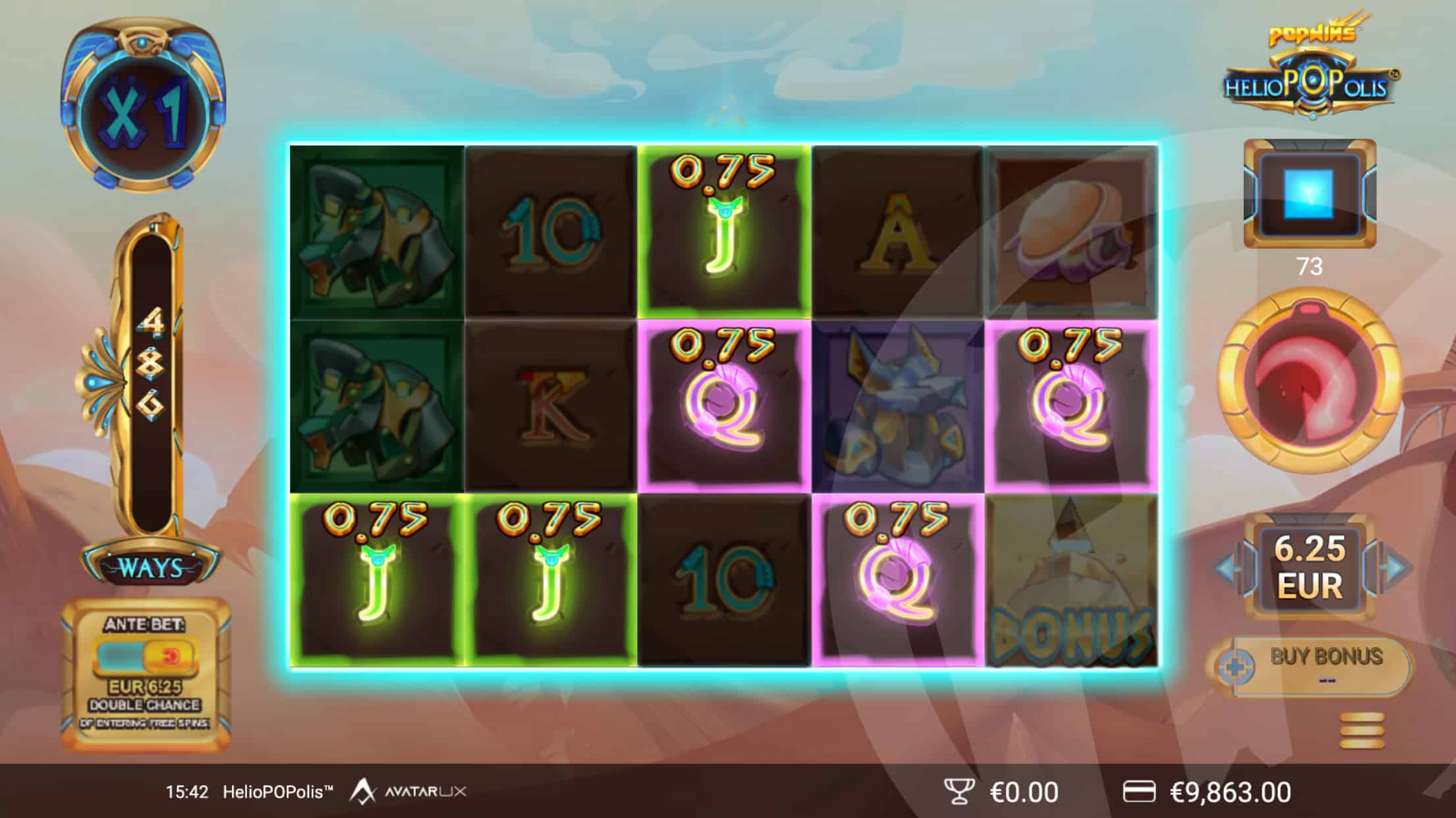 HelioPOPolis Base Features
Taking place across 5 reels, wins are formed on HelioPOPolis by matching at least 3 symbols on adjacent reels, beginning with the leftmost or rightmost reel. Reels begin with 3 symbols on each, producing 486 ways to win when considering that wins pay both ways, although this can increase as high as 65,536 ways to win thanks to the PopWins mechanic that we'll be getting to in a moment. For now, symbols available begin with non premiums, with 10s, Js, Qs, Ks, and As, awarding wins between 0.15 and 0.60x bet for matches between 3 and 5 of a kind. In the mid range we have purple ankhs, green gems, and orange gems, awarding wins between 0.40 and 0.70x bet for 3 of a kind matches, increasing to values between 1.50 and 2.50x bet for 5 of a kind. Premiums consist of three Egyptian deities – Sobek, Anubis, and Horus. Land 3 of a kind of any premium to see wins between 0.80 and 1.25x bet, increasing to values between 3 and 4x bet for 5 of a kind matches. Remember though, 5 of a kind wins only pay one way in this series. Finally, Scarab Wilds substitute for all symbols, although these only appear during Free Spins, along with Mystery Symbols.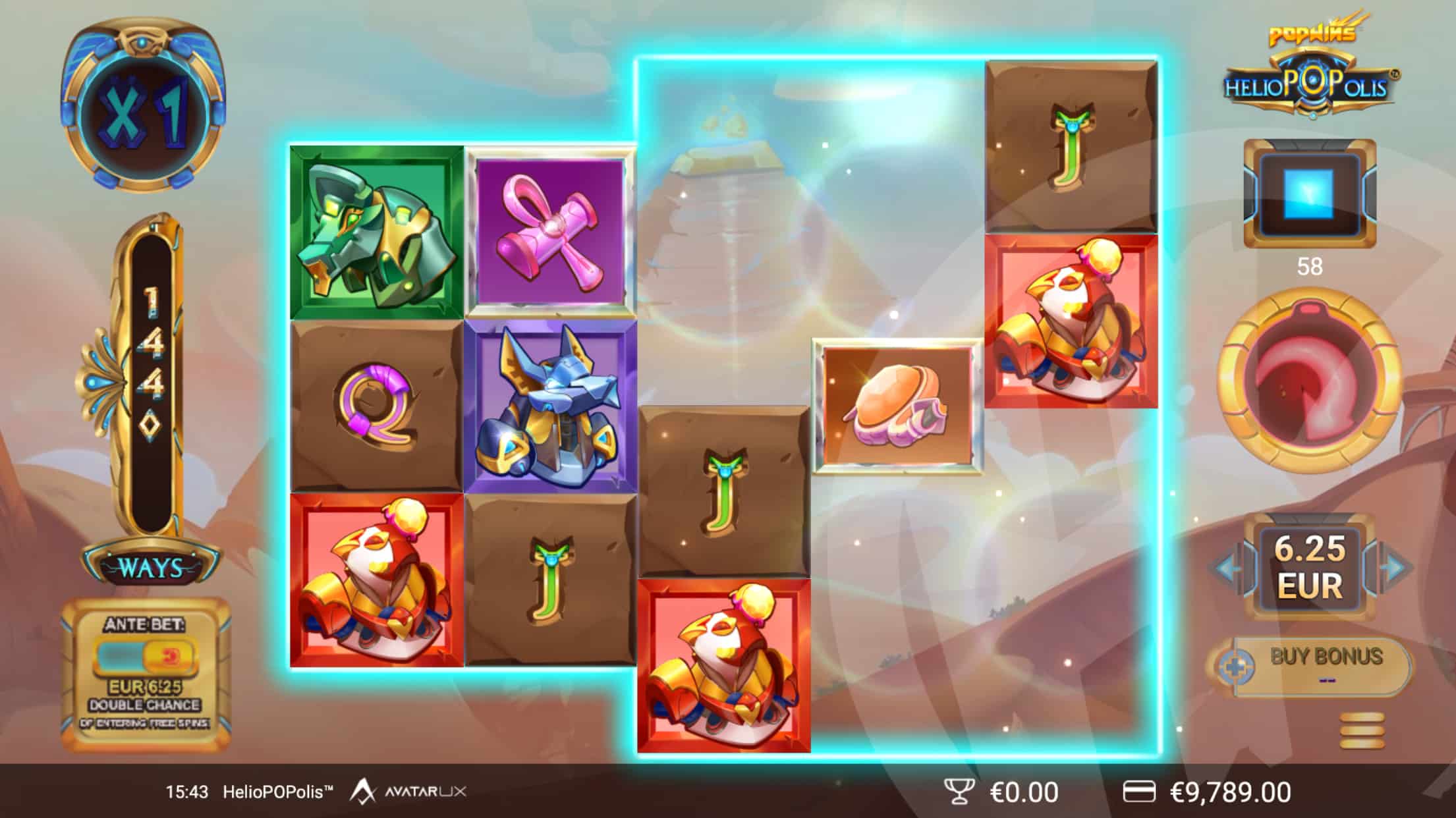 The usual suspects bring the excitement in the HelioPOPolis base game, beginning with the Ante Bet. By betting an additional 25%, players can double their chance of triggering Free Spins naturally.
Other than this, the main draw is the PopWins mechanic itself. On every spin, all symbols involved in a winning combination are removed from the reels and replaced by two new symbols. This in turn increases the number of symbols per reel, and ways to win. In the base game, reels can expand to hold 6 symbols on each, producing 15,552 ways to win – as both ways pay. PopWins continue until no more wins are formed, and when they have finished reels will reset to their original height ahead of the next paid spin.
Working hand in hand with the PopWins mechanic is one small base game feature. On any spin, if all reels increase to their maximum of 6 reels high, 2 Free Spins are triggered. These spins will be played out after all current PopWins cascades have finished.
There is no win multiplier in play during the 2 Free Spins awarded, however Synced Reels with Big Blocks are activated, meaning reels will sync their symbols to match each other, with a chance of landing 2×3 or 3×3 sized symbols. Other than this, everything in the base game is as you would expect in a standard PopWins release.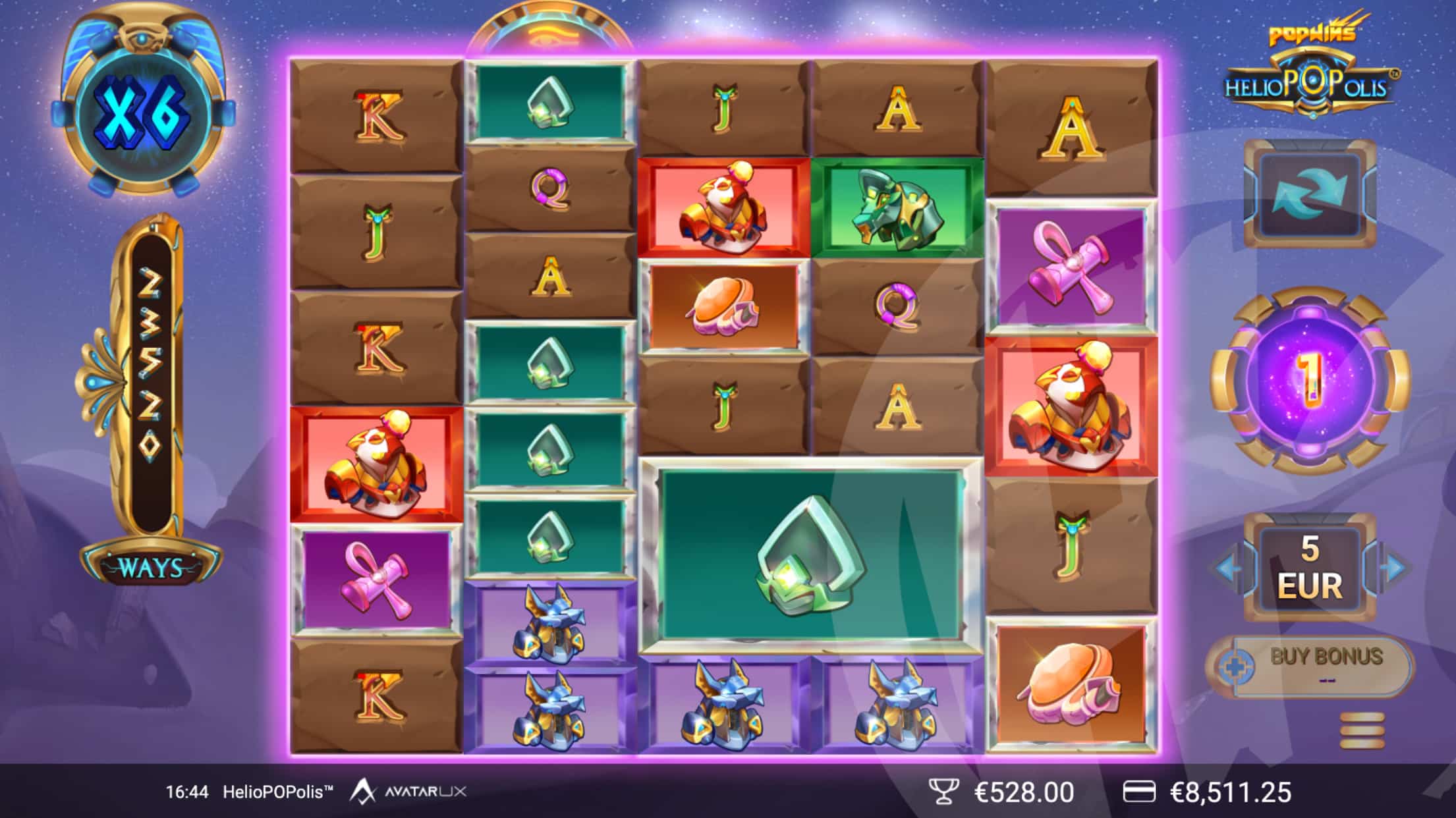 HelioPOPolis Bonus
Land 3, 4, or 5 pyramid Bonus symbols to trigger Free Spins. Depending on the number of triggering Bonus symbols, the following Bonus Modes are possible:
3 Bonus symbols – up to 7 Free Spins with 2,048 starting ways to win and a win multiplier up to x5.
4 Bonus symbols – up to 9 Free Spins with 6,250 starting ways to win and a win multiplier up to x6.
5 Bonus symbols – up to 11 Free Spins with 15,552 starting ways to win and a win multiplier up to x7.
Unlike previous PopWins releases, there is no option to gamble the feature in HelioPOPolis.
Before starting Free Spins, players must choose from the following rewards:
Big Sync – Synced Reels on every spin with a chance of landing 2×2 or 3×3 sized symbols.
Great Wilds – Guaranteed Wilds with a random symbol can be chosen to act as an Expanded Win Symbol, expanding to cover the entire reel when part of a win. Any symbol can be chosen, except Bonus symbols, Wilds or Mystery Symbols.
In either bonus, a random number of Mystery Symbols can land on the reels during any spin. All Mystery Symbols will reveal the same paying symbol.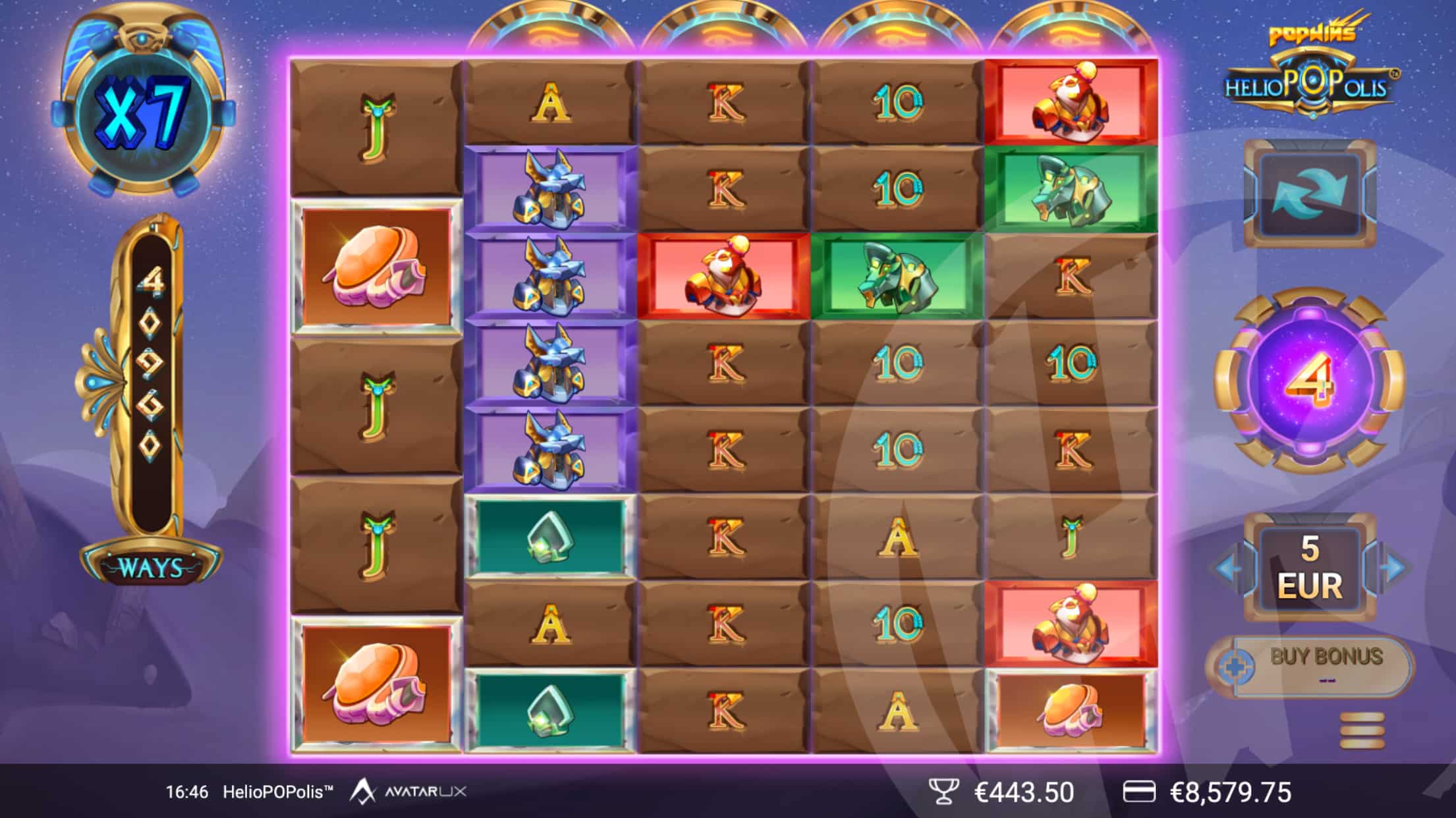 There are a few special elements in HelioPOPolis Free Spins. Firstly, reel heights do not reset between spins. Instead, they will reset to the height of the shortest reel. Each reel can hold a maximum of 8 symbols, producing 65,536 ways to win – as both ways pay.
Additionally, Free Spins will start with a random multiplier, according to the Bonus Mode triggered. For each subsequent winning round, the multiplier will be increased by +x1 after wins are paid. There is no limit to how high the multiplier can climb.
Fully unlocking reels to 8 symbols tall in Free Spins changes this slightly, with every subsequent winning round increasing the multiplier by +x2 after wins are paid. An additional +2 spins will also be awarded, with Synced Reels and Expanded Win Symbol activated.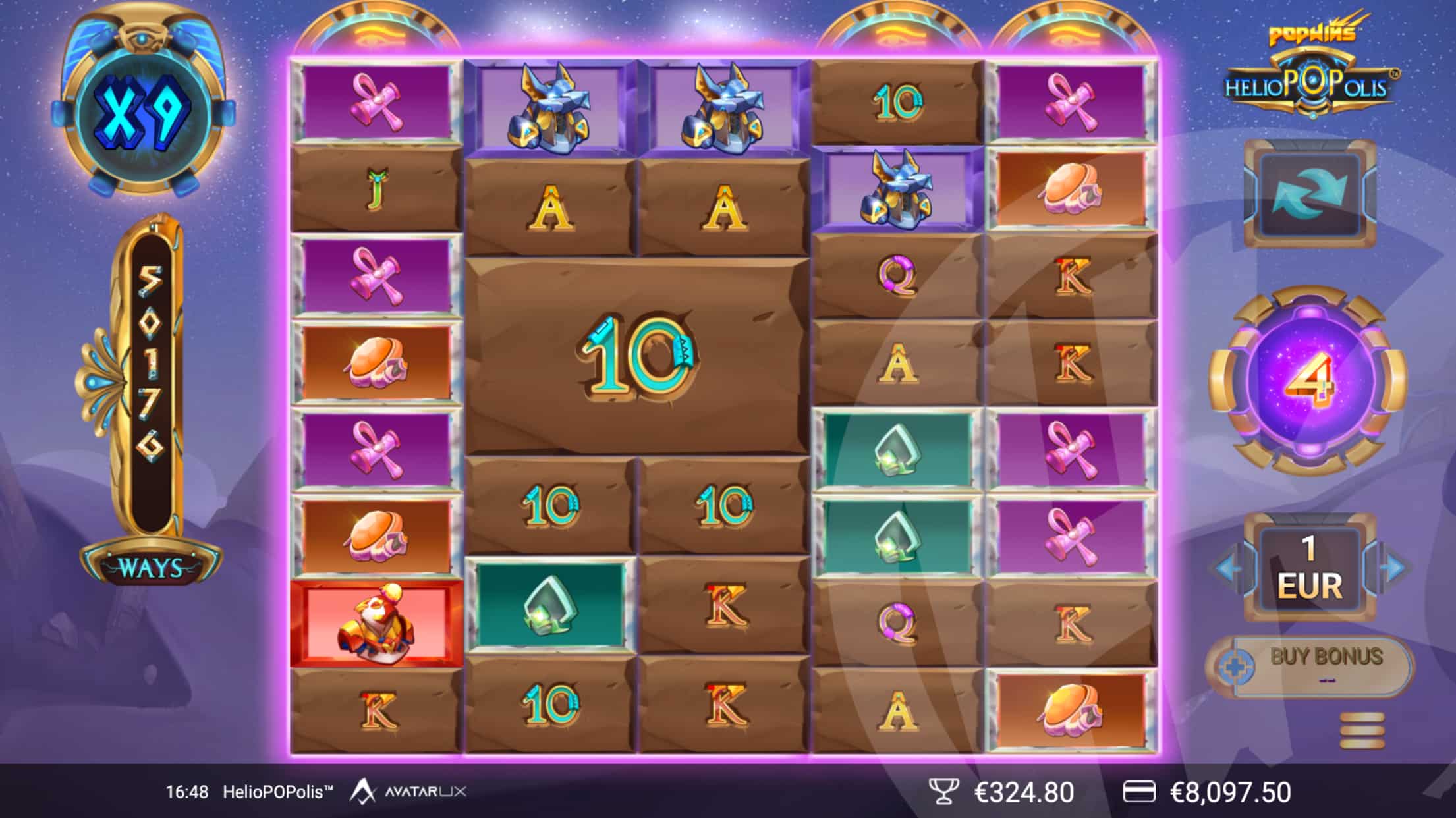 Finally, players in appropriate regions can skip straight to the action with the following Buy Bonus options:
125x bet – up to 7 Big Sync spins with 2,048 starting ways to win and a win multiplier up to x5.
125x bet – up to 7 Great Wilds spins with 2,048 starting ways to win and a win multiplier up to x5.
1,000x bet – up to 11 spins with all features, 15,552 starting ways to win, and a win multiplier up to x7.
Again, there is no option to gamble features that are bought.
The maximum win available in HelioPOPolis is 20,000x bet. If the sum of a single game round exceeds this, the game round will end and 20,000x bet will be awarded.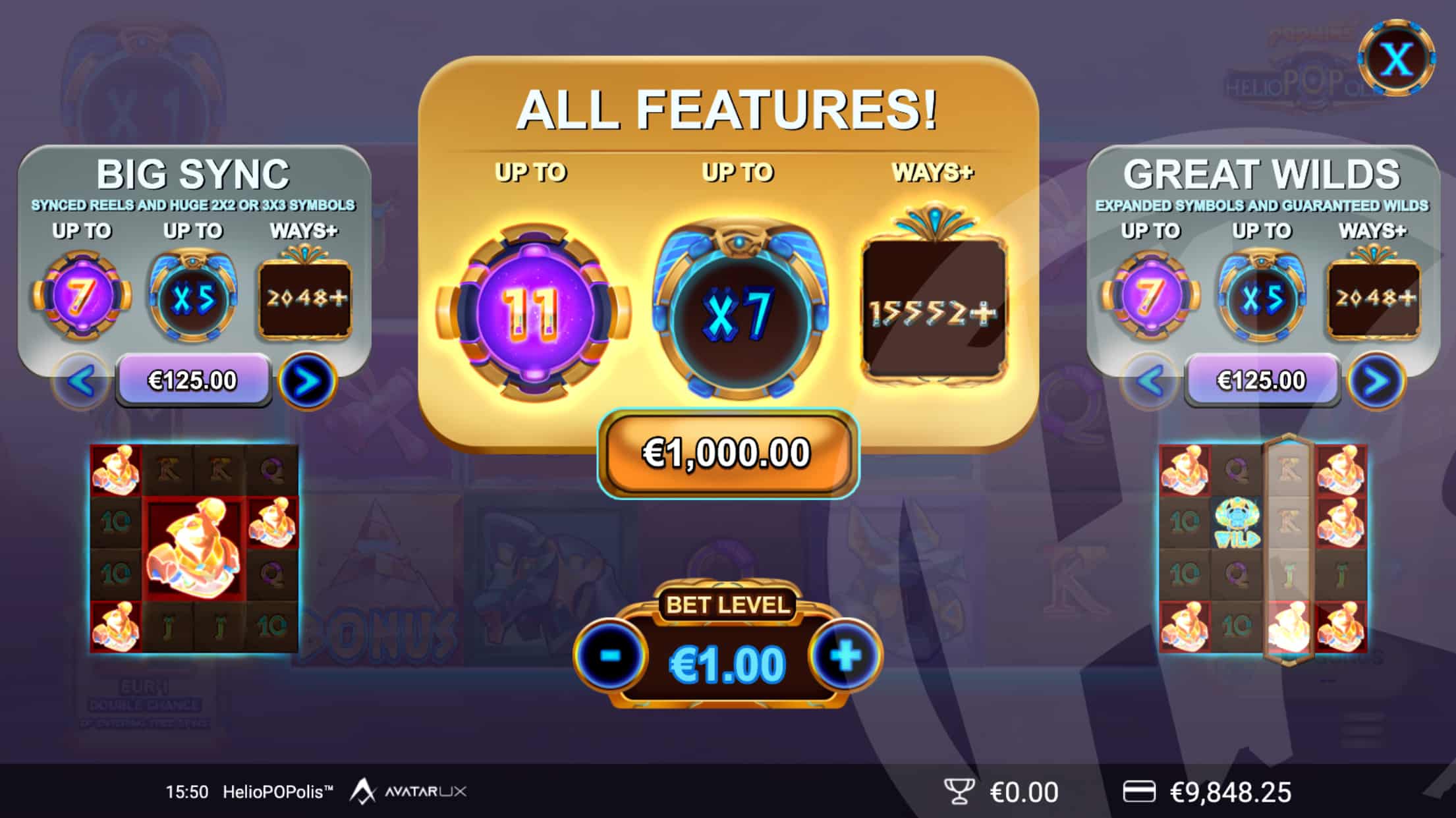 First Impression
As time goes on, we're starting to see more and more of what the PopWins mechanic is capable of achieving. HelioPOPolis is exactly what you'd expect from one of these releases, with a little bit extra – the Ante Bet, Synced Reels, Guaranteed Wilds, and the mini bonus achieved from unlocking all reels in the base game. None of it is necessarily new – if anything, it all seems to have rolled over from HipHopPop, but it works nonetheless.
Things look great, which is something the team haven't ever really struggled with, but it's still not particularly unique looking when compared to its' siblings in the series – all 15 of them. This begs the question – will AvatarUX ever branch out, or should we expect a lifetime of similar releases? Interestingly even if it were the latter, I'm not sure it would be a problem – players love the PopWins series, and as long as we can keep seeing new tweaks we'll probably keep playing and enjoying them.
The base game is fine, kept ticking over nicely by the few features available but it's all about Free Spins really, where things kick up a notch. Depending on the rewards chosen you'll see a different kind of feature, but in either case wins are possible up to 20,000x bet when the right combinations hit. Maths, however, is highly volatile – so it won't be a walk in the park. Maybe a bit more like a trek across the desert – which is apt, the theme considered.
Finally, RTP is fixed at 96.0% and that's all she wrote – literally. If you're a fan of this series HelioPOPolis offers another example that you probably didn't need, but might still want. If you really haven't been convinced by now, I'm not sure anything could change your mind.
*The screenshots taken of games reviewed on this site are taken from Demo Play, as reviews are often written before games are released for real play.