As 2022 rounds to a close, developer AvatarUX are continuing to make good use of their flagship PopWins mechanic, more than two years after its' inception. After a brief side step to introduce their new MultiPop mechanic, the team are back again, and this time they're doing it in style, in HipHopPop. With wins on offer up to 20,000x bet, this super high volatility release comes with RTP options up to 96.05%.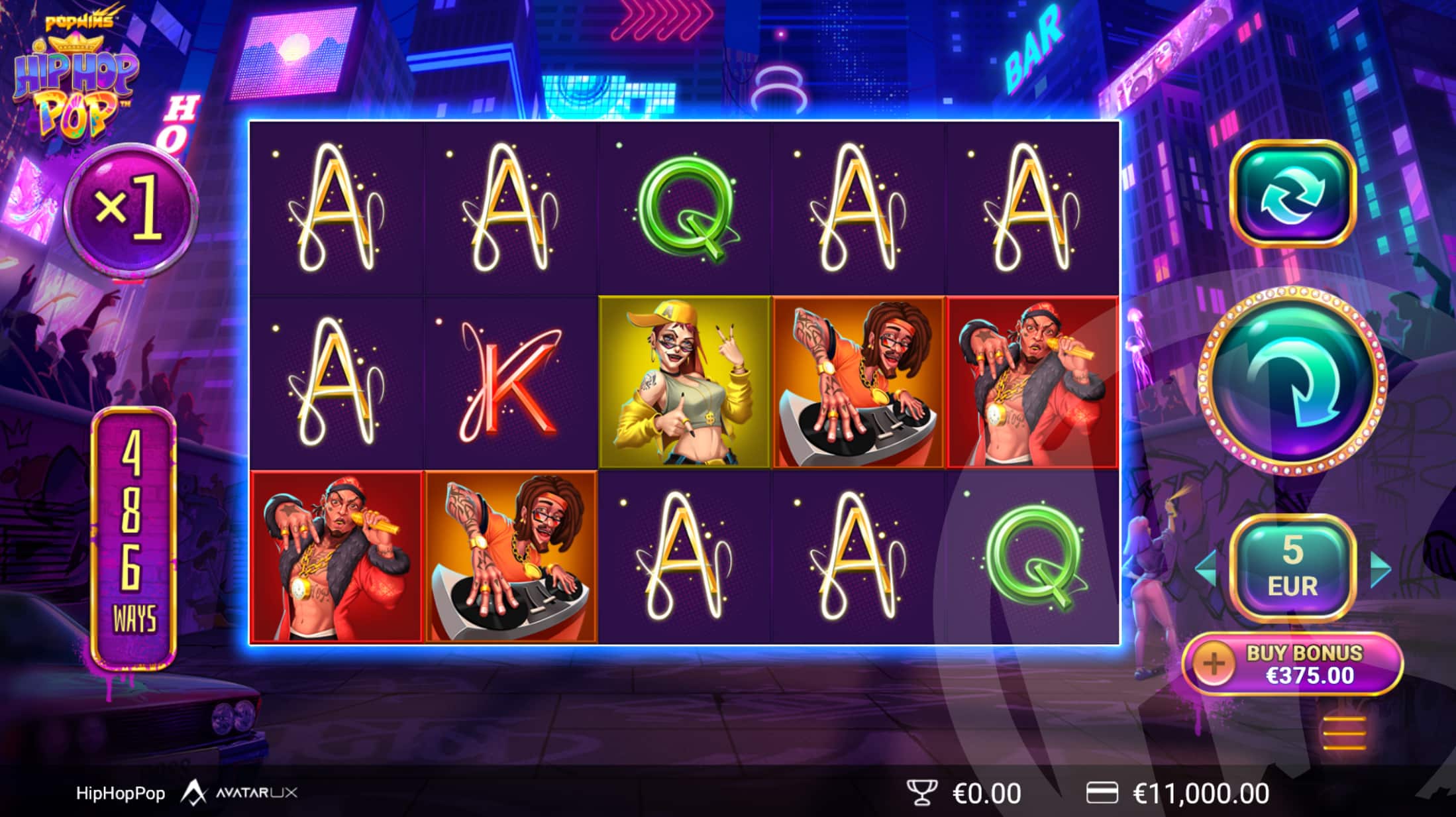 Visually, it's all very purple. We're in a city, with crowds fathering to the left and right, in one of those lowered grounds where you'd see a rap battle or something happen in a cliche movie. But still, it looks good. Symbols, the user interface design, and music all go further in tying this together, although with the obvious example of Nolimit City's East Coast vs West Coast acting as a comparison, audios seem rather tame.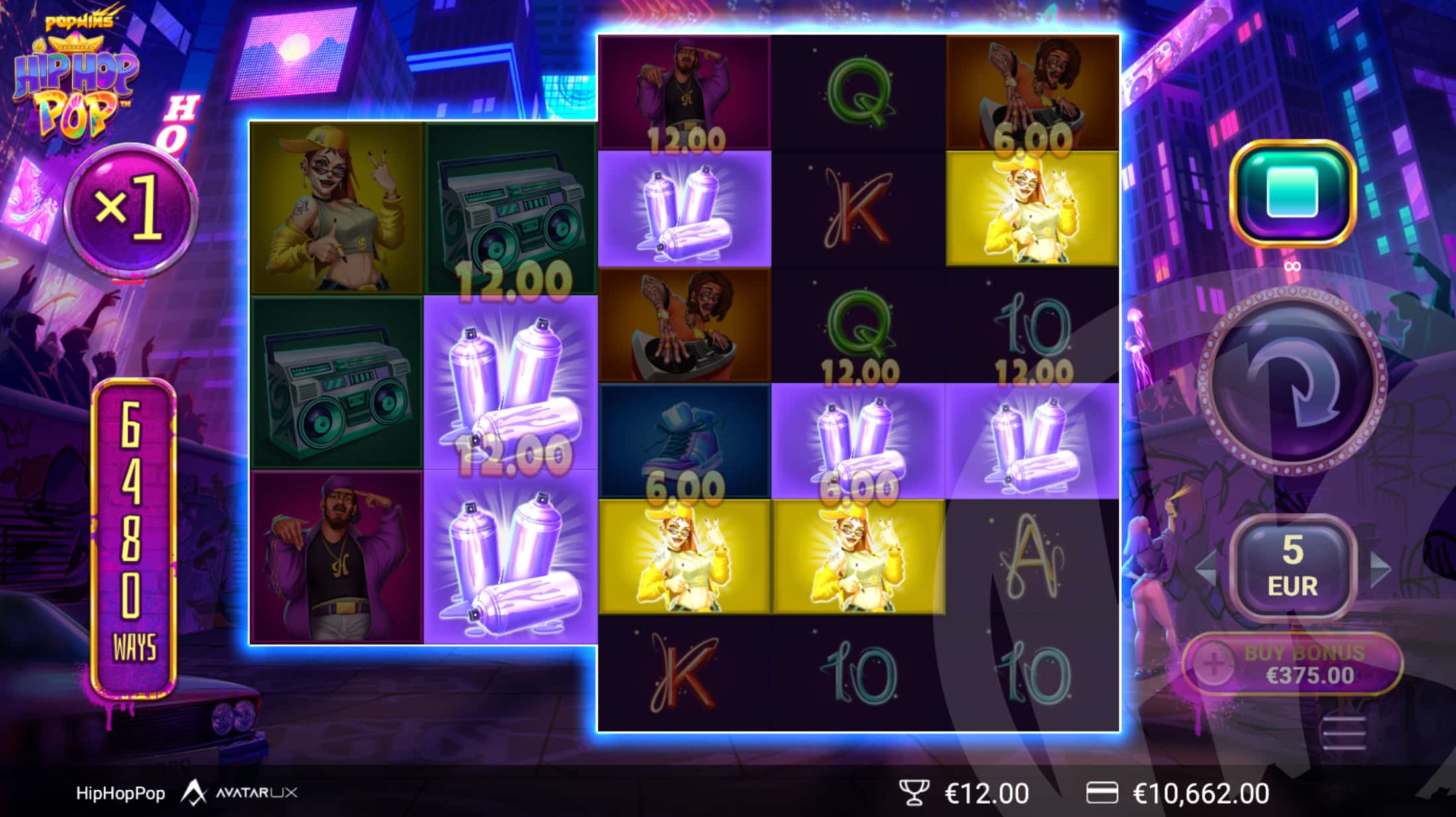 HipHopPop Base Features
Taking place across 5 reels, wins are formed on HipHopPop by matching at least 3 symbols on adjacent reels, beginning with the leftmost or rightmost reel, as wins pay both ways (although 5 of a kind wins only pay one way). Reels begin with 3 symbols on each, producing 486 ways to win, although this can grow with the help of the PopWins mechanic, which we'll get to in a moment. Symbols begin with non premiums, with 9s, 10s, Js, Qs, Ks, and As, awarding wins between 0.30 and 0.40x bet, increasing to values between 1.2 and 1.6x bet for 5 of a kind. Premiums come in the form of spray paint, high tops, a boombox, and four character symbols. Land 3 of a kind premiums to see wins between 0.80 and 2x bet, increasing to values between 2.5 and 8x bet for 5 of a kind. Finally, we have a super high paying golden dollar symbol awarding wins of 4, 7.5, and 15x bet for 3, 4, and 5 of a kind, respectively, and a golden skull Wild symbol, which substitutes for all other symbols and only appears during Free Spins.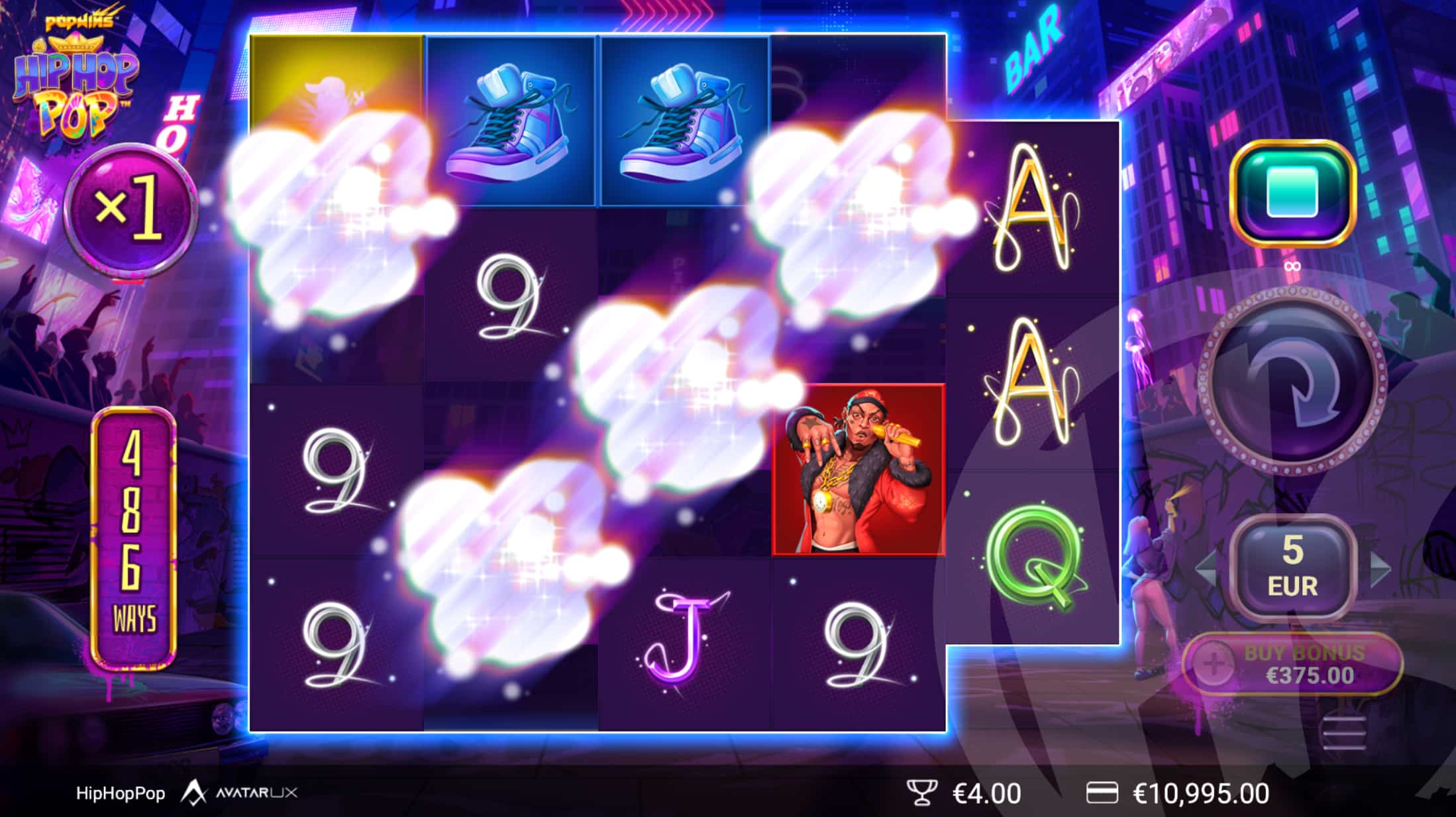 Alright so the main thing to cover in HipHopPop is the PopWins mechanic. On every spin, all symbols involved in winning combinations are removed from the reels and replaced by two new symbols – therefore increasing the reel height and ways to win. In the base game, reels can expand to hold 6 symbols on each, producing 15,552 ways to win – as both ways pay. PopWins continue until no more wins are formed, and when they have finished reels will reset to their original height ahead of the next paid spin.
HipHopPop Bonus
When all reels have been increased to 6 symbols high, Free Spins will be triggered. Before Free Spins begin, players have the opportunity to increase their spins and unlock the Bonus Pick by spinning the Gamble Wheel. Winning the Gamble Wheel can grant more Free Spins or activation of Guaranteed Wilds and/or Synced Reels on every spin. Losing the gamble will forfeit the bonus, and you will return to the base game without playing any Free Spins. The following Bonus Modes are possible:
The bonus starts with 6 to 8 Free Spins, with random Guaranteed Wilds or Random Synced Reels.
Winning the first gamble will award 7 to 9 Free Spins, with Random Guaranteed Wilds, Random Synced Reels, or both.
Winning the second gamble will award up to 10 Free Spins, with the ability to choose a Free Spin mode – Synced Reels on every spin, or Guaranteed Wild on every spin.
The Gamble Wheel can land on a special Golden Field. On the first gamble, this will award up to 12 Free Spins, and on the second this will award up to 13 Free Spins.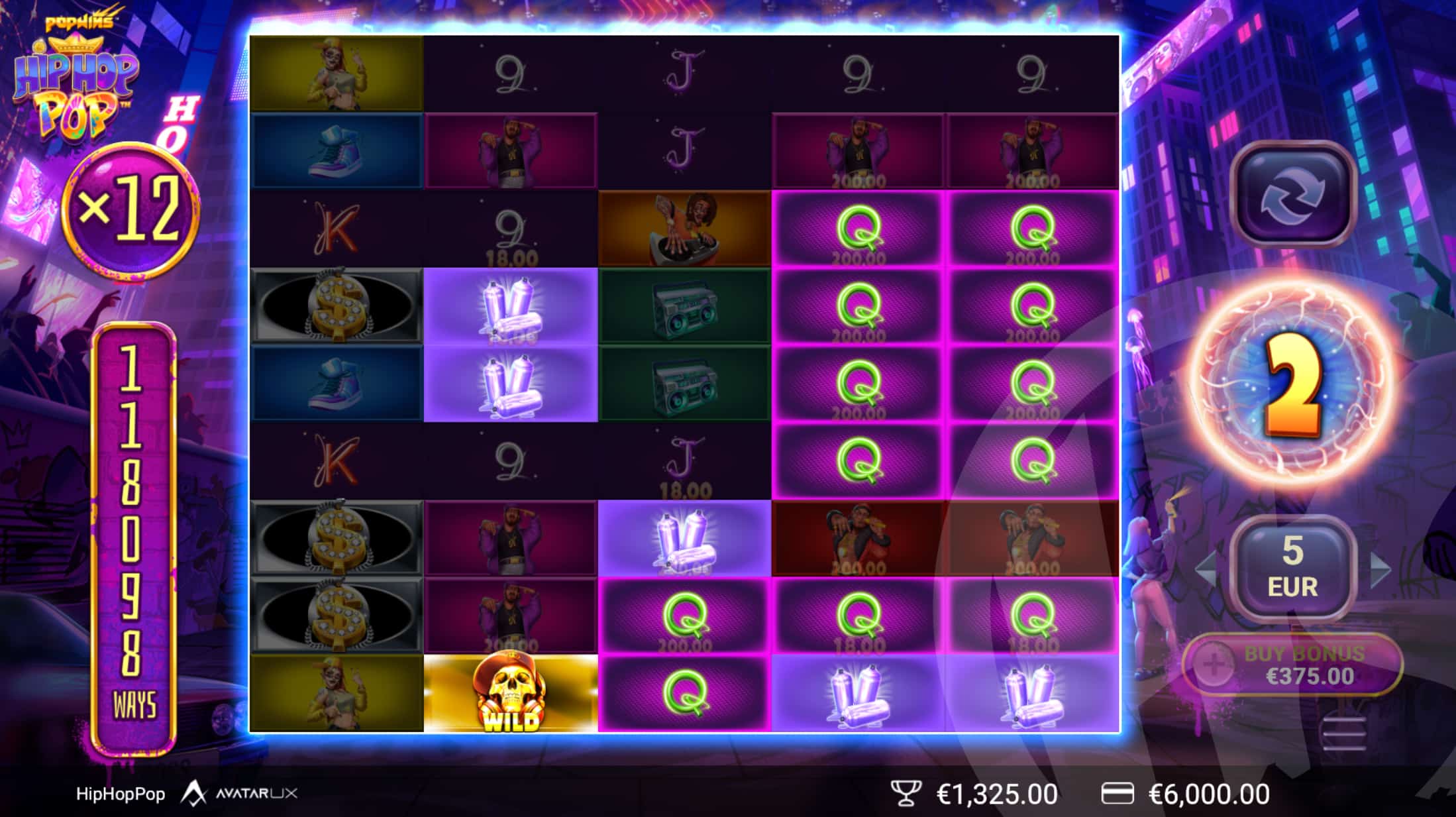 So firstly, during Free Spins reel heights do not reset between spins. Instead, they will only reset to the height of the shortest reel. Each reel can expand to hold 9 symbols on each, producing 118,098 ways to win – as both ways pay.
Alongside this, all Free Spin rounds will start with a x2 multiplier, no matter what features have been awarded or chosen. For each PopWin, the multiplier will be increased by +x1, after wins are paid. There is no limit to how high the multiplier can climb.
Fully unlocking reels in Free Spins gives an immediate +x4 multiplier increase, and an additional +x4 increase to the multiplier for every PopWin in the round (after wins have been paid). An additional +2 spins will also be awarded upon unlocking all reels.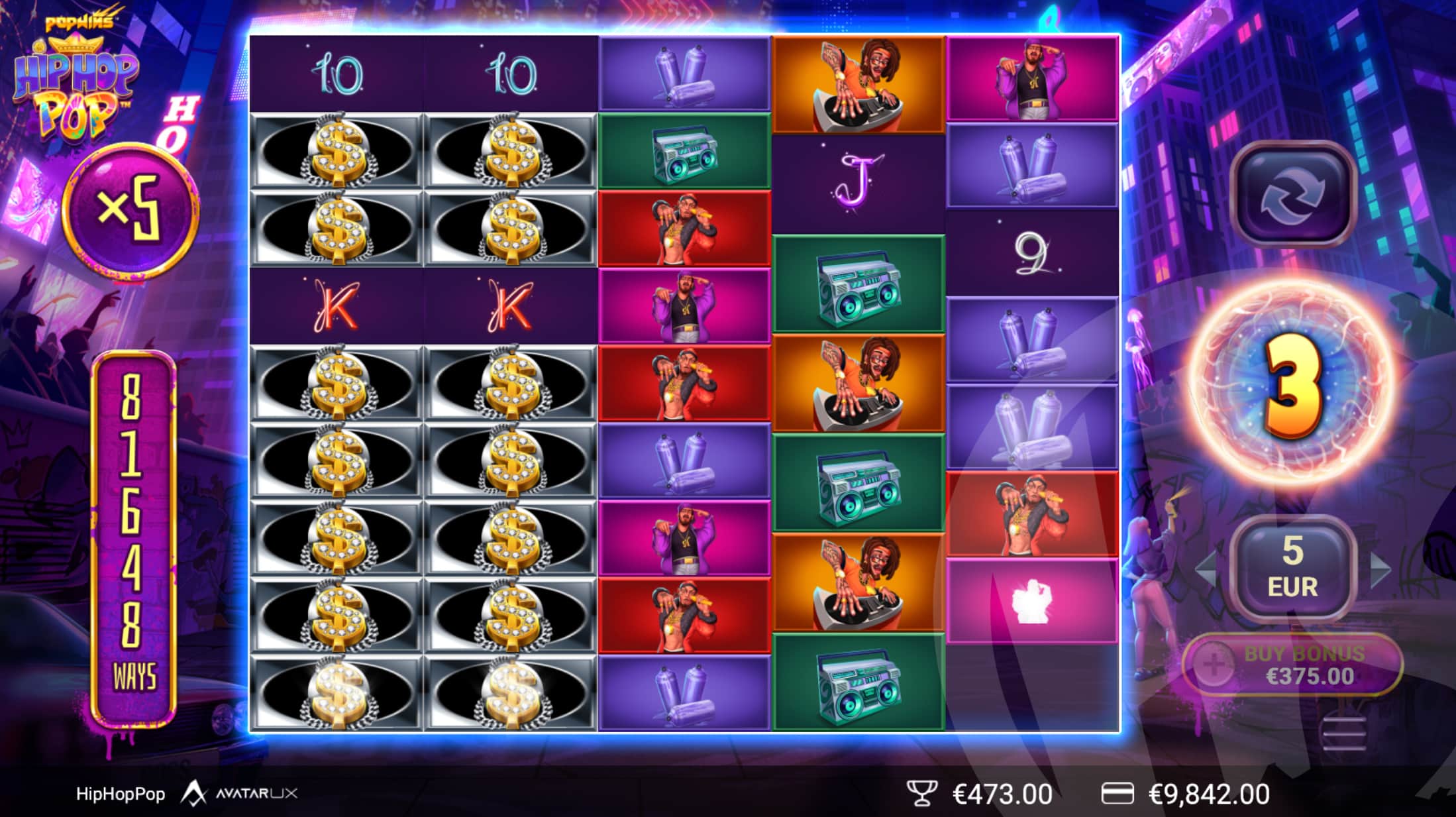 So, to explain more of the features mentioned above, players will have the opportunity to see Synced Reels and Random Wilds in HipHopPop – with their frequency determined by the Bonus Mode you receive as a result of the Gamble Reel or Buy Bonus option.
Synced Reels – during the spin, 2 adjacent reels become synchronised and land identical symbols for a higher chance of forming a winning combination. Reels will remain synchronised during PopWins.
Random Wilds – wild symbols can land during Free Spins, and substitute for all symbols.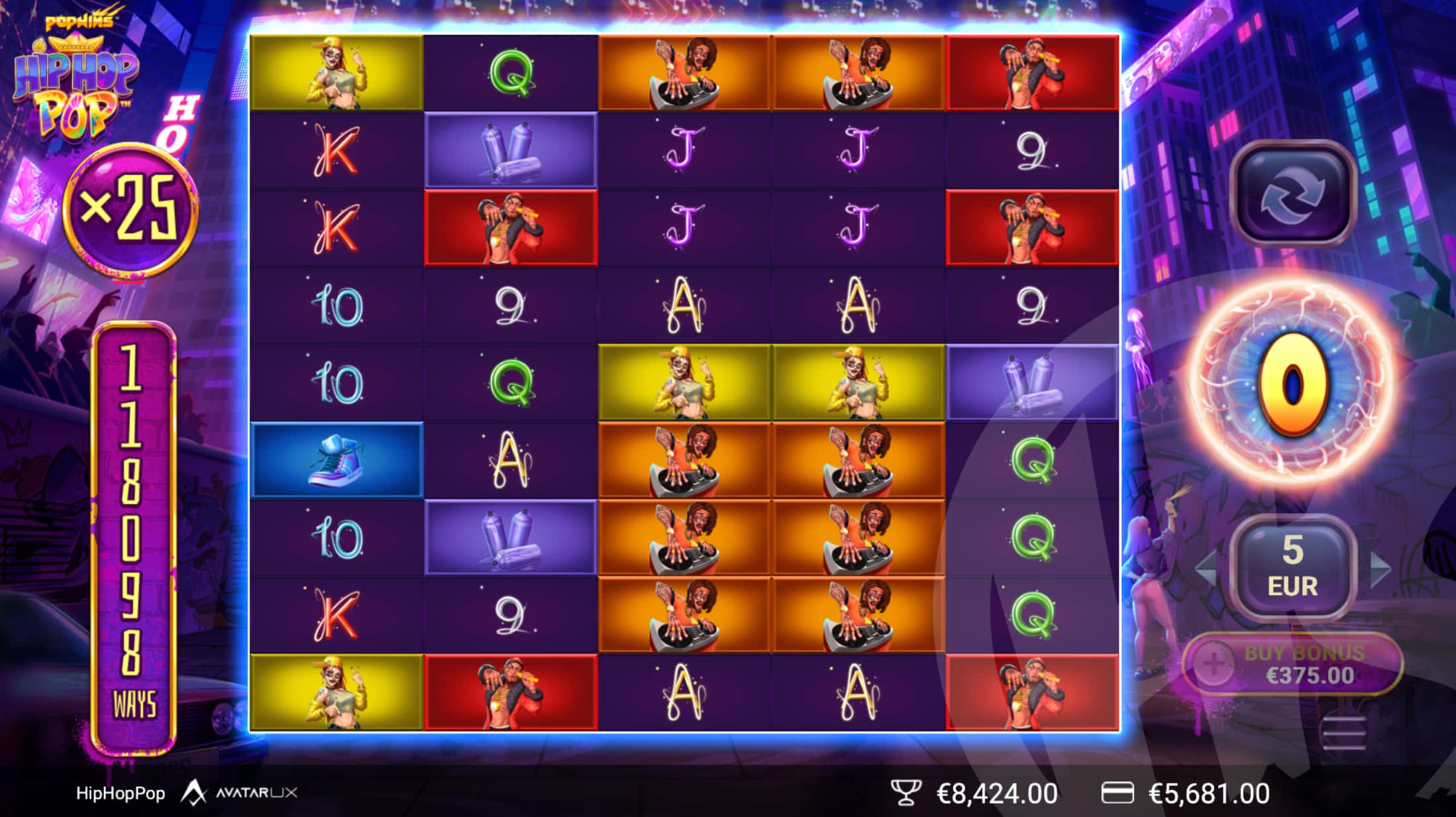 Finally, players in appropriate regions can take advantage of the following Buy Bonus options:
75x bet – up to 8 Free Spins with Random Wilds or Synced Reels.
75x bet – gamble up to 13 Free Spins with Guaranteed Wilds or Synced Reels.
300x bet – up to 10 Free Spins with Synced Reels.
300x bet – up to 10 Free Spins with Guaranteed Wilds.
1,000x bet – up to 12 Free Spins with Synced Reels and Guaranteed Wilds.
The maximum win available in HipHopPop is 20,000x bet. If the sum of a single game round exceeds this, the game round will end and 20,000x bet will be awarded.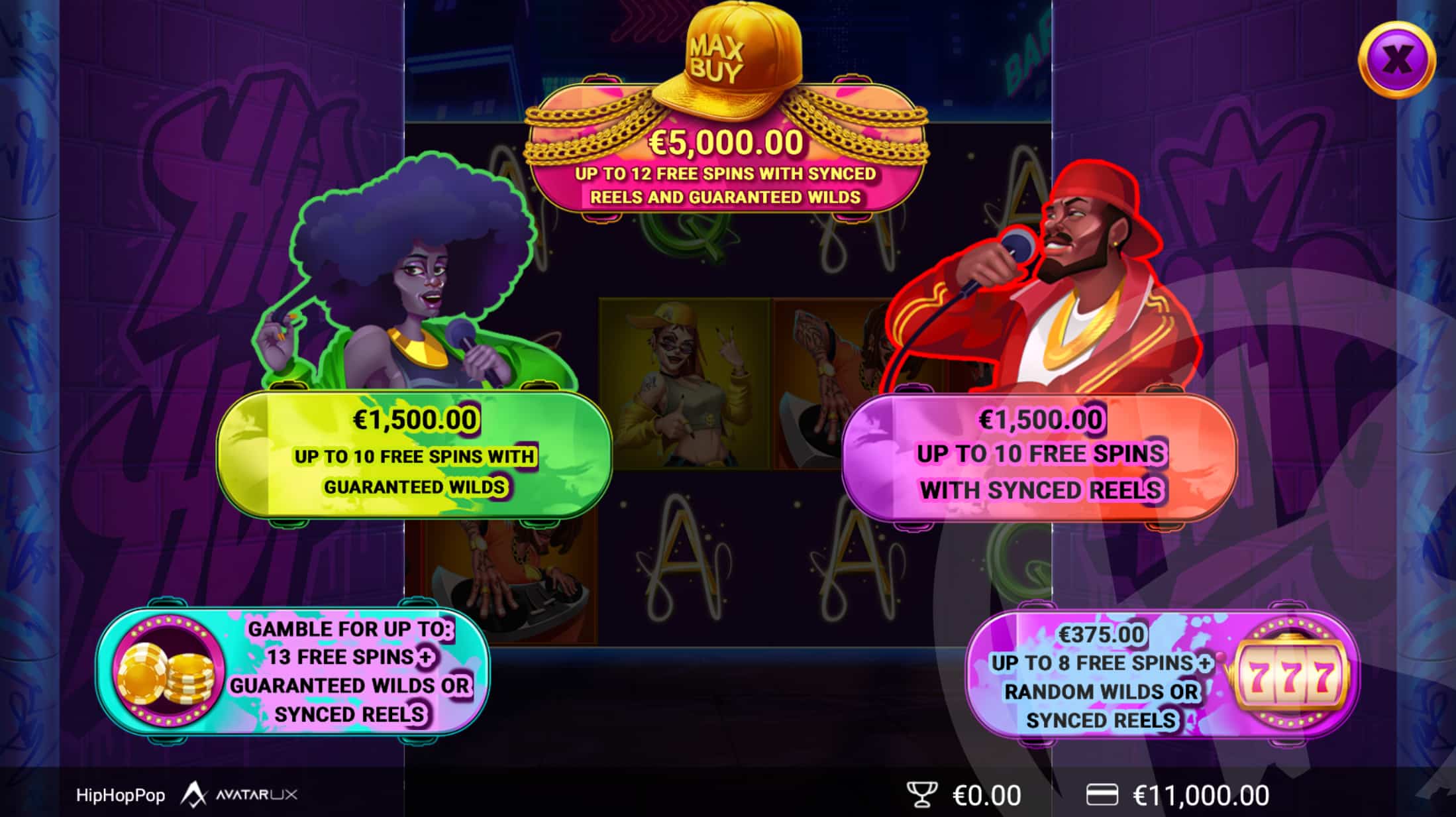 First Impression
Well, we're back here again. It's starting to feel like no time at all passes before AvatarUX are coming out with another PopWins release – it was this same week we reviewed their upcoming release, KokeshiPop. It's a credit to the team really, who show no signs of slowing down in the production of one of the most player-popular mechanics to date.
The artwork in HipHopPop is, as expected, pretty stellar. AvatarUX don't shy away from the artwork they produce – always putting their own twist on it, and diving deep within the theme to integrate it throughout. We did compare this one to East Coast vs West Coast above when considering audios, but I don't think it's necessary or appropriate when considering the artwork. Not only is art subjective, but these two teams have their own distinctive style, and in this release AvatarUX's style works a treat.
Gameplay is about as solid as you expect in the base game, which doesn't feature any of the bells and whistles that we're sometimes offered in this series. In this one it's all about the Free Spins, which certainly do deliver – especially for those able or willing to opt for the Buy Bonus options. The maximum cost of these options sits at 1,000x bet, but there are plenty of rewards to be reaped thanks to a win multiplier, Guaranteed Wilds, and Synced Reels available on every spin. If you aren't going to go for this (or any) option, these features provide plenty of enjoyment anyway throughout Free Spins, with wins available up to 20,000x bet when the right combinations hit.
RTP options are available of 94.0% and 96.05%, so as always it's worth checking, and maths is super high volatility. I mean, if you're already a fan of this series it stands to sense that you'll appreciate HipHopPop. Outside of this, maybe this cool theme will be enough to lure you in.
*The screenshots taken of games reviewed on this site are taken from Demo Play, as reviews are often written before games are released for real play.