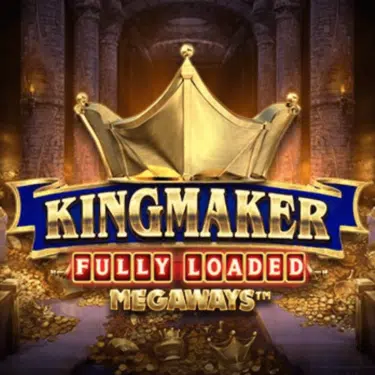 Kingmaker Fully Loaded Megaways
Game Provider: Big Time Gaming
Release Date: Available Now
Kingmaker Fully Loaded Megaways
Game Studio Big Time Gaming
Release date Available Now
RTP 96.53%
RTP Feature Buy N/A
Paylines Up To 16,807
Volatility High
Min Bet 0.10
Max Bet 20
Max. Win 24,250x
Rating 9/10
Back in 2019, Big Time Gaming introduced us to Kingmaker Megaways; a peaceful looking release that had a plethora of potential buried beneath its friendly surface. Using their own popular Megaways Mechanic, Kingmaker was a game that only the bravest of heart went to battle with – capable of producing wins up to 24,250x bet in size, but capable too of keeping players waiting for hundreds, if not thousands, of spins to see it. Now, the team at Big Time Gaming are going back to revisit the classic, although this time things have changed slightly, resulting in Kingmaker Fully Loaded Megaways – a highly volatile release with an RTP of 96.53%.
Visually, Kingmaker Fully Loaded takes on the same stylings as the original, with an aesthetically pleasing landscape of clear blue skies, snowy mountains, green grasses, and a lake with waters so crystalline the entire environment is clearly reflected within. To the right hand side of the screen, a white castle with bright red spires sits in view, and each symbol on the reels has a stained glass effect, with the background just ever so slightly tinted, allowing the landscape to show through. Audios are light and peaceful, yet somehow triumphant, although they are almost drowned out by the reel sounds.
Kingmaker Fully Loaded Base Features
Taking place across 5 reels, between 2 and 7 symbols can land on each reel, for a total potential of up to 16,807 ways to win. Wins are formed by matching at least 3 symbols in any position on adjacent reels, beginning at the leftmost reel. Symbols available include the lower paying selection of 9, 10, J, Q, K and As, awarding players between 0.1 and 0.2x bet for 3 of a kind wins, increasing to between 0.3 and 0.4x bet should 5 of a kind matches land. Moving into the premium end of the pay table, and we meet a selection of gems – green, blue, red and purple in colour, each engraved with various images. Land 3 of a kind green, blue or red gems will award wins between 0.25 and 0.3x bet, whilst 5 of a kind wins awards between 0.5 and 0.7x bet. Finally, purple gems are the highest paying symbol and the only symbol which pays for 2 ways, coming in at 0.75x bet. Land 5 of a kind purple gems and you'll be treated to wins of 10x bet.
Wilds substitute for all symbols except Scatters, represented by golden crowns, and land on reels 2, 3, 4 and 5.
At the left of the reels there are four flags, each of which the colour of a premium symbol with the relevant image imprinted upon them, and a multiplier – the Gem Multipliers. Previously, in the original Kingmaker, players would begin with a x1 multiplier on each gem, and would then build this multiplier by achieving 5 of a kind wins. Each time a 5 of a kind win would land with any of the premium symbols, the respective multiplier would then increase by +1, and subsequently any future wins involving that premium symbol would be multiplied by the respective value. When free spins did eventually trigger, all multipliers would be added together, and granted as an overall win multiplier for the duration of free spins.
As a result of how the original Kingmaker played out, it became known as a 'grind game', securing itself as a game only to be played by those with enough time and funds on their hand to potentially await a feature for hundreds of spins, or more. However, given that the multiplier was growing, players began to expect that the longer the wait, the 'better' the bonus.
In this new, Fully Loaded version, rather than beginning at x1 and building the multiplier, random values will now be assigned to each Gem Multiplier at the beginning of each spin, with potential values up to x99 each. These multipliers will then be applied to every win for the respective gem during that spin of the base game.
Kingmaker Fully Loaded Bonus
Landing 3, 4 or 5 Scatters awards 7, 12 or 20 free spins, with trigger values of 4x, 2ox and 250x bet, respectively. As the sun sets, we move inside the castle walls to an area filled with gold coins and low lighting, and the feature will begin. During free spins, a win multiplier is active – the combined total of all individual Gem Multipliers awarded at random at the beginning of the triggering spin. The win multiplier, displayed to the left of the reels, is applied to all wins achieved during free spins, which is at least 3 of a kind of any symbol except the topmost purple diamond – 2 of which will trigger a win.
In the same way as the original, Kingmaker Fully Loaded free spins will always feature the maximum amount of Megaways as is possible from the game on every spin – in this case 7 symbols on each reel, for a total of 16,807 ways to win. 
3, 4 or 5 Scatters landing during free spins will retrigger the feature, awarding an additional +7, +12 or +20 free spins respectively.
First Impression
Kingmaker was one of the first releases in which players felt as though they really had to grind things out to get the feature. Of course, Holy Diver had been released a few months prior, and some would consider it a grind game, but players had the option within Holy Diver – you could collect the earlier feature if you wanted, and it felt like a choice to grind it out. When Kingmaker was released it flipped what we knew on its head, by telling us that an early feature isn't always better, and in this case – it definitely wasn't. Players soon came around to the idea of seeing how high they could build the multiplier, and how good a feature they could trigger, especially when considering the maximum Megaways available in the feature (maximum ways in Kingmaker is 16,807 ways, not 117,649 as we have become accustomed to).
What made Kingmaker particularly exciting was the point at which the multiplier climbed so high, that players could begin to see spectacular wins within the base game, to the point where we hoped a bonus wouldn't come – we'd much rather keep chalking up decent wins, all the while knowing our bonus win multiplier is getting bigger. When the feature finally came, sometimes we were left disappointed, but the excitement along the way helped towards keeping the entire experience positive.
Kingmaker Fully Loaded takes all of this, and flips it on it's head once again. With random multipliers at the beginning of every spin we no longer need to grind, nor do we feel the bonus will be 'better' as things progress. Instead, we're returning to the heart of slots – truly random, relying on our own luck to hope the feature we trigger will be on the 'right' spin. What is exciting, however, is that the random multiplier could still throw those decent base wins out, and could do so without us having to spin through hundreds of rounds to reach that point. With an RTP of 96.53% and high volatility levels, we know Kingmaker Fully Loaded is capable of producing huge wins, although as expected Big Time Gaming have opted not to cap the potential.
Fans of the original need not be disappointed – the grind is still available, should you desire. If, however, you're looking for something that requires less of a commitment, or your bankroll is smaller than usual, Kingmaker Fully Loaded could be the one for you.
If you like this, you'll like Slot Vegas Fully Loaded Megaquads.
*The screenshots taken of games reviewed on this site are taken from Demo Play, as reviews are often written before games are released for real play.