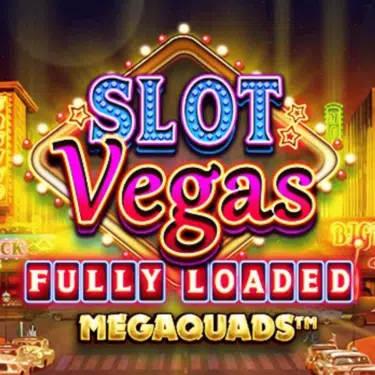 Slot Vegas Fully Loaded Megaquads
Game Provider: Big Time Gaming
Release Date: Available Now
Slot Vegas Fully Loaded Megaquads
Game Studio Big Time Gaming
Release date Available Now
RTP 96.61%
RTP Feature Buy N/A
Paylines Up To 16,777,216
Volatility High
Min Bet 0.10
Max Bet 20
Max. Win 31,200x
Rating 9.1/10
You'd be hard pressed to find a gambler across the world who, upon hearing the word 'Mega', wouldn't immediately think 'ways'. The 2015 mechanic, pioneered by Big Time Gaming, has swept the sector since it's debut, with a multitude of providers opting to take on the license and offer players their own Megaways editions. Indeed, Megaways proved so popular that Big Time Gaming announced in 2020 that they would be bringing us 3 more Megas by the end of the year. The first was Megaclusters, and the third was Megapays, which we have most recently seen in Millionaire Megapays. However, it's the second Mega we'll be focusing on today – Megaquads – originally released to us in the form of Slot Vegas Megaquads. This year, the team are revamping the original to bring us Slot Vegas Fully Loaded Megaquads – a highly volatile release, with up to 16,777,216 ways to win and an RTP of 96.61%.
Visually, not much has changed since the original, with the action taking place in the heart of a city filled with gambling in the day time – perhaps Las Vegas, as the name suggests. The stylings, however, lean more towards Fremont Street than the premier ends of the Boulevard Strip, with fluorescent, motels, and neon flashing lights – a distinct juxtaposition from the opulence of Caesar's Palace and the likes. Audios are the same interesting stylings we were treated to before, with upbeat, almost country styled music mixed amongst She'll Be Coming Round The Mountain When She Comes and Somewhere Over the Rainbow, the latter of which is reserved for the juiciest of spins.
Slot Vegas Fully Loaded Base Features
Taking place upon an 8×8 grid, each 4×4 space is separated into it's own reel for four games in one, meaning Slot Vegas Fully Loaded offers players 256 ways to win in each section. Wins are formed by matching at least 3 premium symbols, or 4 non-premium symbols, in any position across the reels, beginning at the leftmost reel of each 4×4 reel space. Non-premium symbols available are 9, 10, J, Q, K and As, paying between 0.05 and 0.15x bet for 4 of a kind. Premium symbols are firstly 3 Vegas styled Lucky 7s – green, blue and red in colour – paying between 0.3 and 0.5x bet for 4 of a kind, whilst 4 of a kind purple diamonds will reward players with 1x bet.
Regular Wild symbols can appear on reels 2, 3 or 4, and substitute for all symbols except Scatter symbols, represented by gold VIP coins, and Rainbow Wilds. Rainbow Wilds can land on reels 2 and 3, and also substitute for all symbols except Scatters.
Helping to bring the action within the base game is the Rainbow Wild Bonus, which occurs whenever at least one Rainbow Wild symbol lands on each of two 4×4 reel spaces next to either horizontally. When this happens, the 1990 track Somewhere Over the Rainbow will play, and the two reel spaces will link via a rainbow, forming one 8×4 space with 65,536 ways to win. A Regular Wild symbol will be added at random to reels 4 and 5, and any wins will then be paid.
During the Rainbow Wild Bonus, symbols can pay up to 8 ways, with non-premiums paying between 0.25 and 0.35x bet, and premium Lucky 7s paying between 0.7 and 0.9x bet. Landing 8 of a kind purple diamonds remains the highest paying win – awarding players wins of 2x bet.
Individual Symbol Multipliers will be active during the base game, for each of the three Lucky 7s symbols, and the diamond. These are easily tracked through the display to the left of the reels. Previously, in the original Slot Vegas Megaquads, players would begin with a x1 multiplier on each of these symbols, which would increment by +1 each time a 4 of a kind win was formed, with multipliers climbing as high as x20 plus for each symbol. Given that once free spins were triggered, all of the multipliers were combined to be awarded as a win multiplier during free spins, this led to Slot Vegas Megaquads being regarded as a 'grind game', wherein the longer players await a bonus – the 'better', as they expect the multipliers to be higher.
Now, rather than beginning at x1 and building our multipliers as we collect wins, in Slot Vegas Megaquads Fully Loaded we are instead awarded random Symbol Multipliers for each of the four premium symbols at the beginning of each spin. Each multiplier will be given a random value between x1 and x100, and these multipliers will then multiply their respective premium wins in the base game. Worth also noting that many players previously regarded the x30-x40 stage of grinding the original game as the point wherein after moving behind, they could begin to move ahead again, with each win being multiplied by quite substantial values. In this newer, Fully Loaded version, players could achieve these wins without having to 'move behind' to begin with.
Slot Vegas Fully Loaded Bonus
Landing 4 Scatters in any position on any of the 4×4 reel spaces will trigger 6 free spins, plus an additional +3 spins for every extra Scatter beyond 4. During free spins, which takes place at night time with the shining lights of the city, the two left hand reels are joined vertically, as are the two right hand reels, forming two 4×8 reel spaces, each with 4,096 ways to win.
The multiplier active during free spins, which is displayed to the left of the reels, will be the combined total of all individual premium Symbol Multipliers awarded at random at the start of the triggering spin. This win multiplier will then be applied to all wins achieved during the free spins rounds – that is, any win involving at least 3 of a kind premiums or any win involving at least 4 of a kind non-premiums.
The Rainbow Wild bonus is active during the free spins feature, however as the reels are already vertically connected this feature will trigger and connect the two visible reels into one main 8×8 reel space – giving players 16,777,216 ways to win.
Landing 4 or more Scatters during the feature awards a retrigger, with +6 free spins added, plus an additional +3 free spins for every extra Scatter beyond 4.
First Impression
At first glance, you'd be forgiven for thinking Slot Vegas Fully Loaded Megaquads is no different from the original, particularly when considering audiovisuals, however the one change that has been made has changed the entire experience. Slot Vegas Fully Loaded is now a regular game, wherein players can hope to trigger a bonus as quickly as possible – there's no grind to be had here. (Side note: this may open the game up to more regions as certain regions opt to not include 'grind games', believing them to be less random.)
With random multipliers awarded at the beginning of every spin, players could trigger a bonus with individual multipliers up to x100 within their first 50 spins, whilst other players could spend considerably longer playing, only to trigger a feature with smaller multipliers – such is the game, the randomness, and the excitement.
On a statistical side, the RTP is solid at 96.61%, volatility levels are high, and although no maximum win has been specified, we know Big Time Gaming frequently opt not to cap their releases. With up to 16,777,216 ways to win, and four individual multipliers up to x100 on offer, it becomes obvious Slot Vegas Fully Loaded is capable of throwing some huge hits out.
It's quite an achievement to re-release the same game, yet completely change the playing experience. What results, however, is a truly random game with insane potential, whilst the original remains available for players who instead prefer to build excitement, and grind it out, believing something good is coming their way.
If you like this, you'll like Kingmaker Fully Loaded Megaways.
*The screenshots taken of games reviewed on this site are taken from Demo Play, as reviews are often written before games are released for real play.