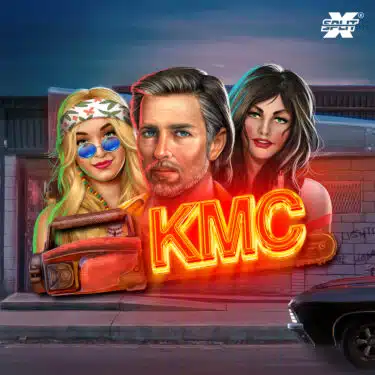 Kiss My Chainsaw
Game Provider: Nolimit City
Release Date: Available Now
Kiss My Chainsaw
Game Studio Nolimit City
Release date Available Now
RTP 92.13% - 96.10%
RTP Feature Buy 96.48%
Paylines Up To 259
Volatility Extreme
Min Bet 0.20
Max Bet 200
Max. Win 10,900x
Rating 8.5/10
If something terrible ever happens to me and you read on the news that I had been hitchhiking at the time, this is my official declaration that it isn't true. I've seen too many movies, television shows, and just heard too many horror stories in general to ever get into the car of someone who would stop and pick up a stranger – or let a stranger into my car. Nevertheless, people do still do it, and even though I might think they're taking their life in their hands, they maybe prefer to consider instead that they're trusting in the good side of humanity. Whatever. Either way, it's time for another horror story today courtesy of Nolimit City as we leave behind the abandoned cathedral of Blood & Shadow to visit a town somewhere along Route 66 on a quiet summers night. You know what they say though – sometimes it's too quiet, since we're here to bear witness to two young, female hitchhikers, who inadvertently caught a ride with Chainsaw Larry, known to 'enjoy the sweet and satisfying fragrance of fear and fuel' (uh hello?! New fear unlocked) in Nolimit City's Kiss My Chainsaw. With RTP options available up to 96.10% (96.48% feature buy), this extremely (10) volatile release can produce wins up to 10,900x bet.
Far as I can tell, there's nothing overt to help us understand what state we're in today, although by the looks of the stretch of road, probably Arizona or New Mexico. Anyway, we're at a bar and grill, with a neon KMC (Kiss My Chainsaw) sign on the wall, and some graffiti on the brickwork. It's not completely grim, but it's not particularly nice either. The reels take up most of the space, showing off licence plates, backpacks, keys, cameras, lighters, tool boxes, our poor female characters, and Chainsaw Larry – although the team have drawn him to look pretty normal (and suspiciously like Scott Disick) unlike the Bodycam Butcher of Serial. A bold soundtrack ties it all together, with a country twang to it.
Kiss My Chainsaw Base Features
Taking place across 5 reels, wins are formed on Kiss My Chainsaw by matching at least 3 symbols on adjacent reels, beginning with the leftmost reel. We're back to 'Connected Win Ways' today like we saw in Road Rage, which means symbols can land in any position on adjacent reels, provided they are on the same row, or one row up or down. Symbols available begin with non premiums, with lighters, cameras, keys, backpacks, licence plates, or tool boxes, awarding wins between 0.20 and 0.60x bet for 3 of a kind matches, increasing to values between 0.40 and 1.25x bet for 5 of a kind wins. At the premium end, we have Route 66 signs, a brunette female character, a blonde female character, and Chainsaw Larry – although I guess at this point he's just 'Larry'. Land 3 of a kind of any premium to see wins between 0.60 and 1x bet, increasing to values between 1.75 and 3.50x bet for 5 of a kind matches.
We'll talk about Chainsaw Larry Spins later in the review, but you should know that on these spins, the value of Chainsaw Larry (when he has the creepy rabbit mask and acts as a Jumping Wild) takes on the value of the Route 66 symbol, and every other premium shifts up one position in terms of their value.
So the first thing to cover is the most simple – tumbles. On every spin, all symbols involved in winning combinations will be removed from the reels. The remaining symbols will then drop down to the bottommost available position on their respective reels, with new symbols dropping in from above to fill any remaining gaps. Tumbles continue until no new wins are formed.
Next up are Wild symbols, which can land on reels 2-5. Wild symbols can appear in 3 forms – normal Wild symbols, Charged Wild symbols, or Chainsaw Larry symbols. Chainsaw Larry symbols can only appear during Chainsaw Larry Spins, so for now we'll ignore those. Normal Wild symbols act as you'd expect them to, but Charged Wilds come in the shape of a gas can. Each time they are part of a win, their gas depletes slightly, but their multiplier is doubled. Charged Wilds stay on the reels throughout tumbles until they have no gas remaining. Wilds substitute for all regular pay symbols.
Finally for the base game is Burnout. When 2 car Scatter symbols land on the reels, Burnout is triggered after all wins have been paid and tumbles have finished. All symbols will be removed from the reels during Burnout, including the Scatter symbols, allowing new symbols to fall in.
Kiss My Chainsaw Bonus
Land 3 Scatter symbols on different rows to trigger 8 spins of The Ride, whilst 3 Scatter symbols on the same row will trigger 9 spins of The Last Ride. During either feature the reel area is changed with an extra row added, meaning that each reel can hold 5 symbols rather than 4. Charged Wild symbols can also increase their multiplier to x4 before being destroyed.
Land 2 Scatter symbols during the feature(s) to trigger an additional +1 spins. If both Scatters land on the same row, Burnout is triggered, with the same rules as in the base game. The only difference between The Ride and The Last Ride is that a Scatter symbol is guaranteed on reel 5 during every spin of The Last Ride.
Landing 3 Scatter symbols during the feature(s) will upgrade it to Chainsaw Larry Spins and award an additional +3 spins. Charged Wilds continue to increase their multiplier to x4 before being destroyed in this feature. An additional Enhancer Reel is also added to the righthand side, although this does not contribute to any wins as it does not reveal regular paying symbols. It is at this point the pay table shifts, as we discussed above.
The Chainsaw Larry symbol will now appear on the reels, wearing a blood stained rabbit mask, and all other symbols will now be spattered with blood. The Chainsaw Larry symbol will act as a Jumping Wild, jumping to a new position on reels 2-4 at the start of every spin. If he jumps on any of the female character symbols, the overall win multiplier (displayed above the Enhancer Reel) is increased by +1.
The Enhancer Cell on the row that Chainsaw Larry lands on will be opened, revealing one of the following:
Smiley – awards +1 spin.
xSplit – doubles all symbol multipliers moving left between it and the Chainsaw Larry symbol. Each time a character symbol is split during this process, the win multiplier will again be increased by +1.
Lucky Feet – Chainsaw Larry will move to a different row and random position on reels 2-4, leaving behind a normal Wild symbol in the position he has moved from, and opening a new Enhancer Cell on his new row. If he moves to a position with an initial Charged Wild the Afterburner feature is triggered, changing symbol multipliers on the same row to x4. If the Charged Wild had a multiplier of x2, all symbol multipliers on the same row will become x2.
Players in appropriate regions can take advantage of the following Nolimit Bonus options:
The Ride – 66x bet (96.34% RTP)
The Last Ride – 155x bet (96.48% RTP)
Lucky Draw (50-50) – 111x bet (96.03% RTP)
The above RTP values are based upon the main game setting of 96.10% RTP.
The maximum win available in Kiss My Chainsaw is 10,900x bet (End of The Road). If the sum of a single game round exceeds this, the game round will end and 10,900x bet will be awarded.
First Impression
I think that felt like a lot to digest, but if we're being truthful it really wasn't. Nolimit City have a knack for packing a release full of features, but a lot of them can be quite similar. In this release we have a lot happening around Wild symbols, whether they be Charged Wilds, Jumping Wilds, or even normal Wild symbols. In the base game, this translates to an action packed experience, working to keep things moving forward and keep players interested.
Surprisingly, Free Spins don't massively pick things up, since we're pretty much just relying on the fact that Charged Wilds can now charge to x4, rather than x2. That said, we did see some pretty huge wins in testing from these symbols alone, so I guess when it works, it works. There's a lot here to remind you of Road Rage, except more. All of the hope sits on triggering Super Free Spins though, which interestingly can only be upgraded to from either of the regular features – you can't buy it. A new Enhancer Reel does its job in enhancing the experience, revealing xSplit, an additional spin, or Lucky Feet to further place Wilds on the reels, and it all works hand in hand with a win multiplier. When the right combinations land, wins are possible up to 10,900x bet.
Finally, maths is extremely (10) volatile, and RTP options are available up to 96.10% (96.48% feature buy), so as always it's worth checking this. There's something intriguing about Kiss My Chainsaw – it's not the highest potential release from this team, nor the most intense, but it works.
Other maths information, for those who are interested, is as follows:
RTP – 92.13% – 96.10% (up to 96.48% feature buy)
RTP Main Game  – 63.0%
RTP Bonus Modes – 33.10%
Hit Frequency – 28.61%
Win 100x bet – 1 in 1,353 spins
Free Spins – 1 in 200 spins
Max Win – 10,900x bet
Max Win Frequency – 1 in 9.4m spins (96.10% RTP)
*The screenshots taken of games reviewed on this site are taken from Demo Play, as reviews are often written before games are released for real play.