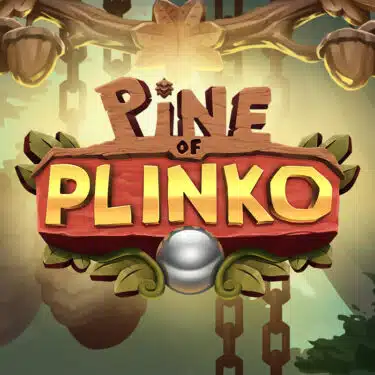 Pine of Plinko
Game Provider: Print Studios
Release Date: Available Now
Pine of Plinko
Game Studio Print Studios
Release date Available Now
RTP 93.48% - 96.48%
RTP Feature Buy 96.94%
Paylines 10
Volatility High
Min Bet 0.20
Max Bet 175
Max. Win 10,000x
Rating 8.7/10
Provider Print Gaming are back again, kicking off the new year with another one of their unique releases – both in style and mechanic. This time, however, they're teaming up with Relax Gaming to offer us two versions – Pine of Plinko, and Pine of Plinko Dream Drop, with Relax's flagship Progressive Jackpot attached. In either example, things are simple and quaint, a far cry from the team's latest release – Reapers. With wins available up to 10,000x bet (excluding Jackpots), Pine of Plinko comes with RTP options up to 96.78%, and a highly volatile maths model.
Well, it's an aptly named game, because the theme is definitely pine. The entire experience seems to take place inside of a little pinecone home (presumably that of our main character, Piney), with reels and surrounding areas enclosed in a nicely carved bark material. Symbols then take on this same vibe, tying the whole thing into one night little picture – almost in a magical, fairytale-like way. Audios further enhance this, with upbeat, flute styled music. All in all, Pine of Plinko is nice to look at, and has that distinctive Print Gaming style.
Pine of Plinko Base Features
Taking place across 5 reels, wins are formed on Pine of Plinko by matching at least 3 symbols across adjacent reels, beginning with the leftmost reel, across 1 of 10 fixed win lines. Symbols available begin with non premiums, with green, purple, and orange wooden carvings. Land 3 of a kind of any non premium to see wins between 0.20 and 0.30x bet, increasing to values between 2 and 3x bet for 5 of a kind. At the premium end, we meet 3 characters – Miney, Sleepy, and Santa – blue, green, and red in colour. Land 3 of a kind of these symbols to see wins between 0.60 and 1.20x bet, increasing to values between 10 and 50x bet for 5 of a kind. Finally, Piney is our main character, awarding wins of 2, 10, or 200x bet for 3, 4, or 5 of a kind, respectively.
As we mentioned, Pine of Plinko comes in two settings – with or without Relax Gaming's Dream Drop Jackpots. In either option, there's only one base game element to get to grips with – Scatter Boost. By betting an additional 75%, there are more Scatters on the reels, doubling the chance of landing the bonus:
Bonus Frequency – 1 in 100 spins
Scatter Boost Bonus Frequency – 1 in 50 spins
In the Pine of Plinko Dream Drop setting, it is of course possible to trigger the Dream Drop Plinko Jackpot game. This is achieved by landing 3 DD icons, which are bordered around regular paying symbols. When the Jackpot game is triggered, players are taken to a Plinko game and awarded unlimited balls. Keep pressing for balls to be released, and as they land they will fill meters for each of the jackpots available. When a meter is filled, the relevant jackpot is awarded:
Rapid – €1 seed
Midi – €5 seed
Maxi – €100 seed
Major – €25,000 seed
Mega – €500,000 seed
You are guaranteed to win one Jackpot in this feature. The Pine of Plinko Dream Drop version takes a 3% hit with RTP – from 96.48% (non Dream Drop version) to 93.48% (Dream Drop version). Scatter Boost increases these values to 96.78% and 93.79%, respectively. 
Pine of Plinko Bonus
In either setting, land 3 or more Scatters to trigger the Plinko Bonus. Each Scatter will contain a number on it – this can take on a value up to 99. The number of starting drops in the Plinko Bonus is the sum of all numbers on triggering Scatters.
When the feature begins, players will move to a Plinko game, where they will press the green button to drop balls into the Plinko machine. Players can continue clicking this button quickly to drop multiple balls at once, or drop one at a time. At any point, the button will display the number of drops left – each ball dropped decreases this number by 1.
As balls drop through the machine, they can hit 3 bumpers in the centre – each time one of these bumpers is hit, the meter above the Plinko game fills up. When it has been filled, 10 more drops are awarded with double the amount of balls per drop than the previous round – the initial round is 1 ball per drop, then 2, 4, 8, 16, 32, 64, 128, and finally 256 – which would actually amount to 2,560 balls across 10 drops.
When balls reach the bottom of the Plinko, whichever area they land in will be awarded as an x-bet value prize. The following prizes are possible – 0.1, 0.5, 1, 5, 10, 100, or 1,000x bet. All prizes are added together and awarded at the end of the Plinko Bonus.
Finally, players in appropriate regions can skip to the action with the Feature Bet – although this is only available in the Pine of Plinko version without Dream Drop. For a cost of 79x bet, players guarantee entry into the Plinko Bonus with a random number of Scatters, each with a random number on it.
The maximum win available in Pine of Plinko is 10,000x bet (excluding Jackpots). If the sum of a single game round exceeds this, the game round will end and 10,000x bet will be awarded.
First Impression
Print Studios are certainly putting the work in to be taken seriously in a heavily saturated market, and it's paying off. From their second release Royal Potato taking on a wacky theme, to Out of The Ice producing a new ways to win style, through revamping a bonus gamble in Huntress Wild Vengeance, and finally taking a brief pause to incorporate video game elements into a slot in Reapers, we arrive here – at a Plinko slot. The first and easiest thing to get out of the way is that it all looks and sounds fantastic – so definitely no complaints on that front.
Gameplay is interesting, although in the base game there isn't anything happening. On the one hand, the Dream Drop version is then appealing because it adds the Jackpot option, but with the default RTP of 96.48% taking a dip to 93.48% with Dream Drop, is it worth it? I guess that's a decision each player will make for themselves.
The Plinko Bonus is where things get interesting, which in itself is an achievement from a bonus round not offering Free Spins. By the time you even reach stage 3 or 4, you couldn't possibly track all the balls dropping, which is part of what makes the experience. The option is there to drop 1 (or the relevant number according to the stage) ball(s) at a time, but it's fun to let them all drop and be pleasantly surprised by the result – on a number of occasions the 100x prize did hit, although no luck as of yet with the 1,000x bet prize.
The starting number of balls definitely did feel like it had a bearing on the outcome of the round rather than just being a random extra, although don't write off all hope when starting low – progressing through levels is still possible. When the right combinations hit, wins are possible up to 10,000x bet (excluding Jackpots), although maths is highly volatile, so it won't always be easy.
Other stats are as follows:
Hit Freq – 18.19%
Max Win – 10,000x bet (excluding Jackpots)
Max Win Freq – 1 in 6,775,067 spins
Bonus Freq – 1 in 100 spins
Scatter Boost Bonus Freq – 1 in 50 spins
Bonus Avg Win – 76.53x bet
Avg Return of Stage 9 (256 balls per drop) – 5,342x bet
Avg Return of Bonus if Stage 9 Reached – 8,497x bet
Chance >500x bet in Bonus – 1 in 57.43 features
Chance >1,000x bet in Bonus – 1 in 208.18 features
Max Win from Bonus – 1 in 67,751 features
Max Win from Bonus if Stage 9 Reached – 1 in 4.75 features
And that's really it. It's hard to say who this one will appeal to, but with great audiovisuals, a unique bonus round, and a bonus frequency that has plenty of allure, it's also hard to say who this one wouldn't appeal to.
*The screenshots taken of games reviewed on this site are taken from Demo Play, as reviews are often written before games are released for real play.