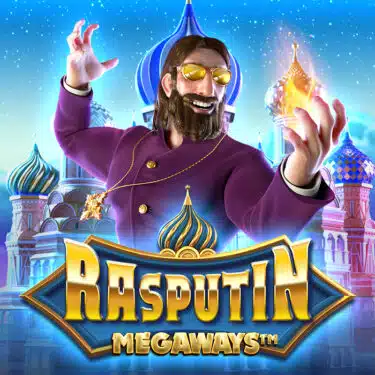 Rasputin Megaways
Game Provider: Big Time Gaming
Release Date: Available Now
Rasputin Megaways
Game Studio Big Time Gaming
Release date Available Now
RTP 96.68%
RTP Feature Buy 96.68%
Paylines Up To 2,985,984
Volatility High
Min Bet 0.10
Max Bet 15
Max. Win 68,180x
Rating 9.4/10
If there's two subjects I was never good at, it's history and geography. I mean, with the invention of the smart phone, maps, and Google, I don't know that I see much a need for either, but I digress. The result here is that I know very little about Rasputin. A quick Google search did tell me though that he was "a divisive figure (…) seen by some Russians as a mystic, visionary, and prophet, and by others as a religious charlatan." So famous was he that Boney M, one of the most popular pop groups in the 1970s, used his namesake and story for a song – one that went on to top charts in Australia, Germany and Austria, whilst resting at number 2 in the UK and Switzerland. Even today, TikTok has brought about a resurgence of this song, with North London DJ and Producer Majestic remixing the track, leading to more than 6 million streams and reaching the charts in the UK, US, and Europe.
So, which provider do we know that loves to add some old school music to their releases – and usually the songs you wouldn't expect? That's right – Big Time Gaming, who are following on from their Outlaw success to bring us Rasputin Megaways – a highly volatile release with a fixed RTP of 96.68%, and wins available up to 68,180x bet.
Visually, things are bright, and bold, with Russian architecture in the background. Skies are cloudy, and rather than ground we instead have a dance floor, complimented by spotlights and disco lights. Music is exactly as you'd expect, with the Boney M hit tying it all into something fantastic. Thankfully though, the team haven't gone too overboard with this. During Free Spins it all kicks into high gear, but until then it's more of a background roar, with sounds a bit like Danger High Voltage coming through. Overall, perfectly Big Time Gaming, but also pretty close to perfect in general.
Rasputin Megaways Base Features
Taking place across 6 reels, wins are formed on Rasputin Megaways by matching 2 or 3 symbols on adjacent reels, beginning with the leftmost reel. Each reel can hold up to 10 symbols in the base game, producing 1,000,000 ways to win, or 12 symbols in the feature, producing 2,985,984 ways to win. Symbols available begin with non premiums, with 9s, 10s, Js, Qs, Ks, and As, awarding wins between 0.20 and 0.30x bet for 3 of a kind, increasing to values between 0.80 and 0.90x bet for 6 of a kind. At the premium end we have Fabergé eggs, in the classic Big Time Gaming style of green, blue, red, and purple. Land 3 of a kind green, blue, or red eggs to see wins between 0.40 and 0.60x bet, increasing to values between 1 and 1.50x bet for 6 of a kind. Rounding off the regular symbols are purple Fabergé eggs, which are also the only symbol to pay for 2 ways. Land 2, 3, 4, 5, or 6 purple eggs to see wins of 1.50, 2.50, 5, 10, or 50x bet, respectively.
Alright, so the main feature in Rasputin Megaways is the Rasputin Wild Feature. When a Rasputin Wild lands on the reels, it will reveal a number – during the base game, this number can be anything up to 48. Whichever number is revealed, Rasputin Wilds will add that many symbols to the screen, across any reel. As mentioned above, each reel in the base game can grow to hold 10 symbols, producing 1,000,000 ways to win. Wilds substitute for all symbols except Scatters, although Rasputin Wilds can add Scatters to the screen when adding symbols. Wins are calculated after symbols have been added through Wilds.
Aside from Rasputin Wilds, Rasputin Megaways boasts Big Time Gaming's Win Exchange™. With Win Exchange, when a win occurs of 100x bet or more, you have the option to exchange 100x bet for either 7 or 10 Free Spins. If you have won more than 100x bet, only 100x bet will be exchanged, and the remainder will be added to your Free Spins win.
If you win between 25 and 99x bet, you have the option to exchange the entire win for a chance to be awarded 7 or 10 Free Spins – by gambling. The chance of winning the gamble is represented by green on the wheel, and the chance of losing is represented by red. The higher x bet the win, the more green will be present on the wheel.
Players can choose either bonus feature after successfully gambling or exchanging through Win Exchange.
Rasputin Megaways Bonus
Land 3 or more Scatters to trigger Free Spins, wherein a choice of features is available:
Big & Strong Free Spins – 7 spins with Extending Reels
Ecstasy & Fire Free Spins – 10 spins with Unlimited Win Multiplier
During Free Spins, Rasputin Wilds can continue to land on the reels and reveal a number up to 60. Depending on the feature chosen, Rasputin Wilds offer different behaviour.
If Big & Strong Free Spins are chosen, a random number of symbols are awarded per reel on the first spin. Each time at least one Rasputin Wild lands on the reels, it will reveal its number, and add symbols to the reels. For every spin thereafter the new number of symbols per reel will carry over into the next spin. Each reel can grow to a maximum of 12 symbols, producing 2,985,984 ways to win. Each time a reel reaches 12 symbols tall, an additional +3 spins are awarded.
If Ecstasy & Fire Free Spins are chosen, a win multiplier will be active throughout spins, beginning at x1. Each time at least one Rasputin Wild lands on the reels, it will reveal its number, and add symbols to the reels – however each symbol added will also be added to the counter on the win multiplier. For every 5 symbols added, the win multiplier will increment by +1. Landing 3 or more Scatters in any position will award an additional +3 spins.
Finally, players in appropriate regions can skip straight to the action with the Bonus Buy option, where for a cost of 100x bet the feature will be triggered. When buying the bonus players can choose either 7 or 10 Free Spins.
Whilst Big Time Gaming usually opt not to cap their releases with a maximum win, we do know that the maximum simulated win observed thus far in Rasputin Megaways has been 68,180x bet.
First Impression
Sometimes, a game just hits the brief on the head, and Rasputin Megaways seems to be one of them. Audiovisuals, firstly, are great – Big Time Gaming are one of the best at tying a theme and an overall release into a popular song, so it's no surprise this has been successful. Gameplay is where things really start to shine, though. During the base game, Rasputin Wilds go most of the way towards keeping things fairly upbeat, with Win Exchange picking up the rest of the slack.
Move into Free Spins though, and Rasputin Megaways takes on a life of its own – with up to 2,985,984 ways to win, and Rasputin Wilds revealing up to 60 symbols. This feature in itself isn't shy of producing big numbers – our biggest Rasputin Wild reveal was 41, which in the feature we had chosen increased the multiplier by +x8. Each feature will appeal to a different sort of player – fans of Gold Megaways will quite naturally be drawn to Big & Strong spins, whilst those who favour a win multiplier will find solace in Ecstasy & Fire spins. Personally, I prefer the latter, but as I said – there's something here no matter your preference.
RTP is fixed at 96.68%, and maths is highly volatile. Whilst there is no official 'win cap', maximum simulated wins of up to 68,180x bet have occurred. And that's pretty much it. Whether you're a fan of Big Time Gaming, Boney M, win multipliers, expanding ways, or Megaways in general – this one has it all.
*The screenshots taken of games reviewed on this site are taken from Demo Play, as reviews are often written before games are released for real play.