There's no doubt that Big Time Gaming have made their mark upon the industry. Their most memorable creation is of course their Megaways mechanic, which proved so successful it has since been licensed by a number of other studios. Second to Megaways though, the team are known for creating what they call their 'Cult Trilogy' – named after the 80s English rock band who give their songs to the releases. This began with Lil' Devil, followed by Wild Flower, and now today we'll be exploring Outlaw – the final in the trilogy, which utilises the previously mentioned Megaways mechanic. There's no sense in an extended intro – in this one, it's all about the features and potential, so let's get stuck straight in. This highly volatile release comes with a fixed RTP of 96.10%, and is capable of producing wins up to 64,400x bet.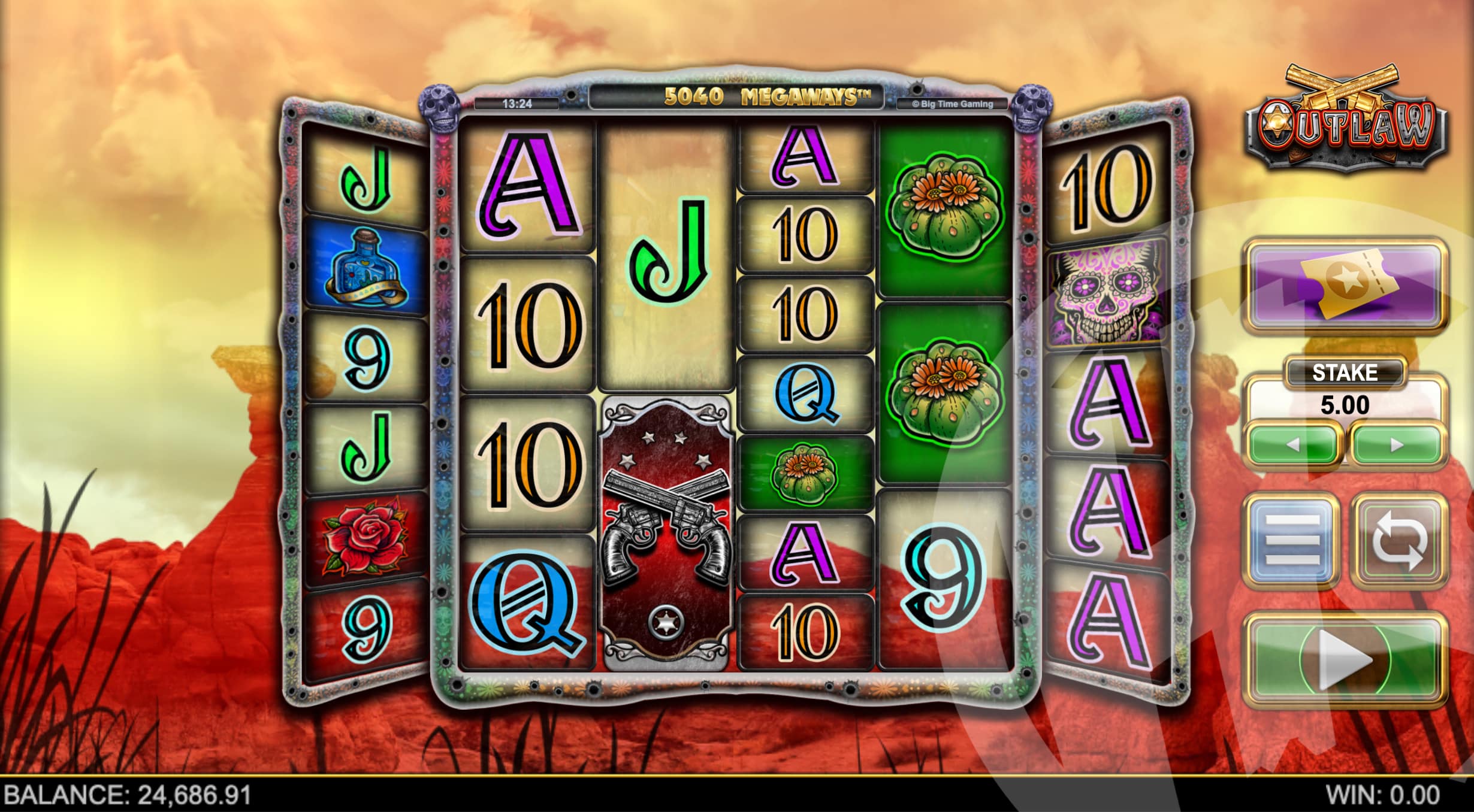 Visually, it's all very Big Time Gaming. It's interesting that even when themes overlap in this sector each provider so clearly has their own distinctive style, and Outlaw is a classic example of Big Time Gaming's. We're outside, presumably in the west if the name is anything to go by, but there's very little in the way of background – just a pretty landscape and sky. This gives way for all attention to be on the reels – exactly where it should be. Audios are subtle, until the feature (or a bonus tease), where Outlaw gives credit to its namesake, as the 1987 hit blasts out.
Outlaw Base Features
Taking place across 6 reels, wins are formed on Outlaw by matching at least 2 or 3 symbols on adjacent reels, beginning with the leftmost reel. Each reel is capable of holding 7 symbols, producing 117,649 ways to win. Symbols available begin with non premiums – 9s, 10s, Js, Qs, Ks, and As – pretty standard for this trilogy. Landing 3 of a kind non premiums will produce wins between 0.10 and 0.15x bet, whilst landing 6 of a kind will see wins between 0.30 and 0.40x bet. At the premium end, we have the classic green, blue, red, and purple that Big Time Gaming opt for, starting with cacti, bottles, and roses – land 3 of a kind of any of these to see wins between 0.20 and 0.25x bet, with this increasing to values between 0.50 and 1.25x bet for 6 of a kind. Rounding up the premium symbols are skulls – the only symbol to pay for 2 of a kind. Land 2, 3, 4, 5, or 6 skulls to see wins of 1, 1.5, 2.5, 5, and 10x bet, respectively.
Finally, there are two Full Reel Wild symbols to help move the base game forward, occurring on reels 2-5 only:
Outlaw Wild – substitutes for all symbols except Scatters.
Sheriff Wild – multiplies every win it is involved in by x7, and substitutes for all symbols except Scatters.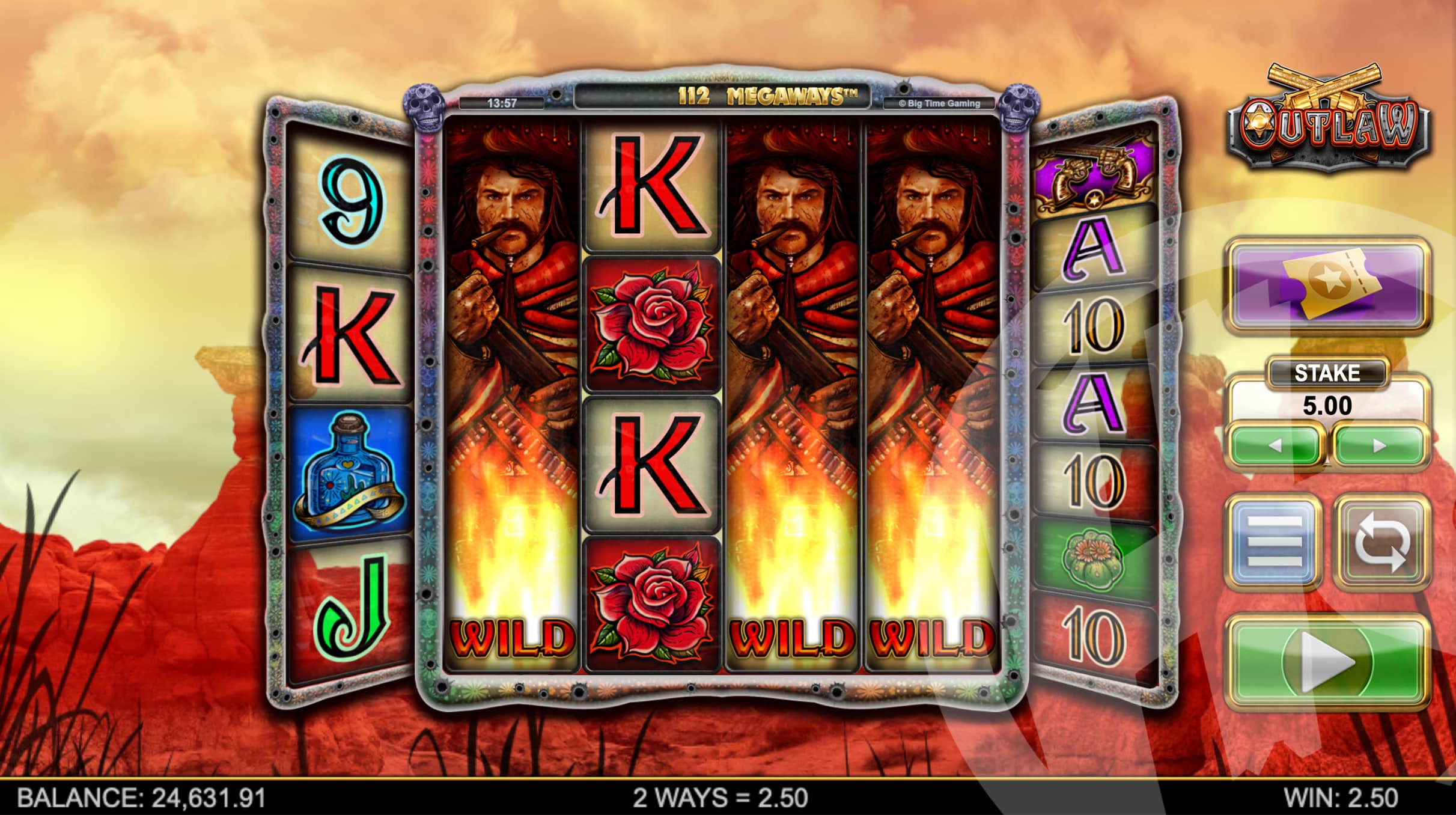 Finally, the Outlaw base game comes with Win Exchange™. With Win Exchange, whenever you win 100x bet or more, you have the option to exchange 100x bet for Free Spins.  If you have won more than 100x bet, only 100x bet will be exchanged, and the remainder will be added to your Free Spins win.
If you win between 25 and 99x bet, you have the option to exchange the entire win for a chance to be awarded Free Spins – by gambling. The chance of winning the gamble is represented by green on the wheel, and the chance of losing is represented by red. The higher x bet the win, the more green will be present on the wheel.
Players can choose either bonus feature after successfully gambling Win Exchange.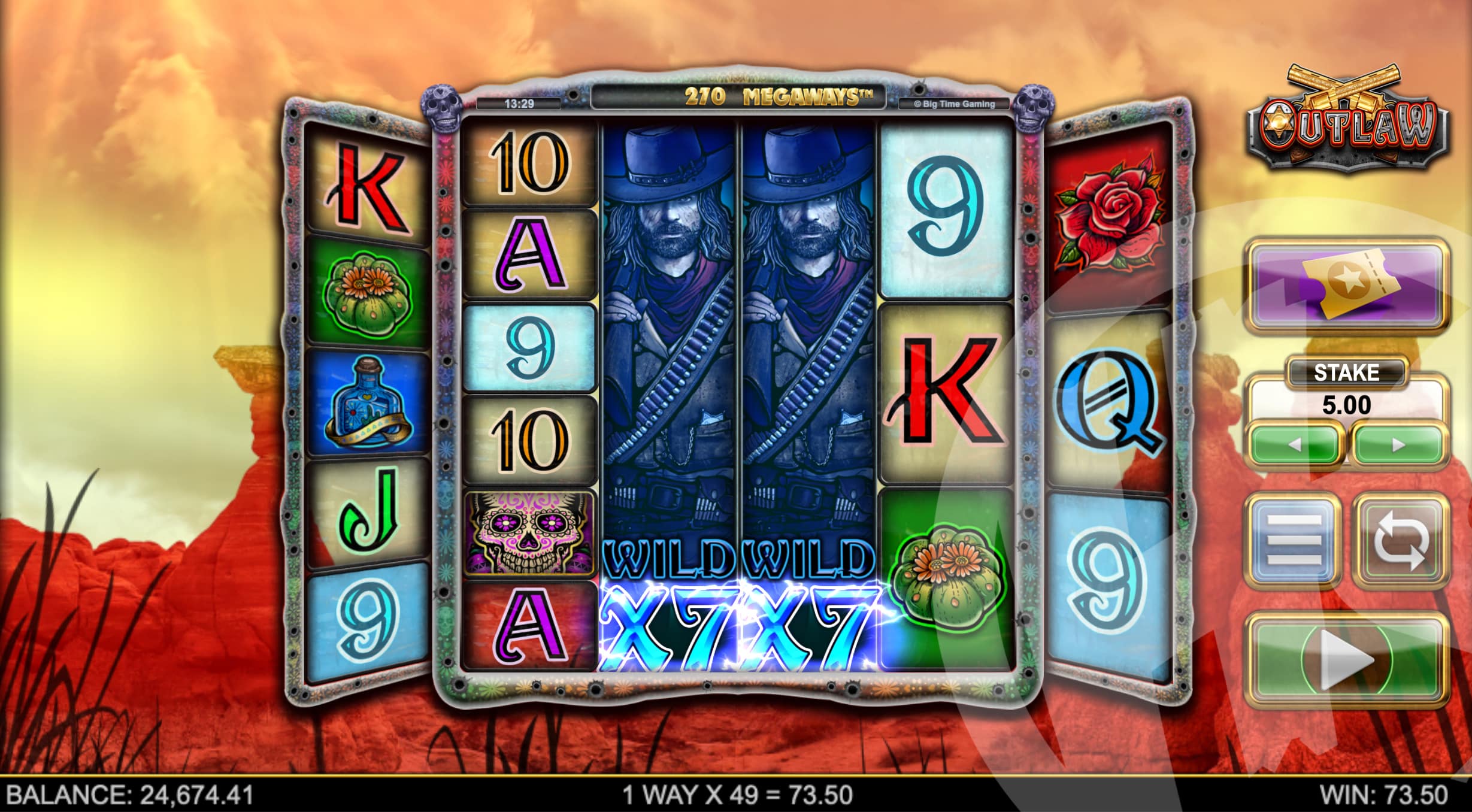 Outlaw Bonus
There are two Scatters available in Outlaw – the regular silver Scatter, and the gold Megascatter. Landing 3 or more Scatters in any position on the reels awards Free Spins. If one of the triggering Scatters is a Megascatter, Enhanced Free Spins are awarded. Players have a choice of two features for Free Spins, and fans of this trilogy will be familiar with both.
First, it's 7 Fallen Angel Free Spins. Before Fallen Angel Free Spins begin, players will be taken to a screen where a symbol is selected – this can only be a non premium symbol. The selected symbol will then be treated as a Sticky Wild when it lands on reels 2-5. Of course this is a Megaways game, but the team have worked around this by setting a rule in place that as soon as your selected symbol is locked in as a Wild, the amount of symbols on that reel is also locked. All other reels can continue to display between 2-7 symbols, for a different number of Megaways every spin. Filling a reel with Sticky Wilds awards an additional +3 free spins.
During Enhanced Fallen Angel Free Spins, a premium symbol is chosen alongside the non premium, with both symbols becoming Sticky Wilds on reels 2-5.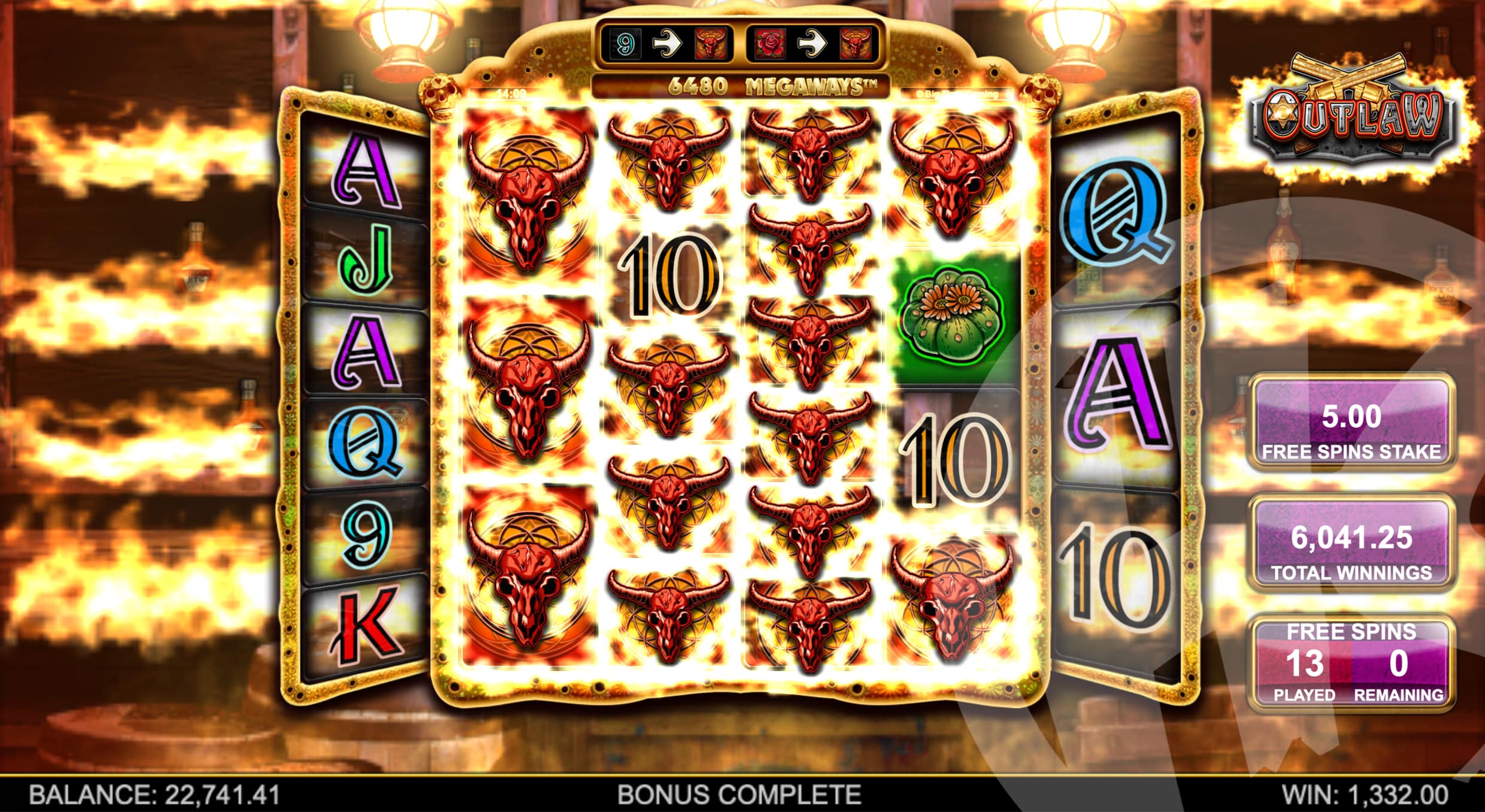 Next, it's 8 Dizzy In The Head Free Spins. Dizzy In The Head Free Spins feature a Ladder Wild, with multipliers of x11, x22, x33, x44, x55, x66, and x77. This Ladder Wild will be visible on the reels for every spin, roaming between reels 2-5 until it finds a place to stop. This will happen as reels spin, and once the Ladder Wild has stopped, symbols will begin to land. This will be paused when the reel with the Ladder Wild is reached, if a win has been formed. At this point, the Ladder Wild multiplier will increase, and stop on one of the multipliers mentioned. This will multiply any wins the Ladder Wild is involved in by the respective value. Landing 3, 4, or 5 Scatters in any position awards an additional +4, 6, or 8 spins, respectively.
During Enhanced Dizzy In The Head Free Spins, each time the Ladder Wild is involved in a win, the minimum multiplier value increases one step. Multipliers can now be x11, x22, x33, x44, x55, x66, x77, x111, x222, x333, x444, x555, x666, or x777.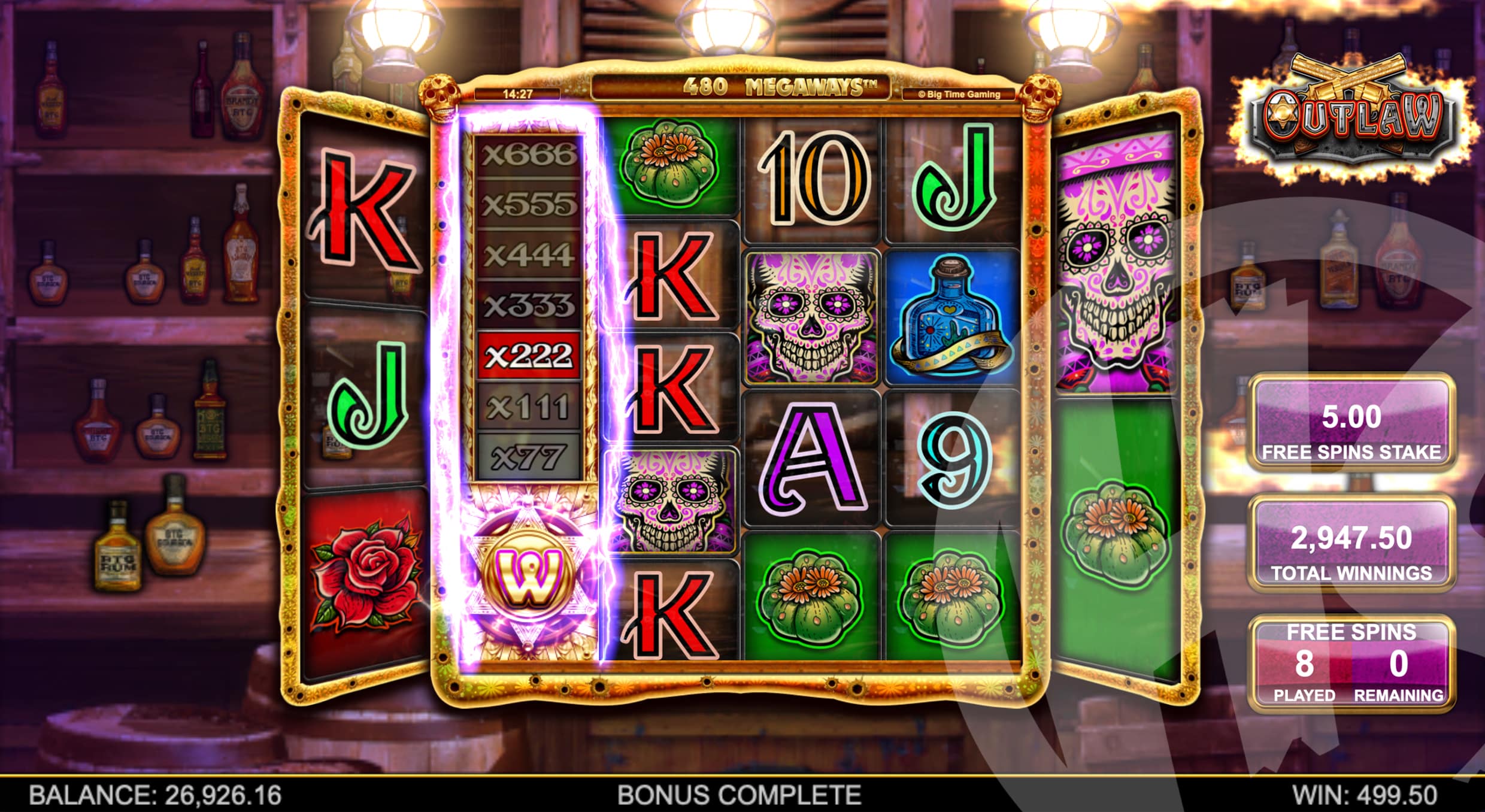 Players in appropriate regions have the chance to buy either bonus, for the following cost:
Free Spins – 70x bet
Enhanced Free Spins – 300x bet
After buying Free Spins, players will be given the chance to choose either feature – Fallen Angel Free Spins, or Dizzy In The Head Free Spins. There is no opportunity to upgrade regular Free Spins to Enhanced Free Spins – these are only awarded by landing a Megascatter in the trigger, or buying the Enhanced Free Spins Bonus Buy option.
The maximum win available in Outlaw is 64,400x bet.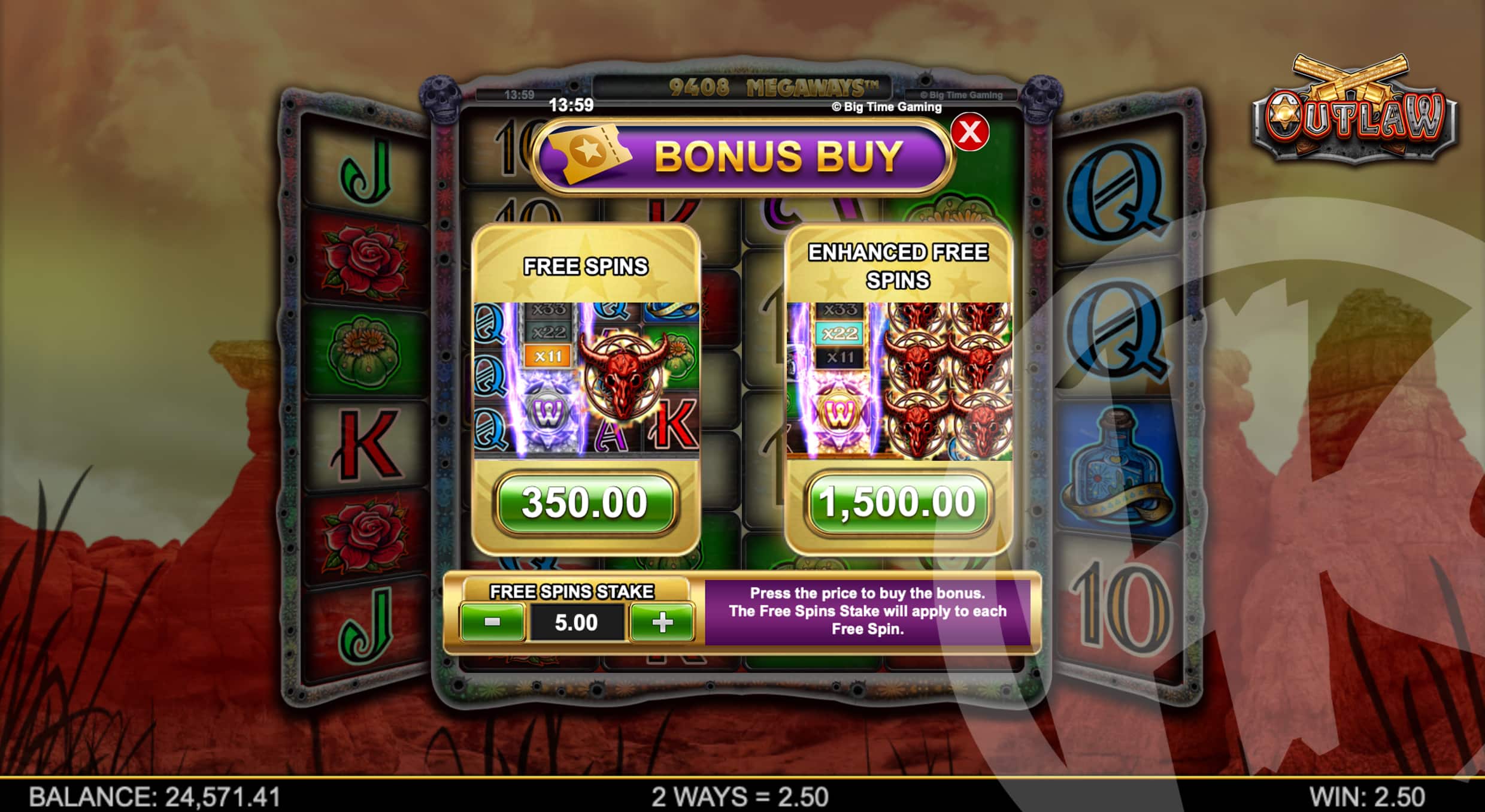 First Impression
What is arguably most impressive in this trilogy is Big Time Gaming's ability to still excite players for the next release, even though features are changed very little. This is especially true with the Sticky Wild Free Spin option – this has been available every step of the way, and yet players still get excited just by seeing a newer version of it. That's not to say there aren't small changes throughout this trilogy to move things forward – in the example of Outlaw, this is through the Megaways mechanic, and the addition of a Bonus Buy. Players that can go for this option will no doubt be glad of it, especially with the option to buy Enhanced Free Spins – which, at 300x bet, aren't quite as expensive as we expected. Other mathematical elements further improve Outlaw's standing – namely the fixed RTP of 96.10%, the highly volatile maths model, and wins being available up to 64,400x bet.
Of course, those that can't buy the feature will have no choice but to wait. Full Reel Wilds help to move the base game forward, and Win Exchange means players can gamble any decent base game wins for a chance at free spins – or straight exchange the great base game wins. There's nothing in game information to indicate either way, but we know in the recently released Max Megaways there was a chance in Win Exchange to trigger Enhanced Free Spins after winning the feature, so this may well be possible in Outlaw, and something to keep your eye out for.
Moving into Free Spins, and things really kick up a notch. These are tried and tested mechanics – even outside of this trilogy, in Danger High Voltage. But they're tried and tested for a reason, and they've stood the test of time. Again, there are a few tweaks, like the Ladder Wild being a roaming Wild – although seeing it land on reel 5 continually might be worse than not seeing it. Fallen Angel Free Spins are exactly what you'd expect, and the Megaways mechanic only seeks to improve this further – especially with ways sticking on certain reels, which helps to elevate the re-trigger element.
There isn't much else to say here. Outlaw is a great finale to a great trilogy and, ironically given the name, one that does the whole thing a tremendous amount of justice.
*The screenshots taken of games reviewed on this site are taken from Demo Play, as reviews are often written before games are released for real play.