What's the best Christmas present you ever received? I'm sure we've all got something different in mind, but probably for most of us it will be a gift we received as a child – maybe a bicycle, or something like that. There's no doubt about it, Santa brings the best presents, and it seems provider Pragmatic Play are taking this thought and running with it, as they get into the festive season with their upcoming release, Santa's Great Gifts. In this case though, it won't be a bicycle, puppy, or playstation he's bringing, but rather wins up to 5,000x bet, in this highly volatile release, complete with RTP options up to 96.25%.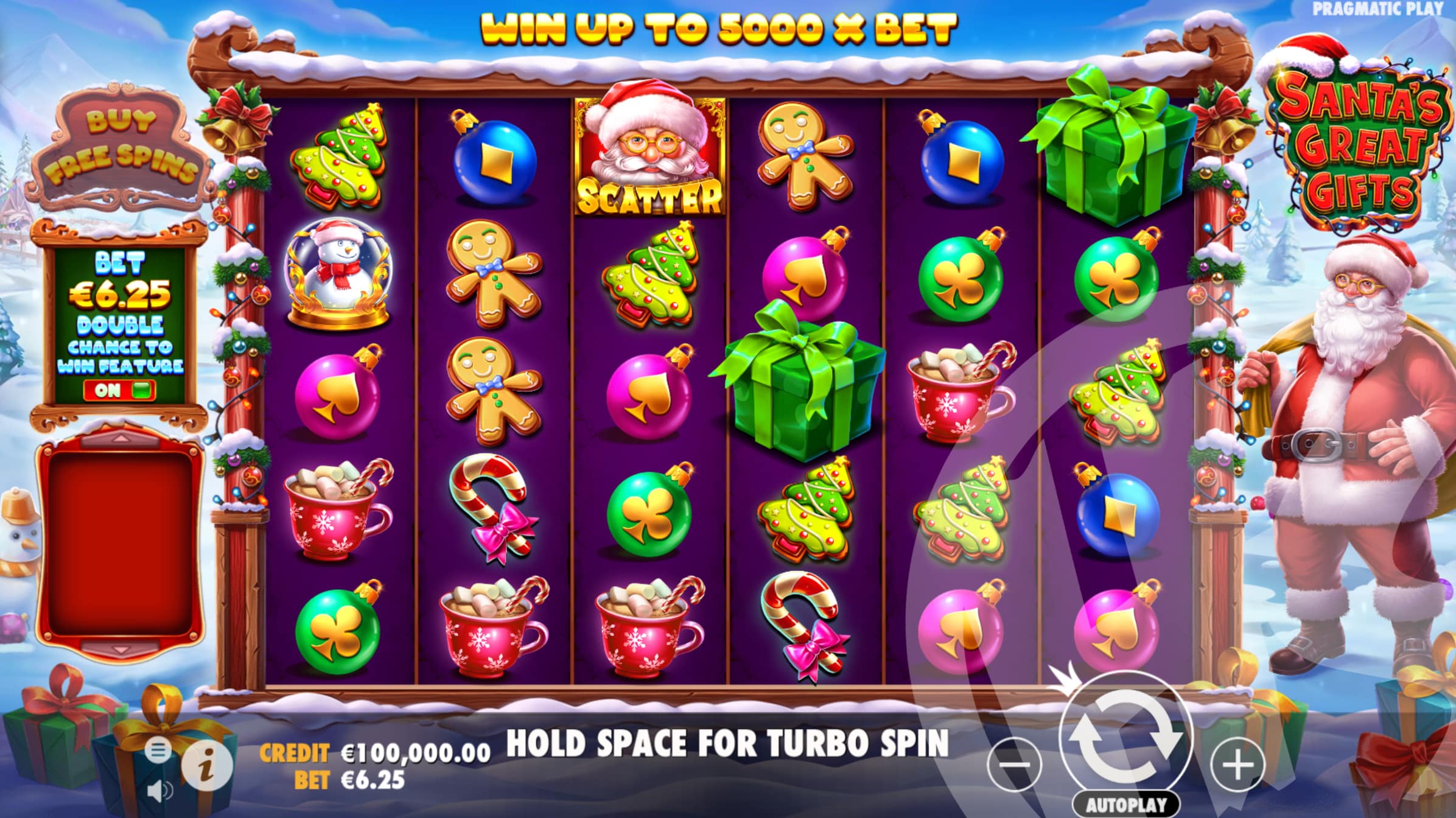 Visually, everything is set atop a snowy backdrop, so I guess Pragmatic have taken us to the North Pole. Santa stands to the right of the reels, which upon first glance lets us know exactly what we should expect from this release – this is another in the Sweet Bonanza and Gates of Olympus styled series. Symbols bring the festive feeling to life, with baubles, cookies, hot chocolate, snow globes, candy canes, gingerbread men, and large gifts. It's all about as Chritmassy as you can get, with fairy lights and garlands topping it all off. Audios are subtly festive – they work to bring everything together, but it seems like if you put them alongside other artwork, they might not be obviously seasonal.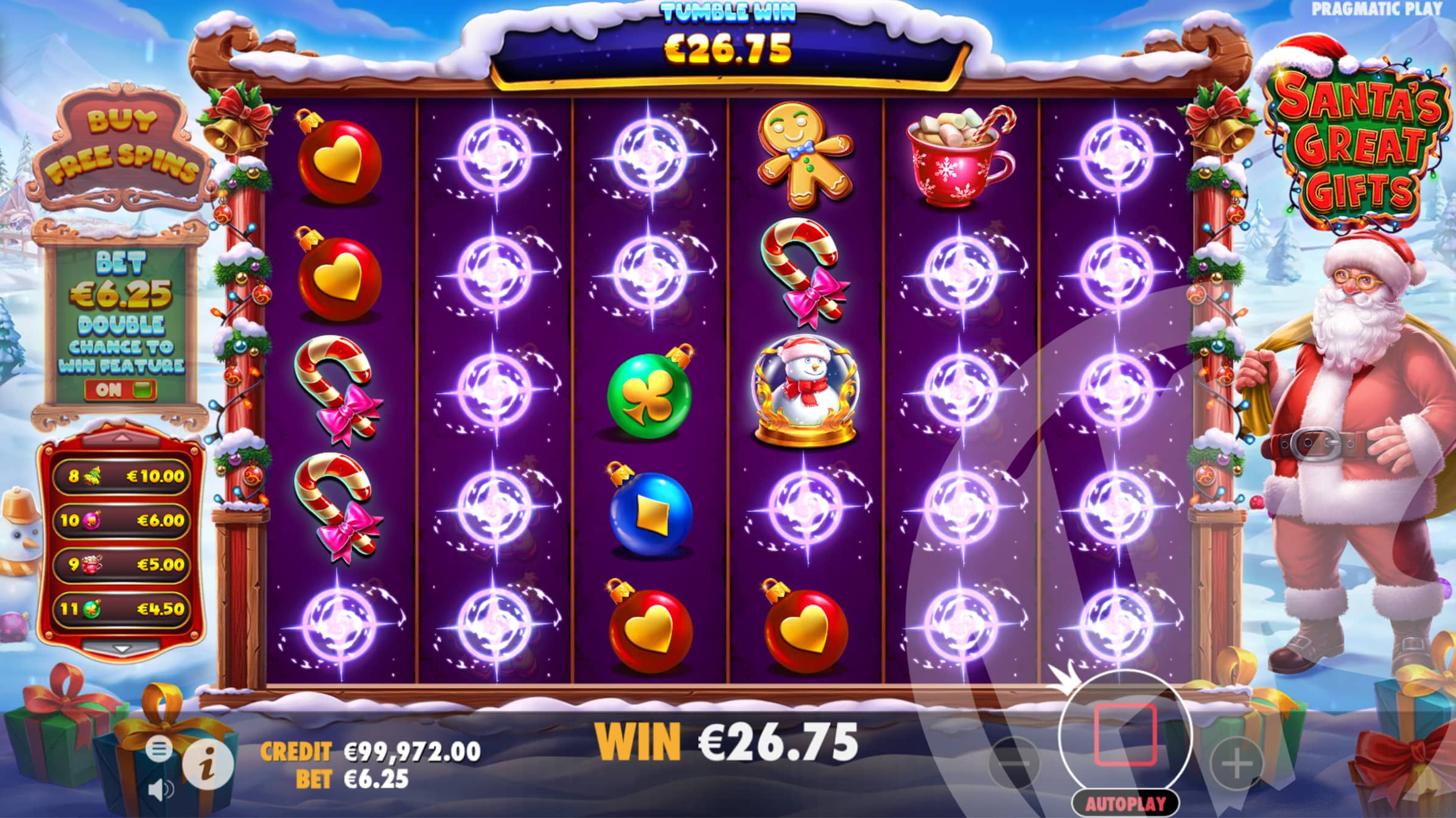 Santa's Great Gifts Base Features
Taking place across 6 reels, wins are formed on Santa's Great Gifts by landing at least 8 symbols in view – anywhere on the reels. Symbols pay for 8-9, 10-11, or 12-30 in view, and begin with non premiums, with blue diamond baubles, green club baubles, red heart baubles, and pink spade baubles. Land 8-9 of any non premium in view to see wins between 0.25 and 0.80x bet, increasing to values between 2 and 8x bet for 12-30 in view. At the premium end, we have cups of hot chocolate with marshmallows, candy canes, and Christmas tree cookies – paying between 1 and 2x bet for 8-9 in view, increasing to values between 10 and 15x bet for 12-30 in view. The pay table is rounded off with gingerbread men cookies and snowman snow globes, awarding wins of 2.5 and 10x be respectively for 8-9 in view, increasing to values of 25 and 50x bet respectively for 12-30 in view.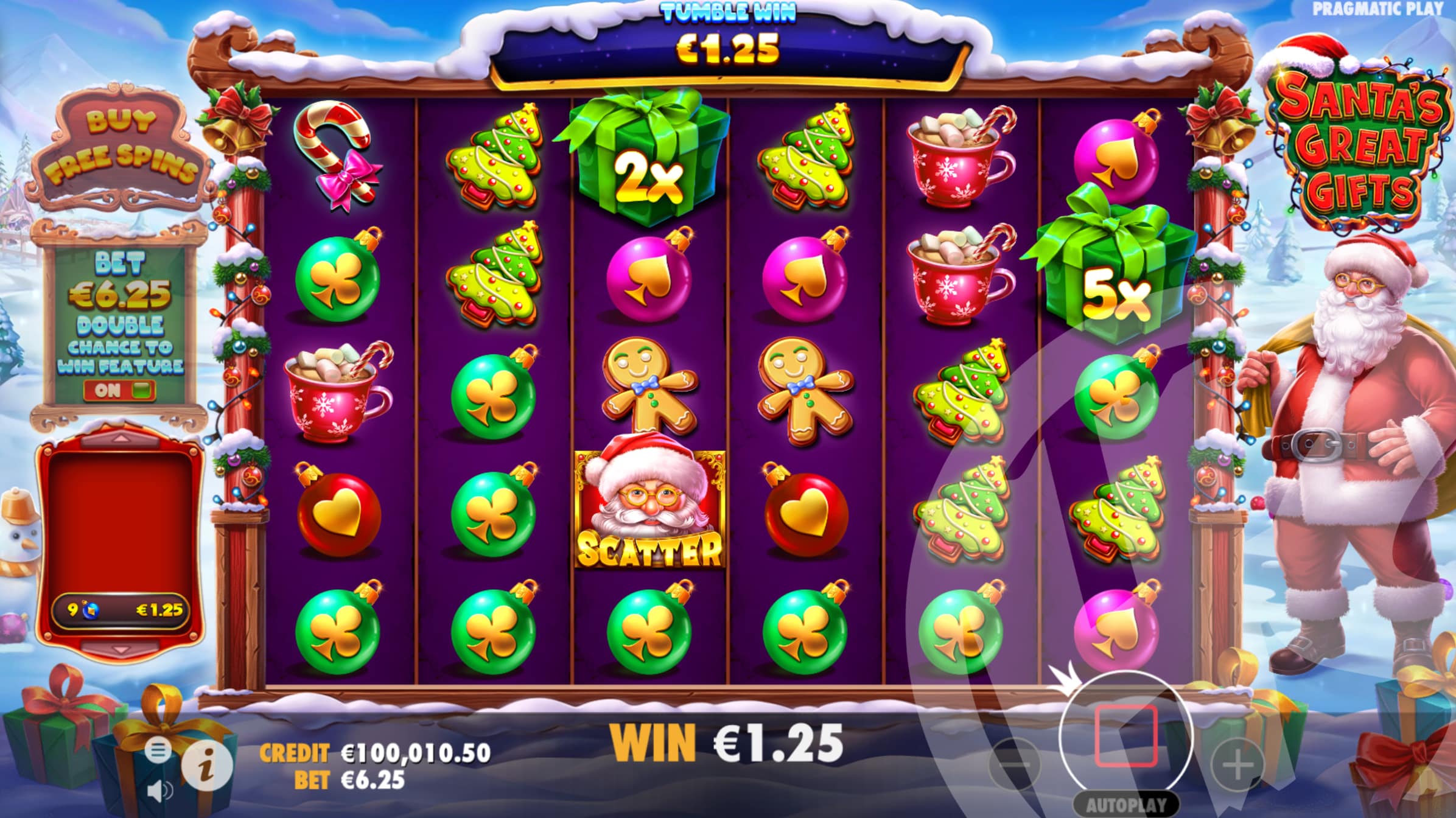 The first thing to cover in Santa's Great Gifts is the Ante Bet. By betting an additional 25%, the chance of triggering Free Spins naturally is doubled, as more Scatter symbols are present on the reels. The option to Buy Free Spins is disabled when using the Ante Bet, and RTP decreases slightly, from 96.25% to 96.23% (based on a 96.25% RTP option game).
Next up, it's the Tumble feature. On every spin, any symbol involved in making a winning combination will be removed from the reels. All remaining symbols will then drop down to the bottommost available position on their respective reels, with new symbols then dropping in from above to fill the remaining gaps. The value of all Tumbles so far is added to the area at the top of the reels labelled as 'Tumble Win', and awarded at the end of the spin.
Tumbles continue until no more wins are formed.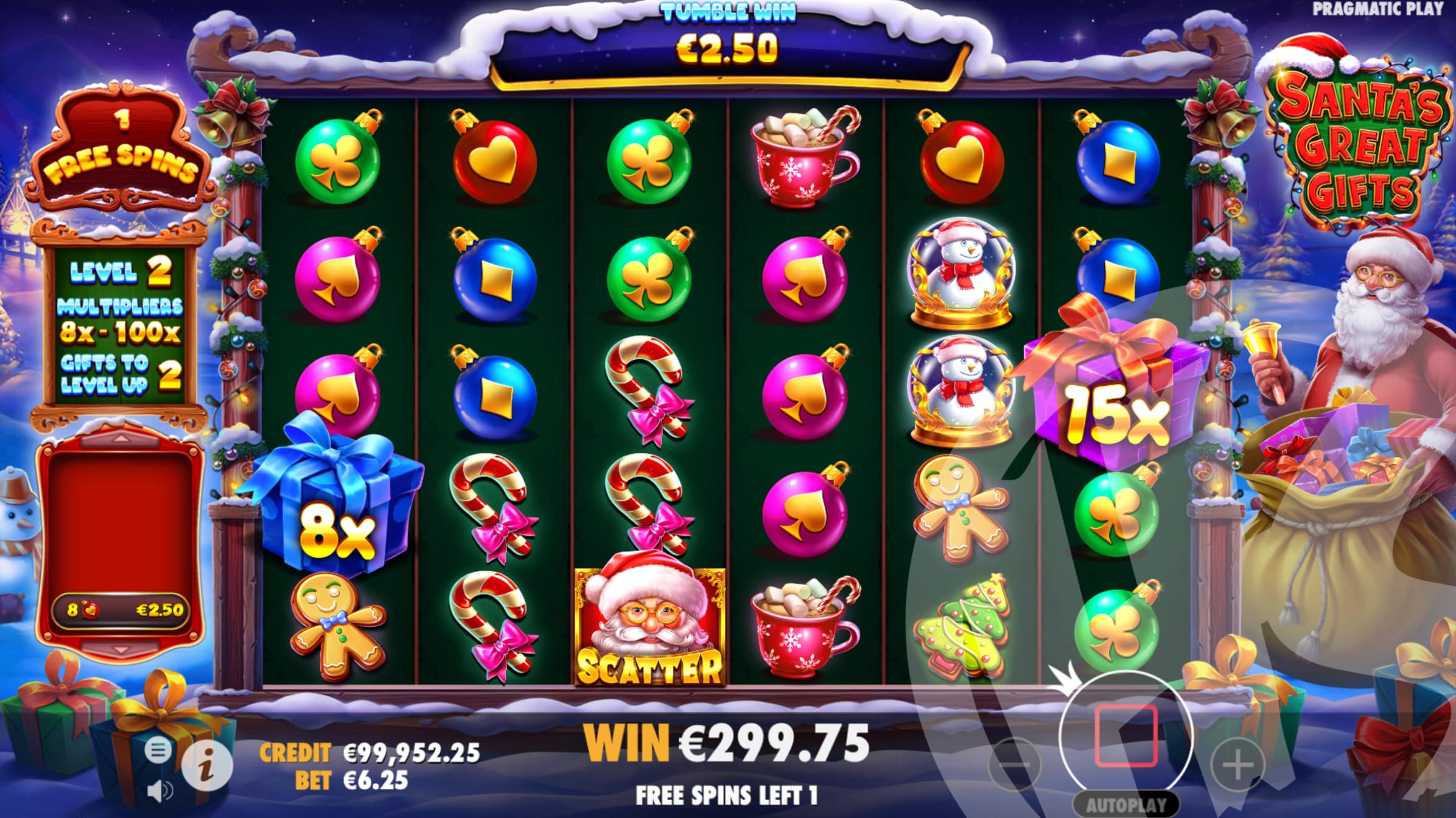 Four separate gift symbols can land on any reel in any position during Santa's Great Gifts – green, blue, purple, and red in colour. These are multiplier symbols that can land at any point during a spin, including during Tumbles. When a multiplier symbol lands, it will take a value between 2x and 100x, which will be revealed immediately.
Multiplier symbols are not removed during Tumbles, and when all Tumbles have finished, the value of any multiplier symbols will be applied to the total Tumble Win before it is awarded. If multiple multiplier symbols have landed in view, their values will be added together before being applied.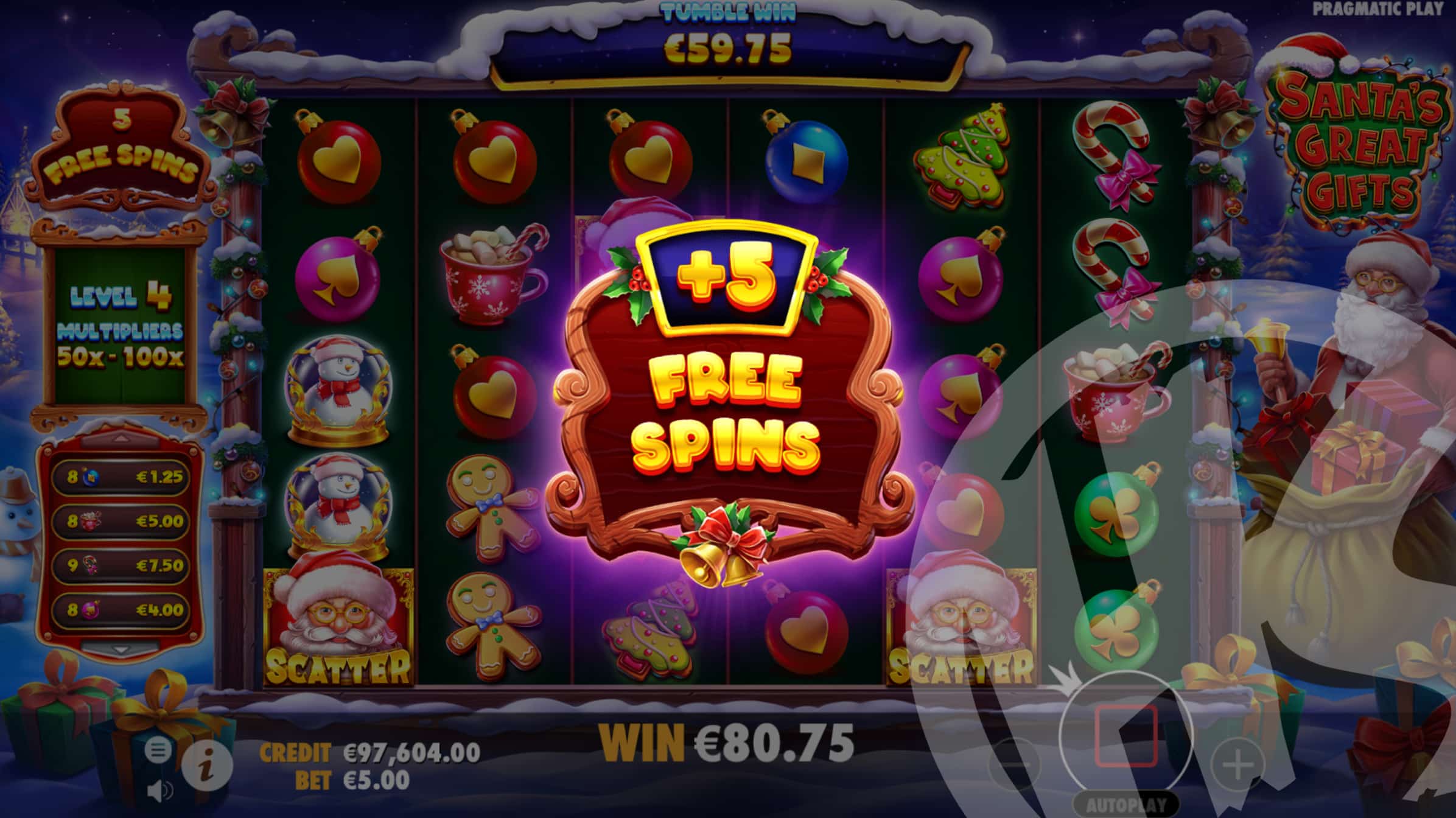 Santa's Great Gifts Bonus
Land 4, 5, or 6 Santa Scatter symbols to trigger 10, 15, or 20 Free Spins with trigger values of 3, 5, or 100x bet, respectively. The Free Spins in Santa's Great Gifts is a progressive feature, building from Level 1 to Level 4. Whilst multipliers from 2x to 100x are available from the beginning of Free Spins, each time a multiplier symbol lands in view (whether it is used in a win or not), it will be collected into a meter to the left of the reels.
As a certain number of multiplier symbols are collected, the Free Spins round will level-up, changing which multiplier symbols can land on the reels, until it is only possible to land 50x, 75x, or 100x values.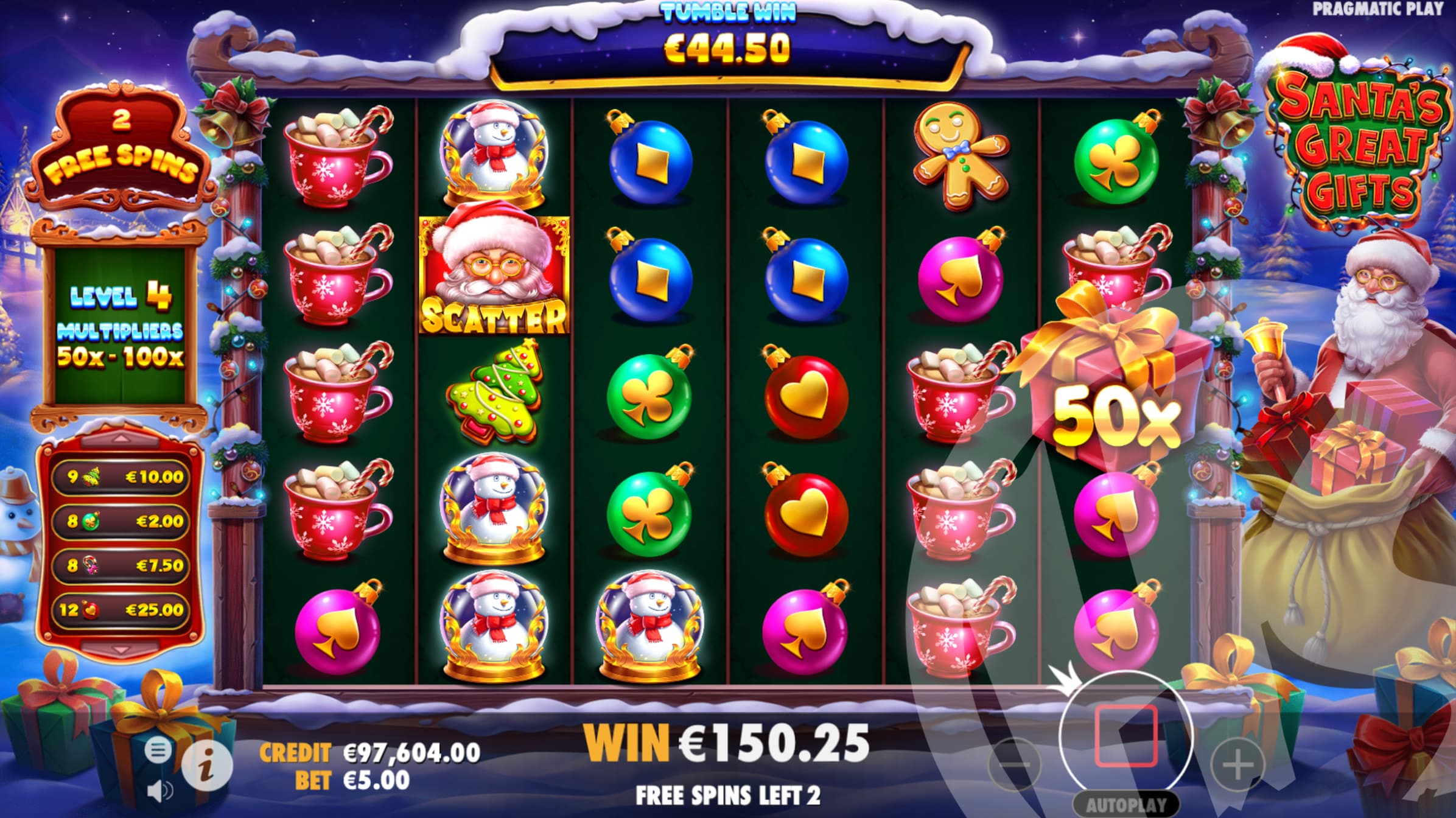 The following levels are possible:
Level 1 – before 6 symbols are collected, multipliers are possible between 2-100x.
Level 2 – once 6 symbols are collected, multipliers are possible between 8-100x.
Level 3 – once 11 symbols are collected, multipliers are possible between 15-100x.
Level 4 – once 15 symbols are collected, multipliers are possible between 50-100x.
There are no additional spins awarded as each level is awarded, but the new level is triggered immediately, with all remaining spins being played at the new level. Once Level 4 has been reached, it is not possible to level-up again.
When 3 or more Scatters land during Free Spins, an additional +5 spins are awarded, regardless of the number of Scatters in view. However, 3, 4, or 5 Scatters in view continue to award values of 3, 5, or 100x bet, respectively.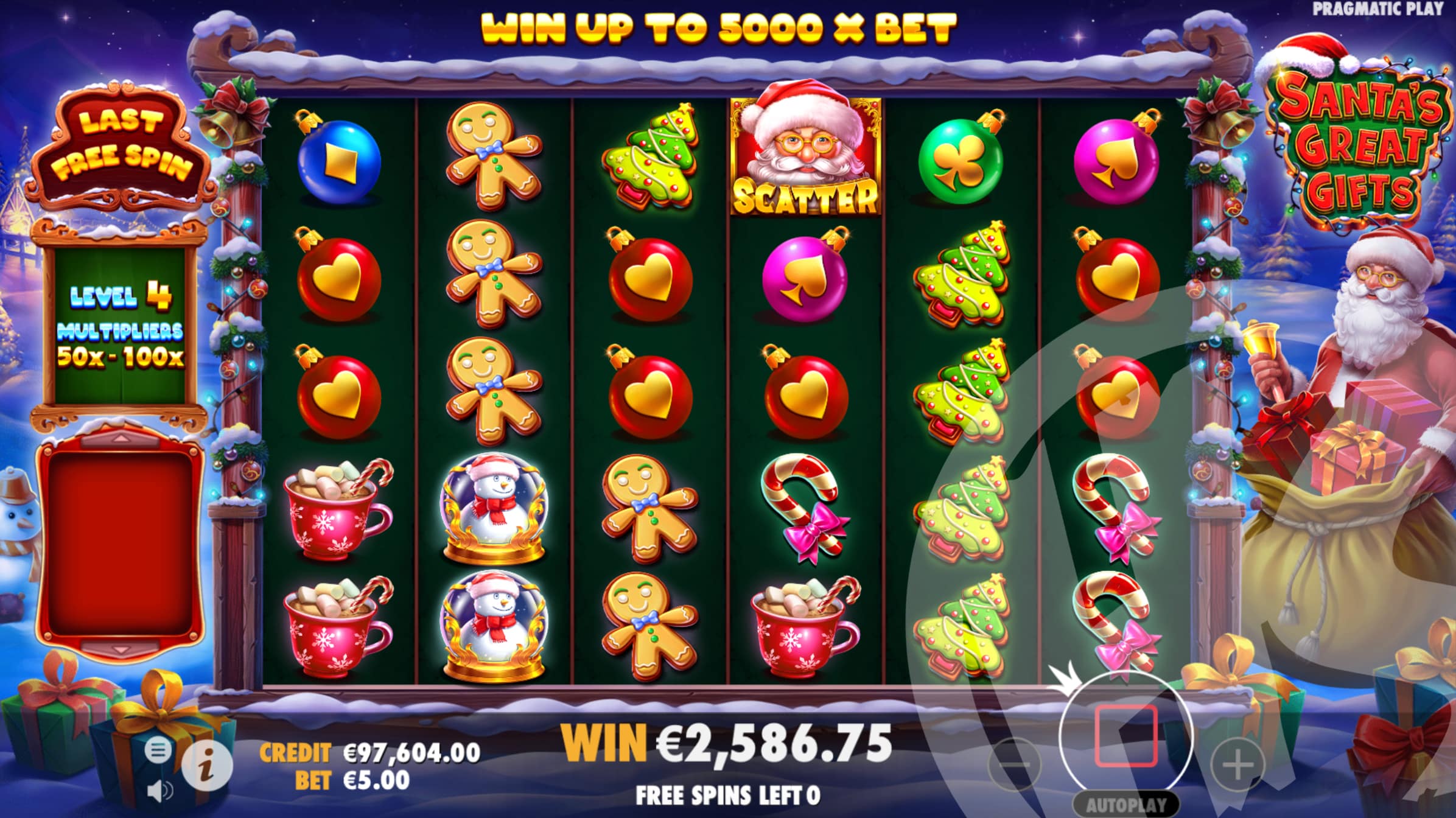 Finally, players in appropriate regions can take advantage of the following Buy Free Spins options:
100x bet – Start from Level 1 with 2-100x multipliers (96.31% RTP)
200x bet – Start from Level 2 with 8-100x multipliers (96.33% RTP)
400x bet – Start from Level 3 with 15-100x multipliers (96.32% RTP)
500x bet – Start from Level 4 with 50-100x multipliers (96.32% RTP)
All of the above RTP values are based on the overall RTP option of 96.25%. When Free Spins have been bought, a random number of Scatters will land.
The maximum win available in Santa's Great Gifts is 5,000x bet. If the sum of a single game round exceeds this, the game round will end, and 5,000x bet will be awarded.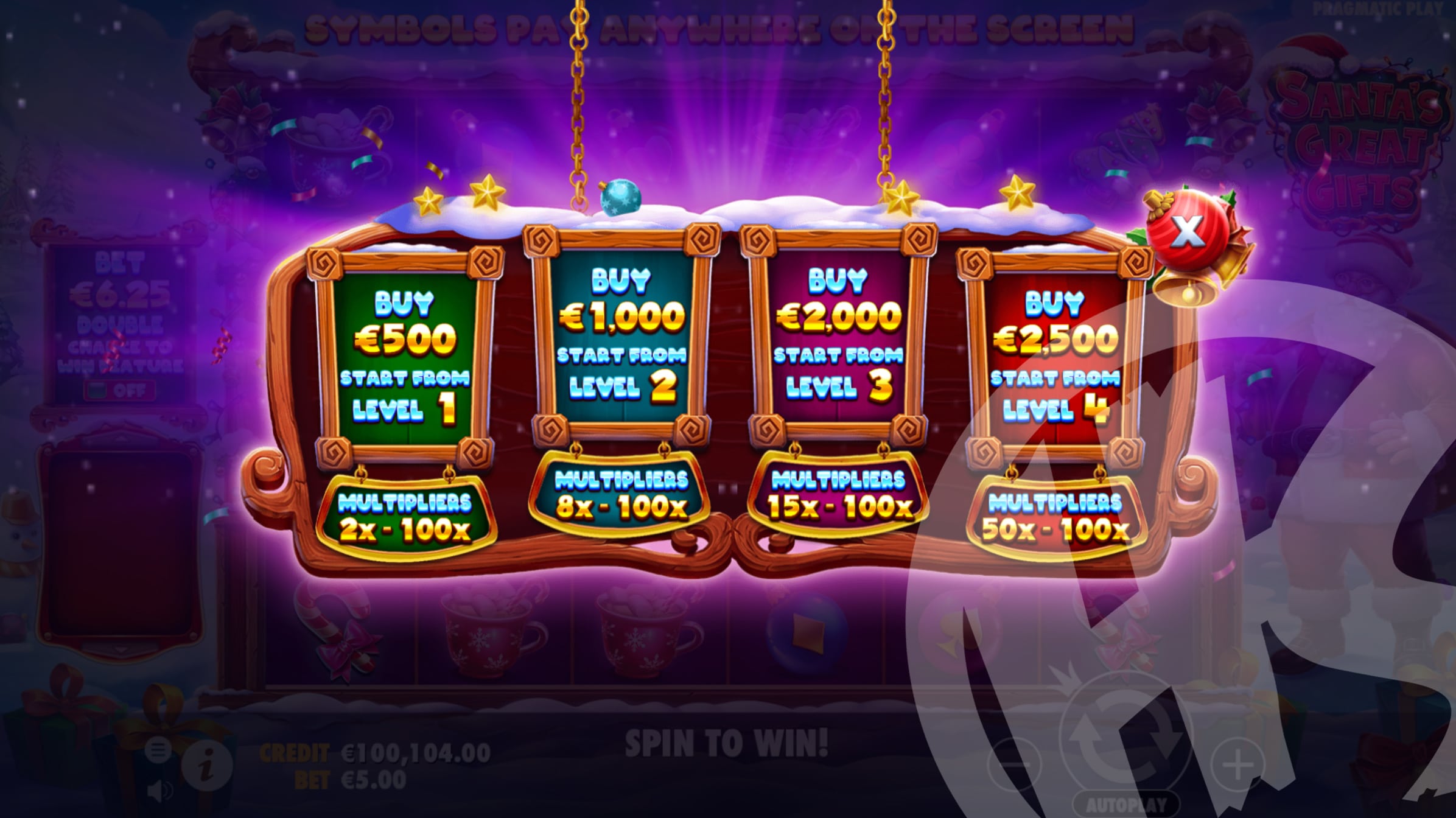 First Impression
Sometimes a festive release is announced and you realise straight away that it's the kind of game you'd play all year round. Santa's Great Gifts is one example of this – sure, you're not stopped from playing it off-season, but it's been designed for Christmas, which seems like an interesting choice, especially given we recently reviewed Old Gold Miner Megaways from Pragmatic – which literally was a re-skin. I think I'd have put the re-skin to use for the festive season, and kept this for something else.
All this to say, I quite like this one. It's clearly Sweet Bonanza/Gates of Olympus/Starlight Princess inspired – much like Sword of Ares, another recent release from the team – but the few tweaks that have been made, in my opinion, help the game to flourish in a new way. We now have a progressive element, but more than that, we have a Bonus Buy option to head straight for the big multipliers. In our experience of testing, these values weren't shy, and some great returns came from Level 4 in particular.
The Ante Bet and multiplier values do help the base game to move forward, but it really is all about the Free Spins in this one, with the goal obviously being to climb through levels. When the right combinations hit, wins are possible up to 5,000x bet. That said, in spite of Santa's gifts being great, they are also highly volatile, so it won't be a jolly old time for everyone.
RTP options are available of 96.25% and 95.04% – which for a second option, isn't as low as we expected. Either way, it's worth checking. If you're a fan of Christmas, Pragmatic, or Gates of Olympus, Santa's Great Gifts might suit you – they've pretty much got all the bases covered on this one. If you haven't been convinced by this long winding series thus far, I think the progressive feature adds enough newness that it might just be worth a go.
*The screenshots taken of games reviewed on this site are taken from Demo Play, as reviews are often written before games are released for real play.